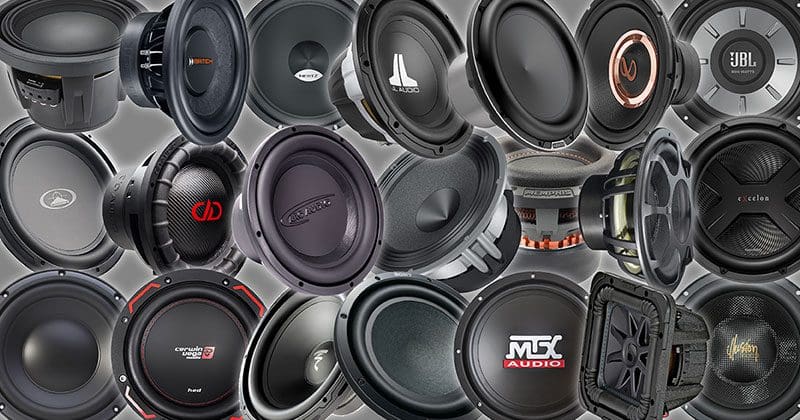 Bass is all around us. It evokes emotion when we hear the crack of thunder or when we feel a train rattle the platform we're standing on. Most importantly, it gives us goosebumps when a drum or bass guitar in our favorite song vibrates our torso. Synthesizers, drums or an organ can produce sounds that change our experience at a club or a concert. Recreating this experience requires that our car audio systems produce bass frequencies with a certain level of authority. To achieve this, we need a subwoofer. Welcome to the BestCarAudio.com 2021 Subwoofer Buying Guide.
Why Does a Car Stereo Need a Subwoofer?
Most cars and trucks come with 6.5-inch or 6×9 speakers in the doors. These drivers can produce bass information down to around 50 Hz at reasonable volume levels. This is low enough that we can discern whether an instrument is a piano or upright bass. With that said, we're still missing more than an octave of audio information from our listening experience. Sounds from an organ or synthesizer may not be heard at all without a high-quality subwoofer.
Reproducing low-frequency audio information isn't easy. To recreate deep bass, we need a speaker to move significant amounts of air compared with midrange and high-frequency drivers. Where a tweeter may vibrate at nearly immeasurable amplitude, a woofer or subwoofer has to move several millimeters to produce an equivalent amount of energy. Most people listen to their car audio system at much higher volume levels than they could get away with at home. A subwoofer's cone may need to move as much as an inch to satisfy the listener.
When we add a subwoofer system to a car stereo, it involves three components: a subwoofer, an amplifier and an enclosure. All three need to work together to produce deep, accurate bass. In this article, we will talk about the subwoofer itself and leave enclosure options for another article. Likewise, we're going to skip over shallow-mount subwoofers as they'll have their own guide shortly.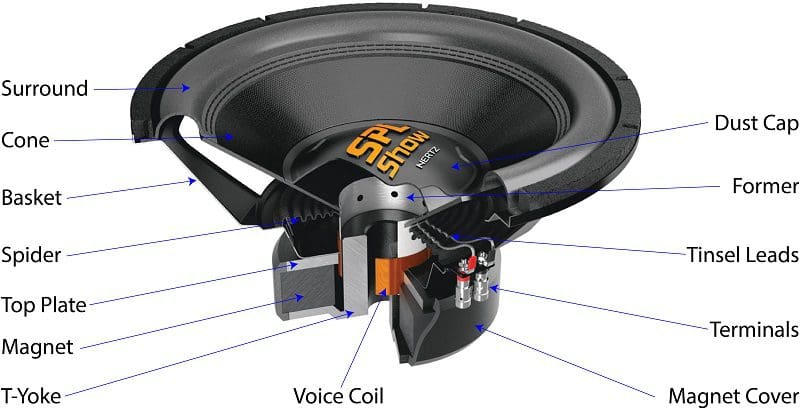 Subwoofers and Amplifier Power
If you've read our article on speaker power handling and the discussion about power density in music, then you'll remember that it takes twice as much power for an amplifier to reproduce 40 Hz as it does to reproduce 80 Hz at the same level.
Unfortunately, speakers capable of reproducing low-frequency audio signals are notoriously inefficient. For example, a high-quality 10-inch subwoofer may only convert 0.15% of the energy fed to it into sound. A 12-inch sub of similar capability still only converts 0.26% of the amplifier power into sound. This means that almost all the energy you feed a subwoofer is converted to heat in the voice coil.
If you compare the diameter of the subwoofer's voice coil to its rated power handling, you will see evidence that larger coils can handle more power. The chart below goes through the power handling ratings of four 12-inch Rockford Fosgate subwoofers.

High-performance subwoofers will include additional cooling features like a vented pole piece, vents under the spider mounting plateau or cooling holes in the voice coil former to assist in extracting heat from the voice coil.
Subwoofer design is a balancing act. If we increase the voice coil's size and the cone's strength, we add mass to the system. This added mass reduces efficiency. You are best to buy a subwoofer that's close to, or just beyond, the power handling requirements of your amplifier. If you have a 600-watt amp, look for a subwoofer rated for 600 to 750 watts or a pair of subs rated for 300 to 400 watts.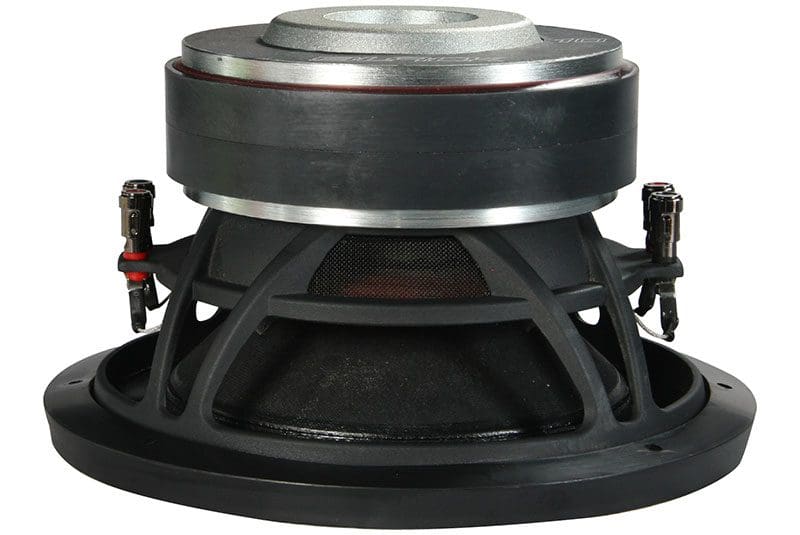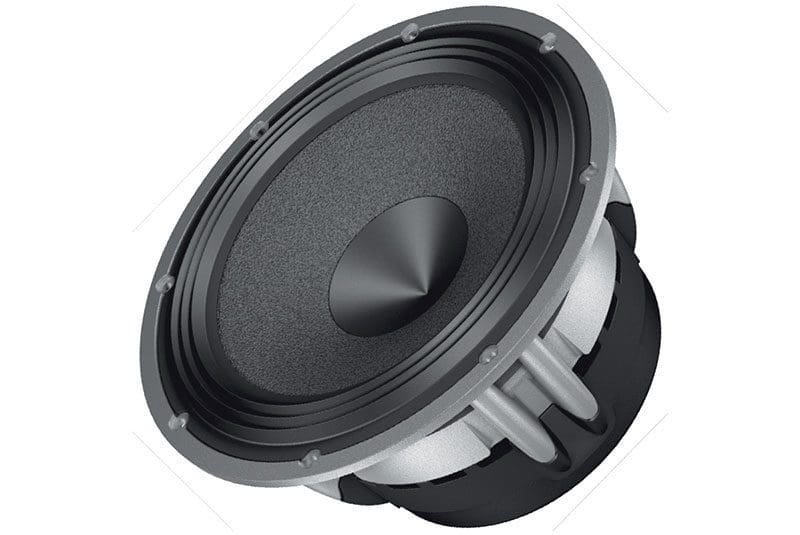 Subwoofer Quality and Accuracy
Is a massive 15-inch subwoofer rated to handle 1,000 watts of power more accurate than an 8-inch sub rated for 250 watts? Not necessarily. The power handling specification of any speaker has nothing to do with its quality or performance. The speaker design criteria that determine accuracy in bass (<80 Hz) audio reproduction are similar to those discussed in our speaker buyers guide. Adherence to a target response curve and a lack of distortion are once again the determining factors in defining the quality of a subwoofer.
When shopping for a subwoofer, look for technologies in the motor assembly that reduce distortion and improve linearity. A copper cap on the pole piece or an aluminum shorting ring beneath the top plate can reduce inductance and improve linearity. The reduction in inductance allows the woofer to play up into the midbass region. Smooth and extended frequency response on the top end is crucial in ensuring that the crossover applied by your source unit, amplifier and digital signal processor delivers expected acoustic results to blend the bass with the mid-bass drivers in your vehicle.
Another motor design called XBL2 uses a pair of voice coils and two top plates to deliver a very linear magnetic field to the voice coil across its entire range of motion. Finally, a flat spider design typically offers more linear performance at high drive levels than a cupped design.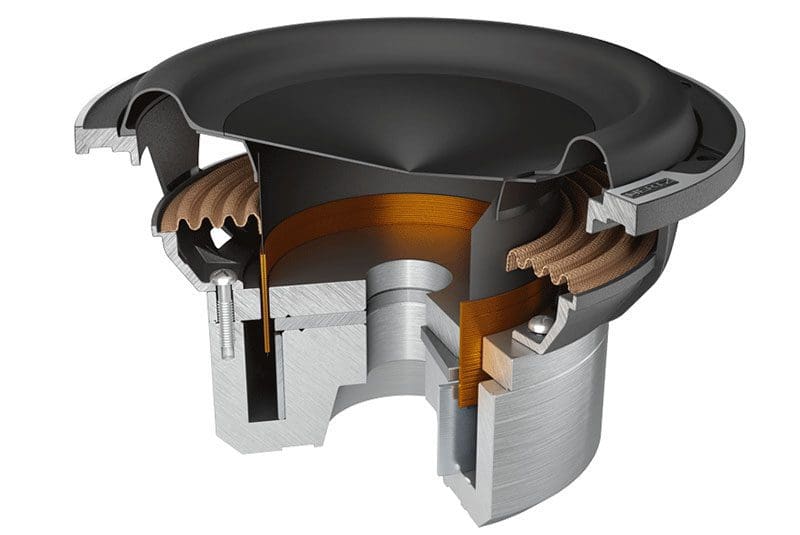 Subwoofer Sizes Vs. Performance
Subwoofers are available in sizes from 6.5 inches to over 18 inches in diameter. As we mentioned, a larger sub is capable of moving more air to produce more bass. A large subwoofer's drawback is that it requires a larger enclosure to produce the same amount of low-frequency information as a smaller subwoofer. In short, bigger isn't always better. When shopping for a subwoofer at your local specialty mobile enhancement retailer, the best selection method is to decide how much space you have available for the enclosure, then choose a subwoofer or combination of subwoofers that are optimized for that enclosure volume. Enclosure simulation software such as BassBox Pro or Term-LAB is key to creating a subwoofer system that will deliver the low-frequency extension you expect. For more on this topic, check out our recent article about balancing subwoofer performance with enclosure size.

Subwoofer Design Differences
When you walk into a car stereo shop, you'll likely see at least one or two subwoofers in a display case or sitting on a table. There's no denying that manufacturers put significant effort into making subwoofers look cool. Subwoofers come in two basic flavors: those with stamped steel baskets and options with a cast alloy basket. The stamped baskets are much less expensive to manufacture and perform just fine. Where they are limited is in their ability to support large magnet assemblies. The force behind the weight of those magnets increases as your car goes over bumps in the road. With a significant enough impact, it would be possible for a heavy magnet to bend a stamped basket. Cast alloy baskets are significantly more expensive to produce, but they can handle the rigors of supporting a double- or triple-stacked magnet assembly.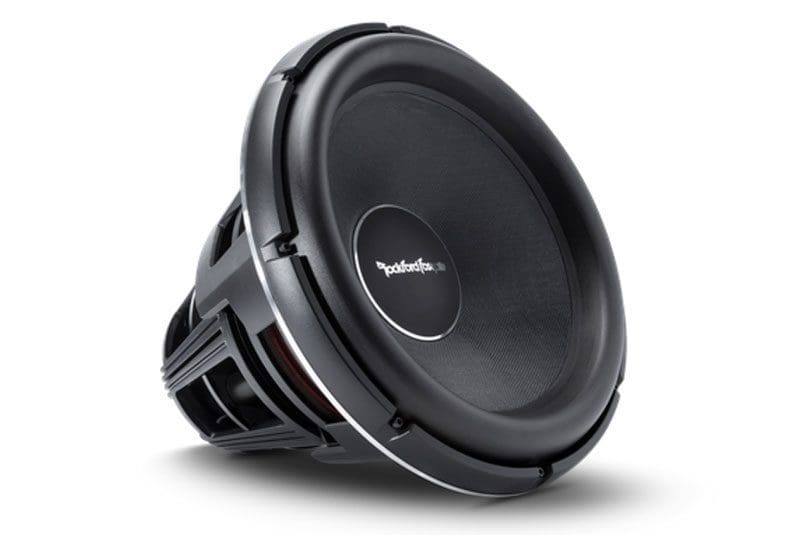 Speaking of magnets, you'll see that more expensive subwoofers often have two or three ceramic magnets stacked on top of each other. There are two reasons for the extra magnets. The first and foremost is to provide adequate room for the voice coil and cone to move forward and rearward. Quite simply, the bottom plate (the bottom part of the T-yoke) needs to be farther away from the top plate if you want the driver to have more excursion. There are also benefits to subwoofer efficiency and other parameters affected by the strength of the magnetic field in the motor assembly.
Currently, subwoofers are available in round and square designs. Over the years, there have been hexagonal, octagonal and triangular woofers. As long as each shape has been designed to function linearly, the differences in shape can be attributed to optimizing the space available in your vehicle and cosmetics.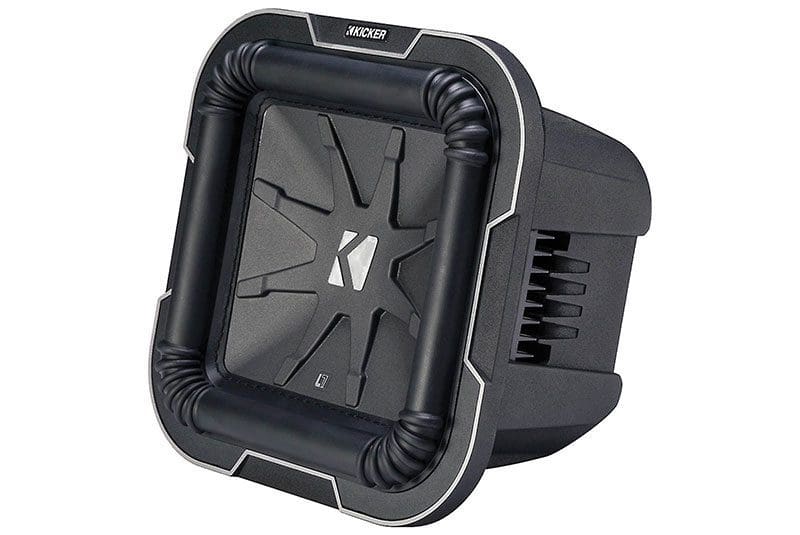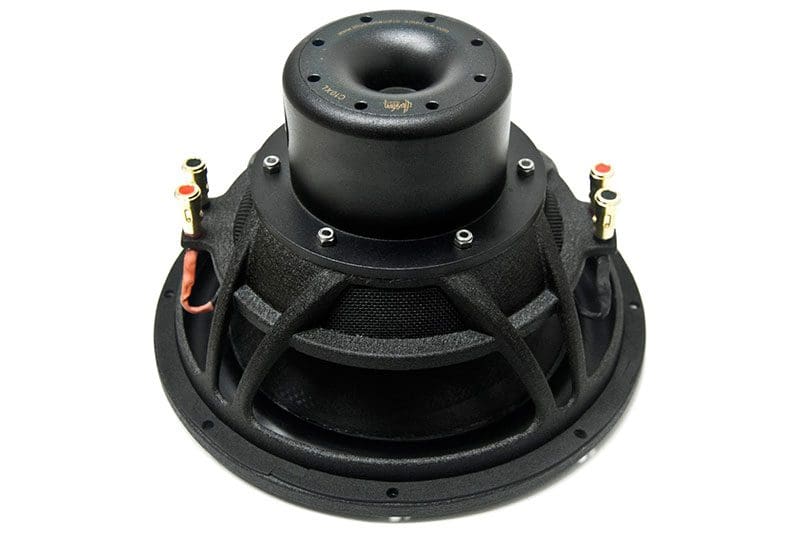 Subwoofer Cone and Surround Materials
The surround at the top of the subwoofer cone is part of the suspension design. It adds a small amount of compliance to the system, and it helps to keep the cone centered in the basket. Surrounds are typically foam or synthetic rubber. Rubber typically lasts longer than foam but costs more to manufacture. You'll see some rubber surrounds stitched to the woofer cone. On the design side, it can be tricky to choose adhesives that will bond dissimilar materials together. The stitching looks cool and helps keep everything secure.
The materials used to construct a subwoofer's cones include paper, polypropylene, carbon fiber and other composites and even aluminum. The cone has a simple job: It needs to remain rigid as the driver moves forward and rearward very quickly. The subwoofer designer needs to balance the cone's mass and rigidity to achieve a certain balance, so the subwoofer behaves the way it's intended to.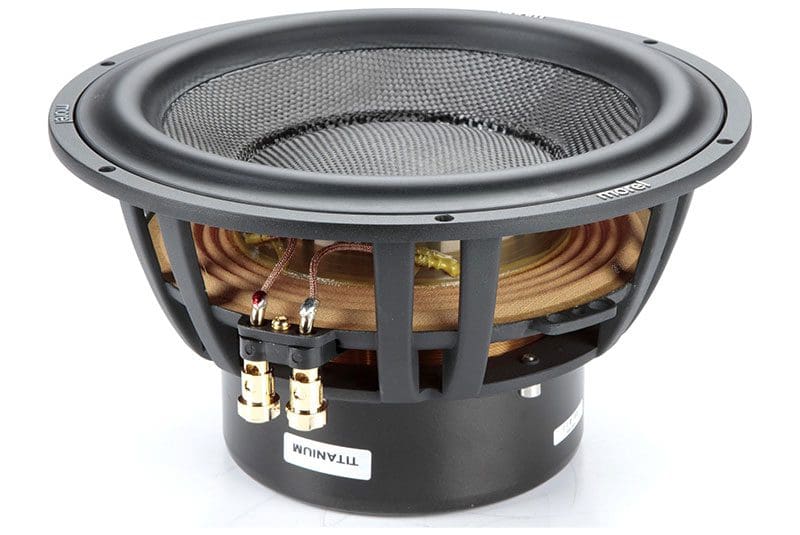 Voice Coil Impedance
Subwoofers are available in single, dual and even quad voice coil designs with impedances between 0.6 and 8 ohms per winding. These different options don't directly affect the performance of the subwoofer. The options exist to allow the Product Specialist you are working with to match the subwoofer or subwoofers you want with the right amplifier to optimize the power available to the system. We've written a detailed article about single and dual-voice-coil subwoofers if you want more details.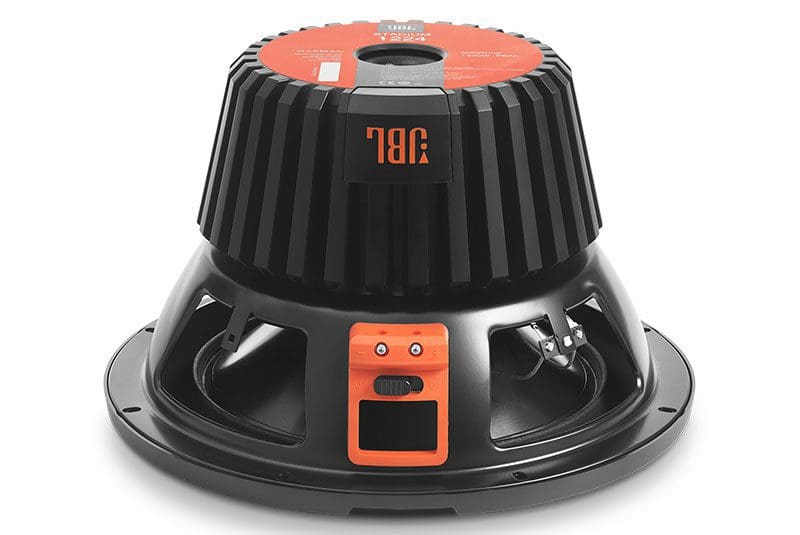 Sensitivity and Subwoofer Specifications
You may have seen a set of specifications associated with speakers and subwoofers called Thiele/Small parameters. This set of numbers describes a speaker's mechanical and electrical characteristics so that its performance can be modeled in software. Since they are all interconnected, no single specification is more important or critical than the others.
The above statement is especially crucial when considering the sensitivity specification. This calculated value doesn't directly describe how loudly a subwoofer will play in your vehicle. That number depends on the enclosure you choose and the amount of power available from your amplifier. Once again, we've created a detailed article about subwoofer efficiency specifications and why they can be misleading.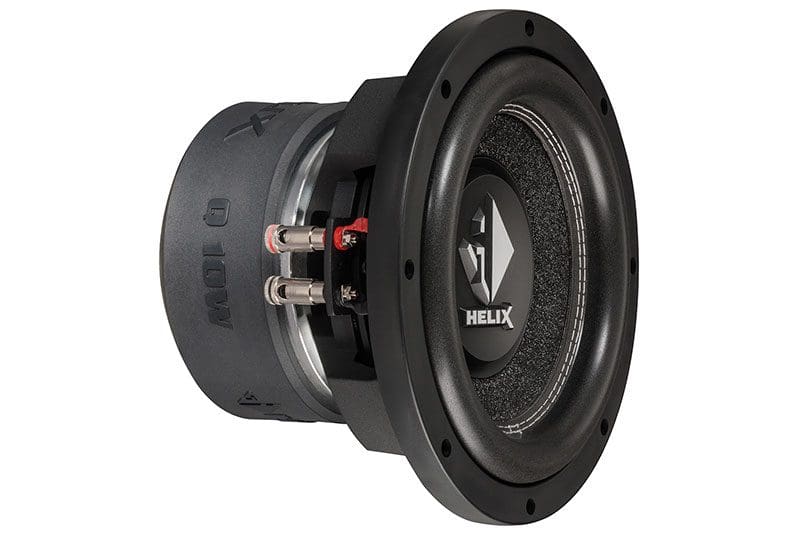 Choosing the Right Subwoofers for Your Car
Picking the right subwoofers for your application should start with the retailer you are working with calculating how much space you have available. You'll also need to know how much bass you want. If you want to add a little warmth and extension to a modest factory-installed audio system, a single 8- or 10-inch subwoofer in a vented enclosure may be more than adequate. On the other hand, if you have speakers powered by a large amplifier in your SUV, then you may want a pair of 12-inch subwoofers with stout power handling and impressive cone excursion capabilities.
To be satisfied with your upgrade, you'll need to explain what you have in mind to the Product Specialist. If they have a demo vehicle, ask for an audition. If you want more or less bass, tell them. Do you want extension to below 20 Hz, or is focusing on maximum output at 40 to 50 Hz more important to you? Being honest with your expectations is a fundamental element of creating a subwoofer system you will enjoy.
Last and certainly not least, audition the subwoofers you intend to buy. Different models have very diverse performance characteristics. Some will seem to resolve bass information with impressive clarity and accuracy. Others may sound sloppy or uncontrolled. While the way a system is calibrated with a DSP can play a role in determining these characteristics, distortion can't be tuned out of a speaker or amplifier. Listen to your favorite music on several subwoofers and choose the one that sounds the most accurate while providing the output you expect. Being able to hear the lowest notes in Bach's Toccata and Fugue in D minor, feel the impact of Neal Peart's twin Drum Workshop 16×23" bass drums or the near-infrasonic rumble in "Boom Boom Pow" by the Black Eyed Peas will dramatically improve the way you enjoy your music.