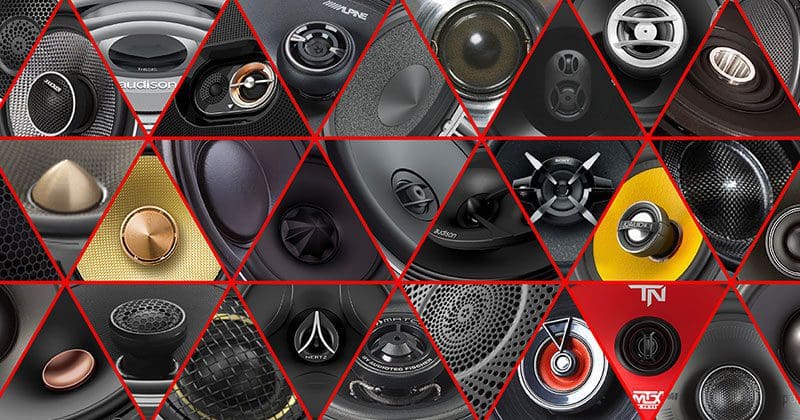 Welcome to the BestCarAudio.com 2020 Car Audio Speaker Buying Guide. If you're shopping for new speakers for your car or truck, the information in this guide will help you choose a solution that offers the best performance for your budget.
If you're an avid reader of BestCarAudio.com, then you know we consider speaker design and performance as the most important elements in building or upgrading any car audio system. Great electronics with low-quality speakers will sound mediocre at best. Modest gear with excellent speakers happens to sound surprisingly reasonable. As such, this guide will educate you on the design criteria and technologies crucial to achieving realistic performance.
Before we dive in, we should state that we understand not everyone plans to invest thousands of dollars in speakers for their vehicle. Replacing a set of worn-out drivers with new units for $150 is quite reasonable. We'll cover everything you need to know to make the best purchase at any budget level.
What Is a Speaker and How Does it Work?
A speaker, or more accurately, a loudspeaker is a device that converts an electrical signal into sound. You may have heard them referred to as transducers. The first moving coil speakers were created in 1924 and, for the most part, haven't changed in basic operational theory since then.
In most speakers, there is a fixed magnet attached to the base of the basket. A cylinder (called the voice coil former) is attached to the base of the speaker cone. This former has wire wrapped around it. This wire is called the voice coil. The ends of the wire are attached to the speaker terminals.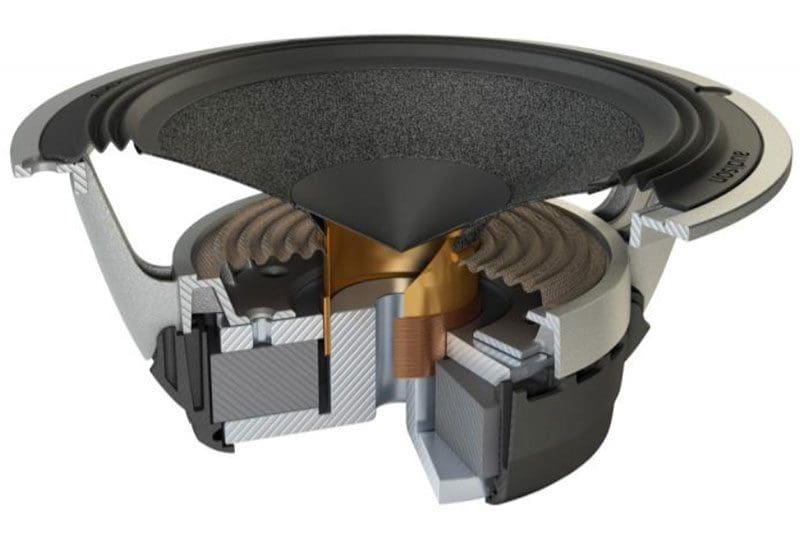 Two components locate the cone and former in the speaker's center: the spider and the surround. These elements allow the speaker to move forward and rearward from its rest position. Spiders and surrounds are types of springs. They pull the cone back to a fixed rest position after it moves. The strength of these springs is crucial to a speaker's design.
An alternating-current electrical signal generated by the amplifier causes current to flow through the voice coil. As the current flows, it creates a magnetic field around the wire. Depending on the polarity of the field, the speaker may move rearward toward the bottom of the basket or forward away from the basket. The amplitude of the electrical signal, combined with the surround and spider's compliance, determines how far forward or rearward the speaker moves. The speed at which the audio signal changes polarity determines the frequency content of the sound produced by the speaker.
Different Size Speakers Have Names
In car audio systems, we talk about speakers using general terms that describe the range of frequencies where the speaker will be used. Tweeters are typically relatively small, with cone or diaphragm diameters of 1.5 inches down to 0.5 inch. The largest tweeters play from about 2,200 Hz and up, while smaller units are typically filtered above 4 or 5 kHz. Midrange speakers vary from 2 up to 8 inches in most applications. They cover the audio range from 100 Hz to 5 kHz. Midbass drivers, sometimes referred to as woofers, forego some upper midrange performance for increased excursion capability and low-frequency extension. These drivers, usually measuring between 5.25 and 8 inches, play from 70 Hz to about 1 kHz. Finally, we have subwoofers, which are available in sizes from 6.5 inches up to 18 inches from most well-known car audio companies. We'll look at subwoofers in another article.

Speaker Buying Criteria: Size
If you're shopping for a replacement or upgrade speaker for your car or truck, you'll need to know the speaker's nominal size. For most companies, speakers are available in 2-, 2.5-, 3.5-, 4-, 5.25-, 6.5- or 8-inch classes, with a few brands making some 6.75-inch drivers specific to a small selection of vehicles. Many vehicle manufacturers use oval speakers in 4×6, 4×10, 5×7, 6×8 and 6×9 sizes in door, dash and parcel shelf locations. Unless you plan on having your installer create a custom installation, most people replace speakers with similarly sized new drivers.
There's an odd perception that oval speakers don't sound as good as round speakers. Assuming the technology put into the driver's design is equivalent, this isn't true. A 6×9 can easily sound as good as a 6.5- or 8-inch speaker.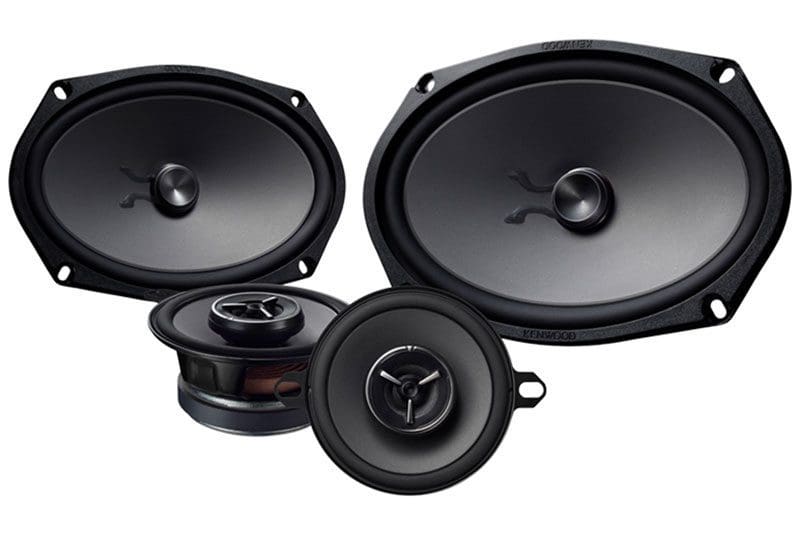 Are Larger Speakers Better?
A larger speaker's advantage is that it can move more air for a given amount of power. The drawbacks of larger speakers are twofold. First, the larger cones are heavier and, as such, can't change directions quickly enough to reproduce high-frequency information. The weight of the moving parts can be reduced, but this may sacrifice low-frequency extension (bass performance). A speaker designed for a public address or concert application may use 8-inch midrange drivers but only run them down to 300 or 400 hertz. A typical 8-inch woofer intended for a car door should play down to 70 or 80 Hz.
Second, speakers produce sound in a spherical shape. The speaker is in the center of that sphere – not on one side of it. As such, as much sound energy is created behind and beside the driver as in front. At higher frequencies with shorter wavelengths, the speaker's dispersion pattern narrows into a pattern that looks more like a flashlight beam emanating from the cone center. This phenomenon is called directivity, and it's crucial to understand this concept when designing an audio system.

Given that directivity is a function of cone diameter, we would never want to pair an 8-inch woofer with a 1-inch tweeter and expect that the system would sound the same in all listening positions in the vehicle. This explanation of directivity shows why more and more systems are designed with woofers, midrange drivers and tweeters. The result is a sound system that's easier to equalize and offers better sound for both short and tall drivers and delivers similar sound to the passenger.
Speaker Buying Criteria: Designs with Multiple Drivers
You've likely heard the term "way" used to describe speaker systems that include more than one driver. Perhaps the most popular is a two-way speaker that includes a midrange and a tweeter. Some designs move to a three-way design with a tweeter and a super-tweeter to improve high-frequency dispersion while producing adequate high-frequency energy to keep up with a larger woofer cone. Several brands offer 6×9-inch speakers with as many as five drivers in what they call a five-way design.
We also use the term "way" to describe how we power the speakers in a car audio system. If we use a set of coaxial speakers in the door of a car or truck and connect those speakers to the front speaker outputs of a radio, we'd call that a one-way system, even though they may be two- or three-way speakers. If we add an amplifier and a subwoofer, then turn on the crossover on aftermarket radio powering the speakers, we'd call that a two-way system. If the tweeters are given their own amplifier channels, then it would be a three-way system. Many higher-end systems use what's referred to as a three-way front stage. This would be a set of woofers, a pair of midrange drivers and a pair of tweeters, each with their own dedicated amplifier channels. This is often mated to a subwoofer system, yet is called a three-way front stage with a sub, instead of the more technically correct four-way system.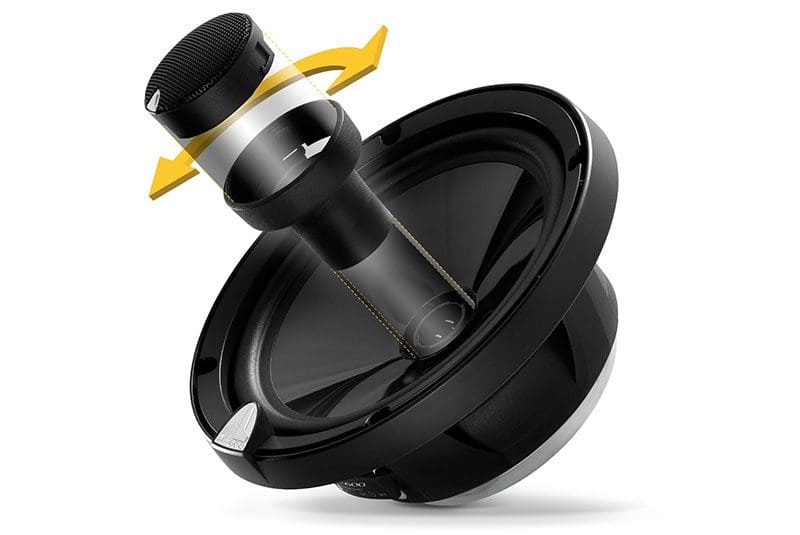 Two-Way Speakers – Above, Inside or Beside
The first type of speaker we'll discuss is called a coaxial design. In these speakers, a woofer and tweeter are combined into a single assembly. In a coaxial speaker, the most affordable solutions place a tweeter on an extension attached to the T-yoke. The tweeter usually has a relatively large diameter and can play low enough to make the system reasonably omni-directional in terms of dispersion.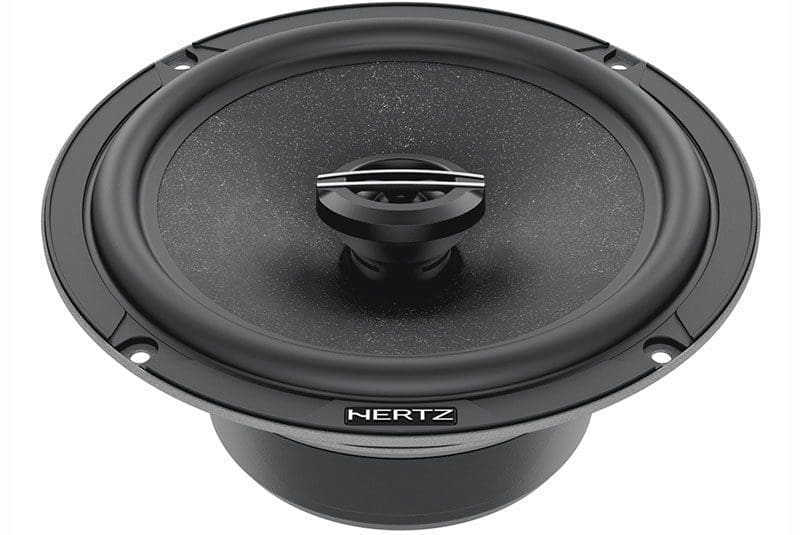 The second type of coaxial speaker is often referred to as a coincident speaker. In these designs, the tweeter is mounted at the base of the woofer cone and is relatively flush with the top of the voice coil former. The advantage of this design is that all the speaker's sound comes from a single source. Designing and calibrating a crossover for this type of speaker is easy since there are no pathlength differences to deal with. The drawback of this shallow tweeter mounting position design is a phenomenon called Doppler distortion. The tweeter's output is modulated by the movement of the nearby woofer cone as it acts as a moving baffle. Woofers that play lower frequencies exacerbate the issue. Tweeters played to lower frequencies also make this worse as more of their energy bounces off of the cone. The effect is worse on-axis. Even when the tweeter is raised away from the base of the woofer, the radiation pattern is still spherical and the output will be modulated by the moving woofer cone.
If your goal is optimized performance from each speaker, then you will want to look at a component set. A component set is a two- or three-way speaker system where the tweeters are separate from the woofers and midrange drivers. This type of speaker allows your installer to optimize the placement of the tweeters in your system so you get the best performance possible. A side note: Tweeters should be mounted within 20 to 25 degrees of being on-axis with the listener in order for the highest frequencies to be audible.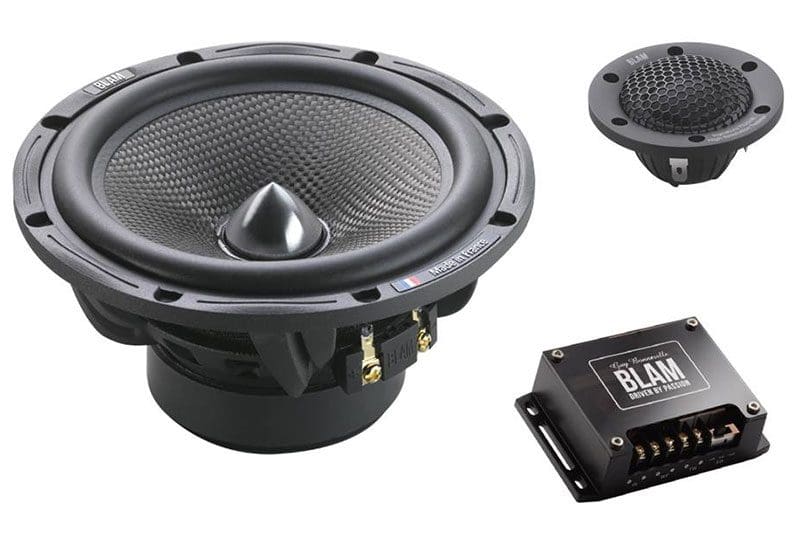 Speaker Buying Criteria: Cone Materials
Discussing the materials used to make a speaker cone can quickly take us into the land of marketing fluff. The goal of any speaker cone is to remain rigid throughout its range of motion. This means, at high frequencies, we don't want the cone itself to resonate and add distortion to the audio being produced. If we make a cone that's extremely rigid and properly damped, it might be too heavy to produce the high-frequency information and efficiency we want. If the cone is too light, it might not have enough damping to prevent resonance. As you can see, balancing the mass, rigidity and damping characteristics is complicated.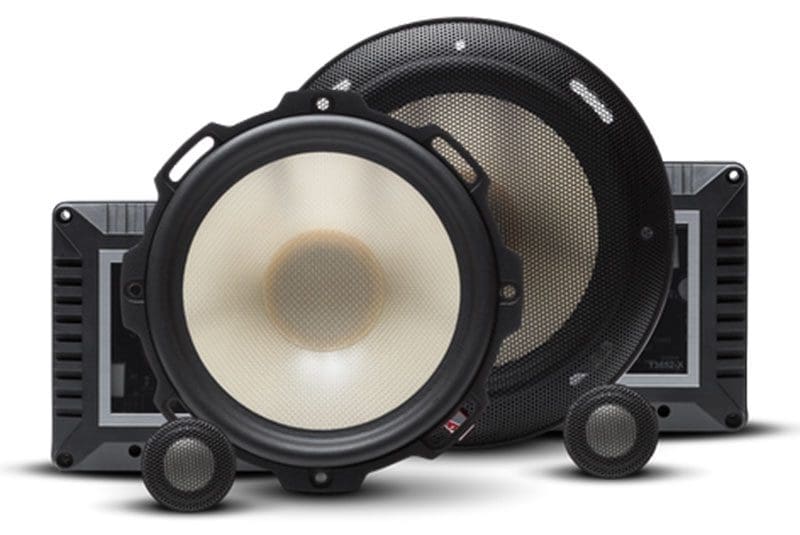 Cone materials for woofers and midrange drivers vary. They include pressed paper, polypropylene, carbon fiber, fiberglass and aluminum. For tweeters, we have polypropylene, polyethylene terephthalate (PET), polyetherimide (PEI), textiles (silk), aluminum and beryllium. Some companies add other materials such as carbon, mica or basalt to polypropylene to add damping and increase thermal stability. Sandwiching an expanded foam core with a layer or two of fiberglass is also another popular design. Is any one of these better than another? There are too many variables to say. Some work great through specific frequency ranges, while others go berserk with resonance at higher frequencies.
Speaking of resonances, dust caps on woofers and midrange drivers can be a significant source of resonance and distortion at high frequencies. The alternative is to put a cap on the T-yoke of the speaker simply. This is often called a phase plug – though it doesn't do anything to affect phase. The drawback of not using a dust cap is a noticeable reduction in the driver's cone area and efficiency. The dust cap (and cone and surround) should be designed so that any significant resonances are well outside the speaker's intended operating frequency range.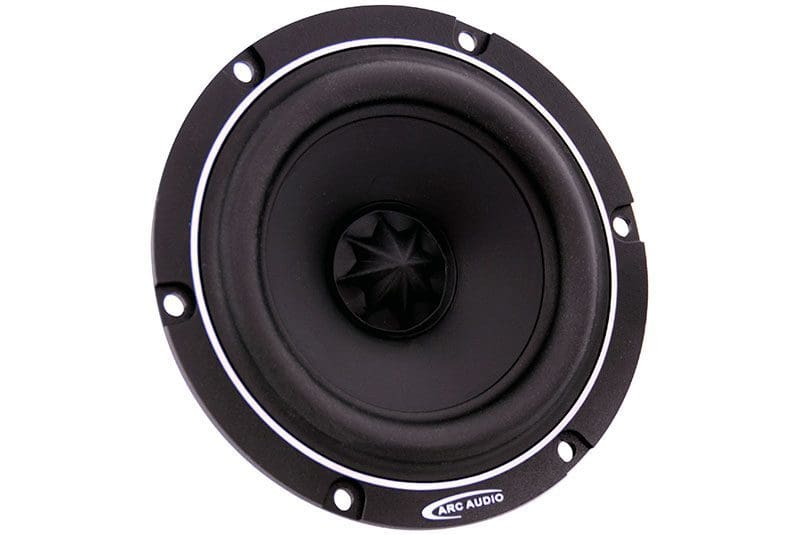 Speaker System Designs Should Complement Each Other
As you can glean from the above tidbits regarding speaker design, designing and manufacturing a truly amazing speaker is no easy feat. What's even more difficult is to develop a series of speakers that will work together in a variety of combinations to meet the needs of as many consumers as possible. Companies that understand this work very hard to develop woofers that deliver low-distortion performance beyond the point where they would be crossed-over to a tweeter in a two-way system. These same companies develop midrange drivers that work in small speaker enclosures that look good in A-pillars. Designing a midrange that needs a large enclosure behind it to deliver smooth response doesn't make sense in this application. It's very rare to find a company that has taken all of this into consideration.
Speaker Buying Criteria: Distortion-Reducing Technologies
Several design criteria and technologies are used in modern speaker designs help to counteract the addition of distortion to an audio signal. We'll look briefly at each one.
First, when it comes to spiders, you want to look for a speaker design that uses a flat spider instead of a cupped design. The use of cupped spiders results in the stiffness of the suspension being different as the cone moves rearward instead of it moving forward. Given a fixed magnetic field strength in both directions, the speaker will move farther when there's less compliance. This adds distortion to the output of the speaker.
Some companies use a voice coil technology called XBL2. In this design, there are two voice coils and two magnetic gaps. At rest, half of each voice coil is in its respective gap. As the cone moves forward or backward, there's always one complete voice coil in the gap, and the magnetic field strength remains constant. The result is very linear motion throughout the excursion range and low distortion.
Another technology that companies use to reduce distortion involves aluminum shorting rings and copper T-yoke caps. In both cases, these added components work to control magnetic field linearity to ensure that the driver responds accurately to the electrical signal from the amplifier. Shorting rings are rare, found only in a few solutions from a few brands. Copper caps on the pole piece are even rarer. With that said, both technologies provide an audible improvement in clarity.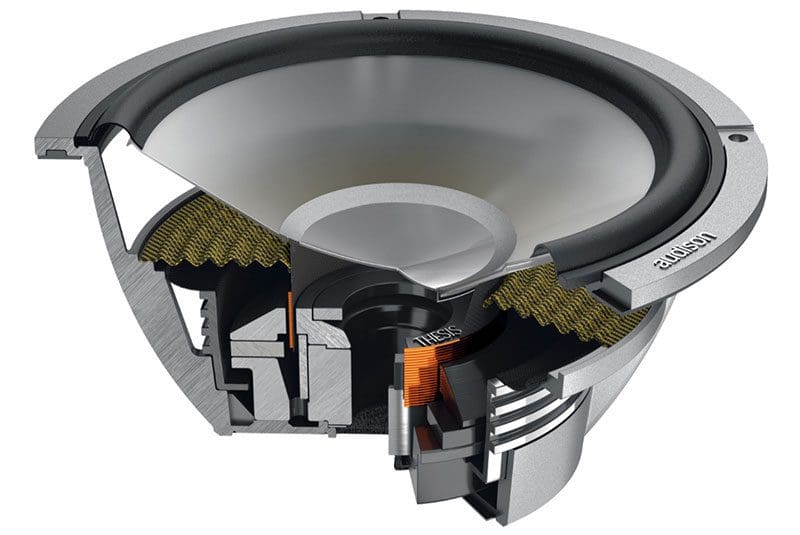 Speaker Buying Criteria: Speaker Specifications
Sadly, one of the biggest myths in the entire audio industry is the belief that a speaker rated to handle more power is better than one with a lower power rating. This logic doesn't take into account any of the features or technologies we've discussed so far. However, power handling specs, if accurate, do matter. If you listen to your music at high volume levels, then you'll want a speaker that can handle lots of power. In almost every case, this will mean that the driver will have a relatively large voice coil diameter to dissipate heat efficiently. Speakers are notoriously inefficient, peaking at 3 or 4%. The rest of the energy from the amp turns into heat in the voice coil.
Most speakers are tested and rated by using pink noise. Pink noise decreases in energy as frequency increases. A tweeter rated to handle 100 watts of power isn't physically large enough to dissipate 100 watts of heat. However, that tweeter is ideal for use in a system where the woofer will receive 100 watts of power. That tweeter is likely never to see much over 10 watts. Keep this in mind when looking at power-handling specifications, but never let the wattage numbers supersede the presence of distortion-reducing technologies.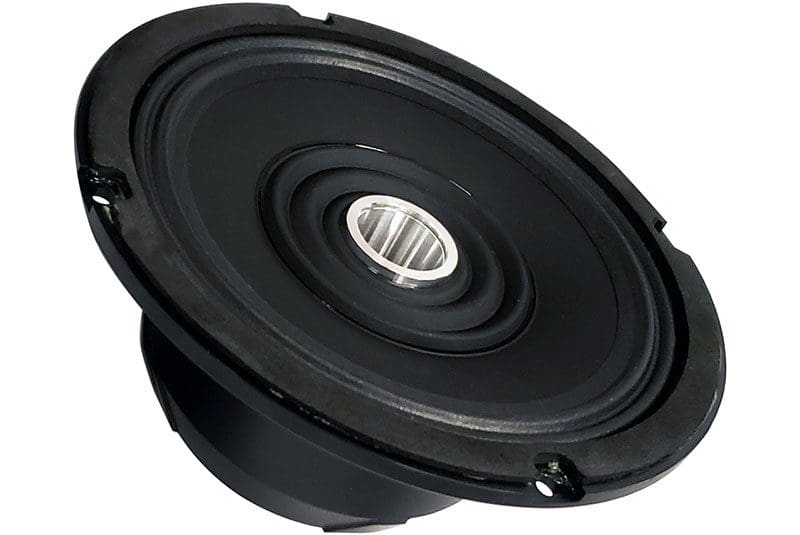 The next number we'll look at is efficiency. Efficiency specifications describe how much sound the speaker will produce for a given amount of power. Efficiency specifications are provided in two forms: dB SPL at 1 watt of power, or dB SPL at 2.83V. Both are usually specified with the microphone capsule being 1 meter away from the speaker, so a spec of "dB SPL at 1W/1M" is also common. The 2.83-volt spec is more popular with home audio speakers as 2.83 volts is equivalent to 1 watt into an 8-ohm load. Into a 4-ohm load, 2.83 volts represents 2 watts. If you see a 2.83-volt spec for a 4-ohm speaker, you can subtract 3 dB to compare it to a 1-watt rating.
Is more efficiency better? If that efficiency comes without a loss in low-frequency output, then yes. You want as much output as you can get, but in most applications, a speaker with a lighter cone assembly will produce more output at the expense of midbass output. Suppose you compare the frequency response graph of a typical replacement car audio speaker to that of a high-efficiency pro-sound or SPL driver. In that case, you can see this characteristic clearly.
Frequency response is, of course, an important criterion. Sadly, most manufacturers apply a lot of smoothing to the graphs they publish. This smoothing removes details about the cone, surround and dust cap distortions, making it challenging to compare speakers. Nevertheless, you want to pick a speaker with the flattest response possible. Some woofers feature a high-Q design that produces a bump in the midbass region. These drivers are suitable for systems that won't include a subwoofer. The drawback is an increase in distortion in this range. Ripples, dips and peaks in the upper midrange are an indication that the cone, surround or dust cap is resonating independently of the voice coil's motion.
We could go on for pages and pages, delving into the minute details about speaker design and specifications. We'll stop here as we've covered the most important criteria. If you want to learn more, we have a dozen or so other articles available here on the site.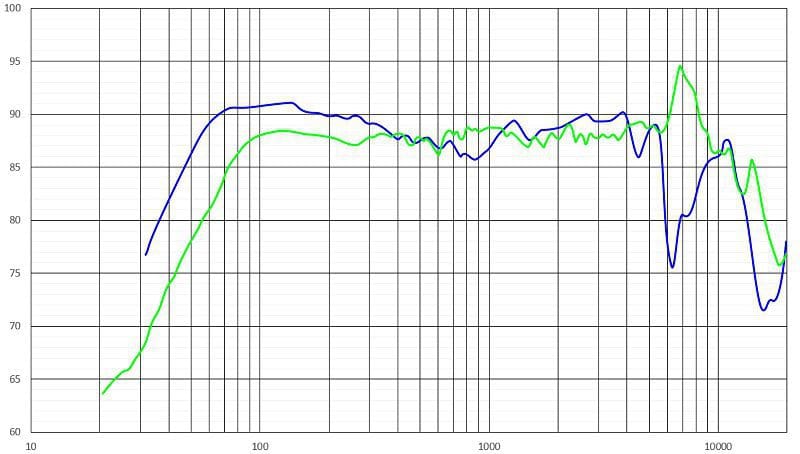 The Final Shopping List for New Speakers
When you walk into your local mobile enhancement retailer to buy speakers, there are three steps you need to take. First, define the size of the speaker you need. The product specialist can usually help with this. Second, define your performance expectations or budget. If you want "the best" speaker solution, expect to pay $2,000 to $4,000 for a top-quality component set or combination of a la carte drivers. If you want the most performance for a given budget, make that clear. Finally, audition the speakers. Play your favorite song on all the options available. As the song plays, listen for anything that stands out. Is the midrange smooth and natural? Does the high frequency information blend with the midrange, or is the system bright? Is there any emphasis on any part of the sound? Harshness or "brightness" is usually a sign of distortion. Is the bass tight and controlled, or sloppy and resonant? These characteristics can tell you a lot about the Q of the woofer. You want to pick the speaker that sounds the most accurate. If you prefer more midbass or highs, the technician can adjust the EQ in your radio or digital signal processor. Choosing a speaker with those characteristics is likely to add distortion to the system.
Great speaker solutions are available at every conceivable price point. When dealing with reputable brands that use genuine engineering technology to improve their speakers' performance, it's easy to hear what a better speaker sounds like as you move up in cost.
Upgrade Your Car Audio Speakers Today
We've created several articles that go over the importance of proper speaker installation and system calibration. A car audio system with excellent speakers won't sound as good as one with good quality speakers and a properly calibrated digital signal processor. Keep this in mind as you create your audio system upgrade budget. Drop by your local specialty mobile enhancement retailer today and bring your favorite song on a CD or USB memory stick. Listen to that music on as many speaker options as you can. Pick the one that sounds the most accurate.