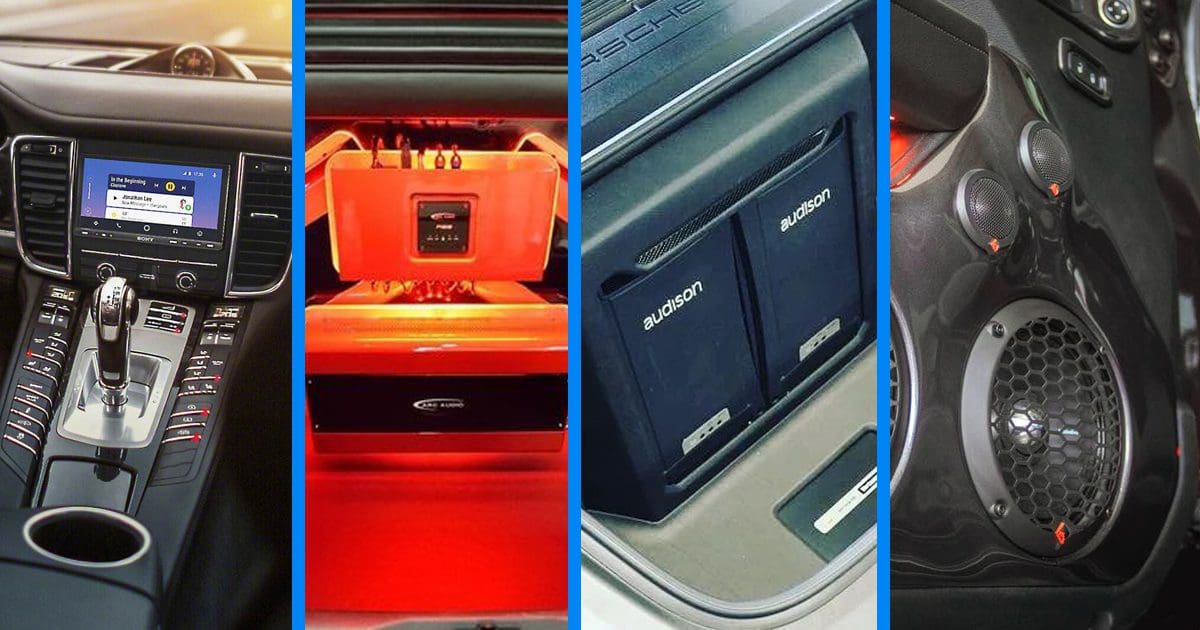 We've talked about audio component and speaker distortion a great deal. The reason for this is that distortion is one of the critical factors in quantifying the quality of an audio system. Components that add a lot of distortion take away from the realism of the listening experience, making the music blurred, muddy and unnatural. This article will follow an audio signal through the typical car audio system, from the source unit to the speakers' output, to explain how unwanted information is added to your music. We aim to emphasize the importance of choosing high-quality audio components at every stage to get the most from your stereo upgrade.
As our virtual audio test source, let's imagine an audio track with three sine waves. The first is at 50 Hz, the second at 1 kHz and the third at 5 kHz. I've chosen this approach so you'll be able to "see" how things change as we work through the system.

As you can see above, we have three unique peaks with little to nothing between them. This is as pure as our audio signal will ever be. The sine waves are "recorded" at -10 dB FS, so we should have enough room to add harmonics without clipping the signal.
The System: Source Unit, DSP, Amplifiers and Speakers
For this example, we'll use a typical consumer-grade source unit from a name-brand company like Sony, Kenwood, Alpine or Pioneer. These radios typically add about 0.1% distortion on the preamp output unless they are a premium Mobile ES or eXcelon XR model. This rating of 0.1% means that for every piece of frequency content, information is added at a level of -60 dB at different harmonics. Most radios I've tested add second-order harmonics at this level, so to keep the example simple, we'll only consider that.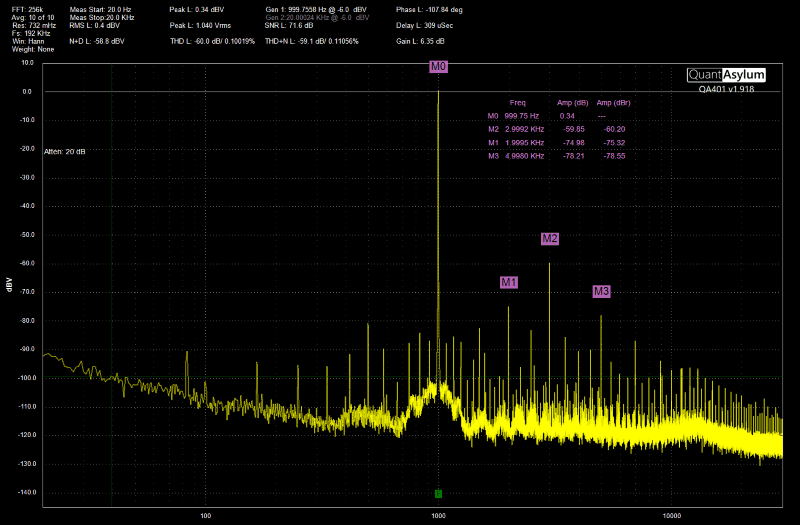 So, let's add second-order harmonics to our test track. The third harmonic of 50 hertz is 150 hertz. The third of 1 kHz is 3 kHz, and the third of 5 kHz is 15 kHz. So, we'll add sine waves at -70 dB FS to the track – which is 60 dB less than the original 50-, 1,000- and 5,000-hertz signals.

Now we can see how there is some low-level content added at three times each of the fundamental frequencies. Remember, in real music, we aren't dealing with pure tones but with bands of audio information. So, everywhere there is audio information, the product adds harmonics to the output.
Signal Processing
The next step in the audio food chain is to pass the signal through a processor. Once again, our goal is to explain the concept here, so we will keep things unrealistically simple and ignore any equalization or filtering. We'll consider the harmonics added by a typical good-quality processor. Since this system isn't using top-of-the-line gear, we'll use an affordable six-input, six-output processor as the model. I've tested several of these, and they add about 0.05% THD to the signal. That value equates to another round of harmonics added to the output at a level of -80 dB.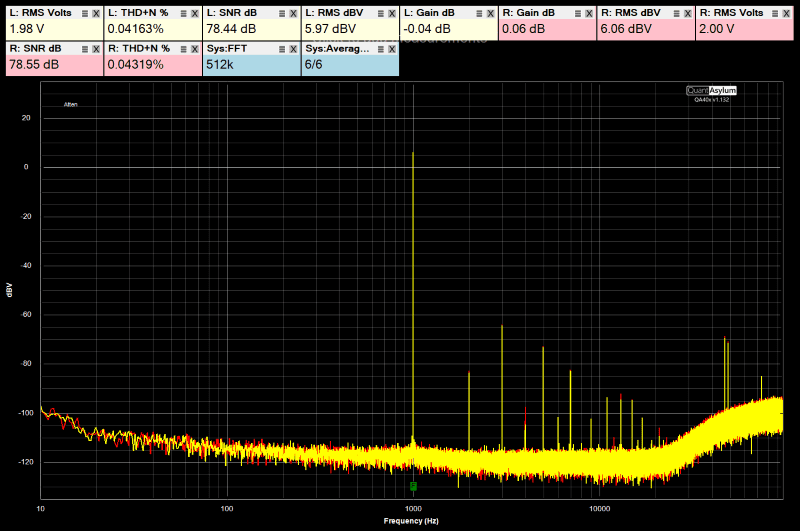 Since the processor doesn't know the difference between the original audio source and the information that includes harmonic distortion, it adds harmonics to the harmonics. Think of this like compound interest on a car loan or mortgage. In this case, those harmonics are below the background noise level in the audio track, so they are invisible.

The third-order harmonics have now increased to an absolute level of -67 dB FS from their -70, thanks to our digital signal processor's third-order distortion characteristics.
System Amplification
Here's where we need to make some assumptions about how the system is being used. Amplifiers don't have linear distortion characteristics. They add more harmonics at low levels and less when being pushed hard. For this example, we will go right up the middle and assume we are listening to the system at a moderately loud playback level. Given the typical speakers in a vehicle and their reference efficiency, let's say we're enjoying an average playback level of around 90 dB SPL. Believe it or not, your amplifier is likely only producing 1 or 2 watts of power, assuming you haven't cranked up the bass control on the radio. Most consumers and audio enthusiasts underestimate the importance of clean audio amplification and low output levels. This is why BestCarAudio.com measures amplifier THD+N and S/N ratio at 2 volts, as this equates to 1 watt of power into a 4-ohm speaker.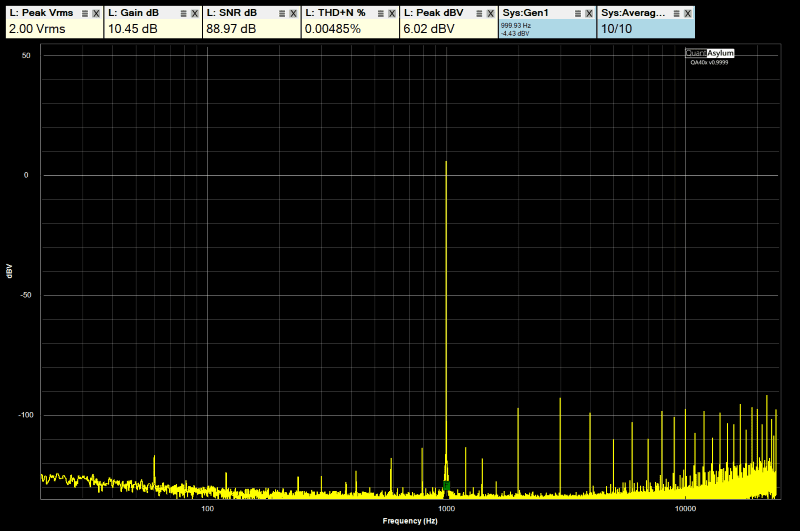 A modern, affordable Class-D amplifier adds about 0.01% THD, but it's often reasonably equal between first and second harmonics. We don't want to overload the concept, so we'll add -83 dB FS frequency content at first- and second-order spacing to our audio signal. Please don't fret; this will make sense when you see it.

The third-order tones are now above -70 dB FS, making them only 60 dB SPL quieter than our original signal. This isn't loud but represents a total harmonic distortion level of 0.1%. Imagine if any component in the chain were of poor quality. We've measured ultra-compact amplifiers that are much worse than our example. Stacking another 10 dB of harmonic distortion on top of the existing audio content is almost easy.
Speaker Distortion
Sadly, we've reached the weakest link in the audio system in terms of adding distortion to our original signal. We've just started characterizing speakers' harmonic distortion characteristics, so officially, we don't have a massive database of information to pull from. For this example, let's say that the vehicle has a set of upgraded speakers in the front and back – something like a 6.5-inch coaxial in both locations. We know that every speaker increases the amount of distortion it adds as cone excursion increases. Since reproducing bass frequencies requires that we move a lot of air, that's where we'll run into the most significant distortion issues.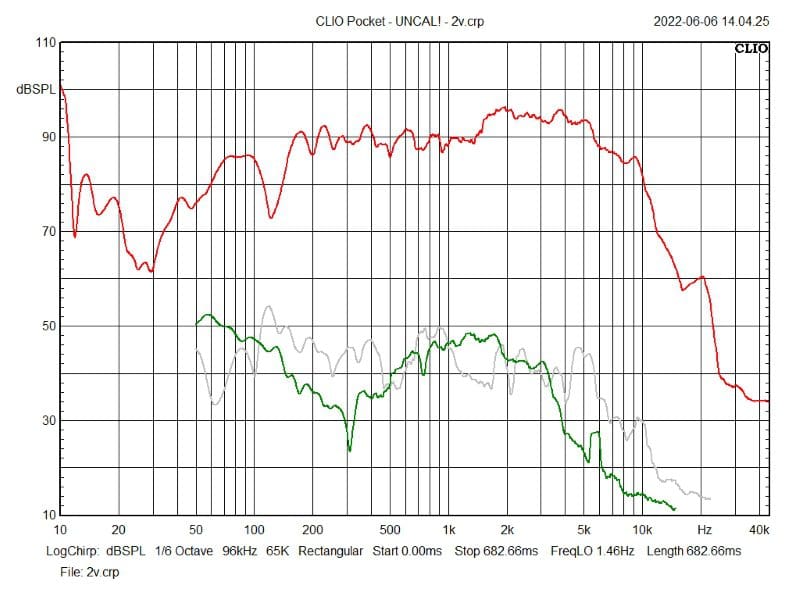 We've already decided we're at a playback level of around 90 dB SPL. Based on our testing and some educated forecasting, let's add 1% even- and odd-order harmonic distortion at the bass frequencies. We'll add 0.3% at the midrange and 0.1% at high frequencies. These equate to -50 dB FS tones at 100 and 150 hertz, -60.45 dB FS tones at 2 kHz and 3 kHz and -70 dB FS tones at 10 kHz and 15 kHz. Let's see what that looks like.

Distortion Adds Something from Nothing
Let's analyze this final signal. We have 100- and 150-hertz harmonics in the bass region at levels of -50 and -49 dB FS relative to our -10 dB FS source. That's about -36.5 dB of distortion or 1.5%. For the -10 dB FS midrange tone, we have harmonics at -60 dB and -67 dB, which work out to a total harmonic distortion level of -45.47 dB or 0.423%. Finally, for our high-frequency information, the harmonics are at -58.5 and -52.3 relative to the original signal, for a total distortion of -51.4 dB or 0.27%.
What Are Our Takeaways?
We first need to realize that distortion is added at all volume levels, not just when a component is pushed beyond its linear operating range. Second, speakers are notorious for adding large amounts of distortion. Buying speakers with distortion-reducing technologies like shorting rings and copper or aluminum T-yoke caps can make a massive difference to your audio system. Lastly, this is a very simplified example of how distortion works. We ignored the first- and third-order distortion from the head unit and processor, along with the intermodulation distortion created between these fundamentals and harmonics. More importantly, we ignored that music is full of frequency content and not just three bands. Imagine these exact multiples of every frequency between 50 and 5 kHz.
Higher-quality audio components and speakers can quickly improve distortion performance by an order of magnitude or two, dropping it by 10 or 20 dB overall. Designing an audio system with a subwoofer will alleviate the need for a small speaker to try to reproduce bass frequencies for another significant reduction in unwanted harmonic information.
We also didn't talk about background noise at all. A source unit like this might have a signal-to-noise ratio of 73 dB. The DSP has an S/N ratio of 78 dB, and the amp is likely in the 88 dB range. All this noise adds up and can become audible between tracks or during quiet passages in your music.
When it's time to upgrade your vehicle's audio system, drop by a local specialty mobile enhancement retailer and audition some options that will work with your application. The time you invest in choosing the best-performing solutions for the money will reward you with hours of great listening.