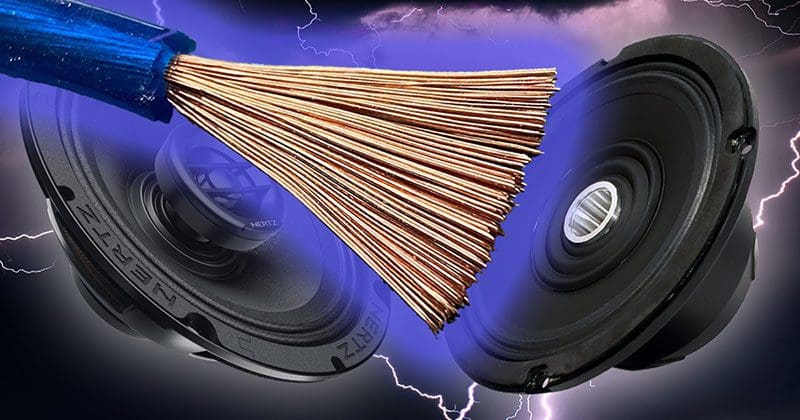 If you've browsed any of the online car audio forums or Facebook groups, you've inevitably run across someone asking if you have to upgrade the speaker wire in a vehicle to support a new car audio system. Unlike a sure-fire upgrade like new speakers or adding an amplifier, the answers to the benefits and drawbacks of speaker wire upgrades are far more complicated. Please don't fret; the BestCarAudio.com team is here to lay it out and get to the bottom of things. Let's talk about speaker wire upgrades.
Will New Speaker Wire Improve My Car Audio System?
If you've ever waded into the mire of online high-end audiophile discussions about speaker wire, then you may have heard that better wire will bring out buried details in your listening experience. The anecdotal evidence seems overwhelming, and some have even applied a level of science to their quest for the Holy Grail of listening experiences. While we'd love to have an extra $10,000 around to experiment with a set of Audioquest William Tell Silver 10-foot speaker cables, we don't have that kind of spare change lying around. Have we heard a difference between different speaker wires? Yes. Is the investment in high-end speaker wire in a car audio system worthwhile? Not really; larger gains can be had from better system calibration or upgrading to lower-distortion speakers. That doesn't mean you shouldn't have the shop install new speaker wire. You can simply avoid the $1,000-per-foot stuff.
The Mechanics of Speaker Cables
Several factors need to be considered for a standard or even a high-end mobile audio upgrade when choosing which parts need upgrading. Reliability and predictable performance should be first and foremost in the Product Specialist's mind when designing the system. A car is not a house or apartment. It moves. It vibrates. It gets hot and cold. It's hard on every component that's hurtling down the road at 60 miles an hour.
Many high-end home cables use solid conductors to supposedly eliminate "noise" caused by electronics jumping from strand to strand. Even if that were an audible phenomenon, using a solid conductor in a vehicle is a recipe for disaster. All wiring in a car or truck needs to be flexible so that it won't work-harden because of vibrations or the flexing that takes place as you open and close a door.
If you do a Google search, you'll find inquiry after inquiry about Ford Explorers, Honda Civics, Dodge Rams and Chevrolet Silverados with wires broken in the harness between the vehicle and the door. Speakers, power locks, power windows, power mirrors and lighting all fail to work because the wires with few strands work-harden and break.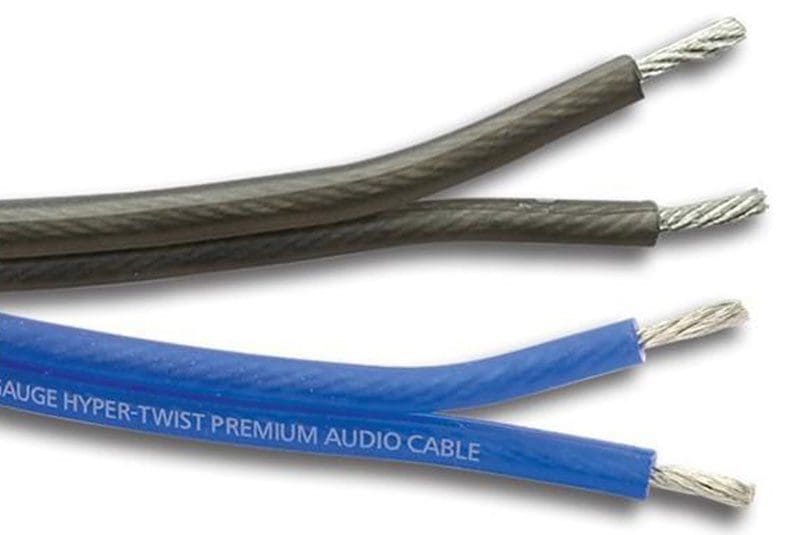 Dedicated Wiring Ensures Predictable Performance
Many shops around the country include running new speaker wire into car or truck doors anytime they are installing a new set of speakers. Aside from the reliability benefits we outlined above, running new wiring ensures that the system will perform as intended. There's no chance of a wire-color change that may affect speaker polarity. There's no chance of a door chime or Bluetooth module interfering with the system operation. Having a wire run directly from the amp to the speaker is a guarantee that you'll get exactly what you expect from the speaker.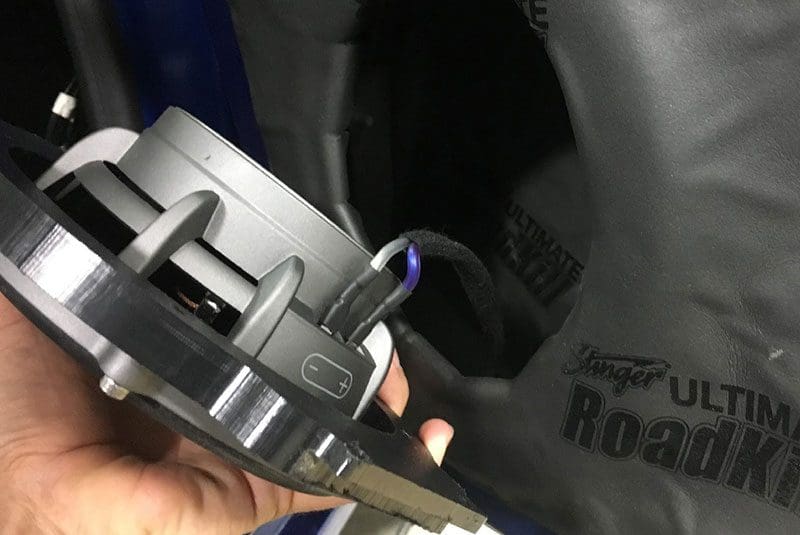 Do Speaker Wires Add Resistance?
Let's talk about speaker wire and electrical power delivery. It's an indisputable fact that every conductor has some amount of resistance. Given this information, we will lose some amount of our amplifier's electrical power as heat in the wire. This loss will reduce the output of the system at the speaker. The question is, how much loss is allowable? The CTA-2015 Mobile Electronics Cabling Standard calls for an allowable loss of 1 dB of output over a conductor's length. Let's look at a few contributing factors that complicate the criteria required to evaluate the required conductor size.
First, not all speakers in a mobile audio system will need the same amount of power. Your subwoofers will need the most power. It's not unreasonable to expect a sub to absorb 100 watts of power from your amp for long periods. If your installer has configured the crossovers in your audio system correctly, you may only need 40 or 50 watts to a midrange driver for it to keep with that sub. If you have a three-way system with dedicated amplifier channels for tweeters, then they may see only a few watts of power, even at high output levels.
Since resistance in a cable is relatively constant (unless you get it really hot), let's look at the power lost in a 12-AWG cable that's running from a large monoblock amp to a subwoofer. It would seem reasonable that the total length of the wire (considering that there are two conductors) would be around 12 feet in a typical installation. Good quality, all-copper 12-AWG cable has a maximum resistance of 0.00595 ohm per meter or 0.00181 ohm per foot. So, we'd a total have 0.0218 ohm for our 6-foot run. If we assume the subwoofer has a nominal impedance of 2 ohms, and we are averaging 100 watts of power to the system, we'll see an average of 7.071 amps of current pass through our conductor. Ohm's law states that we'll see a power loss of 1.088 watts in the speaker wire and a reduction in the speaker's output of 0.04 dB. That's not very much, and certainly nothing to ever worry about.
What if we had a friend help us install the system instead of going to a professional, and we only had some 18-AWG primary wire to hook up our sub? Now we'd be losing 4.37 watts to our wire. Now we are losing 0.194 dB at the speaker. Still not a big deal, or is it?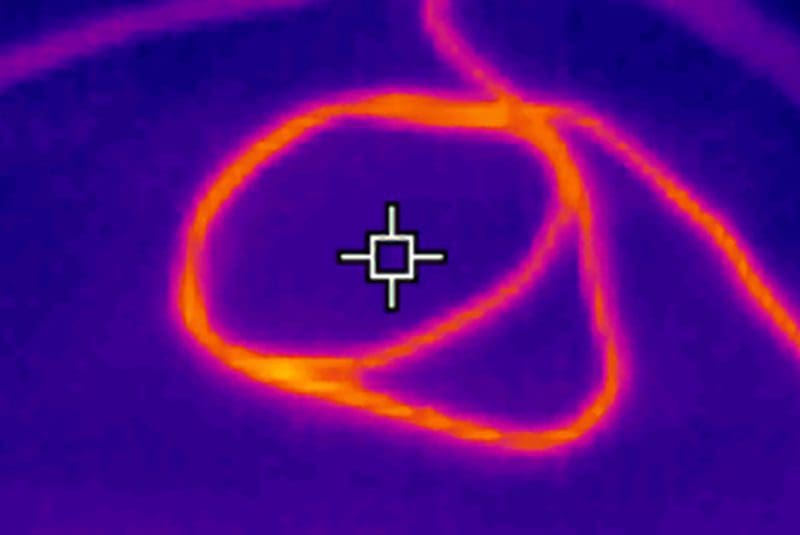 Where this jumps to life is at high power levels. If you are a bass-head or are competing in SPL competitions, the amount of power your subwoofers will see can increase dramatically. Let's bump our example up to 1,000 watts and wire the load to an impedance of 1 ohm and see what happens. Now, our 12-AWG cable loses 10.88 watts of energy but less than 0.05 dB of output. That 18-AWG wire, on the other hand, needs to dissipate 43.7 watts of heat. Aside from the fact that the wire is likely to go up in smoke, our system will be down about 0.2 dB, purely from speaker wire losses. For regular Joes like you and me, good 12-AWG wiring on a sub is fine, and 14- or even 16-AWG cable on a midrange speaker won't present any issues, ever.
Welcome to the Land of Silly Power Levels
Because I know the odd bass-head will read this article, let's run the math on some of the silly SPL competition subwoofers. To keep things relatively reasonable, we'll use an example woofer from Digital Designs. Their Z415 15-inch subwoofer has a continuous power handling rating of 6,000 watts and is available with dual 1-ohm voice coils. For a 12-AWG speaker wire, we'd be losing 261 watts of power into heat in the wire. While 261 watts at a level of 6,000 doesn't represent much signal loss, it does present a serious issue in terms of the wire melting. Oh, if you wanted to try 18-AWG wire, it'd be 1,050 watts. Heh, heh, that'd go bang like a fuse dead-shorted across battery terminals.
As you can see, the issue isn't about the loss of signal in the wire. At high power levels, the concern is about the wire catching fire. For a run of 8-AWG cable at a level of 6,000 watts into a 0.5-ohm load, there would be 103 watts of heat in the conductors. If you jump to a 4-AWG cable, you get a more-reasonable 40.82 watts of heat. So, bass-head friends, keep those speaker wire runs short and, when you can, bi-wire the subwoofers to reduce the current in each conductor. The system will be a touch more efficient, and there's less chance that you'll need the fire extinguisher.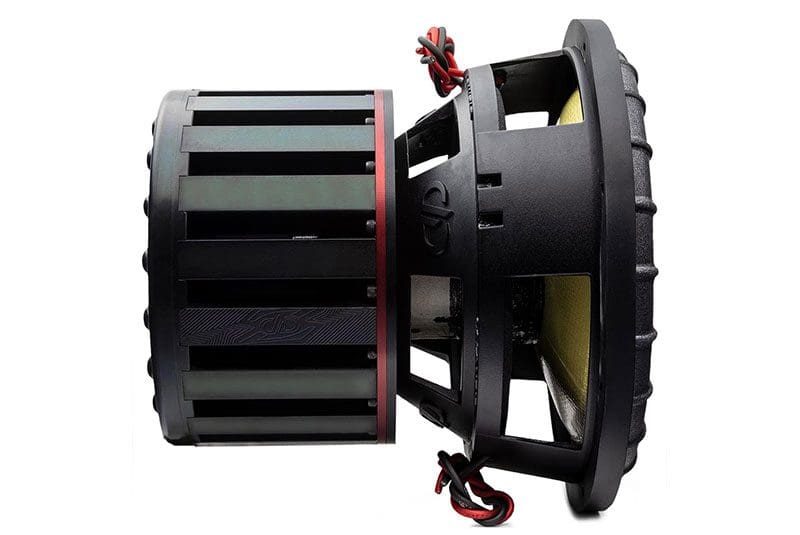 Should I Have the Speaker Wires in My Vehicle Upgraded?
If you're concerned about getting the most power possible to your midrange speakers and tweeters, speaker wire isn't a concern at all. If you want a system that will play reliably for many years, having a local specialty mobile enhancement retailer install high-quality speaker wire constructed with lots of strands is a great choice. Likewise, dedicated speaker-wire runs help ensure that the system won't be affected by door chime or warning modules. Yes, it costs a little more to have these wires run into your doors, but it's a small price to pay for long-term reliability.