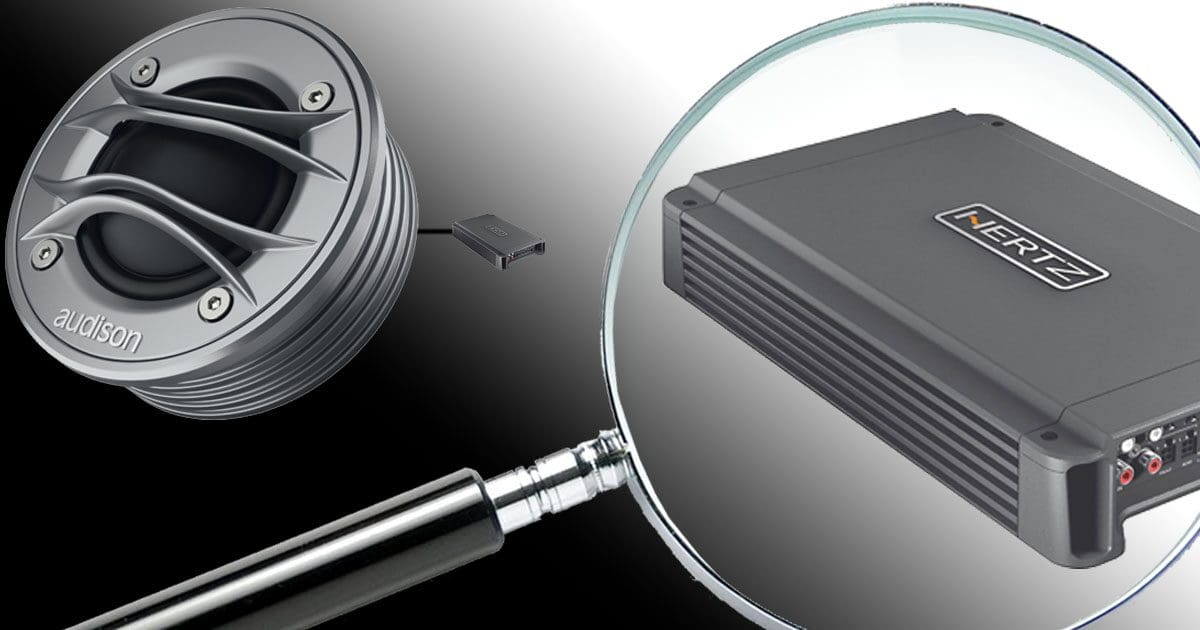 It's time we start putting together the information from a selection of the articles I've created to help sound quality enthusiasts get the most from their car audio systems. In this article, we will discuss why it might be best to choose a low-power, high-quality Class AB amplifier to power your tweeters. We'll look at this from both a noise and distortion perspective, as well as why your tweeters don't need much power.
Tweeters Don't Need Much Power
In our article on speaker power ratings, we looked at how the energy required to play different frequency ranges in music follows the shape of pink noise. That is to say, reproducing midrange frequencies requires less power from an amplifier than bass frequencies. Likewise, high frequencies require less power than midrange. Strictly following the slope of a pink noise curve, we see that it attenuates at a rate of -10 decibels per decade. So, if you have 1,000 watts for a subwoofer at 10 Hz, you would only need 100 watts for an equivalently efficient midbass driver at 100 Hz. Likewise, you'd only need 10 watts to power a midrange speaker at 1 kHz and 1 watt for a tweeter at 10 kHz. Of course, how much power a speaker needs depends on its efficiency, the lowest frequency it will be playing, how loudly you need it to play and, of course, how much power it can handle.

Let's look at the relative maximum power levels required to reproduce pink noise in a four-way car audio system with subwoofers, midbass drivers, midrange speakers and tweeters. We'll use 80, 300 and 3,000 hertz as crossover points and overlay those filtered responses onto the pink noise graph.

We can use the amplitude measurement capabilities of Adobe Audition to show the exact maximum level of each band.
As it turns out, the midbass drivers need 12 dB less power than the sub. The midrange drivers need 5.23 dB less than the midbass, and the tweeters need 10.03 dB less than the mids. Since we're focusing on tweeters here, we can see that they require 27.26 dB less power than the sub. Going back to our example, with 1,000 watts to a subwoofer, a tweeter only needs 1.88 watts to keep up. Again, this assumes the efficiency of all the drivers is the same. Are you starting to wonder why you have a 100-watt amplifier driving your tweeters yet?
In case you don't believe me regarding the sound energy in music, here are the averaged frequency response charts from a few popular songs. First, we have "Easy on Me" by Adele. As is expected, there's no audio information of significance below 40 hertz in this song, and with limited instruments, not much energy is required above 10 kHz.

Let's look at something with a little more kick to it. Here's what the song "Don't Phunk with My Heart" by the Black Eyed Peas looks like.

Here's "Heavy Fuel" by Dire Straits.

I didn't want to leave any genres out, so here is the averaged response of "In the Mood" by the Cincinnati Pops Orchestra and Erich Kunzel.

Amplifiers and Distortion vs. Output Level
As awesome as some of the good amplifiers on the market are, all of them add some amount of distortion to the audio signals that pass through them. Whether you have an Audison Voce AV Due or an ARC Audio Signature Edition, every amp adds a little more information to the output than was present in the input. The amplifiers above are excellent examples of high-quality amplifiers that work well, and they are several orders of magnitude better than most in terms of what they add to the original signal.
Class AB amplifiers have a distinctive shape to their distortion and noise versus power output graphs. At very low output levels, noise and crossover distortion can start to drown out the signal. Let's look at a few amplifiers I've had in the lab to characterize this phenomenon. First, we have the Rockford Fosgate P300X2 two-channel amp from the Punch series. This amplifier is a perfect example of a well-behaved Class AB design. It has very good noise and distortion specs.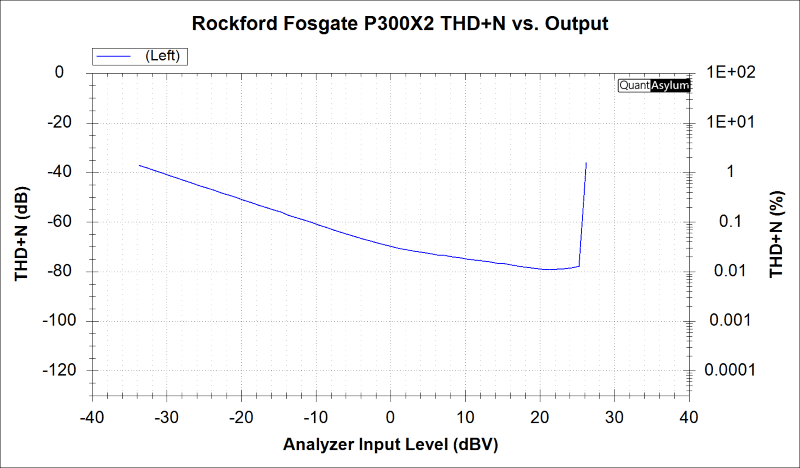 Looking at the graph above, you can see that noise and distortion are at their minimum relative to the audio signal just before the amplifier reaches maximum power. Down around 1 or 2 watts (0 dBV on the horizontal scale), distortion is up a bit at 0.03% or -70 dB. This is still really good.
Next, I have an amplifier that my friend Joey sent me. It's a four-channel that retailed for less than $100. In the simplest of terms, it's a perfect example of a low-quality car audio product. It's noisy, inefficient and adds significant distortion to the audio signal. Here's is its distortion and noise versus output level graph.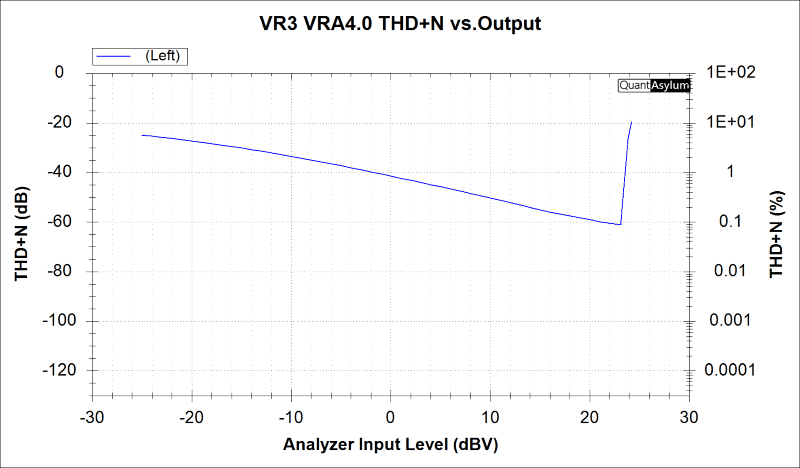 If you look at the graph for this amp, you can see that the distortion at low output levels is significant. It's almost 1%, making it very audible.
At low volumes, say -10 dB or 100 milliwatts, where we're more likely to play our systems most of the time (in terms of the tweeters), we are looking at 2 to 3% distortion for the VRA4.0 and only 0.1% for the Rockford Fosgate Punch P300X2.
Stop Calling It Headroom
The Sound Quality folks like to credit their overtly powerful amplifiers used on midrange speakers and tweeters as having lots of headroom. This isn't what headroom is. When an audio system is configured in a car or truck, the sensitivity controls on the amplifiers (and the signal processors) should be configured such that there is no way for any electronic component in the system to clip even at the loudest playback levels. When done correctly, the system will also be optimized for the best possible signal-to-noise ratio as we only have as much gain as is required. If the system is designed with appropriately sized amplifiers, they should all reach their maximum output levels about the same time. It doesn't matter how loud or dynamic the music is. Full power is full power.
Many car audio amplifier designs have limits on how much current the power supply can deliver over a long period. Long, in this context, refers to a second or more. However, they can provide small bursts of extra voltage for a few milliseconds by drawing energy from the capacitors on the output voltage rails. This is headroom. If an amp can produce 150 watts per channel over a period of one second, but 200 watts for 20 milliseconds, the amp has 1.76 dB of headroom. This is also called dynamic power, and the 20-millisecond test was designed specifically for this. Testing an amplifier's dynamic power production capabilities involves feeding it with a signal that's 20 milliseconds long, which is followed by 480 milliseconds of silence to allow the power supply to catch up and replenish the capacitors. The dynamic power measurement is the maximum power produced during those 20 milliseconds within the confines of the distortion and noise specifications.
If you aren't using all the power an amp can produce, that isn't headroom, that's just unused power. For those who are into cars, think of headroom like a scramble boost, push-to-pass or overtake button. You can't run the engine at that increased power level for long, but it's there for a little extra kick when required. Of course, this isn't a perfect example, but I think you get the idea.
Make Your Tweeters Sound Their Best
In the late '80s and '90s, many companies had good quality low-power amplifiers that produced 22 to 30 watts of power. Their limited internal gain structure helped keep distortion and noise at a minimum. Products like the Precision Power PC225, Orion 222SX or Rockford Fosgate Punch 45, despite their now-archaic designs, would have been great choices. Now, it's hard to find a good-quality Class AB amp that can deliver less than 50 or 60 watts of power. It would be awesome if a company would make a staggered four-channel Class AB amplifier that would deliver 10 or 15 watts of power per channel for tweeters and, say, 50 to 75 watts of power for midrange drivers in a four-way system. The tweeter channels could actually be a Class A topology to reduce distortion even more.
We can only wish for something this unique. One tip is to choose a four-channel amp to power the midrange speakers and tweeters until that day comes. They are often less powerful than a two-channel amp from the same series. Your local specialty mobile enhancement retailer can help you choose a solution that will sound excellent.