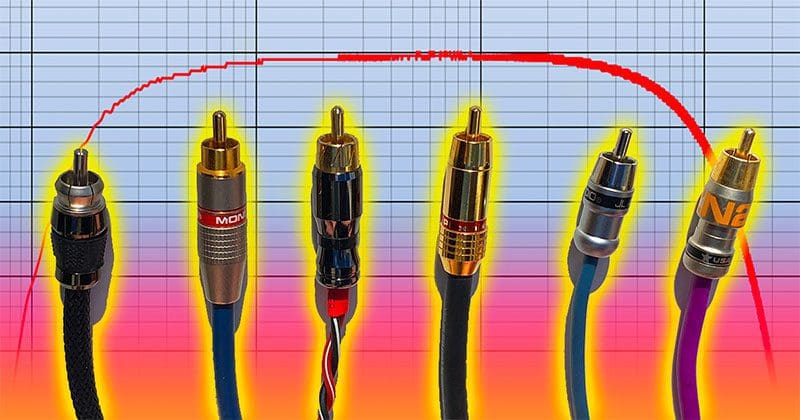 If you follow any of the high-end home audio magazines or social media groups, you know that interconnect cables and the stories around them are an entire industry. You can choose from 3-foot coaxial cables at prices from under $5 to well over $20,000 for some of the most bespoke, story-laden offerings. Some of these creations even have batteries built into them to provide a DC bias on the conductors that is supposed to improve performance. Yes, you read that correctly. You can invest the price of a small car in wires to connect a source unit to an amplifier. If you want.
When it comes to car audio applications, very few consumers would ever consider comparing cables from different brands under properly controlled conditions. If the perceived differences were huge, then one brand or design would stand out consistently. Since we love a good experiment, let's set up a number of cable designs and see if we can measure any appreciable difference in performance.
Do Different RCA Cable Designs Sound Different?
The purpose of an interconnect is to pass a low-level audio signal without affecting its amplitude (level), frequency or time (phase) characteristics. We've participated in at least a dozen double-blind cable comparisons with our home audio friends, and there's no doubt that differences exist. Switching from an inexpensive coaxial cable to a premium twisted-pair cable with extensive shielding will produce a difference in what you hear, under very controlled conditions. We've heard it. Yes, really.
In a car audio system, cable performance at audio frequencies is a microscopically small portion of the story. The ability to reject unwanted electrical noise and interference is far more crucial to creating an audio system that is enjoyable. We'll dive into that discussion and include suitable testing in another article.
Testing RCA Interconnect Cables
For this test, we searched our lab for easily accessible interconnect cables and set them up with our QuantAsylum QA402 and a high-quality Class-AB amplifier to measure how different designs and cable lengths would affect frequency response. We measured the output of the amplifier connected to a resistive 4-ohm load with each of the cables in place. Thankfully, the QA402 offers impressive accuracy and resolution, as we're definitely going to need it!
The RCA Cable Test Benchmark
You have to start every experiment somewhere, right? We used an inexpensive set of coaxial RCA cables to set up the amp and configure the analyzer. The graph below shows the measured frequency response of our test configuration. Keep in mind, we've zoomed in to a resolution of 2 dB over the range of the chart to give you an idea of what's going on.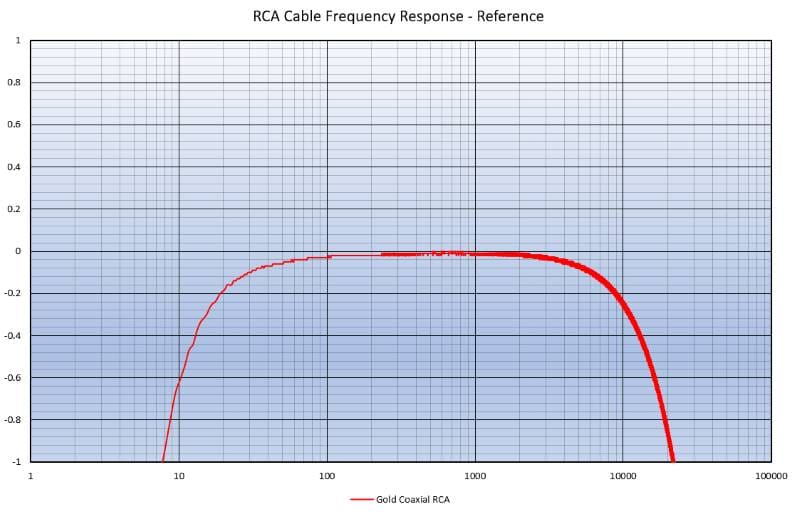 With this cable connected, our amplifier is delivering flat response with a tolerance of 1 dB from just below 8 hertz to about 22 kHz. That's considered pretty awesome. We are going to zoom in even more so we can see the measurement resolution of the QA402. Now you can clearly see we are examining the signal with 0.02 dB resolution.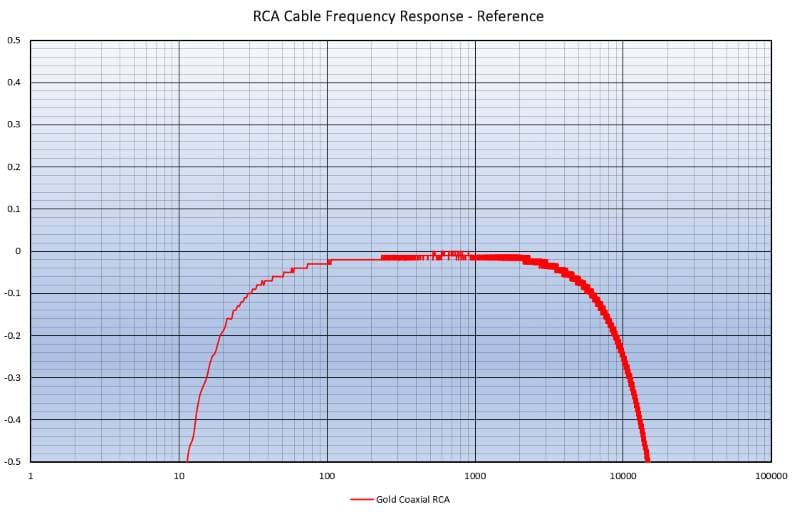 Next, we'll swap in an old Monster Cable home audio interconnect. This cable was purchased in the late '80s or early '90s, if memory serves. Shown in green, the overall response is pretty much exactly the same. Pundits would say there is less noise around the signal and that it's purer. That might be possible. We think the levels might have varied just enough to prevent the QA402 from jumping between two levels. Nevertheless, the difference is microscopic.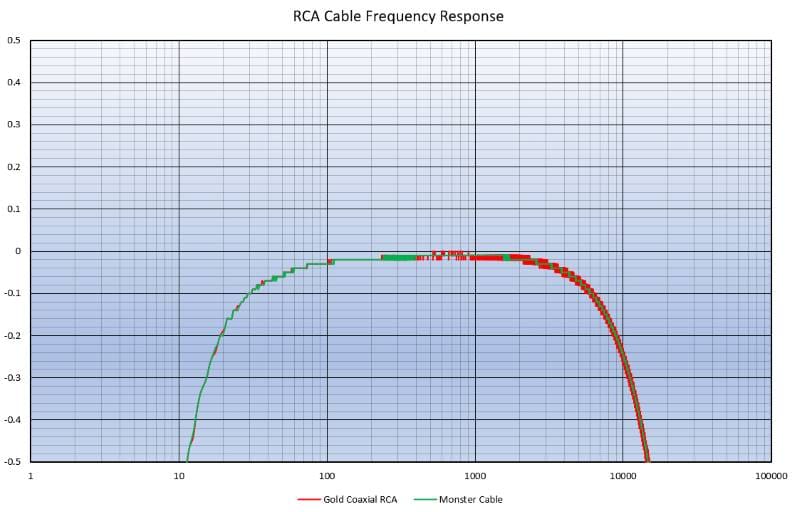 Now we'll add a coaxial cable we made for a car audio system back in the late '80s. The 3-foot cable is Esoteric Audio Musica coaxial wire soldered to a pair of Phoenix Gold RCA ends. As you can see, we are still within our 0.02 dB tolerance window across the entire audible spectrum.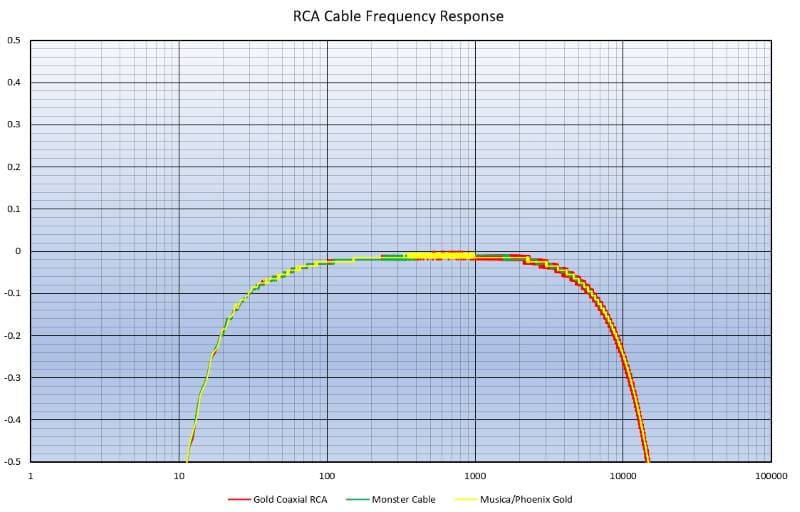 What about switching to a very simple homemade deign for the next comparison? We've made a few test cables recently by twisting 18- AWG primary wire in a drill and soldering RCA ends to it. These are handy and inexpensive for use in the lab. Since most of the equipment we test has balanced differential inputs, we aren't too worried about noise getting into the system.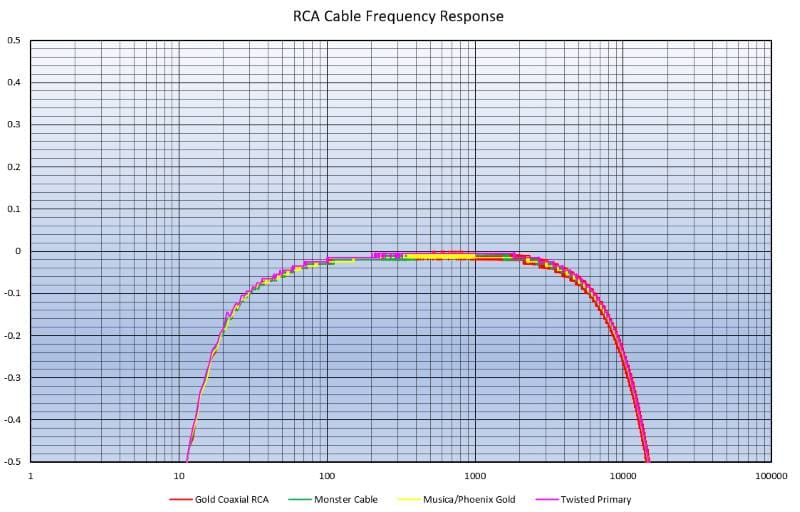 You know what, there might be some measurable improvement in high-frequency response with this design. Perhaps there's 0.01 or 0.02 dB more output above 1 kHz? Our apologies if the sarcasm didn't come across clearly in that last sentence.
The last cable is a Wirez Signature Series 3-foot. It uses twisted-pair conductors that are mated with a bare ground drain wire. The three conductors for each channel are wrapped separately in Mylar foil. Next, the left and right channel wire bundles are wrapped together with a second Mylar foil shield that's also grounded. These cables are amazing in terms of preventing noise from interfering with the audio signal, but how will they sound in our test?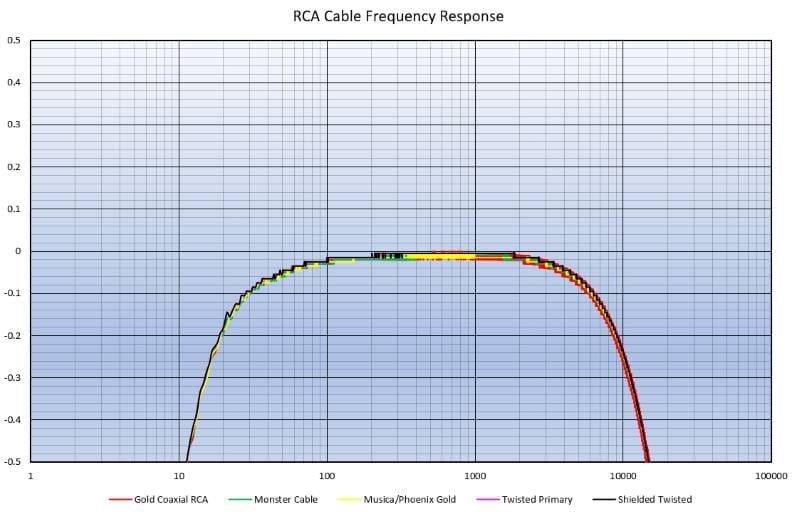 Well, there you have it. Five different RCA cables that cover all the common design options. Their frequency response is basically the same within a tolerance of about 0.04 dB across the entire audio spectrum. Most high-performance digital signal processors available for car audio systems have an adjustment resolution of 0.1 dB. The cable differences are less than half of that.
What About Long Interconnects?
If you dive deep into cable design theory, you'll see talk of inductance and capacitance and how those reactive characteristics can affect frequency response. It stands to reason that increased cable length would result in a more significant effect on the audio signal. We like that reasoning, so we'll repeat our test using some 17-foot cables and compare them to our inexpensive reference 3-foot coaxial cable.
Up first, we set up a 17-foot version of the Wirez Signature double-shielded twisted-pair cable to see how it measures.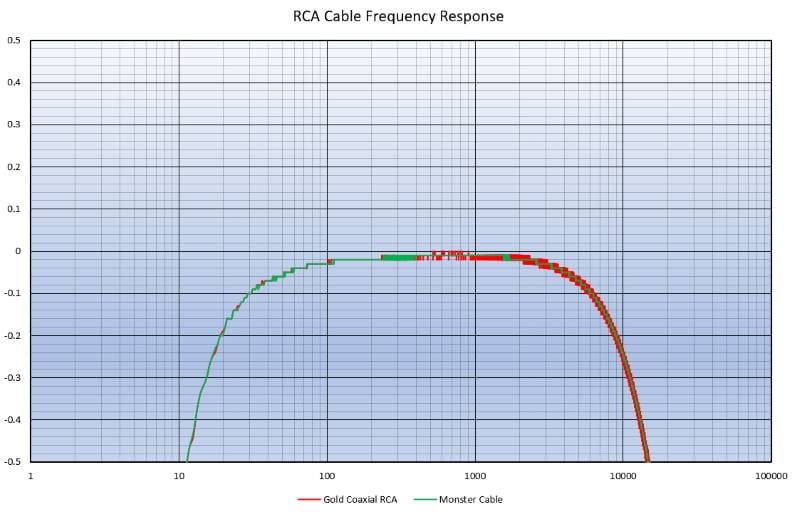 Once again, there doesn't look like there's much difference at all. There might be a hair less noise, or the measurements might have once again fallen closer to one side of the measurement resolution of the QA402. Either way, our music shouldn't sound any different.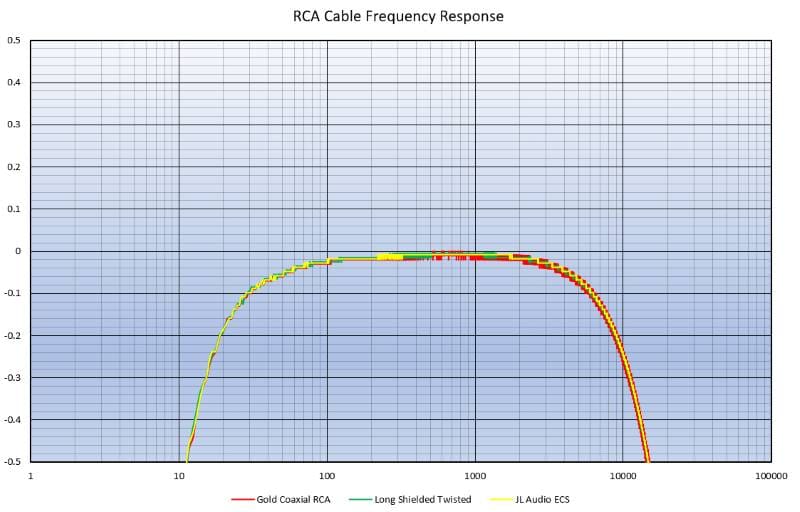 Up next, we tested a 17-foot JL Audio ECS-Series interconnect. This is another twisted-pair cable design. It uses a Teflon isolator instead of conductive Mylar foil. As such, there are fewer conductive elements near the signal wires that might reduce the effective inductance and capacitance. The results show there might be a tiny increase in output above 3 or 4 kHz as a result.
The last long cable we had hanging around the lab was an old purple Esoteric Audio ZN2.0. Once again, the differences, if any, weren't dramatic.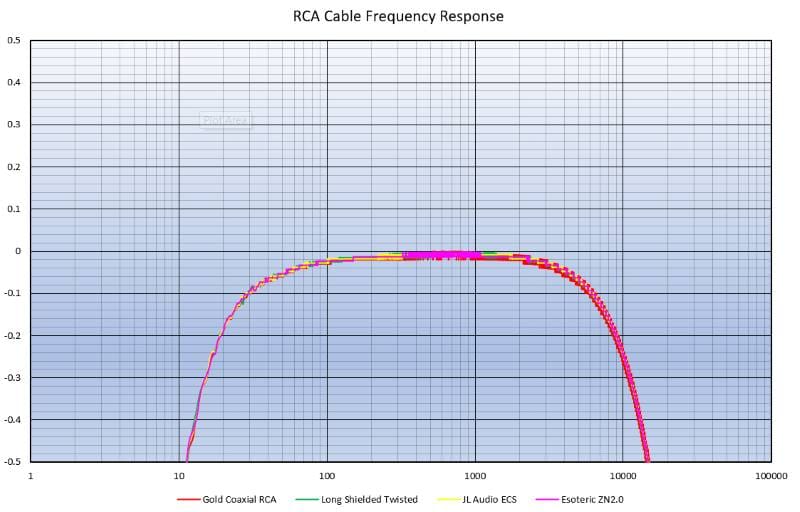 Conclusions about RCA Cable Quality
It's pretty clear that the differences people hear, ourselves included, are subtle. When performing back-to-back comparisons, small changes can be evident to seasoned listeners. With that said, if you're building an audio system, selecting premium cables isn't going to dramatically change the frequency response. If you're having the system calibrated with a digital signal processor, these microscopic variations are even less relevant.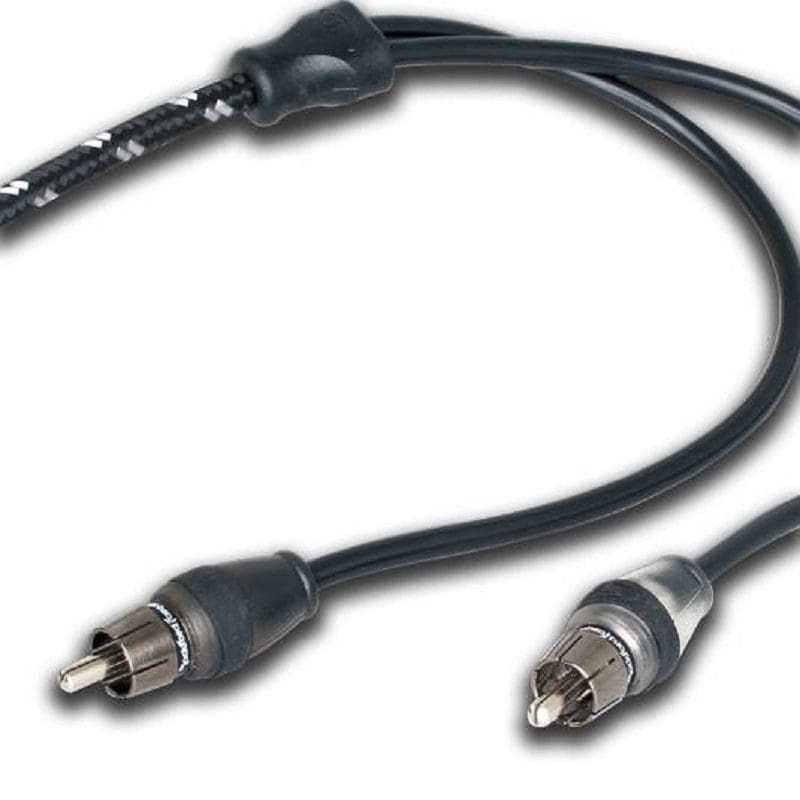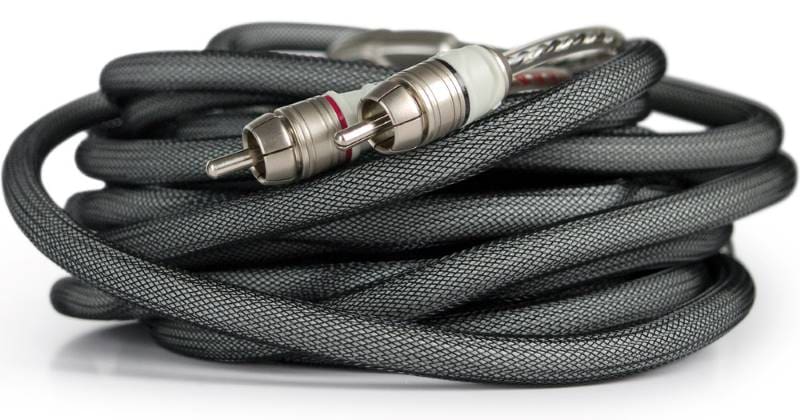 There is a caveat though. Your system can still benefit from premium cables because of their improved noise rejection properties. We're working on a test to demonstrate those characteristics and we'll have another article for you shortly. In the meantime, drop by your local specialty mobile enhancement retailer to learn about the audio upgrade solutions available for your vehicle. Be sure to choose good-quality cables to help keep buzzes and unwanted hiss out of your audio system.