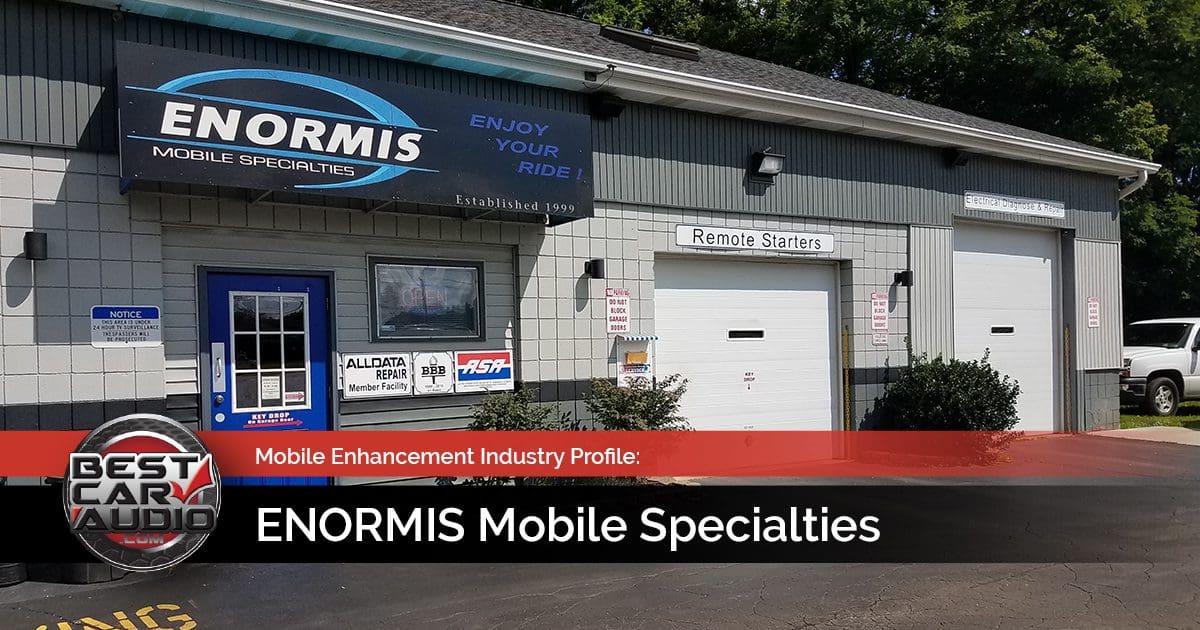 When it comes to mobile enhancement retailers, ENORMIS Mobile Specialties in Erie, Pennsylvania, is unlike any other shop we know of in the country. While most shops offer audio system upgrades and dabble in remote car starters, owner Lou Norman has fine-tuned his team's expertise to the point that selling aftermarket radios, speakers, amplifiers and subwoofers is no longer part of their business model. If that sounds abnormal to you, well, it is. However, that doesn't mean that ENORMIS isn't a crucially important mobile enhancement retailer. Let's look at what makes it unique.
Evolution Drives Specialty Focus
In 1999, Lou Norman opened a car stereo shop in Erie, Pennsylvania, called ENORMIS Audio and Electronics. He and his team offered the typical audio system, mobile video and remote starter solutions that hundreds of other retailers across the country deliver. The shop evolved by adding automotive accessories like LED lighting, cold-air intakes, strut tower braces and countless sets of wheels and tires through the height of the "Fast and Furious" movie-driven tuner years.
The building was initially constructed as a car wash. Lou and his team reconfigured the structure's wash bays into five spacious work bays with 3,500 square feet of space. Besides Lou, ENORMIS has two full-time technicians, two product specialists and an operations manager to keep things running smoothly and efficiently.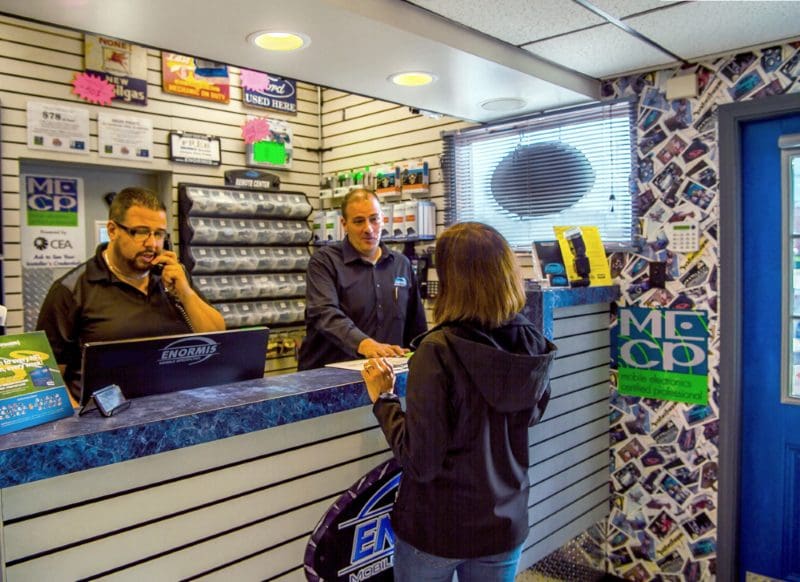 For Lou, two particular incidents with a local car dealership opened his eyes to delivering an entirely different suite of solutions to consumers. Installing high-quality remote car starter systems is a fundamental part of the services ENORMIS has offered since it opened. One day, a client called from a local car dealership. The service writer there told the client that the remote starter that ENORMIS had installed caused the check engine light to come on. Lou went to the dealership to talk with the technician. The trouble code was related to a malfunctioning oxygen sensor. Lou asked the tech where the sensor was located and was told it was on the engine exhaust manifold under the hood. Lou asked the tech to open the hood. The problem was instantly apparent: A squirrel had built a nest in the engine compartment and had gnawed through the wiring for the sensor. The issue had nothing to do with the remote car starter.
A Subaru owner called Lou with a similar story. The vehicle was at the dealership because the power sliding seat had stopped working. The dealership blamed the issue on the remote starter and told the owner the repair would involve the replacement of a $750 wiring harness. Lou asked the client to bring the vehicle to the shop so he could inspect it. Knowing that his technicians are fanatical about testing and verifying every connection they make when installing a remote starter, he was curious about what was going on. When the car arrived at ENORMIS, it only took a few minutes to diagnose and repair the issue: The ENORMIS crew found a blown 30-Amp fuse in the electrical box under the hood. The dealership refunded the diagnostic charges that the client had paid. Of course, the vehicle owner was thrilled that it wouldn't cost $750 to get his seats working again.
Lou quickly realized that his team's electrical system troubleshooting skills were undervalued and missing from the local automotive service offerings. Many dealerships and garages have excellent technicians, but few have staff with the same level of troubleshooting talent as his MECP-certified team. So in 2020, as audio products like source units became scarce, Lou decided to abandon audio upgrades in order to focus on electrical troubleshooting and repairing OEM systems and offering remote car starters, heated seat upgrades and safety systems like backup cameras.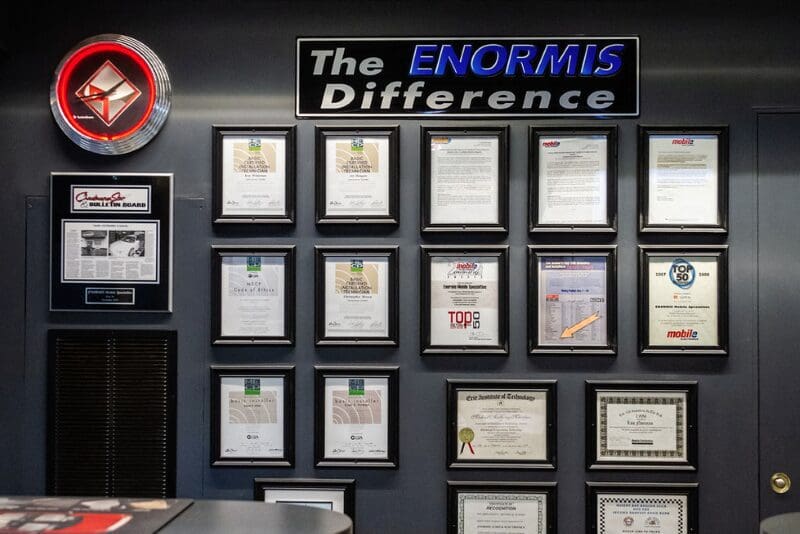 Unique Solutions from a Talented Team of Technicians
ENORMIS Mobile Specialties specializes in diagnosing and repairing all manner of automotive electrical and electronic systems, from lighting, computer networks and instrument clusters to programming new key fobs and reflashing BCM, PCM, ECM and TCM computers. ENORMIS has invested in the same diagnostic computer systems as the local Ford, GM and Chrysler dealerships, giving them full access to the same information and connectivity.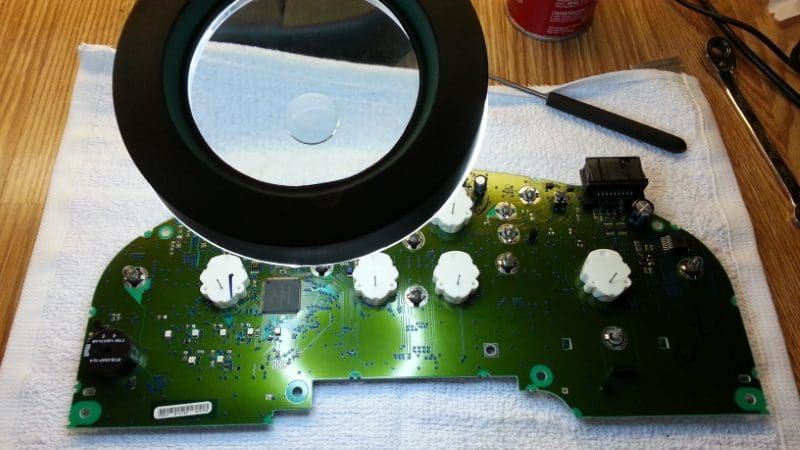 ENORMIS also specializes in upgrades like adding power windows, power locks, fog lights, heated seats and even heated steering wheel upgrades. Whenever possible, the team uses the original equipment parts right from the dealership. The technicians integrate these parts into the vehicle and reprogram the factory computer so everything works as if the car or truck just rolled off the assembly line. Lou and I exchanged stories about how the interior of the vehicle should always look as though it came from the vehicle manufacturer, even after being upgraded with new lighting, heated seats or power locks. Those chrome toggle switches with red covers aren't a part of what ENORMIS Mobile Specialties offers.
Lou mentioned that several used car lots and dealerships now bring projects to ENORMIS when they have problems or a client has requested something beyond their staffs' expertise.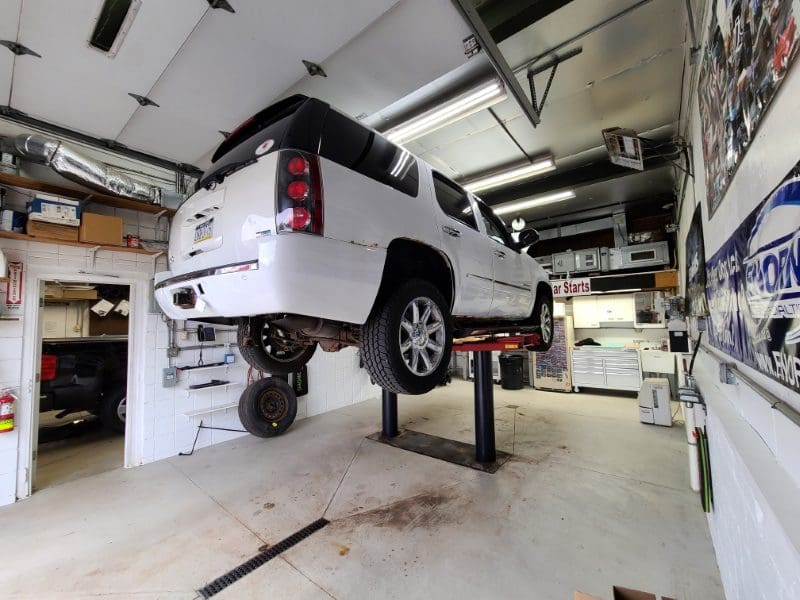 Erie's Remote Car Starter Experts
If you live in the Erie area, you might recognize Lou from "Tech Talk" on WJET-TV 24. There, Lou explains how vehicle technologies work and what upgrades are available. One topic that he's particularly focused on is remote car starters. ENORMIS partnered with Firstech, the parent company behind Compustar, Arctic Start, DroneMobile and FTX. Lou mentioned that he's worked with other brands, but none has matched the flexibility, ease of configuration and, most importantly, the reliability of the products he uses from Firstech.
Lou and his product specialists put significant focus on qualifying their clients' needs when designing and quoting a remote starter solution. ENORMIS specializes in vehicle-specific starter systems. Vehicle-specific means that the software in the computer communication modules and the wiring connectors are specifically designed for a particular make and model. However, they also offer universal remote starter solutions for those few applications where a vehicle-specific model isn't available.
Most importantly, the technicians integrating these high-quality remote starters are professionals. They focus on working with today's sophisticated high-technology vehicles. When it comes to reliability, the person who installs the starter in your vehicle is as important as the quality of the product you choose.  After all, we want our vehicles to be reliable, dependable and comfortable no matter how cold it is outside.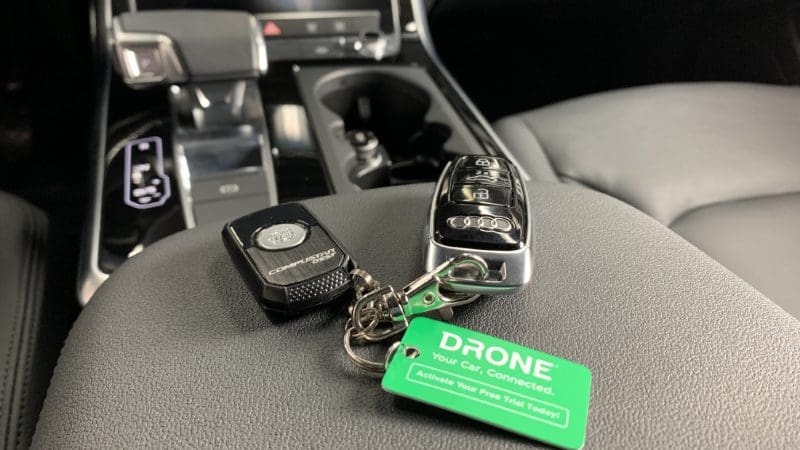 The ENORMIS product specialists work diligently to qualify each client's specific circumstances to ensure that they choose a remote that will deliver the communication reliability needed so that the car or truck will start at home, at work or when out on the town. The DroneMobile telematics system is a popular solution when the required range is too significant. DroneMobile uses a cellular-phone communication module in the vehicle to talk to an app on the owner's smartphone. The owner could be working deep inside St. Vincent's yet have their car parked beside the helipad or at the back of the parking garage and still be able to start the vehicle, so it's warm and comfortable on a cold winter day. Best of all, DroneMobile is lightning-fast. As such, many vehicle owners use it as their primary method of locking or unlocking their vehicles.
ENORMIS Can Help with Electrical Troubleshooting Issues
If something in your car or truck isn't working correctly, it's well worth your time to take a drive to ENORMIS Mobile Specialties at 5250 Buffalo Road in Harborcreek, Pennsylvania. From instrument cluster repairs to computer diagnosis and updates, their team can help with almost anything. Best of all, they can usually save you hundreds — and, in some cases, thousands — of dollars compared with other repair facilities. You can learn more about ENORMIS by visiting their website. Follow them on Facebook or YouTube to learn more about their projects, product offerings and services.