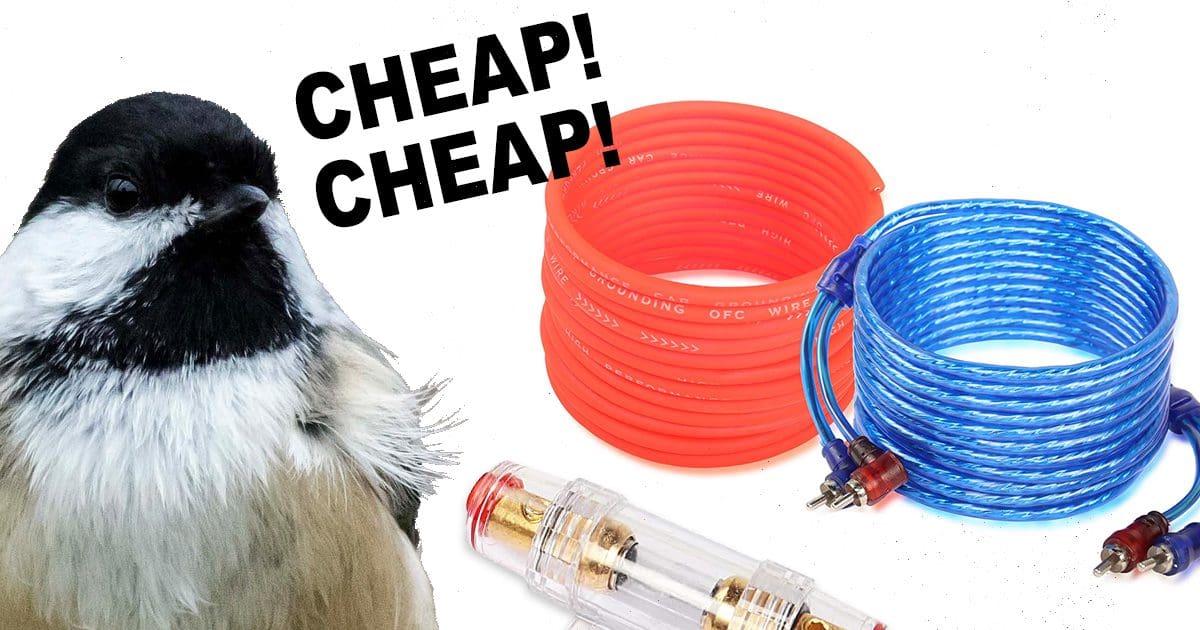 Efficiency is defined as the ratio of the power or work consumed by a system compared to the work done by that system. In the car audio industry, we typically talk about efficiency in the context of amplifiers. The best amplifiers consume only a little more power than they provide to a speaker or subwoofer. Low-quality solutions consume extra power and convert that into heat. I recently stumbled across a stunningly inexpensive Amazon listing for a car audio amp installation kit that claimed it was intended for use with a 1,500-watt amplifier. Yeah, scary. Let's dig in!
Car Audio Amplifier Efficiency Generalizations
We've tested many high-quality Class D amplifiers with over 92% efficiency at full power. At the same time, I've measured supposedly high-end Class D subwoofer amplifiers that were under 58% efficient. Let's put these numbers into perspective. If both amplifiers could produce 1,000 watts of power to a speaker, the 92% efficient amplifier would draw just over 80 amps of current at 13.5 volts, and the 58% efficient amplifier would need just under 128 amps of current to produce the same output. Those extra 640-ish watts of power the inefficient amplifier consumes are wasted in the form of heat. Assuming both amplifiers sound similar, which would you want in your vehicle? In this case, the better amp added less distortion to the signal than the poorly designed unit, so it was a no-brainer choice.
When determining the correct size power wire for an amplifier, we must consider how much current the amp will draw. Most people would look at a 1,000-watt amplifier and think it would draw about 100 amps of current. This would be a perfect generalization if the amp in question were 74% efficient. An amp that draws nearly 140 amps of current should be fed with 2 AWG wire. The 92% efficient amp could use 4 AWG wire with no problems. As you can see, the marketing language for amplifier installation kits based on amplifier power production numbers can be unreliable. This is exacerbated by the fact that most folks buying their amp kits online use low-quality, low-efficiency amplifiers.
We Bought a Cheap Amp Installation Kit
The amp kit I purchased from Amazon claims to include 16.5 feet of 10 AWG power wire, 2 feet of 10 AWG ground wire, 16.5 feet of speaker wire, an interconnect cable and an ANL fuse holder. I paid $16.50 Canadian for the kit, and I saw a nearly identical solution on the U.S. website for $14.80 USD. Given the exchange rate in early 2023, the Canadian price is a MUCH better value!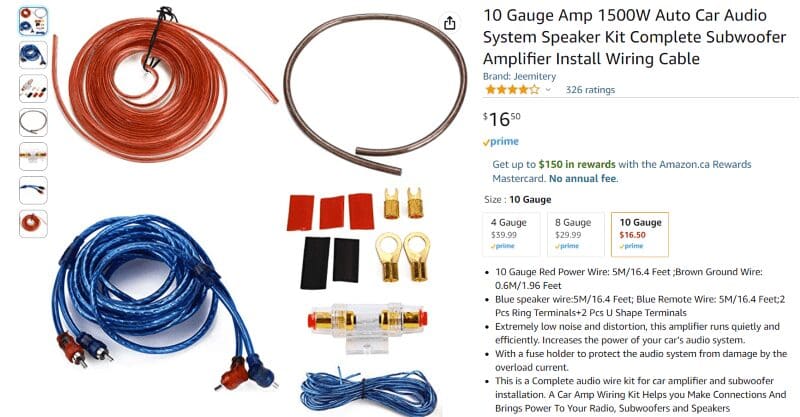 Let's pick apart the listings before we dive into the testing. The Amazon.ca listing says, "Extremely low noise and distortion, this amplifier runs quietly and efficiently. Increases the power of your car's audio system." Uh, there is no amplifier in the kit. I'm not going to say anything else.
The Amazon.com listing says, "This amp wiring kit made of high-density conductor, providing better shielding effect and anti-interference effect, less sound dissipation and more vivid sound effect." There is no doubt in my mind that ChatGPT could do a better job describing this kit's benefits. I doubt the power wire is very dense. Car audio power wire never has shielding, and the amount of interference it induces depends on the current passing through the conductor. Let's assume they meant energy dissipation instead of sound dissipation. Even if that were true, a 10 AWG conductor would dissipate a LOT of energy if we tried to draw 100+ amps of current through it. I haven't finished conclusive testing on amplifier performance and accuracy relative to power delivery, but we know amplifiers produce less power if they are starved for voltage. The whole thing is hogwash!
I've done extensive power wire and amp kit testing in the past when I was the product development manager for a car audio accessory company. Here are a few essential pieces of information about this kit to start: The 10 AWG power cable measures 14 feet 4 inches in length. The markings on the wire are spaced at 11.18-inch intervals. I stripped some of the wire to measure its diameter. It read 0.065 inch. For reference, I have a piece of Wirez Signature Series 10 AWG speaker wire. The Wirez conductor measures 0.100 inch in diameter. In terms of area, the cheap wire has 42.25% of the Wirez 10 AWG. Looking at the end of the 10 AWG power wire, I can see some aluminum in it. The packaging calls it "OFC." The judges have determined that is a lie – in a Maury Povich voice, please.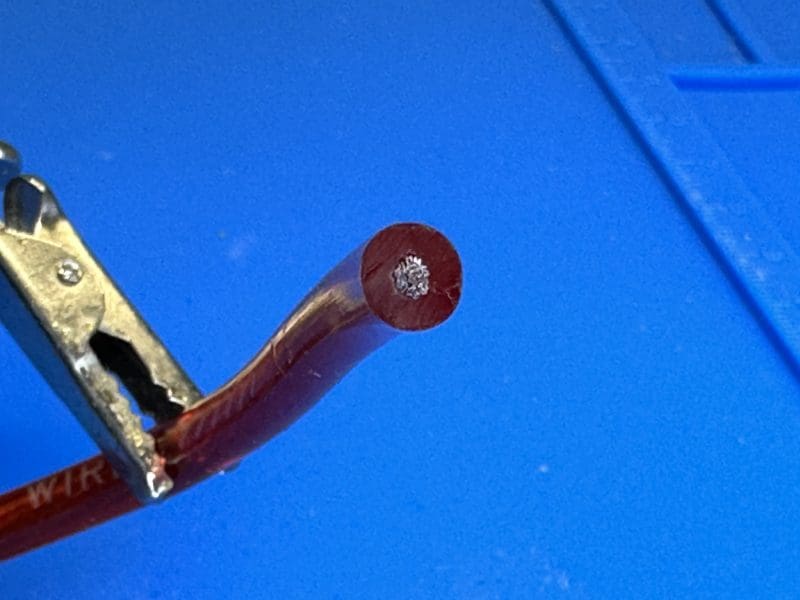 The fuse holder included with the amp kit contains a 60-amp AGU fuse. For this to be a genuine 1,500-watt amp kit, the battery voltage in the vehicle would need to be 25 volts to pass 1,500 watts of power to an amplifier. Add the efficiency loss of the amplifier at, say, 75%, and the supply voltage would need to be 33.3 volts. So maybe this kit is for 48-volt vehicles – read with whatever sarcastic voice you enjoy.
Testing the 1,500-Watt Car Amp Installation Kit
The first order of business is to find a 1,500-watt amplifier. I have several Clarion DPX11500 monoblock amplifiers on my shelf that are perfect for this. The amp is rated to produce 1,500 watts of power into a 2- or 1-ohm load. Uniquely for subwoofer duties, this is a Class AB amplifier in terms of the output device topology. A multivoltage tracking power supply improves the amplifier's efficiency, so Clarion correctly called this a Class GH amp. Before we test the power wire, let's see what the amp can deliver in terms of power. When connected to my power supplies and a 2-ohm resistive load, I measured 968 watts at 0.98% THD+N with 12.41 volts at the power terminals and 131.2 amps of current flowing into the amp. The efficiency works out to 59.5%, which is reasonable for a massive Class AB amplifier. Of course, it would make a lot more power with 14.4 volts supplied to it.
Either way, this 1,500-watt amplifier should be more than enough to challenge our puny power wire kit. Feel free to read at least part of that previous sentence while making an Arnold Schwarzenegger impression.
Now, I'll add the 10 AWG power wire to the positive terminal and repeat the test. So, yeah, no. The wire is too small. I experimented with different settings but finally settled on allowing the amplifier to produce 168.4 watts of power. There were only 6.41 volts at the amp, and it was drawing 48.1 amps of current. I was genuinely scared that the low voltage condition might damage the amplifier. Not that it's at all relevant to the wire evaluation, but the amp was 54.6% efficient at this bizarre power and voltage level. In short, 308.3 watts was going into the amp.
Wee-Ooh, Wee-Ooh!
So, is this a 200- or 300-watt amplifier installation kit? Well, based on what you are about to read, it's likely neither. Let's back up a little bit to just before the testing started. I enlisted the assistance of my 13-year-old son, Andrew. I had him holding two sets of test leads to measure the power output terminals and the voltage at the amplifier's power input terminals.
As I made the last power measurements with the 1.500-watt amp kit wire, Andrew said, "Dad, I think you need to stop." I asked why. "Uh, because there's smoke coming from the red wire." My reply was, "Ah, just as I had hoped!" He laughed and shook his head. So, yes, we stopped the testing. I grabbed my little FLIR thermal imaging camera to take some pictures. Yeah, hot.
The wire started at about 71 degrees and was now at 287.8 degrees. That's with only 48 amps of current flowing through the conductor. This kit comes with a 60-amp fuse. That fuse will NOT protect your vehicle from this wire melting and damaging everything around it. Furthermore, this was enough heat to start fusing the bundled wire together. Pulling it apart to make the length and labeling measurements was a challenge.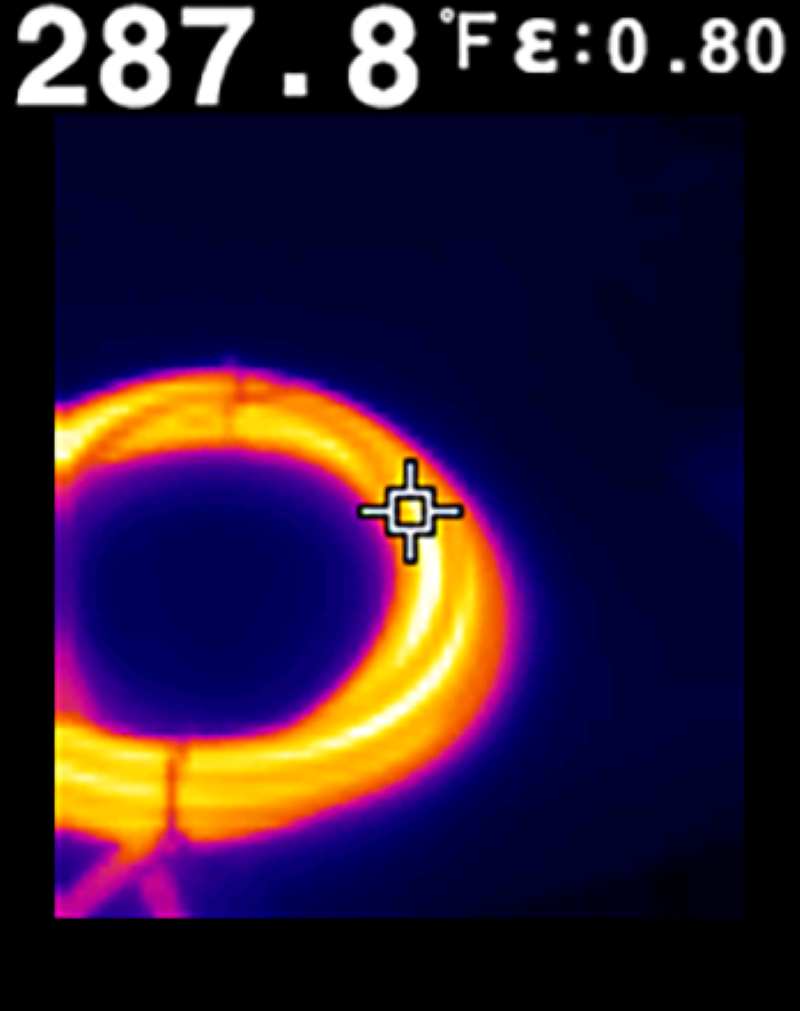 What's the Takeaway on This Cheap Amp Kit?
I wouldn't use this kit if you needed a power wire to run a high-power radio or a pair of 100-watt lights. Aside from being woefully undersized, the aluminum construction raises serious questions about the reliability of the wire. Copper-clad aluminum conductors corrode very quickly when exposed to road salt. Almost everything about this kit is entirely bogus. You don't get as much wire as they specify. The conductor isn't as large as the advertisement claims. The wire isn't all-copper construction. I also noticed at the last second that it didn't include any speaker wire. Well, you could use the remote turn-on wire as speaker wire. I'd avoid that as well.
If you want your amplifier to function reliably and you have any hope of getting its rated power output, you will have to shell out some real money for some real wire. I'd suggest avoiding guessing at what you are getting and visit a local specialty mobile enhancement retailer and have them install everything. They should be using full AWG-spec, all-copper power wires. If you think you see a deal online, I'd predict there's a lie somewhere.