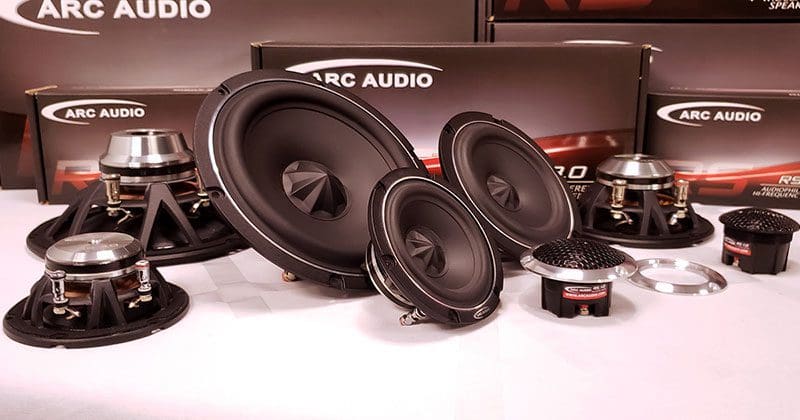 The new RS Series speakers from ARC Audio combine amazing technologies and design to deliver crystal-clear sound to music lovers and audiophiles around the globe. The RS project began several years ago and is a collaboration between the transducer development teams in ARC's US and Danish offices. The goal of the project was to develop a series of speakers that redefine accuracy, detail and power handling with a shallow mounting design that is easy to integrate into modern vehicles.
Introducing the ARC Audio RS Series Speakers
Developed as an à la carte solution for active system designs, RS Series speakers are sold in pairs by size. The current offerings include the RS 6.0 6.5-inch midrange/woofer, the RS 4.0 4-inch midrange, the RS 3.0 3-inch midrange and the RS 1.0 1-inch tweeter set. Every component used to construct these speakers was designed from scratch for optimized performance and reliability.
Woofer and Midrange Features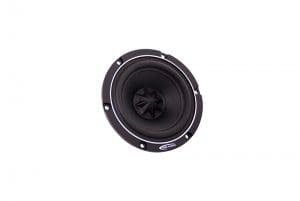 The basket of the RS 6.0, RS 4.0 and RS 3.0 speakers is a cast aluminum design that offers rigidity and optimized voice coil cooling. All three drivers feature flat spiders for excellent linearity in both forward and rearward motion. Each midrange and woofer cone features hard pressed paper construction that combines bamboo and pulp papyrus fibers for a balance of damping and strength without significant mass that would affect high-frequency performance.
ARC Audio specifically chose a design that uses a dust cap to offer increased efficiency and smoother overall frequency compared to speaker designs that use a phase plug. Their unique, parabolically shaped cap design includes contoured ridges that add strength and reduce resonance at high frequencies. The dust caps have also proven to be childproof in that they resist damage from being poked by quick-moving little hands.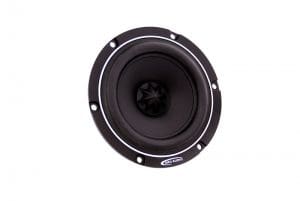 RS speakers feature handmade, ultralight, premium CCAW voice coils that are wrapped around glass fiber, resin-pressed, aluminum-reinforced voice coil formers for improved thermal power handling and a lower overall moving mass.
On the back of the 3- and 4-inch speakers, you'll find a clear-coated, one-piece T-yoke assembly that is machined to specification for tight tolerances and increased efficiency. The RS 6.0 uses a two-piece design with a large cooling vent in the middle that includes a black coating for additional heat transfer away from the voice coil.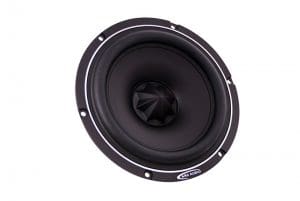 A donut-shaped N42SH neodymium magnet provides an impressively strong stationary magnetic field for excellent efficiency. This grade of neodymium can handle operating temperatures as high as 300 degrees without degradation. ARC Audio added an inductance-reducing copper slug to the top of the T-yokes to reduce inductive distortion and further improve clarity, especially at high power levels.
RS 1.0 Tweeter Features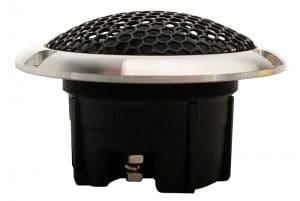 Based around a 1-inch fine silk diaphragm, the RS 1.0 tweeter includes a segmented tuned and damped rear chamber for improved performance at lower frequencies. The chamber is tapered to prevent resonances that could add distortion to the output of the transducer. With a resonant frequency of 900 Hz, these tweeters work well in both two- and three-way designs.
Electrical connections are made via terminal studs on the back of the driver, and premium ring connectors are provided with each set. The driver can be used with or without the threaded aluminum mounting ring to suit your system cosmetics and design.
Quality Control and Power Handling Testing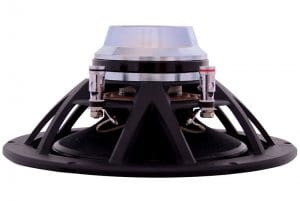 As with any premium driver designed specifically for car audio applications, ARC Audio has invested in extensive testing processes for the original design and for each unit that comes off the assembly line. Power handling tests involve band-limited pink noise at the rated power level for eight hours. Afterward, there could be no significant change in the parameters, appearance or functionality of the driver. To ensure that owners can enjoy their music at realistic levels, the test was then repeated at twice the rated level for an additional eight hours and for a third time at three times the rated level for another eight hours. This step-up power process testing was repeated indefinitely until the drivers failed, with the only acceptable failure being a burnt voice coil being well outside of the recommended power handling specifications.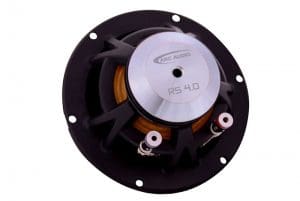 Each speaker that comes off the assembly line is subjected to a mechanical rub and buzz test and then individually tested and documented to confirm the response performance of each driver, using LMS test equipment. The test computer analyzes the output of the driver and provides a storage location in a 10-by-10 grid for pairing with another driver of as close as possible specification within acceptable tolerances to the original specification. The resulting matched sets help make system tuning as easy as possible for the installation technician.
Audiophile-Grade Component Speakers
If you're interested in taking your car stereo system to a whole new level of detail and accuracy, visit your local authorized ARC Audio retailer to and ask for a demonstration of the new RS Series speakers. When combined with a properly tuned digital signal processor, quality amplifiers and their expert installation, the result will be nothing short of breathtaking.