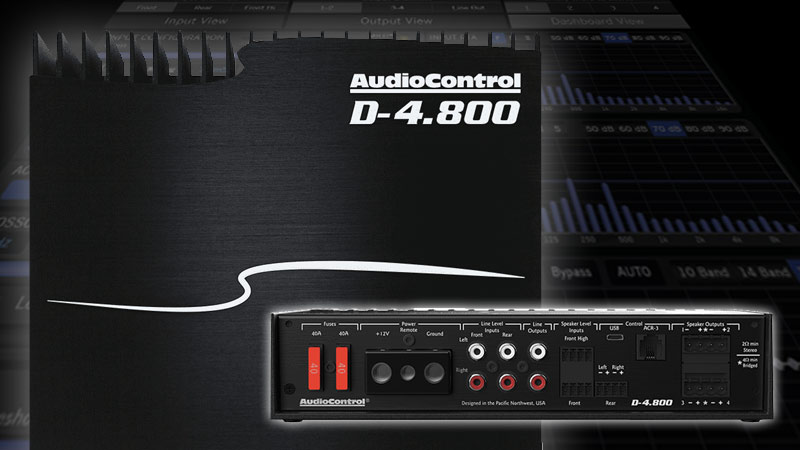 Not long ago, we looked at the impressive new DM-810 digital signal processor from AudioControl. In keeping with their plan to provide consumers with access to the benefits of signal processing, AudioControl has recently introduced the D-4.800 amplifier. The D-4.800 is a high-power four channel amplifier with a built-in, six-channel DSP solution.  You get the best of both worlds in one small, yet powerful package!
Prodigious Power Production and Input Features

The D-4.800 will produce 125 watts per channel at 4 ohms and 200 watts per channel when presented with a 2-ohm load. Each pair of channels can be bridged to provide 400 watts into a single 4-ohm load. The amplifier will accept preamp input signals from 250 mV up to 8 volts per channel on its four RCA jacks. Unique to a four channel amp, AudioControl has provided three pairs of speaker level input plugs. The rear speaker level inputs are in stereo, while the front channels provide high- and low-frequency inputs to sum midrange and tweeter signals. Each pair of channels has an input sensitivity control and stereo signal delay adjustment within the DM Smart DSP application. The software also provides an MILC input signal clipping indicator, so you know if you are overdriving the input stage of the amp. The speaker level inputs will accept up to 40 Volts of signal. AudioControl kindly included their GTO (Great Turn On) circuit to turn on the amp when a factory source unit or amplifier is switched on.
Signal Processing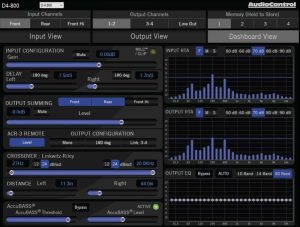 The D-4.800 signal processor has four channels dedicated to the amplifier's powered outputs and a pair of preamp outputs to drive another amp. The preamp outputs provide a strong 8V signal, so be conscious of the capabilities of the amp you choose to use.
Each pair of channels has source routing and summing controls. They can be assigned to respond to the optional ACR-3 remote level control. High- and Low-pass crossovers are adjustable from 25Hz to 20 kHz, and the slope can be set to 12 or 24dB. Each pair of channels also has a 30-band graphic equalizer available to let you compensate for speaker response and vehicle acoustics.
Output signal delay adjustments are provided for each of the six channels to offset different distances between the listening position and the speakers in your system. Once the signal delay settings are adjusted, your music will appear to come from the center of your windshield and seem hypnotically realistic.
AudioControl includes their AccuBASS function to provide a bass boost above an adjustable threshold. AccuBASS is ideal when compensating for factory source units that reduce bass output as you increase volume.
Digital Signal Processing Features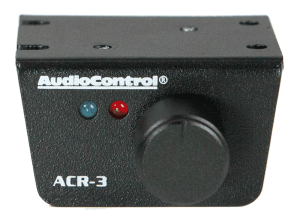 AudioControl was kind enough to include a frequency response display for each pair of input channels to help with the identification of incoming wires. Likewise, the Dashboard view provides an output RTA graph to help identify signal summing polarity issues. You will still need to provide an acoustic measurement solution to tune the vehicle, but AudioControl has you covered with their SA-3052 audio analyzers and SA-4100i and SA-4140i SPL Apple Lightning compatible microphones.
There are four system presets within the DSP software, and you can recall them from within the vehicle using the ACR-3 remote control.
Physical Platform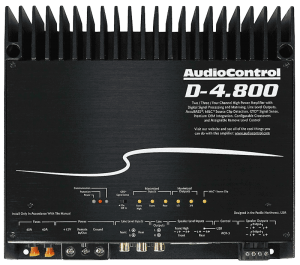 The D-4.800 is based on a cast aluminum heat sink with a large row of cooling fins along the back edge. All the connections for the amp are along the opposite face. The top panel of the amp can be removed to access the GTO on/off switch and monitor in the MILC Source Clip and output clipping indicators. Connection to your Windows PC is made by a micro-USB jack on the side panel.
Power wire up to 3 AWG can be connected to the large terminal block on the left side of the end panel. A pair of 40-amp ATC fuses protect the amp. Speaker connections are on the opposite side of the amp and are made using a pair of four-position plugs with set screws for each wire.
AudioControl D-4.800 Amplifier Applications
If you are looking for an amplifier to power your sound system upgrade, then the D-4.800 is the perfect starting point. You can power a set of component speakers using the internal crossover and time align them to create an incredible soundstage. Adding a second amplifier to the Line Outputs will make adding and tuning a subwoofer quick and easy. You can also use the D-4.800 to power a set of components with passive crossovers and a subwoofer, or with four full-range speakers. The included installation and signal processing features ensure that the amp will always be a part of your system as it grows. Experience the new AudioControl at your local authorized dealer today!