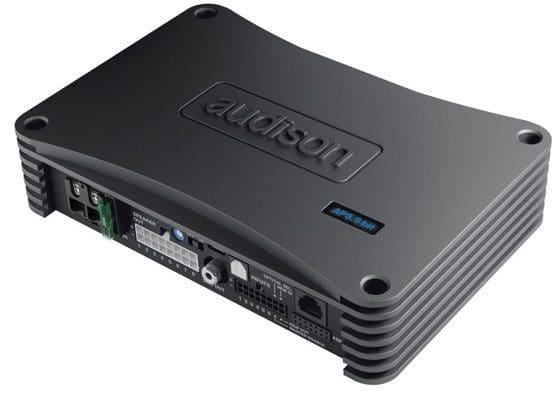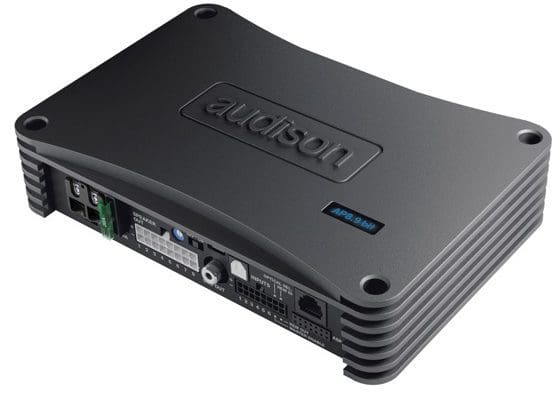 Audison is one of the industry leaders in mobile electronic product innovation and performance. One of their unique products is the Audison AP8.9 bit amplifier. This amplifier features eight channels of power as well as a powerful integrated digital signal processor (DSP). The onboard processing makes vehicle integration and system tuning easy. Let's delve deeper into the features of this compact and powerful amplifier.
Platform and Connections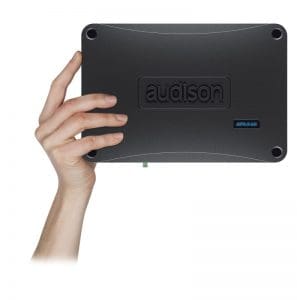 A key feature of the AP8.9 bit is its overall size. The amp is only 7.8 inches long, 5.27 inches wide and 1.8 inches thick. The chassis is small enough to fit in the dash of many vehicles or beside a factory amplifier in the trunk or hatch. All of the connections to the amplifier are made along one side of the amp thanks to compact quick-connects for signal input and output. There are only two controls on the amplifier chassis. A switch puts the amp into upgrade mode for software updates, and an eight-position rotary control allows for selecting preset system configurations. The advanced manual offers details on these preset configurations.
The provided input harness accepts speaker-level connections from factory or aftermarket head units. Audison has optional two- and six-channel RCA harnesses for connecting to aftermarket head units. An optional speaker load module, called the ASP, is available for all vehicles that need to "see" a load impedance at the factory amplifier during the start-up sequence. The unit will accept input signals from 2 to 15 volts RMS and has automatic turn-on detection circuitry. Audison includes a TOSLINK optical input for signals from digital sources such as the Audison bit DMI MOST integration module.
The AP8.9 bit features eight amplified output channels, each rated to produce up to 35 watts of power into 4 ohms or 65 watts into 2 ohms. When bridged, each pair of channels can provide up to 130 watts into a 4 ohm load. A ninth channel is available on an RCA output to send to a dedicated subwoofer amplifier like the AP 1D.
Signal Processing Features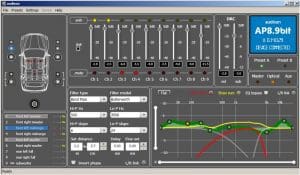 A Configuration Wizard within the provided Windows-based software helps make the setup of the amp quick and easy. Audison includes nine input signal configurations, including three-way front stages, center channels, rear speakers and stereo subwoofer inputs.
To configure the signal path through the amp, Audison provides similar preset selections, including provisions for the use of passively filtered channels. You can let the unit set up basic crossover points for you, or go in and fine-tune them yourself. Crossover options include high-, low- and band-pass filters with the option of Butterworth or Linkwitz-Riley filter models. You can select crossover points and filter slope as well. Signal delay can be set by measured distances or in milliseconds. Each output channel also has a 10-band parametric equalizer. Finally, you have output level adjustments for each channel that are adjustable in 0.5 dB steps.
The ability to power speakers actively negates the signal loss that occurs with passive crossovers. The result is a system that plays as loudly as amplifiers that produce 50 or 60 watts of power.
Audison AP8.9 bit Tuning Power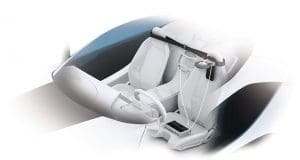 The AP8.9 bit is compatible with the Audison bit Tune processor. Many Audison dealers have invested in this acoustic analyzer processor to accelerate the system tuning process. The bit Tune takes a left- and a right-channel measurement of both frequency and phase at different locations around the microphone position. It can then process the information and provide a configuration directly into the AP8.9 bit. Equalization, signal delay, and output level control are all set automatically.
Options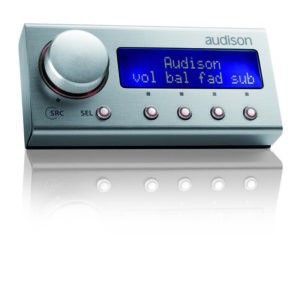 To provide control over preset selection, master volume (if desired) and subwoofer level control, the Audison DRC (Digital Remote Control) is compatible with the AP8.9 bit. The DRC can manually power the AP 8.9bit on or off, select different signal inputs options, preset tunes and control the system balance/fader. Audison also offers an amplifier-stacking kit called the APTK 3, to allow your installer to mount the AP8.9 bit on top of an AP 1D, or any of the Prima series amplifiers, up to a maximum of three amplifiers.
Applications for the AP8.9 bit are seemingly endless. Vehicles with difficult or impossible-to-replace head units or needing a replacement for a damaged factory amplifier are common applications. The system integration features of the AP8.9 bit, combined with flexible tuning functions, allow your installer to build an amazingly accurate and life-like audio system.
When it is time to upgrade your audio system, visit your local authorized Audison dealer to experience the AP8.9 bit for yourself.