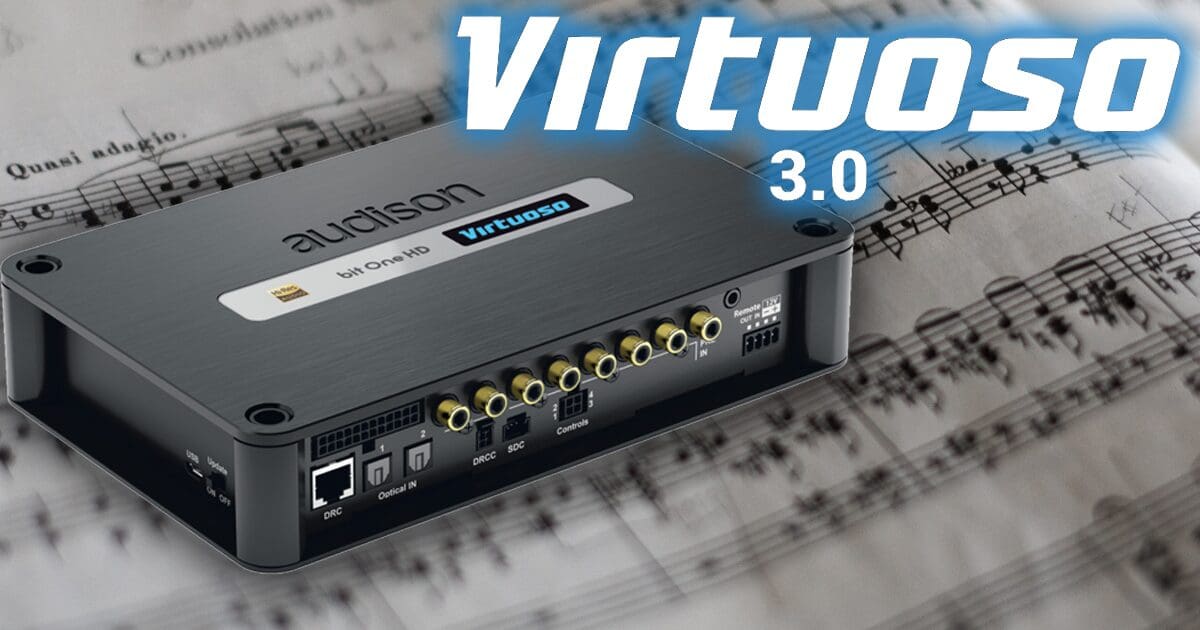 We took a close look at the amazing Audison bit One HD Virtuoso early in 2020. Since then, the team at Audison in Italy has been hard at work adding features and integration solutions, and the fruits of their labor are now available in the Version 3.0 software update. So let's dive into the new features that will allow your installer to make your car audio system upgrade sound even better.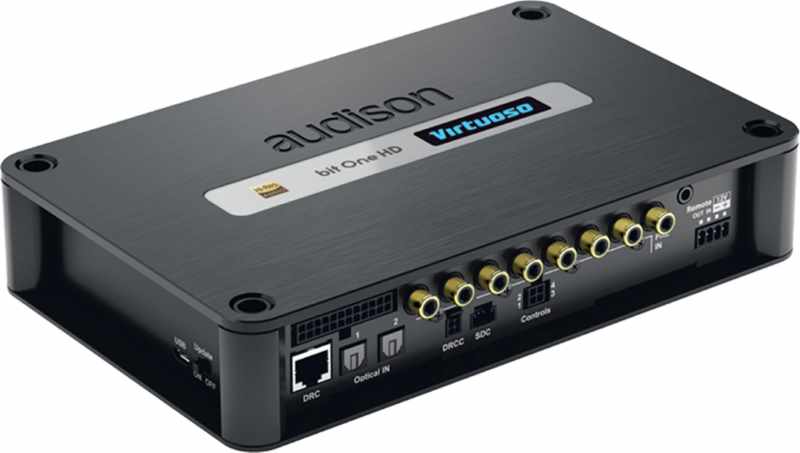 Factory-Installed Audio System Integration Feature Upgrades
The Virtuoso has always been one of the top integration solutions in terms of taking the output of an elaborate factory-installed sound system and making the audio signals compatible with upgraded amplifiers and speakers. The Version 3.0 software includes refined algorithms to remote equalization from a factory radio or amplifier, so the signal your installer can work with is flatter. There is also new software that can help to remove all-pass filter phase shift from more elaborate factory-installed audio systems. Removing these phase issues allows for proper system configuration in one-seat audio system calibrations.
Audison has added a pass-through mode for applications where the upgraded installation will maintain the function of a factory upmixer. This feature allows the information sent to the center channel and side and rear speakers to maintain their spatial processing information but calibrate for upgraded speakers and more power from a new amplifier. Finally, a new dynamic bass boost feature offers different enhancement levels based on different listening levels. For example, there's more boost at a lower volume to drown out road noise and less boost when things are loud, so the bass isn't overpowering.
System Calibration Features
Your installer now has access to an entirely new suite of tools to make the task of configuring your audio system more efficient and accurate. These tools include an integrated real-time audio analyzer that allows them to see the system's frequency response with a USB microphone or USB sound card. The RTA includes support for microphone correction files, the ability to load a target response curve and automated left and right equalization configuration. In addition, the technician can see the response in real-time when in the equalizer window, so there's no need to switch back and forth between windows or applications to configure the system.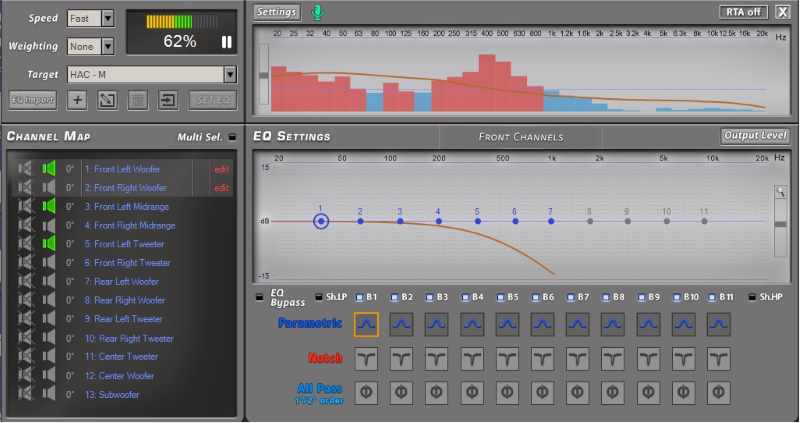 In terms of new calibration and configuration tools, the Virtuoso 3.0 software includes programming to ensure that the processor remains active when connected to a computer. This update is particularly helpful when a technician is working on a push-to-start vehicle with timers on the accessory mode.
Your technician has access to add first- and second-order all-pass filters to the calibration to help create two-seat configurations that offer good frequency response and acceptable imaging from both the driver's and passenger's seat.
Finally, the Dynamic Bass EQ function allows different equalization curves based on different volume levels. This feature is unique because it works with a factory-installed source unit volume control, so it functions seamlessly. It's excellent for restoring the low-frequency information that some source units attenuate at high output levels. Likewise, it can be applied in a way that mimics the way human hearing changes at different volume levels. Essentially, we need bass frequencies to be louder at low frequencies and low volume levels, then decrease that boost as output increases.

Performance Upgrades
While the hardware in the bit One HD Virtuoso remains world-class, audible upgrades in the 3.0 software have a positive effect on improving how an audio system sounds. Uniquely, the Virtuoso includes IIR-type equalizer filters that don't affect phase compared to FIR EQ bands. As a result, when used in the bass region, the perception is smoother frequency response with better dynamics and coherence from the subwoofers.
The integrated system equalization algorithm uses what's known as Audison Mobile Phase Correction. Mobile Phase Correction uses a processing algorithm called Percept, which was created by a consortium of Italian universities specifically for use in vehicles. Once the installer has configured crossover points, the Percept system measures both amplitude and phase, then optimizes signal delay and phase adjustments to deliver excellent time- and frequency-based performance. As a result, your music will sound more accurate, and bass information will appear to come from the vehicle's front, even when a subwoofer is in the system. The studio-grade SHARC processor from semiconductor manufacturer Analog Devices is fundamental to the Virtuoso's ability to deliver these advanced features. Just a note, your installer will need to use a bit Tune to use the Mobile Phase Correction feature.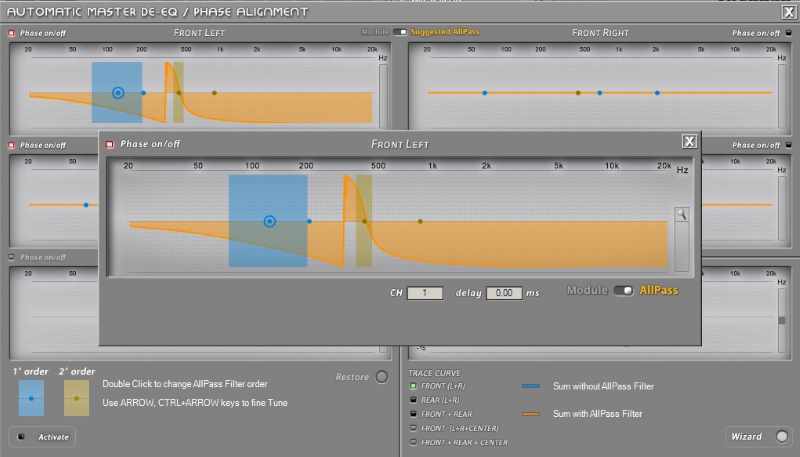 Upgrade Your Audio System with Audison Virtuoso
The new internal RTA, Dynamic EQ and Bass EQ, along with the phase EQ and improved de-phase processing, are dramatic upgrades to the already amazing hardware and capabilities of the bit One HD Virtuoso. Your local Audison retailer can use these new features in the Virtuoso DSP running the new 3.0 software to create a listening experience that offers smooth, natural and realistic frequency response while ensuring that the phase differences between channels and drivers are minimized. The result is a listening experience that mimics what the producer or engineer heard in the recording studio.
If you've been hesitating to upgrade the sound system in your car because it has a premium audio system with advanced signal processing, the latest upgrade to the Audison bit One HD Virtuoso was designed just for you! If the equipment in your audio system is of excellent quality, but the listening experience doesn't give you goosebumps, then the Virtuoso is also for you. Visit an authorized Audison solution provider to learn what's available for your application. Be sure to keep up with the latest innovations from Audison by visiting their website, Facebook page, Instagram feed and their YouTube channel.