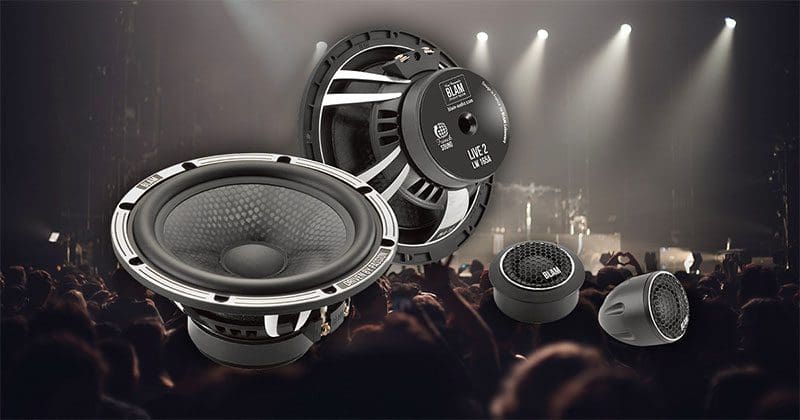 Situated between BLAM's Signature and Relax solutions, the Live series of speakers from BLAM is designed for car audio enthusiasts who want the experience of an in-person musical performance in their vehicle. With five component speaker sets, three dedicated midrange driver solutions and a coaxial speaker system, there's likely a solution that will deliver that "French Sound" in your vehicle.
L165A and L165C – Acoustic
The flagship of the Live series is the L165A Acoustic 6.5-inch two-way speaker system. The system comprises a pair of LW 165 A cast aluminum basket woofers that feature glass fiber and epoxy resin woofer cones. The cones are centered in the basket by a butyl rubber surround and a spider made from Conex. The combination of a voice coil with a diameter of 1.1 inches, a basket design with cooling vents under the spider plateau and a vented pole piece give the speaker a 70-watt power handling rating. The Qts of 0.74 gives the woofer a warm sound. These woofers have an Xmax spec of 3 mm and a nominal impedance of 2 ohms.
The tweeters in the L165A set are the LT 25 1-inch soft-dome units. They use a neodymium magnet to deliver excellent efficiency from a compact package. On their own, the tweeters are designed for flush-mount applications, but the set includes angled surface mounting pods. BLAM includes separate high- and low-pass external passive filtering networks with -12 dB/octave configurations. The tweeter network has +3, 0 and -3 dB adjustments for system balancing.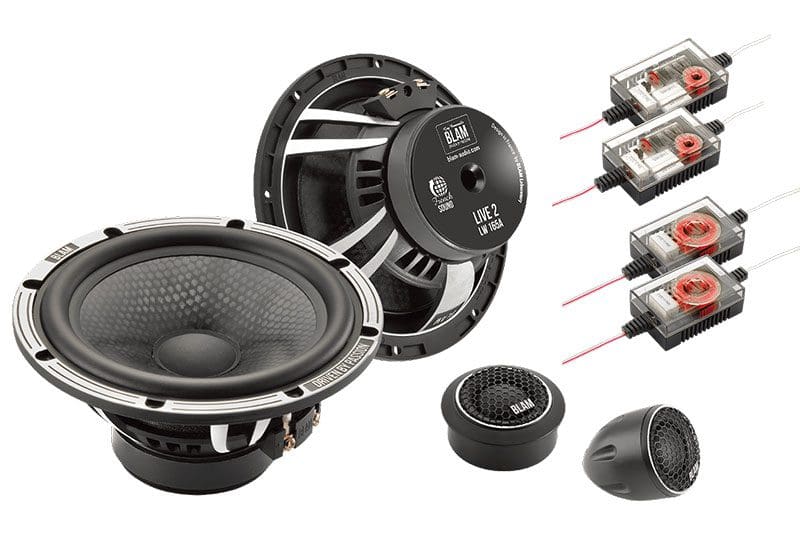 The L165C coaxial 6.5-inch speaker set combines the woofer and tweeter designs from the L165A into a coaxial driver solution that's ideal for rear doors and parcel shelves. The tweeter is mounted on a post that extends up from the T-yoke through center of the woofer, and tweeter filtering is handled by a capacitor attached to the basket.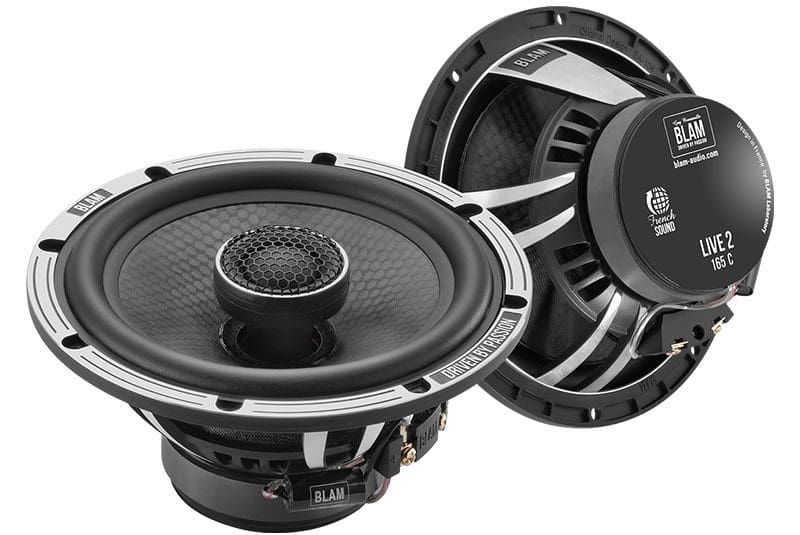 L165P and L200P – Power
For those with a penchant for cranking the volume a little higher, the Live Power series speaker sets are a great option. Available in 6.5-inch (L165P) and 8-inch (L200P) solutions, these speaker systems combine the same LT 25 tweeter with a beefier woofer that offers more excursion (5 mm for the LW 165 P) and increased power handling (90 watts for the LW 165 P and 100 watts for the LW 200 P). The LW 165 P uses a phase plug instead of a dust cap to reduce the cone assembly's moving mass. Qts is lower at 0.6 for a tighter sound in the midbass. Nominal impedance on the LW 165 P is 3 ohms. The L165P set uses the same four-component filter network design as found in the L165C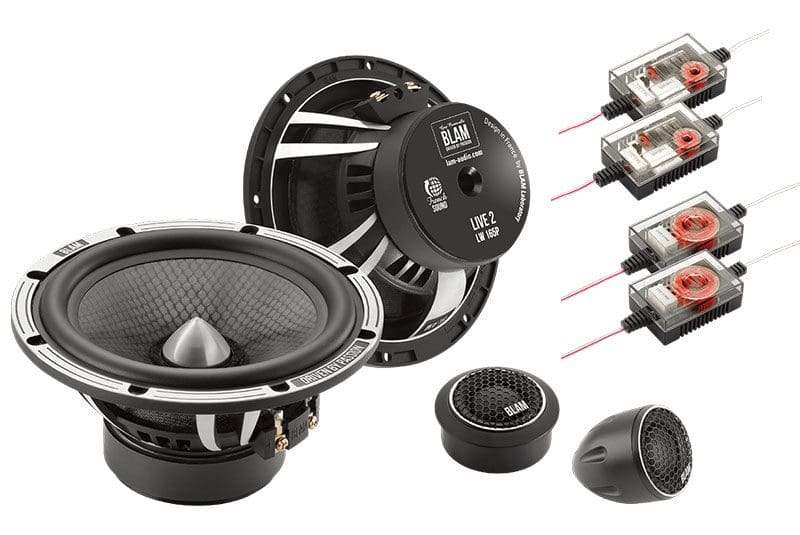 The LW 200 P includes a set of shallow-mount 8-inch woofers that require only 68.6 mm of mounting depth. The cones use the same glass fiber material as the rest of the Live series, and the nominal impedance is 2 ohms. The Qts spec is nice and low at 0.5 for snappy sound, and Xmax is specified at 3 mm. In addition, the L200P set includes tweeter filter networks.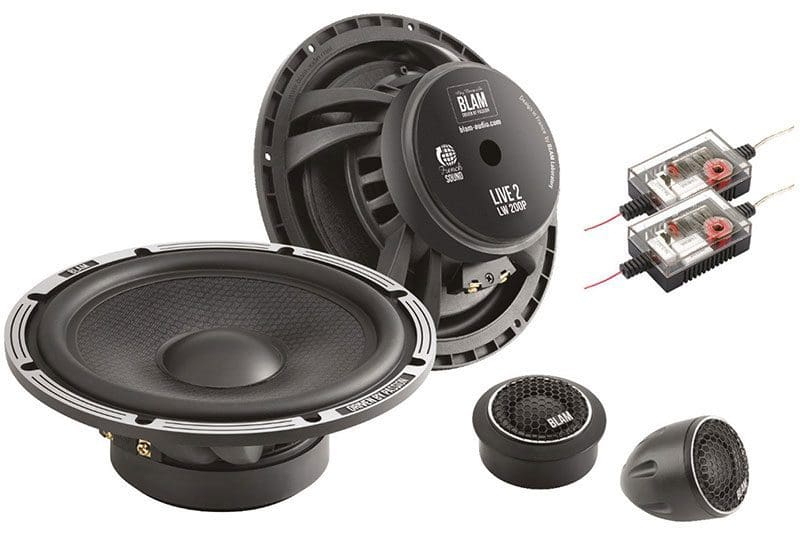 165 LSQ and L165S – Solo
Where mounting space is at a premium, the BLAM L165S set uses the same tweeters and crossovers as the other systems, with a shallow-mount 6.5-inch woofer that needs only 61.7 mm of clearance behind the mounting flange. These 3-ohm woofers use a neodymium magnet to maintain good overall efficiency, and they have an Xmax of 3 mm and moderately high Qts of 0.99 to give them a lively sound.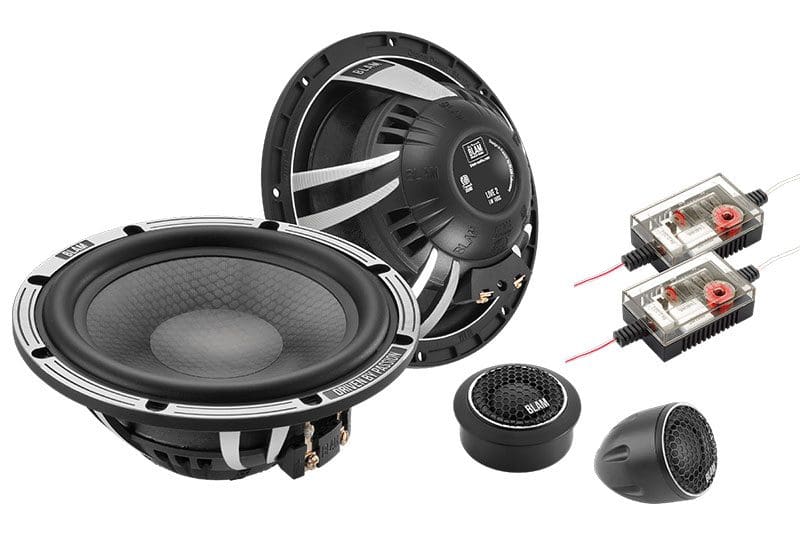 The 165 LSQ set foregoes the glass fiber cone for a cellulose paper and bamboo fiber design as a slightly more affordable option. A butyl surround and Conex spider still provide compliance. Power handling is rated at 60 watts and the nominal impedance at 2 ohms, Xmax and 3 mm and Qts at a nicely balanced 0.73. Passive filtering comes from a -6 dB/octave set for the woofers and different -12 dB/octave networks for the LT25 tweeters than other systems.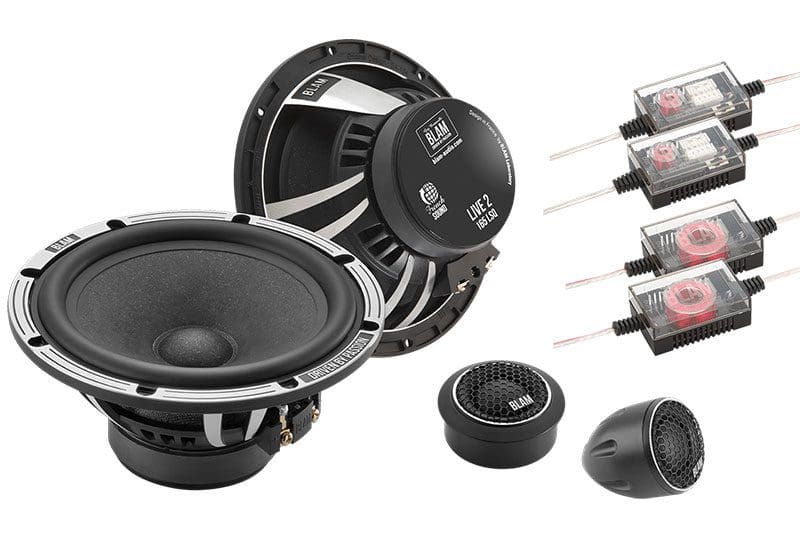 Dedicated Midrange Driver Solutions
Suppose your installer is designing a three-way system with dedicated amplifier channels and active filtering. In that case, BLAM has three midrange driver upgrades available to add to any of the systems mentioned above.
The LFR50 is a set of 2-inch midrange drivers that feature die-cast aluminum baskets, aluminum cones with rubber surround and a Nomex spider. The drivers have a resonant frequency of about 128 Hz and a low Qts of 0.45. The combination of a low-Q design and a compliant suspension allows these drivers to function in small speaker pods with a volume as small as 0.003 cubic foot without inducing any significant emphasis in the lower midrange. The Xmax specification is 2 mm. BLAM recommends using a second-order high-pass filter at 250 Hz to control excursion and maintain power handling.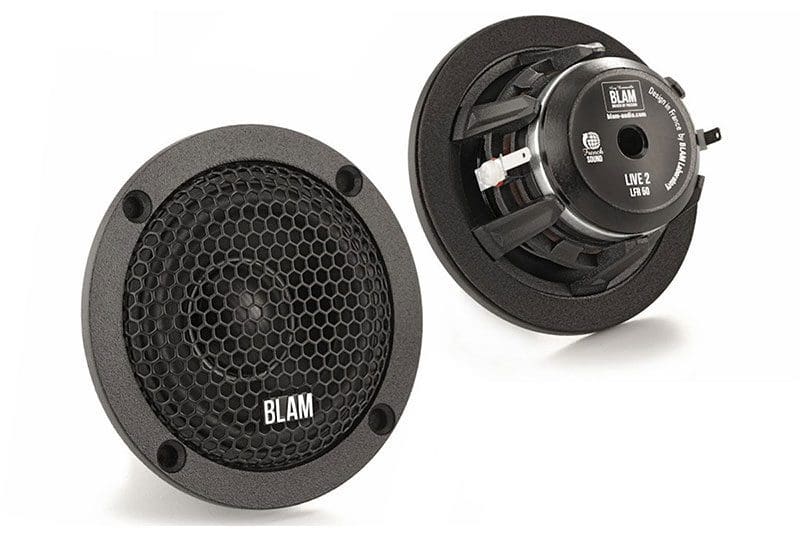 The LFR80 is a 3-inch midrange set that uses the same glass fiber woofer cone as the larger woofers in the Live series. These drivers are based around a die-cast aluminum basket with spider venting and use neodymium magnets. BLAM suggests using a second-order high-pass filter at 250 Hz to control excursion, making them compatible with the optional OS80 machined aluminum speaker enclosures.
The LFR50 and LFR80 are designed as full-range driver solutions and could be used without a tweeter when mounted directly on-axis with the listening position or in a dash location where the output would bounce off of the windshield.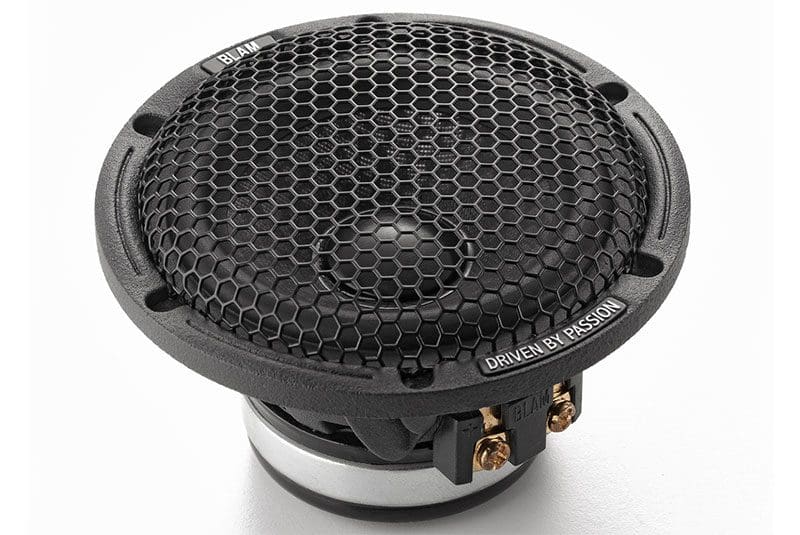 Last, but certainly not least are the LM80 3-inch midrange drivers. With similar power handling and application specifications as the LFR80, these drivers offer a little more lower-frequency output (around 250-300 Hz) at the expense of some overall efficiency. BLAM again suggests that these are compatible with its OS80 enclosure when filtered at 250 Hz.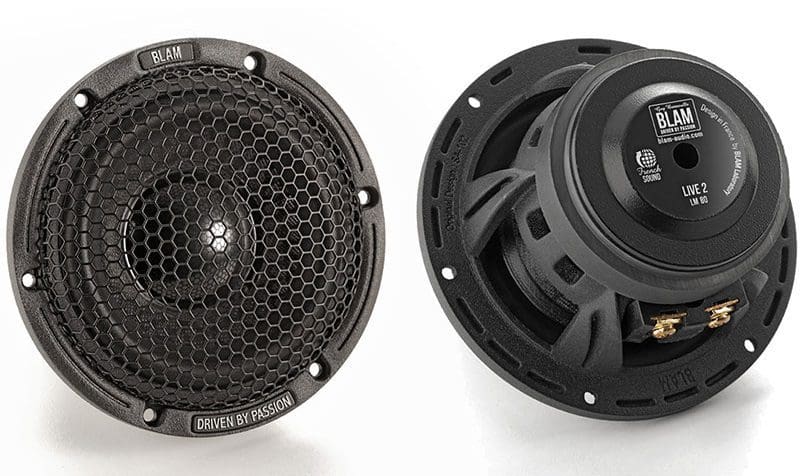 Upgrade Your Car Stereo with BLAM Live Speakers
Whether upgrading a set of worn-out factory-installed speakers or having a bespoke audio system designed to offer that classic "French Sound," the new Live series from BLAM provides an extensive suite of options. You can find a BLAM dealer in North America by visiting the dealer locator on the MSC America website. For more information on BLAM speakers, be sure to visit their website and follow them on Facebook and Instagram.