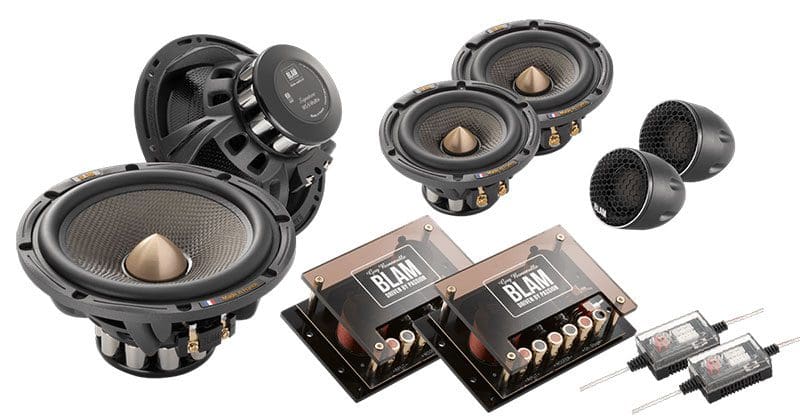 A truly mesmerizing musical experience in your vehicle requires great audio components, installation and system calibration. The Multix Series of car audio speakers from BLAM represents the pinnacle of the company's dedication to listening enjoyment. Designed and manufactured in France, these speakers can recreate your favorite music with passion and emotion. Let's explore the features and technologies that make these speakers ideal candidates for someone searching for an out-of-this-world mobile sound system.
Experience the French Sound by BLAM
Each Signature Multix driver is assembled by hand at BLAM's head office in Le Chambon-Feugerolles, just outside of Lyon, France. BLAM products are described as delivering "The French Sound." These designs focus on natural and detailed midrange balance with extended high-frequency content and warm midbass performance.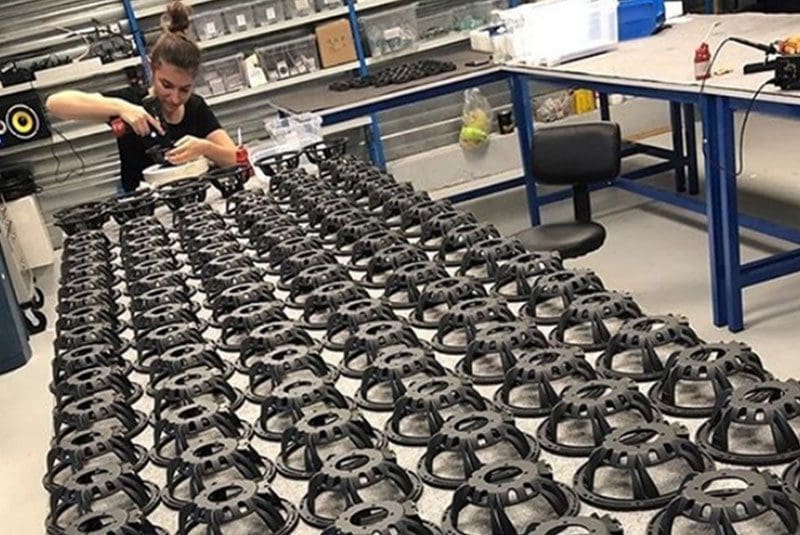 BLAM WS6 Woofer
Found in the S165 M3, S165 M2 FR and S165 M2 mg sets, the 6.5-inch WS6 woofer is the crown jewel of the Multix series. Based on a cast-aluminum chassis, the WS6 features an oversized multi-stick neodymium magnet motor with 10 elements. A 38 mm voice coil is wound on a glass fiber former that is bonded to a rigid carbon fiber cone. A plated aluminum phase plug is used in the center of the speaker instead of a dust cap. For compliance, a Nitrile rubber surround attaches the top of the cone to the basket while dual spiders ensure that the voice coil remains centered in the magnetic gap. Gold-plated terminals on the side of the basket ensure that electrical connections are reliable. Each set of WS6 woofers is provided in matched pairs with a tolerance of plus or minus 1 dB.
The voice coil is wound to an impedance of 2.1 ohms so that your amplifier will provide as much power as possible. Power handling is rated at 125 watts nominal, efficiency is 94 dB at 2.83V/1M and the Xmax specification is 6 mm. Net compliance is 12.9 liters, making the driver suitable for infinite baffle installation in doors or rear parcel shelf applications.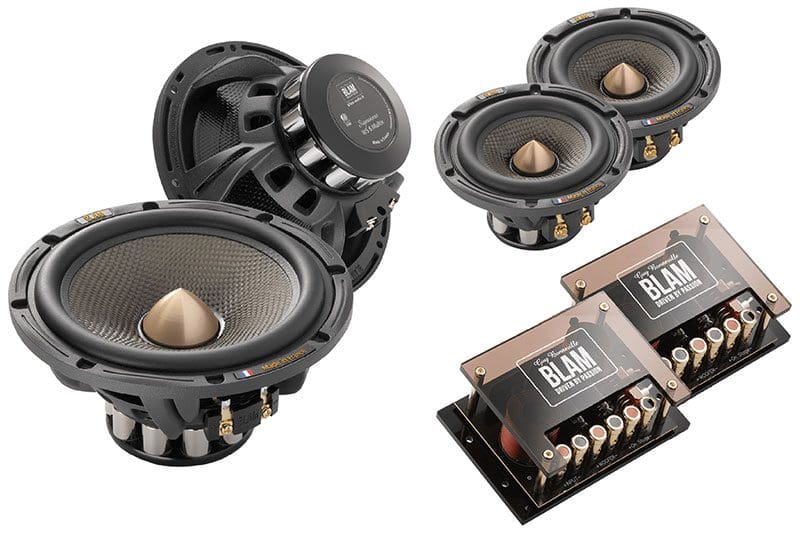 BLAM MS3 Midrange
The 3-inch MS3 midrange drivers are found in the S 165 M2 FR two-way set and the S 165 M3 three-way set. These mids are built around a compact cast-aluminum chassis that is a miniature version of the WS6. The cone is carbon fiber, and the glass fiber voice coil former has a diameter of 20 mm. A Conex spider and Nitrile rubber surround provide compliance.
BLAM has designed this driver to provide extended high-frequency performance to beyond 20 kHz, making it suitable for on-axis pod and dash-corner installations without a tweeter. The drivers have a nominal impedance of 3 ohms, are rated to handle 25 watts of power and have an efficiency of 88 dB at 2.83V/1M. Xmax is specified as 1 mm in each direction. When used with the passive crossover network supplied with the speaker sets, the crossover point is 500 Hz.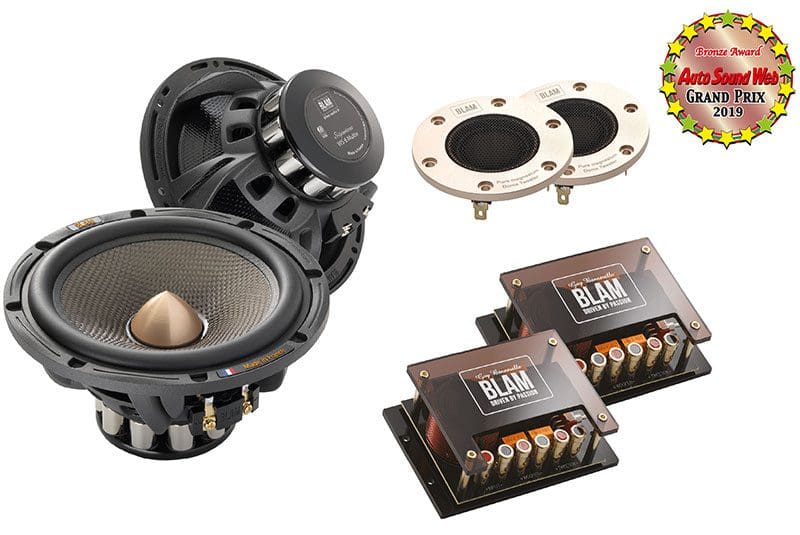 BLAM Tweeters
The 1-inch pure magnesium TSM 25 Mg 45 HR tweeters are included with the S165 M3. A machined aluminum front plate includes a mesh grille and threaded mounting ring. A high-strength N38 neodymium magnet provides magnetic flux for the voice coil. The system has a resonant frequency of 1,205 Hz, a nominal impedance of 6 ohms and an efficiency of 89 dB at 2.83V/1M. High-frequency output extends to 23 kHz.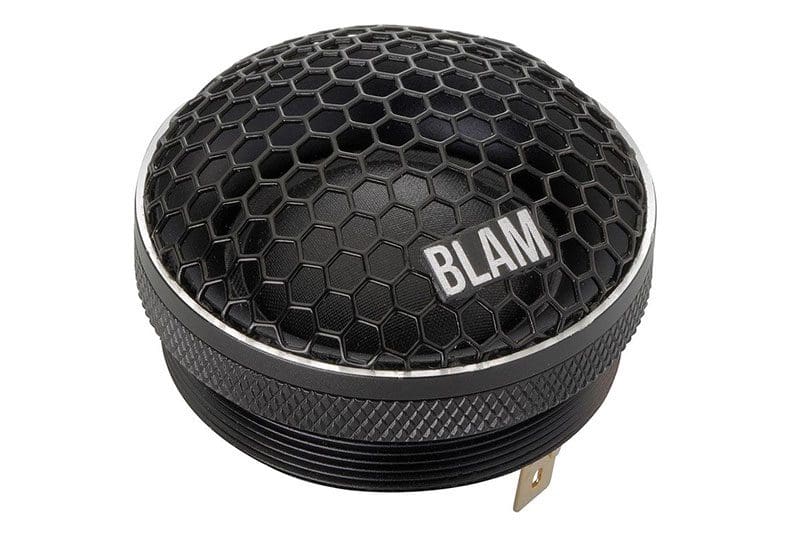 Available with the S165 M2 mg set are the impressive TSM 25 Mg 70 tweeters. Designed around a large 70 mm mounting plate, these tweeters feature a 1-inch pure magnesium dome design that offers output to 43 kHz. High-grade N48H neodymium slugs power the tweeters, and power handling is rated at 15 watts. Nominal impedance is 5 ohms and efficiency is rated at 89.9 dB at 2.83V/1M. A 1,207 Hz resonant frequency makes these tweeters suitable for two-way applications. You can choose from black or gold finishes to suit your installation.
Finally, available on their own or in pairs are the TSM 25 S 45 soft-dome tweeters. Based on the same chassis as the TSM 25 Mg 45 HR, these also use an N38 neodymium magnet and threaded mounting ring. Nominal impedance is 5 ohms and efficiency is 90.7 dB at 2.83V/1M. A resonant frequency of 1,591 Hz suggests a crossover point low enough to be mated with the MS6 midrange for even sound distribution through the vehicle.
Premium Car Audio Built with Passion
If you're shopping for car audio speakers that sound like no others, visit your local BLAM retailer and audition one of the Multix speaker sets. You can find a dealer using MSC America's North American dealer locator. For more information on BLAM products, visit their website and be sure to follow them on Facebook and Instagram for the latest events and product updates.