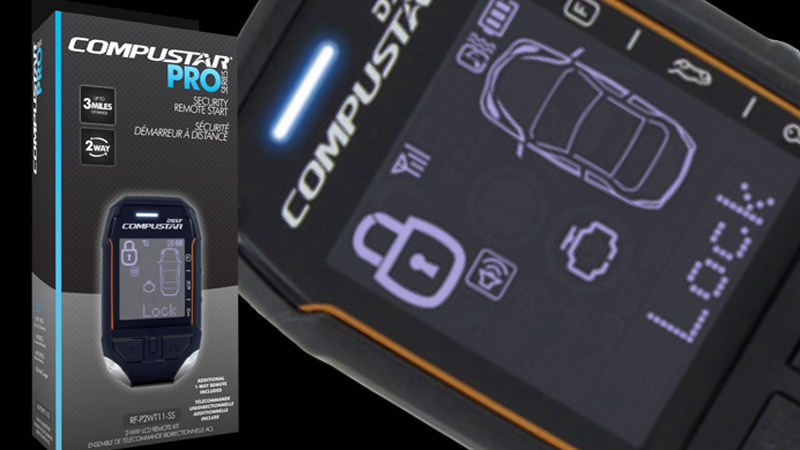 Anyone who has researched remote starters or car alarms will have undoubtedly seen several solutions from Compustar. Compustar serves its remotes and control modules a la carte to its dealers, who can create perfect solutions for every client. The PRO T11 two-way LCD remote control is the top model in the Compustar PRO series. This 5.5-button remote offers performance and durability features that are unmatched in the industry.
DSST 3-Mile Range
Range capabilities determine the performance of a remote control. The range is the distance you can be away from your vehicle while still being able to control it. Using Digital Spread Spectrum Technology for signal transmission, the PRO T11 provides up to 3 miles of range. The combination of advanced signal transmission technology and efficient use of power helps to ensure that you'll be able to remote start your vehicle long before you get to it, even if you are inside a shopping mall, movie theatre, your favorite restaurant or an office building.
Take-It-Anywhere Design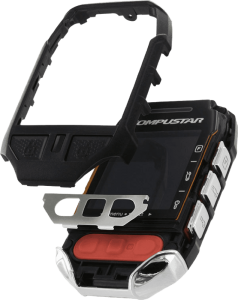 Knowing that dropping a remote and water damage are the most common causes of failure, Compustar has taken extraordinary measures to make the PRO T11 as durable as possible. The T11 features a high-strength injection-molded body to withstand impact. The remote buttons are made from high-quality rubber and feature steel reinforcements to increase longevity. The remote features an IPX7 water-resistance rating. This rating means the remote can be submerged in water up to 3.3 feet deep for 30 minutes without damage. Puddles, a jump in a pool or a slushy snow bank are no match for the PRO T11.
Compustar PRO T11 Two-Way Communication
Whether you have chosen a remote car starter, a security system or both for your vehicle, the PRO T11 remote will display a confirmation that the system has responded to any button you press. When you lock your vehicle, a padlock icon on the LCD screen shows as closed. Confirmation of a remote start request happens in two stages. First, the remote confirms it has received the request. After the vehicle starts, the remote displays an engine icon and counts down the remaining runtime. If for some reason the vehicle doesn't start, the remote will let you know why.
If you have a security system, the remote will alert you when the alarm is sounding and let you know what zone was triggered. A high-output speaker on the back of the remote and a built-in transducer to vibrate the remote ensure you get notifications, even if the remote is in your pocket.
Industry Reference Convenience
One of the most common complaints about two-way remotes with LCD screens is their ability to drain batteries quickly. Compustar has included a lithium-ion power cell in the T11 remote that lasts for several months on a single charge. A micro USB port makes charging the remote from your computer, car radio or the included wall adapter quick and easy. Two hours is typically adequate to bring the remote to full capacity.
With the 5.5 button design of the T11, it's easy to lock, unlock, release the trunk and remote start your vehicle. Easily accessed sub-menus provide control for auxiliary outputs, panic mode, vehicle internal temperature display and more. Before they begin the installation, your Compustar PRO dealer can explain the options that are available for your vehicle and their cost.
Vehicle and System Compatibility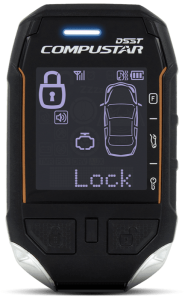 If you are browsing the Compustar website, you'll see the T11 remote bundled with a remote starter, vehicle security system or a starter and security system. Compustar remote starters are compatible with complex installations on vehicles with manual transmissions, push-to-start ignition systems, diesel engines and hybrid drivetrains.
As an add-on upgrade, the PRO T11 is compatible with all Compustar and Arctic Start systems from 2013 and newer, as well as all iDatastart systems from ADS to dramatically increase range and make controlling your system easier. You can upgrade a short-range, one-button one-way system to 3 miles of range and two-way communication by simply visiting your local Compustar PRO dealer.
The Best Remote Control Available
Compustar backs the PRO T11 with a three-year warranty when purchased from an authorized dealer. Be sure to register your purchase at www.compustar.com to activate this warranty.
The performance and durability of this remote are truly impressive. We have seen a T11 that was run over by a car and remained fully functional. When it's time to choose the ultimate remote for your remote starter or security system, visit your local Compustar PRO retailer and ask about the T11. You won't be disappointed.