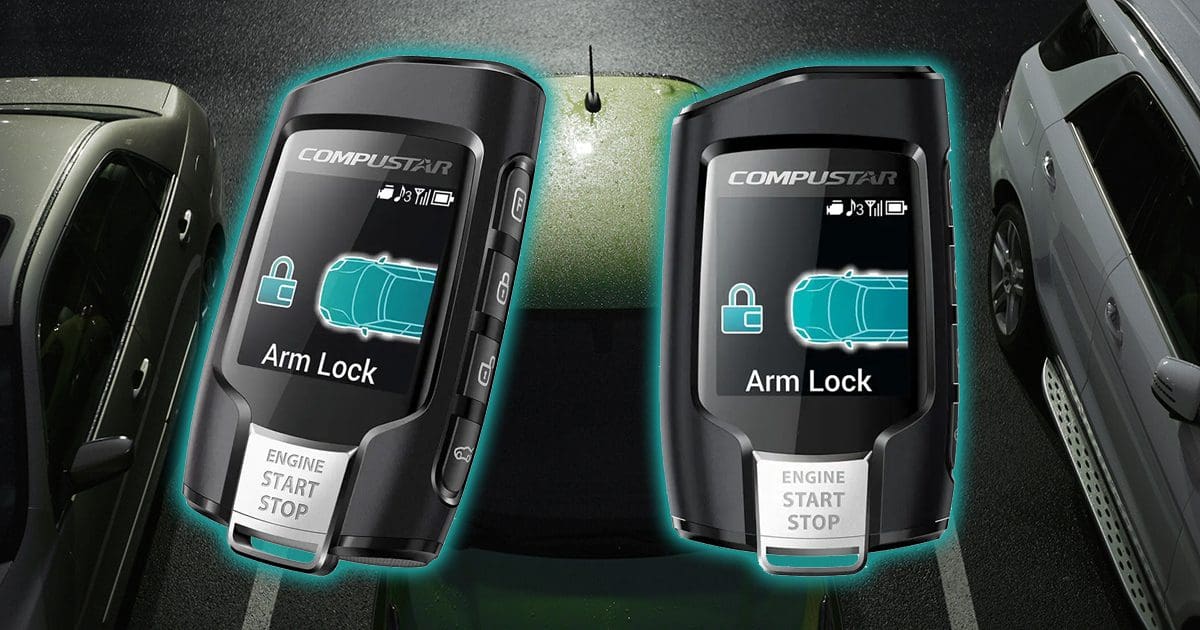 Two-way remote car starters and security systems help to ensure that you always know what's happening with your car or truck. Remote controls that include an LCD screen make it quick and easy to know whether the doors are locked or the engine is running. Compustar's Q9 remote kit consists of a two-way LCD remote and their DroneMobile X1-LTE telematics interface to provide a complete control-from-anywhere remote starter or security solution for your vehicle.
What Is the Compustar Q9 with LTE Kit?
The Q9 remote and DroneMobile kit is known formally as the RFX-2WQ9-FM. It includes a two-way LCD remote and the DroneMobile X1-LTE interface. The remote features five control buttons to make locking, unlocking, remote start and trunk release functions instantly and intuitively accessible. The centrally located Engine Start/Stop button on the Q9 mimics the lock, unlock and remote start functions of a Compustar one-button remote. You can also access two auxiliary outputs to control power sliding doors on a minivan or hatch release on an SUV. The LCD screen has dedicated icons that display the door lock status and indicate whether the doors are open or the engine is running. If you opt for a temperature sensor when the Q9 is installed, you can also check the temperature in the vehicle.
Compustar sells its remote packages separate from its control modules, so the retailer you're working with can pair the Q9 kit with a remote starter, security system or a hybrid unit that offers all the features you want. The Q9 remote is bundled in the CSX2WQ900-A security system with DroneMobile and the CS2WQ900-AS remote starter and security system.
 

View this post on Instagram

 
The RF transceiver in the Q9 remote provides up to 3,000 feet of range to let you control your vehicle from inside a small apartment or a medium-sized office building. This is enough communication range to let you keep tabs on your vehicle and remote start it without going outside. Factory-installed keyless entry systems don't provide this much range.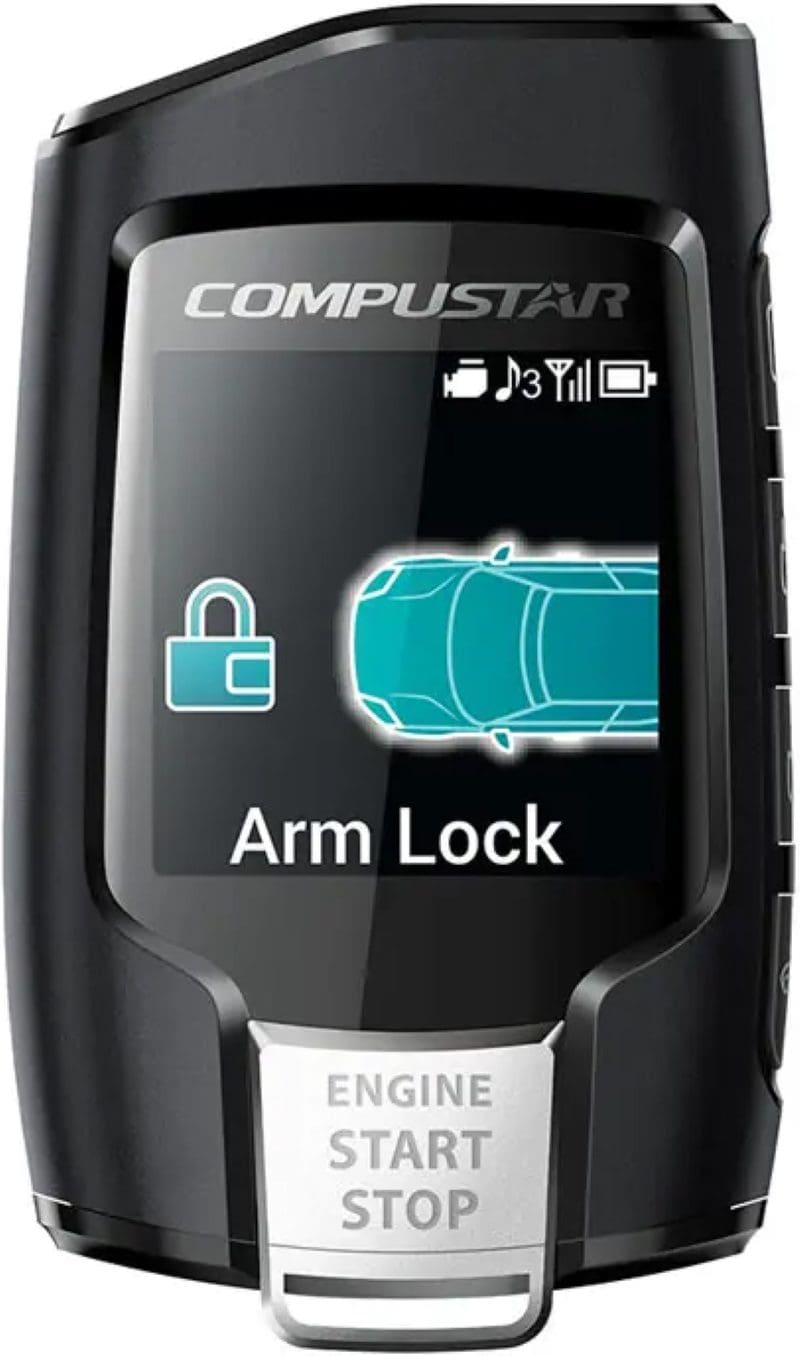 Security System Alerts
The Q9 remote will notify you if a Compustar alarm system has been triggered. The remote will beep and buzz when this happens. If someone has bumped into your car or is trying to cut the catalytic converter off your truck or SUV, these alerts will let you know it's time to call the authorities.
 

View this post on Instagram

 
Control from Anywhere with DroneMobile
The Q9 remote kit includes the DroneMobile X1-LTE telematics system. DroneMobile consists of a communication interface that connects to your vehicle's Compustar remote starter or security controller. The interface uses cell phone communication towers to relay commands from your smartphone to the vehicle and back. If you want to remote start your car or truck, launch the app on your phone and press the start button for a few seconds. The starting message from the app will travel through the internet and the cellular provider to the vehicle in a few seconds. Best of all, once the vehicle is running, you'll get confirmation on your phone. There are no range limitations with Drone. You can be at home, at work or on vacation in Mexico – as long as you have internet access, you have control. If you have the FT-DAS-II sensor in your vehicle, the DroneMobile system also relays security alerts to your smartphone.
With a DroneMobile Premium service plan, you can also use the X1-LTE's built-in GPS receiver to pinpoint the location of your car or truck. You can set location-based geofence or time-based alerts to keep tabs on your vehicle.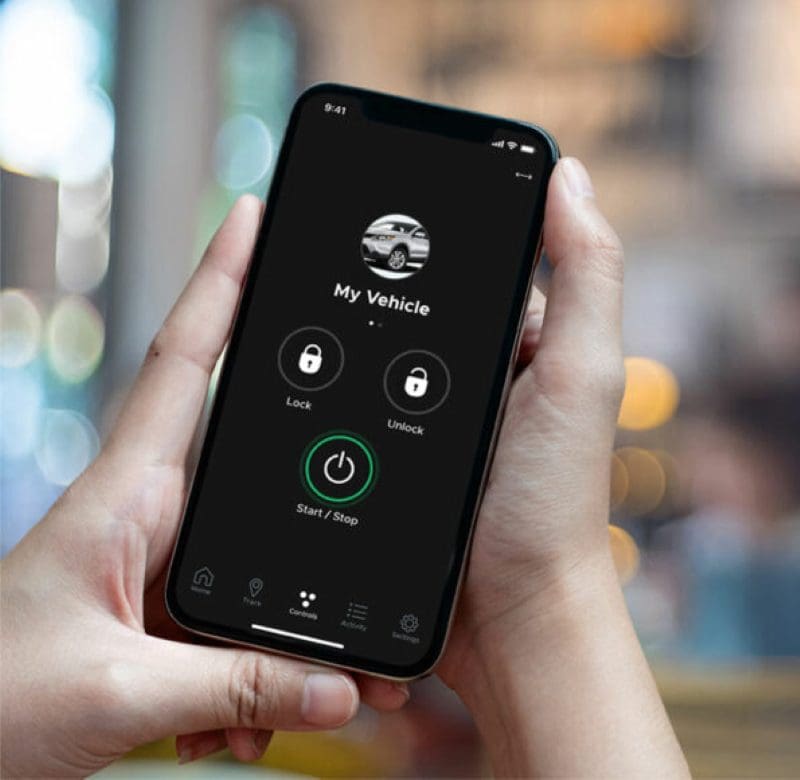 Add Convenience and Security with the Compustar Q9 Remote
If you're shopping for a remote car starter or car alarm with a high-performance two-way remote that includes an LCD screen and the state-of-the-art DroneMobile telematics solution, drop by your local Compustar retailer and ask about the Q9 remote kit. You can find a retailer near you using their Dealer Locator. Be sure to follow Compustar on Facebook, Instagram and YouTube to stay up to date with their latest product releases.