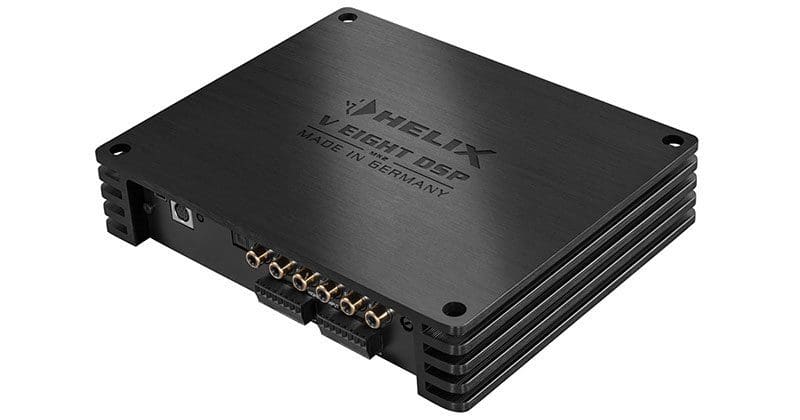 When it comes to amplifiers with integrated digital signal processing, few companies have as many solutions as Audiotec Fischer of Germany. In this spotlight, we are going to take a close look at the Helix V EIGHT DSP MK2 eight-channel amplifier. With a maximum of 160 watts available per channel, and a full suite of digitally-controlled system configuration and tuning options available to your installer, this amp is a great choice for the heart of an impressive audio system upgrade.
Specifications of the Helix V EIGHT DSP MK2

Helix specifies that the V EIGHT DSP MK2 is capable of producing up to 75 watts from each channel when driving 4-ohm loads and 120 watts with 2-ohm loads with all channels driven. As maximum power is limited by the current capabilities of the power supply, if the amp is configured with a few pairs of channels for mids and tweeters, peak power increases to 160 watts per channel into 2 ohms for channels driving woofers.
This amp uses what Helix calls Pure Class GD output design, which combines the efficiency benefits of high-speed Class D switching on the output devices with a variable voltage power supply. The result is improved efficiency and low and moderate drive levels. Some OEM source units remain active for a while after the vehicle shuts off. The integrated Power Save mode enables automatically after 60 seconds without audio, and this time can be adjusted in the software to up to 10 minutes.

The DSP section uses premium AKM 32-bit A/D and D/A converters running at a 48 kHz sampling rate that results in a maximum frequency response of 22 kHz. Distortion is specified as being <0.015%, and the signal-to-noise ratio is 102 dBA using the analog inputs and 107 dBA using the digital inputs. Note that these SNR specifications are referenced to the maximum output level rather than the CTA-2006 1-watt reference.
Finally, the amp has an operating voltage rating of 10.5 to 16 volts but can handle dips down to as low as 6 volts for up to five seconds to make it compatible with stop-start equipped vehicles.
Amplifier Design and Features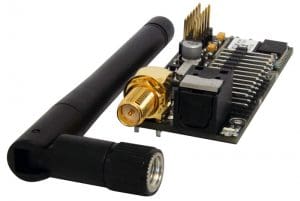 The V EIGHT DSP MK2 is based on an extruded and machined aluminum chassis that measures 8.66 by 7.09 inches with a thickness of 1.73 inches. Power connections are handled by a terminal block that will accept four-AWG wiring. Speaker connections are on the same end of the amp and use blocks that will accept 12-AWG wires. A set of RCA jacks beside the power connection serves as the outputs for an external amplifier.
The opposite end of the amp has six RCA preamp input jacks and eight speaker-level connections that will accept up to 32 volts of signal. A standard optical-input SPDIF jack is provided for connection to vehicle interfaces like the Helix SDMI25 MOST interface, a mObridge DA-Series product, or the NAV-TV ZEN Series. A status indicator, clipping indicator, reset button, USB port, remote control input jack and gain control round out this end-panel.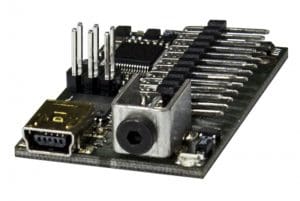 Inside the amp, Helix has included provisions to add optional Helix Extension Cards. You can add the HEC BT – V EIGHT DSP to stream audio via a Bluetooth connection from your smartphone or a computer. The other option is the HEC HD-AUDIO USB-INTERFACE – V EIGHT DSP interface, a high-resolution audio player that works with Android and iOS portable devices as well as Windows and Mac computers. The player is compatible with media files up to 192 kHz and 32-bit resolution.
The amp is equipped with Helix's Advanced Diagnostics Error Protection (ADEP.3) circuit, which presents a suitable load to a factory-installed amplifier or radio during the startup process. ADEP.3 helps ensure that your upgraded system will function as seamlessly as the OEM solution and eliminates the need for external load resistors. All Audiotec Fischer products with high-level inputs the feature ADEP.3 circuit.
Signal Processing Delivers Amazing Realism
The digital signal processing in the amp features 10 channels of processing to provide input signal mixing, crossovers, signal delay, equalization and output level adjustment to the eight amplifier channels and the pair of RCA outputs. The feature set is similar to that of the Helix DSP Ultra that we looked at earlier.
A unique feature of this processor is its ability to sub-mix groups of channels using what Helix calls Virtual Channel Processing. Your installer can mix signals together and route them to features like RealCenter, Augmented Bass Processing, StageXpander and ClarityXpander to enhance the performance of the audio system.
Start Your Car Audio Upgrade with the V EIGHT DSP MK2
If you're planning on upgrading the audio system in your vehicle and want an amp that can drive a three-way front stage and rear-fill speakers, it's worth visiting your local authorized Helix retailer and asking about the V EIGHT DSP MK2. You can find North American retailers using the MSC Dealer Locator. You can also keep up with the latest product news by visiting Facebook or YouTube.