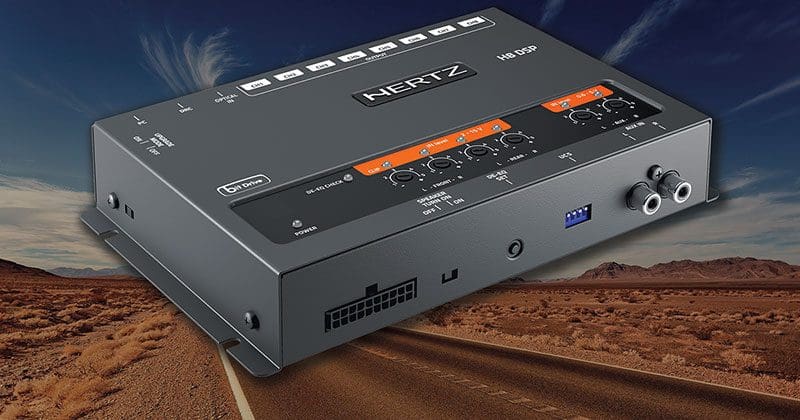 Known best for its speakers and amplifiers, Hertz has recently added an impressive digital signal processor called the H8 DSP to its mix of car audio upgrade solutions. Since more and more car audio enthusiasts these days are working with factory-installed source units, Hertz focused on making its processor solution easy to integrate into these vehicles. With a full suite of tuning tools on hand for your installation technician, upgrading a vehicle audio system with the H8 DSP will transform it into something truly amazing.
Hertz H8 DSP Features
The H8 DSP features four speaker-level inputs, a pair of RCA auxiliary inputs and a TOSLINK digital input. On the output side, there are eight RCA outputs that will provide up to 4V of signal. The four speaker-level inputs will accept as much as 15V, and the RCA aux input is good for 5V. The processor also includes input level optimization LEDs to help maximize the signal-to-noise ratio of the system. Another increasingly important feature is called the Universal Speakers Simulator (USS) technology. This circuit presents an appropriate load to the factory amplifier or radio so that external load resistors aren't required to make the system function.
Hertz includes a few welcome hardware connections that make using the H8 DSP quite convenient. First, the system includes enough memory for two tuning calibrations. External wire connections are available to let users switch between these presets quickly. The system also includes remote turn-on detection circuitry. This processing will allow the H8 DSP to turn itself on when it detects that the factory radio turns on. There's also a remote output, so the processor can then turn on your system amplifiers.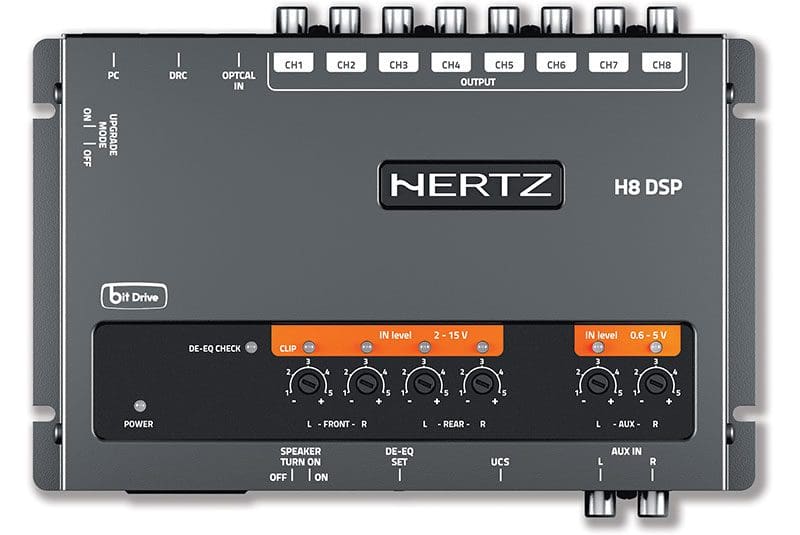 The software includes an input/output configuration wizard that helps simplify the setup process. Not only does this help with signal routing, but it also enables the de-equalization process. Many factory-installed radios, including some that seem surprisingly basic, include speaker-specific equalization processing. The de-equalization process uses a test track (available as a download from the Hertz website) to undo the factory EQ curve as much as possible. The wizard also sets up some basic crossover settings that mean the system can be up and playing very quickly before the fine-tuning begins. This feature gives your installation technician a level playing field from which he or she can start the calibration process of your new speakers.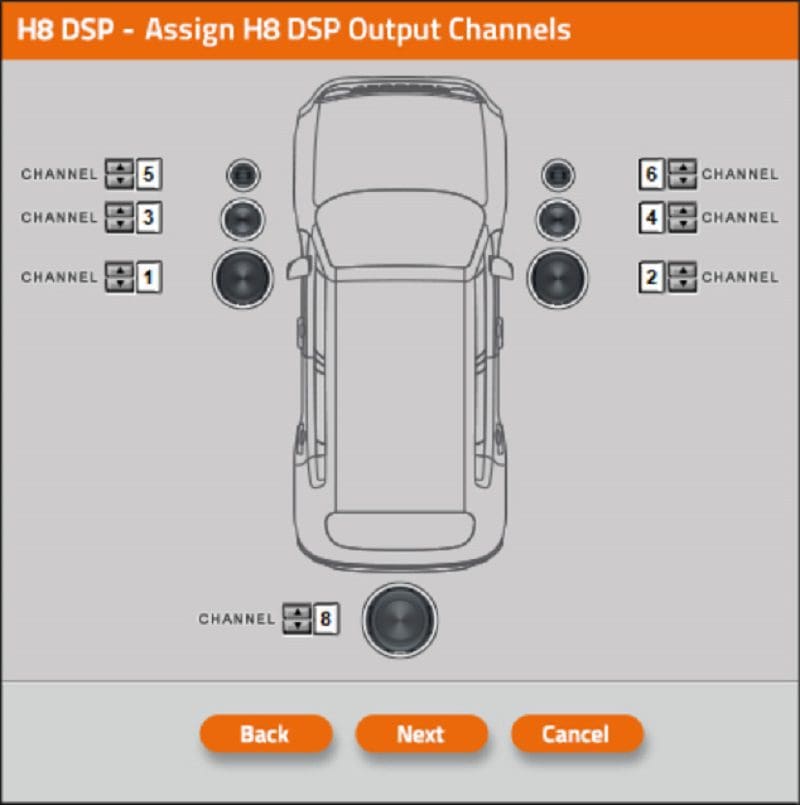 Signal Processing Features
In Expert mode, any of the eight channels can be configured with high- and low-pass filters with the option of Butterworth or Linkwitz-Riley filters with slop options up to -24 dB/octave. Crossover points aren't infinitely adjustable, but there are 68 frequency options available – which is more than enough for any possible system design.
In terms of equalization, there are 31 bands, spaced at standard 1/3-octave spacing. Each band is adjustable on 0.3 dB steps up to plus or minus 12 dB. There's a cool "select all" button that lets your installer change all the bands at once. This is a great feature if the person tuning your system needs more than 12 dB of cut or boost in a single band, as the entire set of slides can be moved at once.
Your installer can enter the distance between the listening position and the speaker, and then the processor will calculate the delay for each output. There's a fine-tuning window that lets them add additional delay in 0.02-millisecond steps. There is also a polarity adjustment control of each channel that is labeled as "Invert Phase."
The level of each of the eight output channels can be adjusted in 0.5 dB steps from 0 to -40 dB. There is a master volume control setting that works in 1 dB steps from 0 to -60 dB and a master subwoofer level control that provides 0.5 dB steps from 0 to -12 dB.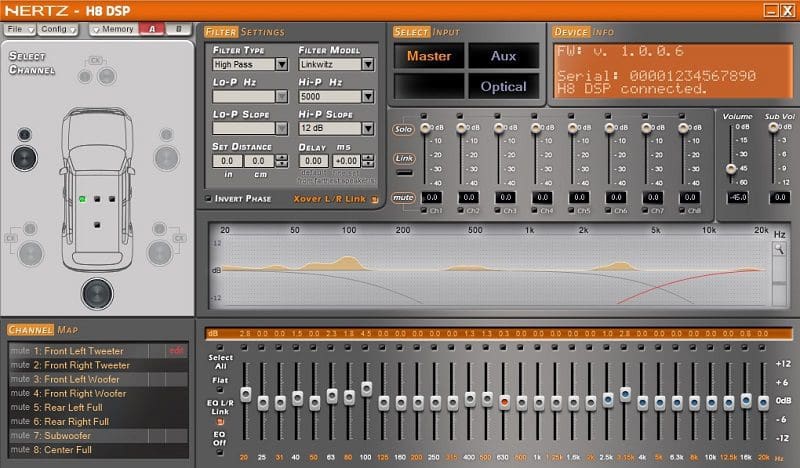 DRC HE Remote Control
The H8 DSP ships with the DRC HE remote control. This compact (2.48- by 1.4-inch) remote includes five buttons and a small 4.5-character, 12-segment display. The remote provides master volume control, subwoofer level control and balance and fader adjustment. The presets can also be toggled by the remote, along with the source input (speaker, aux, or digital). The included connection cable is 14.76 feet (4.5 meters) long. Finally, two-sided tape is included to surface-mount the remote in your vehicle.
Since the processor can operate in a stand-alone mode using the remote as the master on/off switch, it doesn't require a traditional source unit to be in your audio systems. You can play music from a smartphone through a Bluetooth receiver or a media player like the Audison bit Play using the TOSLINK digital connection.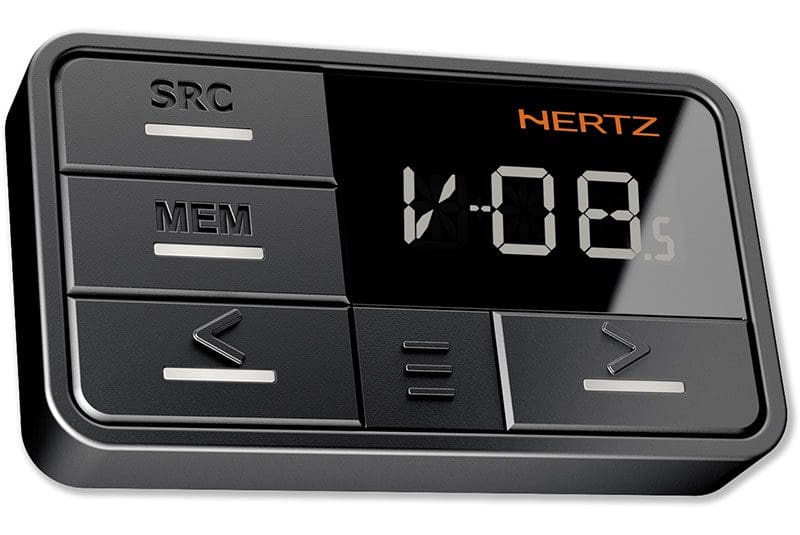 Upgrade Your Car Audio Experience with the H8 DSP
Whether you have an existing sound system or are planning a new build, having a signal processor like the Hertz H8 DSP in the system is a worthwhile investment. Drop by your local authorized Hertz retailer for a demonstration today! For more information about Hertz car audio products, visit their website, Facebook page, Instagram page, Twitter feed or YouTube channel.