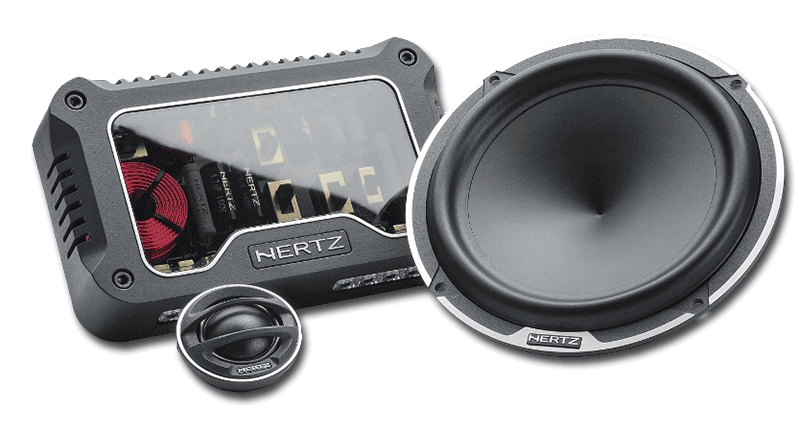 As a well-respected name in the mobile electronics industry, Hertz never rests on its laurels when it comes to new product development. Launched in 1999, the Mille Series set an exceptionally high standard for automotive loudspeakers. The new MLK 1650.3 Legend component set is the flagship in the current Mille Series. Designed using state-of-the-art computer simulation technologies and real-world Klippel testing, this version raises the benchmark to an entirely new level of accuracy and performance. Let's take a deeper look into what makes this one of the premiere speaker solutions in the industry.
ML 280.3 Legend Tweeter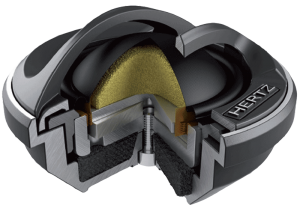 The 1.1-inch ML 280.3 Legend tweeters feature a Hyperbolic Tetolon fiber dome design, developed using Finite Element Analysis (FEA) computer simulations to provide excellent high-frequency dispersion and low overall distortion. The tweeter frame is machined from a solid aluminum block with a face profile that has been optimized for excellent off-axis performance. The rear chamber has been enlarged by 50% compared to previous designs to improve midrange performance. This increase in air volume, combined with extensive damping material testing, results in a driver with a 900 Hz resonant frequency. This low resonant frequency makes the tweeter beautifully compatible with the 6.5-inch ML1650.3 from this set, as well as the 7-inch ML1800.3 woofer.
A neodymium magnet powers the tweeter and provides excellent voice coil control. A pure copper shorting ring on top of the pole piece dramatically reduces inductance for improved high-frequency performance and reduced distortion. The combination of the Tetolon dome, a low-mass CCAW voice coil and properly managed inductance allows the amazing ML 280.3 to play over a range of almost three octaves.
ML 1650.3 Legend Woofer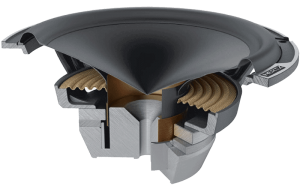 This 6.5-inch ML 1650.3 woofer is based on a proprietary three-spoke cast-aluminum chassis with integrated vents below the spider-mounting ledge. A mixture of pulp paper and cotton fibers has been pressed to create rigid and well-damped cone.
Hertz has implemented its Boundary Free IIR (isobutylene with isoprene) rubber surround on this woofer. The outer edge of the surround extends the effective cone area by 17%. With a larger coupling area comes improved sensitivity and output capability.
An FEA-optimized neodymium magnet powers the woofer and provides excellent efficiency and control. Low carbon content top and bottom plates help to focus the magnetic field flux on the large 1.4-inch CCAW voice-coil winding and its Polyamide former. The pole piece features an aluminum shorting ring to reduce inductance and distortion while extending high-frequency output. Hertz uses a dust cap with a sharply inverted point called V-Cone to help manage high-frequency resonances common to conventional dome shapes. As compared to a conventional dome-shaped dust cap, distortion in the 6kHz range are virtually eliminated and off-axis performance is extended to almost 9 kHz.
MLCX 2 TW.3 Legend Passive Crossover Networks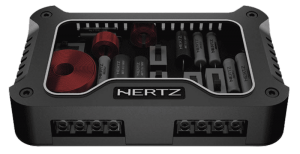 Hertz has included a set of premium passive crossover networks with the MLK 1650.3 set. The crossovers use large-gauge air-wound inductors and high-quality 160 volt polyester film capacitors for exceptional power handling characteristics.
The network includes five heavy-duty slide switches. The first switch allows for bi-amping the network using two amplifier channels. A second switch, labeled Tweeter Level, adds or subtracts 2 dB of output from the reference tweeter level.
The Mid-Contour and Hi-Contour switches affect the crossover points of their respective drivers. With both switches on, the crossover point is 2.5 kHz. With the contour switches off, the crossover frequency is 3.5 kHz. Finally, the Hi-Boost switch provides the ability to increase output between 10 kHz and 20 kHz to compensate for off-axis tweeter installations.
Power Handling
Thanks to the large-diameter voice-coil windings and premium passive crossover components, Hertz has rated the system as being able to handle an impressive 150 watts of power. Combined with the rated 92 dB (at 2.8V) sensitivity and impressive cone excursion capabilities, the MLK 1650.3 Legend system will have no problem getting loud and sounding stunning in any application.
Premium Loudspeaker Solution
The Mille MLK 1650.3 Legend set takes advantage of several technologies that give it a decided edge over its competitors when it comes to reducing distortion and non-linearities at high drive levels. The copper ring on the tweeter and the V-Cone and Boundary Free surround on the woofer provide improved efficiency and high-frequency response as compared to designs without those technologies.
The MLK 1650.3 set is well worth an audition the next time you are in the market for speakers for your vehicle. Visit your local authorized Hertz dealer for more information.