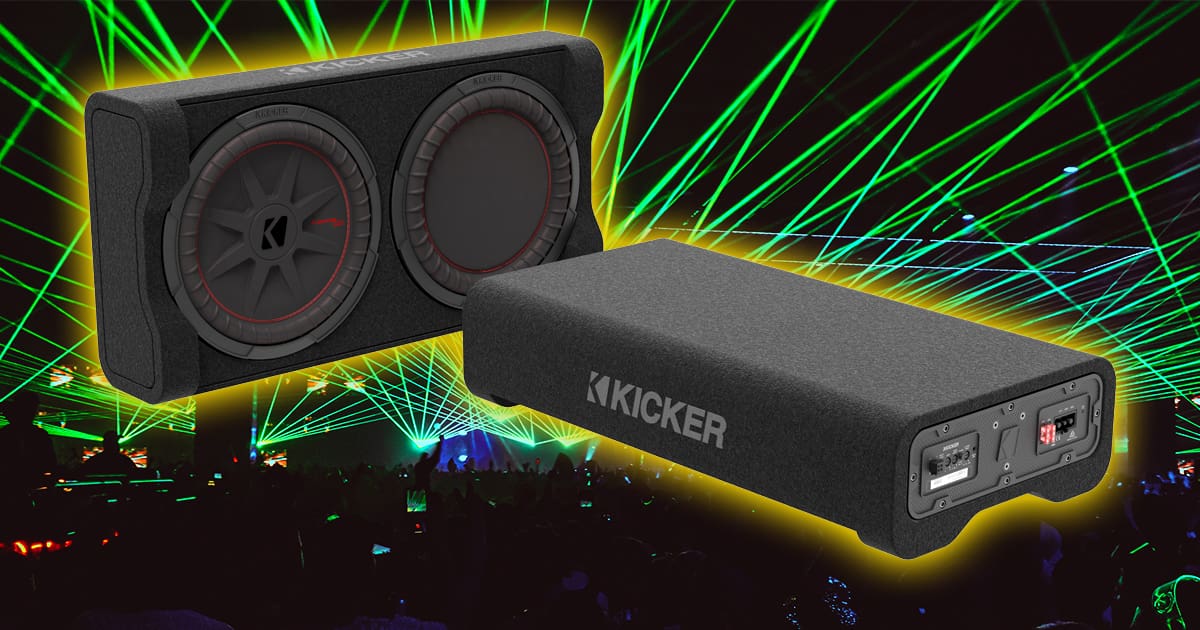 If you wanted one word to describe the best upgrade you can make to almost any factory-installed car stereo, that word would be subwoofer. For 50 years, the folks at KICKER in Stillwater, Oklahoma, have known that a subwoofer system is the first, best upgrade. When it's a priority to maximize audio system performance while balancing cargo space, KICKER's PTRTP powered down-firing loaded subwoofer enclosures are a great choice. Let's check them out!
KICKER PTRTP10 10-inch Subwoofer System
KICKER created two solutions in the PTRTP line. The PTRTP10 features a 10-inch subwoofer, a 400-watt amplifier and a 10-inch passive radiator. The enclosure is 13.25 inches deep, 25.625 inches wide, and only 6 inches tall. Whether it's sitting at the back of your trunk or under the seat of a pickup truck, you'll still have room to carry all your sports equipment, tools, luggage or weekly groceries.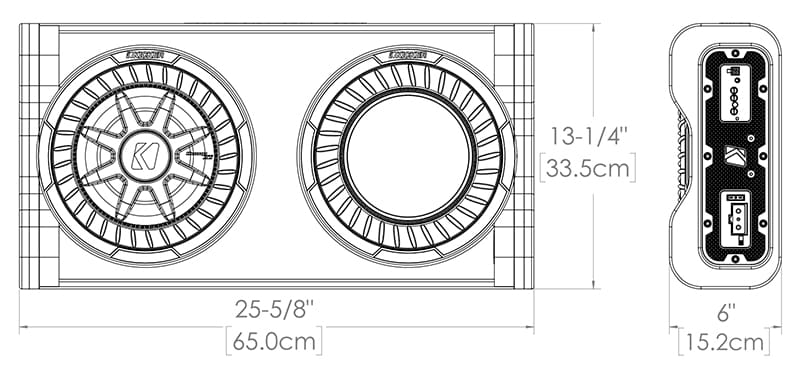 KICKER PTRTP12 12-inch Subwoofer System
If you want a little more kick (pun intended), the PTRTP12 is a perfect solution. This larger enclosure features a 12-inch subwoofer with a matching 12-inch passive radiator and a 500-watt amplifier. Enclosure dimensions are 14.625 inches deep, 27.5 inches wide and 6.5 inches tall. That's still small enough that you can easily leave it in place on a road trip or vacation.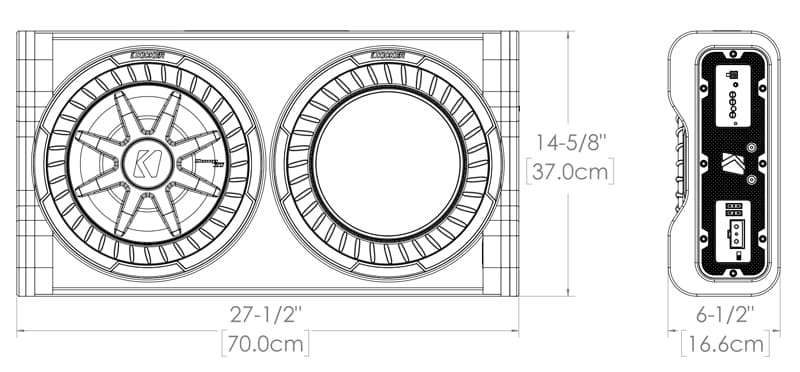 Standard Features of KICKER's Down-Firing Amplified Subwoofer Systems
The KICKER PTRTP enclosures feature CompRT-Series subwoofers. This series of subwoofers delivers full-size subwoofer performance from incredibly compact dimensions. The drivers feature an injection-molded polypropylene cone with eight reinforcing spokes. The cones are attached to ribbed Santoprene rubber surrounds. The ribs help improve linearity and prevent buckling and distortion at high output levels. Power handling is improved, and thermal compression is reduced, by a series of forced-air cooling holes in the bottom plate. These holes let hot air around the bottom of the voice coil and motor escape. Vents in the basket under the spider mounting plateau provide additional cooling and reduce compression issues at high excursion levels. The custom-tooled bumped top plate in the CompRT drivers allows for a stunning 13.35-mm Xmax specification.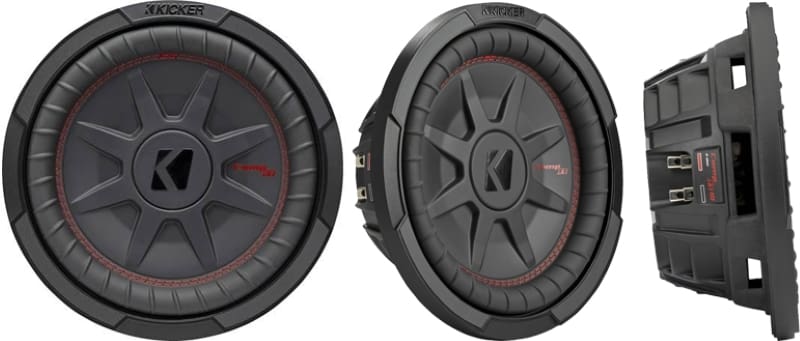 The amplifiers built into each enclosure are identical in features and only differ in power production. Both include adjustable RCA preamp and speaker-level inputs via a four-pin Molex-style connector. The preamp input can accept up to 5 volts, and the speaker-level input mode will handle an impressive 40 volts. The amplifier can be activated using the standard 12-volt remote input connection or DC-offset detection. The DC-offset circuitry monitors the speaker-level inputs for the DC voltage common to factory-installed and even aftermarket radios. The bottom line is that KICKER has made this easy to integrate with your factory-installed stereo system. If you ever want to temporarily remove the enclosure, the signal and power connections are on quick-release plugs.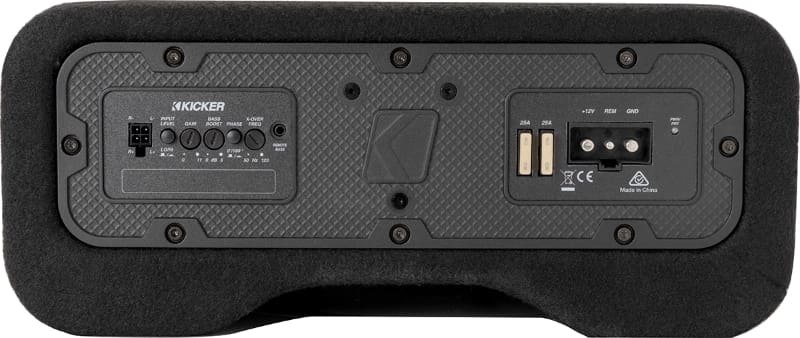 The built-in amplifiers include an adjustable -12 dB/octave low-pass crossover that your installer can set between 50 and 120 Hz. A bass boost control can bump 40 Hz by up to 6 dB. Finally, a polarity control switch will invert the output to improve integration with the rest of the speakers in the vehicle. KICKER has included a full-time infrasonic filter set to 25 Hz with a -12 dB/octave slope. Both solutions include a wired remote bass control to let you fine-tune the system from the driver's seat.
KICKER PTRTP Passive Radiator Subwoofer Systems
Many older car audio enthusiasts will recognize the passive radiator design used in the KICKER PTRTP enclosures from the first KICKER Box subwoofer enclosure systems created in the '80s. Passive radiator designs offer similar performance benefits to a vented enclosure. So why use them? Passive radiator enclosures can be much smaller than vented enclosures and deliver equally impressive amounts of deep bass.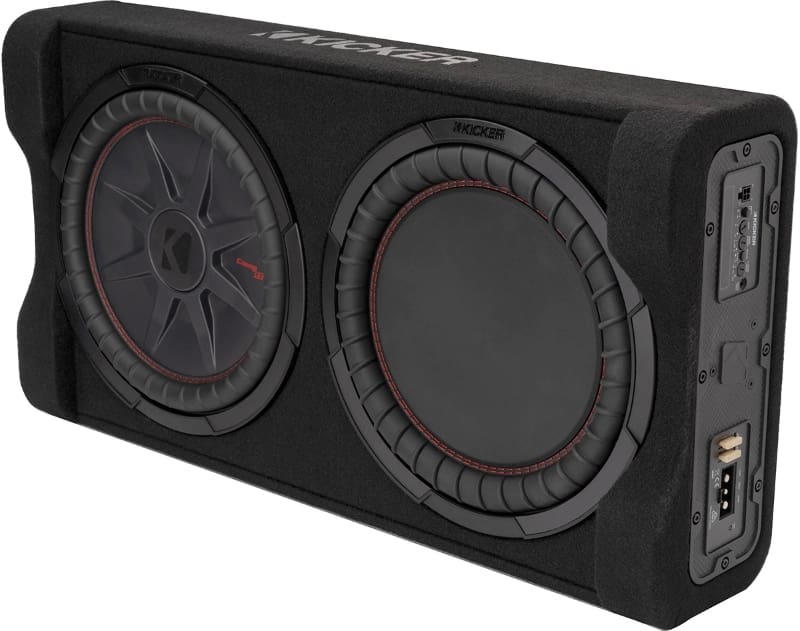 So why a down-firing enclosure? The primary benefit is driver protection. You can throw your hockey gear or golf clubs in the cargo area without fear of damaging the speaker cone or surrounds. KICKER has added significant reinforcement to the construction of the enclosure to ensure that you aren't going to crush it. Cosmetically, the enclosures are classy and subtle, with a durable black carpet finish and rounded corners. You can have the embroidered KICKER logo facing rearward for all to see, or your installer can turn it around for a less conspicuous upgrade.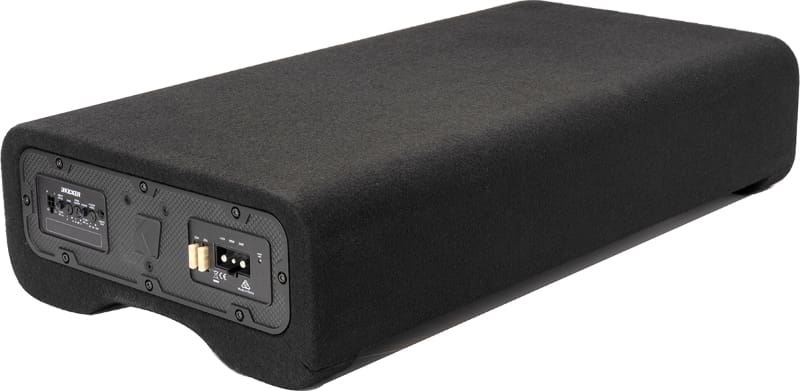 Upgrade Your Car Audio System with KICKER Today!
If you want a compact, high-performance subwoofer upgrade for your car, truck or SUV, drop by a local authorized KICKER retailer and ask about their 10- and 12-inch PTRTP powered down-firing subwoofer systems. You can find a KICKER retailer using the dealer locator on their website. To learn more about KICKER's amazing car audio products, check out their YouTube channel, Facebook page or Instagram feed.