Over the past few years, Double-DIN multimedia receivers have taken the spotlight when it comes to new head units. With that said, Sony knows that single-DIN solutions are still an important part of the industry. The Sony MEX-GS620BT offers more connectivity features and source options compared to most of the multimedia receivers on the market in a Single-DIN format. The intuitive design and layout make it easy to use while driving. A Sony GS 3-Year Warranty provides peace-of-mind, as well as an indication of the long-term reliability that Sony is well-known for. Let's dive in and check out the MEX-GS620BT Bluetooth CD Receiver.
Audio Source Options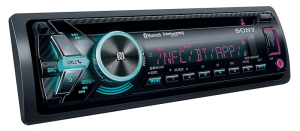 Having your cake and eating it too should be a label on the front of the MEX-GS620BT. This radio features an AM/FM receiver with RDS information display, a CD mechanism, USB and auxiliary inputs on the front panel and a second USB port on a wired pigtail on the rear of chassis. The unit also includes Pandora streaming and control for iOS and Android devices. You can add an optional Sirius SXV300V1 tuner for SiriusXM reception almost anywhere in the country.
The system can play MP3, WMA and AAC audio files at sampling rates up to 48kHz from a CD. Switching to a USB mass storage class device adds support for WAV and FLAC formats. The MEX-GS620BT includes USB music playback support for Apple iPhone and Android AOA 2.0 compatible devices. The front USB port charges devices with 1 Amp of current and the rear will provide 1.5 Amps. With so many songs available to the listener, Sony has included a search function called Quick-BrowZer. You can select from different categories, then jump through the track options quickly using the main control dial. Quick-BrowZer works wirelessly with AVRCP compatible Bluetooth devices as well.
Unique Remote Control Solutions
The free Sony | Music Center app for Android and Apple iOS devices provides full control over the radios source, function and configuration settings from your smartphone. You can set up the equalization, seating position, button / screen illumination colors, and much more through the app. The connection to the radio is handled wirelessly by Bluetooth to reduce clutter. SongPal is onboard and is a great solution for custom installations where you are using a tablet in the dash instead of the radio.
Sony has provided a dedicated connection to let your installer connect a steering wheel control interface to make your new radio safe to use while driving. Sony includes an RM-X231 infrared remote control with the radio for more conventional long-range control.
Dual Device Bluetooth Connectivity
You can pair two Bluetooth devices to the MEX-GS620BT simultaneously. The primary phone can stream audio and handle phone calls. The secondary device is for phone calls only. Sony has included NFC pairing to get your NFC-enabled smartphone connected quickly and easily. An included external microphone provides excellent outgoing sound quality on Bluetooth calls and voice recognition tasks. Siri Eyes Free and Google Voice compatibility is provided to make calls, listen and send text messages, and choose the music you want to enjoy.
Sony MEX-GS620BT System Features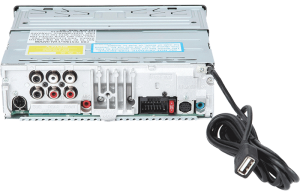 You can choose from 35,000 different display and control panel illumination colors; both capable of being set independently to match your OEM lighting color palette in the dashboard. Or you can opt to let the radio follow the beat of your music with various color patterns. The reverse-LCD screen has 12-characters, each with 14 segments to make it easy to show numbers and letters. Audio configuration features include a 10-band equalizer called EQ10, high- and low-pass crossovers and an extensive list of adjustments to configure a subwoofer.
A function called Extra Bass works in conjunction with the volume control to reinforce low-frequency output across a wide range of listening levels, while minimizing distortion and clipping at high volume. ClearAudio+ processing helps optimize different source formats for natural and realistic reproduction. Finally, the Digital Sound Enhancement Engine (DSEE) will restore high-frequency audio information lost in compression to MP3 and WMA formats.
Your installer can fine tune your system using the Dynamic Soundstage Organizer (DSO) and listening position adjustments. Sony has pre-programmed signal delays into these features to help create a realistic soundstage in your vehicle.
Sony has equipped the MEX-GS620BT with their Dynamic Reality Amp 2 internal amplifier. They rate the amp as being capable of producing up to 55 Watts per channel into a 4 Ohm load, or 20 Watts using the CTA2006 Standard. The preamp outputs are capable of producing up to 5 Volts of signal and have an output impedance of 220 Ohms.
Premium Entertainment and Communication
When it is time to upgrade the radio in your car or truck, drop into your local Sony dealer and check out the MEX-GS620BT. Be sure to bring along your smartphone to experience all of the fantastic connectivity options. With all the modern sources and file formats covered, coupled to an easy-to-use design, the MEX-GS620BT is destined to be one of the most popular single-DIN CD receivers on the market.