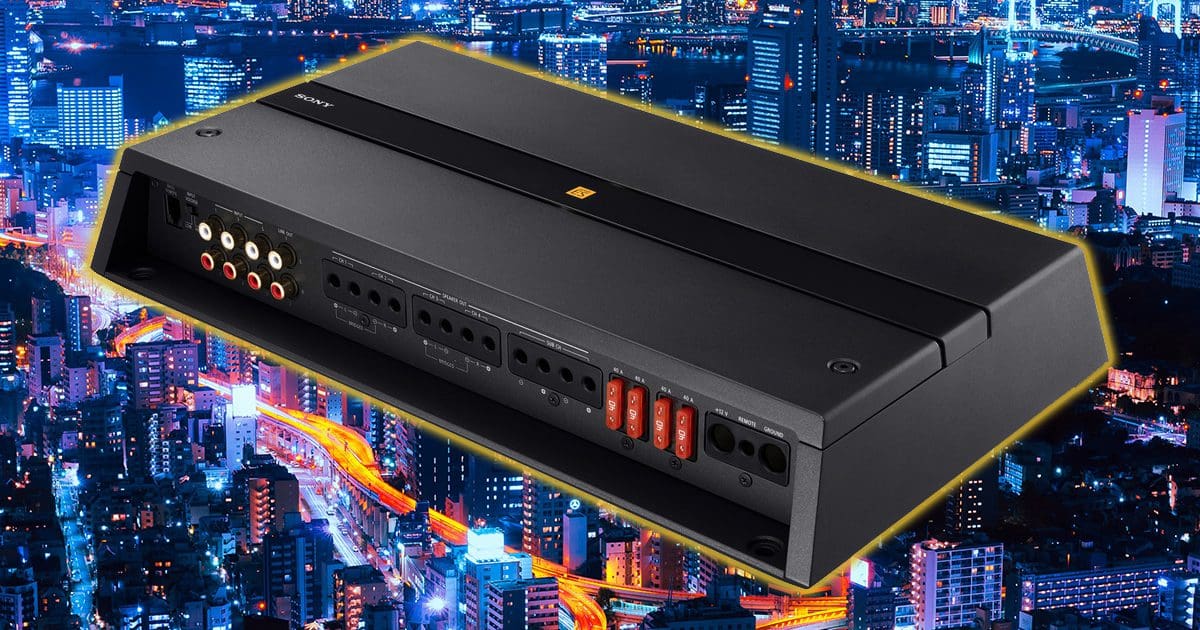 Five-channel car audio amplifiers like the Sony XM-5ES are a great way to upgrade your car stereo system to deliver great sound. Sony has created an amp that produces up to 165 watts of power per channel to the front and rear speakers and 750 watts to the system's subwoofers. They've also crammed this beauty with premium processing technology and integration features to ensure that your music sounds fantastic.
Features of the Sony XM-5ES Five Channel Amplifier
The four main channels of the XM-5ES are rated to produce 100 watts of power when driving 4-ohm loads. The subwoofer channel produces 450 watts into the same impedance. Those power numbers jump to a beefy 165 and 750 watts when driving 2-ohm loads. Your installer can also bridge the front or rear channel pairs so that each can drive a single 4-ohm load with up to 330 watts. This beast can crank out over 1,400 watts of power from a chassis that measures just a hair under 15 by 9 inches and stands just a little over 2.25 inches tall.
While power is fun, genuine car audio enthusiasts know that true sound quality comes from smooth frequency response and excellent distortion performance. Sony states that the main channels have a -3 dB bandwidth of 10 hertz to an impressive 40 kHz, making this amplifier hi-res audio compatible. The subwoofer channel also has great bandwidth with a rating of 10 to 500 hertz. Distortion is specified as less than 0.05%, and the signal-to-noise ratio is -77 dB using the ANSI/CTA-2006-C standard.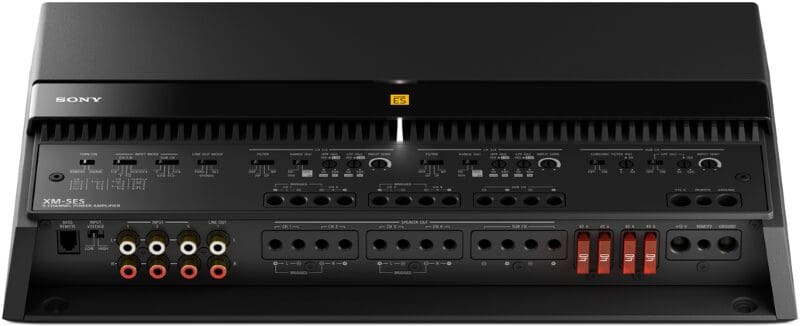 The XM-5ES is based on a handsome cast-aluminum heatsink. A compact speed-controlled cooling fan concealed in the back left corner comes to life when the amp is pushed hard. Sony has provided terminal blocks with high-quality set screws for speaker and power wiring. The speaker connections will accept 8-AWG cables, and the power connection is suitable for 0-AWG wire. Given that the amp can produce 1,400 watts of power, you'll want your installer to use full AWG-spec, all-copper wire to feed this beast.
The amplifier has four pairs of RCA jacks, a connection for the included remote level control, and a switch to select between high and low-voltage input ranges on the left side of the amp. Four 40-amp ATC fuses are on the chassis beside the monster power connections.

Signal Processing and Integration Features
Turning our attention to the top of the amp, we find a removable panel that conceals all the controls and switches your installer will need to complete the installation in almost any vehicle. While the panel is off, the trim piece in the center of the amp that bears the Mobile ES logo can be rotated to suit your installation.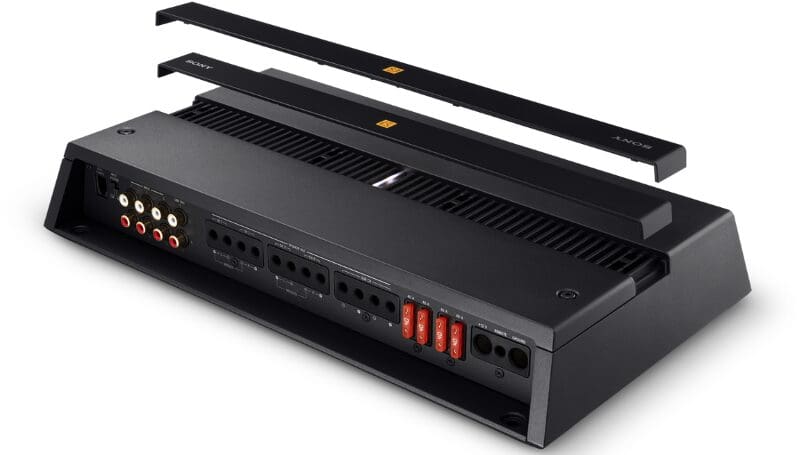 The signal routing and configuration options of the XM-5ES are nearly unmatched, aside from amplifiers that include a well-designed digital signal processor. Aside from being able to use anything from a single pair of RCA terminals to feed all five channels, the amp can be configured to sum the front and rear inputs and also feed that signal to the subwoofer section to add fading abilities. This can also be used to combine speaker-level signals from a factory-installed midrange and tweeter together to produce a full-range channel. The Sony team has done its homework while developing this amplifier.
The front and rear channel pairs include both high- and low-pass crossovers so that a bandpass crossover can be created for a midrange or midbass speaker. There's a range switch to select between 50 to 500 Hz or 50 to 5 kHz filter ranges. The subwoofer channel has a selectable infrasonic filter that is adjustable from 5 to 50 hertz and a low-pass filter that can be set anywhere from 50 to 500 hertz. The main channel filters are -12 dB/octave, and the subwoofer low-pass filter has a -24 dB/octave slope.
Sony has included remote turn-on detection for use when the RCA jacks are connected to speaker wires from a factory radio. Those inputs will accept 200 millivolts to 8 volts in the low range and 3 to 16 volts in the high range. In most applications that use a factory-installed source unit, the installation won't need a line output converter.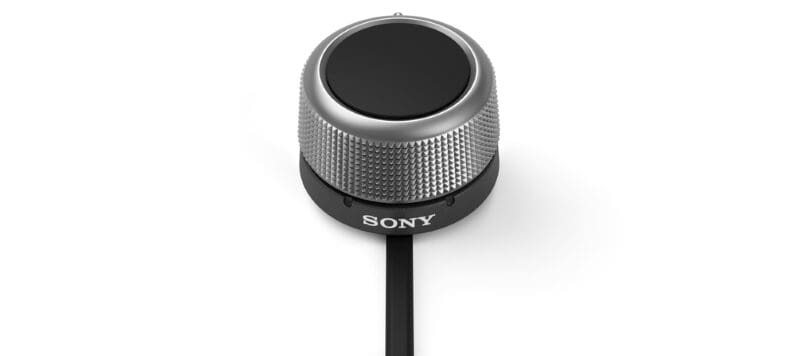 Upgrade Your Car Stereo with Sony Mobile ES
This is one of the most thoughtfully designed five-channels we've run across. The features and performance specifications make it a great solution for anyone who wants a premium upgrade solution for their car stereo. Drop by a local authorized Sony Mobile ES retailer today and ask for a demonstration. Follow the Sony Car Audio team on Facebook and check out their website to learn more about their premium car audio upgrade solutions.