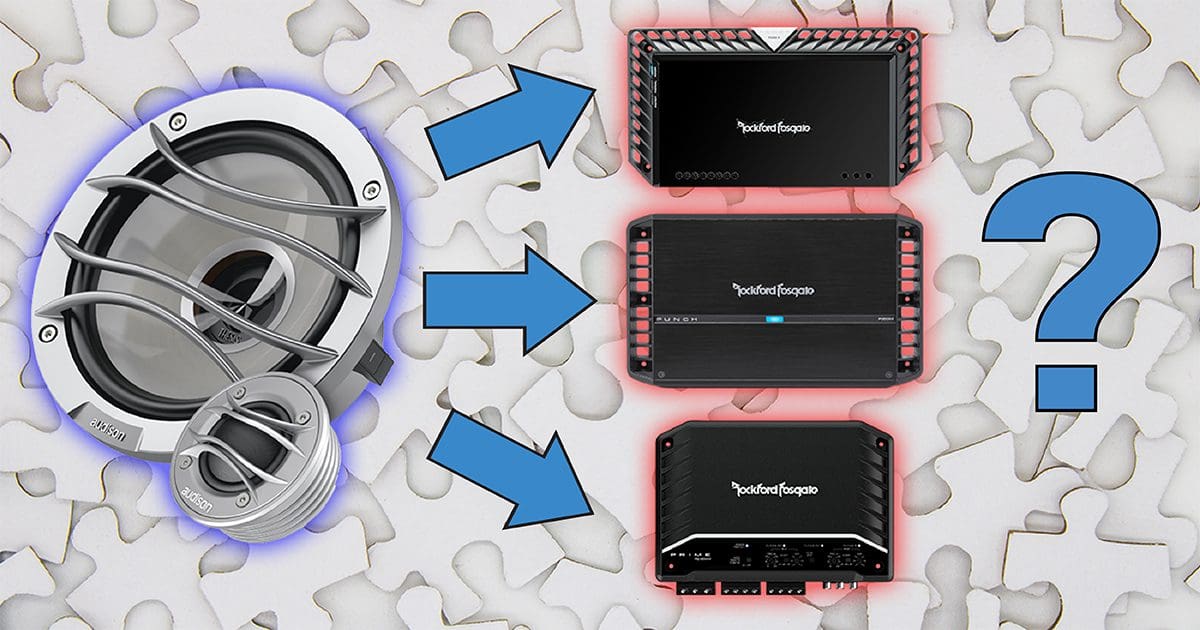 The other day I saw an interesting question on social media where someone asked if they should match their car audio amplifier to their speakers. I know they were asking about power ratings, but I think that's the wrong way to go about the process. I realized again that many enthusiasts don't fully understand how to quantify audio component quality. So let's dive into the more-complicated-than-most-people-think topic of choosing the best amplifier to upgrade their car audio system.
Do Car Audio Amplifier Power Ratings Matter?
For some reason, people who are just beginning to look at car audio options seem to focus on amplifier power ratings to gauge the quality of a car amplifier. I can tell you without hesitation that this is a fool's errand. Most high-power (> 200wpc) full-range amplifiers today aren't very good. But, of course, these are mostly found at online retailers rather than in brick-and-mortar specialty shops. Worse, the people buying these amplifiers typically think that power ratings on midrange drivers and tweeters correlate directly to how much power the speakers can handle.
I know, that last sentence seems counterintuitive, but it's accurate. Can a tiny tweeter with a 0.75-inch voice coil that's 0.2 inch tall absorb 75 or 100 watts of power from an amplifier? It can't. The BestCarAudio.com article on speaker power handling explains how these ratings are created and why they are irrelevant to choosing the right amplifier.
How Much Power Is Enough for My Speakers?
Picking a suitable amplifier from a power rating perspective isn't the best choice. If you're determined to go this route, here's a simple guideline you can use: Match the continuous power ratings on the speakers (assuming they are CEA-2031 compliant specifications) to the amplifier ratings (assume those are CTA-2006-D compliant). Can you still damage your speakers with this combination? Absolutely! You have significantly more power available than the speakers can dissipate. Nevertheless, this method won't deliver a system that sounds the best it can.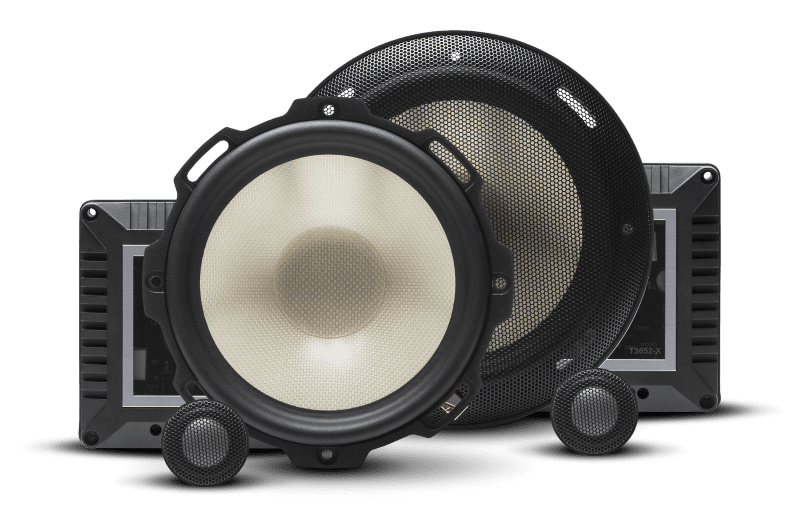 The Right Way To Choose a Car Audio Amplifier
The quality of an amplifier is gauged by its frequency response and distortion characteristics. Even poorly engineered amplifiers offer relatively flat frequency response, though they may not play as high or low as a high-end design. Where these amplifiers seem to fall on their faces is in their distortion performance. One of the worst amplifiers I've ever measured made claims about being an "exceptional Class AB" amp that delivers "high-quality sound." It was far from that in every measurable way. It added egregious levels of harmonic and intermodulation distortion that produced unwanted emphasis in the midrange, making the midbass boomy and sloppy.
So, what's the best way to match an amplifier to a set of speakers? First, choose an amplifier that sounds good. It doesn't matter how much power it makes. This isn't an easy task by any means. All manufacturers and retailers will tell you that all their products sound great. In the grand scheme of things, they likely do sound pretty good.
How does an audio enthusiast pick an amp that sounds good? My initial suggestion is to choose what's perceived as a higher-end solution. Let's say you wanted a four-channel amplifier from Rockford Fosgate. This is a perfect example of a company with genuine good, better and best solutions regarding quality and performance. If you are on a bit of a budget, the Prime R2-500X4 would be a good starting point. If you want your system to be more transparent and more detailed, then the Punch Series P600X4 would deliver that improvement.
And if you want a genuinely high-end amplifier, then Rockford Fosgate's Power Series T600-4 will sound the best of the three options. The music will sound more realistic and better defined as you go up in the amplifier series. You might find that there is more definition to a bass line or that a rim shot is more dynamic. Vocals will seem more realistic. If the system is calibrated properly, a high-end design will start to sound like the performers and instruments are playing in front of your rather than the system sounding like it's playing a recording.

I want to be clear: In this discussion of sound quality, I'm not considering output capability. To audiophiles around the world, louder isn't better. Power and output have nothing to do with quality. Clarity through the lack of unwanted audio information being added to the system separates the mediocre from the amazing. As a coincidence, you will find that many truly high-end amplifiers can also produce significant amounts of power. You'll typically have much more power than your speakers can handle, especially small midrange drivers and tweeters. If you look at the output level settings on a digital signal processor, you'll often see that the output of a set of tweeters has been attenuated by 10 dB or more. This means you are likely only using 1/10 of the power production capabilities of your amplifier. On a 150-watt-per-channel amp, you might access 15 watts, assuming the volume is turned up all the way. I'd suggest you will likely see only a small percentage of that power to a tweeter.
The Sony Mobile ES line is a good example of a company that has kept things simple. Their XM-4ES and XM-5ES amplifiers are rated to produce 100 watts per channel into 4-ohm loads. Their speakers, like the XS-690ES or XS-163ES, are rated similarly at 110 and 90 watts, respectively. As a result, it's easy to put things together to make a system that sounds great.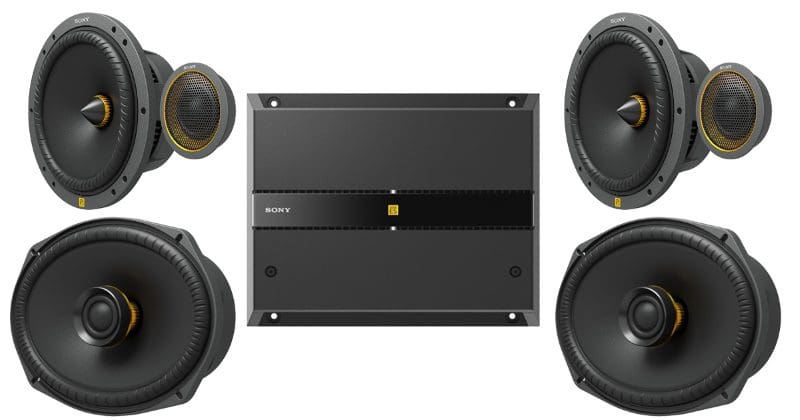 Amplifier Selection by Channels
A different approach to amplifier selection would be choosing a solution based on your system's needs. Let's say you want a three-way component speaker set in the front of the vehicle and a set of coaxial speakers in the rear. Of course, you'll want a reasonably powerful amplifier for a subwoofer, but that signal must also be filtered and equalized to deliver great sound. Based on this system design, you need eight channels of amplification for the main speakers and a high-power subwoofer solution. You could choose the Audison Forza AF M8.14 bit and an AF M1D for the subwoofer. Another option is the ARC Audio Blackbird and a Nighthawk amp for the subwoofer. The key to these amplifier options is that the main amplifier has built-in digital signal processors to divide the audio frequencies between the speakers and adjust their output response and signal delays so they sound amazing.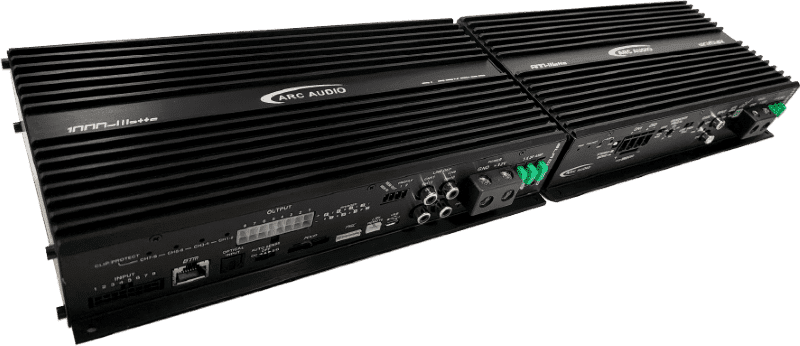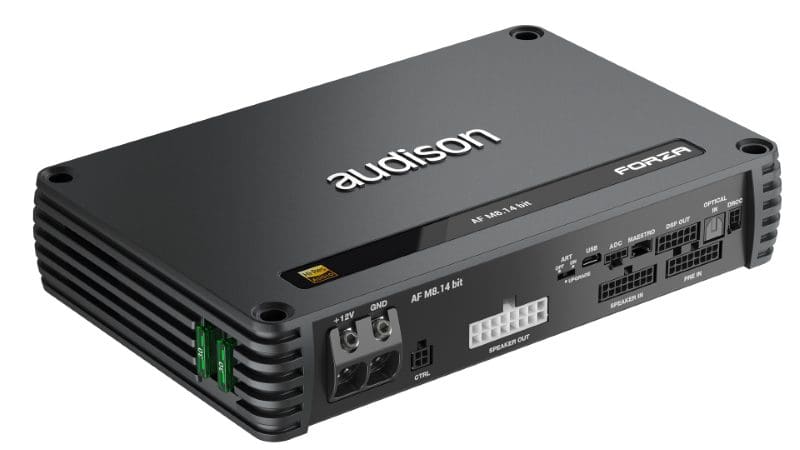 Upgrade Your Car Audio System with a High-Quality Amplifier Today!
Whether you're starting a new car audio system upgrade or want to improve the performance of an existing project, drop by a local specialty mobile enhancement retailer today and talk with them about choosing an amplifier that will sound amazing. If you can, audition the amp they have in mind in a demo vehicle or another client's car or truck. If it sounds clear, detailed and exceptionally dynamic, it's likely a great choice for your vehicle.