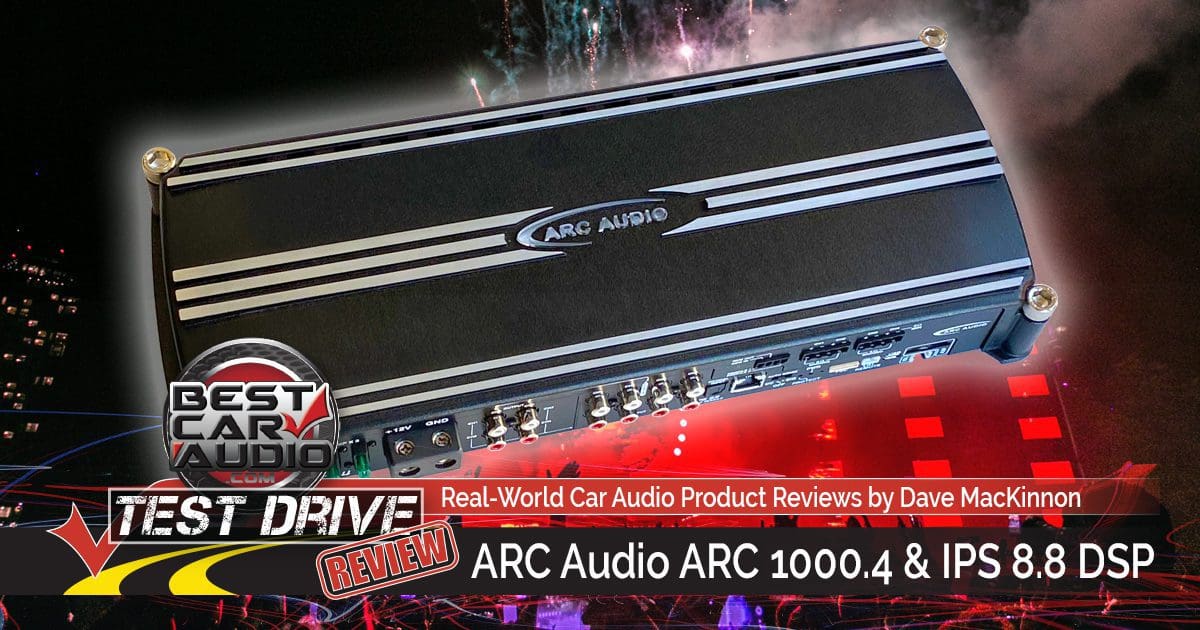 Looking at the specifications and features of an amplifier rarely tells the entire story. ARC Audio sent me one of their ARC 1000.4 amplifiers that's equipped with an IPS8.8 Pro-Series eight-channel digital signal processor. Based on a 1,000-watt platform, this four-channel amp is rated to produce 250 watts per channel into 2- and 4-ohm loads. There's a lot of ground to cover on this compact and powerful amplification solution, so let's dive in.
ARC Audio ARC 1000.4 Physical Features
The ARC 1000.4 is the middle brother in a set of triplets in the current ARC series. This cast aluminum heatsink is also used in the six-channel ARC 1000.6 and the two-channel ARC 1000.2. Interestingly, the ARC team also uses a nearly identical power supply in all three amps. They describe the supply as capable of producing at least 1,000 watts of output power. Distribute that power evenly among the amp channels and you can figure out the ratings. With that said, ARC Audio rates this amp at 250 watts per channel in 2- or 4-ohm loads. It's bridgeable to produce 500 watts into 4- or 8-ohm loads for subwoofer duty.
Physically, the amp has a footprint of only 15 5/16 inches by 7½ inches and stands 2 3/8 inches tall. All the connections and switches are along the front edge, creating what has to be the busiest panel I've ever seen in a car audio amp. Thankfully, everything is labeled clearly and the connections are logical.
The amp is mounted by passing screws or bolts through holes in the corner of the heatsink. Once secured to the amp rack, four chrome hex-heat cap screws conceal the openings.

On the far left, we find three ATC fuses, each of which is rated for 30 amps of current. Beside that is a terminal block for the power and ground connections. Each terminal has a diameter of 0.36 inches and will accept four-AWG power and ground wires. Moving farther to the right, we find no less than 12 RCA jacks. The four jacks on the left are preamp outputs for channels 5 through 8 of the digital signal processor. The next eight RCA jacks are inputs to the DSP. More on these and the processor later.
Farther to the right, there are two rows of connections. Along the top of the amp is a four-position removable plug for remote input, turn-on output and two terminals for DSP profile selection. This plug will accept 18-AWG wires. Last, we have a pair of larger, four-position Phoenix-style connectors for the speaker outputs. Each plug will easily accept 14-AWG cables.
The bottom row provides connections and controls specific to the IPS8.8 Pro-Series digital signal processor. There's a connector for an optical SP/DIF connection from an integration processor, then an eight-position RJ-45 jack for an optional BTM module. The BTM is a stand-alone Bluetooth streaming solution that would let you use the amp without a source unit, should you choose.
For those wanting something truly unique, the staff at ARC Audio in Modesto offers a made-to-order adapter called the D.O.C. Cable that will allow your installer to connect a coaxial digital signal from a portable media player to the BTM port. This adapter allows you to feed a 192kHz digital stream into the Analog Devices DSP, bypassing the Asahi Kasei Microsystems (AKM) Velvet Sound ADC's. If the AKM name raises an eyebrow, don't fret. Thanks to ARC Audio's stocking practices and a direct relationship with the AKM team, the fire at the Asahi Kasei Microsystems' Nobuoka semiconductor plant in Japan won't affect product production or delivery times to consumers.

There's a three-position switch to adjust the turn-on function of the amp. Your installer can choose from the remote turn-on lead, DC offset detection for use with source unit BTL amplifiers or a signal detect option for higher-power OE amps.
Next in line is an eight-position terminal for the optional PSC remote control and a three-pin jack for a remote level control. Again, more on both of these later. A micro-USB socket is provided (along with a 6-foot cable) to connect the DSP to your Windows-based computer. A four-position terminal labeled as IDL is provided for connection to an optional iDatalink Maestro AR module.
Finally, there's a slot for the optional AXP WiFi module. The AXP is a little WiFi hotspot-on-a-card. It allows your installer to connect wirelessly to the DSP for full control over the system. Worth noting: You can't stream audio over this WiFi signal. I knew you were going to ask that.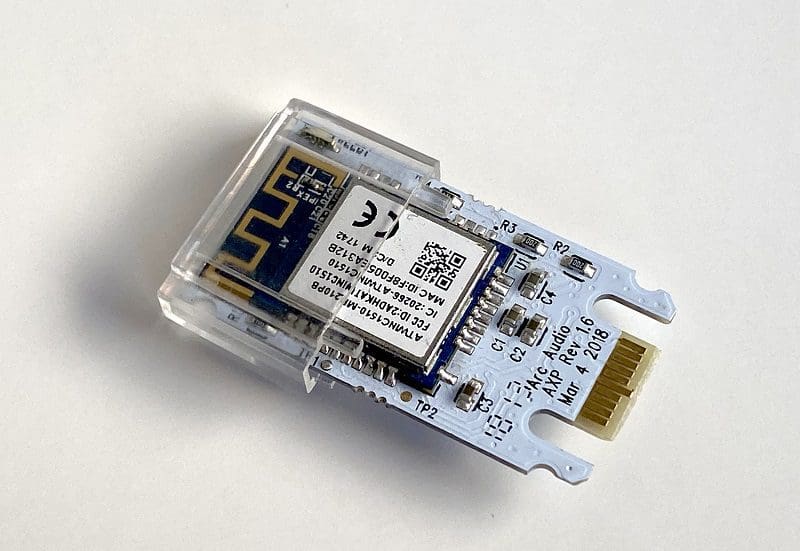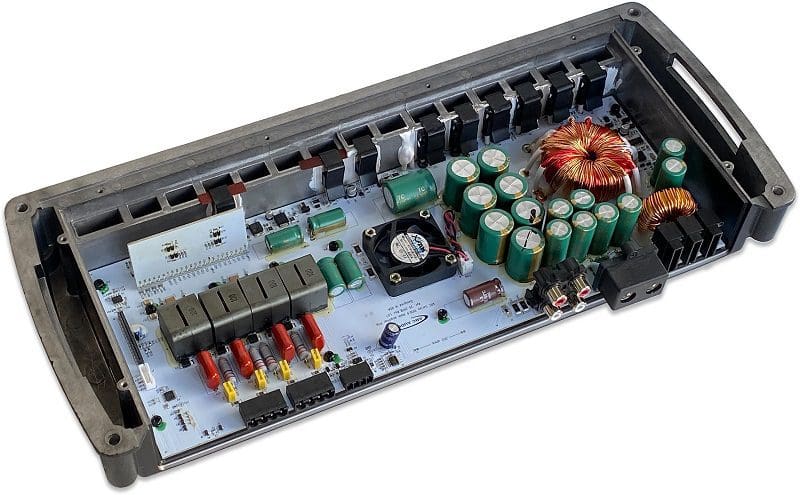 Remote and Configuration Options
We could quite literally spend an entire review talking about the remote options for the DSP. With that said, we'll try to keep things brief. The optional PSC is a full-function, stand-alone remote control. Not only does it serve as a master volume control, but it will also let you adjust subwoofer, fader and balance settings (as configured in the DSP). Your installer can even adjust the equalizers, signal delay and level control settings. This is a lot more than just a fancy digital volume knob and preset selector.
If your installation calls for a volume knob or remote level control, the LR1 remote is what you need. Your installer can assign its function to any or all of the eight DSP channels and set the maximum and minimum gain associated with it. It can be a master volume control, a subwoofer level control, a level adjustment for rear speakers or a center channel. Its function depends on the system design.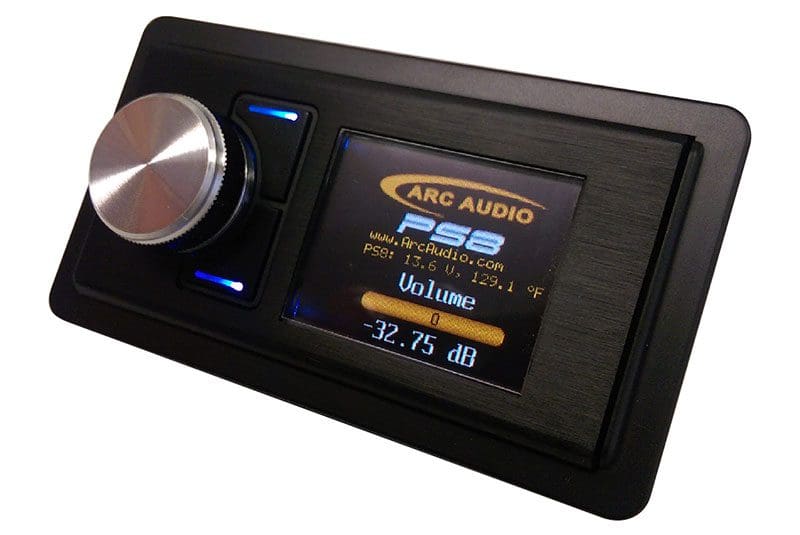 OEM Entertainment System Integration Options
Aside from the remote turn-on connection, ARC includes eight RCA pigtails that include capacitor and resistor networks. Your installer can connect these to an OE audio system's output and feed signals directly into the RCA jacks. With the adapters in place, the maximum input voltage is 32 volts.
ARC has worked closely with the iDatalink team in Montreal to perfect the Maestro AR module's integration and operation. If you own a compatible Ford, General Motors, Chrysler/Dodge/Ram/Jeep, Lexus, Maserati, Subaru, Toyota or Volkswagen vehicle, the AR interface forwards the data commands and audio signals from your radio directly into any of the Pro-Series processors (PS8-Pro DSP, this IPS8.8 or PS8-50 amplifier). We've seen it action, and it's seamless. Volume adjustments are instantaneous and smooth. If you have a vehicle that's compatible with the Maestro AR, there's no better way to integrate into the factory source unit.
IPS 8.8 Digital Signal Processor Features
Let's talk about the IPS8.8 DSP. This eight-channel processor is designed specifically for the three ARC-Series amplifiers to replace the analog input section. You can also purchase the amp with the processor in place, which is how we received this sample. The IPS8.8 is functionally identical to the ARC Audio PS8-Pro stand-alone digital signal processor and the processing built into the PS8-50 eight-channel amplifier.
The processor has eight inputs and eight outputs. The matrix input mixer allows your technician to mix any signal from any input channel with the advanced mixer's eight channels. The eight advanced mixer channels can then be fed to any of the eight outputs in any amount. Each input has 12-channel parametric equalizer along with polarity and signal-delay adjustments (up to 11mSec) to undo processing found in factory stereo systems.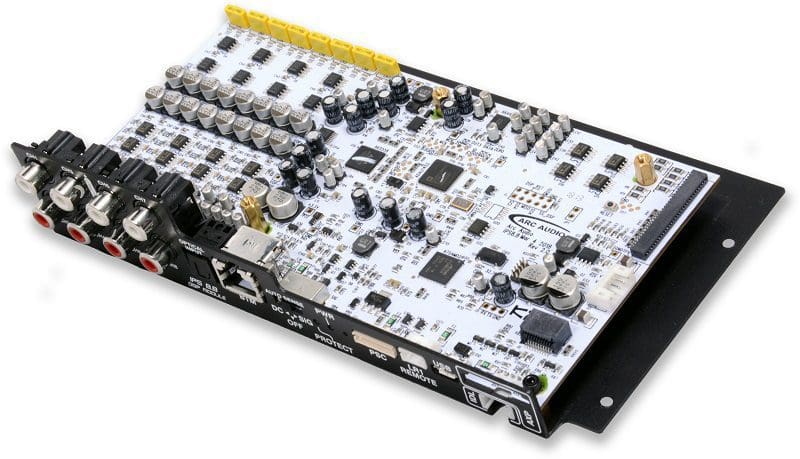 Each output of the eight channels has adjustable high- and low-pass crossovers with options for Butterworth, Linkwitz-Riley, Chebychev, Bessel and variable-Q responses with slopes adjustable up to 48 dB/octave. Filter frequencies are adjustable from 10 Hz to 20 kHz on all channels in 0.1 Hz steps.
Under the Delay/Phase tab, your technician can reverse a channel's polarity or add up to 30 milliseconds of delay in 0.01mSec steps. The Third/Parametric tab brings up a 30-band EQ that can be used in either graphic mode with +20 to -24 dB adjustability or a parametric mode that adds frequency and Q-Factor (0.1 to 20) adjustability. Your installer can adjust one channel at a time, or select multiple channels for global adjustments of one side of the car or the other.
Global EQ adjustment is paramount to getting phase right through crossover regions and as such is a must-have on any DSP. The Touch EQ (Beta) screen lets your installer make similar EQ adjustments by moving points on a frequency response graph. There are menu options on the left side of the screen to import EQ information from Room EQ Wizard.
Finally, in terms of adjustability, there's a Tone Control tab with three windows: low- and high-shelf adjustments and a midrange parametric adjustment. These can be configured to work with the Maestro AR and your factory radio for adjustability while driving.
Finishing off the processing options is an output level control window with -40 to +12 dB sliders for each channel. Your installer can group outputs to adjust multiple channels simultaneously while calibrating your audio system.
The team at ARC Audio sent me a beta version of the next software revision of the PS8-Pro platform. Of note, it will add first- and second-order all-pass filters and shelving filters to the eight input and eight output equalizers. The response graph adds phase information, and there's a signal generator with sine, sweep and pink noise functions. It won't be long until you can download this to your PS8-PRO DSP.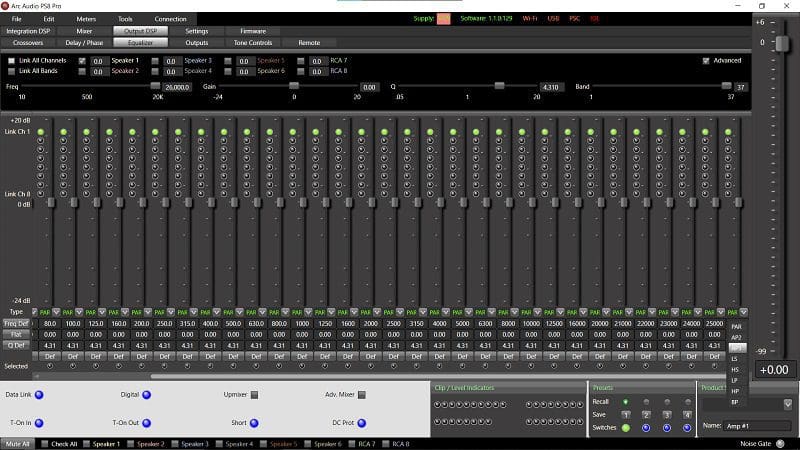 The Settings Tab
With the PS8-Pro processor, there are LOT of options. First, there's a remote turn-on delay and turn-off delay to fine-tune your system's start-up and shut-down timing. The profile selection inputs allow you to access any of the four calibration presets using two switches. A menu option allows these switches to work with 12V or ground connections. Your installer can label all the input and output channels to make tuning easier, and he or she can set the impedance of the load connected to each channel to 2 or 4 ohms. They can also set the logo color on top of the amp to red, blue, green, cyan, magenta, yellow or white. Where would we be without RGB LEDs?
The SP/DIF auto-select allows the processor to change calibrations automatically when it detects a  digital signal. It can also mix audio from analog channels into the digital stream to allow Bluetooth hands-free, warning chimes and voice prompts to work seamlessly with the audio source. These are a key part of how the Maestro AR system functions, but they can be used without it. It should be noted that audio fed into the SP/DIF input or from the Bluetooth module can be mixed with analog signals in the Input Mixer.
Uniquely, there is a Class-D frequency adjustment. To ensure that this amp produces as little RF radiated noise as possible, the engineers at ARC used all the tricks in the book, including the cast aluminum chassis, shielded output filters chokes and proper physical isolation of the power supply. With that said, if you run into trouble with the amp interfering with a radio station, your installer can change the switching frequency of the Class-D output stage and fix the problem. Nobody else in the industry offers anything like this. Amazing!
ARC includes two handy setup tools for your installer with the software. The Meter option displays level meters for four stages of the processor – input, post-mixer, post-EQ and output. With these, your installer can see if any part of the signal is clipping in any point of the tuning process. With 32-bit processing, there's a stunning 42 dB of headroom in the processor. You won't clip that, ever. There's also a Frequency Response window that shows the effects of filters and equalization on each of the eight channels. Being able to visualize what's happening with the settings helps both novices and experts working with the software.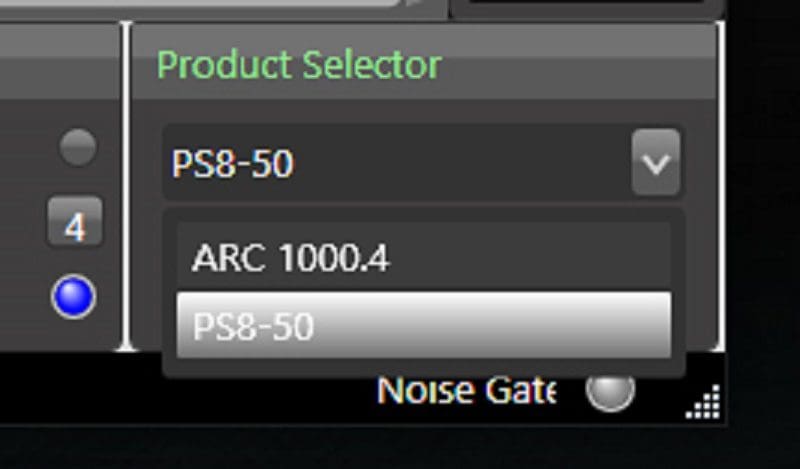 If you buy this amp without the IPS8.8, then you'll find the feature set is modest. The ARC Series is designed for DSP applications. Just as the popularity of a la carte woofer, midrange and tweeter sets has taken off, ARC foresees these amps being used in the same way with either the integrated IPS8.8 or the stand-alone PS8-PRO. The analog input card includes sensitivity controls and load selection switches to adjust the power supply voltage for each pair of channels. The card also includes an Auto-Sense mode selection switch, an input select switch that copies the inputs from channels 1 and 2 to 3 and 4, and power and protection LEDs.
The ARC 1000.6 has a similar configuration in terms of processing to the 1000.4. On the other hand, the ARC 1000.2 includes an adjustable high or low-pass crossover, adjustable bass boost control and has provisions for a remote level control. The six preamp outputs on the main chassis of the amp mimic the low-pass filter signal, offer a high-pass output at the same crossover frequency and, lastly, include a full-range output. Most interestingly, the micro-USB port remains and allows your technician to configure the power supply switching frequency, turn-on/off settings and the color of the LEDs behind the logo on top of the amp.
Audio Specifications and Measurements
We mentioned that the ARC 1000.4 is rated to produce 250 watts per channel into 2- and 4-ohm impedances. The Speaker Load settings in the setup menu change the power supply voltage for each application. That's slick! As mentioned, each pair of channels is bridgeable to produce 500 watts into a 4-ohm load. Aside from a subwoofer, this is more than enough power to melt even the most robust of voice coils – use with caution!
We set the ARC 1000.4 up on the BestCarAudio.com test bench and set it to work with our suite of measurements. The amp was well behaved at all times and didn't buzz or vibrate when driven hard. There's a small cooling fan in the center of the amp that draws air down through the top of the heatsink, across the power supply devices and through the fan in the middle of the board to cool the output devices, and then ejects air out the ends of the amp. The fan is thermostatically controlled, so it's only on when the heatsink or power supply transformer is warm. Those temperatures are visible in the setup software, along with the CPU temperature and the battery voltage. Speaking of heat, amplifier efficiency, which many consumers overlook, was class-leading. The 1000.4's efficiency was amazing, even with all channels loaded to 2 ohms.

In terms of power, the ARC 1000.4 is rated to produce 250 watts into four channels when supplied with 14.4 volts. My current power supply is limited to 13.7 volts, yet the amp still made about 244 watts. With the extra 0.7 volt, it would exceed its specification. The amp sprung to life at lower impedances where it dwarfed its 250-watt specification by 103 watts. It was more than 203 watts over its rated power when bridged into a 4-ohm load. If you were into car audio in the '80s and '90s, underrated amplifiers were all the rage. The ARC 1000.4 certainly qualifies as underrated.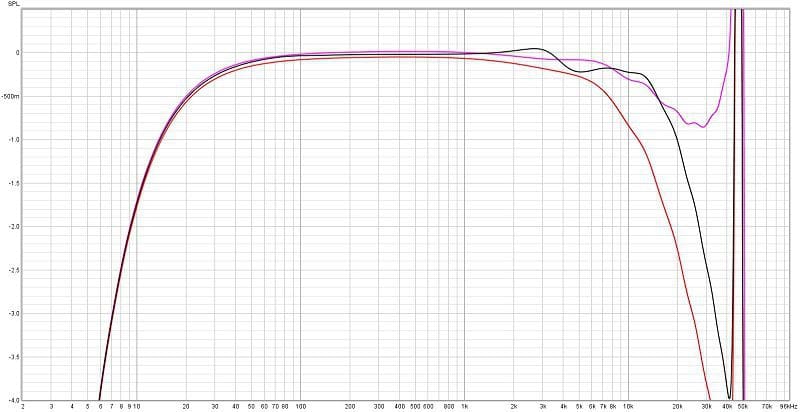 As you can see from the chart above, the DSP 1000.4 delivers frequency response that extends beyond the typical 20 kHz upper limit for a DSP-equipped amplifier. The violet 4-ohm trace shows the Class-D output filter's resonance at 47 kHz, which is well outside of the range of human hearing. The red 2-ohm trace shows the typical attenuation in output associated with additional current delivery requirements for lower impedance loads. Finally, the black trace is our simulated speaker load. Not surprisingly, for an ARC Audio product, the 1000.4 delivers the best performance of all with an upper -3 dB point just a hair over 34 kHz. It's no surprise that Robert Zeff and his team calibrated the filter network to perform its best when connected to a real speaker load.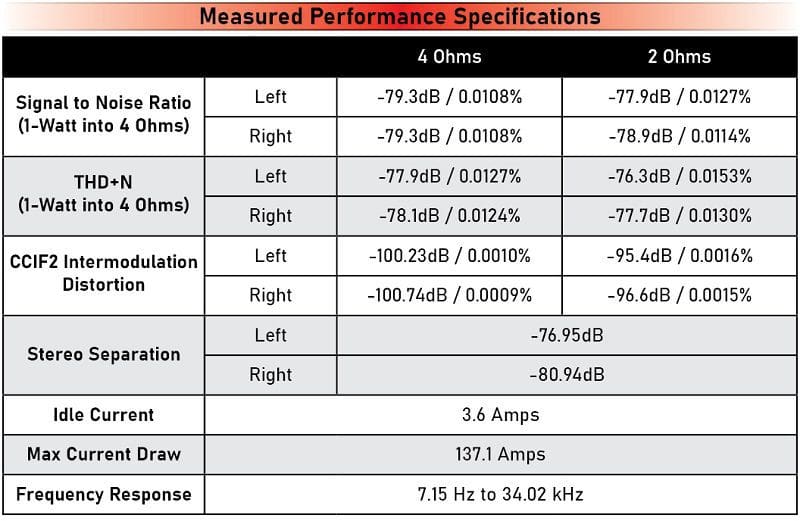 The ARC 1000.4 performs admirably for an amplifier with an integrated digital signal processor in terms of noise and distortion specs. Noise performance around 80 dB referenced to 1 watt of output at 4 ohms is ideal for this class of amplifier. It's worth pointing out that the CCIF2 intermodulation numbers are very impressive. They are 20 dB better than most amplifiers I've tested. Idle current is a little high, but given that the amp has a DSP built in, it's not excessive. The maximum current draw was 137.1 amps when making full power in its bridged configuration. You will want to use excellent quality four-AWG power and ground cables to feed this amp if it will be serving up subwoofer duties.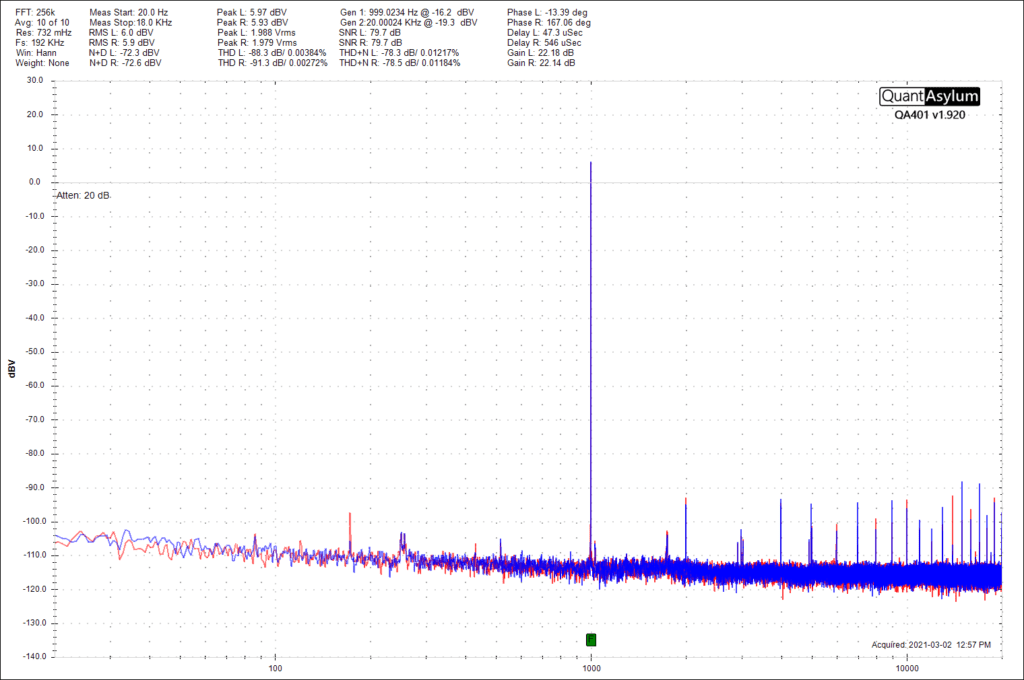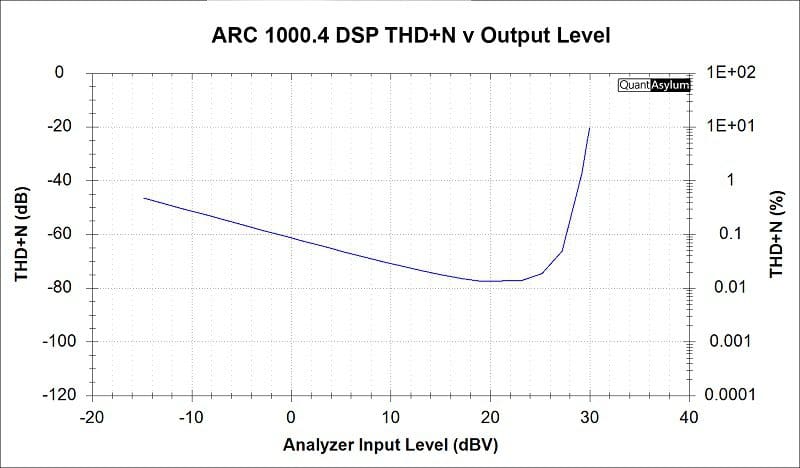 Another essential measurement that describes the behavior of the ARC 1000.4 is the Distortion and Noise versus output chart. The chart shows that the amp remains well behaved to the point at which it begins to clip. The THD+N at 1 milliwatt (-10 dB) is in the 0.4% range, which is good. Some amplifiers exceed 1% distortion at their 100-milliwatt level.
We tested the built-in protection circuitry a few times (by accident) by shorting the speaker leads while producing full power. The amp instantly went into protection and required power cycling to restore audio. I test output power with a tone burst that's about 1 second in length, rather than with continuous tones from a function generator or source unit. This procedure mimics the requirements for an SPL "burp" where the amp has to go to full rated power (and beyond) without issue. The 1000.4 had no problem with these bursts.
Next, I took a series of response sweeps to observe the functionality of the parametric equalizer. The graph below shows six different adjustments of the 400 Hz EQ band. The red, green and blue traces show 10 dB of gain with the Q factor set at 1, 4.3 and 10. The teal, violet and yellow traces are at -10 dB with the same 1, 4.3 and 10 Q factors. As you can see, the EQ frequency adjustment is right on point. The amount of boost and cut the processor applied varied a little bit based on the Q setting.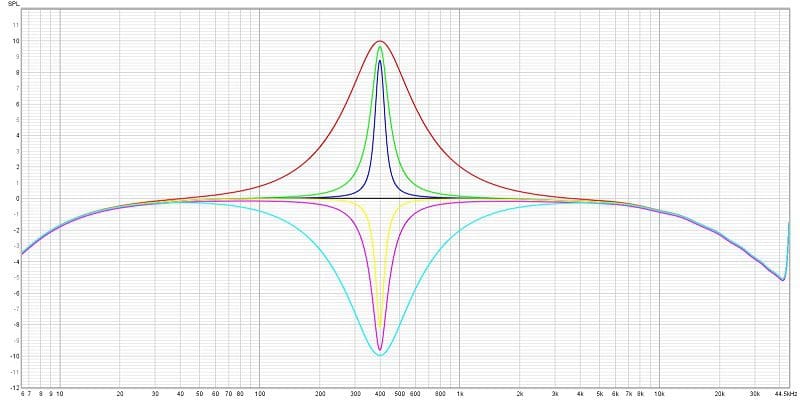 Sweep after sweep, measurement after measurement, the ARC 1000.4 DSP sat calmly on the bench and took my abuse. Yes, the heatsink got quite warm, but it never shut down. By comparison, I've had several amplifiers that went into thermal protection in less than three minutes while measuring maximum power output. I took a picture of the amp with my FLIR thermal imaging camera after the power testing. It was notable to see the even heat distribution across the entire heatsink. This design is a lesson in thermal management that a lot of companies can learn from.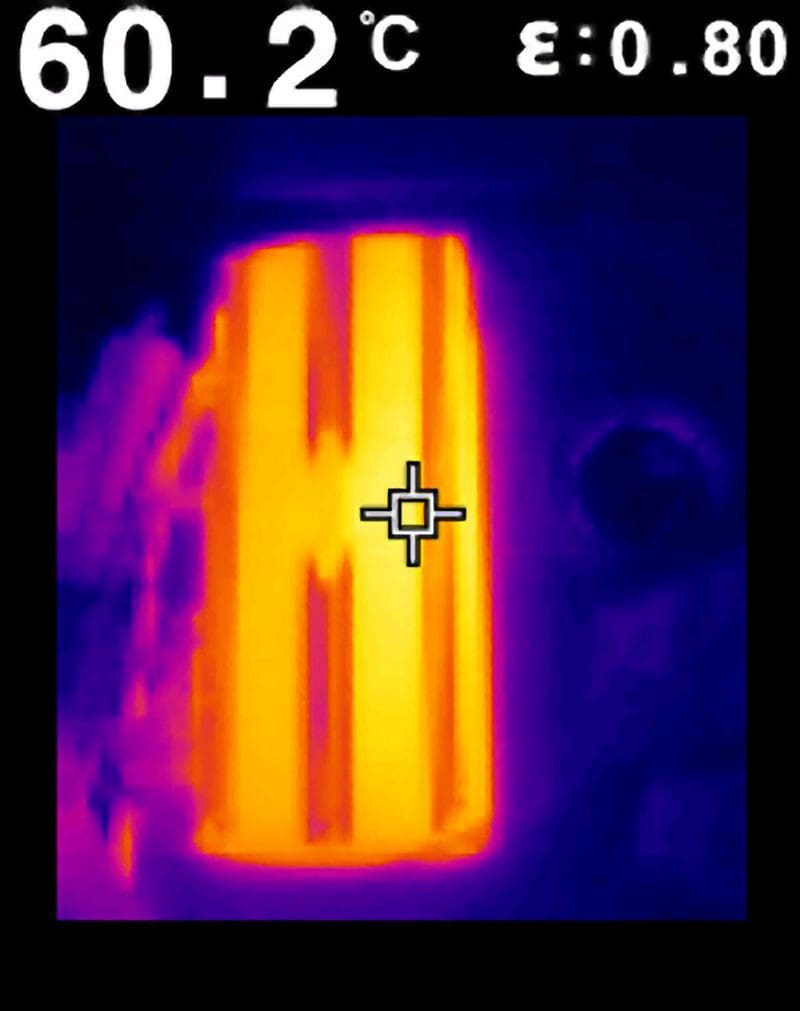 Listening Tests
I set the 1000.4 up in my reference system. I fed audio from a modified Clarion DRZ9255 CD player and used a pair of Polk Audio LSi7 home audio speakers as they have been my reference for several decades. A Samlex SEC-100BRM linear power supply powered the amp to ensure it would have the instantaneous current it needed to keep up with whatever I chose to play.
Purely by coincidence yet quite appropriately, the first track I played was "Get Lucky" by Daft Punk. Dynamics were very good, and the song begged to be turned up louder. Of particular interest was the solo portion starting at 2:37. The harmony between the voices was particularly clear through the 1000.4.
Up next was "Flight of the Cosmic Hippo" by Bela Fleck and the Flecktones. This groovy funk track had a solid growl to it. The bass wasn't overemphasized in any way but had good authority. At moderate listening levels, the sense of room ambiance was easily discernable and extended from the speakers to the listening position on either side of the room.
"Homeless" by Paul Simon was next. This track is a good challenge to confirm imaging within the soundstage. If an amp has significant crosstalk, locating each voice becomes difficult. The 1000.4 had no problem placing each voice and vocal pop and click faithfully.
I know many will cringe, but "Spanish Harlem" by Rebecca Pidgeon was next. It's not my favorite song, but it's one I've used to audition thousands of home and car audio products over the years. If something is wrong, this shows it off like lighting up the Bat-Signal in the middle of the night. Quite simply, it sounded great and nothing stood out.
Last and certainly not least was "Spanish Grease" by Willie Bobo — specifically, the "Dorfmeister Con Madrid De Los Austrias Muga Reserva Mix" from The Complete Verve Remixed Deluxe Box. At 38 seconds into this track, the word "get" is repeated eight times. The source of the sound moves around the stage or the room through whatever processing and phasing is applied to each subsequent repetition. On a moderately well set up system, the sound source will seem to extend in front of the speakers by a meter or so. On a good system, the sounds will approach the listening position. On something great, as was observed with 1000.4, some of the sounds seem to come from behind the listening position. In the case of the 1000.4, the voice was about a meter behind me. I invited my 15-year-old son Ian to listen. He came to the same conclusion. I've only heard one amplifier perform significantly better, which is high praise for a Class-D amp of this size and power capability, or for any amplifier of any design for that matter.
How does this compare to my reference amp? My go-to for my lab testing has been the ARC Audio Signature Edition amps for about the last 15 years. Is a modern Class-D amp of the same caliber as a world-class high-bias Class-AB amp? Not quite yet, but the differences are getting harder and harder to pick out. There is a subtle increase in clarity in the highest of frequencies through my SE2300. The 1000.4 sounds MUCH better than some moderately expensive AB amps I've auditioned. In short, if you pay twice as much for a better amplifier like my SE2300, you should be able to observe improved performance. Frankly, I'd have it no other way. You should always be able to pay more to get more.
Conclusions
If you're looking for a car audio amplifier with a unique combination of old-school power and authority with an unmatched set of system integration and calibration tools, the ARC Audio ARC 1000.4 combined with the IPS 8.8 digital signal processor is going to be hard to beat. With power capabilities that are as much as 1.4 times their ratings, this is how the big amps of the '80s and '90s performed.
With that said, none of those old amps was 90% efficient, included crossovers, equalizers, signal delay, digital inputs or multiple remote-control options and could fit under the seat of your car or truck. As I said to someone the other day on Facebook, "The '80s are gone, dude. It's time for a modern car audio system."
I'd easily recommend the ARC 1000.4 with the IPS8.8 as a worthwhile complement to any upgrade. For more information about ARC Audio amplifiers, speakers, subwoofers and signal processors, visit their website, their Facebook page, Instagram page or YouTube channel.
What I Love:
Impressive sonic performance
Stunning power from a small package
Class-leading efficiency
Amazing signal processing and OEM integration
What I'd Change/Add:
A way to link the PSC to multiple PS8-Pro processors