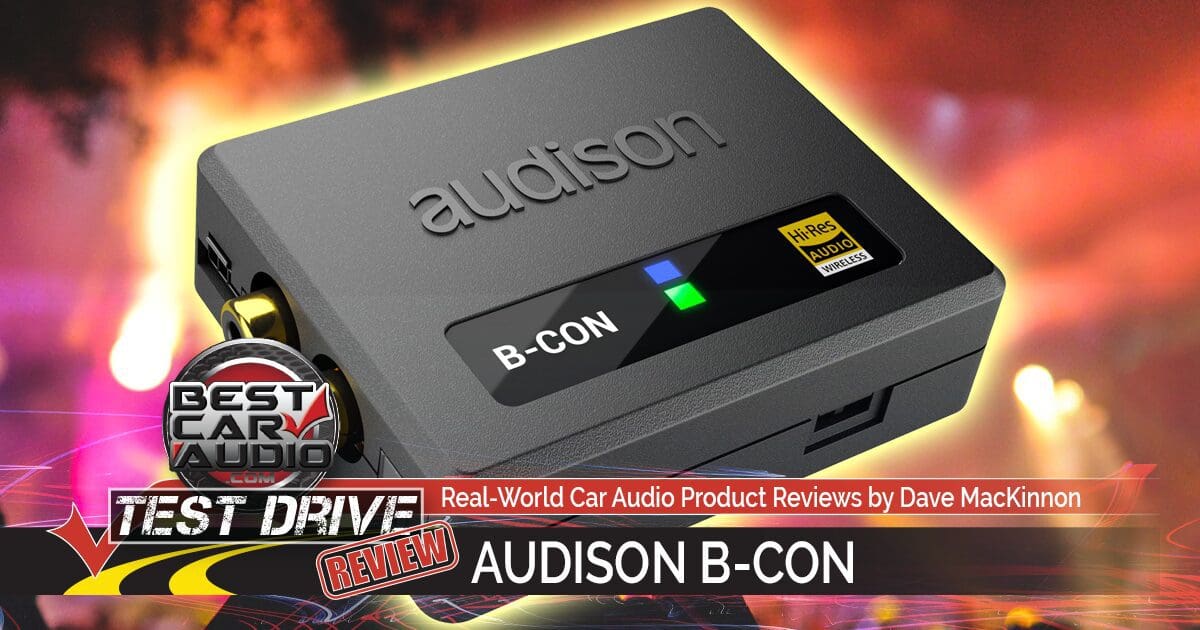 Historically, Bluetooth and the words "sound quality" haven't mixed well. The folks at Audison in Italy have decided it's time to provide the car audio world with a solution that sounds good and offers something not seen before in this segment: support for hi-res audio transfer. Audison doesn't just make this claim, but they have the full support of the Japan Audio Society. Skeptical? Let's see what the new Audison B-CON offers and if it can indeed pass audio signals above 40 kHz to make it worthy of the hi-res label.
What Is the Audison B-CON?
The Audison B-CON is a compact (3.54×2.38×0.91-inch) Bluetooth receiver with a set of stereo RCA analog outputs. But, as Billy Mays used to say, "But wait, there's more!" Audison has included a fiber optic TOSLINK input and output, along with source switching logic into the B-CON. There's also a feature called Absolute Volume Control that works with the Audison bit Virtuoso's ADC port. Yes, that's a mouthful. Fret not; I'll explain everything in detail.
First and foremost, let's talk about Bluetooth. Contrary to popular belief, Bluetooth has nothing to do with audio directly. Bluetooth was created in the late '90s to replace wired serial data connections. The intention was to simplify and declutter connections to devices such as printers, although creating wireless headsets for cellular phones was an important part of the development process. For example, game controllers on an Xbox or PlayStation use Bluetooth to communicate with the base station. Likewise, keyboards, computer mice and smartwatches typically use Bluetooth for communication with their host devices.
Bluetooth is a short-range digital personal area networking technology. The profiles implemented by product designers allow Bluetooth to perform functions like transmitting audio. In addition, there are printing, file transfer and even device proximity profiles. Specifically, the Advanced Audio Distribution Profile (A2DP) is what allows your smartphone or computer to stream audio wirelessly to a set of Bluetooth headphones or earbuds.
The Audison B-CON uses A2DP version 1.3 and version 1.6 of the Audio Video Remote Control Profile. AVRCP allows for simple commands like play, pause, track up and track down to be sent from a device (like earphones) back to a playback device like a smartphone. The B-CON uses Bluetooth 5.0, which can handle up to 2 Mbps data transfer rates – a critical factor in supporting hi-res audio.
The B-CON will accept Bluetooth audio from your smartphone, digital media player or computer and output audio to an amplifier or processor in its most straightforward implementation. This configuration is similar to other devices on the market, except the B-CON sounds good. We'll get to the measurements on the bench in the second half of the review.
The inclusion of fiber optic TOSLINK input and output connections allows the B-CON to be inserted into an audio system that uses a preamp interface (Audison bit DMI, mObridge DA.G2, PAC AmpPRO with the APA-TOS1 or a NAV-TV Zen) with a TOSLINK output. The B-CON will pass 24-bit, 192 kHz audio signals through to your processor or amplifier unimpeded. That's not entirely correct. The B-CON uses an SP/DIF transceiver IC from Wolfson Microelectronics. The transceiver will regenerate the master clock timing information in the digital data stream in its pass-through mode. So, if there are microscopic timing errors in the data, the B-CON can clean up the digital signal for the best possible sound quality. Yes, that's pretty geeky, but it's also pretty cool!
When you want to use Bluetooth audio streaming, the signal from your playback device is present on both the RCA outputs and the TOSLINK digital output. In addition, the B-CON includes +12V outputs for either source that can be used to trigger the source selection function on a DSP like the Virtuoso (or other brands with analog preset selection functionality) to switch inputs when audio streaming is in use.
While we're talking about connecting the B-CON to the Virtuoso, we should talk about the Absolute Volume Control feature. Put simply, when AVC is enabled, the B-CON will output a fixed-level signal (on both the digital and analog outputs) that optimizes the signal-to-noise ratio of the transmission. Volume commands from your playback device are forwarded into the Virtuoso and handled by its master volume control. The result is optimized sound quality at all volume levels. A switch on the side of the B-CON allows your installer to select between having AVC on or off or to put the unit in upgrade mode.
A few notes about the physical design of the B-CON: A micro-USB port on the side of the unit can be used to power it if you are using it at home. Presumedly, this can also be used if a software update becomes available. Two LEDs on the top panel let you know when Bluetooth is connected and what kind of audio stream the unit is receiving. The connection LED will be solid blue when paired to your playback device. The other LED will be green when a standard 48 kHz audio stream is playing. The LED will flash yellow when the unit detects an LDAC 48 kHz stream. When a 96 kHz stream is seen, the LED will be solid yellow. If you're wondering what in the world LDAC is, keep reading!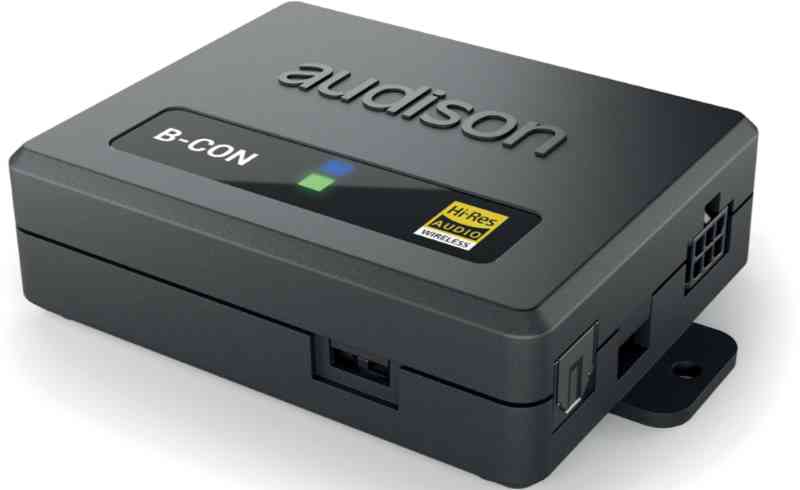 Did You Say Hi-Res Bluetooth?
Snap, creak, pop! That was the sound of me opening a can of worms. The B-CON claims hi-res audio and hi-res audio wireless performance under the definition provided by the Japan Audio Society. As mentioned earlier, for a device to meet this standard, it must reproduce audio frequencies above 40 kHz.
Here's where the first worms come in. The A2DP profile, by default, uses an audio compression codec called SBC (Low Complexity Sub Band Coding) to transmit a stereo audio stream. It's pretty good when done well and without paying serious attention to sound quality, works acceptably for applications like listening to music out by the pool or shooting hoops outside. To take advantage of the added bandwidth provided by Bluetooth 5.0, Audison has implemented the Sony LDAC codec to improve audio quality. Of course, there is a caveat here: Your playback device needs to have Bluetooth 5.0 and include LDAC to reap the benefits. Oh, and LDAC has three operating modes, only one of which is truly hi-res. We won't get into details here, but the bottom line is that your device will need to support LDAC 990 kbps to reap the maximum benefits. My wife has a Samsung Galaxy A50 work phone. I borrowed it for a few hours to test the B-CON. Unfortunately, it doesn't include the 990 kbps option. So, yes, it has LDAC, but it needs more LDAC to be hi-res. Audison includes detailed instructions on how to enable LDAC on your Android smartphone in the owner's manual for the B-CON. Be sure to follow them to reap the sound quality benefits of LDAC.
OK, one more pile of worms: No iPhones include LDAC. In the simplest terms, LDAC lives in the Android world for now. Most iPhones transmit audio using the Advanced Audio Codec (AAC). Contrary to popular belief, AAC is not lossless. B-CON supports AAC, and we'll see how well it performs when I get it on the bench.
Intelligent Bluetooth Source Handling
An important feature of Bluetooth 5.0 is that a device (such as your smartphone) can be paired to two devices at the same time. Since most modern smartphones support Bluetooth 5.0, you can pair the phone with your car radio to handle Bluetooth hands-free calls and with the B-CON to deliver high-quality streaming directly to your amplifier. If you're listening to music when you receive a call, the B-CON will pause the A2DP stream automatically while you are in the call, then resume when you are done. There's no need to switch any connections on the phone or source unit.
Testing the Audison B-CON
After many hours of reading Facebook posts, texting, e-mails and googling, I settled on the FiiO BTA30 as a suitable solution to test the B-CON. The alternative would be a Sony Walkman that supports hi-res audio playback and transmission. Nevertheless, I set the B-CON up on the bench and connected the analog inputs to my QuantAsylum QA402 audio analyzer on my lab computer. I played audio files from my main PC to the FiiO using the fiber-optic output on the back of the computer set to 24-bit, 96 kHz. I played the external device frequency response sweep for the QA402 through Adobe Audition, so I knew exactly what was being sent to the BTA30.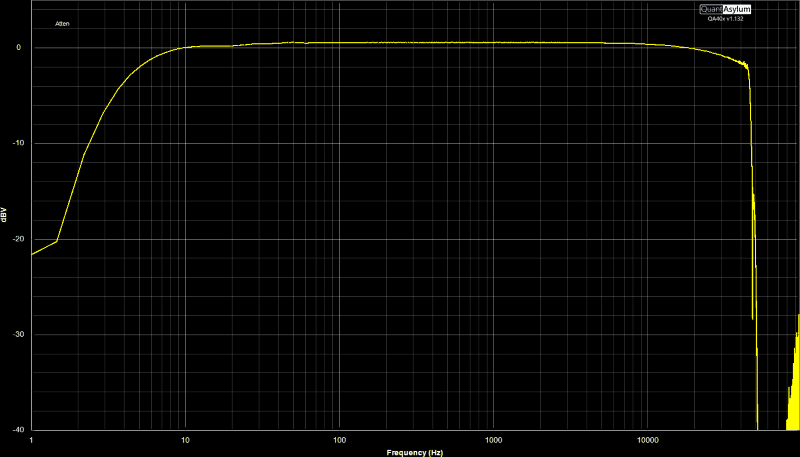 As you can see, audio is reproduced on the analog outputs right out to 45 kHz. If that isn't hi-res, nothing is! Checkmark for the B-CON. On the bottom end, the signal was at -3 dB around 4.5 Hz, so this works well for the bass and infrasonic frequencies as well. It's worth noting that the -3 dB point of the QA402 is around the same 4 to 5 Hz range.
Next, I transmitted a 1 kHz, 24-bit, 96 kHz test tone from my PC to the B-CON to evaluate the harmonic distortion characteristics of the unit. After all, sending a signal is one thing; doing it without ruining the signal's integrity is the difference between audio playback that sounds good versus bad.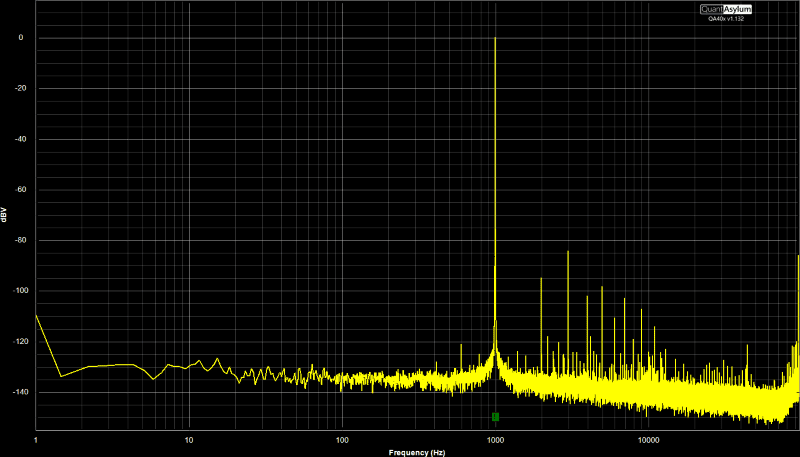 I have to say, this is much better performance than I expected. With the output of the B-CON at just over 1 volt, the total harmonic distortion was at a very impressive 0.0025%. Audison claims 0.003%. Background noise from the unit is down below 130 dBV, which is excellent. The THD+N measurement was also amazing at 0.00819%.
The last LDAC test evaluated how the system handled intermodulation distortion. I transmitted 19 and 20 kHz tones simultaneously (as per the CCIF test standard).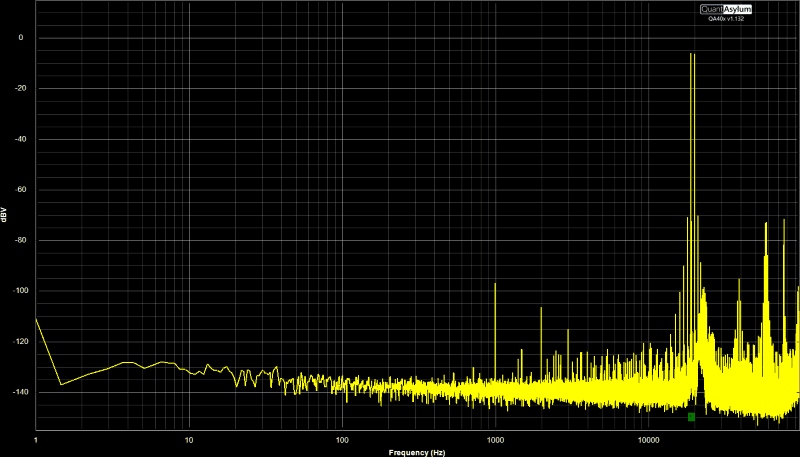 The IMD distortion performance was very reasonable. The product at 1 kHz is at -90 dB relative to the test signals, though the sidebands at 18 and 21 kHz are higher than what would be considered audiophile-grade at about -72 dB.
Next, I switched the BTA30 to SBC mode and repeated the tests to see how things would perform with a more conventional configuration.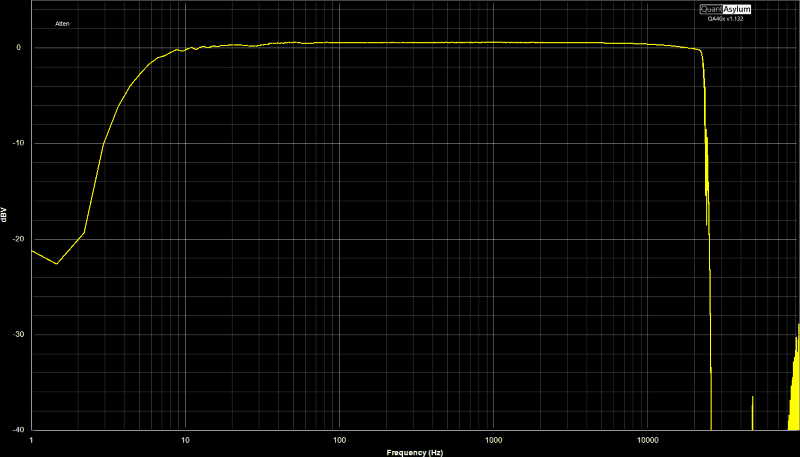 The results are better than expected in SBC mode with extension to just above 22 kHz and a -3 dB frequency of about 5 Hz on the bottom end.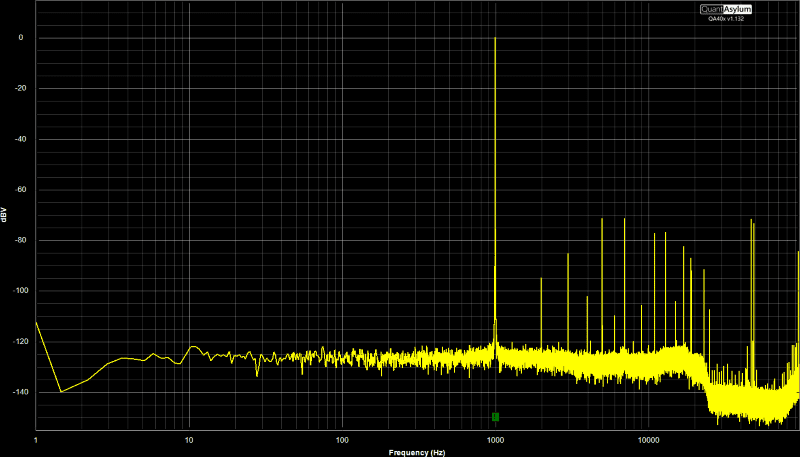 Using the SBC codec, harmonic distortion increased to 0.04248%, and THD+N was 0.05371%. While not as good as LDAC, this performance is still quite acceptable.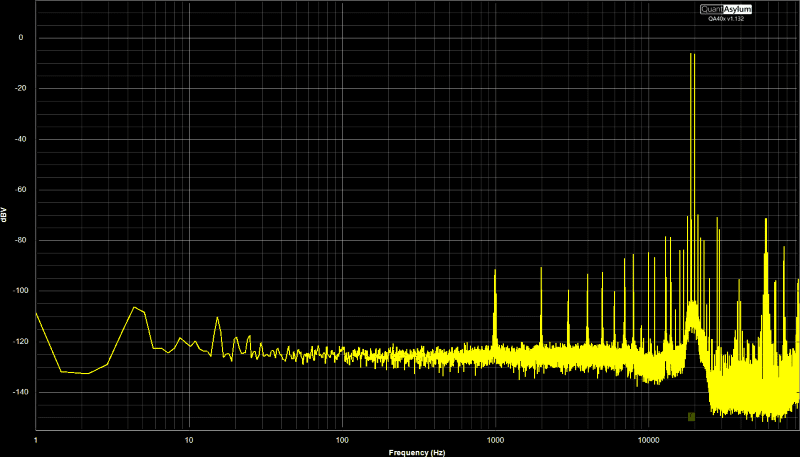 When using SBC, the 1 kHz product is a little higher at about -85 dB, and the 18 and 21 kHz sidebands are still near -70 dB, but as you can see, there is a lot more junk in the transmission. However, it's all still relatively low in amplitude, so again, not audiophile-grade, but not a disaster.
In terms of a high-quality source, if your playback device support LDAC 990 kbps, using the B-CON is as good as a high-end source unit. With SBC, it's like a typical consumer-grade source. Given that the whole thing is wireless, that's pretty amazing!
Let's see what happens in terms of frequency response and distortion when we repeat these tests with an iPhone. I loaded the chirp file and sine-wave track onto my iPhone 11 Pro and used the Onkyo HF Player app to play them.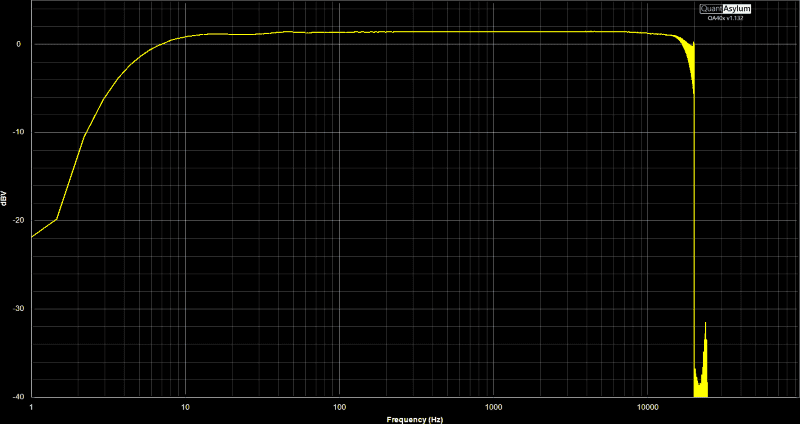 The frequency response is at -3 dB at 4 Hz on the bottom and about 20 kHz on the top. You can see there is a slight ringing in the output above 16 kHz, as indicated by the filled-in yellow portion of the graph.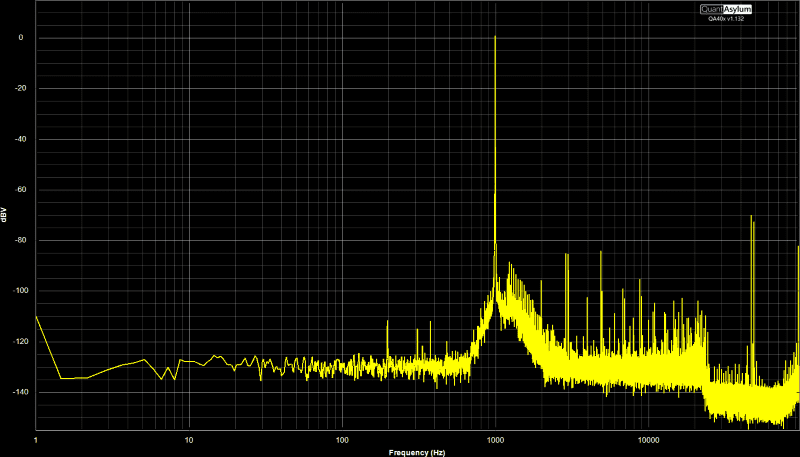 Total harmonic distortion came in at 0.00528%, which is very good. The THD+N measurement was good at 0.01475%. You can see the extra information on either side of the stimulus signal, but it's pretty low-level, so it shouldn't be a big problem. In short, the B-CON will still sound excellent when used with an iPhone.
One of the trickiest parts of reviewing products is knowing when something is good, bad or in between. To help clarify the quality of the B-CON, I decided to characterize the output of an inexpensive Bluetooth audio receiver. I had an unbranded unit in a storage box in the garage. It was a sample I received at some point in my career. It's the sort of thing that would retail for around 30 or 40 dollars.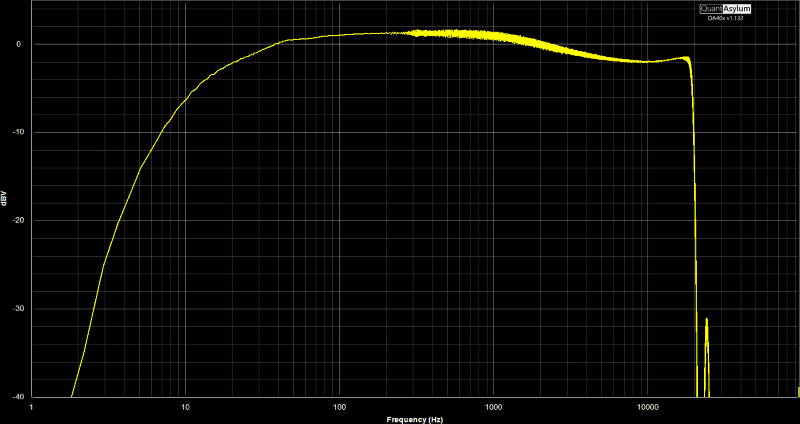 Well, there you go. There couldn't be a better example of mediocre performance. Frequency response is 20 Hz to about 4 kHz with -3 dB tolerances. There is also lots of noise in the signal at all frequencies above 200 hertz – no bueno.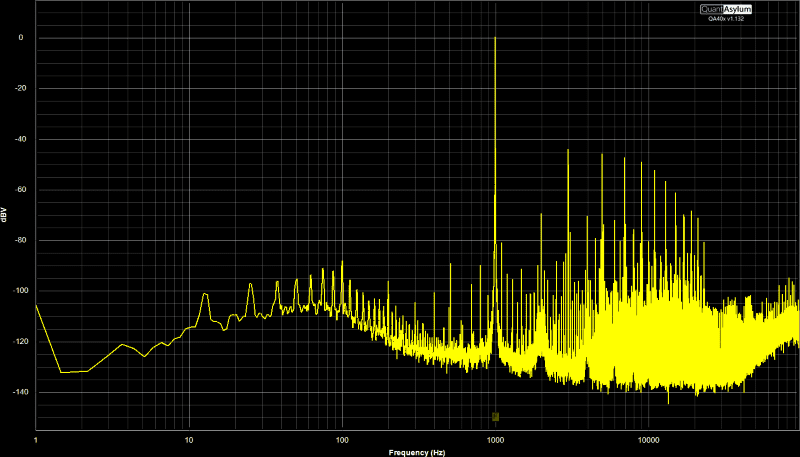 Well, I'm a little bit speechless. You know all that noise and hash in the frequency response graph? Here's what it looks like in terms of spectral analysis at 1 kHz. That's 0.9865% total harmonic distortion, and the THD+N is impressively bad at 1.298%. For clarity, I did try increasing and decreasing the transmission level to see if things would improve – they didn't. If it weren't such a great example of a bad product, I'd throw it out. For reference, I used the BTA30 in SBC mode for this testing.
A few final measurements before I give this a listen: The B-CON is rated to provide up to 2.0 volts of output on the RCA jacks. I saw 2.12 volts during the 0 dB 1 kHz testing. Second, channel separation was within a few tenths of a decibel from being identical going left to right as going right to left at 73 dB at 1 kHz. Lastly, I confirmed that the output polarity matches the source polarity using a positive impulse response track.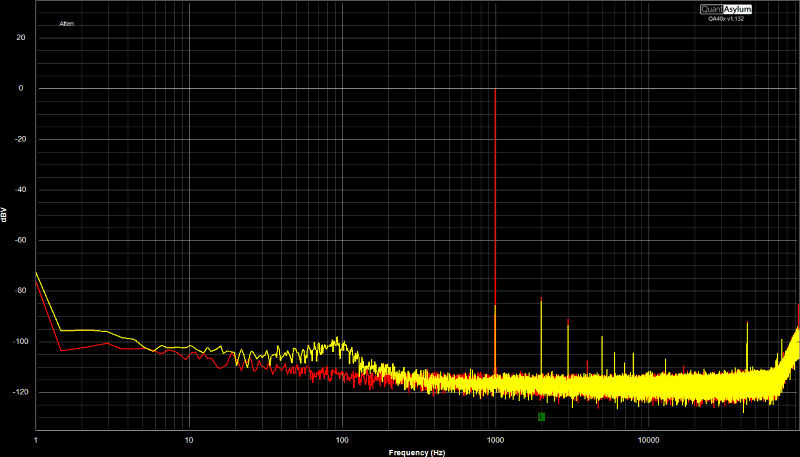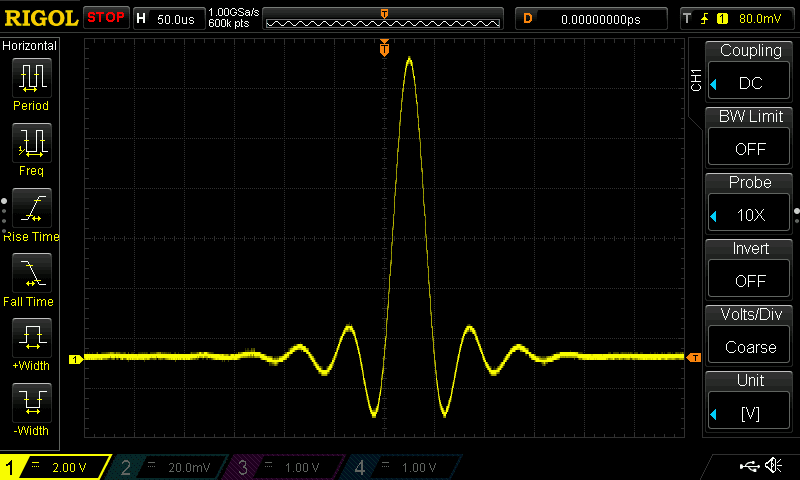 Listening to the Audison B-CON
I connected the B-CON directly to the RCA input jacks on my reference amplifier. The BTA30 has a master volume control to adjust the output level. The BTA30 remained in my office in the next room, and I had the tracks queued to play in the order I wanted so I didn't have to move around.
I started the listening session with "Yellow Flicker Beat" by Lorde, one of my favorite songs. Lorde's voice was nicely detailed and remained focused in the center of the soundstage. The background humming blended well with the lead vocal, and the high-frequency percussion had great body and clarity.
I followed that with "Bird on a Wire" by Jennifer Warnes. Her voice was also silky smooth. The room ambiance from the drums on the left side of the soundstage was realistic, and the brush on the cymbal on the right was clear and crisp. The soundstage was nice and large, and the imaging was very good.
The last track was "Spanish Grease" (Dorfmeister con Madrid de los Austrias Muga Reserva mix) by Willie Bobo from The Complete Verve Remixed. If your audio system has excellent imaging, this track does some amazing tricks. At 38 seconds into the track, the word "get" is repeated and not only panned left to right but phase shifts are applied. In a high-end system, the source of the repeated word will seem to come out of the speakers toward the listening position. There was about 5 feet of depth with the B-CON connected directly to my reference amp and speakers. Considering this is a wireless audio signal transmission, I think that's impressive.
Overall, the listening session with the B-CON matches my measurements. It sounds amazing for Bluetooth and can easily match a typical head unit's dynamic and spatial performance. If you opt for something truly esoteric to serve as the head of your audio system, you'll experience more transparency and clarity. However, that source unit will cost you $1,300-1,500. If your audio system upgrade involves integration with the speaker outputs of a factory-installed source unit or amplifier, adding the B-CON to your system will be a significant improvement.
What You Need To Know about the Audison B-CON
My time spent with the B-CON resulted in a few important takeaways. First and foremost, if you care about sound quality, Bluetooth audio streaming can be frustrating. Figuring out what codec your playback device includes varies between tricky and nearly impossible. Figuring out which codec is being used at any point in time is even harder. In addition, there are audible differences in quality between the options. The inclusion of the green and yellow LED on the top of the B-CON helps to demystify what's happening with that wireless stream of data.
Second, the integration options for the B-CON are impressive. Yes, you can use it as a stand-alone option connected directly to an amplifier. You can also use it with an auxiliary input on a source unit or a DSP with automatic source triggering if that's supported. Heck, you can even connect it to the aux input on a half-DIN in-dash EQ! The ability to feed hi-res Bluetooth into a TOSLINK digital audio stream is a very cool feature.
As would be expected from Audison, the B-CON is a very good signal source. With an LDAC 990 kbps stream, the B-CON outperforms most consumer-level source units on the market today. It's also an excellent option for use with an iPhone and the AAC codec. In short, this is about the best you will make Bluetooth sound. The effort Audison put into the design is worthwhile.
If you'd like to add the Audison B-CON to your car audio system, drop by a local authorized Audison retailer today. You can learn more about the B-CON and other Audison products by visiting their website. Also, be sure to follow Audison on Facebook, Instagram and YouTube.