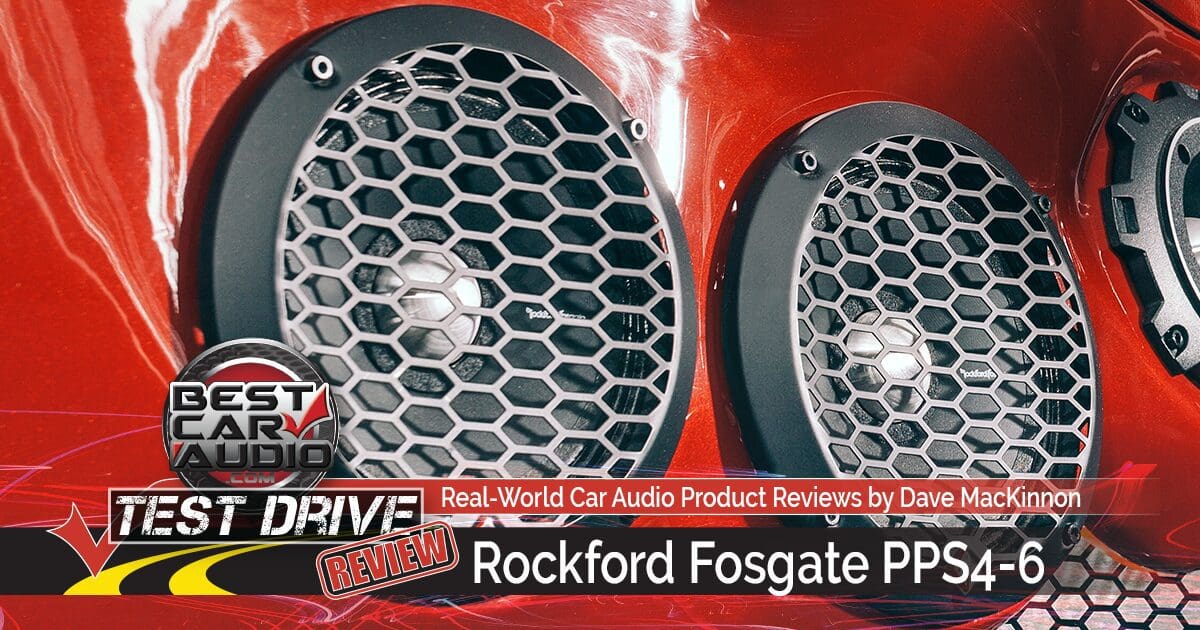 If there's one thing synonymous with Rockford Fosgate, it's loud car audio systems. If you've outfitted your SUV or van with their 13-, 16- or 19-inch superwoofers, you'll need some serious midrange speakers to keep with all that bass. Enter the Punch Pro Series of midrange drivers. These super-efficient midrange drivers not only make the most of the power from your amplifier, but they'll play loudly enough to ensure that everyone in, around, or across the parking lot from your vehicle can hear the lyrics of your favorite track. For this Test Drive Review, I have a set of the Rockford Fosgate Punch Pro PPS4-6 6.5-inch drivers in the lab.
All About the Rockford Fosgate Punch Pro Drivers
Depending on your car audio project's available space and complexity, you can choose from 6.5-, 8- or 10-inch Punch Pro drivers with 4-ohm voice coils. The 6.5-inch drivers I have here are unique in that they require only 2.25 inches of mounting depth. The cut-out requirement is 5.67 inches, matching more traditional 6.5-inch speaker sizes, meaning that they can fit in many OEM 6.5- and 6×9-inch door speaker locations.
The PPS4-6 is based around a stamp-cast aluminum frame to support the massive ceramic magnet. That big magnet has a rubber trim ring for a little extra style. At the heart of the driver is a large 1.53-inch voice coil wrapped around an aluminum former. The voice coil is attached to a low-mass, fiber-reinforced, high-strength paper cone. A "W"-shaped corrugated treated cloth surround takes care of the outer compliance while a poly-cotton spider that's fatigue- and tear-resistant keeps the assembly centered in the magnetic gap. Notably, the tinsel leads are sewn to the spider for silent operation. Finally, there's a large, machined billet phase plug in the driver's center. Dissipating heat is the toughest challenge for high-efficiency speakers, so the phase plug helps transfer thermal energy from the motor assembly to the air around the driver.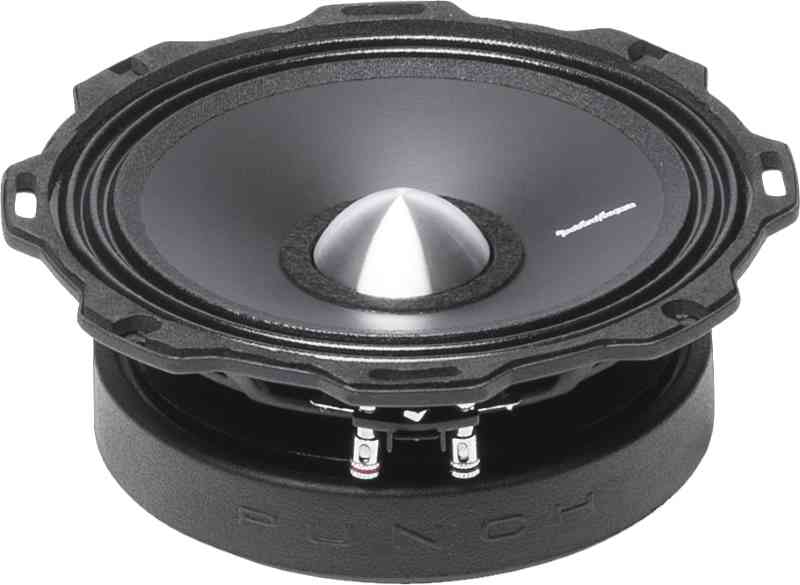 In terms of specifications, the PPS4-6 has a nominal impedance of 4 ohms and is rated for 100 watts continuous and 200 watts of peak power. Unlike many (most) drivers in this category, you'll find that these specifications, along with the dimensions of the driver, are in full compliance with the ANSI/CTA-2031-A standards for testing in-vehicle loudspeakers. If you are looking at drivers that don't bear the CTA-2031 certification mark, be wary of the validity or accuracy of their manufacturer's claims.
Rockford Fosgate includes a set of perforated steel grilles with the PPS4-6 speakers. Protecting these drivers' lightweight cones from damage is important. You won't see grilles included with many other speakers in this category.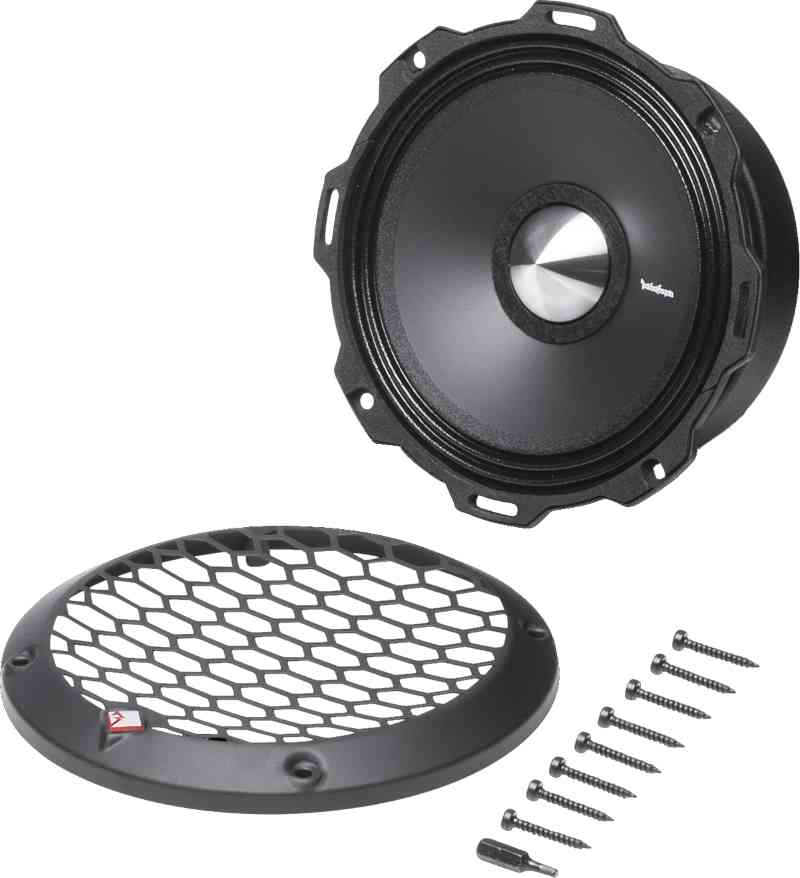 Applications for the PPS4-6 Drivers
One thing that many enthusiasts don't fully understand about high-efficiency speakers is that they trade low-frequency extension for increased efficiency. As such, these speakers can't be implemented in the same way in an audio system as a conventional 6.5-inch woofer like would be found in the Power Series T1650-S set. The PPS4-6 has an Xmax specification of 1 millimeter in each direction. These aren't midbass speakers, and they won't appreciate being used in that way. Plan on playing them from 250 or 300 hertz and up, and they'll keep up with prodigious amounts of bass. Try to play them down to 80 hertz, and you'll hear a lot of distortion as the voice coil leaves the magnetic gap and the suspension limits excursion. This trait is common to all high-efficiency mids from all brands, including 8- and 10-inch models. Factor dedicated midbass drivers into your system and you'll be very happy!
Testing the Rockford Fosgate Punch Pro Midrange Drivers
As with all speakers and subwoofers I test, I started by breaking in the drivers using a low-frequency signal. Unlike subwoofers or conventional speakers, the PPS4-6 don't need a lot of power at low frequencies to reach their excursion limit. I let the speakers play with a 35 hertz, 9.5-volt signal for a few hours so that all my measurements would replicate how the drivers will behave after some use. Then, I used my Clio Pocket to make the measurements using the added-mass calculation technique to find the Vas equivalent compliance value. The measurements and calculated Thiele/Small parameters are in the chart below.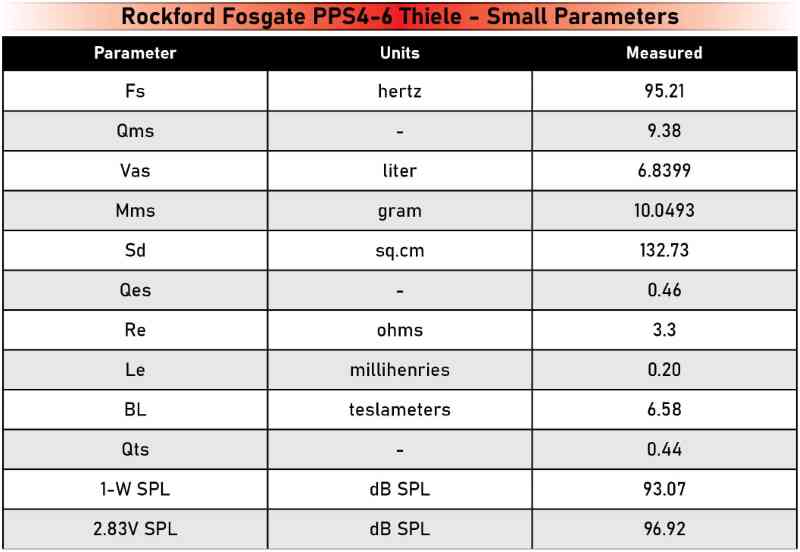 The PPS4-6 has a DC resistance of 3.30 ohms, and the impedance curve shows it's nominally around 3.8 to 4 ohms when the inductance starts to play a role at higher frequencies.
In the next step, as part of my standard practices for testing speakers, I modeled the drivers in BassBox Pro 6.0 to identify their enclosure requirements. Asking the software to design an enclosure with optimally balanced output and system Q values suggested an enclosure with an internal air volume of 0.163 cubic foot. The calculated Qtc is nice and low at 0.614, and the -3 dB frequency is 171.9 hertz. This high 3-dB-down frequency should give you a second hint about playing these drivers in midrange frequencies only above 250 or 300 hertz.
For the third hint at a proper application for the PPS4-6 speakers, let's look at the calculated excursion response of the speaker. This graph shows how the cone moves when driven with 100 watts of power in the 0.163-cubic-foot enclosure. As you can see, all frequencies below 300 hertz will push the driver beyond its rated 1 mm of excursion.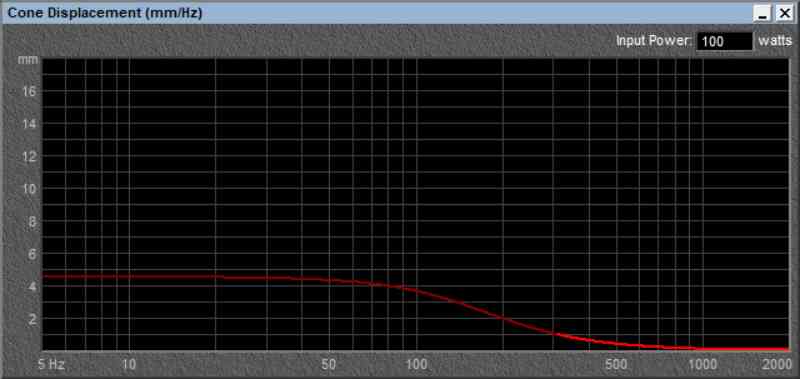 A suggested crossover point of 300 hertz doesn't change by more than a few hertz with a tiny 0.05-cubic-foot enclosure or when the driver is used in an infinite baffle application. I can't emphasize this enough: High-efficiency SPL drivers are midrange speakers, not woofers. A system designed with this type of speaker needs dedicated midbass drivers.
Moving on, I set the drivers up in my large test enclosures and started with a set of frequency response measurements on-axis and at 12-degree increments to the side to get an idea of the drivers' directivity characteristics.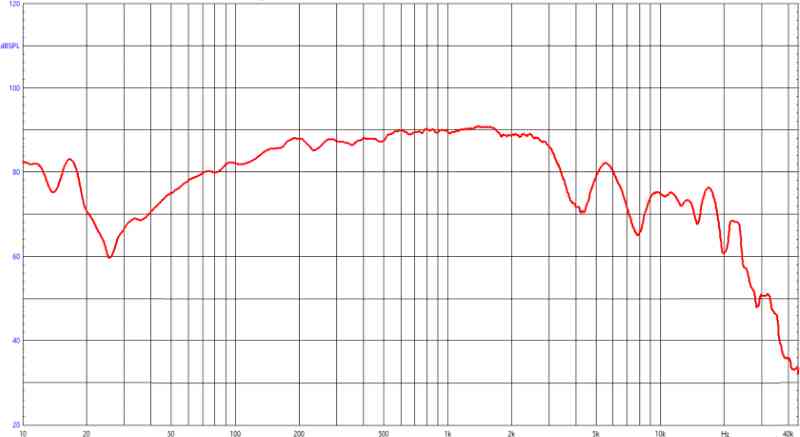 The on-axis measurements in my listening room at 1 meter tell us this driver will play efficiently from about 200 hertz up to 4 kilohertz. The peak at 390 is a reflection off the floor or ceiling, so consider the overall shape of the graph rather than focusing on any particular peak or dip.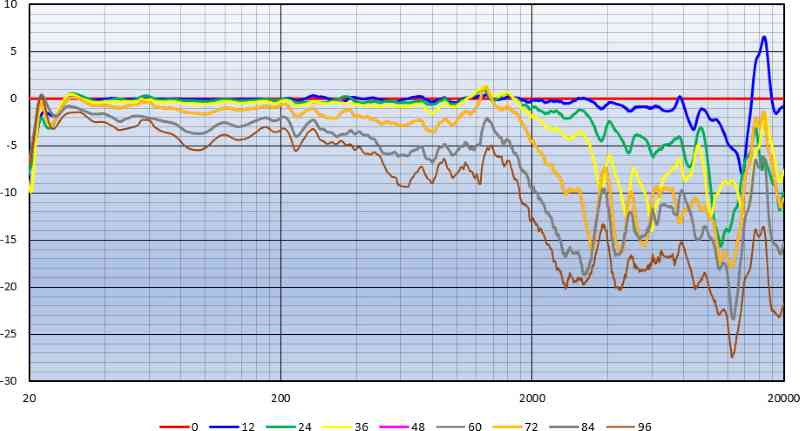 I've changed how I am presenting directivity measurements to make it easier to see the response changes at a particular frequency. Historically, I've made a series of measurements from directly on-axis with the driver, then rotated the test enclosure in 12-degree increments until it's 96 degrees off-axis. Then, I've presented the raw measurements as the data. To make it easier to see where things change, I've pulled the measurements into Excel and normalized the plot to the 0-degree measurement. It shows as a perfectly flat line (in red). From there, the graph shows the difference between subsequent measurements and the on-axis reference. In this format, you can see that the driver's response from bass frequencies to about 1 kHz remains flat within a few decibels to 36 degrees. At higher angles, the output drops off quickly. It's important to keep in mind that these measurements have more to do with the size of the driver than any other characteristic. The effective circumference of the cone determines the frequency at which the driver stops being omnidirectional.
The last step was to connect the PPS4-6 to my reference amplifier and speakers to have a listen. I set a low-pass crossover at 3.15 kHz, where playback transferred to an audiophile-grade, silk-dome 1.5-inch tweeter. With the impressive 2.83-volt, 1-meter efficiency of around 96 dB SPL, I had to attenuate the amp's output by 6.5 dB to achieve balance with this tweeter.
The first track was "These Days" by the Foo Fighters. Sadly, I woke up this morning to the news that Taylor Hawkins had passed away. Including one of their most famous songs is the least I can do to pay tribute to this fantastic musician. The song opens with a guitar solo, and it sounded great, even at what would be deemed insane listening levels. Dave Grohl's voice was a bit thin, as expected from a system that didn't have significant output below 200 Hz. However, the upper midrange sounds – like snare rim shots and the guitars – rocked!
I had a listen to "Believer" by Imagine Dragons next. The experience was similar: lots of midrange and no midbass. "Mr. Boombastic" by Shaggy was a bit different. There's some processing on his voice, so there's more upper midrange information than you'd expect. It made the lyrics stand out with impressive clarity when played on this mid-and-tweeter combination.
Last up was "No Scrubs" by TLC. I wanted to hear what the speakers sounded like with female vocals instead of deeper male voices. There was much less missing from the presentation, and the balance was pretty good.
While I might come across as being critical of the speaker, I'm 100% not. Successfully integrating these speakers into your car audio system depends on using them as they are intended. They are ultra-efficient midrange drivers. If your system designer and installer treat them as though they are a 2.5- or 3-inch midrange and combine them with good woofers in the front of the vehicle, you'll have a system that will rock. On the other hand, if you think they will produce midbass down to 80 or 100 hertz, you aren't going to be happy with the balance or sound quality of the system.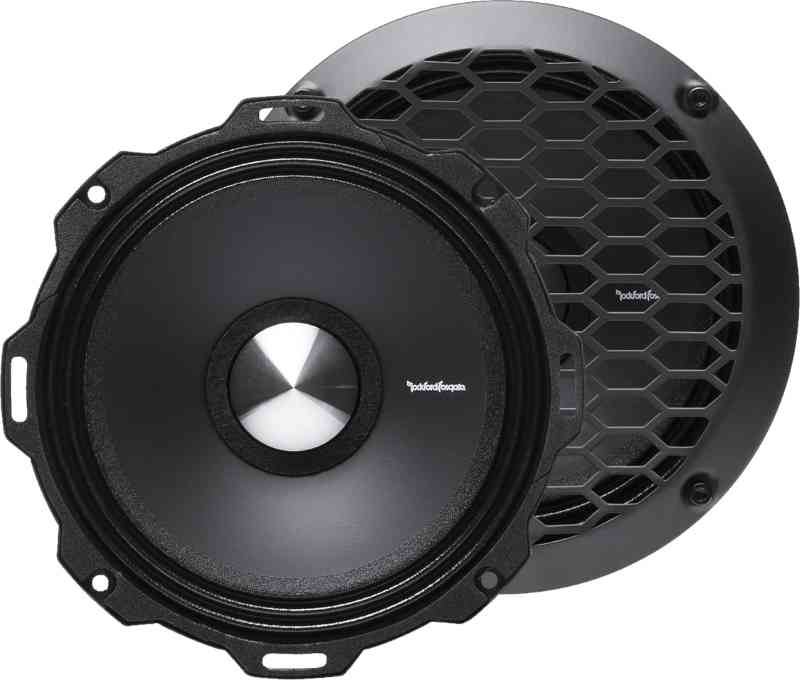 Understand the Product to Achieve Performance
The Punch Pro PPS4-6 from Rockford Fosgate checks all the boxes: standardized mounting dimensions, shallow mounting depth requirements, impressive power handling and mind-boggling output efficiency. If you need the most midrange output possible to keep up with a wall of subwoofers, drop by your local Rockford Fosgate retailer and check out the PPS4-6 or its eight and ten-inch big brothers. You can find a shop near you using their Dealer Locator on their website. Be sure to like the Rockford Fosgate Facebook page, and follow them on Instagram feed and their YouTube channel.