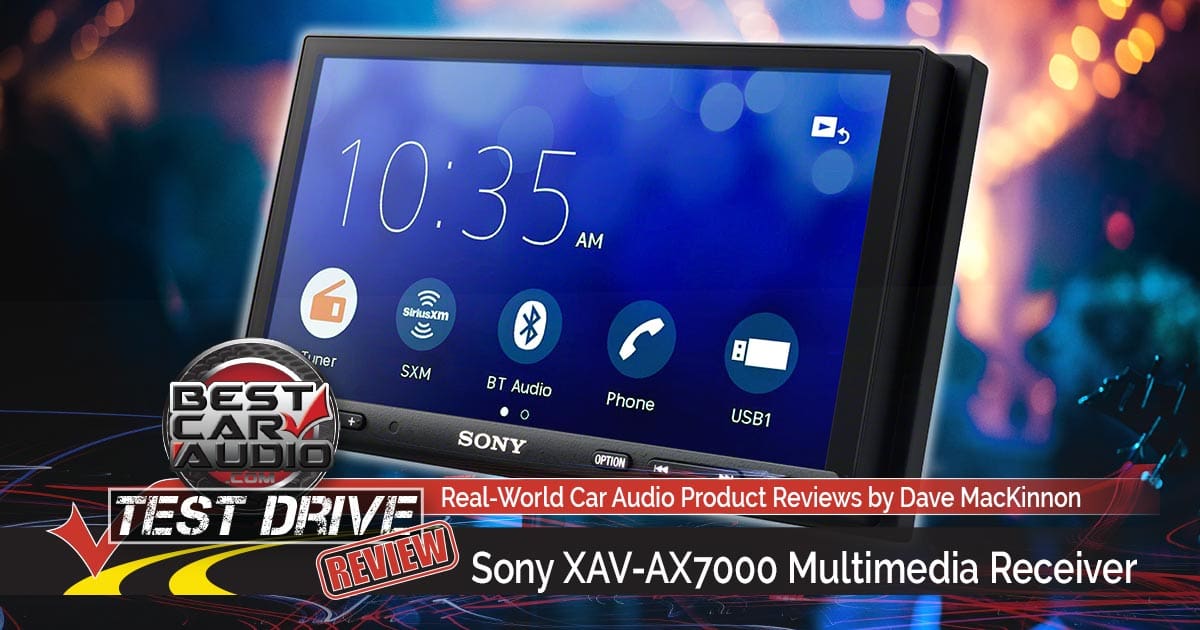 The focus of this Test Drive Review is the amazing Sony XAV-AX7000 6.95-inch multimedia receiver. Equipped with Bluetooth hands-free calling and audio streaming, Android Auto and CarPlay smartphone integration and dual USB ports that support popular digital media formats, this is an impressive upgrade option with those features alone. When you take into account the super-bright capacitive touchscreen that includes an anti-glare coating, the unparalleled 45-watts-per-channel amplifier and a truly intuitive interface, nothing on the market can compete in terms of a total package.
Sony XAV-AX7000 Physical Features
The XAV-AX7000 is a double-DIN multimedia receiver with a touchscreen that measures 6.19 by 3.21 inches. The screen has a resolution of 800 by 480 pixels with specified contrast ratio of 600:1 and a brightness of 500 candela per square meter. That brightness rating is 10% brighter than most displays on the market. Combined with the anti-glare coating and capacitive touch interface, these features make the AX7000 an ideal solution for convertibles, motorcycles, vehicles with a radio near the top of the dash or any application where sunlight might wash out traditional display designs.
Of the five buttons across the bottom of the unit, two of them function as rocker switches to control volume and track/tuning functions. Sony has taken its unique chassis design a giant leap further by incorporating a moisture-resistant membrane into the switches, so installation on a motorcycle or powersports vehicle is possible. While not waterproof, the radio can handle a little water exposure on the front panel. The display's flush design allows the radio to blend cosmetically with the dash of almost any vehicle.
With no CD or DVD mechanism taking up space, the chassis of the radio is a single-DIN design that's about 2 inches tall. The single-DIN chassis is at the top, allowing installation into vehicles that might have physical obstruction like 2014+ Harley-Davidson motorcycles, or in other types of vehicles where some extra room to tuck in integration modules might be beneficial. The compact dimensions make it easy for your installer to integrate the radio into dashes where space is at a premium.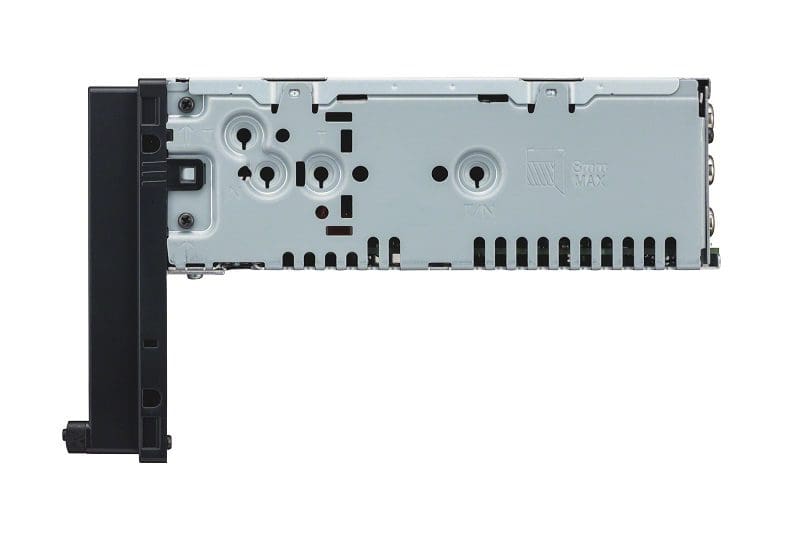 The rear of the radio includes a standard Sony power and speaker harness connector with an integrated 15-amp miniature blade fuse. Two USB ports are provided on 6-inch pigtails. The preamp RCA jacks and rearview camera video input are on the back of the chassis. The chassis also has a standard Motorola-style antenna connector, a jack for an SXV300 SiriusXM satellite radio tuner and a pair of 1/8-inch jacks for the provided external Bluetooth mic and an optional steering wheel control interface. Sony includes a USB extension and an IR remote control with the radio.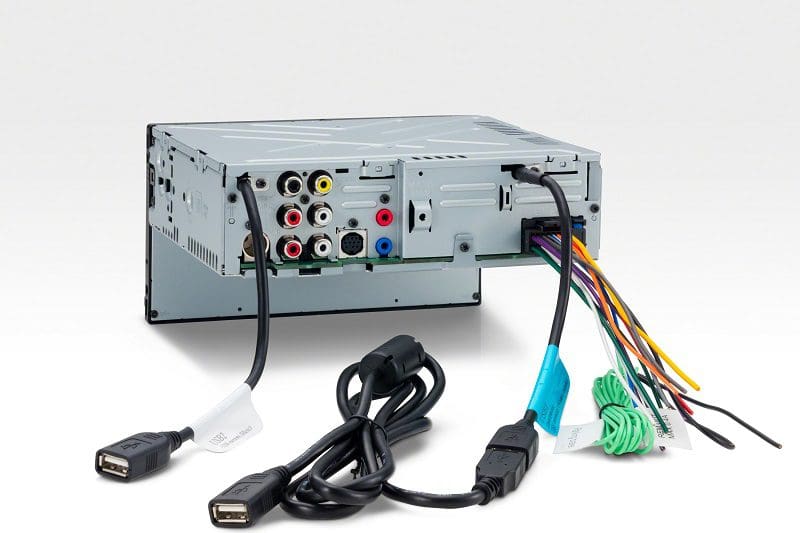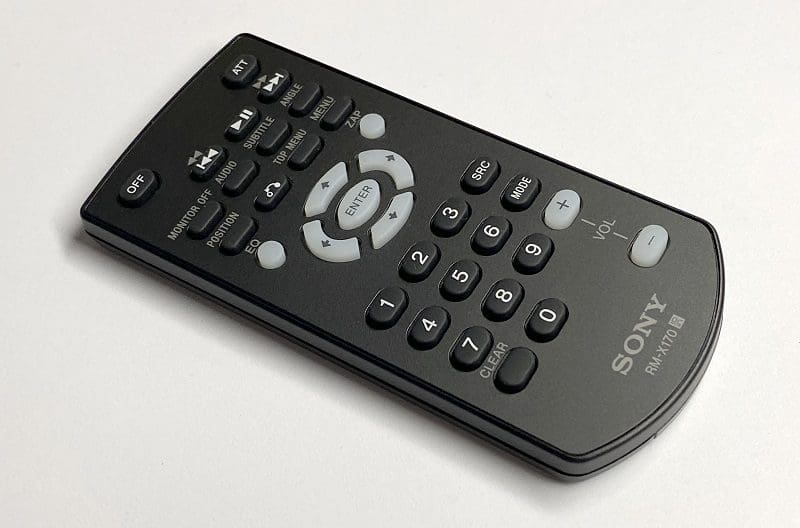 Source Options and User Interface
The first thing I noticed when powering up the XAV-AX7000 in the BestCarAudio.com lab was how fast it came to life. Music from the FM tuner started playing 13.54 seconds after power was applied to the accessory wire. With USB1 selected as the source, music started playing in 18.33 seconds. By way of a benchmark, these times are fast. Keep in mind, all multimedia receivers on the market are small computers running operating systems like Linux or Windows CE.
While measuring timing, I checked the function of the rearview camera input. With the radio off and the rearview camera input triggered, the camera image appeared in an amazing 0.11 second. When in normal use, the reverse trigger displays the camera image in an equally instant 0.304 second. Camera display time is important as some units on the market won't display an image until the system has finished booting, which is 20 to 30 seconds.
The user interface is simple and intuitive – something that other source units don't always get right. Five icons across the bottom of the screen provide access to the tuner, SiriusXM, Bluetooth audio, phone functions and USB1 input. Swiping to the left brings up the USB2, rear camera and setting icons. If you have connected an iPhone or Android-based smartphone to USB1, then Apple CarPlay or Android Auto is added to the menu screen and the USB1 source option is removed while the phone is plugged in.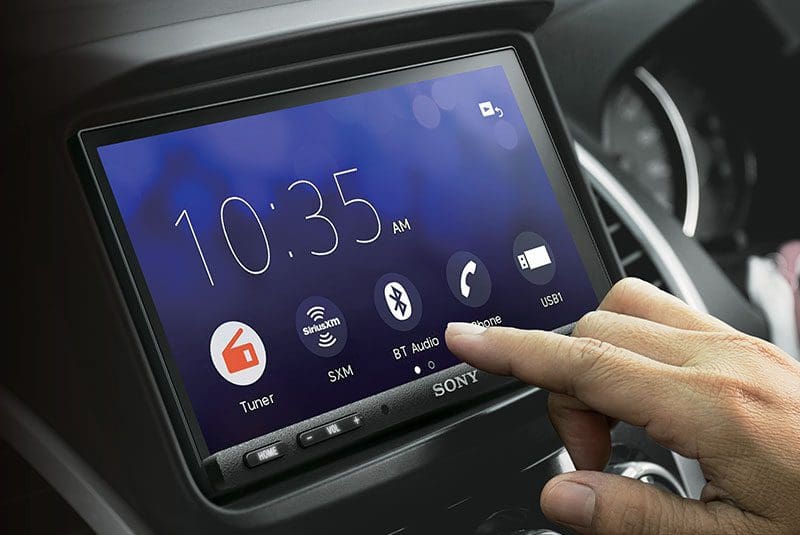 In terms of settings, there are options for system language, turning the demonstration mode on or off, date and time, button beep confirmations, rearview camera normal or mirror-image adjustment as well as positioning adjustment to accommodate different types of vehicles and even customizable steering wheel control interface settings. The sound menu includes access to the 10-band EQ10 graphic equalizer, ExtraBass settings (Off, 1 or 2) and balance/fader adjustments. Subwoofer level control is built into the same screen as the equalizer, and that EQ screen is never more than two quick taps away, regardless of the screen you're on, so music and subwoofer level settings are quick and easy. The Dynamic Stage Organizer (DSO) feature is adjustable in three steps to, according to Sony, improve the imaging and frequency response of the audio system for a more realistic listening experience.
Entering the Advanced Audio menu provides crossover frequency adjustments of 50, 60, 80, 100 or 120 Hz for high- and low-pass modes. Subwoofer polarity, speaker impedance settings and a volume limiter are also in the Advanced menu. Finally, there's a speaker impedance load selector that is adjustable for 2- or 4-ohm settings and a Subwoofer Direct menu that I'll explain later in this review.
The Visual menu lets the owner adjust the background wallpaper to one of five included options, with the option of uploading your own JPEG wallpaper. You can adjust the functionality of the dimmer input to suit what best integrates with your vehicle and usage habits. If the radio is running software 1.11, users can adjust the brightness of the buttons when the display is turned off using the menu presented by pressing the Option button. Being able to turn the display and buttons off completely is an important feature for anyone travelling on dark roads at night.
The last feature I checked out was Weblink. Once I'd downloaded the Weblink Host app to my iPhone and allowed it access to everything under the sun, I connected it to USB1. Of course, the Weblink icon appeared as the fifth option on the main screen of the radio. Tapping it brought up a menu similar to CarPlay that offers a music player, video player, YouTube, Waze and a Cast option. Without getting into huge detail, Weblink is another option for mirroring apps from your phone to the radio. The YouTube app, in particular is great for those times when you're hanging out with friends or waiting to pick someone up. Of course, the parking brake must be set in order for any video source (other than the camera) to be displayed on the screen, and for safety reasons, Sony recommends watching the screen only while the vehicle is parked.
Objective Test Bench Performance Measurements
Before diving into the tests, I checked Sony.com to see if any software updates were available, and there was a new one that improved some connectivity options. The update process was simple and took only a few minutes.
The first test I performed on the Sony XAV-AX7000 was to take frequency response measurement of the preamp outputs. Figure 1 shows the baseline response from the RCA jacks with the ExtraBass function turned off, set to Level 1 and Level 2. With the ExtraBass function off, the XAV-AX7000 provided flat frequency response from 17.9 Hz to 19.59 kHz with a -3 dB tolerance and 35.9 Hz to 16.77 kHz with a -1 dB tolerance. ExtraBass Level 1 added just under 2 dB of boost at 135 Hz and 0.5 dB at 10 kHz. ExtraBass Level 2 adds 3 dB of boost at 100 Hz and just under 1 dB at 10 kHz.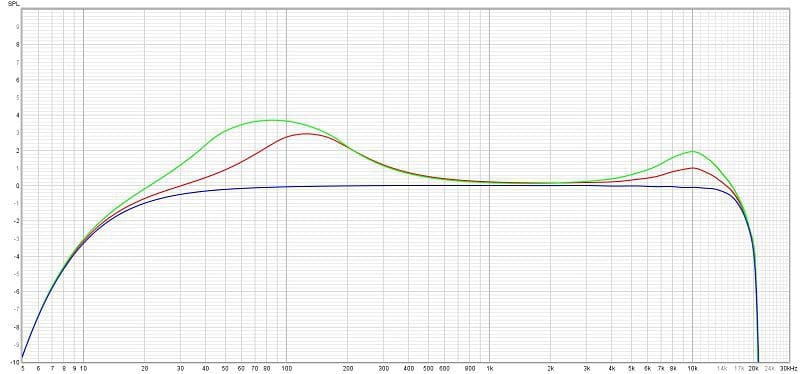 Next, I took a look at the performance characteristics of the preamp outputs. With a 0 dB 1 kHz sine wave test track, I measured a strong 5.01 volts of output with the volume set to 49. RCA output impedance measured at 170 ohms. A bit of gain overlap is designed into the unit, so running it with a track recorded at 0 dB can produce a tiny bit of clipping with the volume at 50. If this is a concern, the volume limiter function will keep things protected.
In terms of distortion, I characterized both harmonic and intermodulation distortion on the preamp signal. The 1 kHz harmonic test in Figure 2 shows a first-order harmonic at -75.32 dB, second-order at -60.2 dB and third at -78.55 dB.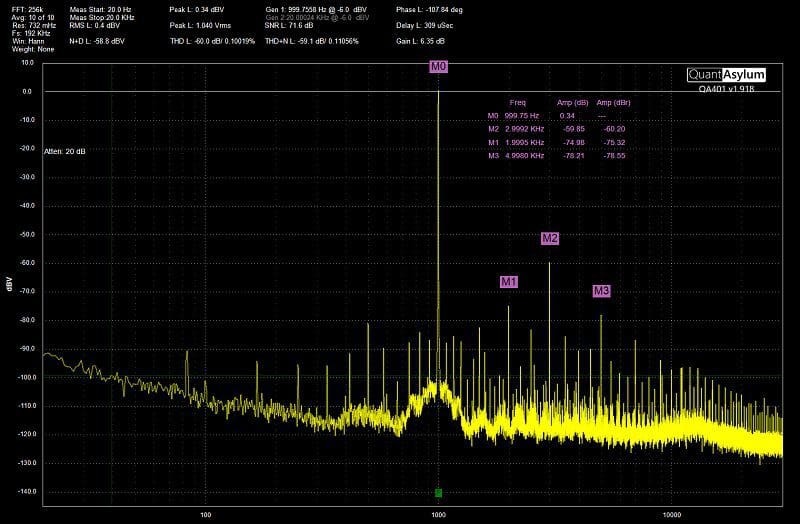 For intermodulation distortion (IMD), Figure 3 shows the results of playing 19 and 20 kHz sine waves simultaneously at combined level of 0 dB or 1 volt. The IMD measurement was very good, with a 1 kHz difference produced at 1 kHz measuring -79.11 dB from the test stimuli. The lower side-band product was a touch higher at -64.19 dB, but still in the very good range.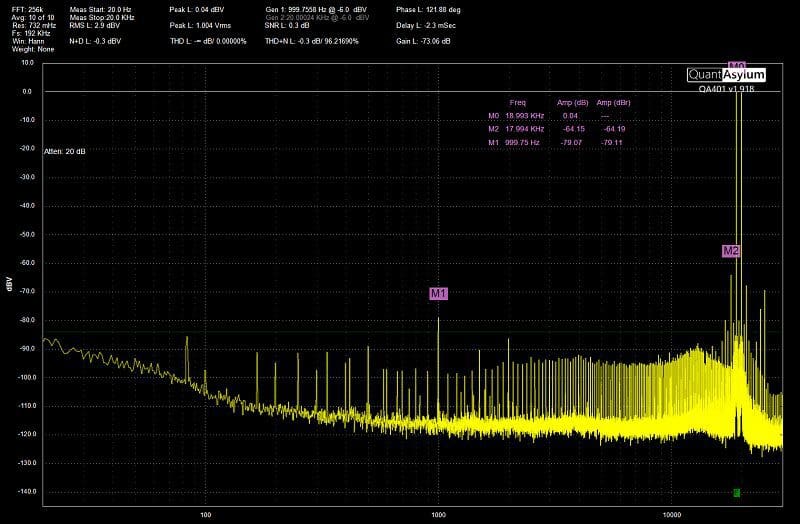 The last test for the preamp outputs was to quantify the stereo separation capabilities of the unit. With a 0 dB 1 kHz sine wave playing the in the left channel, isolation to the right channel was very good at -78.44 dB. Measured in the opposite configuration, separation was -78.1 dB.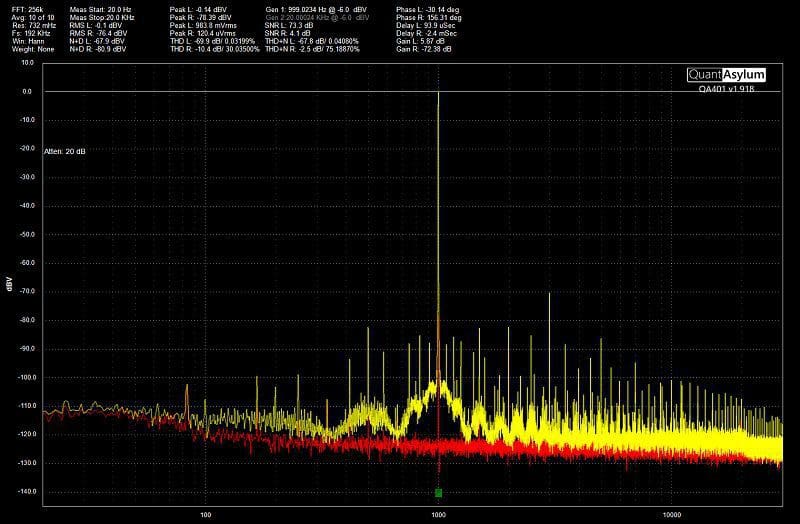 The EQ10 equalizer includes a number of preset curves labeled with different genres of music. Of course, I measured all of them and they are presented in Figure 6. It's a pretty long list. Sony offers a Custom curve that you or your installer can use to flatten or tailor the response of your system to your listening preferences.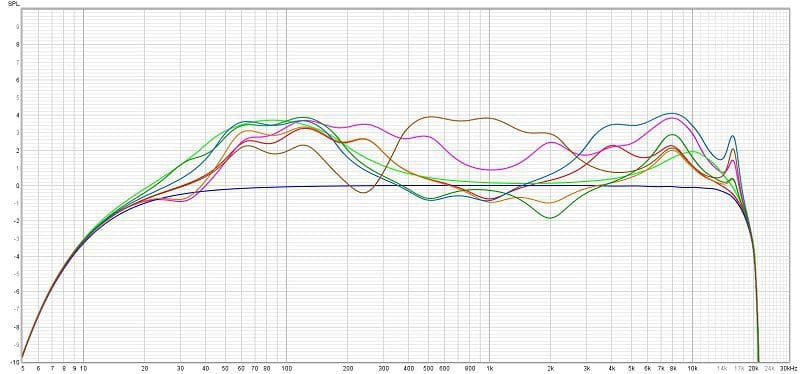 The last item I checked was the function of the subwoofer level control. Some source units are designed so that a subwoofer level of 0 provides less voltage than the front or rear outputs. Sony doesn't do this. When the subwoofer level control is set to 0, you get the same voltage as the front and rear outputs. Keeping this in mind, the subwoofer output will clip at volume level 38 if the sub level control is set to +10.
Next, it was time to take a look at the speaker outputs of the XAV-AX7000. Unique to this model is the 4×45-watt RMS High Power amplifier. While most source units offer somewhere between 15 (11.76 dBW) and 22 watts (13.42 dBW) of RMS power, Sony includes a dedicated four-channel Class-D amp that doubles that. If you aren't planning to add external amplifiers to your vehicle, you'd be remiss in choosing any other source unit in terms of an ability to make your speakers sound excellent at higher volume levels.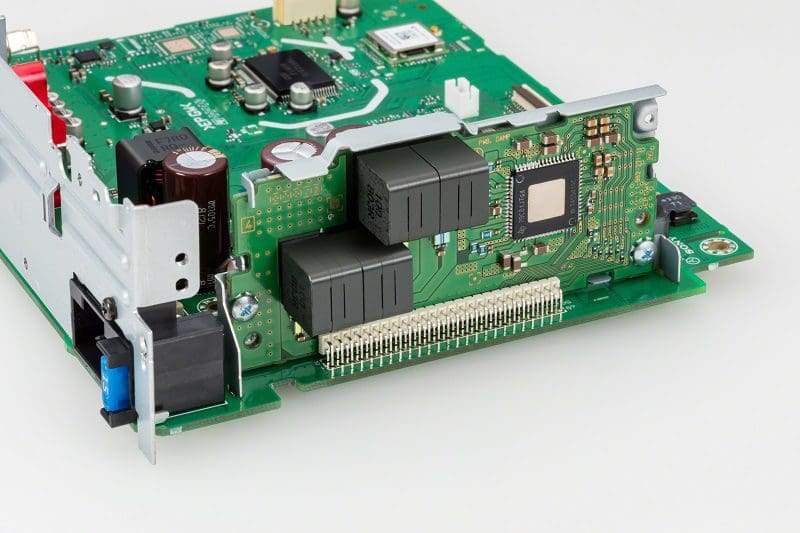 I connected four 4-ohm power resistors to the amp and cranked up the volume. After confirming all four channels were providing exactly the same output, I used my D'Amore Engineering SMD AMM-1 to measure the real-time power output. With a supply voltage of 13.2 volts at the power connection, each channel produced an impressive 42.6 watts (16.29 dBW) RMS at 1% distortion. That number is absolutely mind-blowing for a source unit. Sony rates the unit at 45 watts (16.53 dBW) RMS at 1% distortion from each channel when provided with 14.4 volts. Given the power supply voltage difference, I wouldn't hesitate to validate their rating.
While I had the radio on my bench, I decided to see just how much power I could wring out of it to drive a subwoofer. After disconnecting the front speakers and connecting larger-gauge power wire direct to my supplies, I managed to wring out a mind-boggling 90.6 watts (19.57dBW) into a 2-ohm load. That's simply unheard of from a radio.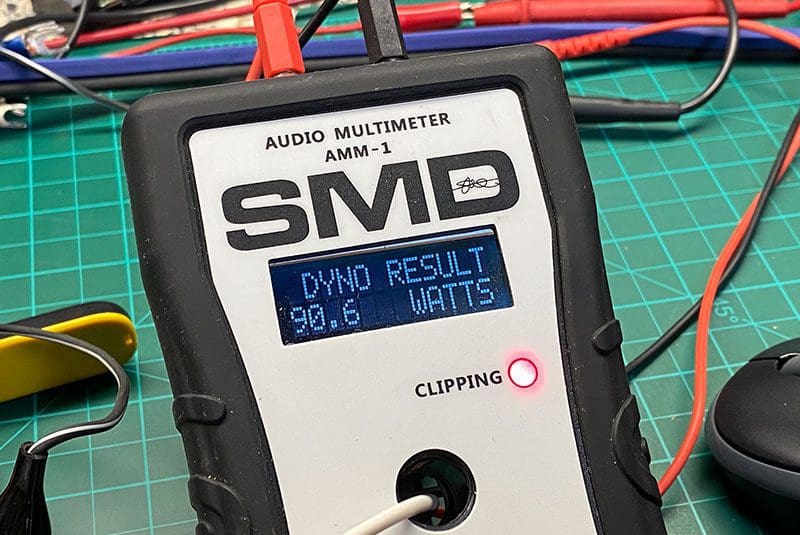 The XAV-AX7000 has a unique configurability option that allows your installer to use three of the four channels to power two pair of speakers on each of the front speaker outputs and a subwoofer on one of the rear channel outputs. I set the radio up in this Subwoofer Direct Mode and measured 76.2 watts (18.82 dBW) from the left rear channel into a 2-ohm load using the AMM-1. This is more than enough power to get an efficient subwoofer to produce some solid output. It's worth noting that the Subwoofer Direct adjustment in the Advanced Sound menu allows your installer to adjust the output level of the sub channel relative to the fronts, just as he or she would do with the sensitivity control on an external amplifier.
The last set of bench measurements involved evaluating the speaker output response into different loads. Figure 6 shows the frequency response of the AX7000 when connected to 4-ohm and 2-ohm resistive loads. I also tested the speaker outputs of the radio using a simulated reactive load. This last test demonstrates the ability for the source unit to power highly reactive loads as would be found in two- and three-way speaker sets with complex passive crossover networks.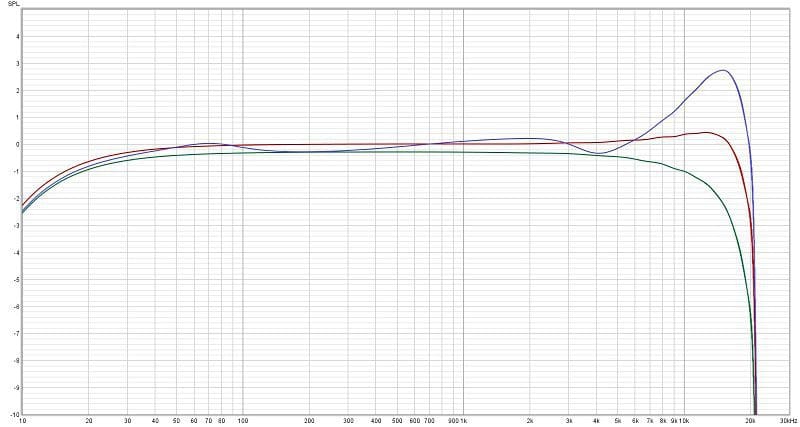 Video performance and file compatibility were next on our test list. I connected a USB memory stick to USB1 and ran through my test files to confirm playback functionality. From an audio playback standpoint, the XAV-AX7000 played MP3, WMA, WAV, FLAC and M4A files at standard resolutions without any issues.
MPEG-4, MPEG-1, MPEG-2, XviD AVI and MOV video files in both 720×480 and 1280×720 sizes played just fine. The video stream skipped a bit with Matroska-encoded (MKV) file formats. Videos encoded with AC-3 audio tracks are not supported. My H.264 and HEVC-encoded video files didn't play.
In terms of video quality, there are four View options: Dynamic, Standard, Theatre and Custom. My test tracks include a very dark scene from "Harry Potter and the Deathly Hallows – Part 2," a high-contrast scene from the beginning of "Guardians of the Galaxy Vol. 2" and several fast-action sequences from "Casino Royale," "Elysium" and "Alita: Battle Angel." Overall, these looked their best in the Theatre mode.
I checked the current delivery capabilities of the USB ports with my iPhone 11 Pro and an older iPad. USB2 provided 0.43 amp and 5.02 volts while USB1 provided 0.94 amp at 5.19 volts when connected to the phone. When I connected the iPad, current on USB1 increased to 1.39 amps at 5.09 volts. Other devices may draw more current from USB1 as it's rated for 2.1 amps.
Sony XAV-AX7000 Subjective Evaluation
How a source unit works is a huge part of its appeal. The menu structure of the AX7000 is intuitive, and the unit responds to commands instantly. Sorting through dozens of tracks on a USB stick is easy, and the dedicated voice button on the front panel makes using CarPlay and Android Auto smartphone integration a snap.
When connected to my reference SE2300 amplifier and LSi7 speakers, the XAV-AX7000 delivered very good performance. The difference between my audiophile-grade CD player and playing 44.1 kHz, 16-bit WAV files from the XAV-AX7000 was vey subtle. While driving, you'd struggle to hear the differences.
The very bottom end was a bit subdued, as was shown in the Figure 1 measurements. It wasn't to the point of being missing, but instead, a subtler approach to deep bass frequencies. If you have a subwoofer system in the vehicle, a small tweak on the sensitivity control of the amp or a few taps on the bottom couple bands of a DSP EQ would flatten it perfectly. At the opposite end, the triangle at the opening of Allan Taylor's "Color to the Moon" was closer to the center of the soundstage and had a little less clarity. Of course, I'm picking nits here, but that's what a formal review is about. Lastly, in terms of tonality, there was a very subtle emphasis on midrange vocals and bass sounds. Subtle is the key word here. It isn't a failing, but perhaps a slight lack in clarity that would only come from source units like the Sony RSX-GS9. Hey, there has to be a reason to spend more, right?
The good separation specs ensured an accurate soundstage, and image focus was very good. Willie Bobo's "Spanish Grease" produced an impressive sense of depth that filled the space between the speakers and the listening position. Overall, I was very impressed with the way the XAV-AX7000 sounded.
Sony XAV-AX7000 Test Drive Review Summary
Keep these four things in mind when considering the Sony XAV-AX7000 as the next head unit for your car or truck: First, the built-in High Power amplifier is mind-boggling in terms of its capabilities. Second, the display is excellent in terms of brightness and its ability to prevent glare. Third, the weather-resistant design is simply unheard of from a multimedia receiver. Last, and certainly not least, this radio is easy to use. Even the deepest menu options are accessible with just a few button presses, and changing sources or tracks is a snap. Drop by your local authorized Sony retailer today and ask for a demonstration of the XAV-AX7000. I'm sure you will be as impressed as I was.
What I Love:
Amazing amplifier power and strong preamp signal.
Bright, bezel-less display.
Lightning-fast response to every request.
Weather-resistant front panel design is great for motorcycles.
What I'd Change/Add:
Visual warning if amp or preamp is clipping.