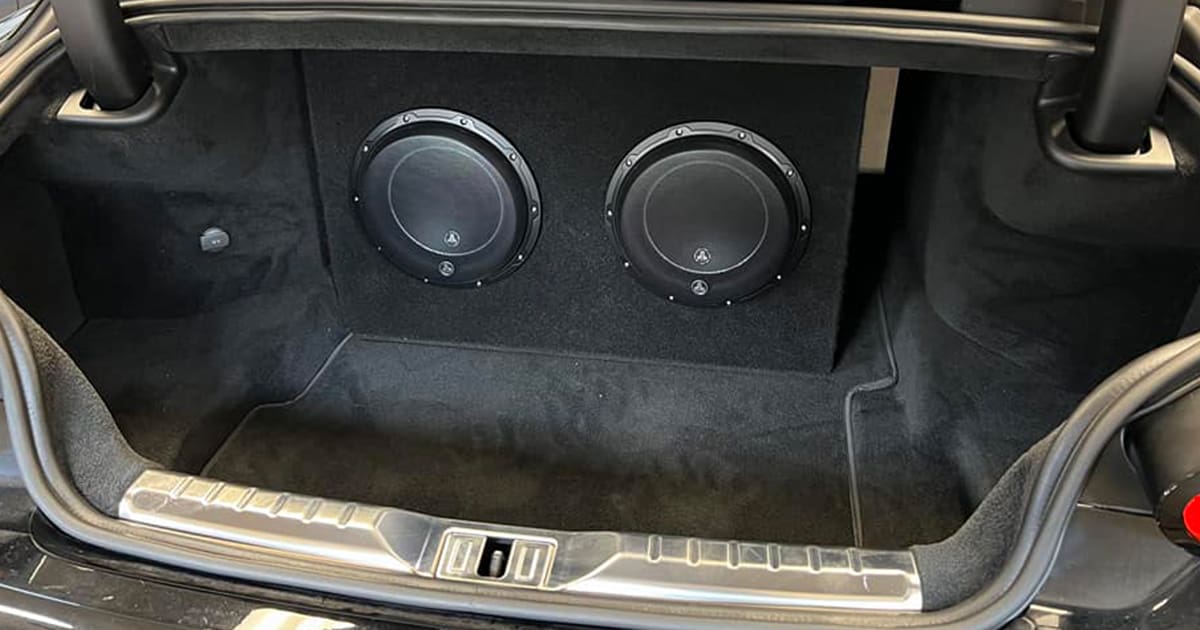 What is a custom car audio subwoofer enclosure? Does it need to be wrapped in leather or vinyl? Should it be made with fiberglass? Does it need acrylic windows? Is LED lighting a necessity? The short answer is no to all of these questions. Let's delve into what makes a subwoofer enclosure custom and why it's the best way to upgrade the bass in your car audio system.
Subwoofer Enclosure Volume Matters
How large does a subwoofer enclosure need to be? The answer to that depends on the subwoofers you want to use. Thinking that way puts the cart before the horse, though. The best way to design a subwoofer system is to tell the product specialist you're working with how much space you're willing to allocate to the enclosure. They can take a series of measurements, do some calculations and suggest a subwoofer or subwoofers to deliver the best performance based on the available air volume. No matter what the manufacturers tell you, cramming large subwoofers into small enclosures results in poor performance. You'll get more deep bass from a single driver in an optimized enclosure than a bunch of larger drivers crammed into an undersized design.
Part of designating the space available for your subwoofer enclosure should include considerations about accessing storage or a spare tire. The last thing you want is to be stranded on the side of the road because part of your stereo has trapped a spare or blocked access to the vehicle battery. Before you tell the shop how much space they can use, look under the trunk floor to determine what you might need to get to. Make some notes so you can share that information with the shop.
Space Optimization Is Key
The number one factor that defines a custom subwoofer enclosure is that it optimizes the available space in the vehicle. Let's say you want a vented enclosure with two 10-inch subwoofers. Most 10-inch subwoofers on the market work very well in about 1 cubic foot of air space. So, this enclosure would need a net volume of 2 cubic feet plus the displacement of the drivers and the vent. Let's use a pair of ARC Audio X2 10D2V2 10-inch subwoofers for this simulation. With 1 cubic foot each, plus a 4-inch diameter round vent, the enclosure needs a net internal air volume of about 2.15 cubic feet.
The person designing the enclosure for these subwoofers should optimize it so that it intrudes into the cargo area of the trunk as little as possible. Therefore, it should use the full width and all the available height to make it as shallow as possible. If we have 40 inches of width and 15 inches of height, the enclosure would need to be 8.625 inches in depth. These measurements assume the enclosure is a rectangle with no angled rear panel. If we wanted the rear panel to have a 20-degree angle, the depth at the top would shrink to about 6 inches. That gives us two more inches of usable cargo space.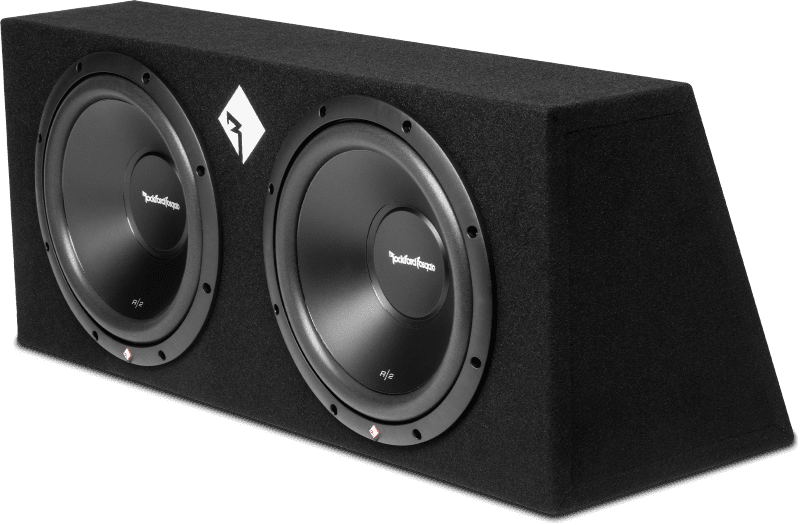 Both designs are custom enclosures if finished in a durable carpet that matches the cargo area. That's it. Nothing fancy or exotic is required to make this a custom solution. The customization aspect is that the enclosure is optimized for your vehicle and uses the available space efficiently.
By contrast, if the shop has a pre-built enclosure that's 34 inches wide and 13 inches tall, it would need to be 11.375 inches deep. Would it work? Yes. Would it sound the same? Yes. Might it save you money versus having an enclosure built specifically for your application? Maybe. Will you have the most space to fit your groceries, sports equipment, luggage or beer? No, not at all.
Here are a few examples of custom enclosures designed to deliver great bass while taking up as little space as possible.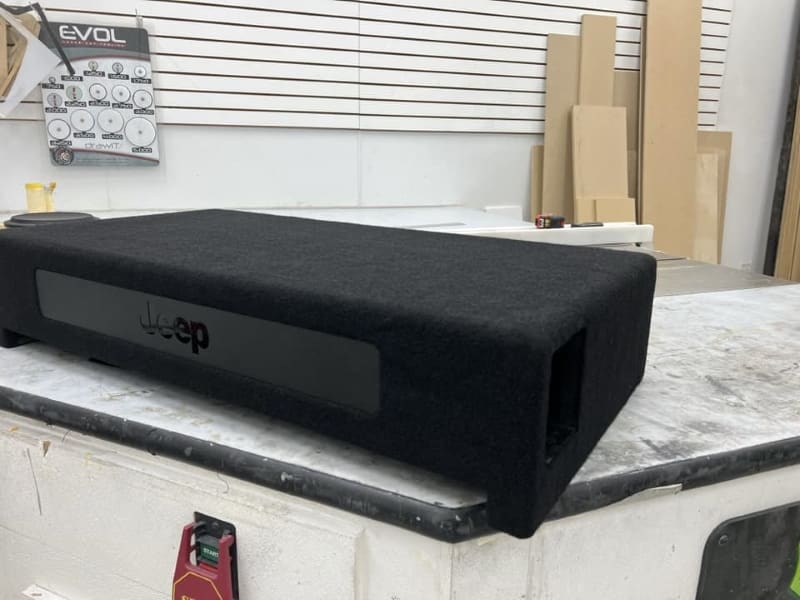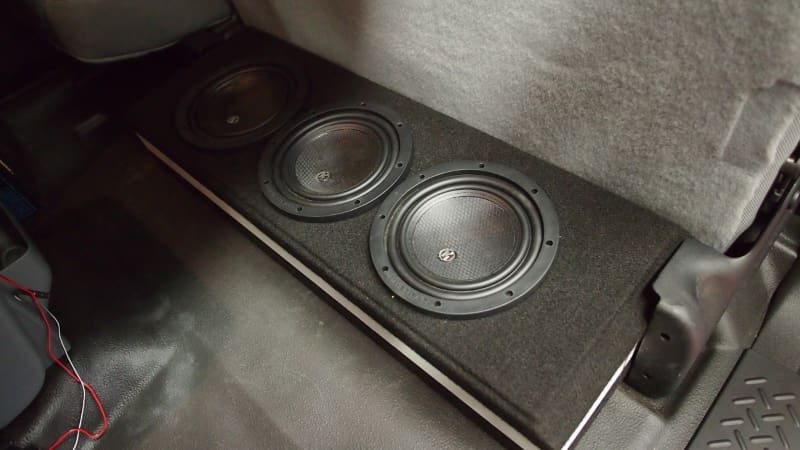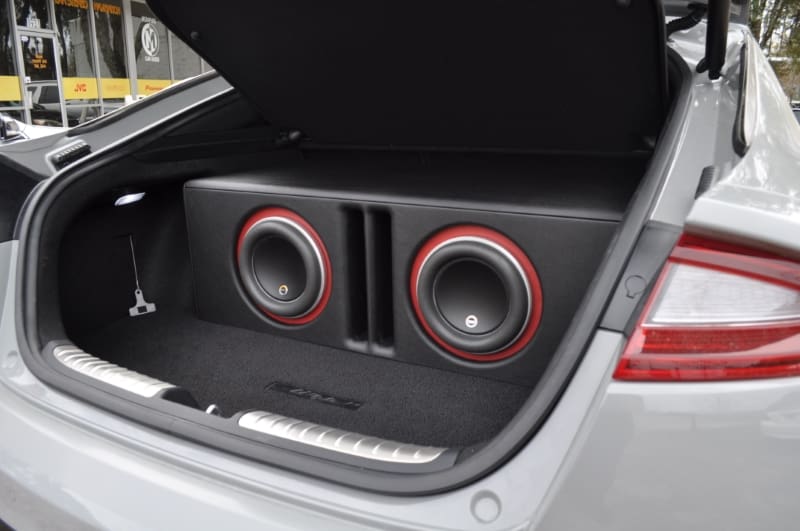 More Custom Subwoofer Enclosure Options
Now, there is a next level of custom subwoofer enclosure beyond a square or slanted-back prism. You might have a significant amount of room inside a spare tire or behind a trim panel in the trunk that can be used for an enclosure. Once again, the choice of drivers for these applications depends on the available space. Just because you can physically fit a 12-inch subwoofer inside a spare tire enclosure doesn't mean that's the choice of driver that will produce the most low-frequency output or deliver the tightest bass. A single 10-inch subwoofer might play louder at lower frequencies. An 8-inch subwoofer in a vented design will likely be even louder. Once again, the shop you're working with should calculate the available volume and suggest a subwoofer based on that information.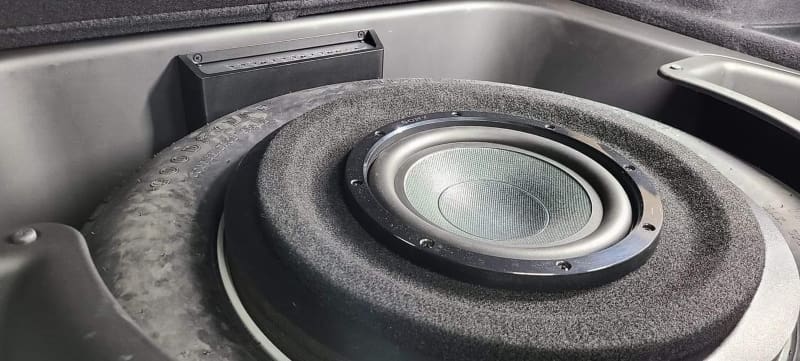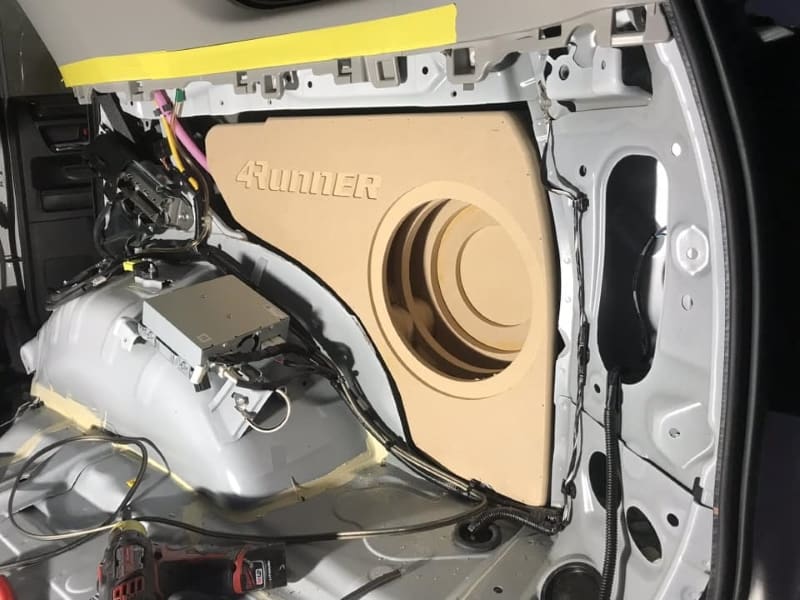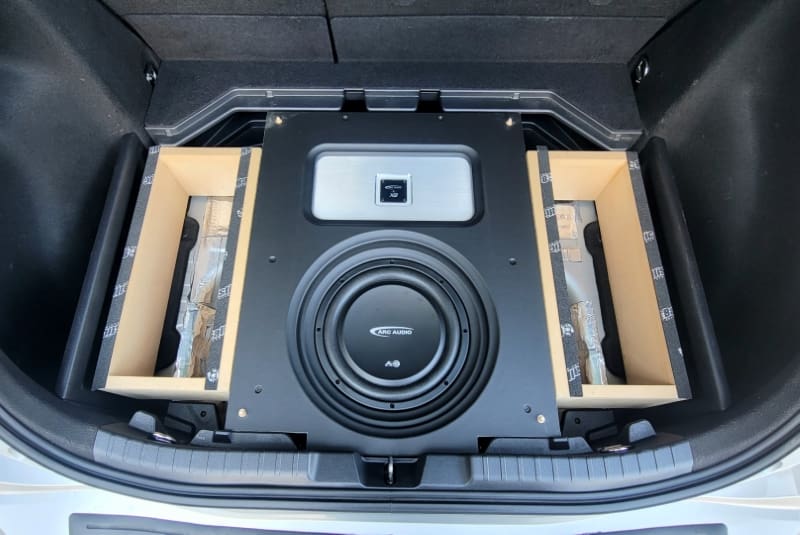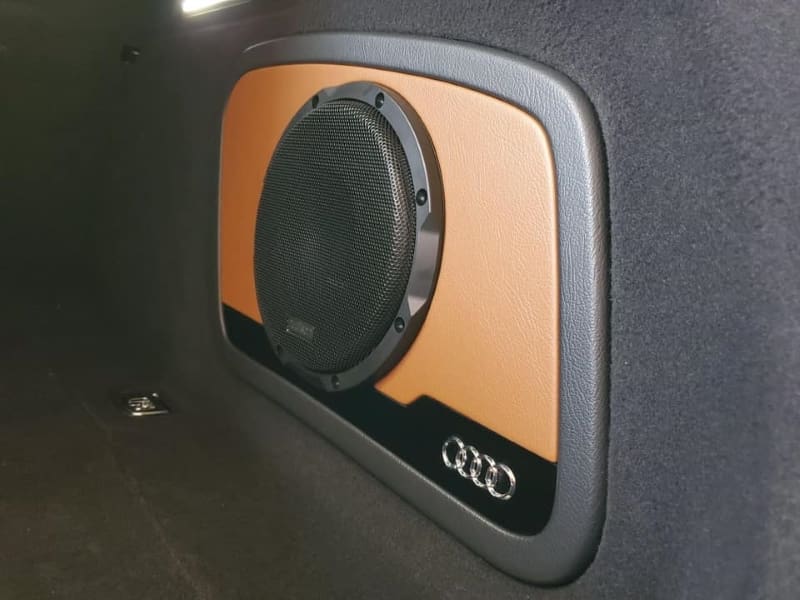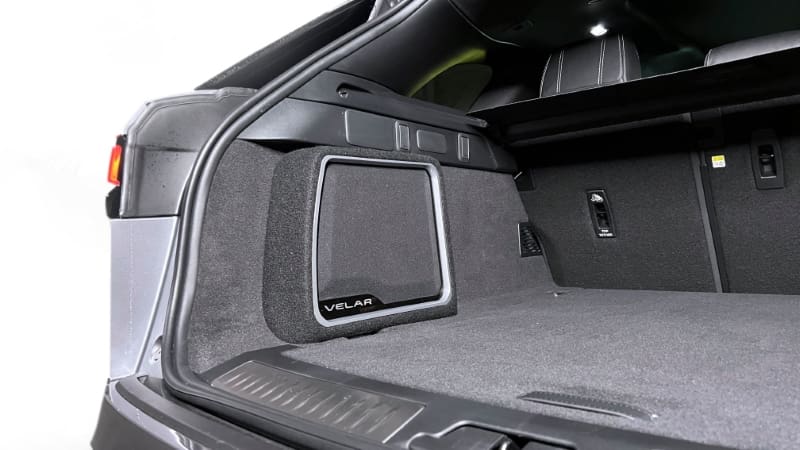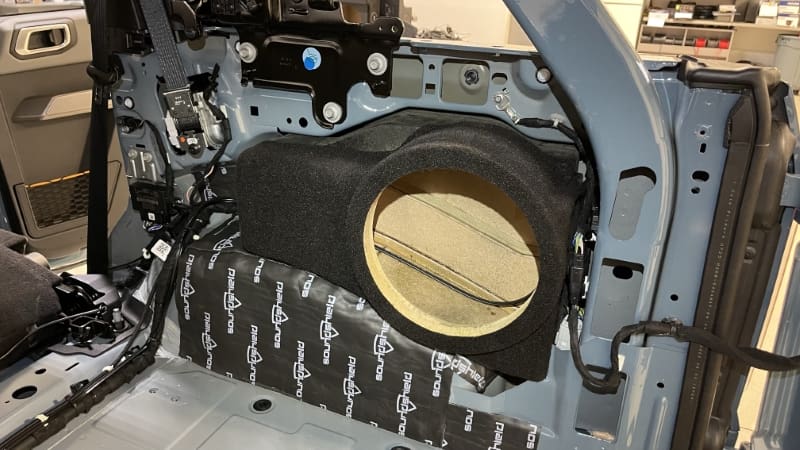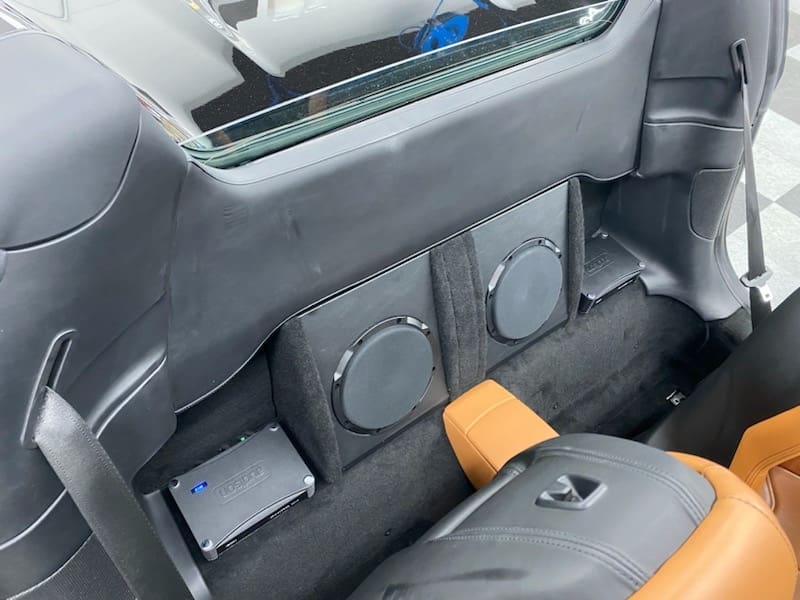 Vehicle-Specific Enclosures
Many companies offer off-the-shelf subwoofer enclosures designed for specific vehicles. These enclosures are typically optimized for a specific location in the vehicle and may use a combination of stack-fab or fiberglass construction. With the benefits of mass production, these custom enclosures can make adding an optimized bass solution more affordable than having a shop create a one-off solution. You'll still need an expert to run all the wiring and configure and calibrate the electronics.
Net Audio in Wichita Falls, Texas, offers this 2019+ Ram 1500 Crew Cab bass reflex subwoofer solution.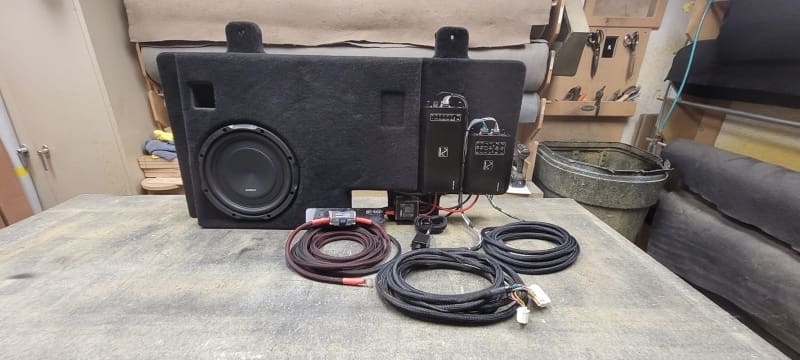 Musicar in Portland, Oregon, offers a variety of BMW OE-Look subwoofer upgrades, including this enclosure for F32/F83 coupes with a Morel 10-inch subwoofer.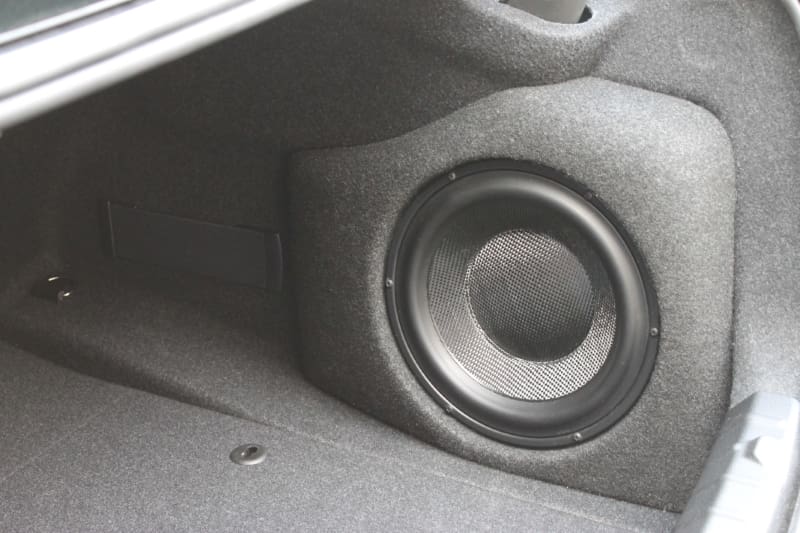 Audio Designs and Custom Graphics in Jacksonville, Florida, has a complete line of Phantom Fit enclosures, including this one for 2015-22 Mustangs.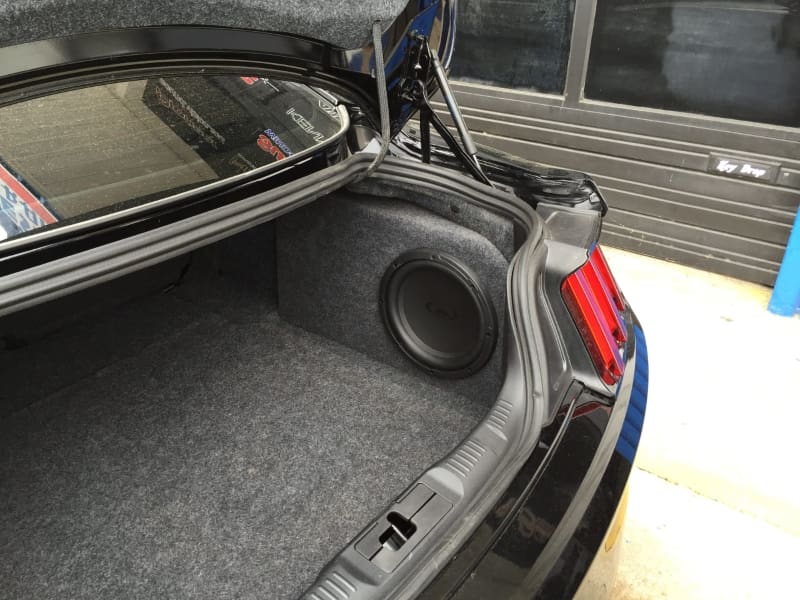 MTI Acoustics in College Station, Texas, offers application-specific subwoofer enclosures like this one for Jeep Gladiators.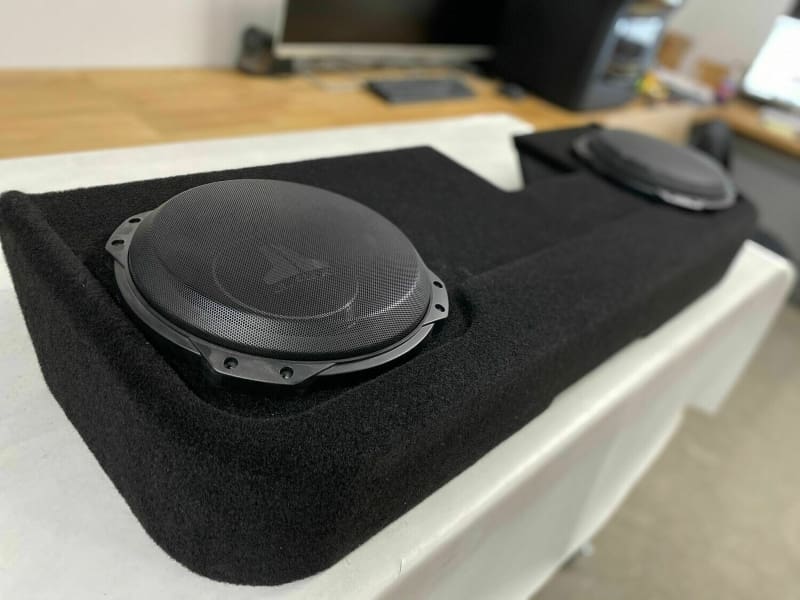 Upgrade Your Car Stereo with a Subwoofer System Today
As we've shown, there doesn't need to be anything fancy or exotic about a custom subwoofer enclosure. The enclosure needs to be constructed to be specific to your needs. You can certainly go for something flashy if you want. However, we prefer to stick with a simple, well-constructed enclosure and opt for a subwoofer that includes technologies that make it more accurate and linear. No matter your goal, drop by a local specialty mobile enhancement retailer today to find out what they can build to deliver great bass in your car, truck or SUV.
Lead-In Image: Thanks to Perzan Auto Radio in Upper Darby, Pennsylvania, for the photo of this enclosure they constructed for a client's 2023 Bentley Continental GT Azure. The enclosure features a pair of JL Audio 10W6v3 subwoofers and matching SGR-10W6v2/v3 grilles. The client can still access the space under the trunk floor without moving the enclosure.