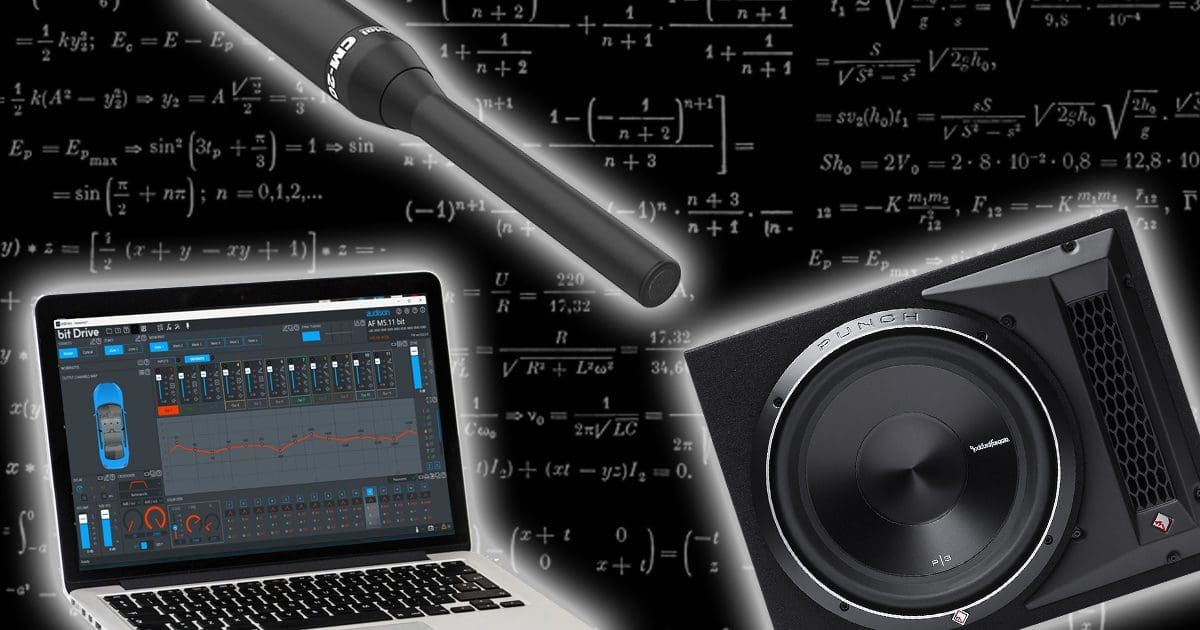 If there's a statement that makes experts in the car audio industry wince, it's someone saying, "Every vehicle is different and needs a unique design." Sure, you need to pick speakers that fit into the available locations, and some cars or trucks need more wire than others because of their size. Some clients may want a single 8-inch powered sub to add some warmth and impact, while others might want a pair of 12's and a 1,500-watt amp to rattle their fillings. With that said, the similarities in system design and calibration criteria far outweigh the differences. Let's look at some common misconceptions about audio system design and how they seem contradictory to the laws of physics.
Myth 1 – Some Vehicles Prefer Sealed or Vented Enclosures
Without any equalization in an audio system, the basic difference between a sealed (acoustic suspension) and a vented (bass reflex) subwoofer enclosure is its frequency response. When designed and constructed correctly, most vented enclosures offer about 6 dB more output around 35 to 40 hertz, than an equally well-designed sealed enclosure. If you were to have your installer construct a sealed enclosure and add 6 dB of boost around 38 hertz and 2 or 3 dB around 55 hertz with an equalizer, they'd have similar response curves, no matter what vehicle they are installed into.
Whether you have a sedan, hatchback, coupe, convertible, SUV or pickup truck has no bearing on what type of subwoofer enclosure design is best for your application. With that said, there are some limiting factors. If there isn't enough room to build a vented enclosure that will function properly, that's an unwise choice. We recommend choosing a smaller-diameter subwoofer to see if the bass-reflex design is still an option. A single high-quality 8-inch subwoofer in a vented enclosure will handily outperform a 10-inch driver in a sealed configuration.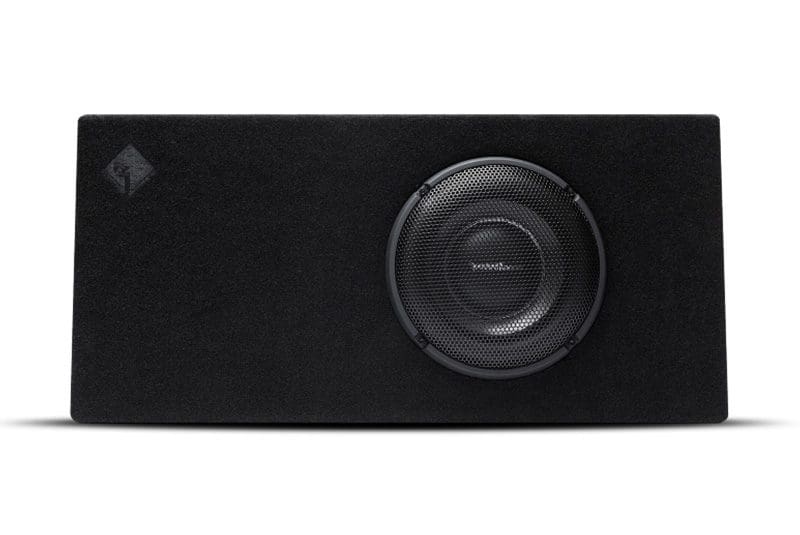 Myth 2 – Different Vehicles Need Different Speakers
We've heard it said that some cars need smaller speakers in the front because you sit closer to them. Our reply to that is yes and no. Speaker size affects three criteria: frequency response, efficiency and directivity. A larger speaker will typically produce more bass than a small speaker. For example, a high-quality 6.5-inch woofer can play down to 80 hertz at high volume levels, whereas a 4-inch driver may start to produce a lot of distortion if played at equivalent volume levels below 130 hertz.
All things being equal, a driver with a larger cone diameter will move more air for a given amount of excursion. This means they produce more output per watt of power sent to the speaker. Larger drivers are a good choice if you like to listen to your music at high volume levels.
Finally, larger speakers suffer from high-frequency directivity issues at lower frequencies than smaller drivers. Put another way, a 4-inch midrange driver may only start to become directional once the output exceeds 3,500 Hz, whereas a 6.5-inch driver may become directional at frequencies above 2,250 hertz. If you have a set of 8-inch woofers installed in the doors of your Porsche or Corvette and your installer has attempted to mate them with a small tweeter, the system will exhibit dramatic changes in frequency response depending on where you are sitting. Larger drivers don't radiate higher-frequency energy as evenly as small speakers, so you're likely to hear more midrange from the passenger-side speaker than the driver's side because you are at an extreme angle to the left-side speaker. You can read more about speaker directivity in this article. The cure for this is to use a three-way speaker set. You can learn more about their benefit here.
All the above characteristics are constants, regardless of the vehicle being upgraded. Your installer should choose speaker sizes based on a desire to cover the listening positions on both sides of the vehicle evenly while considering the available space in the doors, kick panels and dash – and your desired listening preferences in terms of volume.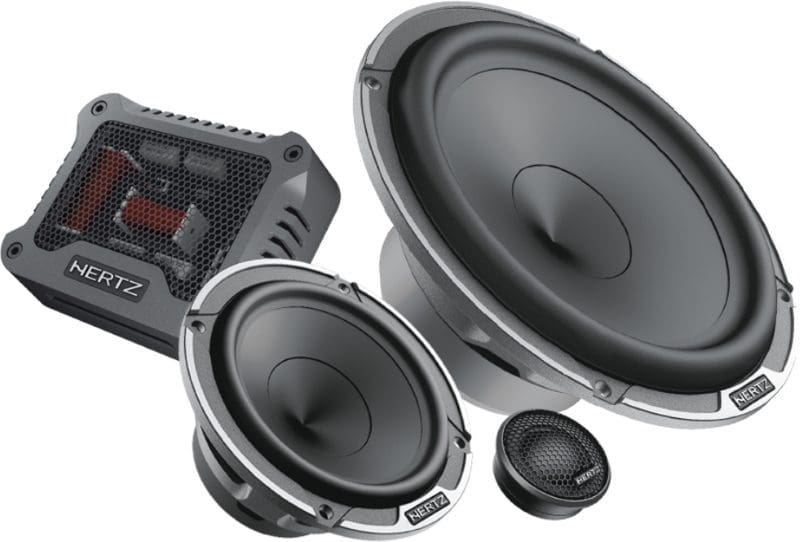 Myth 3 – Aiming Speakers is Crucial to High-End Sound
This myth is less vehicle-dependent and more specific to system design. The belief that speakers need to be "aimed" is a huge myth. When a speaker is put in a particular location, say in a pod on the A-pillar, the sound is reproduced in all directions below a frequency where the speaker becomes directional. This dispersion includes sound radiating rearward into the A-pillar, the windshield and the side window. The sound will bounce off these surfaces and recombine with the sound coming directly off the speaker cone. The result is changes in frequency response. Speaker placement does affect frequency response and, subsequently, clarity. However, tilting midrange speakers in a pod inward or upward only changes how you'll have to equalize the system. The same goes for midbass drivers in a door. Angling them up or rearward doesn't make them image better. It changes their frequency response. You just can't get away from the laws of physics.
The ideal speaker mounting method is to have the speakers as close to flush as possible with the area around the mounting surface. Midrange drivers or tweeters flush-mounted up high on a door, for example, have a very smooth response as there aren't many nearby surfaces that cause significant reflections. Speakers mounted in pods, however, are quite the opposite, and the system can suffer from comb-filtering problems that are difficult or impossible to resolve. You can read more about speaker pod issues here. We will add that tweeters should be within 15 to 20 degrees of being on-axis with the listening position if you hope to hear the highest frequencies.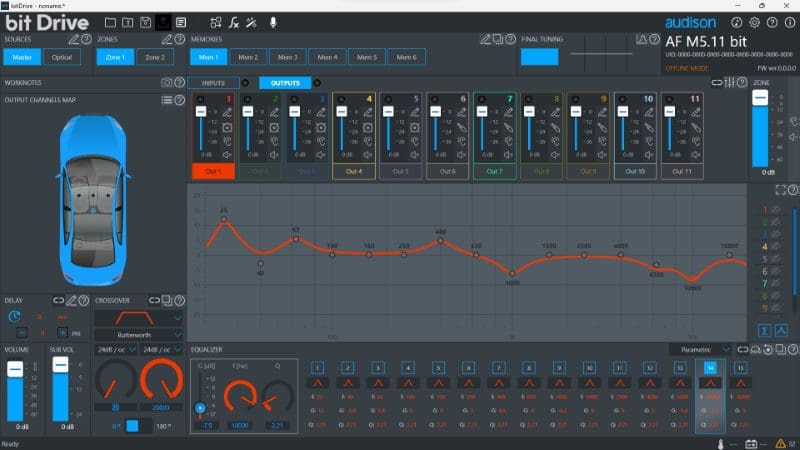 Myth 4 – System Tuning Strategies Depend on the Vehicle
The belief that system design and calibration strategies are vehicle-dependent is another silly myth. The goal of calibrating any audio system is to ensure that all the sound sources' time and phase response are aligned and that all channels are adjusted to hit a frequency response target curve. Different-sized vehicles will require different equalizations, but that doesn't change the concept or goal of matching the frequency response of the left and right channels. The same goes for delays – all the sound from the left channel sources should arrive at the listening position at the same time as those from the right. Suppose your installer has chosen a speaker mounting location that has a very high-amplitude first reflection. In that case, the system may need to be calibrated to that distance rather than to the location of the speaker.
Deeper inside the interior of your vehicle, the same laws of physic apply. Parallel surfaces (door-to-door and floor-to-roof) will create standing waves that have to be addressed with equalization. The frequencies may be different with larger or smaller vehicles, but the issues remain the same.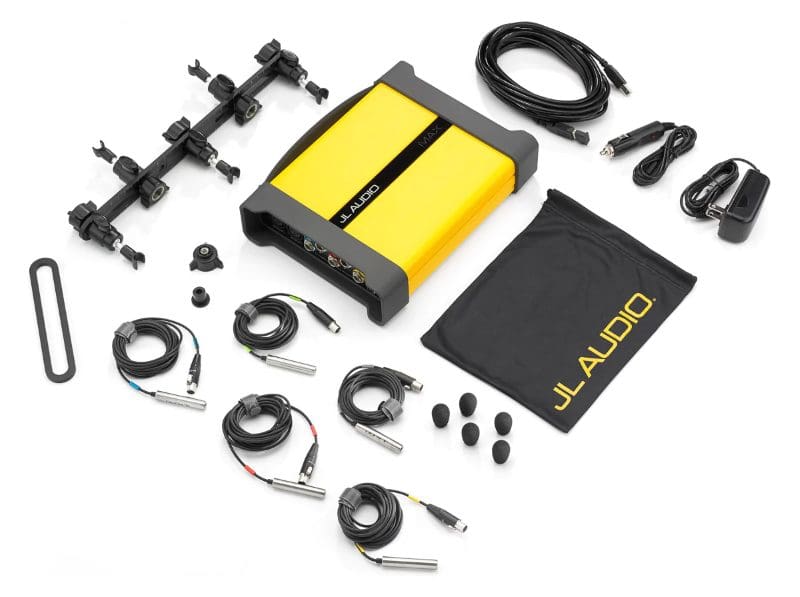 Myth 5 – Cabin Gain Means Subwoofer Enclosure Volumes Don't Matter
We've written several articles about the importance of subwoofer enclosure design. On several occasions, we've been told that the transfer function or "cabin gain" will more than compensate for an undersized enclosure and allow it to deliver impressive bass. Well, there's no denying that the small space in a vehicle does a great deal to boost a subwoofer's output such that even modest solutions sound reasonable. With that said, cramming a subwoofer into an undersized enclosure causes a whole slew of problems beyond just frequency response.
Let's stick to discussing sealed (acoustic suspension) subwoofer systems without adding the complexity of a vent and its operation. When a driver is installed in an enclosure, the compliance of the air inside adds to the suspension compliance to reduce how much the woofer cone moves for a given amount of power from the amp. In short, this means that you get less low-frequency output from a smaller enclosure. The bigger problem is that the small air volume acts like a tightly wound spring. When the music signal stops, that spring continues to oscillate. The result is the production of audio information that wasn't in the original recording. That's distortion. You can't tune it out with an EQ. It makes your bass sound sloppy and uncontrolled. Subwoofers must be installed in properly designed and constructed enclosures to sound good in your car stereo.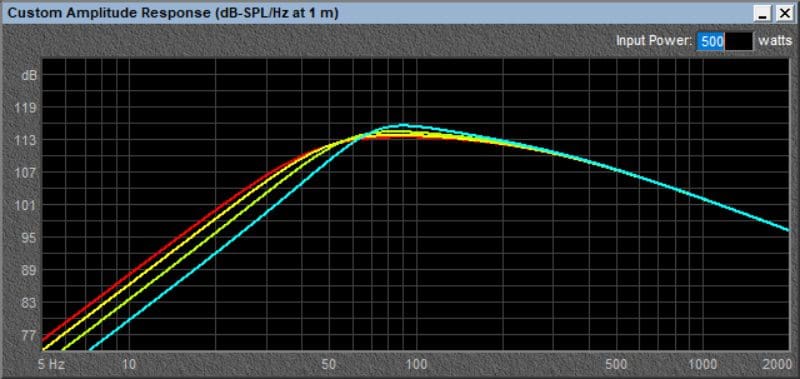 Car Audio Myths Typically Defy the Laws of Physics
Designing a high-end car audio system always follows the same basic criteria: Start by choosing excellent quality speakers, subwoofers, amplification, processing and a great source unit. Have the components integrated into the vehicle in locations that will deliver maximum performance with minimal detrimental effects from nearby surfaces. Finally, have the system configured and calibrated by an expert with the proper tools and training to deliver the staging, imaging and tonal balance you want.
The size and shape of the vehicle may impose physical constraints on speaker and subwoofer size and mounting location. Still, the overarching laws of physics don't change in terms of how the system will work or the steps to complete the configuration or calibration. If someone tells you that "every vehicle is different and they have to fiddle with it," you aren't working with a professional. Start your journey to genuine high-end sound in your car or truck by visiting a local specialty mobile enhancement retailer.