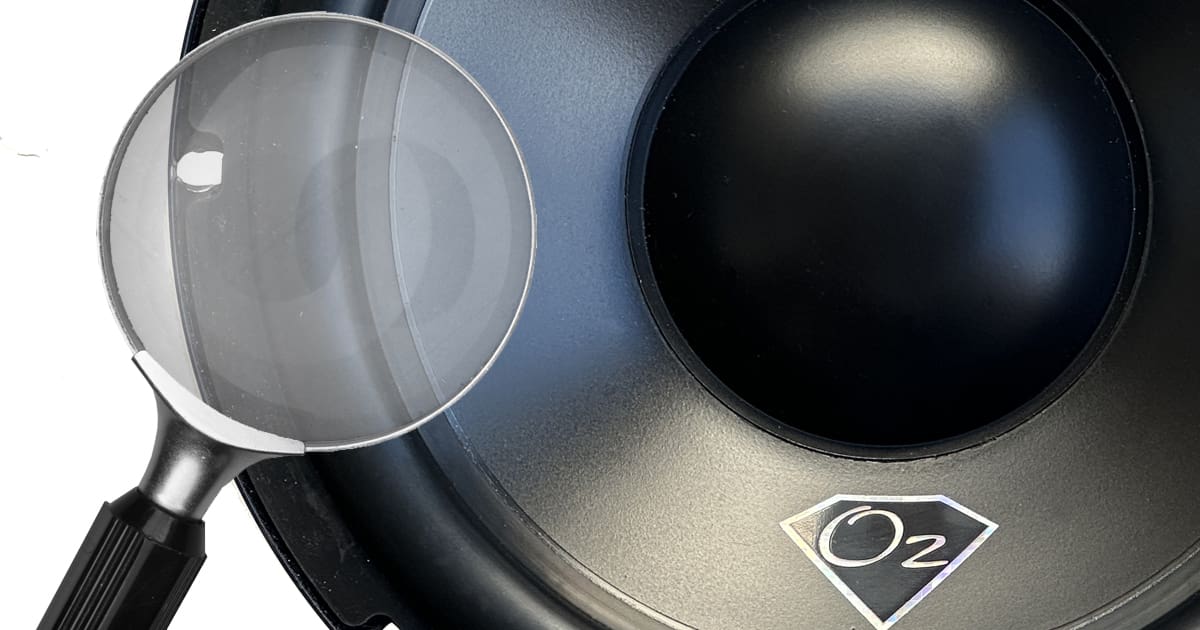 This fourth article in the BestCarAudio.com series on understanding subwoofer quality focuses on a classic infinite baffle 10-inch subwoofer from Oz Audio. As seems to happen frequently, there is yet again a unique back-story on this subwoofer. Let's dig in!
While in college, I worked part-time for an independent big-box home and car audio retailer, Base Electronics, until it closed around 1997. I started my career with Clarion Canada shortly after, and my friend and co-worker at Base Electronics, Marc, created a consulting firm that did car audio system theft investigations for insurance companies. The idea for that company came from Holly Mungal. If you were into car audio in the '80s and '90s, then Holly and his Toronto-based Canadian Auto Radio shop were well known. They had a Ferrari and a Grand National that they competed with. Holly moved to Florida after closing CAR.
Fast-forward a couple of years, and my dad and I started to work on designing and installing an upgraded audio system in his Chrysler Intrepid. Yes, I know it's a Dodge Intrepid in the U.S.; in Canada, it was a Chrysler. I wanted to build an infinite baffle subwoofer system with three drivers, but nobody made dual 6-ohm infinite baffle subwoofers. Marc mentioned that he was ordering some Oz Audio subs through Holly. I asked Marc to find out whether they could put a set of dual 6-ohm coils on their 250H infinite baffle drivers. I knew they did subwoofer assembly at their facility in Delray Beach. And there you have it. I have three OZ Audio 250H-D6 subwoofers – a product that Oz Audio never offered to anyone else. They had 250L-D6, their small-box subs, but never did the H-Series in dual 6. A few years later, I ran into someone from Oz Audio at CES and mentioned the 250H-D6 subwoofers. Apparently, they had built a fourth as a warranty replacement that floated around the office for years.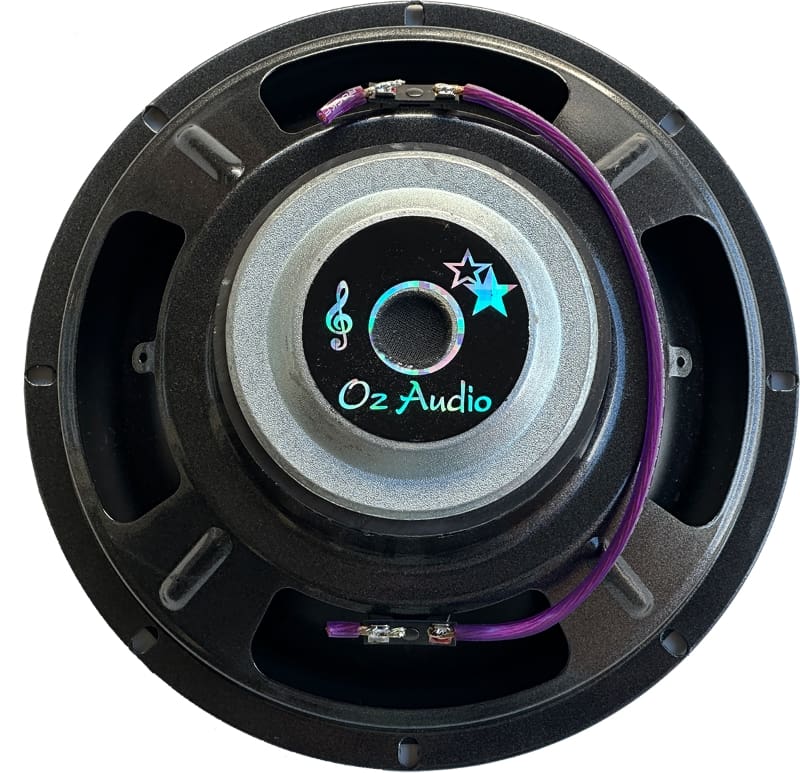 Oz Audio 250H-D6 Features and Design
Oz Audio fans call the drivers I have the Superman Series, a name that stems from the diamond sticker on the cone. The subwoofers feature a moderately thick stamped-steel basket with a metal-flake gray finish. It's my understanding that the "H" subwoofers, which are a high-Q infinite baffle design, have this "pretty" cosmetic element, while the "L" low-Q small-box subwoofers bear matte black.
The cone is injection molded from mica-damped polypropylene, according to what I can find on the internet. The drivers feature a very compliant rubber surround. The spider appears linear in design. A single magnet with a vented pole piece out back takes care of the fixed magnetic field. Electrical connections are simple spade terminals.
So why did I want three dual 6-ohm subwoofers? I wanted a 4-ohm load for the subwoofer amp. With dual 6-ohm voice coils, I could wire the coils on each driver to create a 12-ohm load. Wiring the three drivers in parallel creates a 4-ohm load. JL Audio also offered dual 6-ohm solutions around the same time.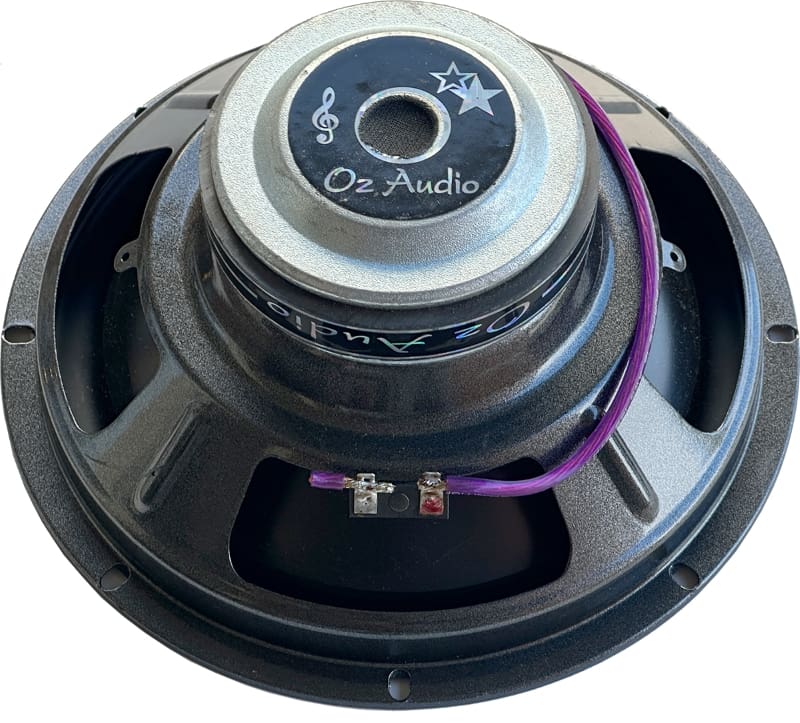 SSW1001 Thiele/Small Parameters
These three subwoofers were used for four years in the Intrepid and powered by a Phaze Audio TD1500 Tube Driver amplifier. As such, they never saw much power. Nevertheless, they're adequately broken in, so I can measure their Thiele/Small parameters immediately.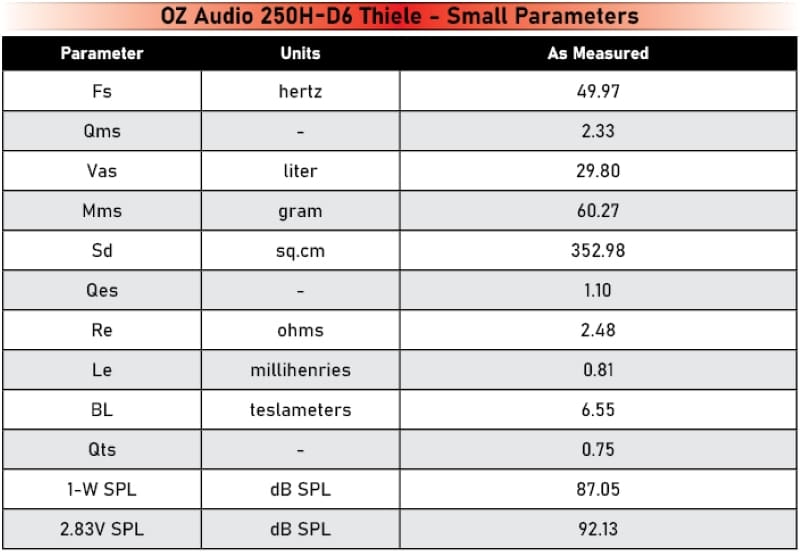 First, we can see that the Qts is high at 0.75. This high Qts is because these are infinite baffle subwoofers. They have a stiff spider to control cone motion without the added compliance of an enclosure. Consequently, the resonant frequency (Fs) is also high at 49.97 Hz. The cone area is also relatively large at 353 square centimeters, so the subwoofers have a reasonable efficiency at just over 87 dB SPL. An essential part of why these subwoofers sounded as good as they did would be the low inductance of the voice coil at 0.81 millihenry. That number should allow the drivers to produce good midbass, blending nicely with the midbass in a vehicle.
The impedance graph shows that everything appears smooth up to around 600 hertz, where there's a tiny dip in the phase graph. The impedance at 20 kHz is only 42 or so ohms. I've measured drivers that are well beyond 200. This low high-frequency impedance highlights the low-inductance voice coil design.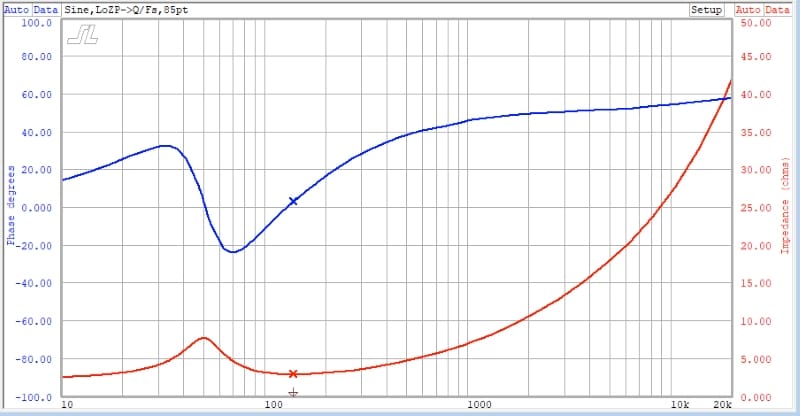 I loaded the as-measured Thiele/Small parameters into BassBox Pro for enclosure simulations. Interestingly, the suggested "High Output" acoustic suspension (sealed) enclosure suggestion is 0.527 cubic foot. That's tiny, and produces a system Q (Qtc) of 1.09 and an F3 frequency of 66.88 Hz. That wouldn't sound very good. The "High Fidelity" enclosure suggestion is more like what I expected, with a volume of 3.76 cubic feet, a Qtc of 0.746 and an F3 of 54 Hz. That sounds like an infinite baffle subwoofer suggestion if I've ever heard one. My test enclosures are just over 2 cubic feet, but the software predicts a performance similar to the infinite baffle design.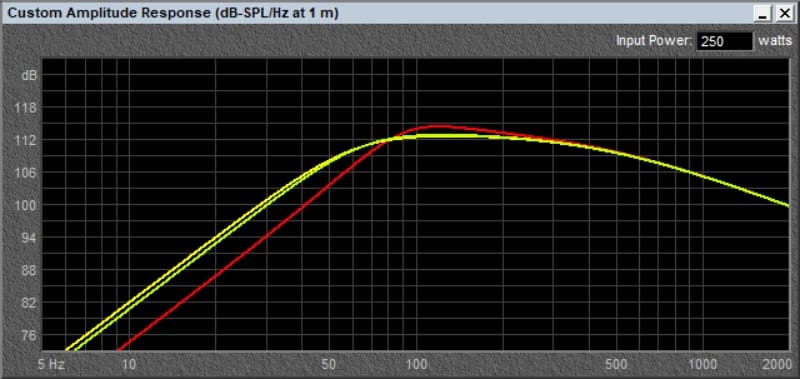 The chart above shows the predicted frequency response of the small 0.527-cubic-foot enclosure in red and that of the suggested 3.76-cubic-foot enclosure in yellow. My test enclosure's predicted frequency response is shown in green and should be very similar to the proposed larger volume design.
Oz Audio 250H-D6 Frequency Response and Distortion Analysis
With the measurements done, I installed the Oz Audio 250H-D6 in my test enclosure with the nominally 6-ohm voice coils wired in parallel. When comparing these charts with other response graphs from the Power Pro, Orion and Clarion subwoofers, this configuration will throw things off. All of those have been nominally 8 ohms. Now we're at 2.5 ohms DC. Why did I choose this? The alternative was to wire the coils in series, which would be over 10 ohms. I wasn't sure my amplifier could produce enough power at that impedance. I don't want to change amplifiers, since that might affect the results. We'll see what happens.
As mentioned in the other articles, I have the microphone close to the enclosure at 12.5 cm from the mounting surface. This location helps to eliminate room reflections and resonances from the measurement. To correlate the SPL readings to 1-meter measurements, you'd subtract 18 dB. For the sake of math, if you want to compare the output of this Oz Audio subwoofer at similar power levels to the other graphs, subtract 5.05 dB.
To kick off the testing, I fed the driver a voltage equivalent to 0.1 watt into a 4-ohm load. That's like 0.16 watt into this 2.5- to 3-ohm load. As expected, the subwoofer is ruler-flat from 60 to 180 Hz. Low-mass designs are well known for their midbass capabilities. Yes, I know most people set their low-pass crossovers at 80 Hz. If the acoustic response of the sub isn't flat for at least an octave above that crossover point, the net response won't match the electrical response. This smooth upper bass response is likely why these subwoofers were popular.
The distortion response shows a seemingly unhealthy amount of second-order distortion from 60 Hz and down at this low drive level. If you're flipping back to some of the other charts, look carefully at the acoustic output level. Distortion correlates to cone movement and not just power alone. For example, we're seeing mid-90-dB output levels above 60 Hz. The Clarion SSW1001 subwoofer needed almost 10 times as much power to produce that output. Nevertheless, the Oz Audio subwoofer produces more than 1% THD at 50 and 60 Hz, over 2% at 40 Hz and over 4% at 30 Hz.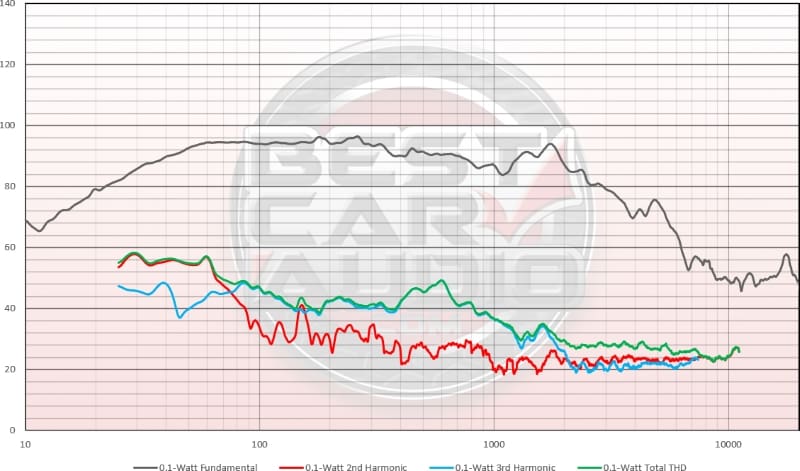 Moving up by 5 dB, we have the 0.316-watt equivalent measurement. Second-order distortion is higher, with measurements exceeding 1, 2, 3 and 4% at 60-, 50-, 40- and 30-Hz frequencies, respectively. The frequency response remains ruler-flat.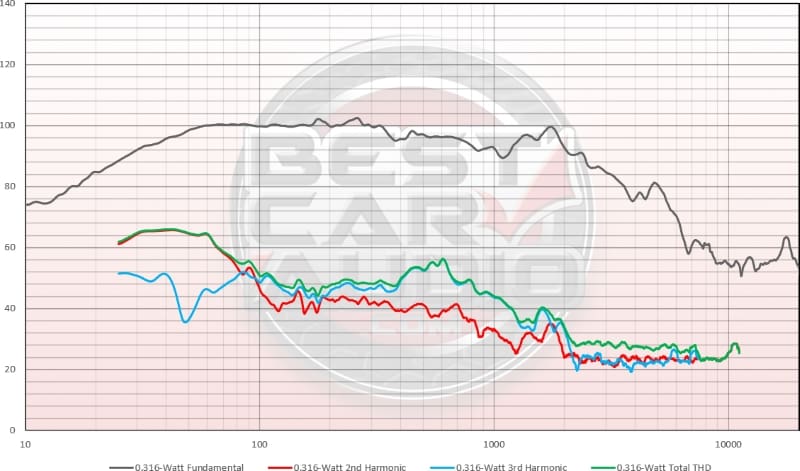 Our 1-watt equivalent drive level tells the same story. The subwoofer is still providing smooth frequency response, and we see an increase in distortion to 2, 3, 4 and 5% at the same 60-, 50-, 40- and 30-hertz frequencies. Distortion at 80 Hz is up to 0.75%.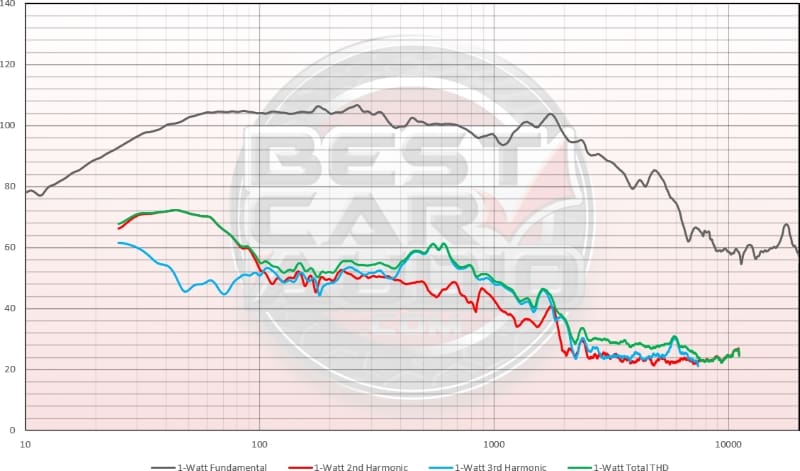 Things start to change a bit at 3.16 watts. The third-order harmonic distortion has increased and is becoming an equally contributing factor below 40 Hz. It's likely that either the suspension or motor force is becoming non-linear at these excursion levels. Distortion is at 1, 2.4, 3, 3.6 and almost 5% at 80, 60, 50, 40 and 30 Hz, respectively. It's still under 0.5% at 100, 110 and 120 hertz.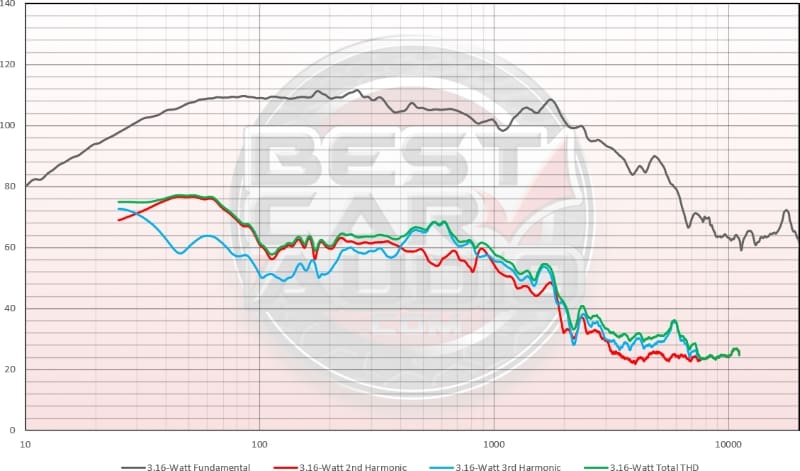 Moving to 10 watts introduces an odd phenomenon in the distortion measurement. We see a big dip at 44 Hz in the third-order distortion. This dip could be authentic or have something to do with the measurement process. I'm leaning toward it being real as it worsens in the 20-watt measurement. I'll experiment with the mic placement to see what happens. At 30 Hz, harmonic distortion is now at 8.23%, meaning we have unwanted 60- and 120-Hz information at a level only about 22 dB below the fundamental frequencies. This amount of distortion would be audible.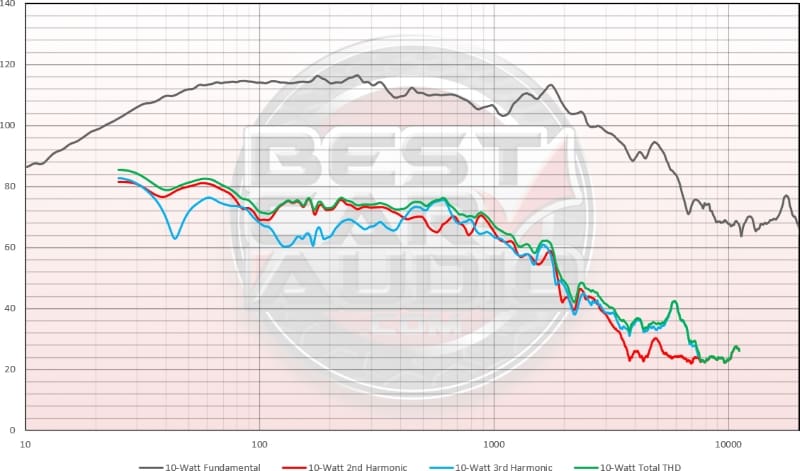 At 20 watts, the overall frequency response is still smooth. Distortion at 30 Hz is at 12%. Some say that 10% is the limit for audibility in subwoofer distortion. I'm not sure I agree. Nevertheless, the Oz Audio subwoofer will sound like it's working pretty hard at this drive level and frequency. By comparison, the Clarion SSW1001 was still under 10% at this output level (not drive level). Not a world better, but better.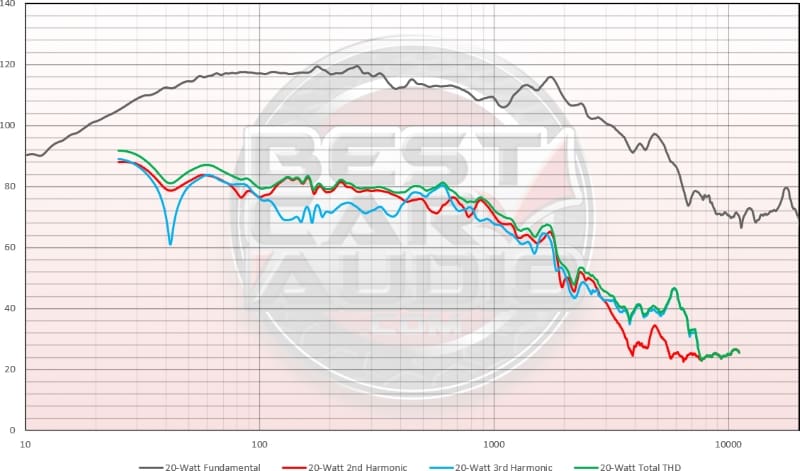 At 40 watts, not much changes. Distortion increases more across the board. We see 5% THD at 60 Hz, meaning the 100- and 200-Hz harmonics would be about 26 dB below the fundamental. The 30-Hz harmonics are at 17.4%.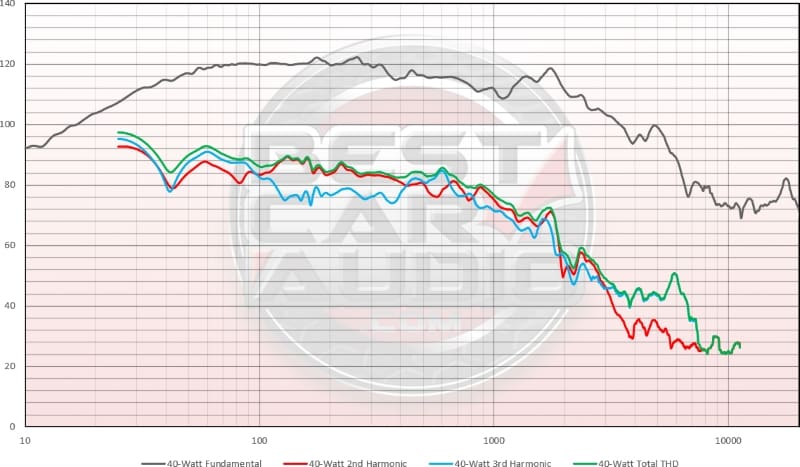 At 80 watts, we've lost what would be perceived as our midbass clarity. You can see that the green total harmonic distortion trace no longer dips downward steeply at frequencies above 60 Hz. Harmonic distortion is above 3% everywhere below 120 Hz and is at 7% and 40 Hz and an ugly 28.5% at 30 Hz. This drive level is more power than the subwoofer wants at that low frequency.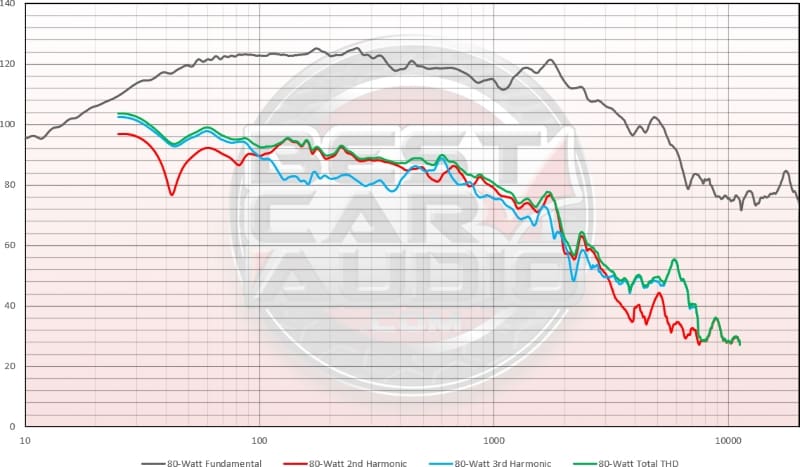 Finally, we have a measurement at 160 watts. Third-order harmonic distortion is above 10% at 60 Hz and down. Distortion at 30 Hz is 50% and 40% at 40. The subwoofer would see a real-world power level of about 213 watts into this nominally 3-ohm load.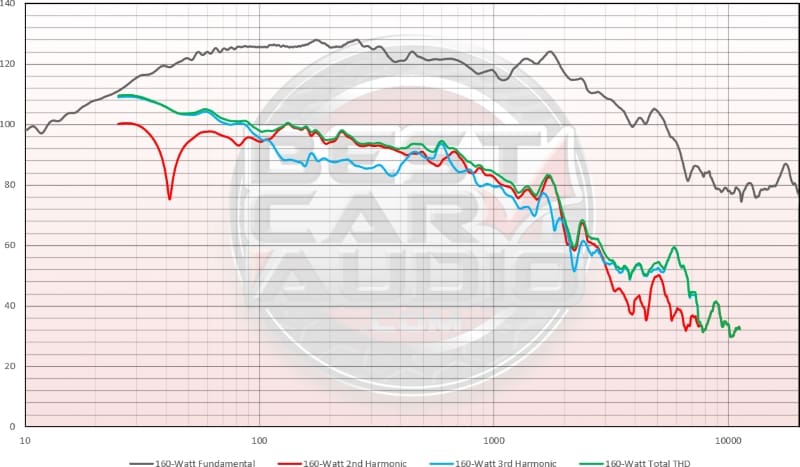 Some additional research reveals that these subwoofers had a 180-watt power rating. Given how they behaved at our 80- and 160-watt equivalent drive levels, that number makes complete sense from an excursion-based performance limit. They also had an Xmax specification of only 10 mm. According to BassBox Pro, 200 watts produces 9.96 mm of cone excursion at 20 Hz. We also know that most Xmax values are simple math, based on the height of the voice coil winding and the thickness of the top plate. Those numbers don't take into account suspension non-linearities.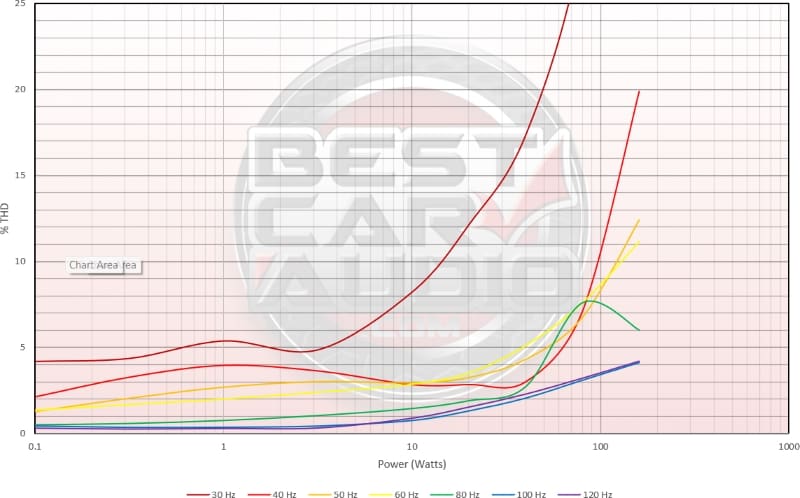 Conclusions on the Oz 250H-D6 Infinite Baffle Subwoofer
Based on my measurements, this Oz Audio 250H-D6 would be an excellent subwoofer solution for a low-power system. I don't think a single driver would be enough to make things "fun." However, all three drivers in the back of my dad's Intrepid delivered just the right amount of bass for his listening needs.
The low inductance characteristics of the voice coil are likely based on it being diminutive in size rather than showing the inclusion of inductance-reducing technologies like a shorting ring or copper T-yoke cap. The smooth midbass performance is also likely attributable to the low moving mass (Mms) of 60 grams. The Clarion SSW1001 subwoofer had a moving mass of over 200 grams.
As of yet, I don't have a plan for the next subwoofer to test. I want to find something that includes at least a shorting ring. We'll see what I can find over the next few weeks.