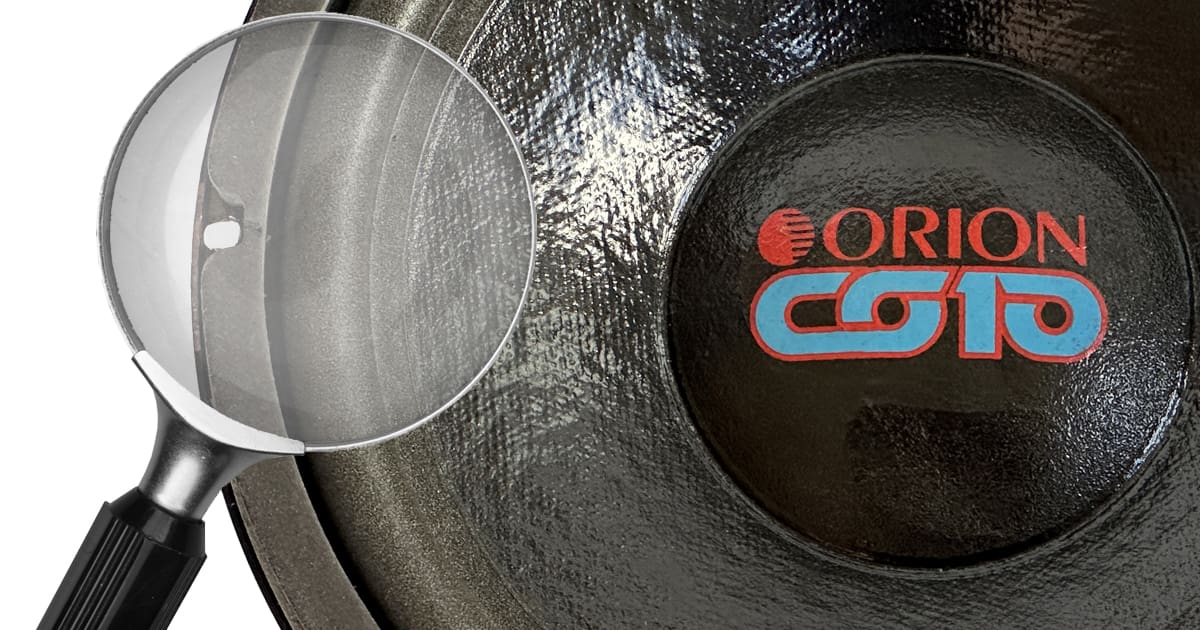 We're back again with the next subwoofer in our series about understanding subwoofer quality. That pawn shop woofer from the last article was a great starting point for evaluating woofer quality. The bass heads who think 6.5-inch PA speakers can play down to 80 Hz could learn a lot from it and the Understanding Speaker Quality article on the Skar FSX65-4 midrange. We are going to move to a true subwoofer with this article and look at an inexpensive subwoofer from Orion that's been in our lab for several decades.
Orion Cobalt Car Audio Subwoofer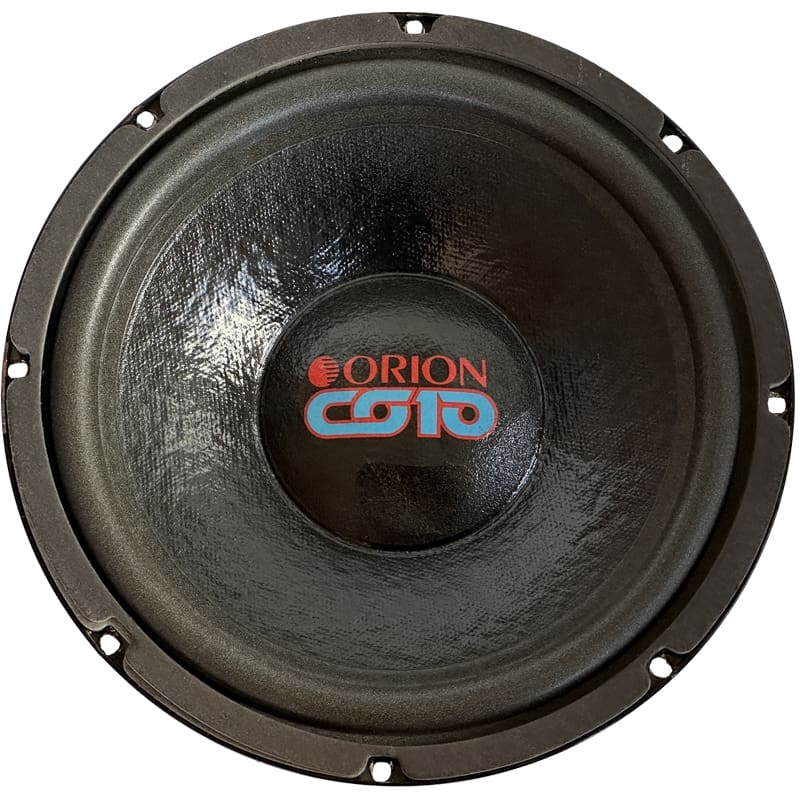 In the late '80s, Rockford Fosgate and Orion were two of the top brands in the car audio industry. I wouldn't go so far as to say they were bitter rivals, but they often took a shot or two at each other when it came to marketing. I remember an Orion ad with the tagline, "At Orion, we have punch for lunch." Fast-forward several decades, and the tables have turned for the Orion brand.
Orion called their flagship subwoofer line XTR, which is short for Xtreme. If I recall correctly, they had 8-, 10-, 12- and 15-inch woofers in single and dual voice coil designs. Around the end of that decade, they introduced an upgraded series of XTR drivers with ferrofluid in the voice coil gap. I understood they took the previous XTR models and rebranded them under the Cobalt name as an entry-level subwoofer line.
I purchased this 10-inch Orion Cobalt subwoofer while studying electronics in college. My final assignment was to construct a home audio subwoofer system with an amplifier.
Orion rated the subwoofer as capable of handling 400 watts of power. This unit has dual voice coils with a nominal impedance of 4 ohms each. The driver is based on a moderately heavy-gauge stamped-steel basket with four windows. Each of the four spokes has small embossing to add strength.
The subwoofer uses a single ceramic magnet with a bumped backplate and a vented pole piece. Quarter-inch quick-connect terminals on fiberboard strips handle electrical connections.
The moving assembly features a treated pressed-paper cone with a conventional dome paper dust cap. The cone surround is made from foam. As it's been out of the sun for almost all its life, it's still in fine shape. If anyone has additional information about this old sub, please share it and I'll happily provide an update.
Speaker Thiele/Small Parameters
Because this driver has already provided decades of service, I don't have the opportunity to measure new, out-of-the-box Thiele/Small parameters. Nevertheless, we'll test this affordable driver as is, using the added-mass compliance calculation method.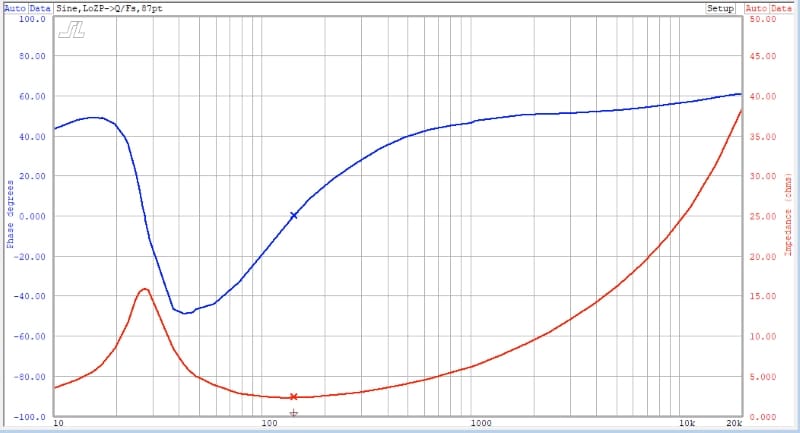 I compared my measurements to the "Orion CO 10 DVC" information in the BassBox database. The numbers are quite different. I measured an FS of 27 Hz, VAS at a very soft 90.7 liters and a Qts of 0.334. The database information offered 37 Hz, 36 liters and a Qts of 0.55. Those specs could be for a different driver, or the suspension on this sample may have relaxed significantly over the decades.
Ultimately, what we have on our hands is a low-Fs driver with a very compliant suspension and a low Qts, which is suitable for producing low-frequency bass from small enclosures without much resonance. I like that the efficiency came in at 88.9 dB @ 1W/1M. Also, the inductance is quite low, so we should see a relatively flat midbass performance. Good midbass is something many modern subwoofers can't produce since they use large, high-inductance voice coil designs. If you like your bass guitar or drums to have good attack, then a subwoofer making good midbass that blends smoothly with the front speakers is crucial. Much of this perception of midbass speed is based purely on smooth frequency response through that region.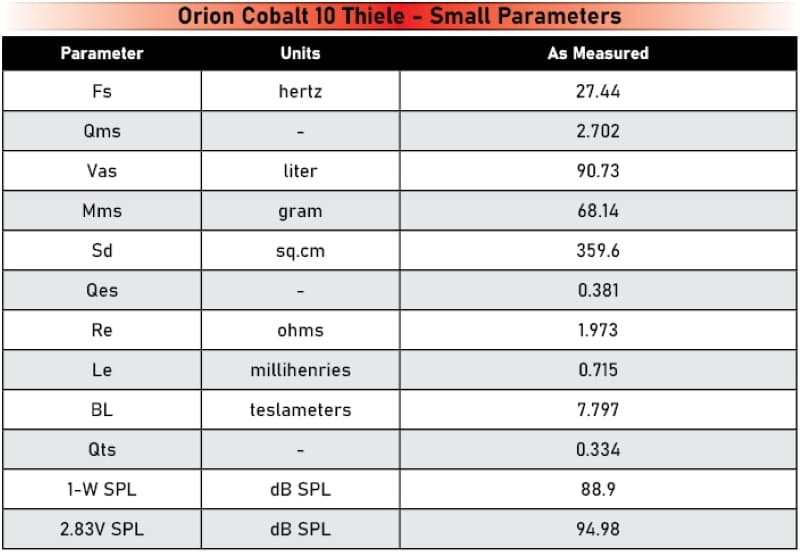 Simulating the Cobalt 10 in BassBox Pro suggests a sealed enclosure with a net internal volume of 0.704 cubic foot. That enclosure has an F3 of 64.7 hertz and a Qtc that's perfect at 0.707. The suggested high-output box shrinks to 0.54 cubic foot with an F3 of 66.9 hertz and a Qtc of 0.781. There isn't a massive difference between the suggestions, but we'd take the larger design with the lower Qtc value to improve sound quality.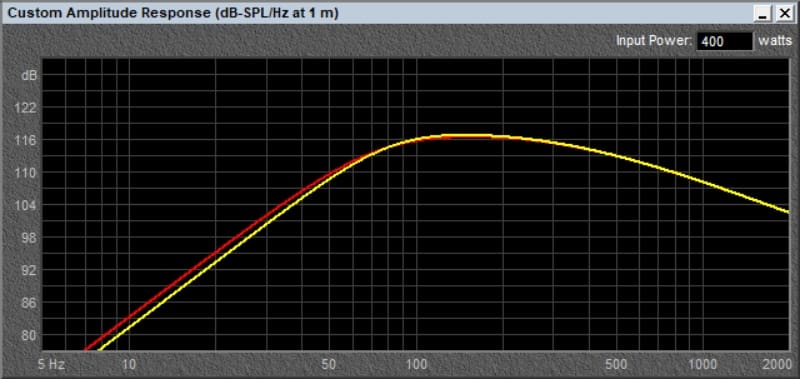 Given the compliance specifications, our test enclosure shouldn't affect the driver during the acoustic tests.
Orion Cobalt 10 Acoustic and Distortion Measurements
We noticed the forward-facing layered-paper gasket on the woofer was starting to come apart. A little white glue and some clamps quickly took care of that issue. The dust cap had been damaged at some point in the driver's life. I don't specifically recall the event. I pushed some of the dents out using a bent piece of welding rod pushed up through the vented pole piece. It's not perfect, but it's pretty good.
The last woofer was an 8-ohm driver and skewed our measurements toward providing the driver with less power than stated in each graph. To make the data comparable, we'll wire the voice coils in series for the acoustic measurement to make sure we aren't adding distortion from the amp that could skew the data. This impedance also makes the drive levels the same as the previous article.
Once again, we'll start with a voltage equivalent to 0.1 watt at 4 ohms (0.05 watt into this driver), then increase by 5 dB until 10 watts. After the 10-watt level, we'll increase by 3 dB as distortion will increase much faster with the power increase.
Another reminder: The acoustic measurements are taken with the microphone at 12.5 cm from the woofer cone. If you want to calculate the 1-meter output level, subtract 18 dB from the scale on the left of the graph. If you want to compensate for the driver's impedance of 8 ohms, add 3 dB.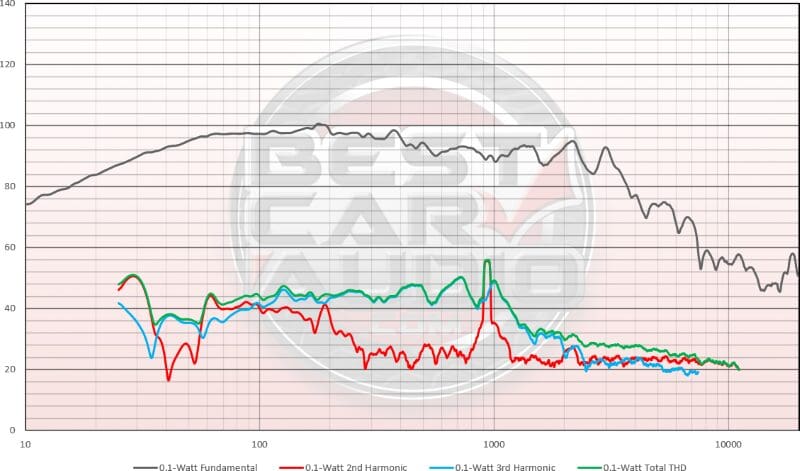 As expected, the low-inductance design results in the driver playing out to 1 kHz within a range of 10 dB. A bit of a bump around 190 Hz appears in the second-order harmonic distortion measurement. You wouldn't want this driver in the front of your car or truck as a dedicated midbass solution. However, it should blend just fine with your front speakers. Another spike in distortion around 900 Hz correlates to a ripple in the impedance response graph around the same frequency.
When it comes to bass, the sub is ruler flat from 65 to 110 Hz and rolls off smoothly below that range. Keep in mind that this large enclosure is effectively an infinite baffle installation. We'll pick up some efficiency and bandwidth at the expense of excursion control at higher power levels.
In terms of distortion, we see primarily second-order harmonics between 0.11 and 0.25%, except at 30 Hz, where we are already over 1%. That's not great, but it wouldn't sound terrible since most people perceive second-order harmonics as pleasing compared with third-order. That harmonic content also adds to the perceived efficiency of this driver. When I had it in my car for testing, many people thought it was a 12-inch sub.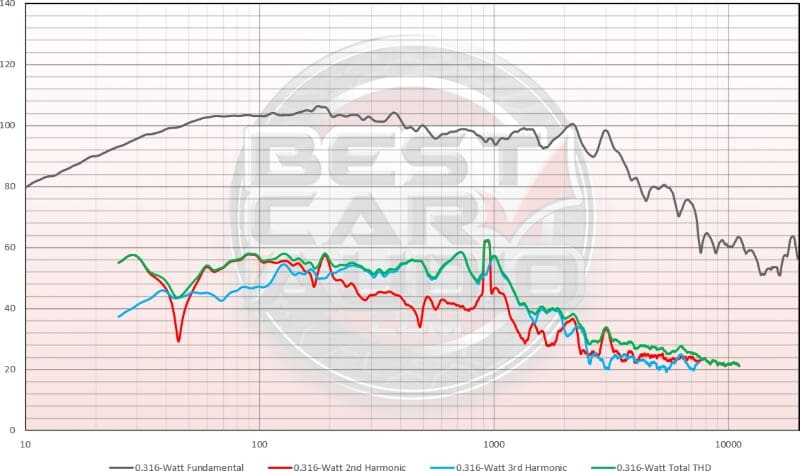 Increasing the power to an equivalent 4-ohm drive level of 0.316 watt did not affect frequency response. Distortion numbers are now in the 0.2 to 0.5% range, and 30 Hz is up at 1.2%. The driver likely has some nonlinearities in compliance to produce this much distortion and such low levels.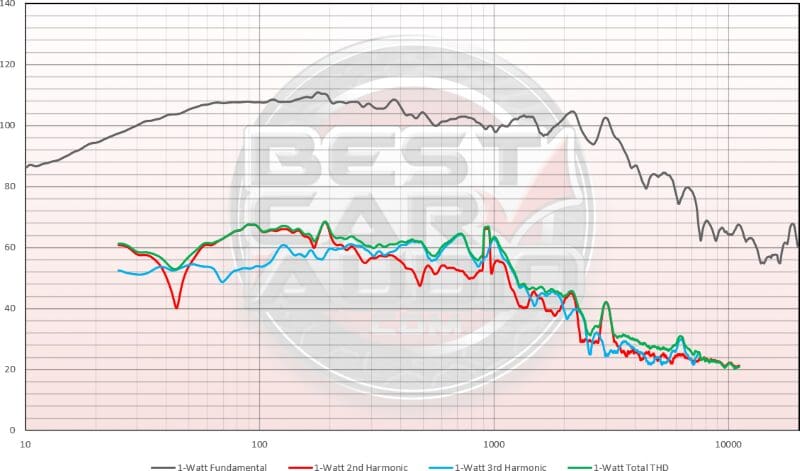 I increased the output voltage again to our 1-watt equivalent. The frequency response is still smooth, but distortion is between 0.4 and 0.9%. Nothing exciting is happening.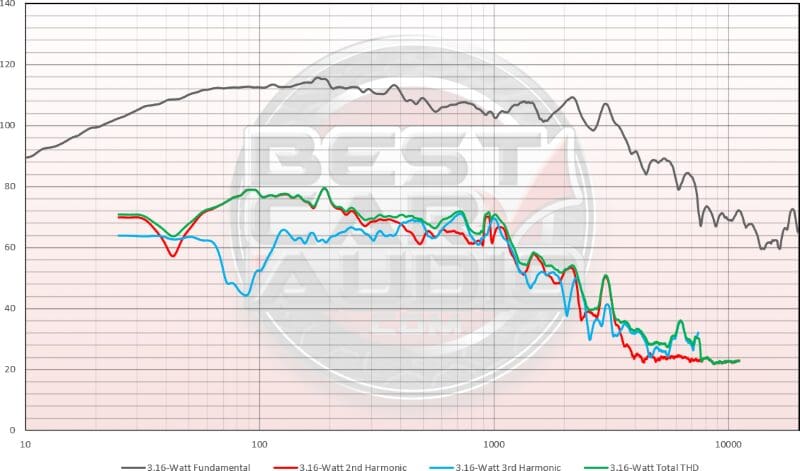 Interestingly, at a 4-ohm equivalent 3.16-watt drive level, we see a sudden drop in third-order distortion in the upper bass frequencies. Second-order distortion is still louder, with THD levels between 0.8 and almost 2%. This information highlights that speakers are truly dynamic creations that can behave very differently at different frequencies and excursion levels. It's also a reminder of how ideal it would be to have manufacturer-supplied distortion information.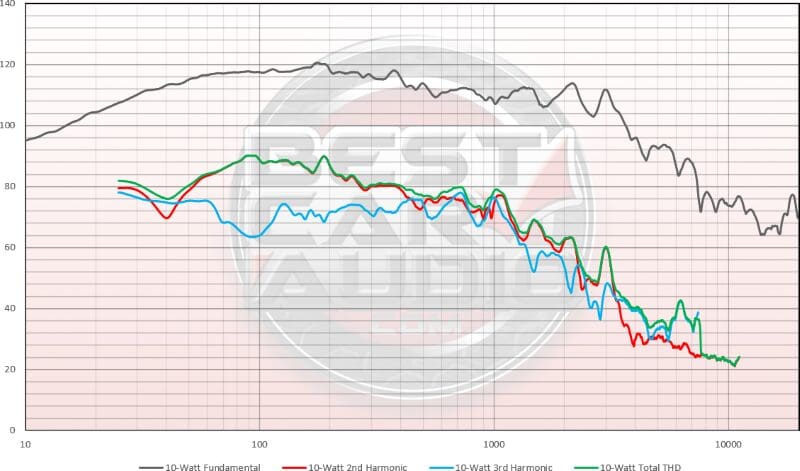 At a drive level of 10 watts into 4 ohms, frequency response remains the same. Distortion is between 1.4 and 3.7%. In layperson's terms, the harmonic content is at an amplitude that's only 30 to 40 dB below the fundamental frequencies the sub is playing. This unwanted harmonic information would be pretty audible, adding significant unwanted midbass information to what the subwoofer produces below 100 Hz.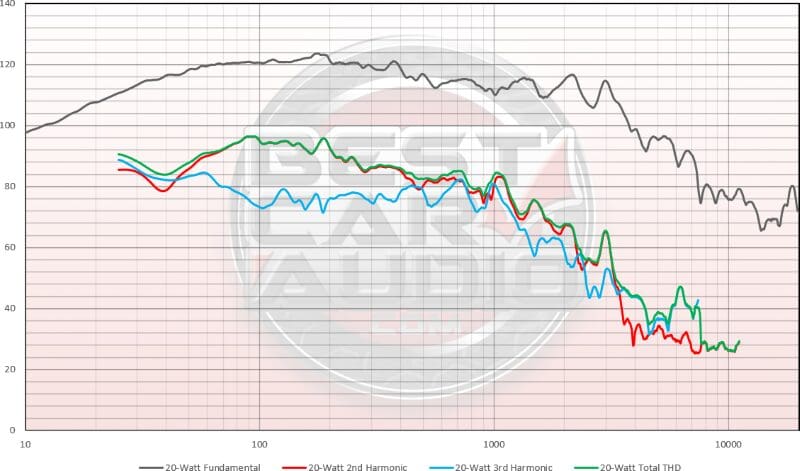 At our 20-watt equivalent drive level, distortion is in the -30 to -25 dB range. Small ripples are starting to show in the frequency response because of this. The driver sounds quite strained when the sweep is played, especially below 30 Hz. Not having a small enclosure to limit cone excursion quickly becomes an issue. Remember, this wasn't a high-end solution – it's an inexpensive subwoofer designed to perform acceptably at a target price point.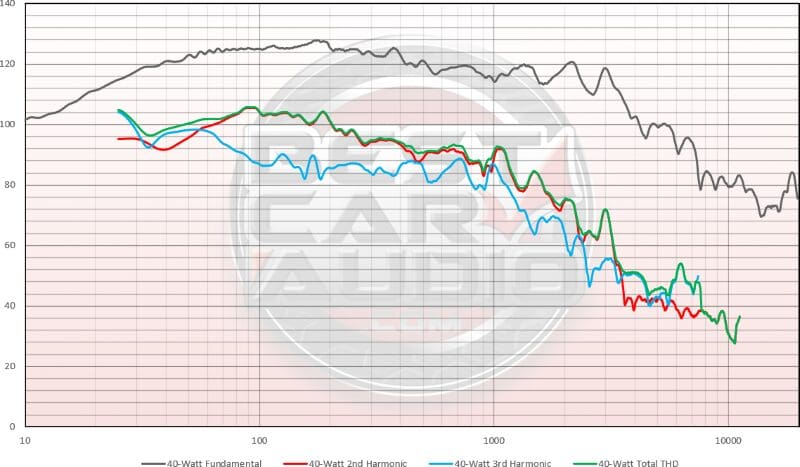 At the 40-watt equivalent drive level, which is only 20 watts into this subwoofer, we can see even more ripples in the frequency response as a result of harmonics. Distortion ranges from 7 to 13%, or -22 to -17 dB below the fundamental frequency. To put this into perspective, this drive level is similar to what a radio can produce into a 4-ohm load. We are at the upper limits of what the sub can do in terms of excursion.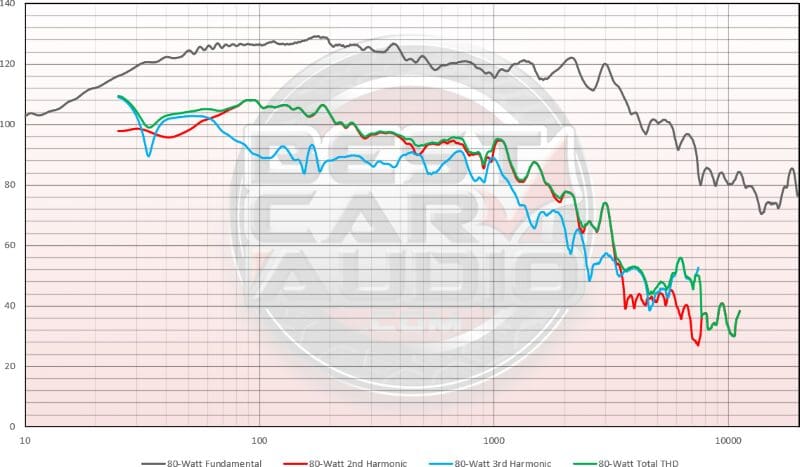 Driving the subwoofer with 40 watts (equivalent to 80 watts into a 4-ohm load), it's now bottoming out below 30 Hz during the sweep. We're at 10% distortion across the board, putting harmonics only 20 dB below the fundamentals. The little ripples in the frequency response are quite clear now.
The last sweep I made was at 80 watts (160 watts into a 4-ohm load). The little Orion Cobalt 10 subwoofer is now good and mad at low frequencies. At 30 Hz, distortion is at 50%, putting a third-order harmonic (at 90 Hz) at a mere 6 dB below the fundamental level. Everywhere else, we are at 12 to 20% distortion.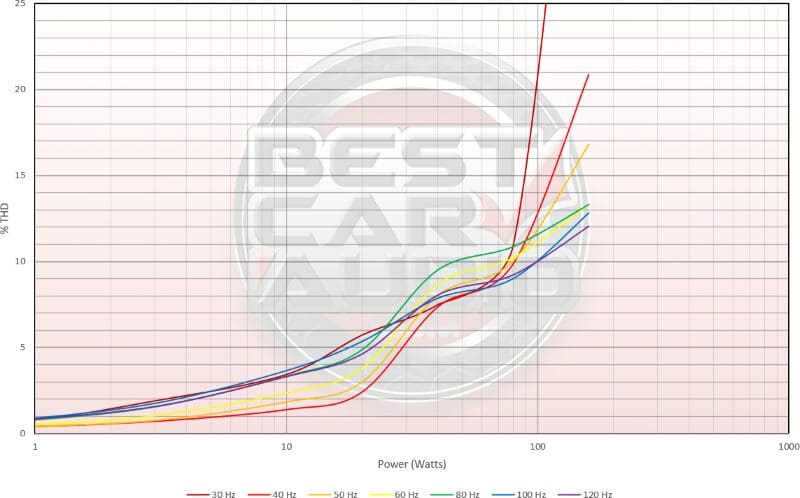 Our summary distortion graph tells the tale quite clearly: Without an enclosure to control cone excursion below 50 Hz, this sub can only handle about 40 watts of power (shown as 80 watts on the chart). When it comes to sound quality, this subwoofer isn't very good at any frequency or power level. Ideally, we'd want things to be under 1% up to some reasonable output levels. By 5 watts (shown as 10 watts), this Cobalt sub is almost at 4%. And at all frequencies, things go farther south at 10 watts (shown as 20 watts on the chart).
This Cobalt 10 subwoofer performed fine in the lab since I don't use the audio system on my main computer for critical listening. It's relegated chiefly to beeps from the operating system and audio from Cleetus McFarland's YouTube videos. That audio from the primary computer system and the test bench computer feeds an ARC Audio PS8-50 eight-channel DSP amplifier. Both systems use the same sub but with separate bookshelf speakers. Much of the distortion from the subwoofer is masked by it being buried deep in the back corner of the lab behind shelving and storage bins. Of course, any sub is better than no sub at all. With that said, I don't think I'll be putting this back into service, though. Seeing its performance, I will be listening for its issues. I have lots of subwoofers that should perform better.
Conclusions on the Old Orion Cobalt 10 Inexpensive Subwoofer
This inexpensive subwoofer has proven to be an ideal example of why analyzing distortion performance is crucial. It's also a reminder that frequency response measurements and enclosure simulations don't do anything to tell you how accurate the subwoofer is. Everything might look great on paper, but this sub doesn't hold a candle to modern designs with distortion-reducing features. Yes, the subwoofer may be worn out. If so, even with gentle use, this questions the logic of using "old school" products in general. Nevertheless, it's been a fun experiment. Next, we'll look at another older subwoofer with more significant power handling and excursion capabilities.