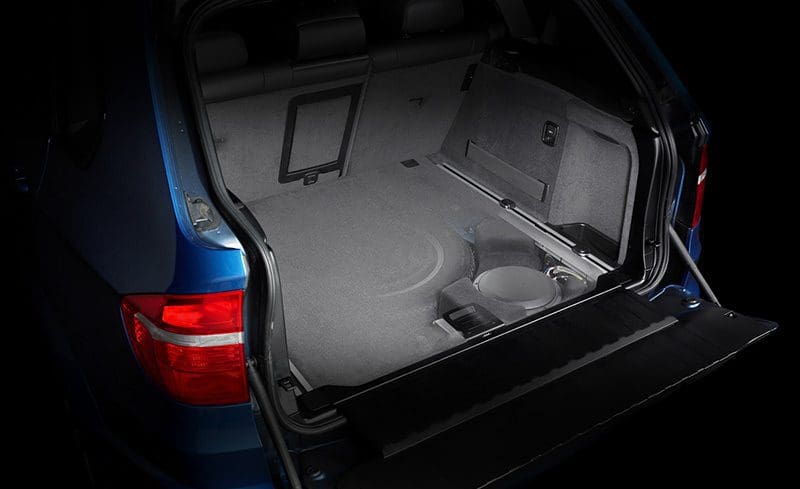 Did you know that in Europe, there aren't nearly the number of qualified car audio installers that there are here in North America? In some countries, shops that primarily sell wheels and tires are the most popular choice for purchasing and installing audio system upgrades. Manufacturers that want to provide consumers with premium sound system upgrades have turned to developing vehicle-specific audio upgrades that don't require any fabrication skills to install. In this article, we'll look at what makes these a great solution to upgrade your audio system quickly and easily.
What Makes an Application Vehicle-Specific?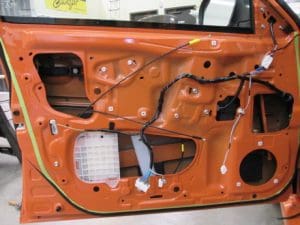 Let's look at speakers for the discussion of what makes something vehicle-specific. If your pickup truck comes from the factory with a 6×9-inch speaker in the door, there are hundreds of options available that will bolt right in. On the other hand, if you have a vehicle like a Subaru WRX, where the factory speaker includes a large semi-triangular mounting bracket with three holes, your local car audio installation technician will need to create a mounting adapter to install a new 6.5-inch woofer or coaxial speaker in the door.
Vehicle-specific audio upgrades typically involve two items: the inclusion of application-specific speaker mounting brackets and electrical connectors designed to work with the wiring already in the vehicle. In short, no fabrication is required to install these products, and the installation doesn't require any modification to any part of the vehicle.
Vehicle-Specific Subwoofer Upgrades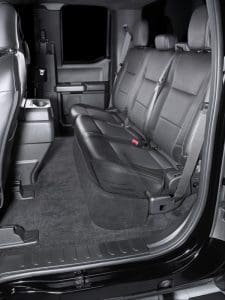 When you say the word subwoofer to someone, they often envision someone driving down the street with a wall of woofers, shaking windows and being otherwise annoying. The reality is, adding a subwoofer to even a premium car audio system is one of the best upgrades you can do.
Recreating music below 80 Hz takes a lot more power and speaker excursion than higher frequencies require. Letting a sub and a dedicated amp take care of the bottom few octaves not only adds bass that was likely missing, but alleviates the need for the smaller speakers and low-power amplifiers to try and produce that sound. The result? Every aspect of your audio system will sound clearer and more detailed.
Companies like JL Audio, Atrend, Bassworx, MTX, Audio Enhancers, Alpine and many more have subwoofer enclosures designed for specific cars and, more importantly, pickup trucks. These enclosures fit into the trunk, spare tire area or corner of a car trunk. For pickup trucks and SUVs, solutions exist for under rear seats, behind seats, in center consoles and to replace inadequate factory subwoofers in the back of SUVs.
Add an Amplifier with a Digital Signal Processor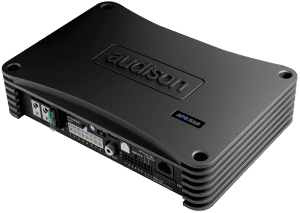 Another way to upgrade BMW and Mini (they use the same speaker and subwoofer sizes) audio systems is to add an amp with an integrated digital signal processor. The extra power will let you turn up the volume without distortion. More importantly, the DSP in the amp can, in the hands of a skilled technician, dramatically improve the tonal balance of your audio system. Installing an amp before upgrading the speakers is a great way to build your system in stages and ease the impact on your wallet.
Are These Do-It-Yourself Kits?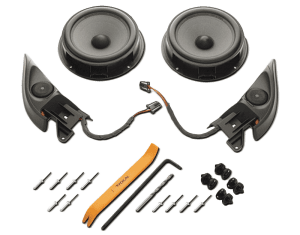 The answer for the majority of our readers is no. Sure, the speakers bolt into the factory locations and the subwoofer systems may include instructions on how to install them. If you are a handy do-it-yourself kind of person and have experience taking the interior of a vehicle apart, you may be able to complete the install.
If you don't know the tricks or don't have the tools to remove the door and trim panels, or you don't know how to test the frequency content of the factory radio or source unit in your vehicle, then having a trained technician perform the installation is a wise investment.
If the upgrade includes an amplifier for a sub, the speakers or the entire system, setting the crossover and sensitivity controls accurately takes some experience. Sure, almost anyone can experiment with these settings, but a qualified tech can set them in about 15 to 30 minutes, depending on the number of amplification channels involved.
Finally, if you have (wisely) chosen to add a digital signal processor to your sound system, you need specialized equipment and training to optimize its features. The process varies a great deal depending on the configuration of the factory sound system. If you don't have the right training, the results can be unimpressive.
Upgrade Your Factory Stereo System Today
Even without touching the radio in your new car, your local specialist mobile electronics retailer can dramatically improve every aspect of your sound system. Combining their skill with premium vehicle-specific products can transform your daily commute into a relaxing or invigorating musical experience.