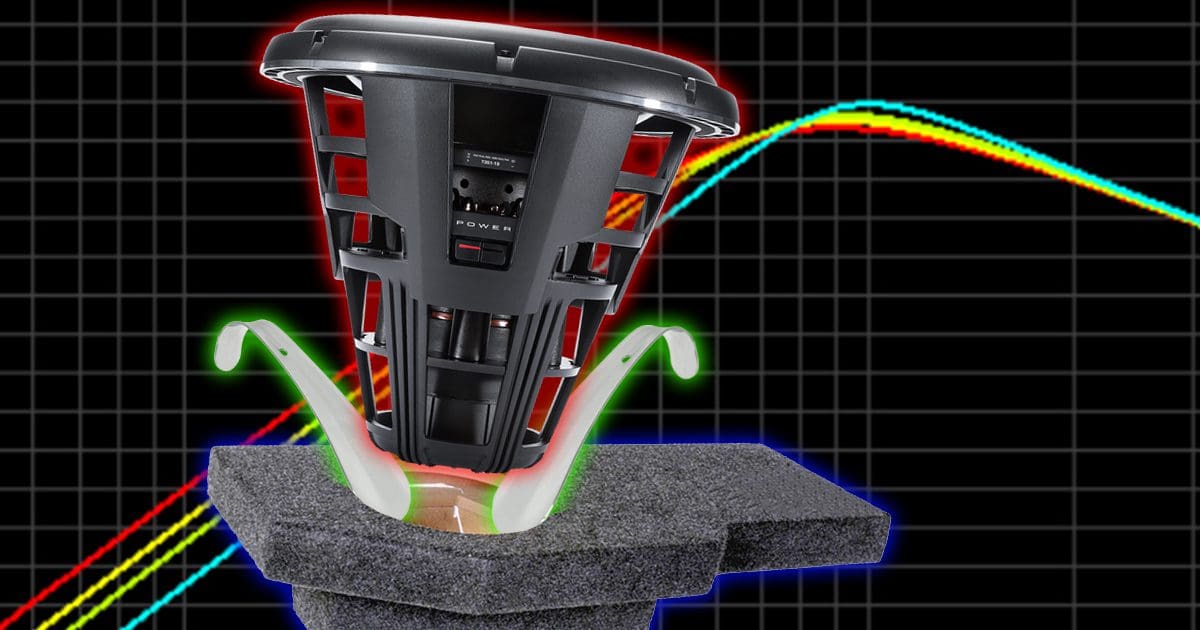 If there's a single marketing statement that makes my eye twitch, it's one that claims a specific subwoofer will "work" in a small enclosure. Contrary to many marketing claims, enclosure volume is directly proportional to low-frequency extension and sound quality. Let's look at the math and how these tiny enclosures ruin the performance of your subwoofer.
The Backstory on Enclosure Volumes and Subwoofer Size
Many years ago, I flew to Edmonton, Alberta, for a distributor trade show. A friend graciously picked a few of us up in his pickup truck at the airport. As we drove toward the venue, I asked if he'd blown the subwoofer in the system. It didn't produce any deep bass and sounded sloppy. He said that it was brand-new. I asked what subwoofer it was and what enclosure it was in. He told me it was a very popular name-brand sub (yes, I'm concealing the brand) and that it was in a 0.25-cubic-foot sealed enclosure. I thanked him again for picking us up.
The Relationship between Subwoofer Size and Enclosure Volume
For this article's purposes, we will focus this discussion on acoustic suspension (sealed) enclosures. From 2-inch midrange drivers to 19-inch monster SPL subwoofers, the relationship between the cone area, suspension compliance (softness) and the volume of air in an enclosure is critical in determining how low the speaker will play. The correlation is so constant that many companies have tweeters that behave differently based on the air volume behind the diaphragm.
As a generalization, we can say that a larger enclosure will produce more low-frequency output.  Since the goal of adding a subwoofer is to improve low-frequency extension, limiting this characteristic by putting a large subwoofer in a small enclosure is counterproductive.
Considering how it will sound is an even more important factor in designing a high-performance subwoofer system. We can analyze the calculated Qtc value of a subwoofer system (driver and enclosure) to see how well the cone motion is damped. Many car audio enthusiasts fail to consider this part of an enclosure simulation. This oversight results in subwoofer systems that sound terrible and perform poorly – like the one in my friend's pickup truck.
We get the following qualifications if we look at the description of different speaker Qtc values from Vance Dickason's Loudspeaker Design Cookbook.

Do you want the subwoofer to stop immediately after the drive signal is removed (Qtc = 0.5), or would you like a bit more upper bass output at the expense of slightly degraded transient performance ( Qtc = 0.707)? Perhaps you want a great deal of output at higher frequencies while sacrificing low-frequency output and cone control (Qtc > 1.0)? While there are simple algebraic formulae to calculate these values based on a chosen subwoofer's Thiele/Small parameters and the volume of the enclosure, we'll use our tried and tested BassBox Pro software to generate the volume, F3 or Qtc for our sample subwoofer.
Let's Model Some Subwoofer Enclosures
We'll start with a typical high-performance 10-inch subwoofer. This driver has a free-air resonant frequency (Fs) of 29 hertz, an equivalent suspension compliance (Vas) of 35.4 liters and a Qts value of 0.501.
While I like extremely well-damped bass, most car audio enthusiasts want a bit of boom and warmth, so let's start with a target Qtc of 0.707 for our subwoofer system.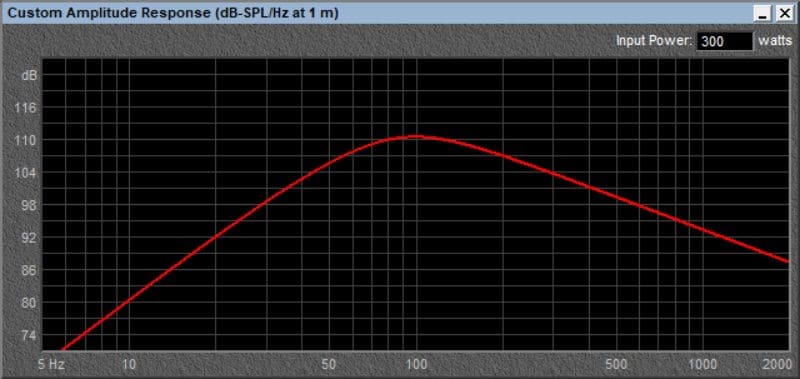 For the above enclosure simulation, the software tells us the subwoofer needs to have a net air volume of 0.833 cubic feet. The resulting F3 frequency will be 45.95 Hz. This is typical of a reasonably sized sealed enclosure for a 10-inch car audio subwoofer.
The manufacturer recommends an enclosure with a net internal volume of 0.53 cubic foot. Let's see what modeling the driver in this enclosure tells us.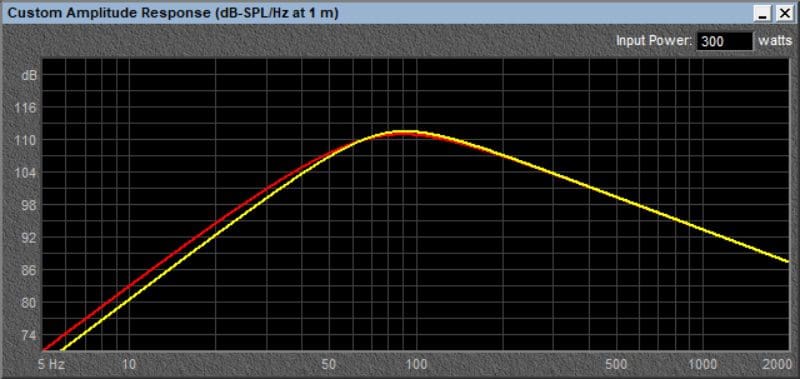 The 0.53-cubic-foot enclosure results in a system Qtc of 0.806 and an F3 frequency of 48.86. To put the latter value into perspective, the system output at 30 Hz has been reduced by 1.7 dB. Quite simply, the smaller enclosure isn't as efficient at low frequencies. This is still a very reasonable enclosure design and will provide good output and reasonable physical power handling for the driver.
Let's switch to looking at specific enclosure volumes. What happens if we cram this sub into a 0.4-cubic-foot enclosure, as is common with many pickup truck under-seat solutions?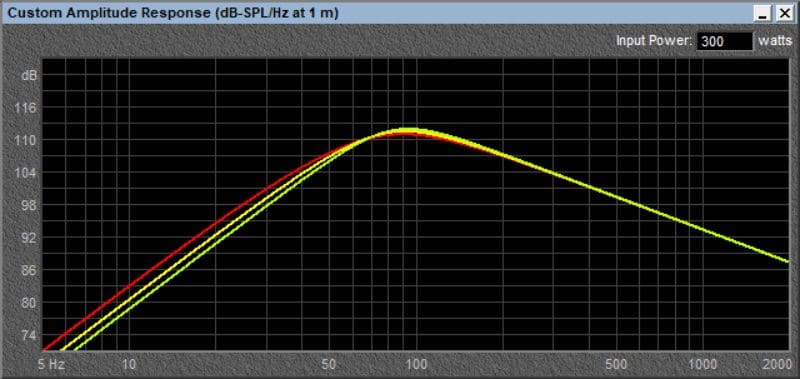 We now have a system Qtc value of 0.881 and an F3 frequency of 51.64 hertz. Bass output at 30 hertz is now down 3.2 dB from our original 0.833-cubic-foot enclosure. In real-world terms, we need twice as much for the sub to play as loudly as the same driver in a larger enclosure. More power means that your amplifier has to draw more current from the vehicle's electrical system.
If you're pondering the benefit of multiple subwoofers in a small enclosure vs. a single driver in an ideal enclosure, you're starting to get the picture.
Let's finish this by looking at what happens when our 10-inch sub is crammed into a 0.25-cubic-foot enclosure.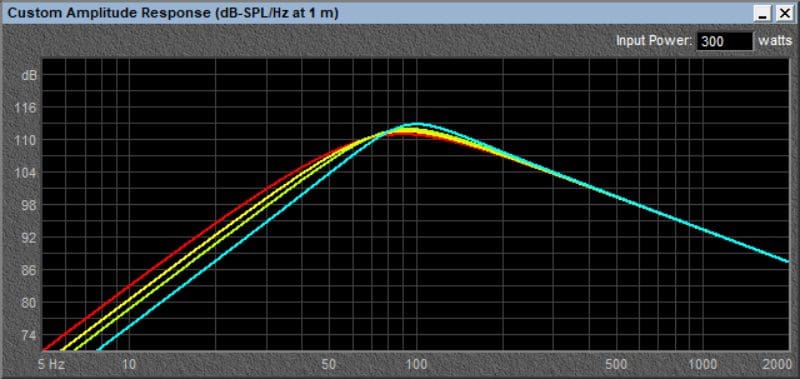 It isn't hard to see that the sub doesn't produce anywhere as much bass as it would from a properly sized enclosure. Specifically, the system Qtc is now at a very undesirable 1.034, and the F3 frequency is at 53.38 hertz. Output at 30 hertz is down by a whopping 6.2 dB compared to the original design. Our original 0.833-cubic-foot design only requires 70.4 watts to reach the same output level as this enclosure. Which do you think the amplifier and electrical system will prefer delivering?
What Does "Works in a Small Enclosure" Mean?
As we decrease the size of the enclosure, the air inside acts as a tighter spring and limits how much the woofer cone can move for a given amount of power. From a sound quality perspective, this tighter spring rings and resonates increasingly as enclosure volume decreases. Look at the increase in output around 90 to 100 Hz. This is caused by the woofer cone continuing to move (ring or resonate) once the input signal has been removed. This unwanted motion wasn't part of the original audio signal and would be considered distortion. The subwoofer system will sound sloppy and is often described as a "one-note wonder." In short, it should be avoided.
Let me put this into perspective for you in a different way. The graph below shows the output of a 6.5-inch midrange/midbass speaker mounted in the door of a car or truck. With no high-pass filter applied, it produces more bass (with the same power) at 40 hertz than the 10-inch subwoofer crammed into the small 0.25-cubic-foot enclosure. While a 6.5-inch speaker can't handle 300 watts of power at 40 hertz, there are typically two in the vehicle. One hundred fifty watts is still a stretch, but I think you get the point. A subwoofer in a very small enclosure isn't acting like a subwoofer – it's more of a midbass speaker.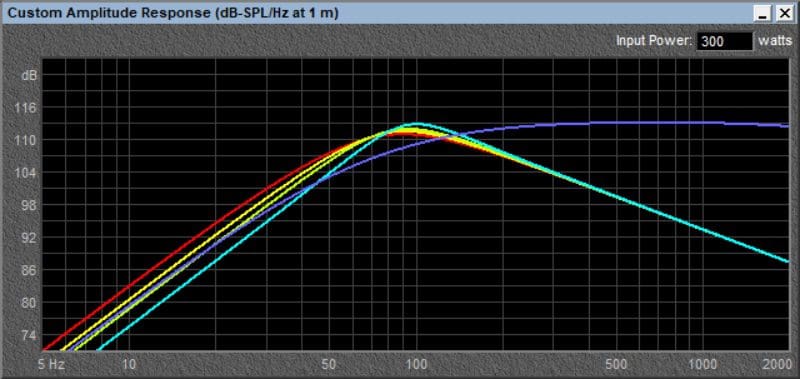 It's not much of a stretch to say that stuffing subwoofers into microscopic enclosures is counterproductive. From a perspective of not failing, yes, they work. Do they sound good? No. Do they produce extended low-frequency output? No. Are these enclosures efficient? No. As such, do they make sense? No.
If you're shopping for a subwoofer system for your vehicle, drop by a local specialty mobile enhancement retailer and work with them to choose a subwoofer system that will be efficient and offer excellent low-frequency extension. They should be able to show you computer simulations of how different drivers perform in an enclosure that works with the space you have available. If you want to hear those 35-hertz bass lines in your favorite music, proper subwoofer enclosure size and construction matter.