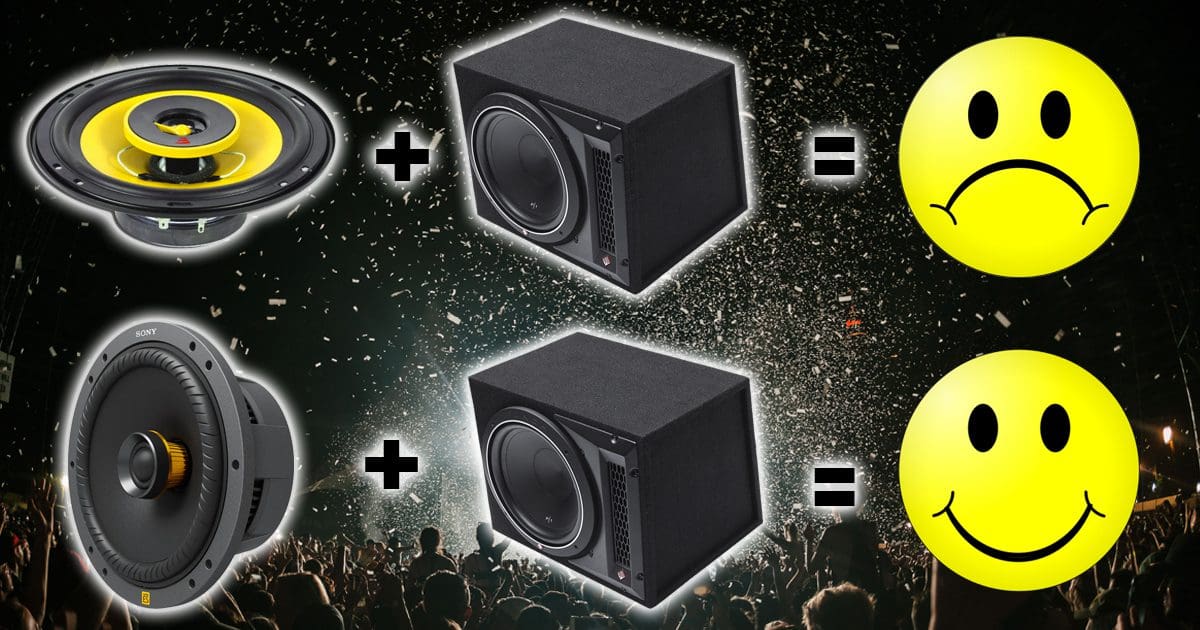 If you want your car stereo to sound good and play loudly, purchasing good speakers to keep up with your subwoofers is very important. It's easy to produce a lot of bass in a car or truck nowadays. Subwoofers with impressive output abilities are available from many brands, and high-power amplifiers are more affordable than ever. With that said, if you want to hear vocals and instruments clearly, your car audio system needs good speakers.
What's the Difference Between Cheap and Good Speakers?
Comparing speakers without having any experience in understanding specifications and reading charts is a bit tricky. Many speaker companies don't offer much information on entry-level products besides generic power handling ratings, efficiency numbers and perhaps upper and lower frequency cut-offs. In terms of quantifying what the speaker sounds like, these specifications offer very little, if any, helpful information. We've talked at length about useless speaker specifications in the past. Give this article a read if you're thinking about shopping based on numbers alone.
So, what makes one speaker different from or better than another? The first criterion you have to consider is frequency response. We aren't talking about how much bass or high-frequency information a speaker can produce but how smoothly it produces the audio frequencies between those limits. Lots of entry-level speakers are somewhat exaggerated in the lower midrange region. This makes them "sound better" on a store display board but adds distortion to lower frequencies. Many speakers have a frequency response that becomes quieter in the upper midrange. This is because of a poorly executed motor design. More accurately, it's caused by a motor design that isn't optimized to minimize inductance. The best speakers on the market have a flat response curve. This isn't an easy feat by any means.
A second criterion crucial to buying a solution that can keep up with a subwoofer system is output capability and linearity. No specification will tell you how linear a speaker design is at high power levels. It takes distortion measurements at different voltages to describe harmonic content in the output signal. Nobody offers this information to consumers. We've got an article on a Honda speaker and an inexpensive aftermarket solution that look at speaker distortion if you want help understanding that concept.
Companies that care about how music sounds include technologies like aluminum or copper shorting rings, copper pole piece caps or inductance-managing top-plate designs to improve linearity and reduce distortion.
You Need To Move Some Air to Make Bass
Many companies put some emphasis on the Xmax specification of their midbass and midrange speakers to qualify how loudly they will play. An inexpensive factory replacement speaker might have 2 millimeters of excursion capability (in each direction). A mid-level speaker might offer up to 5 millimeters of excursion. The better drivers have motor designs that can deliver up to 9 millimeters of cone excursion – in each direction. That's more than some entry-level subwoofers.
As with anything, predicting a speaker's performance based on its Xmax specification doesn't tell the whole story. We don't know how linear the speaker is at these significant drive levels. The easiest way to quantify a speaker's performance is to audition it with a high-quality source unit and amplifier.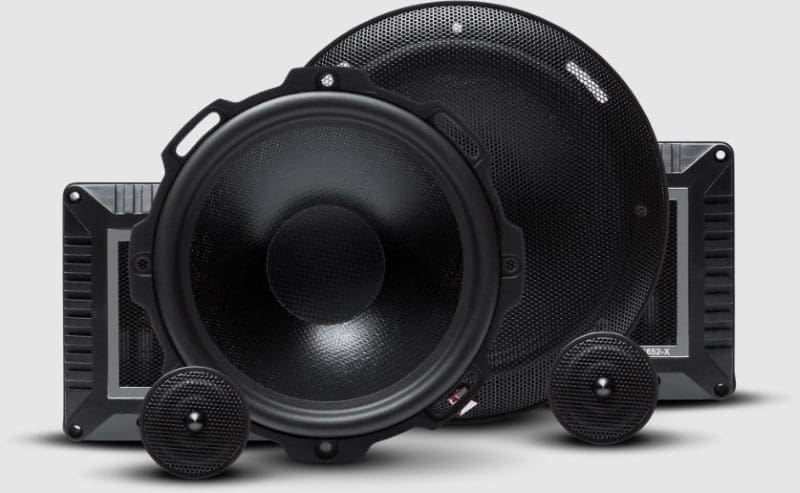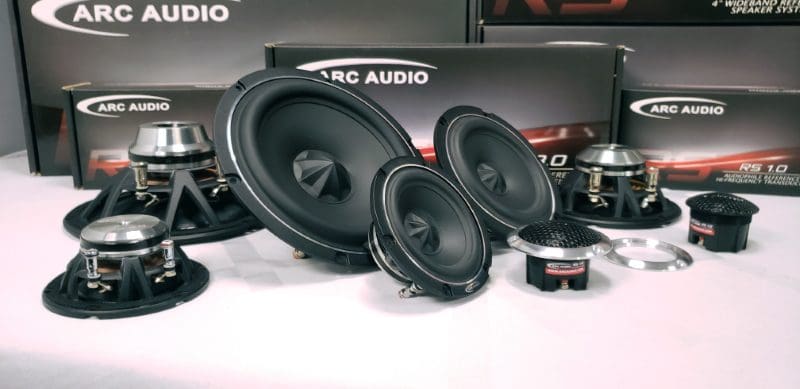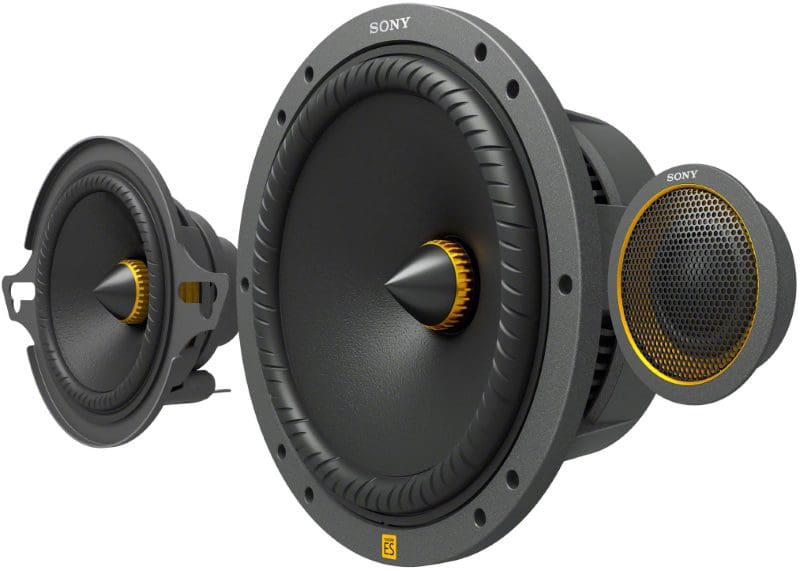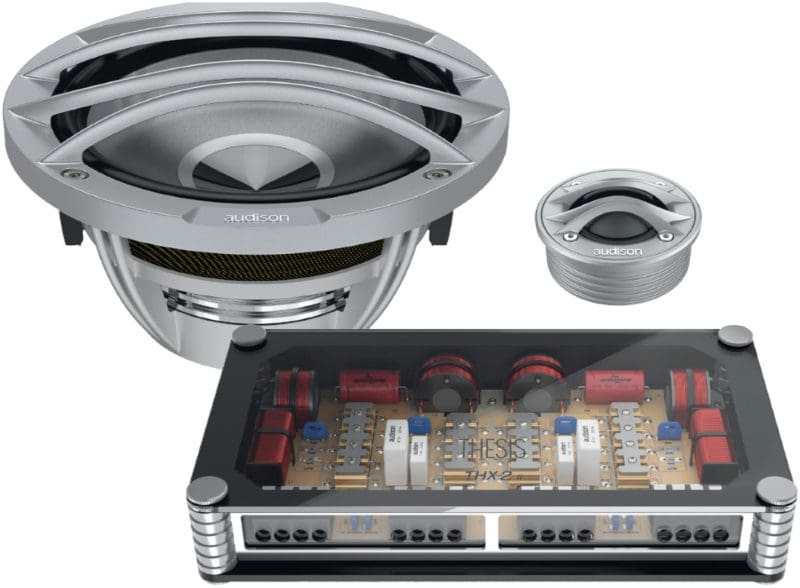 Auditioning High-End Speakers
So, let's say you're looking for a set of speakers that sound good at high volume levels so that they can keep up with a subwoofer system. The first step is to choose some music you're familiar with. Next, pick a song with lots of midbass energy from drums or bass guitars. You'll also want music with clear vocals. It's much easier to hear when vocals are distorted than when something like a guitar is.
Visit a local shop and ask them to play this song on the speakers you have in mind. Stand about 5 feet away from the display board and listen at a moderate level. Pick a part of the song you know well and listen to the balance. Now step back 4 or 5 feet and listen at a higher volume. The balance and clarity should stay the same. The music should only be louder, but not warmer or brighter. If something as has changed, there are design issues with the speaker.
Now move back another 4 or 5 feet and have them turn the music up louder. You want the same experience. The sound shouldn't get sloppy or harsh. You will hear more of the quieter background instruments at high volumes, so don't be confused by that.
Auditioning speakers takes practice, so listen to several options at the store. Start with something you think will perform well, then listen to something entry-level and compare what you heard in your mind. It can also help to listen to only one speaker at a time rather than a pair.
There aren't many genuinely high-end speakers on the market, despite what manufacturers and retailers will tell you. There are lots of expensive speakers out there. Unfortunately, price and brand reputation don't always translate into quality. Even some of the better speakers out there are only really great at medium-loud volumes. They are limited in their output capabilities and don't sound great when you crank things up.
Why Do I Need Good Speakers to Keep Up with a Subwoofer?
We skipped over why you need genuinely good speakers to keep up with a subwoofer in a car. Thanks to the transfer function of the vehicle, it's very easy for even a small subwoofer system to produce impressively loud bass in a car. A high-end 12-inch driver in a vented enclosure might be hard to keep up with, and a pair of 12s can become a real challenge. Of course, all of this assumes that your car audio system is designed, configured and calibrated to deliver smooth frequency response between the bass and midrange sound information.
The issue is that a speaker cone must move much farther to reproduce audio frequencies below 300 Hz. Let's compare the output of two 6.5-inch drivers, one designed as a woofer and the other as a midrange. The graph below shows the cone excursion versus frequency for two drivers. The yellow trace represents the PA-style midrange speaker. The red trace is a high-quality woofer. The midrange runs into its excursion limit at any frequency below 300 hertz. The woofer can play to 70 hertz with 100 watts of power without any problems.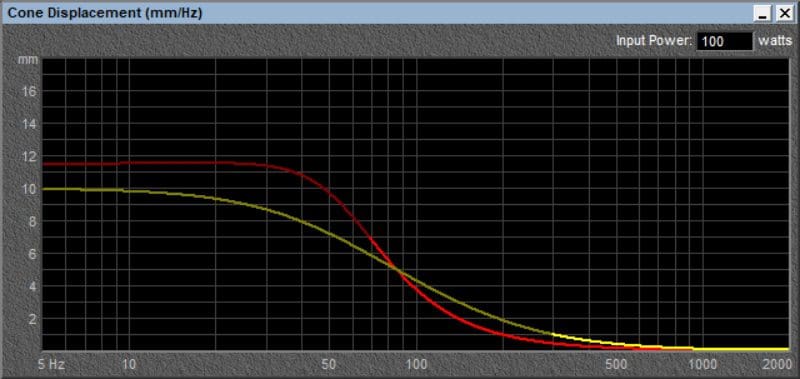 If you want a sudden step in system loudness between the midrange and bass, then speakers that sound good at high volume and output levels are less critical. Of course, your music won't sound realistic or natural when a system is configured this way, but I suppose that's your choice. Suddenly I'm having flashbacks to a mid-'80s Chevrolet Monte Carlo with a pair of 12-inch subs in the trunk and only a pair of 3.5-inch speakers in the dash. There just isn't going to be ANY midbass in a design like that. It also reminds me of most SPL systems that use PA-style speakers. A driver with 1 or 2 millimeters of Xmax will not produce any usable midbass at high volume levels. Why these folks don't fill their doors with 6x9s that CAN produce great midbass baffles me.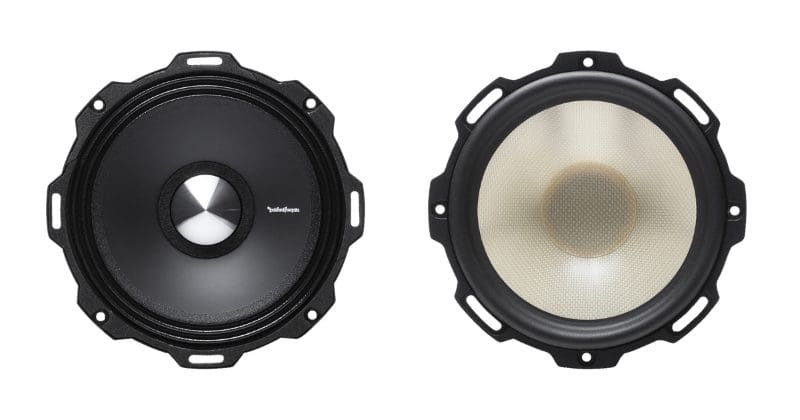 Every Part of Your Car Audio Matters
Piecing together random components for a car audio system doesn't always result in a desirable outcome. Yes, any upgraded stereo is likely better than what came from the factory. With that said, getting help from an expert specialty mobile enhancement retailer to choose the right speakers, amplifiers and processors, then install, configure and calibrate the system will yield the best results. No matter what route you choose, installing good speakers in the system is critical in ensuring that it sounds excellent.