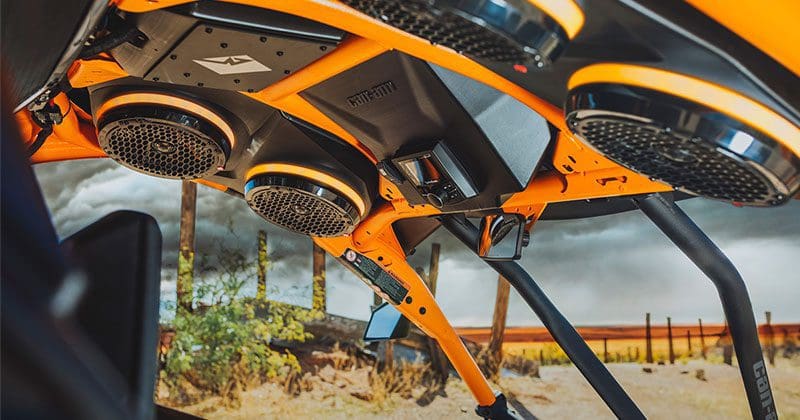 The BestCarAudio.com team is back with another detailed guide to help you choose the best upgrade solutions for your powersports vehicles. While it's true that pretty much anything you can ride in or on that has a motor falls into this powersports or motorsports category, we'll focus on UTVs and side-by-sides, then throw in a few options for snowmobiles, personal watercraft and golf carts. Let's dive in and see how we can add some great music to your ride.
Start with a Premium Source Unit
Whether you want to listen to satellite radio, play songs from a USB memory stick or stream music from your phone, any audio upgrade is going to need a source unit. Thankfully, there's usually room in the dash of a side-by-side for a radio of some kind. Just as with marine and motorcycle applications, you need to keep weather and usage conditions in mind. UTVs are likely to get quite dusty, if not downright dirty. Dust can get everywhere when you're blasting down a trail or playing in the sand dunes. If you've equipped your UTV with a snorkel, you might have the urge to try water skipping. If that goes well, you'll get splashed. If it goes poorly, well, you might need a tow!
Start your shopping experience by deciding how crazy you're going to get. Water-resistant source unit installation options are designed specifically for the dash of popular Can-Am, Polaris, Honda and Yamaha vehicles. These kits usually include a digital media receiver with an AM/FM tuner, Bluetooth for audio streaming and a USB port to play digital audio files from a USB memory stick. What you won't see much anymore are CD players. Sadly, they're going the way of the dodo bird.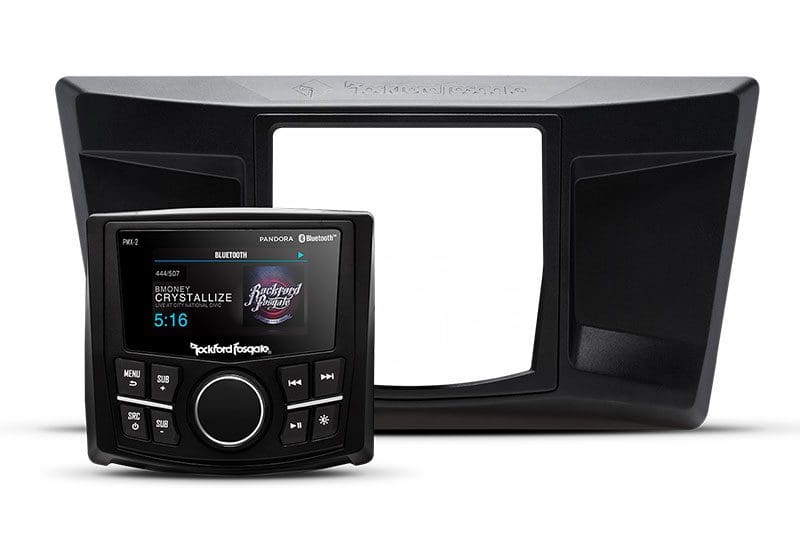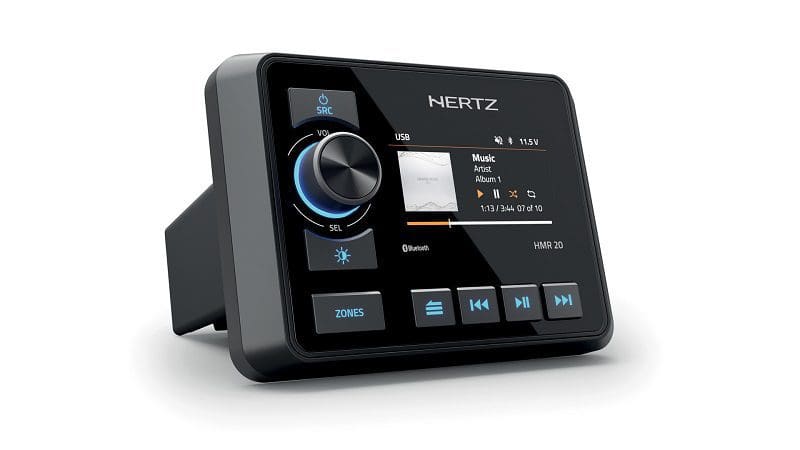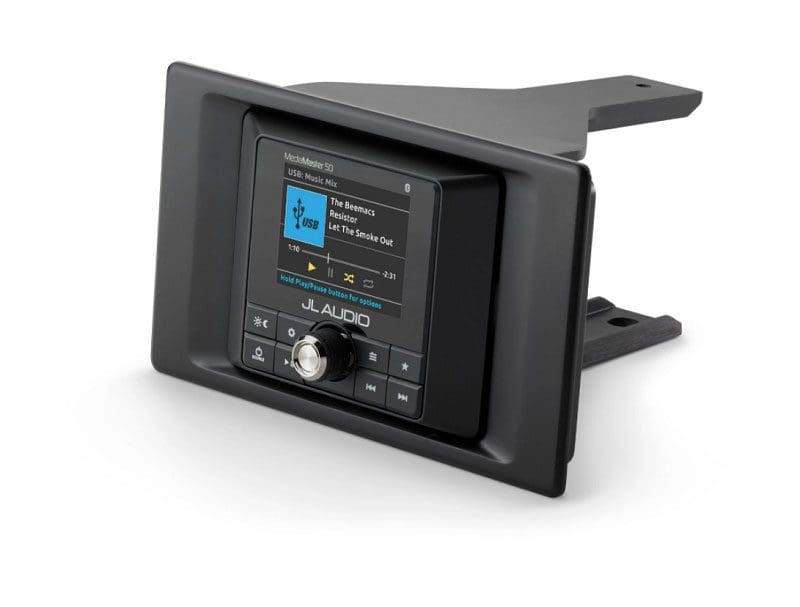 If a specific kit isn't already available for your vehicle, don't fret. A competent installer or fabricator can integrate something into the dash to give you the functionality you want. The process could be as simple as creating a custom mounting panel or pod, or it might require more advanced fabrication skills to create a solution from scratch.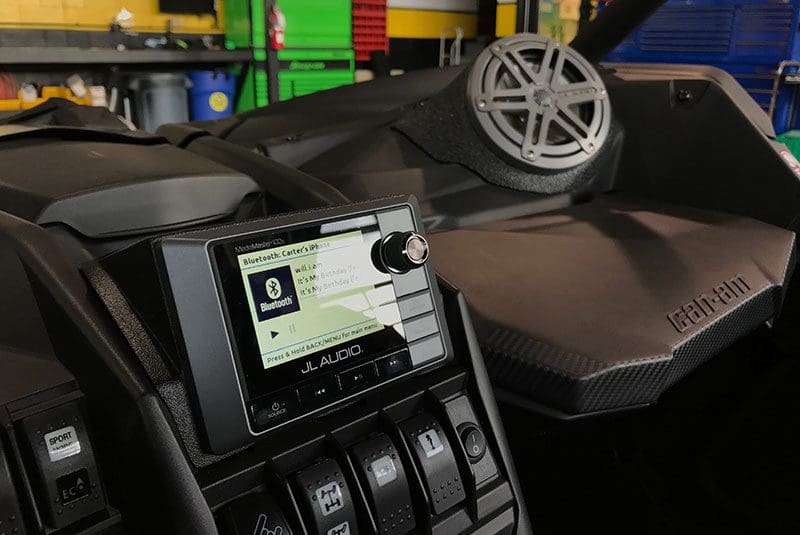 Your source unit doesn't have to be complicated. If you use your phone to play music, then a Bluetooth audio streaming option is a great choice. These solutions are available in hide-away versions and ones with volume and track selection buttons.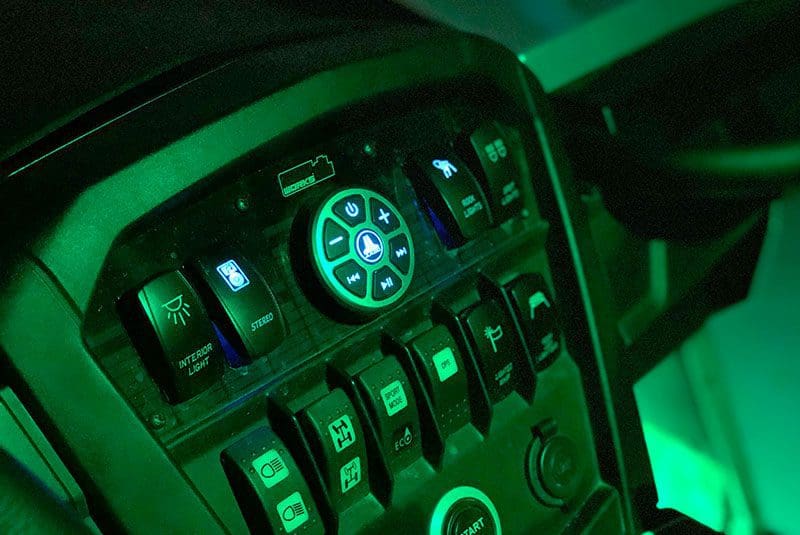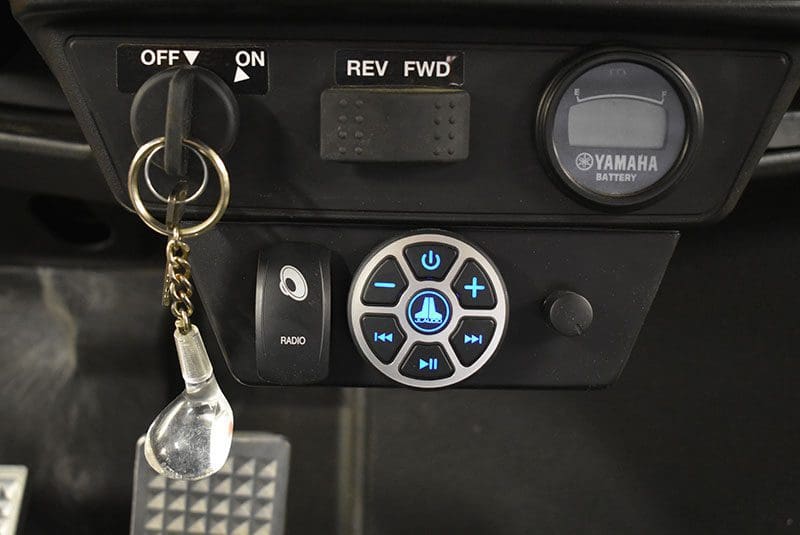 An option you will want to keep in mind is satellite radio. If you're riding the dunes at Glamis or are out on a big lake on your Sea-Doo or WaveRunner, then you might not have radio reception or cell phone service. Satellite radio works almost everywhere in the U.S. and most of Canada. You can tune in to your favorite genre of music or entertainment without worrying about reception issues. Many marine source units have options to add a SiriusXM radio receiver.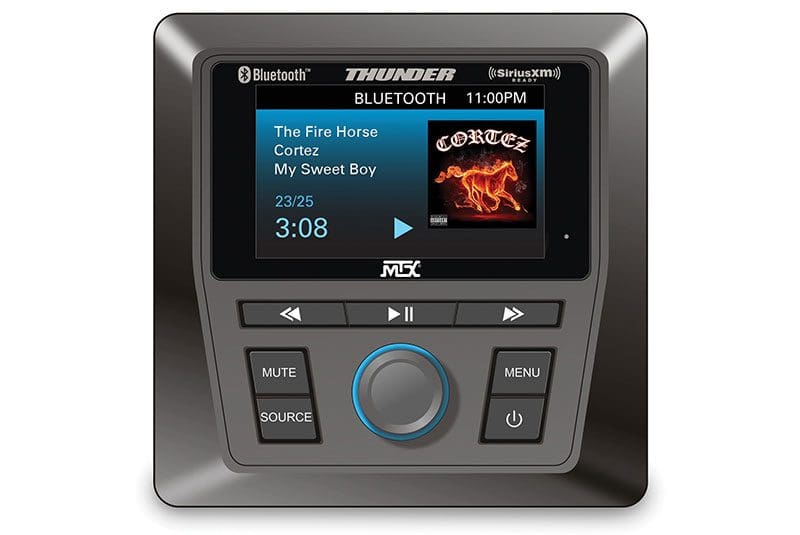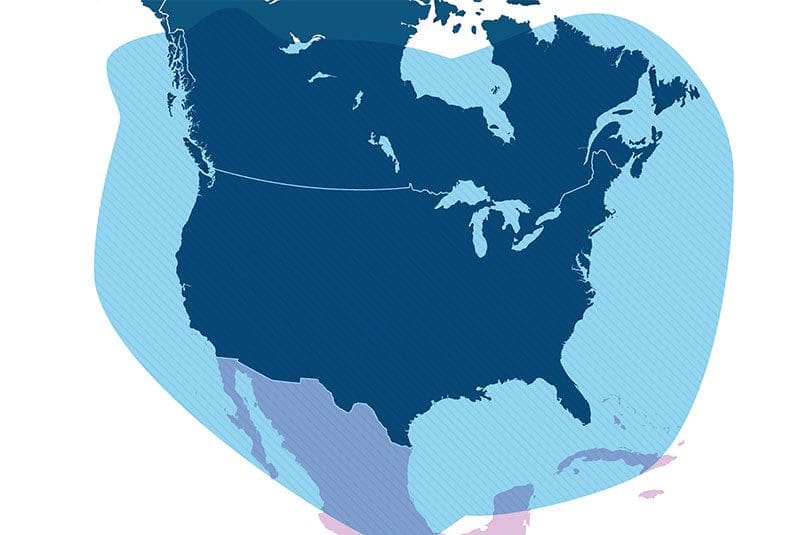 All of the above source unit options also work great for golf carts. Keep in mind, even though you aren't likely to get the vehicle dirty, a chilly morning could easily result in a thick layer of dew on the electronics. A weather-resistant solution is highly recommended. The compact Bluetooth options are excellent for personal watercraft and snowmobiles as there is rarely much space for anything larger.
Sound Bars and Speaker Pods Offer Simple Audio Upgrade Solutions
Moving into a discussion about speaker solutions takes us to the option of adding a soundbar to your side-by-side. A soundbar is very similar to an LED light bar in its design. It's an enclosed speaker system that attaches to something solid like a roll cage. Many soundbars include integrated amplifiers and Bluetooth receivers. Some even have outputs for external amplifiers so you can add a subwoofer or more speakers to the system. A soundbar can also be an excellent solution for a golf cart, and some of the smaller units work well on the handlebars of snowmobiles or personal watercraft.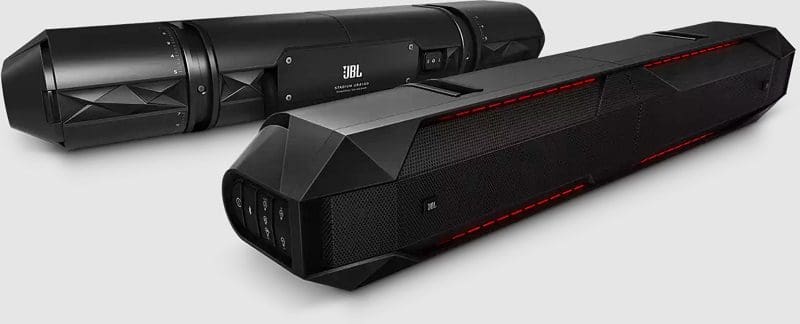 Speaker pods are another option for adding speakers. Unlike those designed for marine wakeboard towers, pods designed for powersports applications are typically much more compact. When executed correctly, they use a low-Q woofer design to deliver smooth midbass performance that's free of resonance and unwanted emphasis. Many side-by-side installations use speaker pods on rear roll cage bars.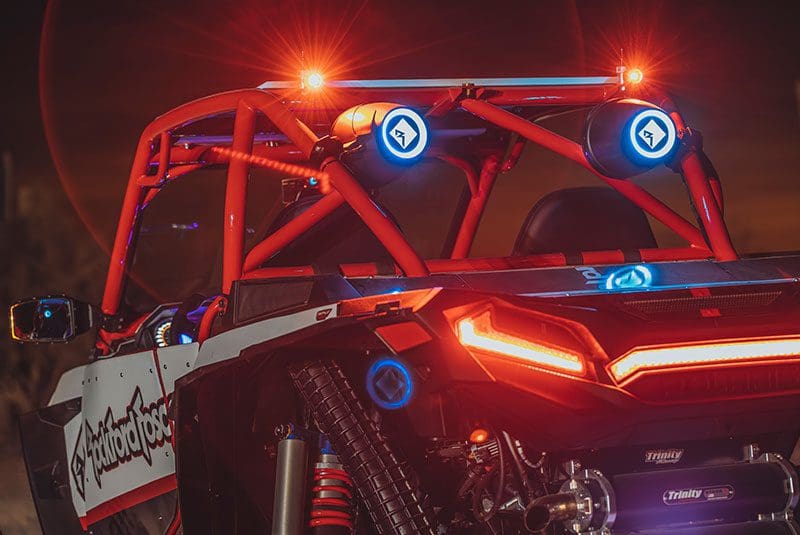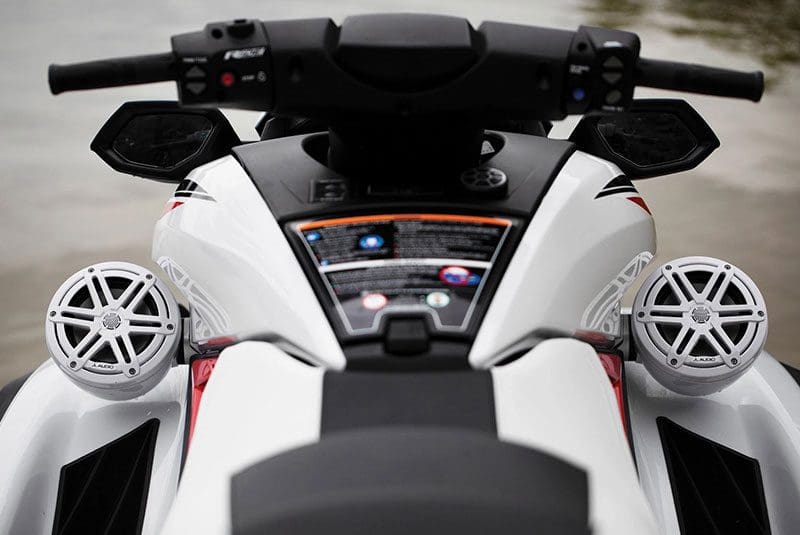 Vehicle-Specific Speaker and Subwoofer Solutions
Unlike car audio systems where accurate imaging and staging might be a goal for music aficionados, merely hearing your music over the scream of a high-revving engine and wind noise is more of a priority in powersports applications. With that said, many companies offer vehicle-specific front speaker mounting solutions that can deliver an impressive soundstage. When shopping, you'll find fiberglass and plastic enclosure options. When executed properly, both are great solutions. If either is flimsy, they have the potential to add unwanted distortion to your music. You'll want to confirm fitment and inquire about the need for any modifications before the installer begins work on your vehicle. Speaker pods are available for dash and kick-panel mounting locations to deliver impressive output.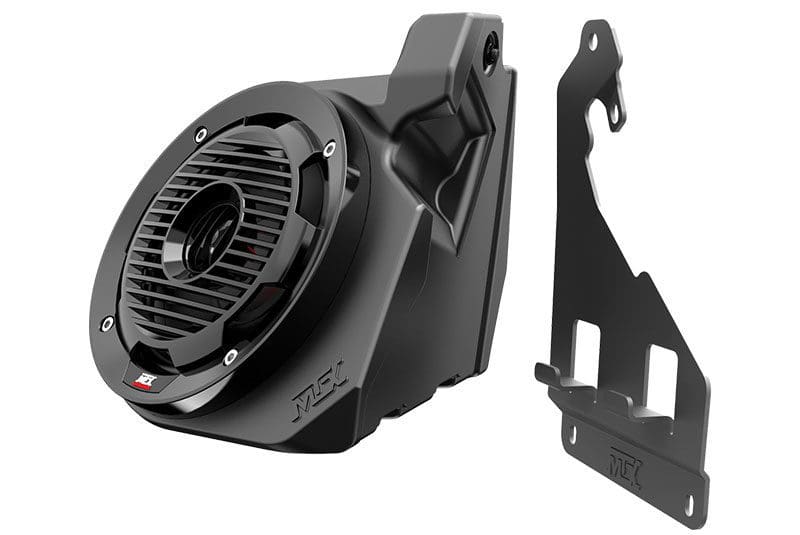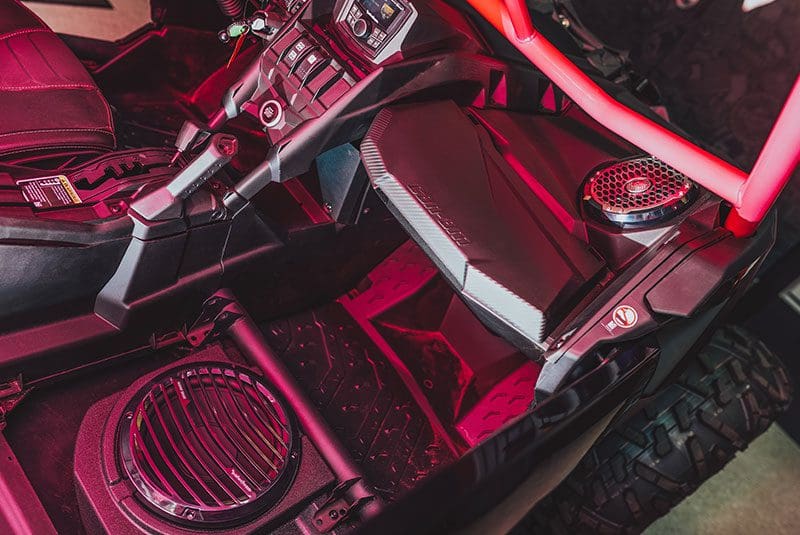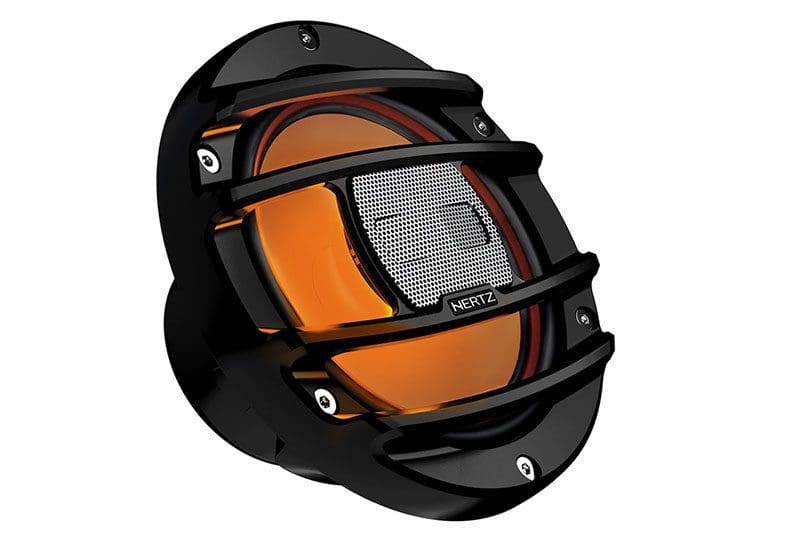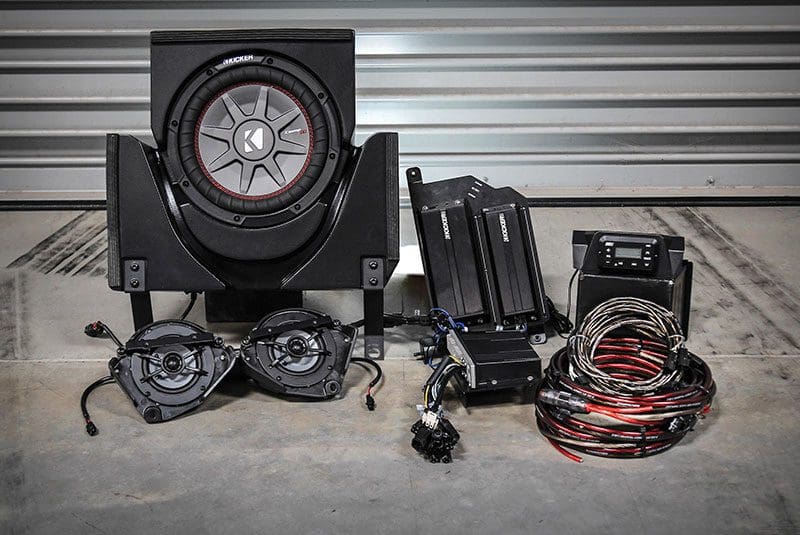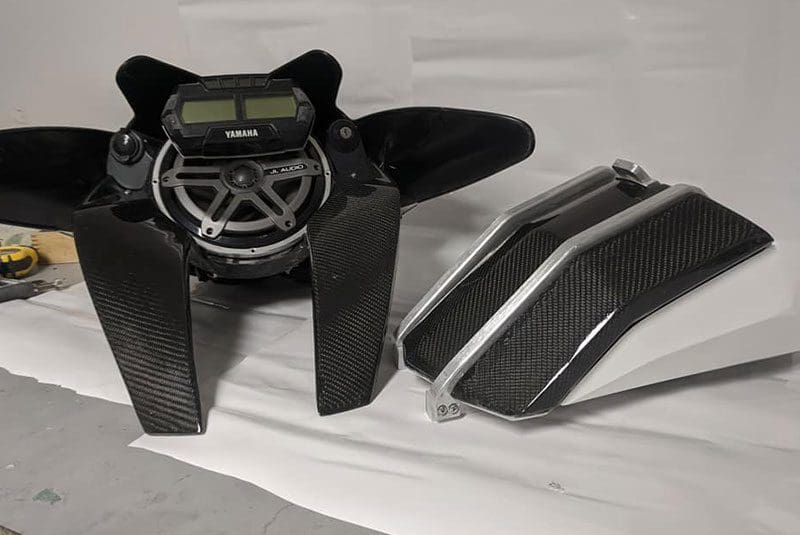 Powersports Amplifiers Let You Crank the Volume
Excellent speakers aren't of much use without a good amplifier to drive them. When you need to drown out exhaust and wind noise, your speakers need as much power as they can get. Just as with motorcycle amplifier selection, you'll want to consider how much current the amplifiers you choose will draw. As such, you want a design that is as efficient as possible. The most efficient amplifiers can convert more than 90% of the electrical energy from the battery and magneto into power for your speakers.
Another consideration is to choose an amp that can handle the environment. Just as with the radio selection, if you plan on getting buried up to your ankles in mud and guck, or you're going to be leaping off snowbanks or jumping boat wakes, then choosing a weather-resistant amp is a wise choice.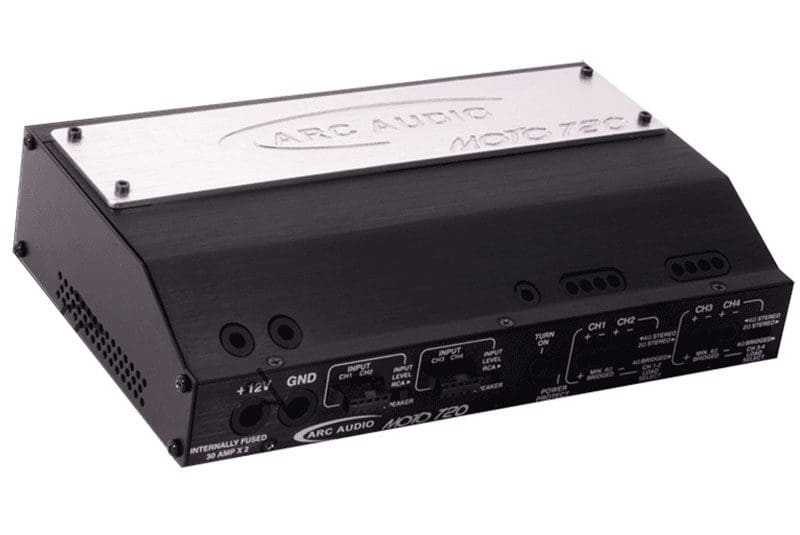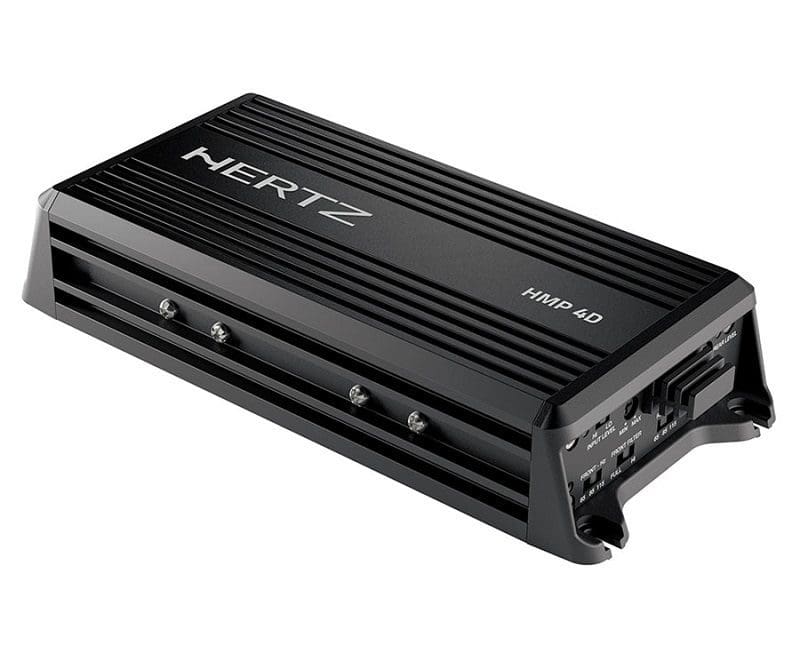 Suppose you plan on having a subwoofer in your powersports application. In that case, you'll want to work with your local retailer to choose an amplifier that can either be bridged or is designed as a dedicated subwoofer solution. Subs need many times as much power as midrange speakers to play equally as loud.
Given that powersports vehicles (aside from golf carts) are notorious for "getting air," make sure your installer has a plan to secure your electronic upgrades to handle big jumps, bumps and the occasional rollover. The last thing you want is to get hit in the leg, arm or head by an amplifier or speaker pod that's come loose.
Wiring and Battery Considerations
From a simple radio and pair of speakers to something custom with multiple amplifiers and subwoofers, every audio system puts an extra load on your powersports vehicle's electrical system. With much less electrical reserve capacity than a car or truck, you will want to choose wiring that's of high quality and appropriate sizing to ensure that the system operates reliably and efficiently. We have a penchant for over-sizing power distribution wiring, as it's a relatively inexpensive way to increase the efficiency and reliability of your upgrades. This mantra holds true for lighting upgrades as well as audio electronics.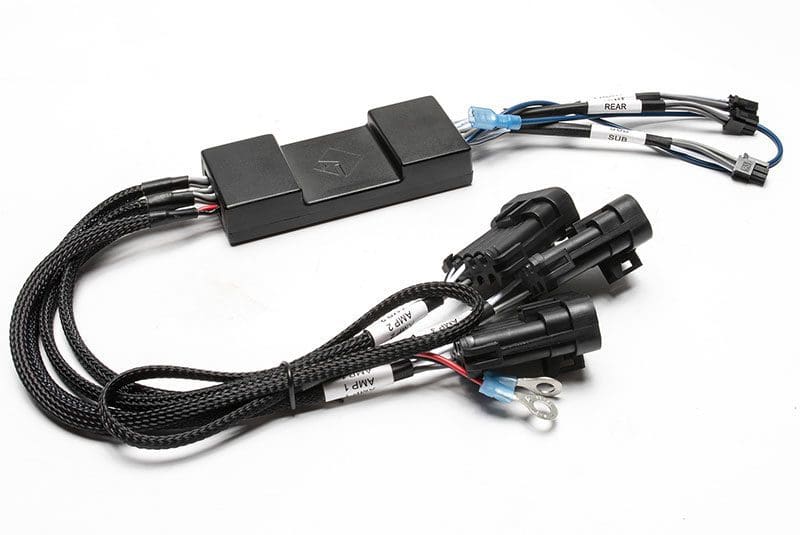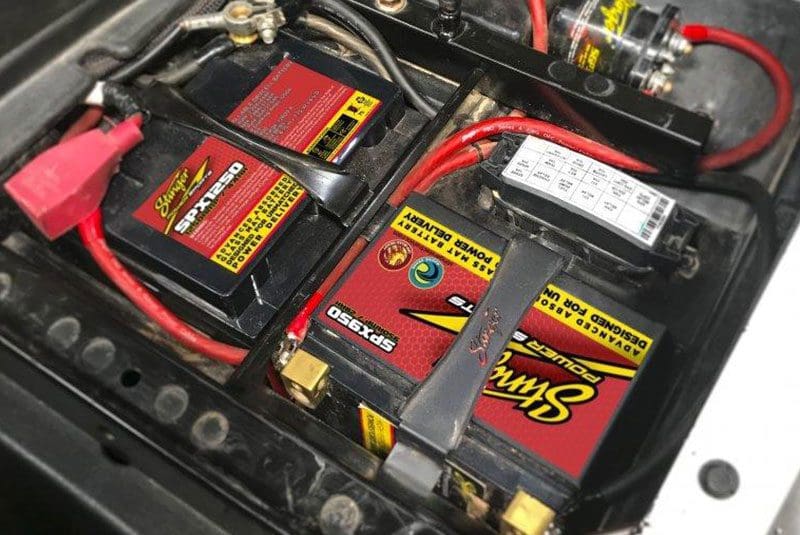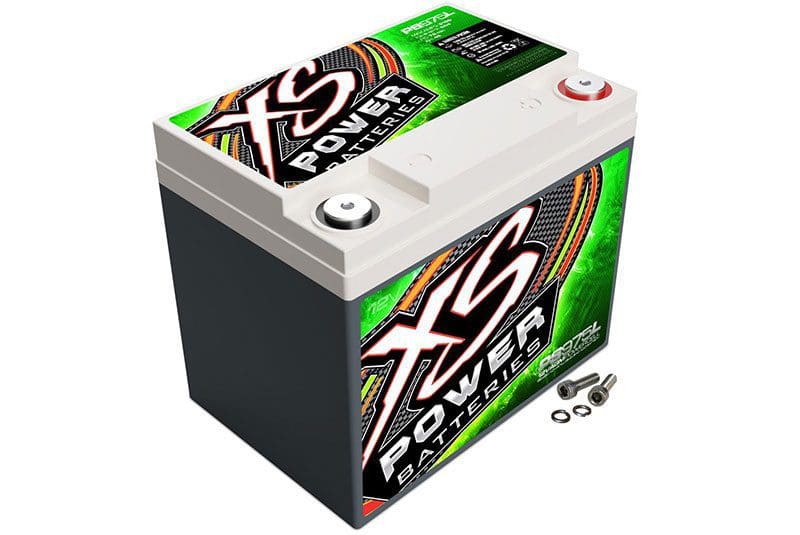 Unless you live somewhere like Florida, California or Texas, your powersports vehicle will likely be used more during some seasons than others. When it's not in use, it's wise to connect the battery to an intelligent charger or maintainer to keep it topped up. Make sure you choose a charging solution that uses a microprocessor to monitor the battery voltage and adjust the charging current. You don't want to over-charge the battery. If you have played your audio system without the engine running, we recommend connecting a charger overnight to ensure that the battery is replenished safely.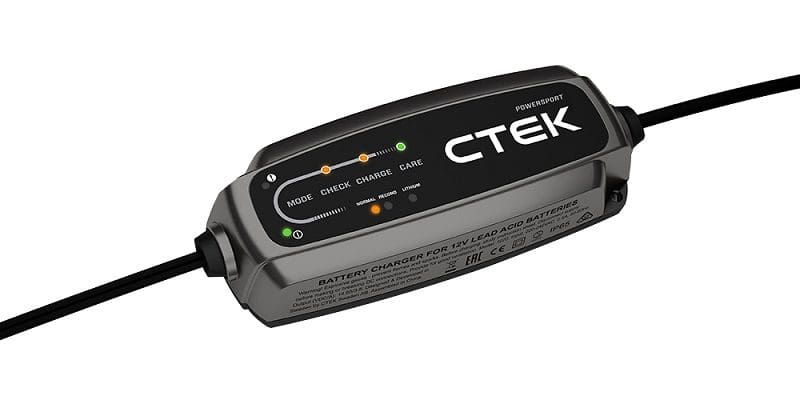 Picking the Right Shop To Install Your Powersports Audio Upgrades
While many companies offer audio upgrade solutions that are supposedly "plug and play," this moniker is surprisingly misleading. First, you'll need to have the tools and knowledge to disassemble the vehicle, mount the components, then route and secure all the wires and cables. More importantly, you'll need the experience to configure whatever amplifier you choose correctly so that the speakers are protected from distortion and over-excursion at high output levels. We always suggest partnering with a specialty  mobile enhancement retailer to upgrade your vehicle. They will stand behind the work they've done, and you may even have extended warranty coverage if their products are integrated by a professional.
Start by searching for shops in your area that have completed projects similar to what you have in mind. Their websites should have a gallery of their work and explain their capabilities. Just as you would do when choosing an artist to paint a family portrait, it's wise to inspect examples of their work and audition similar vehicles thoroughly. It's not a crazy idea to ask them for references to previous clients. Sure, these suggestions might seem a bit daunting, but the last thing you want is for someone to damage your vehicle or render it unreliable.
Upgrade the Audio System on Your Powersports Vehicle Today!
Whether it's a golf cart to cruise around the pits, the links or a retirement community, or a 195-horsepower Maverick Turbo RR, adding an audio system to your powersports vehicle is a great way to make your leisure time more enjoyable. Drop by your local specialty mobile enhancement retailer today to find out about the options for adding some tunes to your ride.