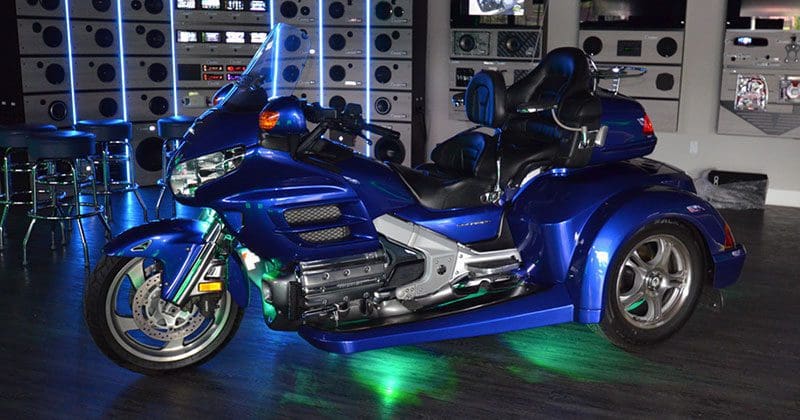 Choosing the best radio, amplifier and speaker upgrades for your motorcycle audio system can be tricky. The team of mobile enhancement experts here at BestCarAudio.com has put together this buying guide to help you pick the right products and an expert retailer to help make your wind therapy much more enjoyable. Whether you're upgrading the existing audio system on a Harley-Davidson or BMW touring bike or want to add a sound system to something more straightforward, we want to help make sure that system sounds great!
Motorcycle Radio Options
There are three reasons you might want to upgrade the radio on an older motorcycle: to add Bluetooth audio streaming, to add support for digital media file playback, or to add preamp outputs to optimize an amplifier's performance. The options available for radios are very bike-dependent. You can either add an aftermarket radio, or you can't. With that said, where there's a will, there's a way.
For owners of 1998 through 2013 Harley-Davidson touring bikes, Rockford Fosgate and Aquatic AV offer specific radios that will drop directly into the fairing and plug into the factory wiring. Both radios include compatibility with the radio control buttons on the handlebars.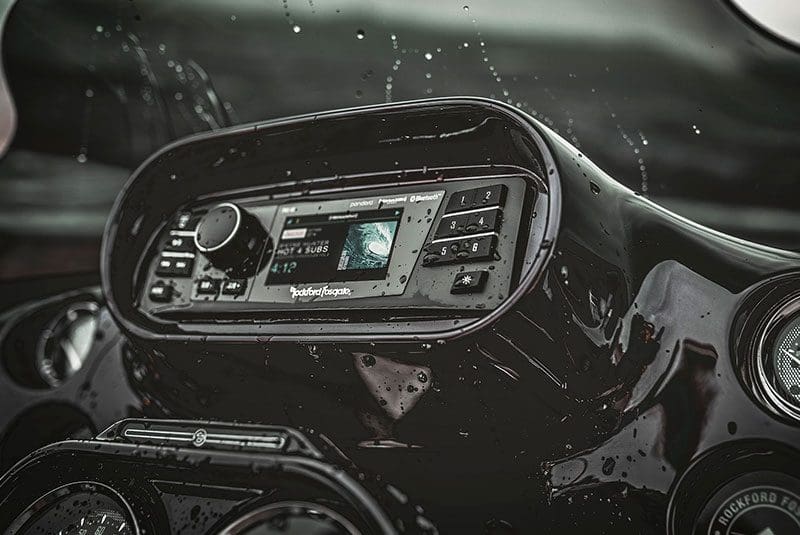 Another option for these bikes, if you can guarantee the bike will never see rain, is to use one of the floating-face radios from Kenwood, Sony, JVC or Alpine. These radios have a single-DIN chassis with an oversized screen that mounts in front of the fairing. The result is similar to the radio designs in new Audi and Mercedes-Benz vehicles. These radios include much larger screens, ranging in size from 8.95 inches up to a massive 11 inches for the new Alpine iLX-F411. The larger displays make it easier to make adjustments while riding. Of course, you'll want to work with your retailer to ensure that the radio won't block any gauges or switches.
Similarly, single-DIN marine source units are another option. Unless these models specifically state that they are weather-resistant, they need to be kept dry. While the circuit boards often have a corrosion-resistant coating, the face and electronics still can't get wet. The benefit of this type of radio is that they usually have a reverse-LCD display that's easier to see in bright sunlight than their conventional car audio brethren.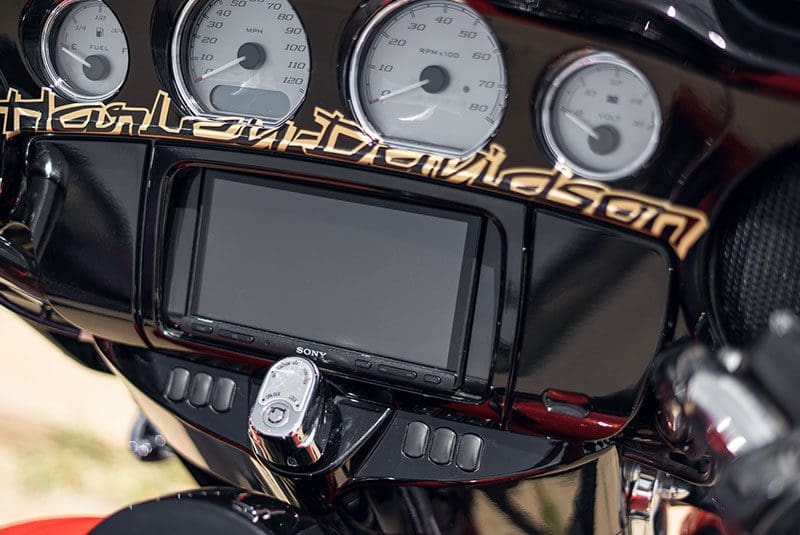 Another popular upgrade for this generation of Harley cruisers is to replace the inner fairing with the Saddle Tramp 95-HDIF upgrade. It has provisions for a double-DIN source unit to make it easier to add technologies like Apple CarPlay and Android Auto. The Sony XAV-AX7000 multimedia receiver is a great solution for this application as Sony has included water-resistant features to the front panel.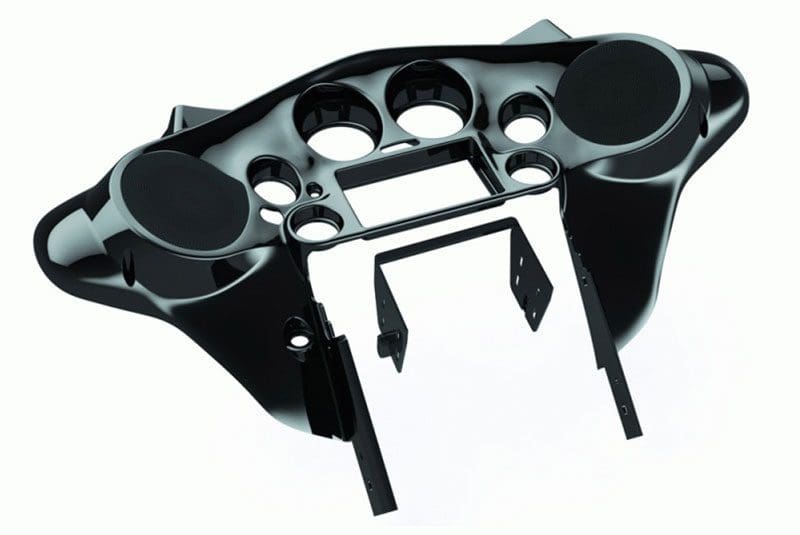 Your retailer can usually connect your new radio with control buttons on the handlebars using what's known as a steering wheel control interface. Companies like Axxess, Scosche, PAC and iDatalink all offer solutions.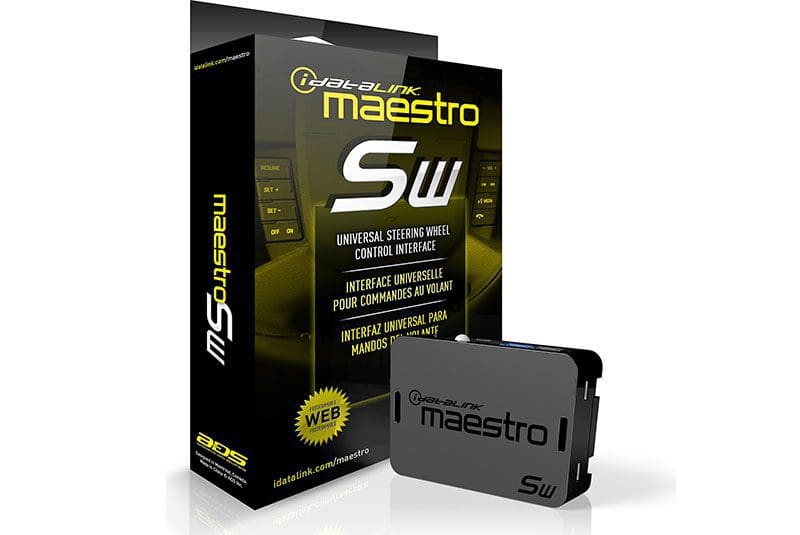 Motorcycles like 2014 and newer Harleys, the Yamaha Venture, Honda Goldwing, BMW K1600, Indian Roadmaster or Kawasaki Voyager are all great platforms for audio system upgrades. You aren't going to be able to change the radio easily on most of these bikes, so your best bet is to work with what you've got. One of the best ways to connect a high-power amplifier and new speakers to these radios is to use a digital signal processor like the ARC Audio PSM or the Rockford Fosgate DSR1. Aside from modifying the speaker-level signals coming out of the radio to work with an amplifier, these processors provide your installer with a full suite of tools to optimize the performance of new speakers. Most importantly, these DSP solutions can deal with any equalization built into the radio to ensure that your music will sound great. Some solutions, like the PSM, have options for different presets, so you can have a calibration for hanging out with friends, cruising around town and blasting down the Interstate. You will need to add an amplifier after these processors to power the speakers.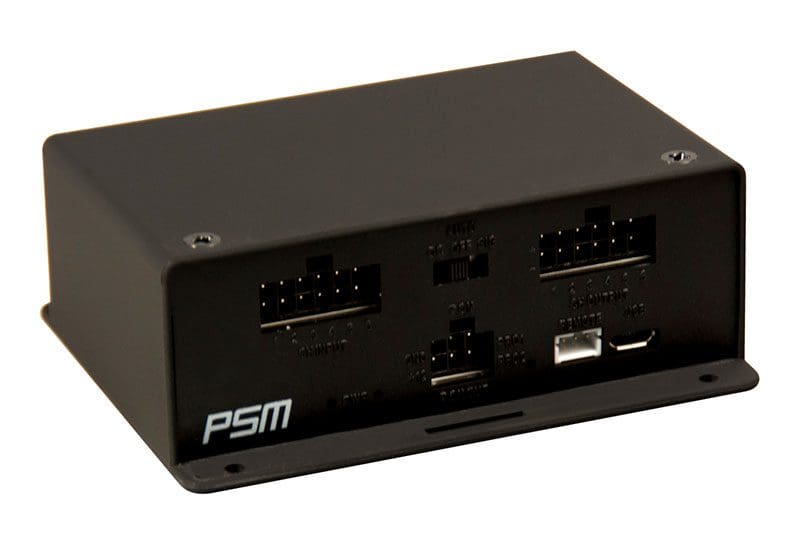 Harley-Davidson Radio Flashing
If you have a 2014 or newer Harley with the Boom!Box radio, then it's likely that the radio has been configured with an equalization curve intended to maximize the performance of the speakers that came with the bike. Upgrading to new amplifiers and speakers without managing this EQ curve is a recipe for disaster. TechnoResearch offers a radio reprogramming solution that allows your dealer to flash the radio to a calmer response curve. While not flat, radio flashing will help make your audio system sound better and last longer. We recommend adding a DSP to achieve truly smooth frequency response and a realistic listening experience based on the speakers you've chosen.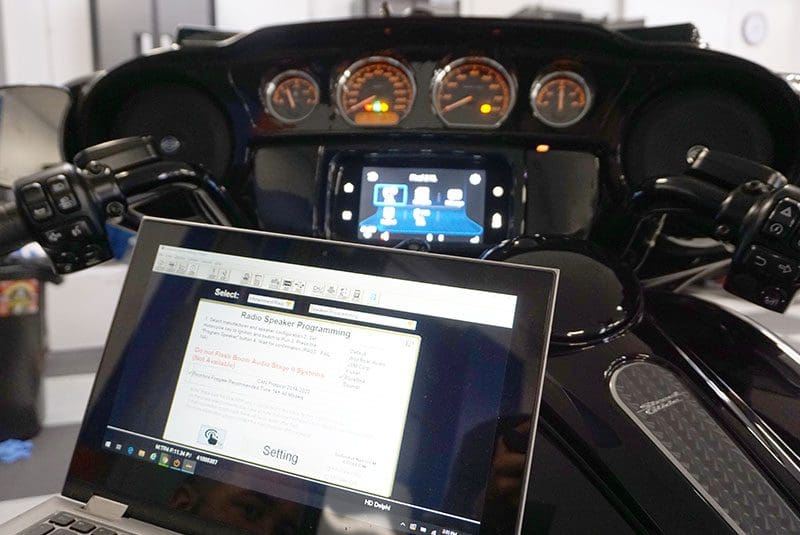 Bluetooth Source Options
If you're upgrading a motorcycle that doesn't have a radio, you might want to consider using a Bluetooth audio streaming solution. Two styles of Bluetooth receivers are available. The first is a hide-away module that will allow you to play the music stored on your phone or a streaming audio service like Pandora, Spotify or iHeartRadio. The phone becomes the source unit for the system, and with this type of receiver, you'll use the volume control buttons on the phone to adjust your audio system.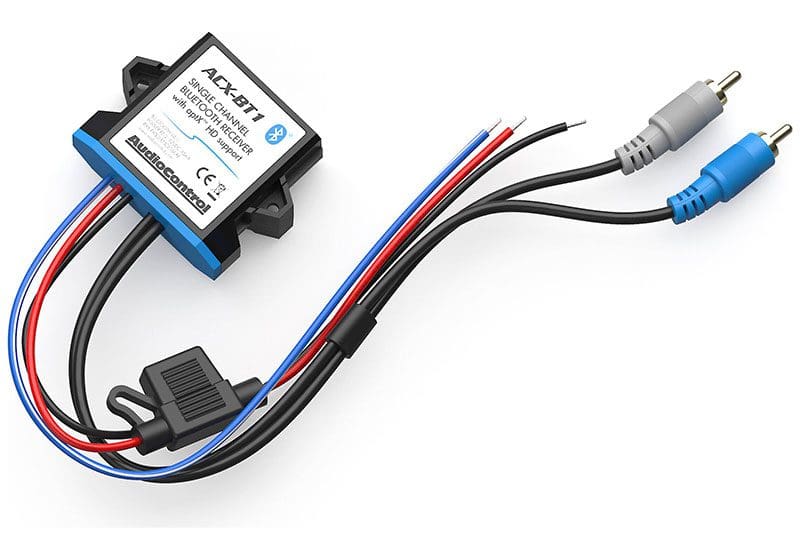 The second option for Bluetooth streaming is a receiver that includes volume, track selection and play/pause buttons. These receivers add what's known as the Audio Video Remote Control Protocol (AVRCP) to the Advanced Audio Distribution Profile (A2DP) that's used to stream audio. The buttons on the receiver send commands back to your phone to change tracks or adjust the volume. So, while your phone remains the source unit, you can control it remotely from the receiver. These Bluetooth receivers provide preamp outputs that can be connected to an external amplifier to drive your speakers.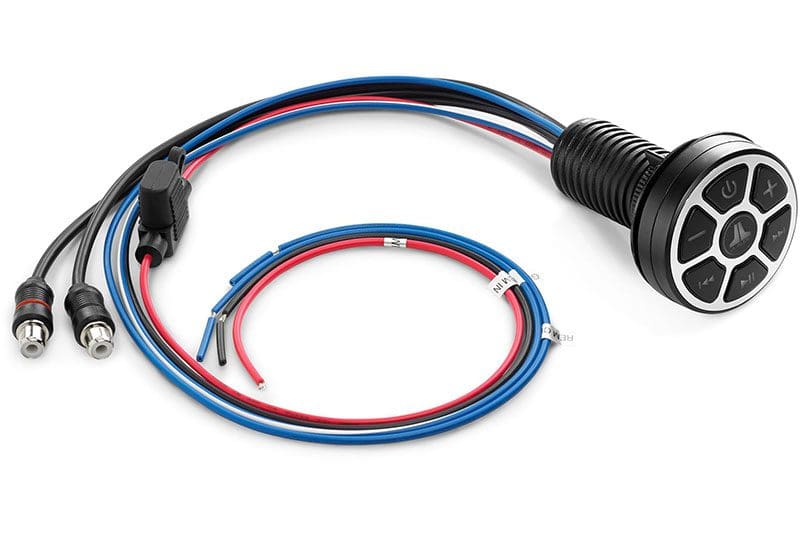 Motorcycle Audio Amplifiers
Being able to hear your music clearly while cruising at 65 miles an hour requires speakers that can play loudly and an amplifier that can drive those speakers without distorting. Motorcycle amplifiers have power ratings from 45 to over 150 watts per channel and are most commonly available in two- and four-channel models.
Aside from choosing a solution that will fit in the available space on your bike, you'll want an amplifier that's as efficient as possible. Motorcycle electrical systems aren't designed with the reserve current delivery capabilities that you'd find in a car or truck. It's often that they are limited to 20 or 25 amps. As such, you want an amplifier that makes the most of that limited current to drive your speakers. The best motorcycle amplifiers on the market are more than 90% efficient.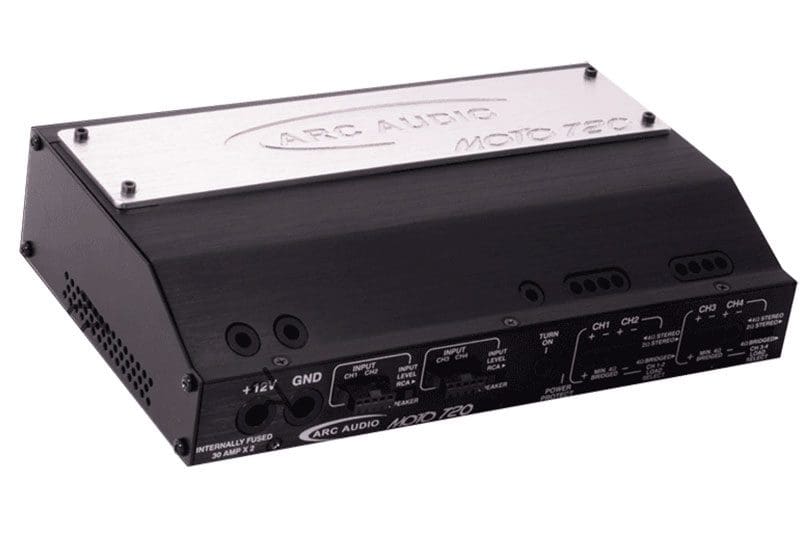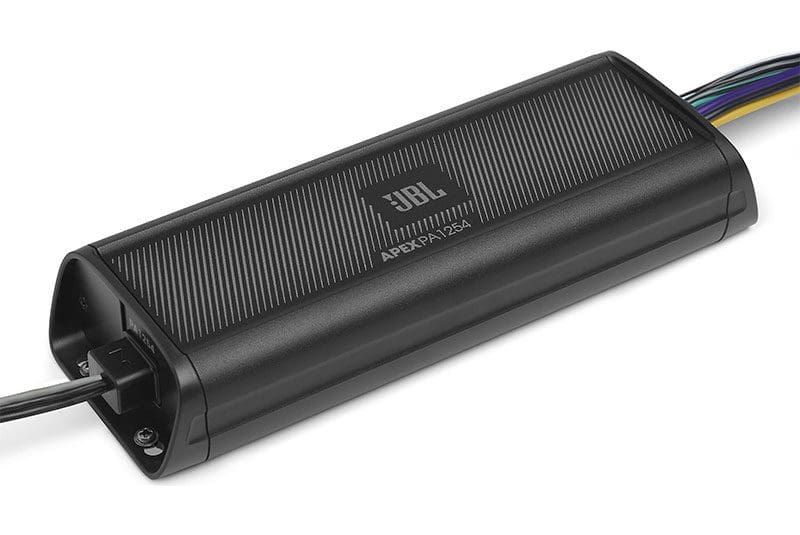 When choosing an amp for your bike, you'll want to think carefully about where the shop will install it. If it's in a saddlebag, then it will be protected from water, dust and debris, but may not have enough ventilation to stay cool if it's not an efficient model. The most popular amplifier mounting location is in the front fairing. This location affords reasonable protection but is far from waterproof. Companies like Rockford Fosgate and JL Audio offer amplifiers that carry IPX6 or IPX7 ratings to help ensure that they'll keep playing if they get wet.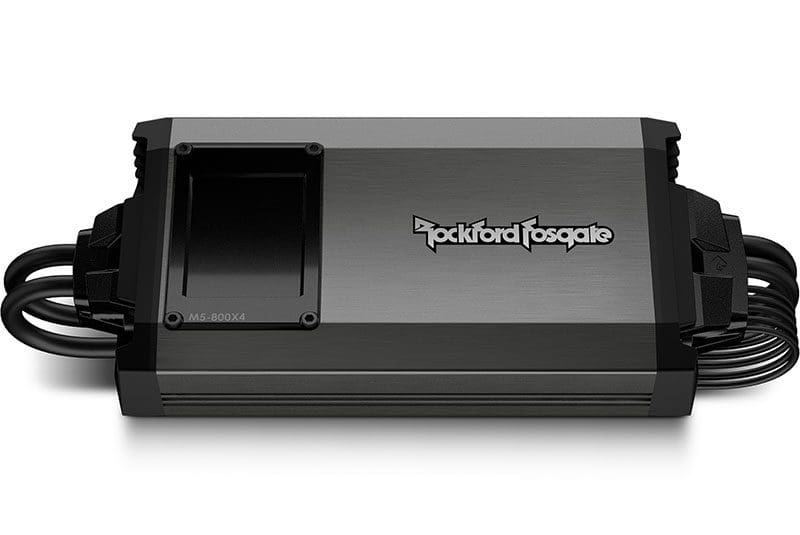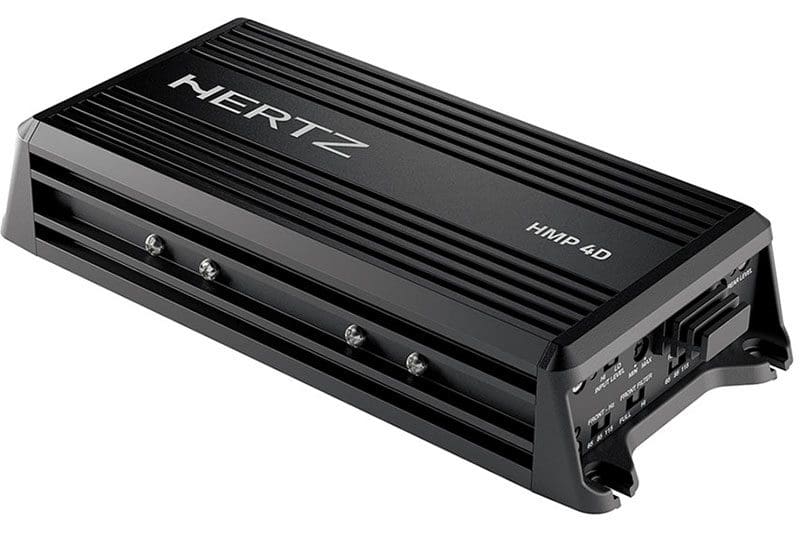 Upgrade the Speakers on Your Motorcycle for Great Sound
The speakers you choose for your audio system are one of the most crucial components to recreating your music with accuracy and detail. Imagine how bad your music would sound with a great source unit and a high-power amplifier connected to low-quality speakers from the auto parts store? Yuck!
Speakers designed for motorcycles need to meet three crucial requirements: They need to be able to withstand prolonged UV exposure. They need to play loudly and handle lots of power. Finally, they need to be water-resistant. Of course, every speaker should also offer a smooth frequency response free of peaks, dips or unwanted resonances that detract from the listening experience. Combining all these criteria into a single product is no easy feat.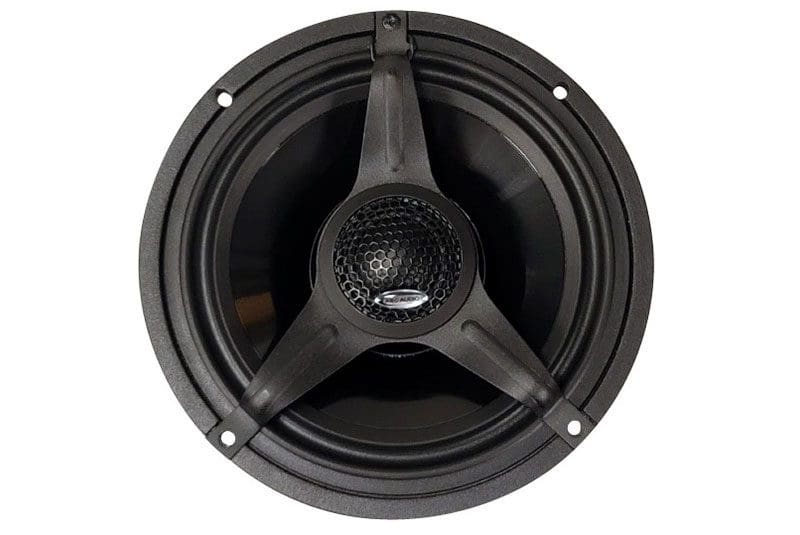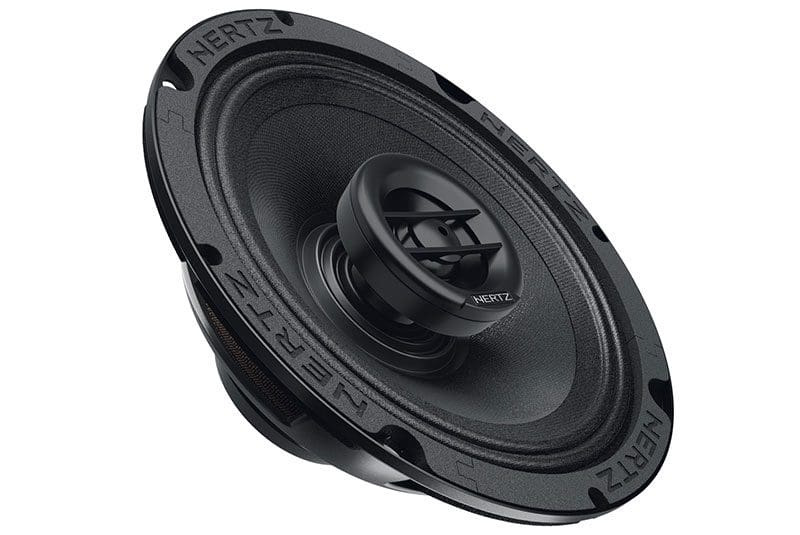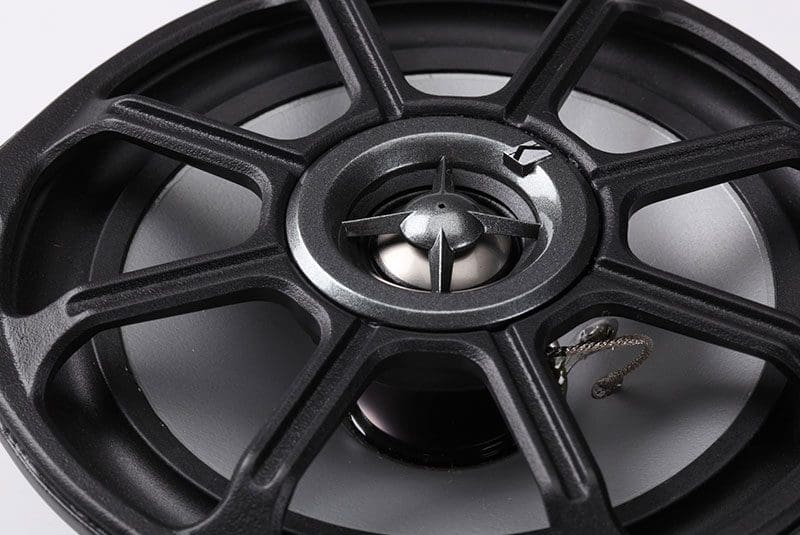 When you start shopping for new speakers at your local specialty mobile enhancement retailer, you should have a list of questions to accompany a listening audition. In terms of UV resistance, you want something that won't fade, chalk, yellow or crack after a year or two exposed to the sun. The speaker should be completely water-resistant. Polypropylene cones are the easiest to make UV resistant as stabilizers can be added during the manufacturing process. Paper, composite and carbon fiber cones typically don't fare as well.
For coaxial designs, a flexible secondary seal around a centrally located tweeter mounting post is paramount. Many newer motorcycle-specific speakers use a tweeter that's mounted to a bridge that spans the woofer. This design allows for a woofer that has more surface area and, as such, offers increased efficiency and midbass output.
Auditioning a set of speakers designed for a motorcycle is quite different from testing out ones designed for typical car audio applications. First, you'll find that these speakers sacrifice some bass and midbass output in order to increase their efficiency. On the top end, you'll find emphasis in the higher frequencies to help overcome wind noise or let you hear music through a helmet. What might sound bright or aggressive on a display may sound fine when installed on your bike. With that said, the usual criteria of smooth response and lack of resonance remain true during the auditioning process. If the midrange is harsh or the speakers sound muddy, no amount of tuning can eliminate that distortion.
Speaker Locations and Upgrade Solutions
Most touring bikes include 4-, 5.25- or 6.5-inch speakers in the front fairing. If you are having these upgraded, you can choose like-sized replacements. Adapters may be available to let your installer put a larger speaker in the same location without the need to customize or modify the motorcycle. For bikes with rear speakers, they are most commonly found on either side of the rear seat. On Harleys, these are called Tour-Pak speakers. These speakers are often a little smaller, and most are typically 5.25 inches in size.
Once you've chosen great speakers for the existing locations on your bike, there are options to add additional speakers if you want more output. For Harley owners, several companies make pods that are designed to mount speakers on either side of the radiator or the engine guard. Most of these options are designed for 6.5-inch speakers. This speaker location is referred to as "lowers."
For the rear of your bike, upgrading the lids on a set of saddlebags is a great way to add big sound to your motorcycle audio system. Most of these lids have space for a 6×9 speaker, though some use 6.5- or dual 6.5-inch or 8-inch drivers. These lid covers are available in some of the more popular colors or can be painted to match your bike.
A really cool upgrade option for bag lid speakers are the Rockford Fosgate TMS69BL9813 and TMS69BL14 kits. These kits include a template that lets your installer add grilles to your existing bag lids. The key benefit is that your lids don't need to be painted, so the speaker upgrade can be completed in a few hours rather than a few days.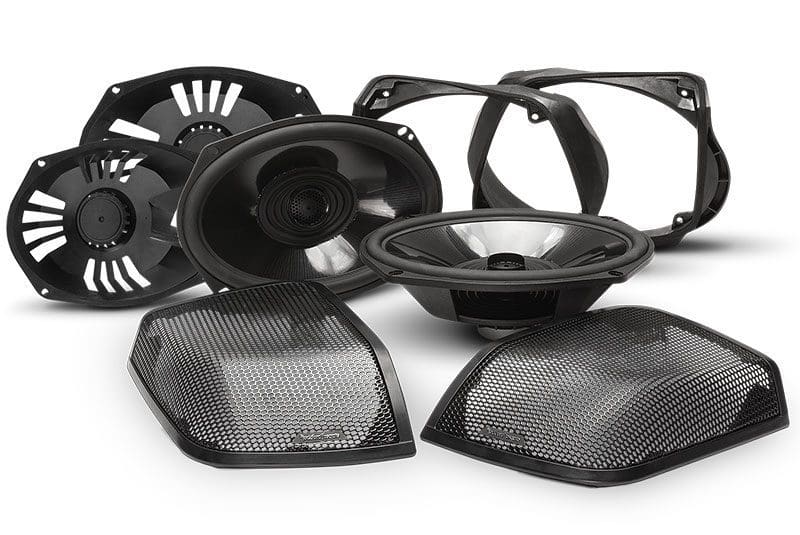 Of course, if you have a motorcycle that isn't supported as well as Harleys are, many options are still available for upgrades. The shop can create custom mounting solutions or modify a saddlebag, storage trunk or fairing to house new speakers.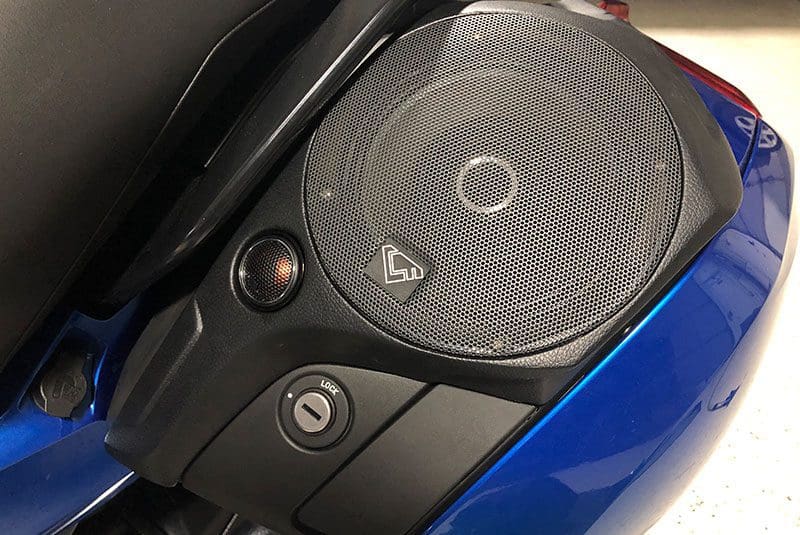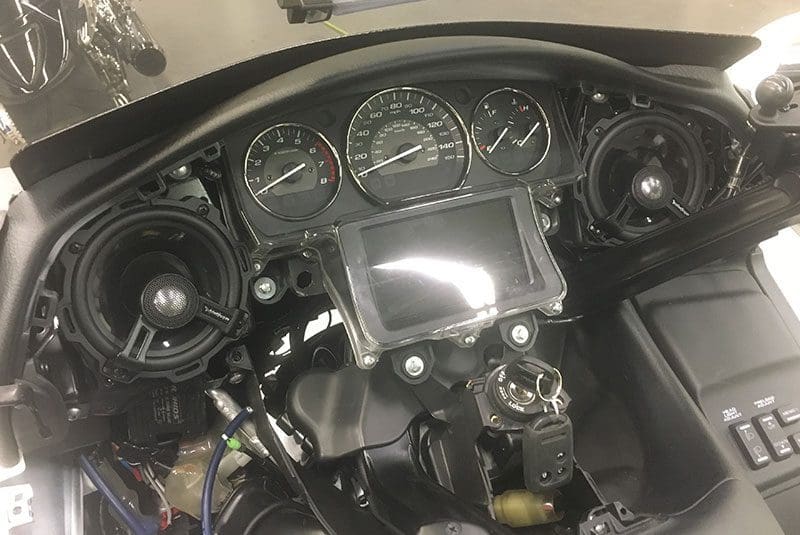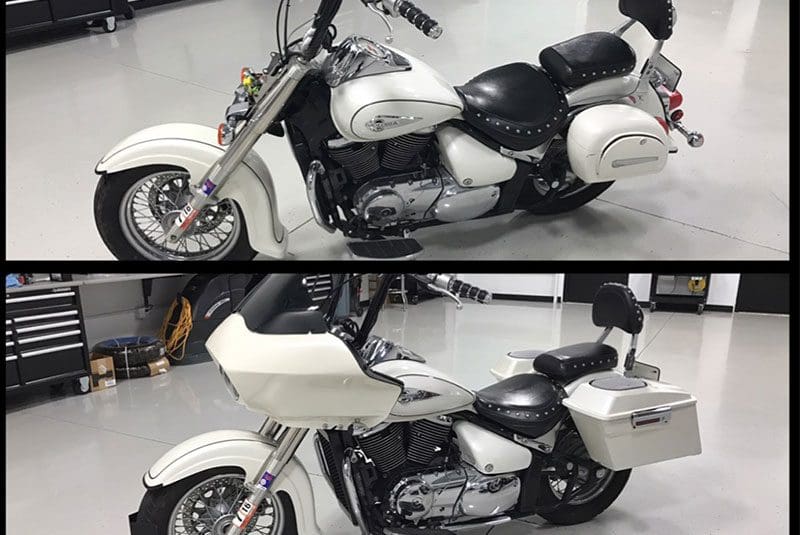 Compact stand-alone speaker systems are also available to upgrade bikes without fairings. These speaker solutions typically include a built-in amplifier and a Bluetooth receiver to offer an all-in-one sound system. Keep in mind, while these solutions are impressive, they won't offer the same output as a set of 6.5-inch drivers in a fairing powered by a high-quality amplifier.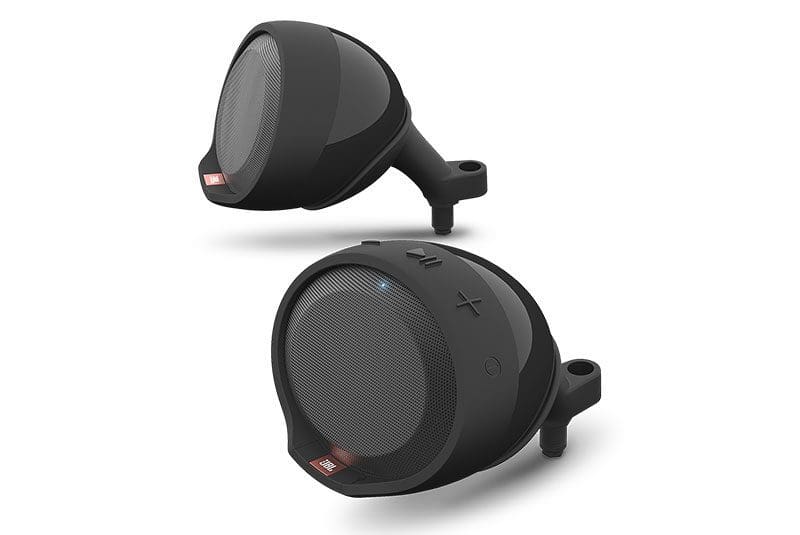 Subwoofers and Motorcycle Audio
Trying to reproduce the lowest notes of your music on a motorcycle is extremely difficult. Unlike in a vehicle, you don't have the benefit of a small cabin that can be pressured by a relatively small speaker. Think about the number of speakers and the power it takes to produce bass at a rock concert in an open-air venue. You also have the challenge of overcoming the exhaust noise produced by the motorcycle itself. If you are of the "loud pipes save lives" persuasion, the challenge is going to be even more difficult. Last and certainly not least, subwoofers need proper enclosures in order to function. Saddlebags, Tour-Paks and trunks are, of course, an option. Adding a subwoofer and having it focus on the midbass range from 50 to 125 Hz may prove to be beneficial to the system as the small speakers won't have to work as hard. If this is your plan, you'll need to pick a subwoofer with good midbass performance. Please don't expect to hear the lowest synthesizer or organ notes while riding on the freeway.
Choosing the Right Shop To Upgrade Your Motorcycle Audio System
As important as the products you choose are, the way they are integrated into your motorcycle is crucial to their performance and reliability. While companies like ARC Audio and Rockford Fosgate offer installation hardware and connectors that work with the factory wiring on Harley-Davidson motorcycles, it takes proper training to know how to safely disassemble your bike, run those cables along the factory wire channels and configure a new amplifier. You'll want to see evidence that the shop you choose has worked on motorcycles similar to yours and, if possible, audition those systems before you agree to let them work on your pride and joy.
If you're upgrading a newer bike that might still be covered under the manufacturer's warranty, then ensure that the shop installing your speakers and amplifier knows not to cut any wiring.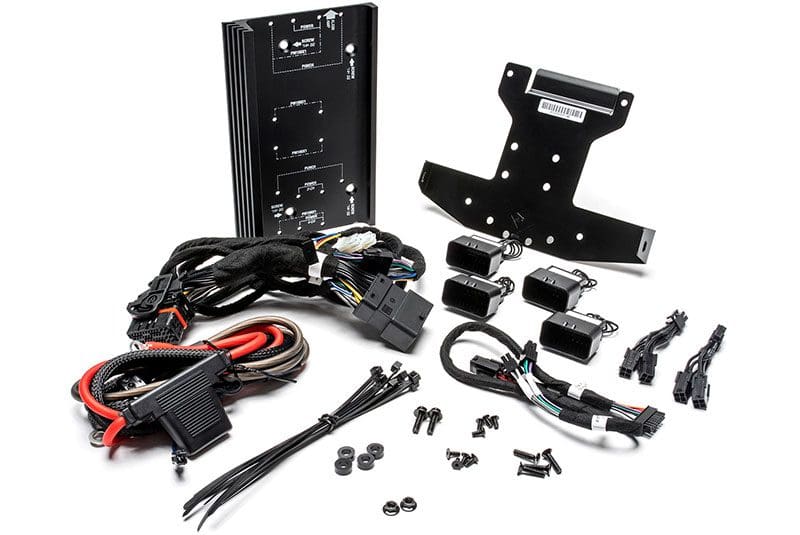 As with any investment in electronics or entertainment products, you'll want to work with a shop that offers proper after-sales support. If you have questions about how something works or want to expand the system further, they are there to help. If you need service on a component, they can sort it out. With this in mind, you'll want to avoid "on the street" upgrades at a show or rally. If the shop is three or four states away, how are they going to stand behind what they've sold you?
Upgrade the Sound System on Your Motorcycle Today!
If you're tired of a motorcycle audio system that isn't crystal clear or doesn't play loudly enough, it's time for an upgrade. Drop by one of the local specialty mobile enhancement retailers in your area to find out what source unit, speaker and amplifier options are available to make your next ride even more fun.