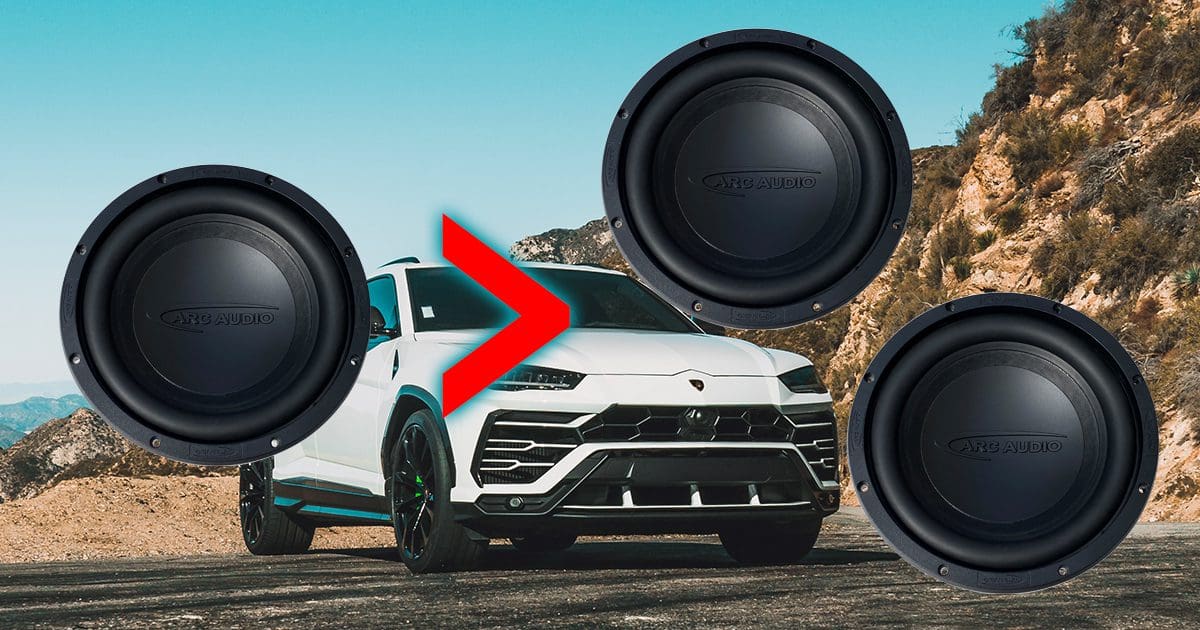 There's a common belief that an audio system with more subwoofers will produce more bass. This statement can be 100% true or completely false. Why might it be false? A subwoofer's output depends heavily on enclosure design. Let's look at two examples where the output of one subwoofer is more than two.
The Most Bass for Your Dollar
If you spend any time searching the countless car audio groups on Facebook, you'll see dozens of photos of under-seat subwoofer enclosures for pickup trucks. Many of these enclosures have three or four subwoofers in them. If they are 8-inch subwoofers, this might work well. If they are 10-inch subwoofers, they're likely somewhat cramped for space.
When we're talking about subwoofer systems, the size of the enclosure relative to the parameters of the subwoofer itself determines performance. You could have a shop build a cube that measures 12 by 12 by 12 inches and mount a 10-inch subwoofer on all six sides. It would look cool, but it would likely sound terrible!
How much bass a subwoofer produces depends on how far the cone moves forward or rearward for a given amount of power. Professionals use enclosure simulation software like BassBox Pro or Term-Pro to model how a subwoofer will behave in different enclosure designs. These software packages can simulate acoustic suspension (sealed), bass reflex (vented) and various bandpass enclosure designs.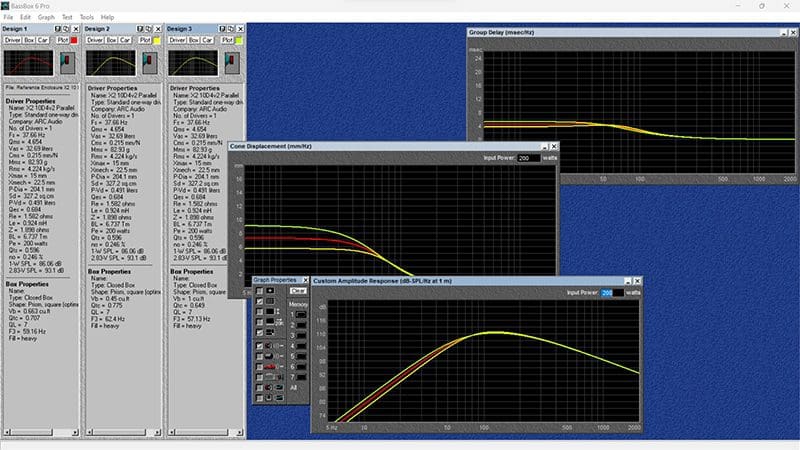 Someone with experience needs to analyze and interpret the information provided by the software simulations to determine whether the design is suitable and safe for the subwoofer with the chosen amplifier. These software packages, on their own, don't calculate the perfect enclosure for any application. They're like a spreadsheet: They work with the electromechanical parameters of the subwoofer and the provided enclosure information.
Let's talk about acoustic suspension enclosures, which are the simplest to understand and predict. When a subwoofer is installed in an acoustic suspension enclosure, the compliance of the air in the enclosure combines with the compliance of the driver's suspension to form a spring system. Compliance is the reciprocal of stiffness. Or, put another way, a rubber band is more compliant than a pencil. A large amount of air is very compliant, and a small amount of air isn't when we're talking about compressing it. More specific to subwoofer enclosure simulations, it's easier to compress the air in a large enclosure than in a small one.

When a subwoofer is installed in a very small enclosure, the resulting system is not very compliant. It will take significant power to move the subwoofer cone at low frequencies. Why does the enclosure size have a more significant effect at low frequencies? For each decrease of one octave, a subwoofer cone has to move twice as far to produce the same output. For example, if a subwoofer moves back and forth 2 millimeters to produce a specific output at 60 Hz, it has to move 4 millimeters to produce that same output at 30 Hz. If the speaker is in an enclosure that limits how easily the cone moves, it will produce less output for a given power input.
Since we aren't installing subwoofers for midbass, installing any subwoofer or woofer in a small enclosure means limiting how much bass the system produces. This low-frequency limiting is one of the reasons we use enclosures. Without an enclosure, the subwoofer would bottom out when driven with moderate power.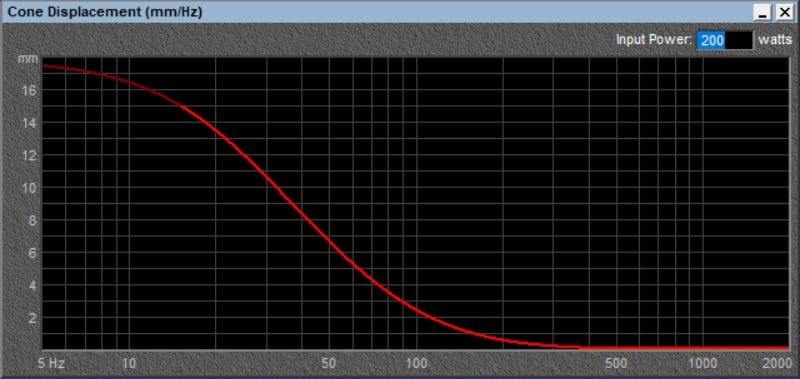 The graph below shows the predicted frequency response of the ARC Audio X2 10D4v2 subwoofer we reviewed recently in three different enclosures. The red trace represents a sealed enclosure with a net internal air volume of 0.663 cubic foot. The yellow trace shows the predicted response of the subwoofer in an enclosure with only 0.45 cubic foot of space. Finally, the green trace is the response with the subwoofer in an enclosure with 1.0 cubic foot of space.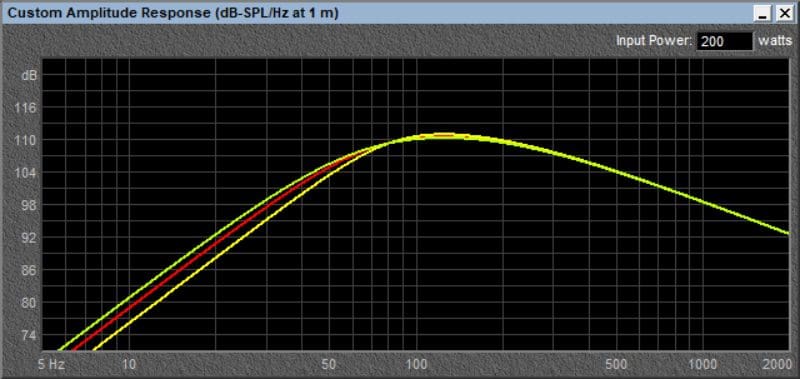 As you can see, the ARC Audio subwoofer produces more bass from a larger enclosure for a given amount of power. This is true of all subwoofers. When driven with 200 watts of power, the 1.0-cubic-foot enclosure would produce 98.9 dB SPL output (in a free-field measurement) at 30 hertz. The 0.663-cubic-foot enclosure produces 97.6 dB of output at the same frequency. Finally, the 0.45-cubic-foot enclosure produces 95.2 dB of output at 30 Hz.
Let's look at this data from another perspective. Consider how much more power it would take for the smaller enclosures to play as loudly as the larger designs. We will reference 200 watts of power into the 1.0-cubic-foot enclosure. The 0.663-cubic-foot enclosure would need 272 watts of power at 30 hertz to produce the same output. The 0.45-cubic-foot enclosure needs a whopping 469 watts to match the 30-hertz output of the large enclosure. Think about how much hotter the sub would get and how much harder the amplifier and vehicle alternator would have to work to produce the same output.

What if we look at this from the opposite perspective? If we provide the ARC Audio subwoofer with 200 watts of power in the small 0.45-cubic-foot enclosure and it produces 95.2 dB of output, how much less energy would be needed to match that output from the larger enclosures? The answer is that the 0.663-cubic-foot enclosure is just as loud with only 148.4 watts of power, and the 1.0-cubic-foot enclosure would only need 85.5 watts to produce 95.2 dB of output. As you can see, cramming a subwoofer into a small enclosure is counterproductive in terms of efficiency.

Are More Subwoofers Always Louder?
Now let's talk about multiple subwoofers and whether or not they are always louder. Most car audio enthusiasts think adding a second subwoofer increases the output of a system by 6 dB SPL. This statement is true under a specific set of conditions. Let's say we have a single subwoofer in a 0.663-cubic-foot enclosure, and a 200-watt amplifier powers it. If we want to use two subwoofers, each driver needs 0.663 cubic foot of airspace. We also need an amplifier that can provide a total of 400 watts. If we meet these conditions, the system's maximum output will increase by 6 dB SPL. If we have double the airspace but only 200 watts to share between the drivers, the output increases by 3 dB SPL.
The graph below shows a single X2 subwoofer in 0.664 cubic foot of space in red and a pair of those subwoofers in 1.326 cubic feet in teal. The total power is 200 watts for each simulation.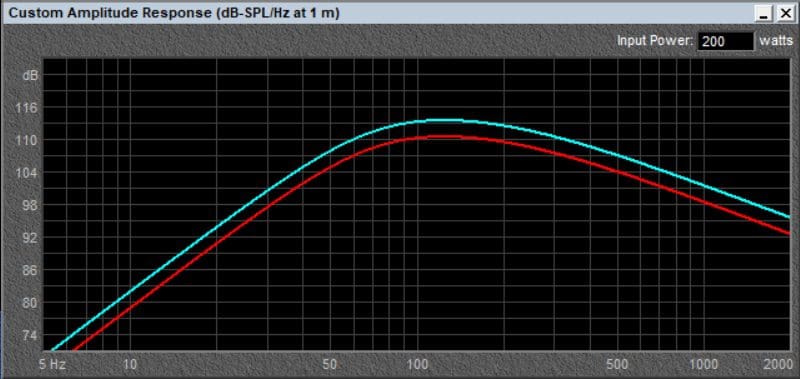 What happens if we ask our installer to cram both subwoofers into a 0.664-cubic-foot enclosure?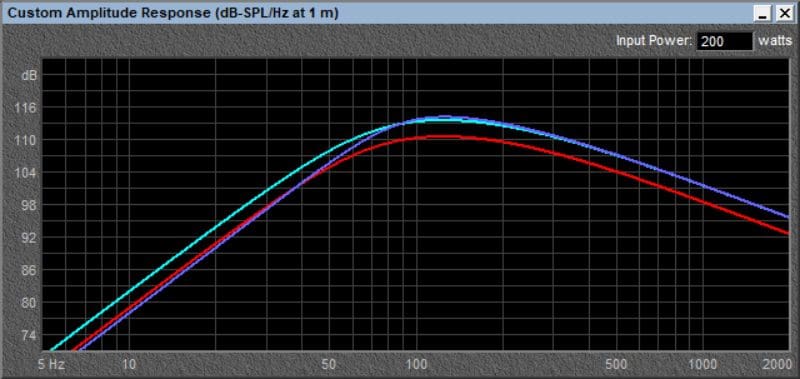 The graph above shows that the subwoofer system produces less bass with two drivers sharing the 0.663-cubic-foot enclosure and 200 watts (total) than with a single driver (in red). Proper subwoofer enclosure design is crucial to maximizing car audio system efficiency. If we doubled the power when adding the second sub, it would be louder, but maybe only by 2 to 2.5 dB.
Ported Subwoofer Enclosure Solutions Add Efficiency
What if you want the most bass output for our investment? What enclosure should you use? The answer depends on how much space you have in the vehicle. Let's say we have room for two subwoofers in an acoustic suspension enclosure with a net volume of 1.324 cubic feet. This is a large enough enclosure to ensure that the drivers play loudly at low frequencies, right? Sure, but is this the most efficient use of our money? Guess what? No, it isn't.
If you have the shop you're working with design and construct a vented enclosure using the 1.324 cubic feet of space and a single subwoofer, the system will produce significantly more bass. Two drivers in an acoustic suspension enclosure with a volume of 1.324 cubic feet, sharing 200 watts, will produce 102.9 dB SPL at 35 hertz. A single driver in a 1.324-cubic-foot bass reflex enclosure would deliver a mind-blowing 107.8 dB of output at the same frequency. That's 4.9 dB more output. Your sealed enclosure would need 618 watts of power to reach the same output level. Chances are, the subwoofers wouldn't appreciate receiving that much power.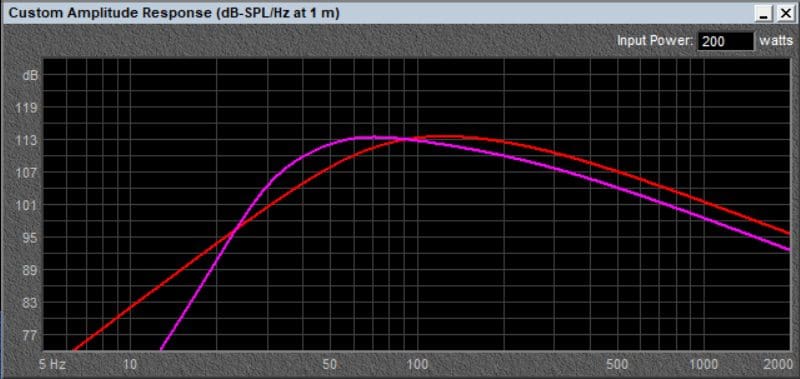 Does Adding More Subwoofers Make My Car Audio System Play Louder?
So, let's answer the question, "Does adding more subwoofers make my car audio system play louder?" The answer is yes if your enclosure design has double the air volume every time you double the number of subwoofers. Your system will play 6 dB SPL louder every time you double the number of drivers in this scenario.
Unless the enclosure was grossly oversized, adding more subwoofers to a given volume is unlikely to increase low-frequency output. This is why it's crucial for the shop you're dealing with to model the enclosure options so that you get the most bass for your investment. In most cases, especially for an under-seat truck enclosure, a single driver in a bass reflex (vented) enclosure produces significantly more low-frequency energy than two, three or even four drivers in an acoustic suspension design. Drop by a local specialty mobile enhancement retailer today and talk with them about your goals for your subwoofer system upgrade. If they know how to optimize enclosure designs with simulation software, the chances are that you'll get the best bang for your buck, bass-wise!