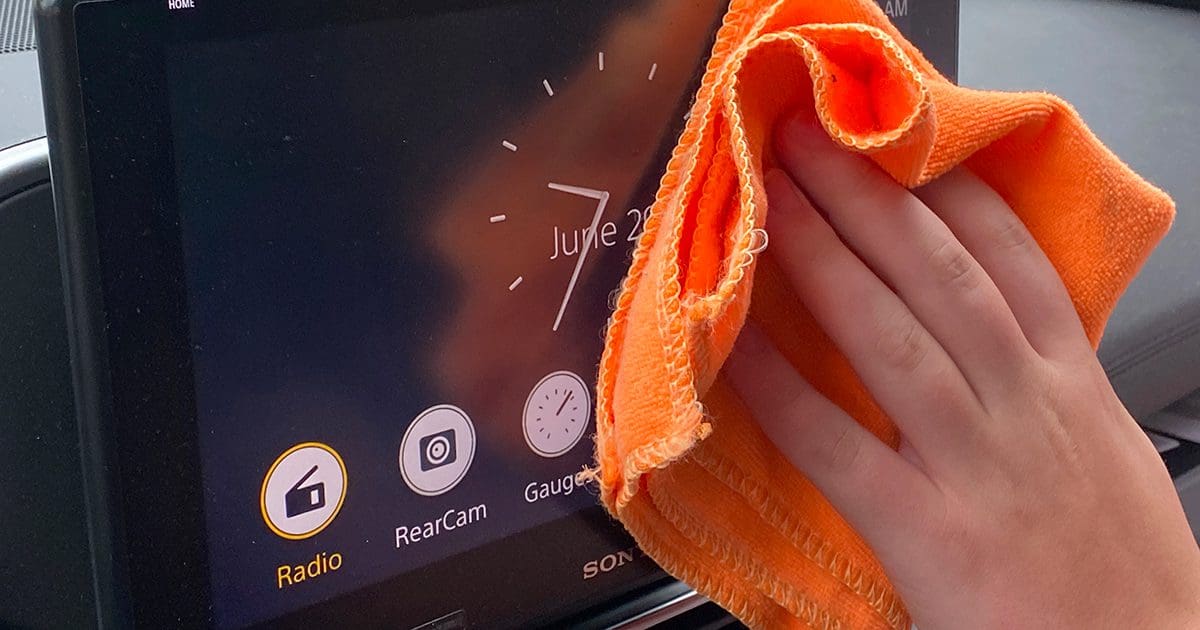 The most popular car radio upgrades these days include a touchscreen. Multimedia receivers with Android Auto and Apple CarPlay are a great way to make communicating safer while driving. When it comes time to clean your car or truck's interior, here are a few things to keep in mind to ensure that the display on your car radio will look great for years.
Cleaning Touchscreen Radios and Overhead Monitors
It shouldn't be surprising that touchscreen radios will get some fingerprints on them. Most of us have naturally oily skin. When we touch the plastic screen, we leave marks that can make reading the information on the display more difficult in bright sunlight. You may also need to deal with the occasional splash of coffee or droplets from a sneeze. Using the proper process and cleaning products is essential to prevent damage to the fragile anti-glare coating.
Many of us are accustomed to the toughness and durability of the glass screens on our smartphones. We can wipe them on a shirt or pant leg with minimal risk of damage. Your car radio, an overhead monitor or headrest monitor isn't anywhere as durable. The plastic overlay on top of the glass screen in your vehicle typically has a slightly frosted anti-glare coating. This coating helps diffuse light and makes it easier to see information on the display behind it. To put things into perspective, some of these coatings can be scratched or scuffed by a sharp fingernail.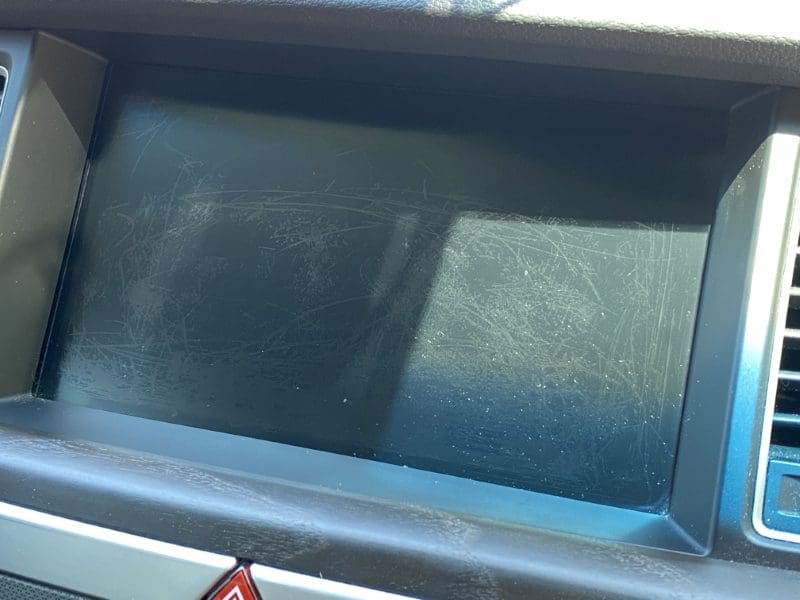 Touchscreen Display Cleaning Products
When it's time to clean the display on the radio in your car, the first thing you'll need is a microfiber cloth. If you want to be 100% fanatical (like us), we recommend a cloth that's been used and washed once as the fibers are matted down a little bit. Further, when you wash microfiber cloths, do not use fabric softener. A laundry detergent like Purex Free and Clear or an application-specific product like Chemical Guys' MicroFiber Wash or P&S Rags to Riches is better. Tumble dry the cloths on a low or no-heat setting that won't melt the fibers. If you get the feeling we do as much research into automotive detailing as car audio, you are 100% correct.
Next, you need something to cut through the grease, oils or coffee. We've had excellent success with a product called Woosh! Screen Shine. That said, distilled water (which is free of minerals) is often adequate for day-to-day maintenance. A few drops of vinegar in distilled water will give it extra grease-cutting power. The same goes for a drop of dish soap like Dawn. If you are shopping for a "screen cleaner," make sure it says it's 100% compatible with plastic displays and that it's not designed specifically for the glass screens of tablets and smartphones.
Spray the Cloth, Not the Screen!
One of the most important things to know when cleaning any display, be it on your car radio, your flat-screen television, a computer monitor or even a smartphone, is to avoid soaking the display. Do not spray the cleaner on the display – spray the cloth. You don't need anything soaking wet. No liquid should be running down the screen with the potential of getting into the electronics and circuitry below. Water and liquid damage are never covered under the manufacturer's warranty. Nor are scratches on the display from improper care and maintenance.
If you're a detailer, don't use steam on or around the screen. That's a LOT of moisture that can infiltrate the display and cause permanent damage.
Give the microfiber cloth a spray (preferably outside the vehicle) and wipe the screen lightly. Resistive-style touchscreens move slightly to make contact with a second layer. You don't want to dent, crush, nick or scratch the display membrane. If something stubborn is on the screen, reapply your cleaner (on the cloth) and continue to rub gently. Pressure is bad.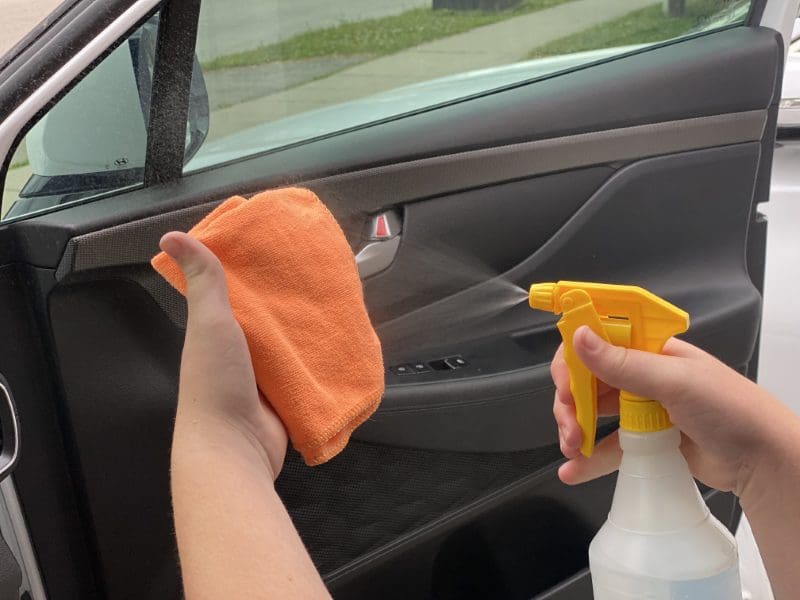 What Not to Use on Car Screens
In terms of wiping the screen, never use a paper towel, newspaper or even facial tissue (Kleenex). You should also avoid cotton rags and waffle-weave clothes – even though they can be great for cleaning glass windows. The fibers used in these materials can scratch the screen.
Do not use strong chemicals like alcohol, Windex or other glass cleaners or degreasers, especially those with ammonia. Even lens cleaning wipes for your glasses can be too strong. These products can strip the anti-glare coating off of a screen very quickly. The only way to undo this damage is to have the screen replaced – and that's a costly component. Most aftermarket replacement displays cost between $100 and $300, but some new high-resolution displays can be even more. This price doesn't include the labor to remove the radio, ship it somewhere to be repaired and pay for the time to do the swap. Even a quick swipe with the wrong product or materials can end up being a $500-600 mistake.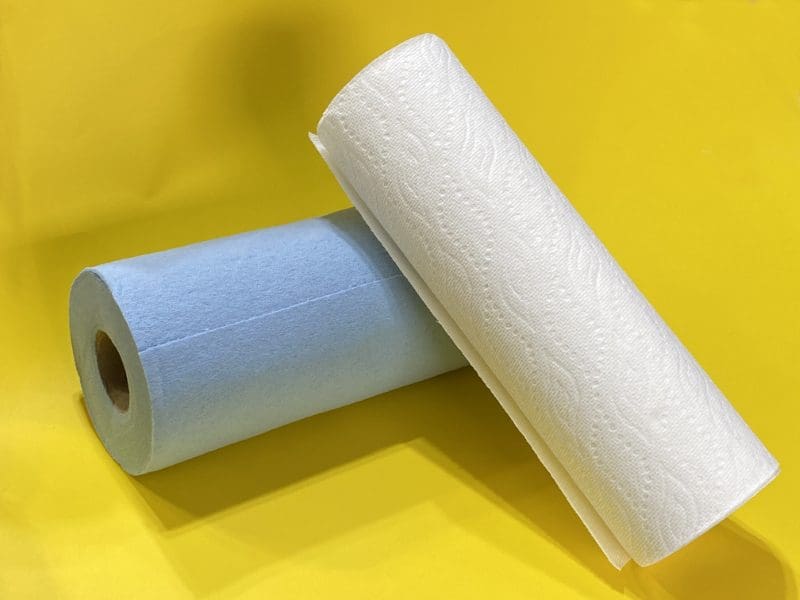 Tips for The Obsessives
If there is dust or debris around the edge of a recessed display, a soft makeup brush from the dollar store is a good way to get rid of it. If the brush has a metal band that holds the bristles in place, wrap it with cloth tape so you won't damage the plastic trim pieces. You can also use compressed air to clean dust out of the corners. A quick blast before wiping the screen can blow away anything that might cause scratches. If you have kids who like to snack in the car, then you know what we're talking about. Those cookie and cracker crumbs seem to end up everywhere!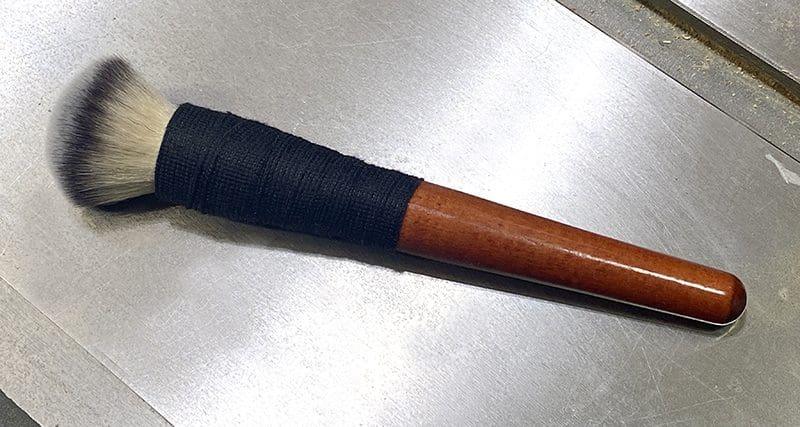 Take Care of Your Car Radio
We expect few folks put this much thought into keeping the display on their car radio looking good. Being overly obsessive about even the most minute details is our thing! If fingerprints are on your radio, we hope this guide will help you clean them off quickly and efficiently while ensuring that your radio will continue to function superbly for many years. If you're considering upgrading the stereo system in your vehicle, drop by a local specialty mobile enhancement retailer to find out about the available options.