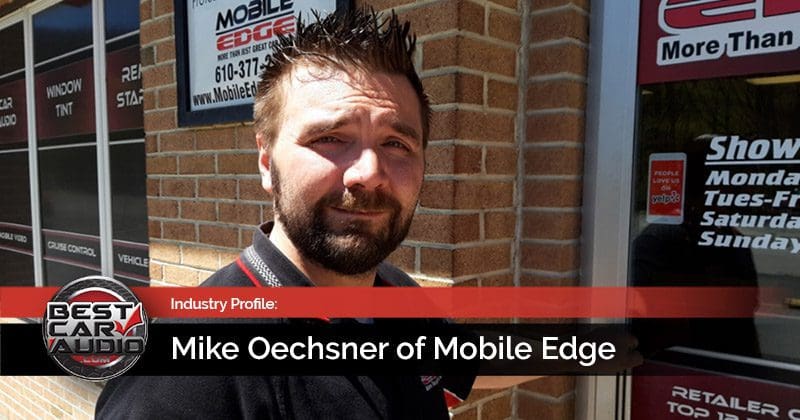 As with many veterans of the mobile enhancement industry, Michael Oechsner was introduced to car audio when a high school friend asked him to help install a stereo system. The amplifier and 12-inch subwoofers in this Lincoln Town Car were Michael's first taste of what a mobile audio system could be. Michael recalls asking his friends about "the cylinder with the Medusa of wires coming out of the top," and learning that it was a stiffening capacitor. Even without knowing exactly what it was or why it was required, it looked cool and Michael knew right away that he wanted another car audio fix, and soon!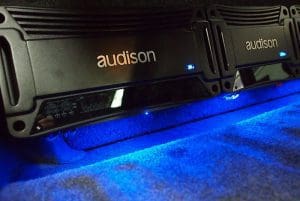 Michael was working at the Sunglass Hut in his local shopping mall when he and his friend decided to visit a stereo shop in another corner of the mall on their lunch break. He had learned enough from his friend that he could talk intelligently to the salespeople at Bryn Mawr Stereo. With an appropriate smattering of terminology and lingo, he managed to land himself a job. Two weeks later, he found himself at their head office with fellow enthusiast Jason Denton. There the two learned about sales, general audio concepts and car audio system design and became good friends. Though their careers took them down different paths, Jason was always happy to help Michael by sharing his knowledge and experience.
Years later, Michael and his fiancée moved to the Poconos and quickly learned that nothing was close by. Anywhere they wanted to go was a trek. On one particular excursion, Michael drove past Mobile Edge in Lehighton, Pennsylvania, and recognized the store from seeing its website. He submitted an employment application online and followed up a week later to find out that they were indeed looking to hire a new installation technician. Michael joined the Mobile Edge team in 2012.
Mobile Enhancement Industry Training and Tools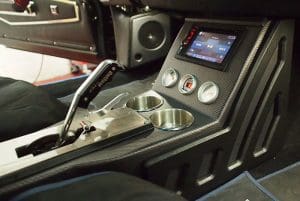 Several years ago, Michael attended a fabrication training session in St. Louis. While he was there, he learned a new fabrication process called Stack Fab that allows for the creation of complex wood structures in a short amount of time. Michael holds an MECP Advanced Installation Technician certification and spends his free time researching new processes and procedures from his peers on industry forums and groups.
As he was learning his craft, Michael recalls, he watched other installers using high-end tools and commented on how much they cost. Without skipping a beat, one technician replied, "If you want professional results, use professional tools." This simple philosophy has stuck with Michael through his career. He adds with a smile, "Investing in good tools means you are less likely to leave them in a client's vehicle."
Design Philosophy and Unique Projects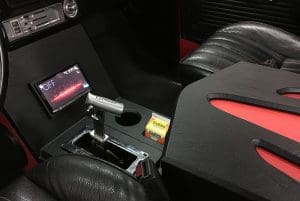 We asked Michael what projects of his stand out as unique. He thinks that every car or truck he works on is special in its own way. Whether it's a simple radio upgrade or speaker replacement, or he's building a custom center console for a 1970 Challenger, each project requires different skills, processes and planning to ensure that the client will be thrilled with the results. Pressed to think of an instance that stands out, he told us he enjoys adding new technology to older vehicles in a way that preserves the appearance of the vehicle while delivering state-of-the-art functionality and performance.
The Future of Car Audio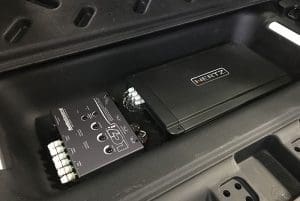 Asked about the future of our industry, Michael told us that the ability to integrate remote car starters, amplifiers, speakers and source units into the increasingly complex factory infotainment and communication systems will be the most sought-after skill. Being able to make new technology and stereo system upgrades look as though they were a part of the vehicle when it left the showroom floor parallels his passion for retrofitting modern functionality into classic vehicles. Everything he does helps provide clients with an improved experience while behind the wheel.
Visit Michael Oeschner at Mobile Edge in Lehighton, Pa.
With his start in 1999 as a retail sales associate, Michael is proud to be the Store Manager for Mobile Edge. He's also deservedly proud of his advanced MECP certifications and being recognized as one of the Top 100 installers in the country in 2014 and as a Top 50 installer in 2016. To find out more about Michael and the team at Mobile Edge, visit their website, like their Facebook Page or follow them on Instagram, Twitter and YouTube.