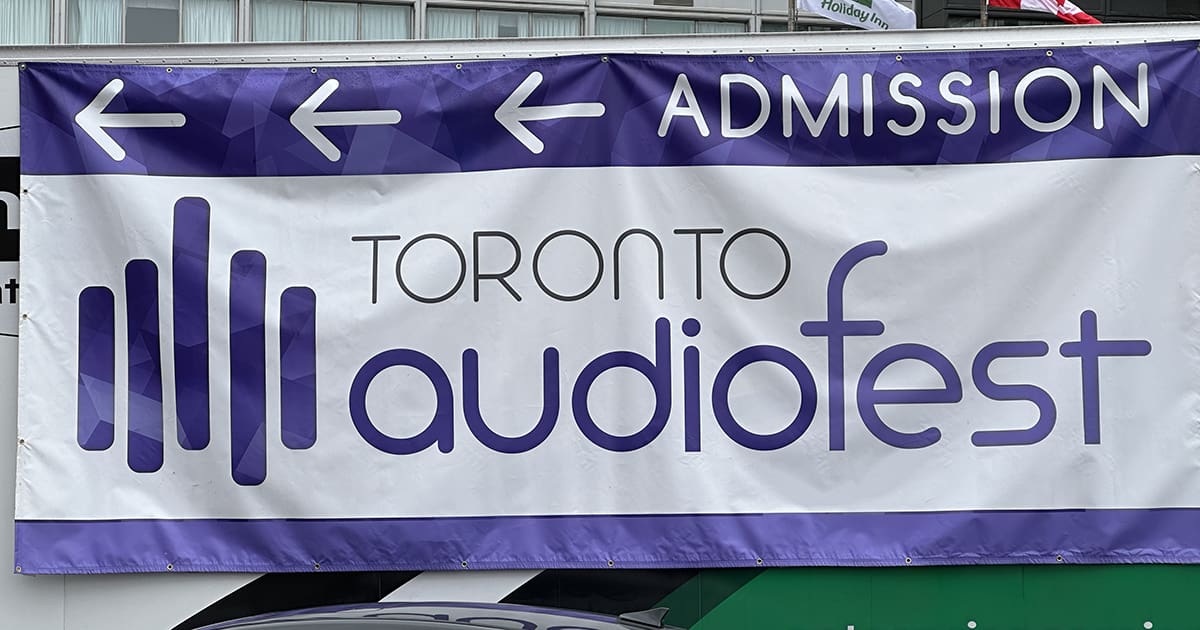 For seven years and across over 1,000 articles, the team at BestCarAudio.com has delivered a resource for car audio enthusiasts like no other on the planet. From spotlights on unique installations and facilities to technical articles that explain even the most complex physics concepts, we've worked hard to educate consumers to the best of our abilities about the solutions available to upgrade their vehicles. As we move closer to 2024, our focus on bringing you the best information about car audio and vehicle accessory upgrades won't waver.
That said, we will add the occasional article that strays slightly from our strict focus on vehicle upgrades. We'll call these articles Phase Shift. Don't fret; they'll still be about audio or vehicles, and we think you'll find them informative and entertaining.
In this first Phase Shift, members of our editorial team traveled to the north shores of Lake Ontario to spend a day at the Toronto Audiofest 2023 (https://audiofest.ca/).
This three-day event took place at the Westin Toronto Airport Hotel from October 20 to 22, 2023. Unlike many events, this show allows consumers to experience high-end home audio and video solutions they've lusted over or dreamed of seeing or hearing. Think of it like a CES show, but for consumers, without all the iPod cases. We purchased tickets, deliberately avoiding the press passes. Why? A small monetary contribution to an event of this scale is the least we can do. Second, we want to see, hear and experience the event just as a consumer would.
After a mandatory stop for caffeine at Tim Horton's on the morning of the 20th, we made our way to the Hilton. The parking lot was full, but the event organizer arranged overflow parking with the Holiday Inn next door. As always, the signage was well-thought-out, and we were inside and had our wristbands on in just a few minutes.
Acora Acoustics Corporation / Audio Excellence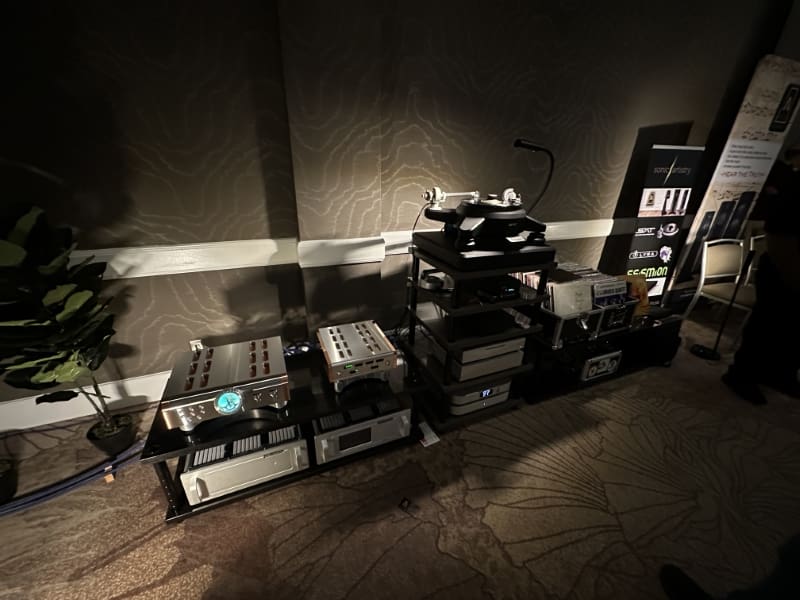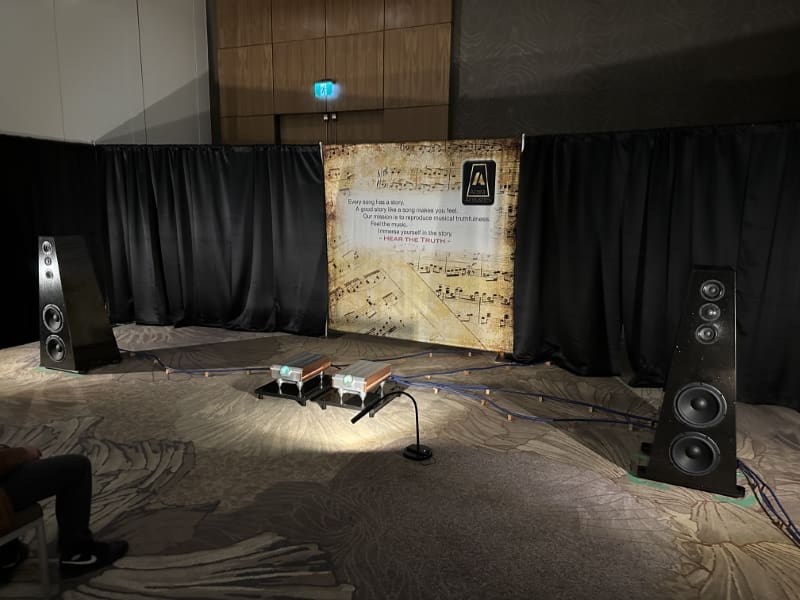 If you've never seen a show like this, poor lighting is a theme in almost every room. We get it – it sets a mood. Nevertheless, we like to look at things as well as listen to them. We started our journey in the Acora Acoustics/Audio Excellence room. They were spinning a Beatles album on an SAT turntable, which fed a pair of Dan D'Agostino M550 monoblocks to Acora Acoustics VRC-1 loudspeakers. Listening to "A Day in the Life," the presentation was a bit bright, but the staging and image were good. Lower frequencies sounded good, though The Beatles aren't known for their challenging low-frequency energy. "Hey Jude" started playing just as we were moving on. This track was a much better demo, with voices sounding fuller and rich.
EQ Audio Video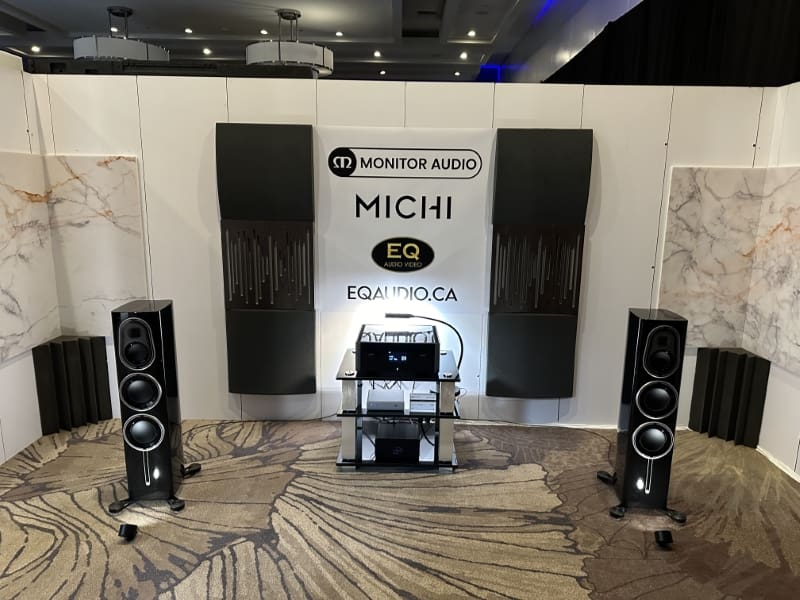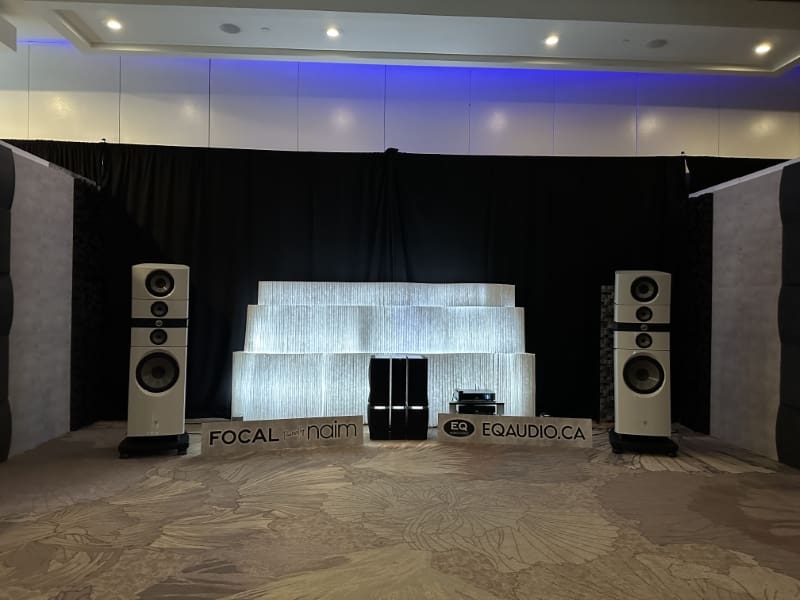 We wandered next door to the massive EQ Audio Video room. We caught the tail end of a demo through a set of Monitor Audio Platinum 300 3G speakers and a Michi integrated amplifier. A gentleman announced that they were about to start the Focal Grande Utopia speakers and Naim Statement amplification demo, so we snagged a seat in the sweet spot equidistant from the drivers. The host briefly introduced the system, mentioning that the combined price of the Focal speakers and Naim amplifiers reached a healthy $888,000 Canadian. Do with that what you will in terms of exchange rate. He also mentioned being unprepared for the demo and blamed passwords and login issues.
The first track was "Proteus (The Thrillseekers Remix)" by Neptune Project. The presentation was massive, and the bass in the large room was intense. The big Focal speakers had no problems producing measured SPL levels of 90 dB in this massive space. The next track was "Trollabundin" by Eivor. Unfortunately, while her voice was smooth and sultry, there was no image. The voice filled the room but couldn't be pinpointed in terms of the source. The last track we focused on was "Kashmir" by Marcin. Once again, the bass was amazingly intense. The overall balance was like a car audio system with 10 to 12 dB of boost on the bottom. The presentation lacked attack in the midbass. It was almost like the mids and tweeters were out of phase with each other.
KEF America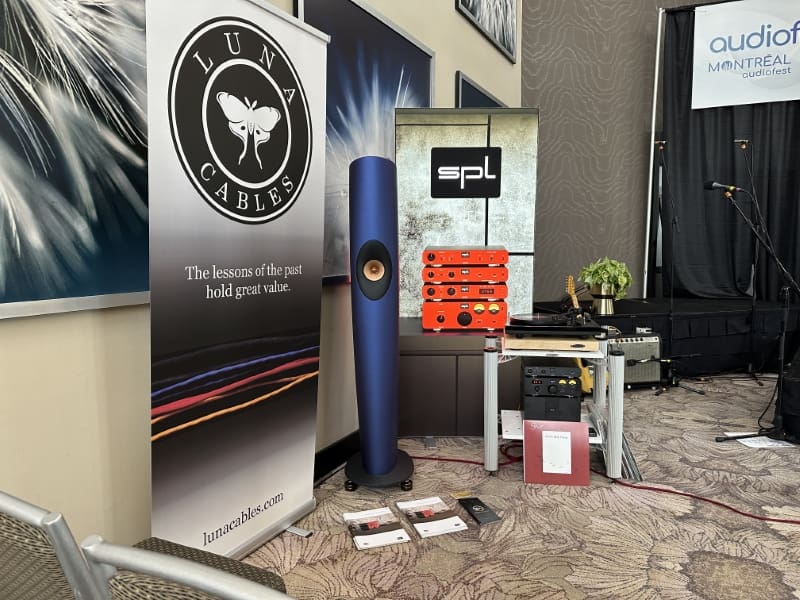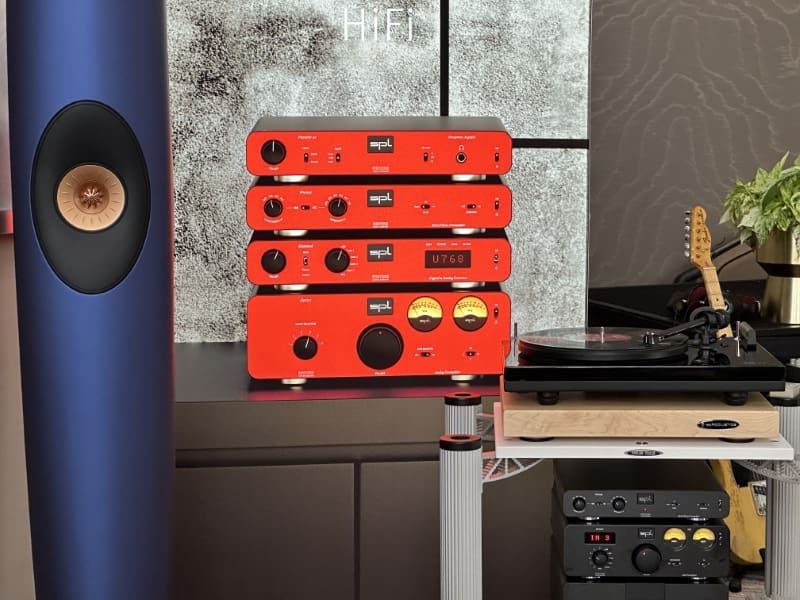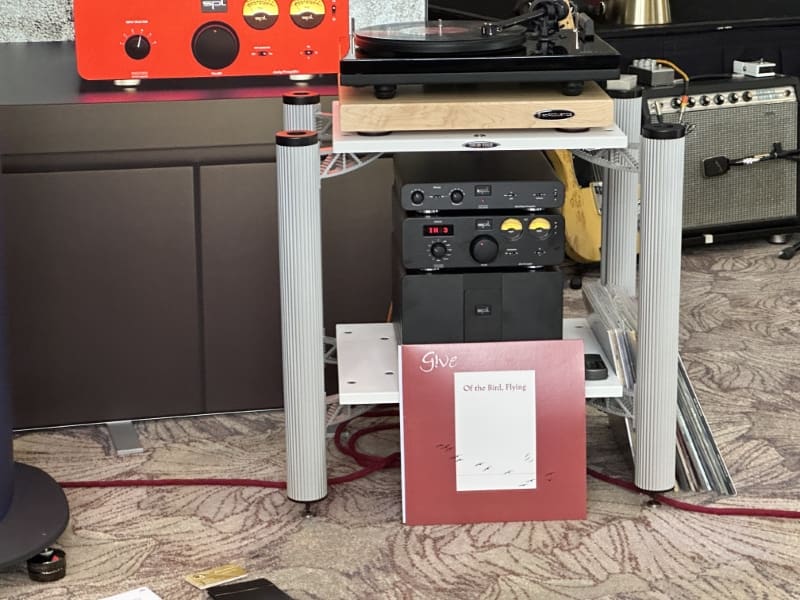 Walking down the hall, we ran into the KEF America system set up in the PMA Magazine Lounge. We admit the KEF Blade 2 Meta is at the top of our shortlist of speakers we wanted to hear. Their review in Stereophile magazine left us drooling over them, just from John Atkinson's measurements. John's words are often all we read.
Nevertheless, the Blade 2 Metas were fed from an SPL Audio Performer amplifier, phono preamp and preamp. When music sounds good, it only takes a second to realize it. Even before we sat down, we knew the KEFs were as good as we'd expected. The presentation was instantly holographic, with voices emanating from the space between the speakers. There was a real sense of depth and realism in the presentation. This is what an audio system should sound like. Kudos!
Wynn Audio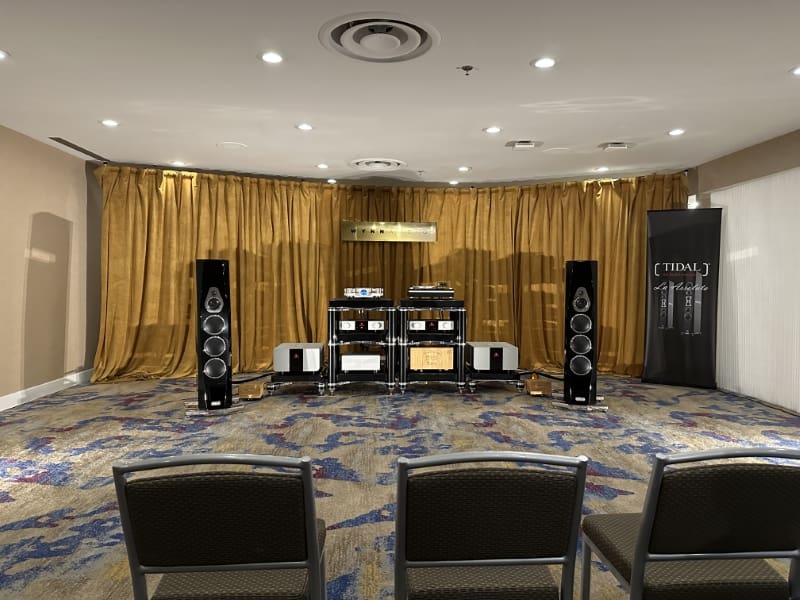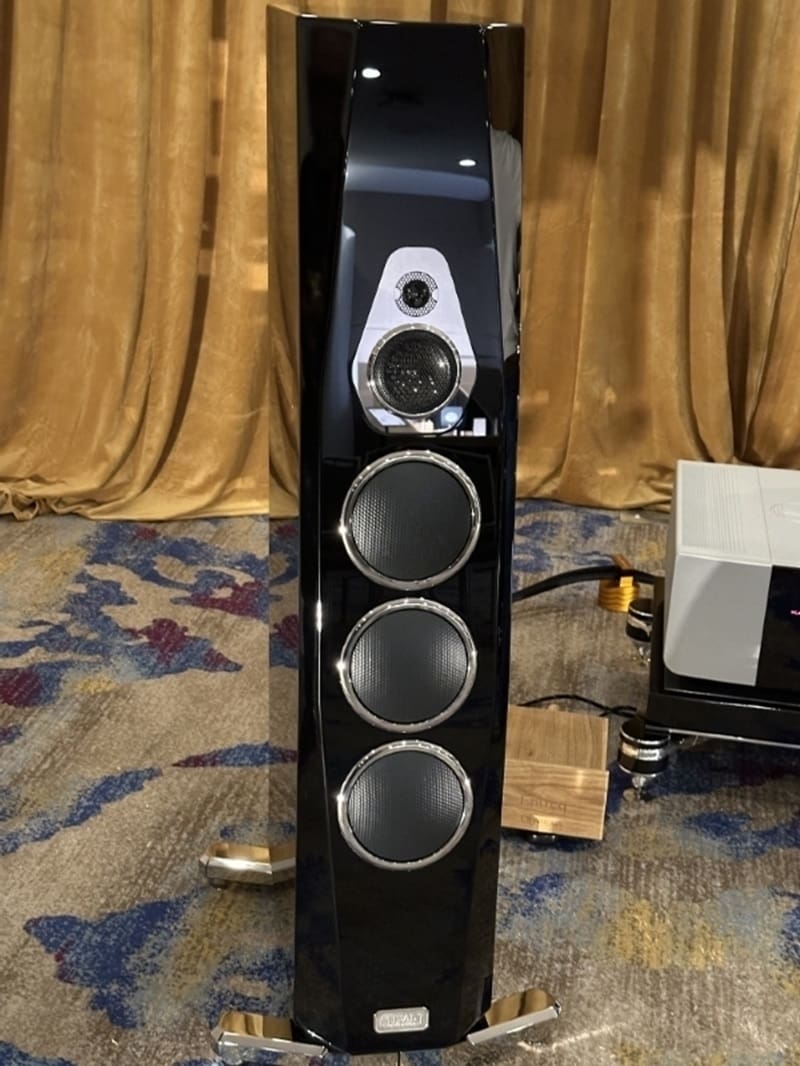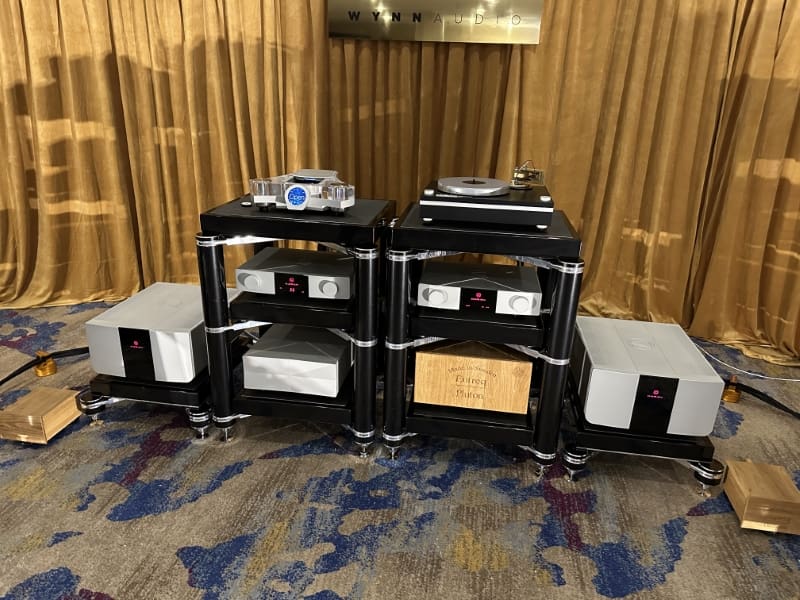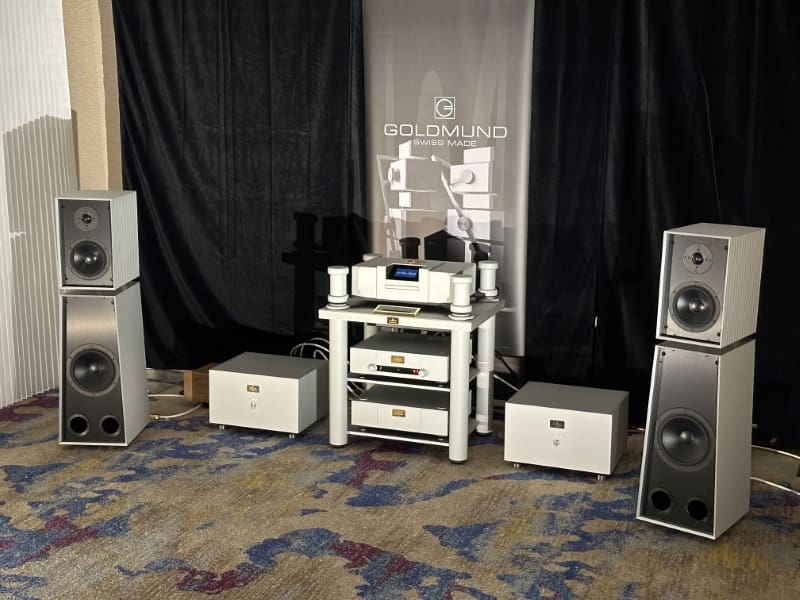 Set up downstairs was Wynn Audio's room, with a set of Tidal Akira speakers powered by Karan Acoustics electronics. They were playing "When Things Go Wrong" by Archie Shepp and Horace Parlan. Again, the presentation was immediately holographic. The speakers disappeared into the music, and the depth and realism were magnificent. The piano was clear, and the horn had great authenticity and edginess.
Wynn had a Goldmund system playing next in a different part of the room. We didn't get into a sweet spot to audition it, but it shared a similarly transparent presentation. The guitar on Jonas Hellborg's "Little Wing" was stunningly detailed. Very nice! These guys know what audiophile audio should sound like.
JVCKenwood Canada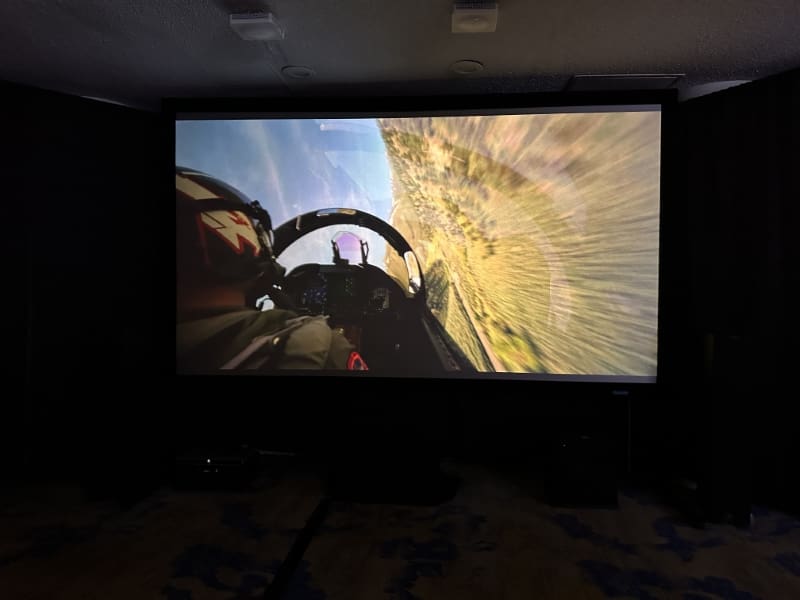 Walking across the hall, we entered the extra-dark JVCKenwood Canada room. They had one of the magnificent JVC laser video projectors set up and were showing a scene from "Top Gun: Maverick." We sat front and center and enjoyed watching Maverick impress the class with his simulated bombing run. The detail and contrast were magnificent. The experience is more like watching a massive OLED television than a projector. JVC has impressive technology if you want to be serious about home theater.
Corby's Audio, Saturn Audio and Baetis Audio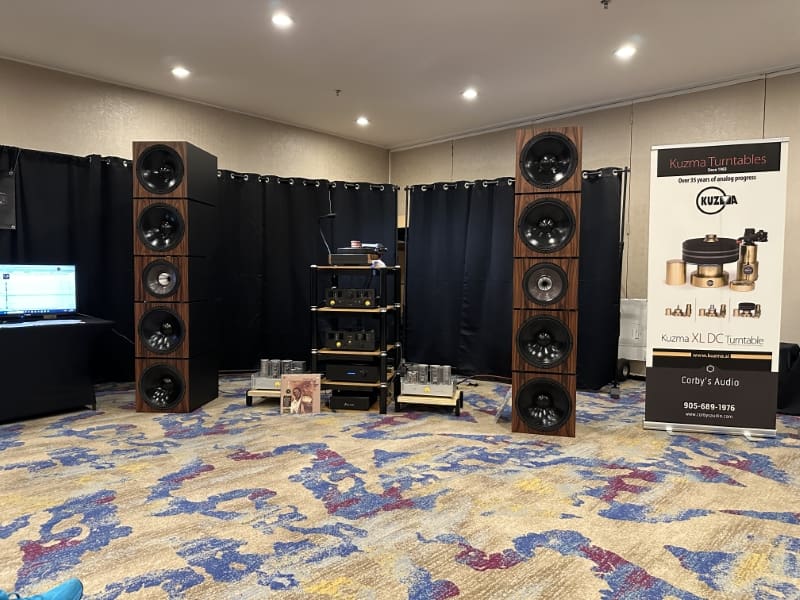 The last basement room hosted massive Coherent Audio speakers featuring The Twelve, flanked by four 15-inch woofers. The system was powered by 20-watts-per-channel monoblock Allnic Audio tube amplification. "Midnight Sugar" by Tsuyoshi Yamamoto Trio was spinning and sounded nice. We miss the visceral attack of solid-state amplification, but the system produced impressive clarity and more than adequate output levels.
Kennedy Hi-Fi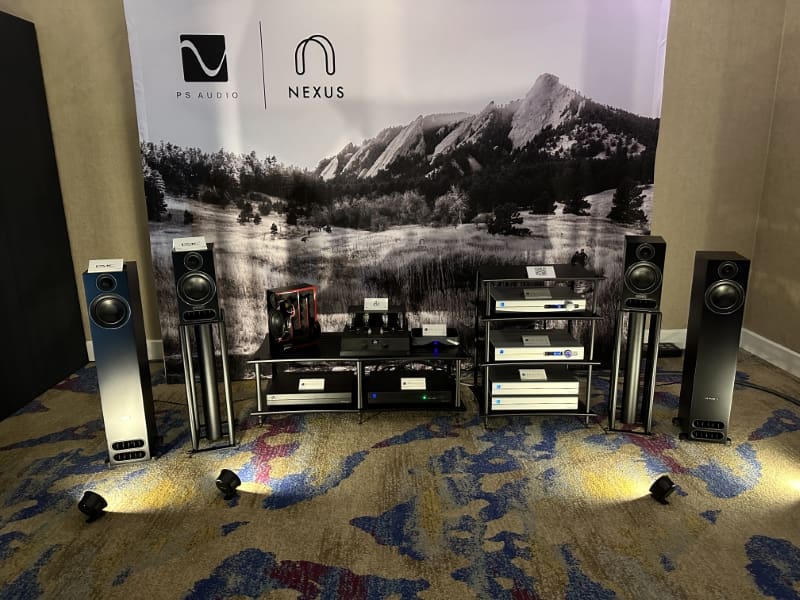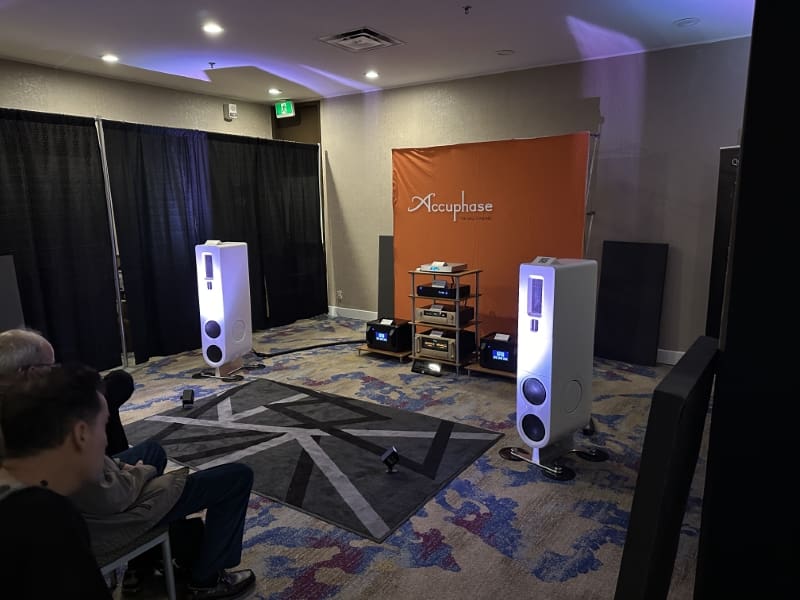 We went upstairs to the second level and walked into the Kennedy Hi-Fi room. They had a nice system with PMC speakers and PS Audio electronics playing. On Paul Simon's "Graceland," the bass was impressive, given the diminutive dimensions of the drivers, though the upper midrange was slightly nasally. We didn't get to listen to the adjacent Accuphase system they had set up.
The Lenbrook Group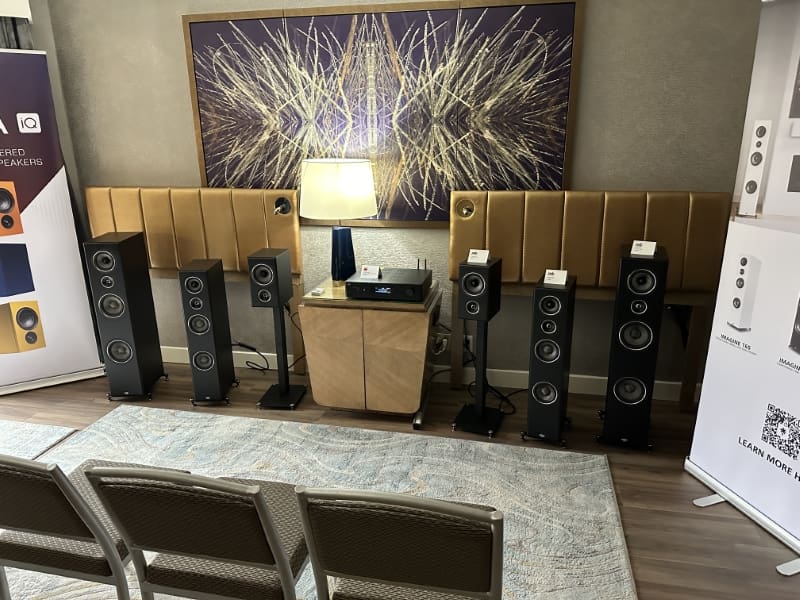 Lenbrook was set up in a small room with PSB speakers and NAD electronics. Eva Cassidy's version of "Over the Rainbow" sounded smooth and natural. Her voice had impressive detail without any sense of brightness or harshness.
Motet Distribution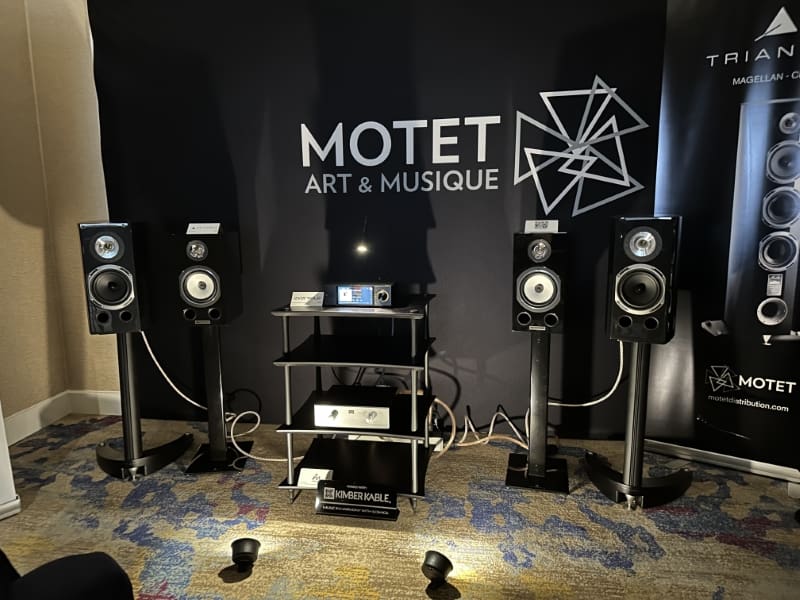 Motet Distribution had a selection of bookshelf speakers from Triangle powered by an Eversolo streamer. They were playing "Can't Leave the Night" by BADBADNOTGOOD, then "I Wish You Love" by Ann Sally. The midbass was impressively tight, and the midrange was smooth. There was a bit of sibilance that caused S and T sounds to stand out some. The room's small dimensions could have used some treatment to tame the higher frequencies.
DALI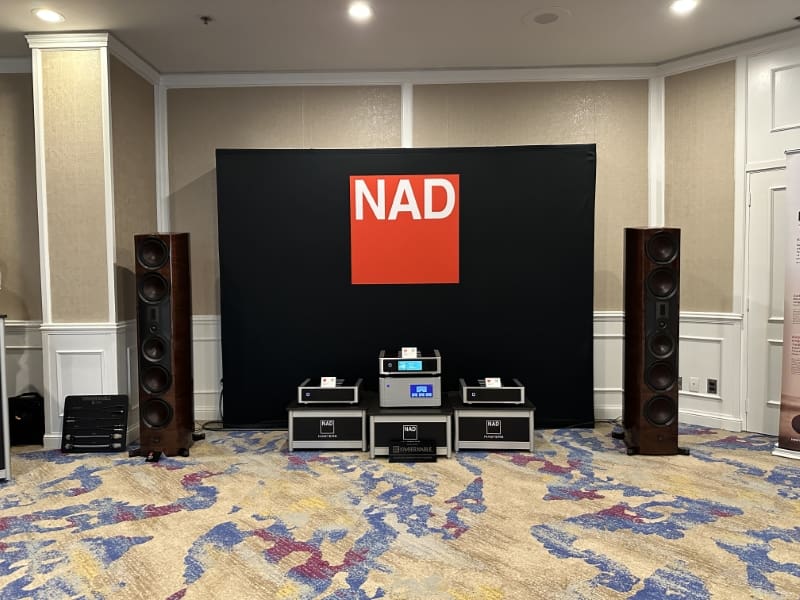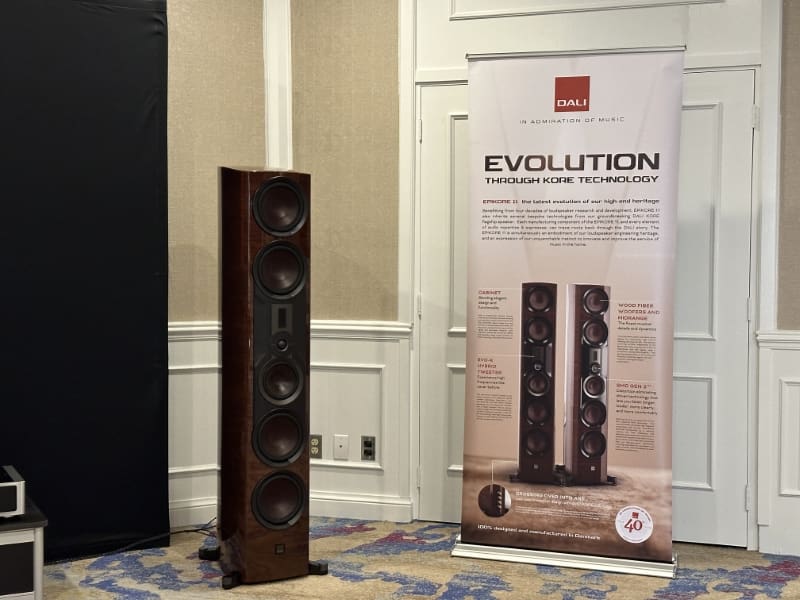 The DALI room had a set of Epikore 11 speakers set up with NAD Masters electronics. We listened to "Bad Liar" by Imagine Dragons and "Down" by Marian Hill. The system was a bit bass-heavy but delivered a stable center image. One team member mentioned that the speakers were sensitive to listening position changes.
Bliss Acoustics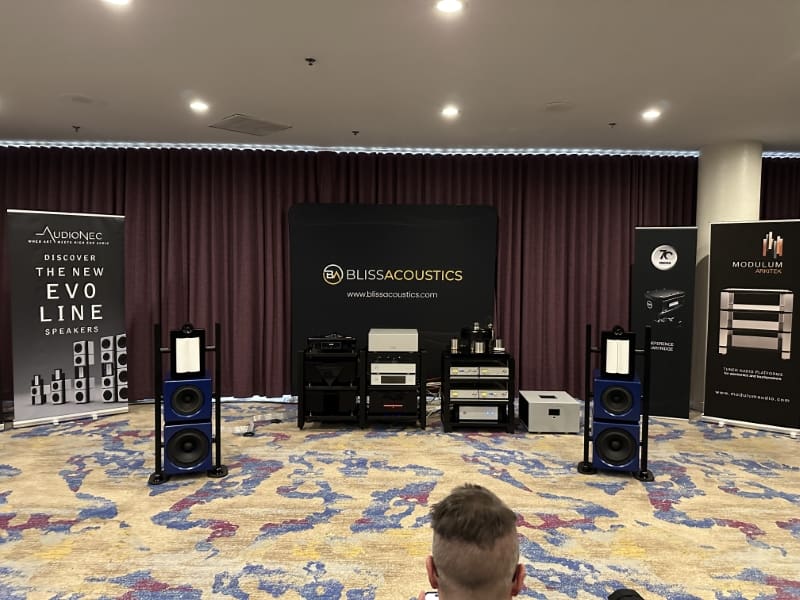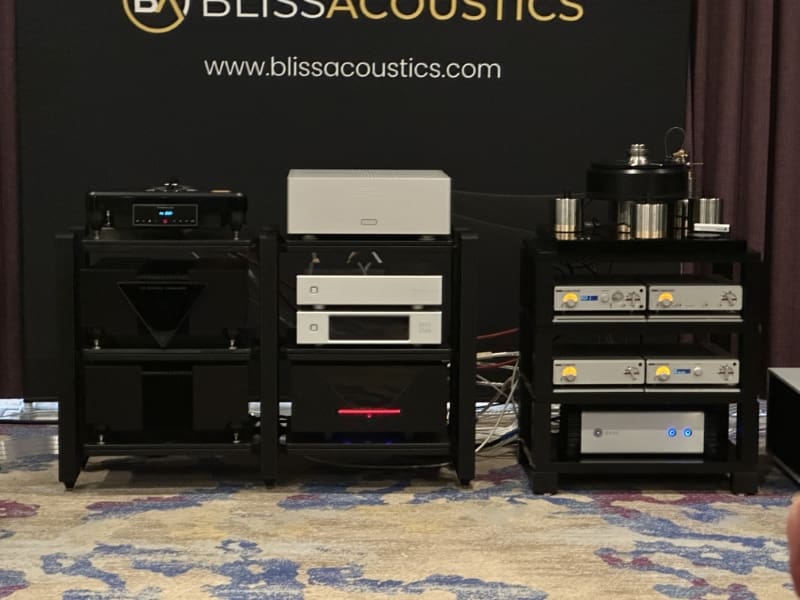 We visited the Bliss Acoustics room next. It wasn't easy to get an uninterrupted listen to the Audionec Evo 2 speakers as one gentleman repeatedly ogled them at close range and even posed beside one for a photo. We liked it when he put his ear up to the DuoPole midrange for "close inspection." Maybe he's famous? Perhaps he's deaf? When the sideshow stopped, we focused on Humate's "Love Stimulation (Love Mix)" for a little bit. The percussion was clear and detailed, with a nice ring to the cymbals. There was some sense of depth to the presentation – maybe 12 to 15 inches. The volume level wasn't high enough to make the reproduction sound realistic, but it had potential.
Gershman Acoustics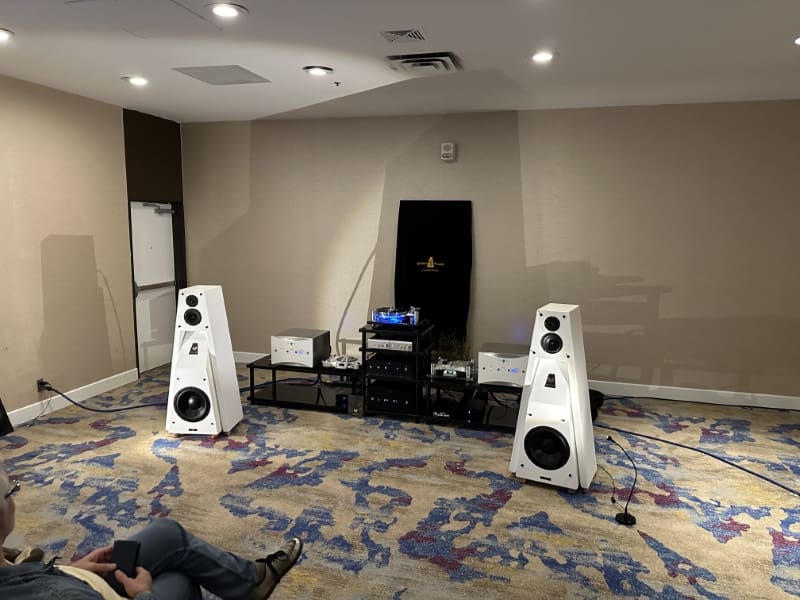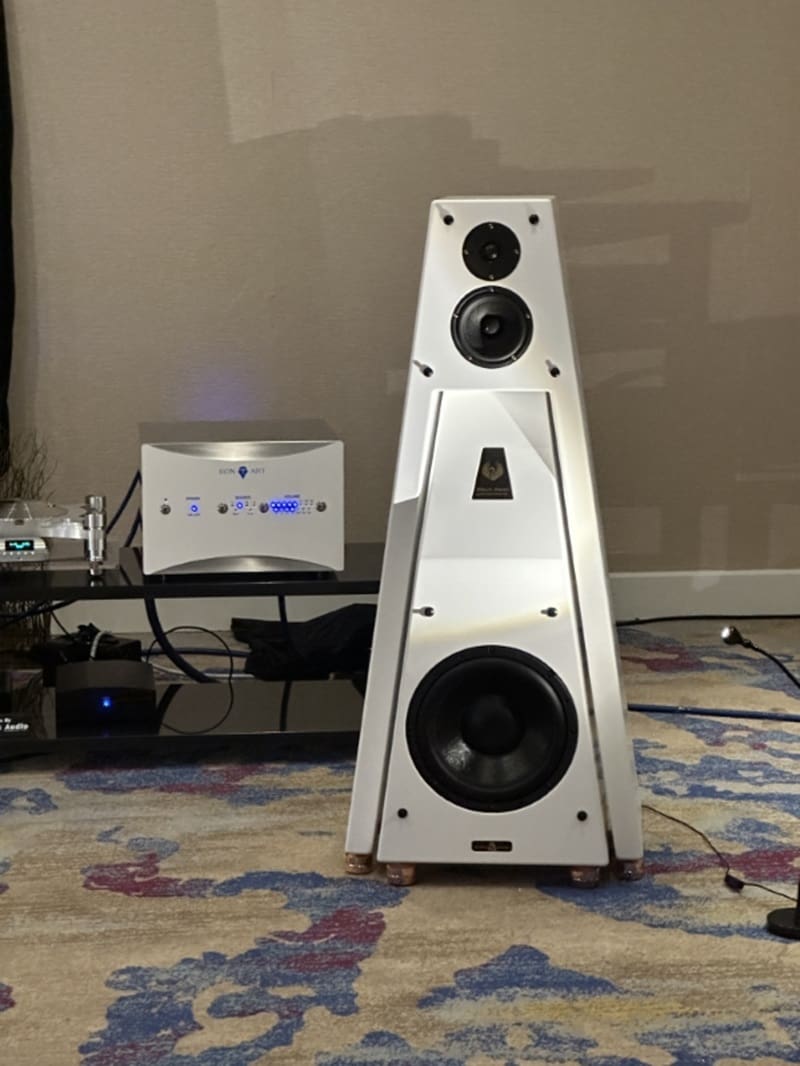 The Gershman Acoustics room featured a set of their Black Swan speakers in white, powered by Eon Art electronics. A Jennifer Warnes song was spinning on the turntable, and she sounded big and airy. It was more like an electrostatic speaker where the sound was bouncing off the back wall and coming straight at us. There was a bit of drone in the bass, maybe around 50 or 60 hertz, and the upper midrange was slightly forward. You might like the balance if you like "presence" from female voices.
Paradigm Anthem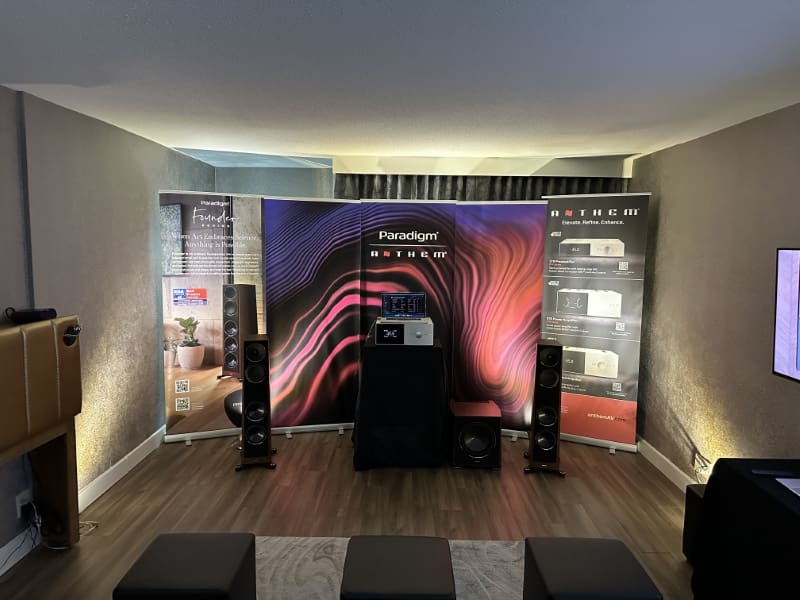 Moving to the third floor, we started our tour in the Paradigm and Anthem room. The lads were rocking to "Make Us Stronger" by Ghost Rider. If you like Yello, you'd love this. The system included a set of Founder 80F speakers and an XR 11 subwoofer fed by an Anthem receiver. To say they had it playing loudly would be the understatement of the century.
Nevertheless, the presentation extended well beyond the boundaries set by the speakers, making it massive, fun and engaging. Nothing sounded stressed, even at these volume levels. Marvin Gaye's "Sexual Healing" was next. The percussion stick hits on the left were wince-inducing, and the center image was locked in and stable. Visiting this room was a lot of fun!
Marantz / B&W / Classe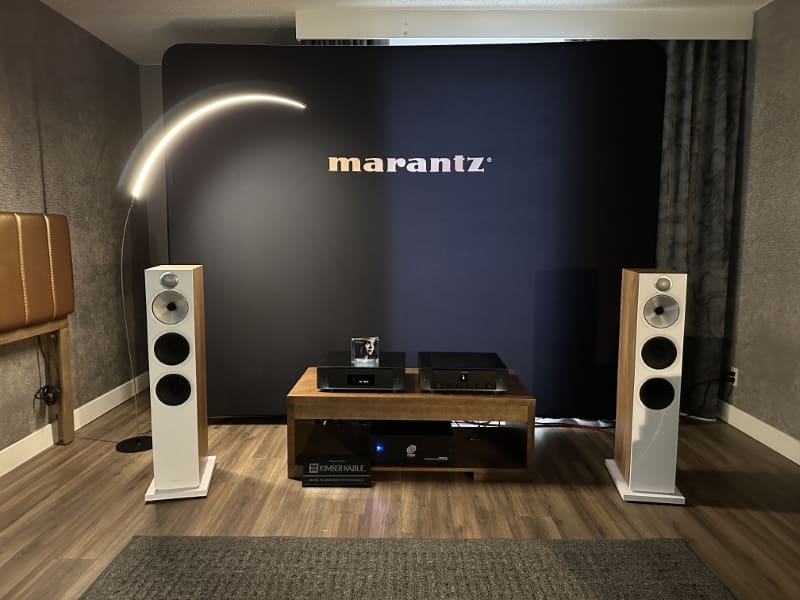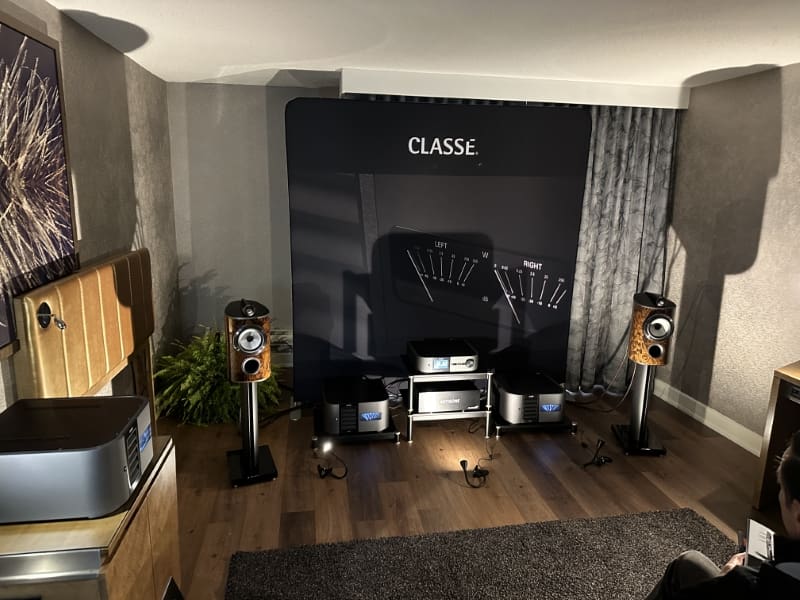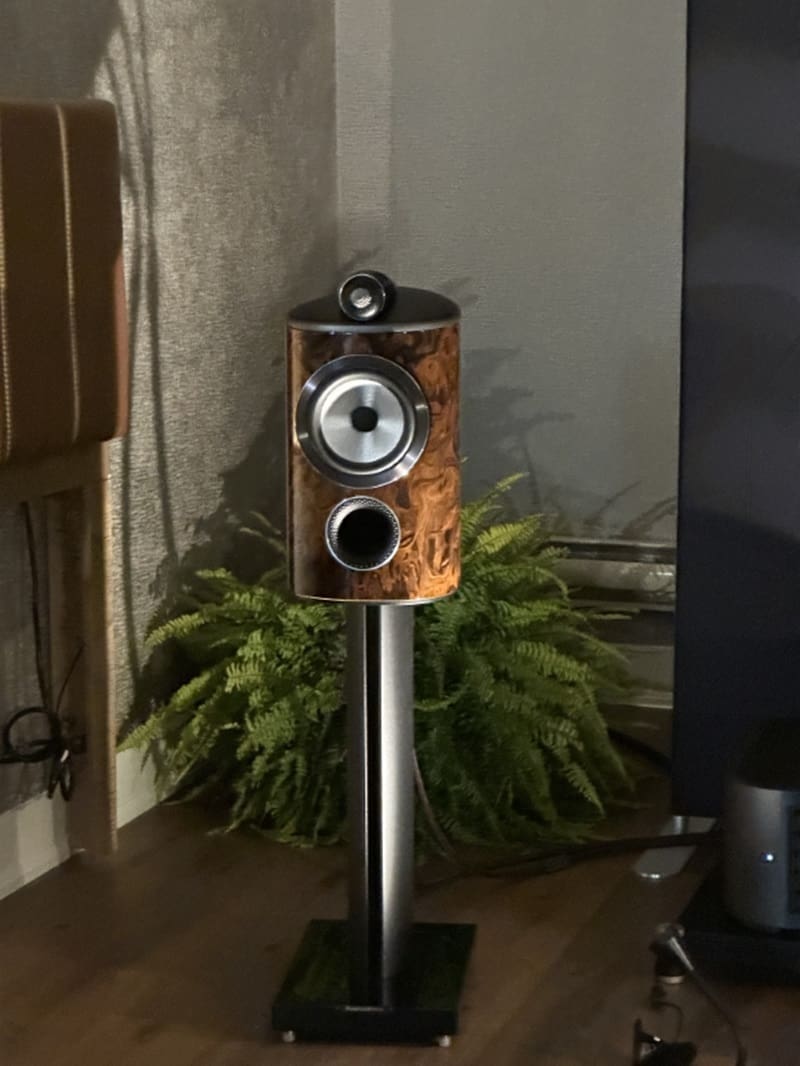 Bowers and Wilkins 603 S3 towers were set up in the next room powered by Marantz electronics. Norah Jones' "The Long Day is Over" sounded good, with the piano sounding smooth. Norah's voice, smooth and clear, was a bit to the right of center. The next room had another B&W system with Classe electronics and 804 D4 signature bookshelves. The track "Bubbles" by Yosi Horikawa started just as we entered the room. The presentation was impressively transparent, and the imaging was excellent. The ping-pong balls on the track bounced and rattled with fantastic detail. There was a great sense of depth, and the speakers disappeared into the listening experience. Overall, this was an excellent experience.
Altitudo Audio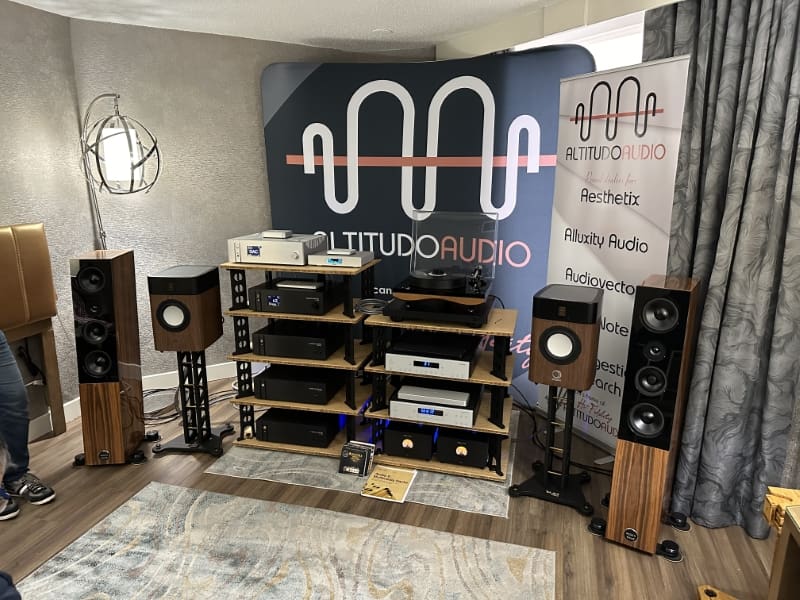 Altitudo Audio was set up with Elipson Legacy 3210 speakers driven by Goldnote electronics. These speakers caught us off guard with their ability to fill the room with detailed bass and low-frequency extension that defied their seemingly small drivers. The transition between the woofer and the tweeter was acoustically invisible. Imaging was solid and stable. A track called "Hope" by NF played at impressive 86 dB volume levels, and nothing sounded stressed or overworked. If you like Eminem, NF is similar, with better singing skills and a bit less speed than Mr. Mathers. Check these speakers out if you can; their capabilities caught us off guard.
Hegel Canada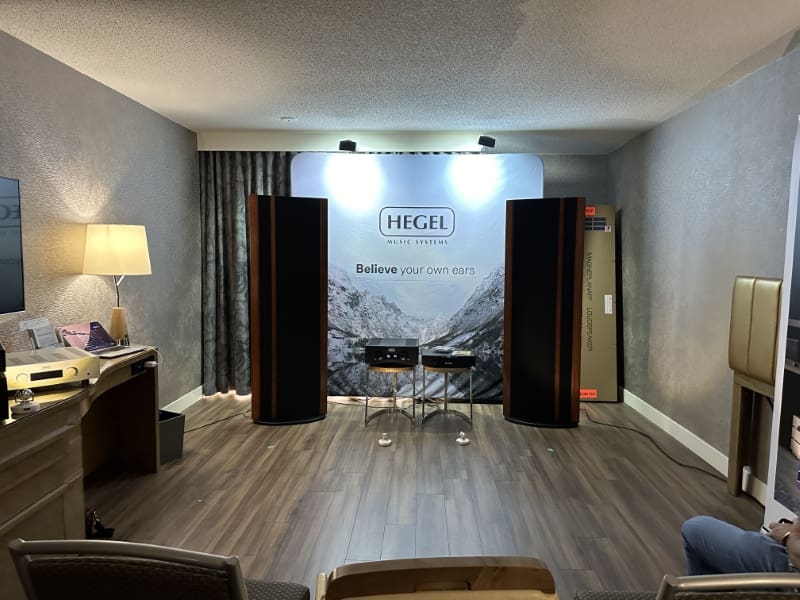 Hegel Music Systems had one of their integrated amplifiers and a Viking CD player feeding a set of Magnepan 20.7 speakers. They were playing "Keep the Wolves Away" by Uncle Lucious. The big "stats" deliver a massive presentation. The bass was solid, and the percussion was dynamic. The imaging lacked focus, which is typical for this type of speaker. If you like the "wall of sound," these are your cup of tea. If you want laser-sharp precision like we do, stick to moving coil drivers.
Erikson Consumer Home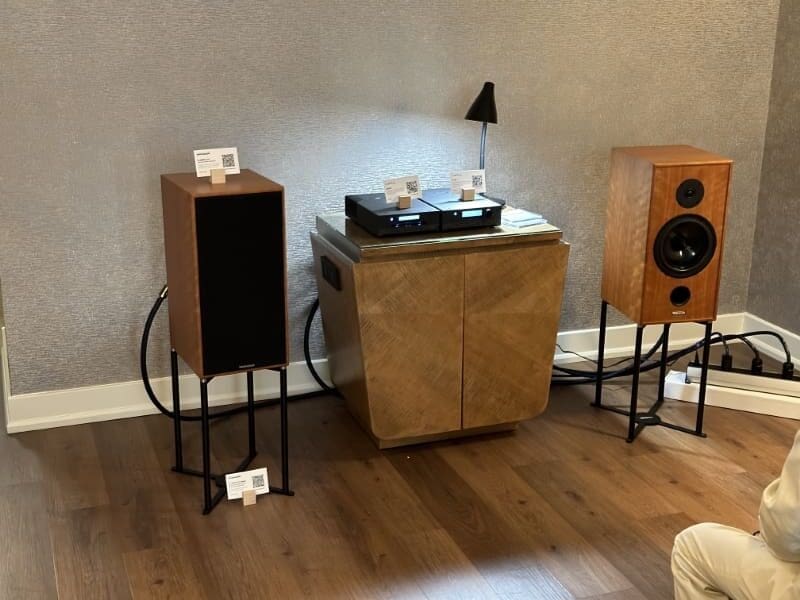 Erikson Consumer Home had two rooms chock full of Mission, Spendor, Cyrus and Revel goodness. We'd love to have seen these guys in one of the big rooms downstairs, giving the high-budget offerings a run for their money with the Revel and JBL Synthesis speakers and Mark Levinson electronics. Unfortunately, the team was heavy in discussion with a client when we visited, and we only had a few moments to enjoy a set of Mission 770 speakers. Not enough to be able to form an opinion, but very enjoyable.
Summary Thoughts on Toronto Audiofest 2023
We know we missed a few rooms, and we wish we'd had more time to talk to manufacturers and take notes about many of the systems and solutions on display at this event. If you plan on attending the 2024 shows in Toronto or Montreal and want to take it all in, schedule two days and spend a reasonable amount of time in each room.
What did we think of what we heard? The laws of physics seem to be unsurprisingly carved in stone. Never did solutions replete with technology disappoint – the KEF Blades are a fine example. The love of vinyl is nostalgic and fun, but the pops and clicks don't add to the experience. Clean your albums and take care of them. Tube electronics are nice but don't convey the recordings with realism. They are fun to audition, but like driving an '80s Lincoln Town Car around a racetrack – slow and wallowy. One thing we thoroughly enjoyed seeing, or more importantly, not seeing, was any hint of high-resolution audio marketing.
The day's adventures highlighted our contention that the price of equipment doesn't always correlate to performance. Many moderately priced solutions handily outperformed systems costing many times as much. We don't consider exotic finishes to be a feature. Boutique and high-end audio have never been our thing.
Finally, we were disappointed in the lack of visible calibration solutions. A few rooms needed taming to sound natural. We know audiophile-grade equalization for home systems exists, and it's a fundamental part of custom home theater installations. It would be nice if music lovers wanted their music to sound like it did in the recording studio. Proper calibration would eliminate the need to EQ with overpriced interconnect and speaker cables. Thankfully, the majority of the audiophile car audio crowd understands this. Maybe we should get a booth one year and let these folks hear a few high-end car audio systems?