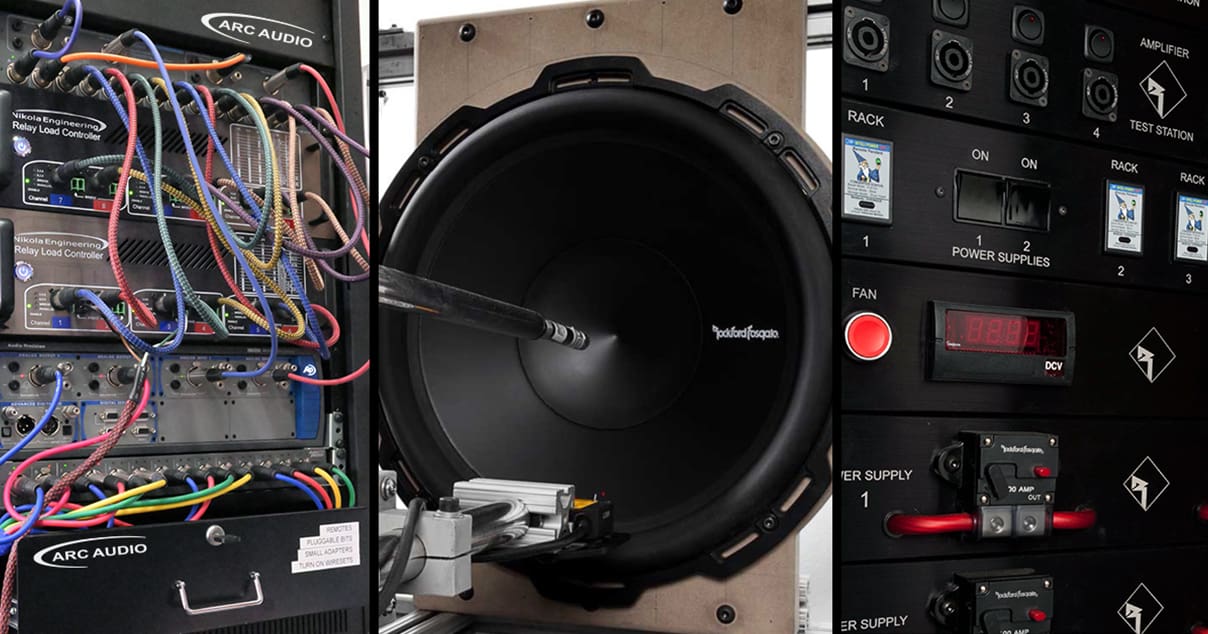 Let's take a look at amplifier, speaker and subwoofer quality. This time, it won't be a series of lab measurements that evaluate distortion, frequency response or power. It won't even include listening evaluations or comments on shiny products.
Many years ago, Rockford Fosgate ran a magazine advertisement showing a picture of a Punch 75 HD amplifier and Bruce. Bruce is holding a rubber hammer. The ad explains that Rockford Fosgate tests every amplifier that leaves the factory to confirm that it meets strict quality control standards. That testing included a calibrated womp or two from Bruce and his rubber mallet to ensure that there are no connection issues on the circuit board. Fast-forward a few decades, and Rockford Fosgate continues to test every amplifier they build. Their commitment to quality hasn't wavered, and they've added processes that test the speakers and subwoofers they manufacture to ensure that they are up to their strict quality control standards.
We contacted the Product Development and Quality Control teams at Rockford Fosgate and ARC Audio for some insight into the quality control testing they do throughout production and before the products ship from the factory. The information you'll learn about in this article demonstrates these companies' commitment to creating products that will sound great and perform reliably.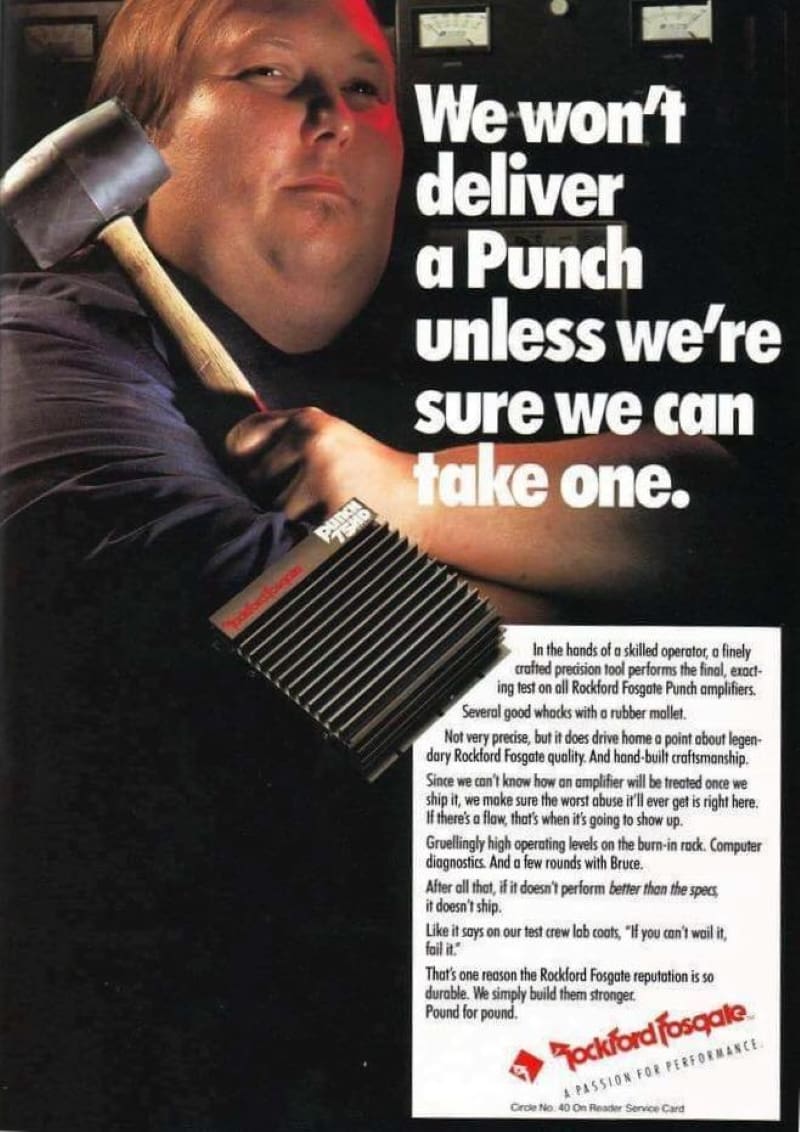 ARC Audio Amplifier Testing
We started researching quality control processes with a call to ARC Audio. We talked to Brad Ott, the company president, and Richard Greenway, one of the lead design engineers. These gentlemen were kind enough to share details on their amplifier and signal processor quality control test processes.
ARC Audio starts its quality control process by testing many incoming raw components used in its electronics. There's no sense assembling thousands of amplifiers only to discover that a part is faulty or out of specification. Specifically, they test capacitors to ensure that suppliers are aging and testing these components properly before delivery. ARC Audio built a test rig to measure the saturation point of ferrite transformer cores before the transformers or an inductor is wound. After winding, they test these parts again to check for short circuits and that functional values match all performance targets.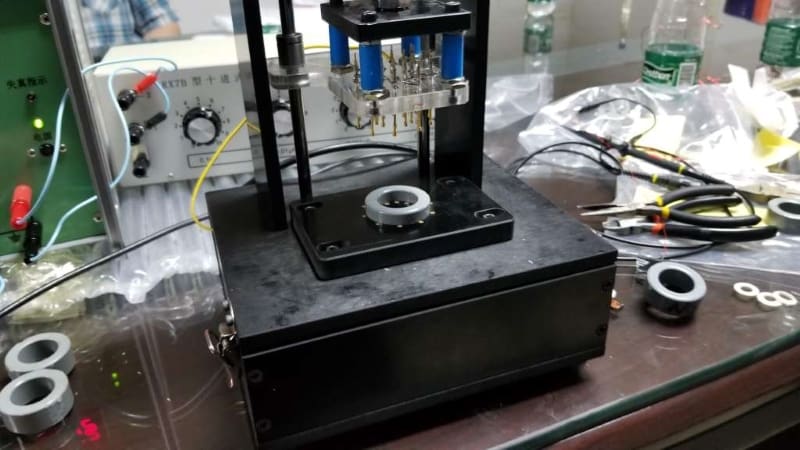 Modern circuit boards that use surface-mount components start the assembly process by applying solder paste to the traces where they meet the components. After this, a computerized pick-and-place machine puts each component in its exact location. The fastest pick-and-place machines can position 200,000 parts per hour. They are mesmerizing to watch.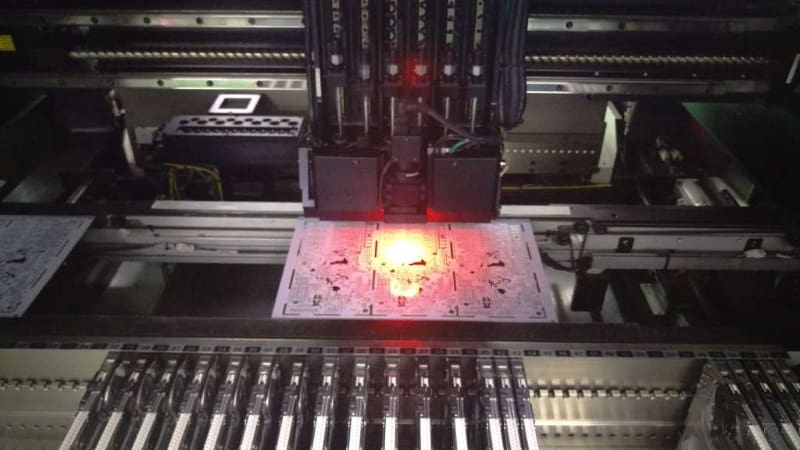 Once all the components are on the board, it travels through an oven that melts the solder and completes the first round of electrical connections. The first post-processing quality-control check happens as the board leaves the oven. Several digital cameras take photos of the board from different angles and compare those to a master image set. The board is flagged for an operator inspection if anything is misaligned or a solder connection doesn't appear perfect. A computer screen displays the location of possible issues. The visual inspection by an operator will determine whether the board is acceptable or needs reworking.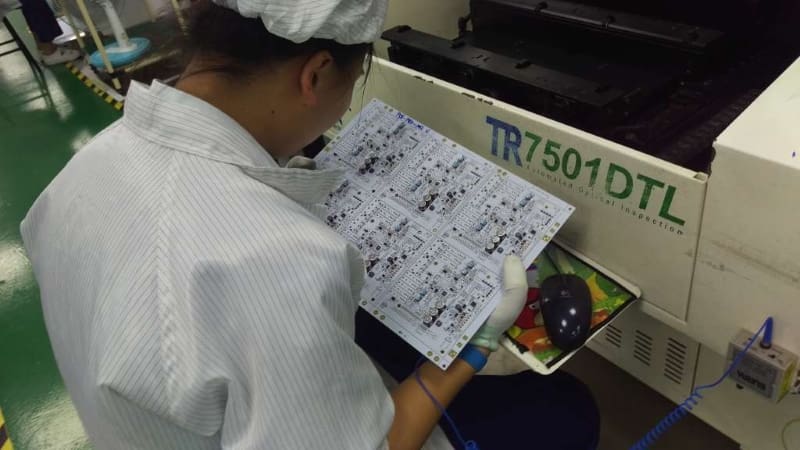 At this point, the board is loaded into a test jig and tested for basic operations. If the board passes all the tests, it moves forward in the assembly line to have larger devices like through-hole capacitors, transformers, inductors and high-current connectors installed.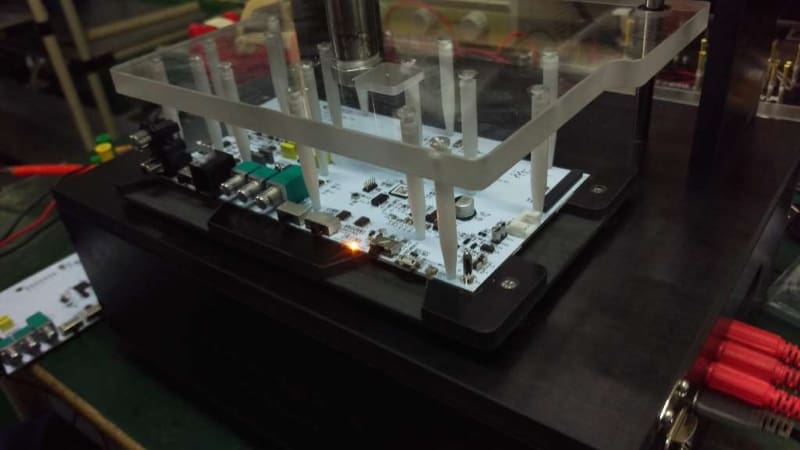 After the large component installation is complete, the board is mounted in the heatsink and is ready for final testing. Richard and Brad designed a semi-automated test process for their amplifiers and signal processors to ensure that each one meets strict standards before shipping.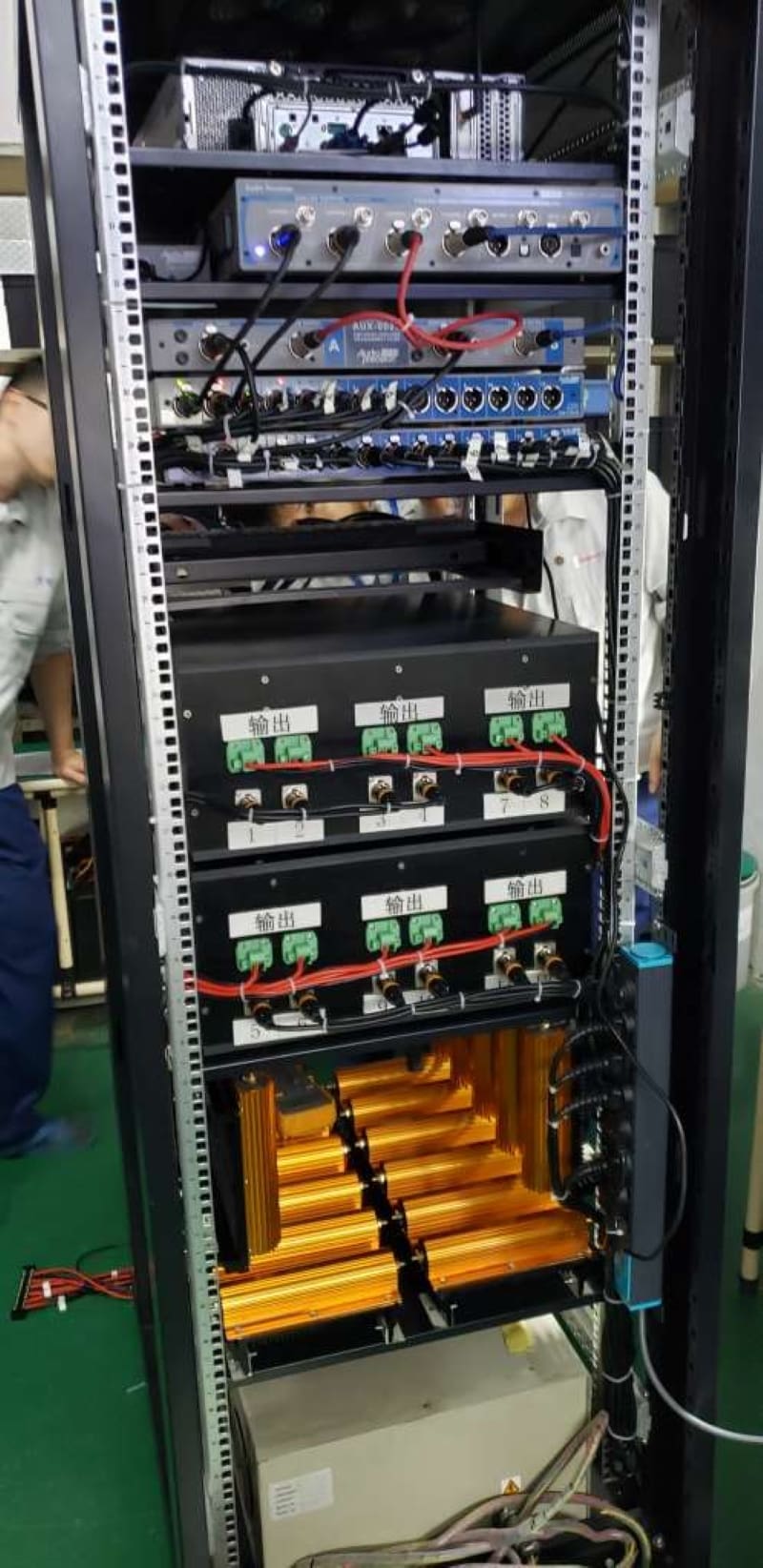 The photo above shows a hot-rodded clone of the production amplifier test rig. The development team uses this system for product research and development. At the heart is an AudioPrecision APx525 that includes I2S/TDM inputs for monitoring ADC/DAC performance in the digital domain without the DSP involved. Aside from regular performance tests, these upgraded digital communication features allow the designers to purposely introduce errors and jitter into the digital audio path to verify that the circuitry and programming function as intended.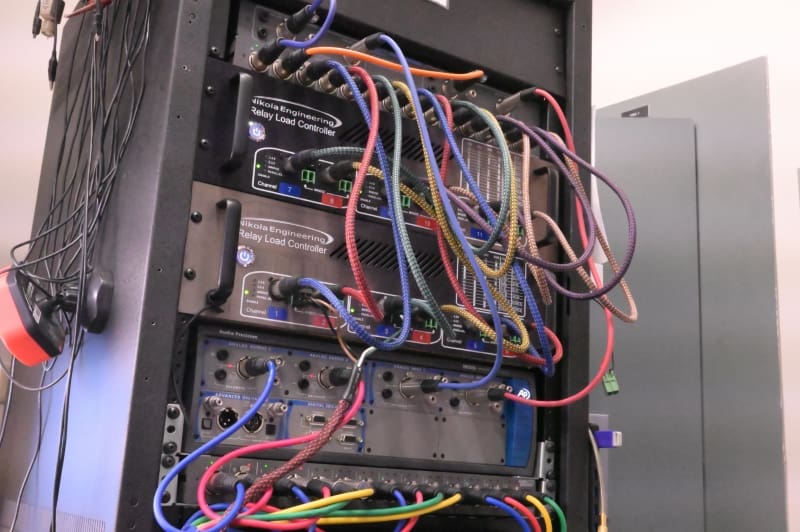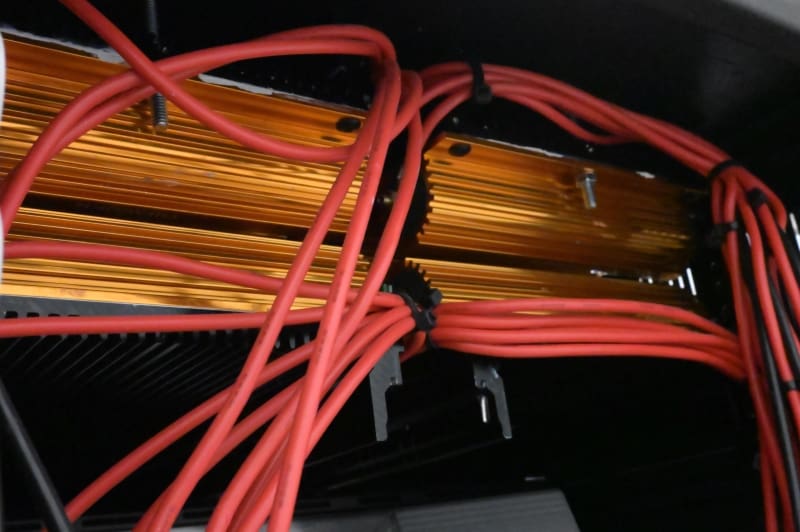 As each completed amplifier leaves the production line, a technician will scan the serial number barcode. An image will appear on an adjacent computer monitor showing how the amplifier connects to the automated speaker and load-switching system. Once the amp is ready, the technician presses a large video-game-style button to begin the test process.
The system presents an image showing how to set all the controls. The testing starts with all the variable controls turned to the right to maximize gain and present the most challenging crossover settings to ensure that the amp produces all the power it can. Once ready, an Audio Precision APx515 analyzer begins measuring the amplifier for frequency response, signal-to-noise ratio, crosstalk, remote level control functionality, gain accuracy, power production, and protection circuit operation.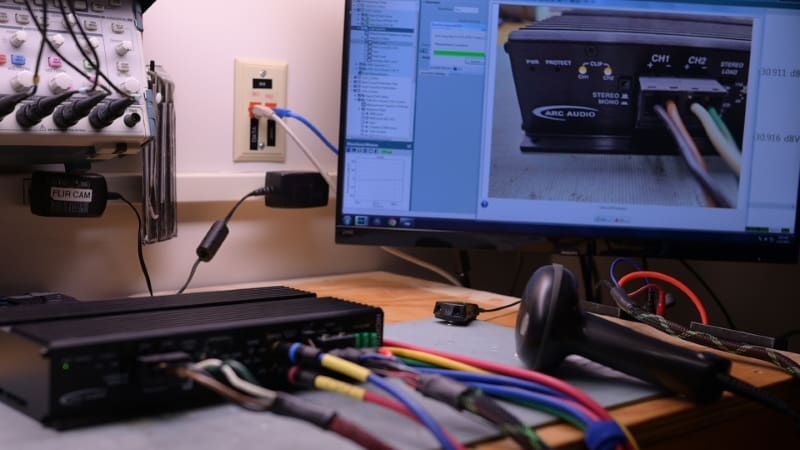 After the initial test is complete with the settings to the left, the computer instructs the operator to make setting adjustments, then press the start button again. Many tests repeat to ensure that all controls and switches function as specified.
Each amplifier test produces a report stored on a server. According to Richard, a mono amplifier might generate a 20-page report, whereas a multi-channel amp like the X2 1200.6 might generate a 50+ page report. Ultimately, the summary pass or fail result is what matters. If the amp passes all the tests, it moves on to a final evaluation, running to full power for a complete thermal cycle. The amplifier also experiences vibration and impact testing along with a listening test. The very last step is a visual inspection for cosmetic or assembly flaws. Once it gets the final thumbs-up, it heads to the packaging department.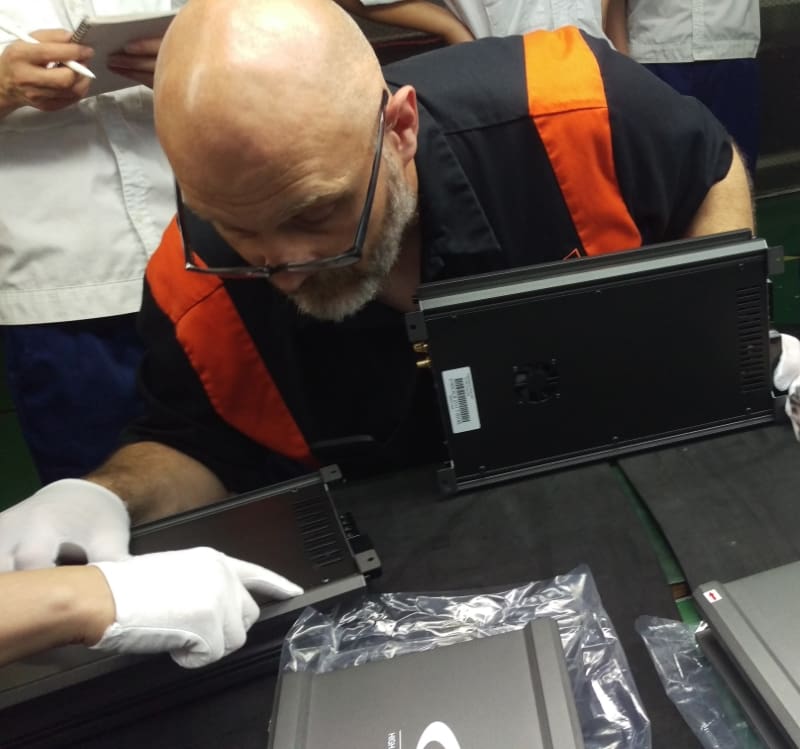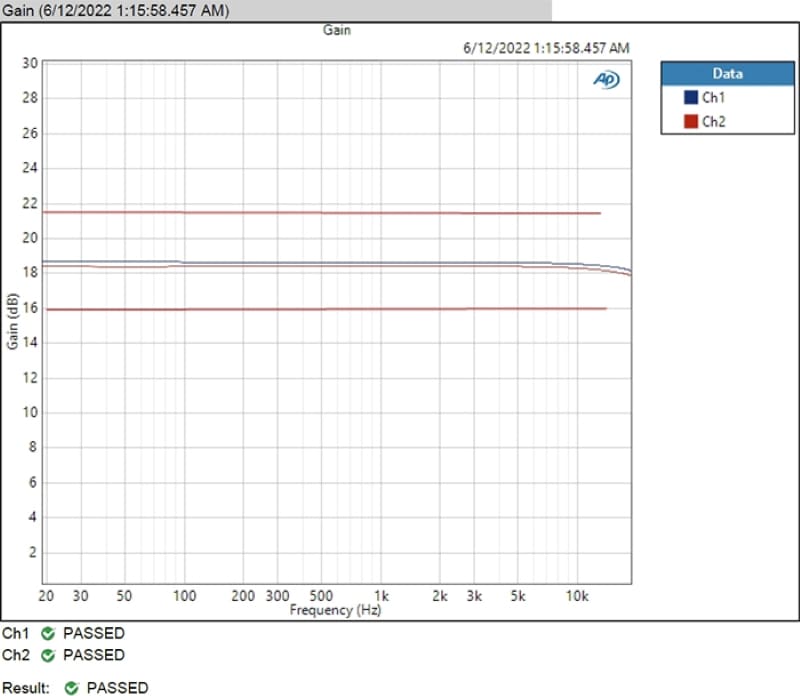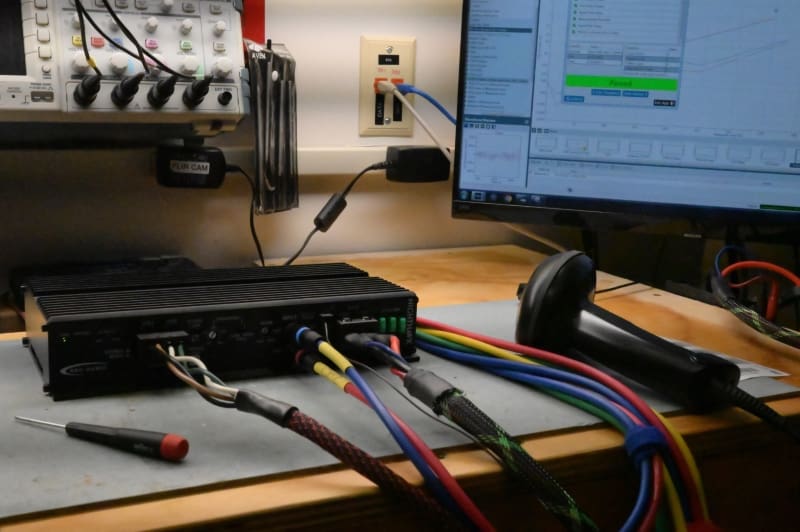 Rockford Automated Test System (RATS)
If you read that Rockford Fosgate advertisement with Bruce, the rubber hammer and the Punch 75HD carefully, you'll note that it mentions a burn-in rack and computer diagnostics. The Rockford Automated Test System (RATS) takes automated measurements and can analyze the data in seconds to decide whether a product passes or fails. All the measurements can be adjusted in real-time by the Quality Control team.
Jason Gerlitz, the engineering development manager at Rockford Fosgate, explained that RATS works in two stages. After the main circuit boards are loaded and soldered, RATS performs an initial end-of-production-line test. The first evaluation confirms functionality like DC offset, power supply and rail voltage accuracy and dark current. There is no high-power testing at this point. If the amplifier passes the first test, the loaded circuit board proceeds to the next stage of assembly, where it's mated with the heat sink.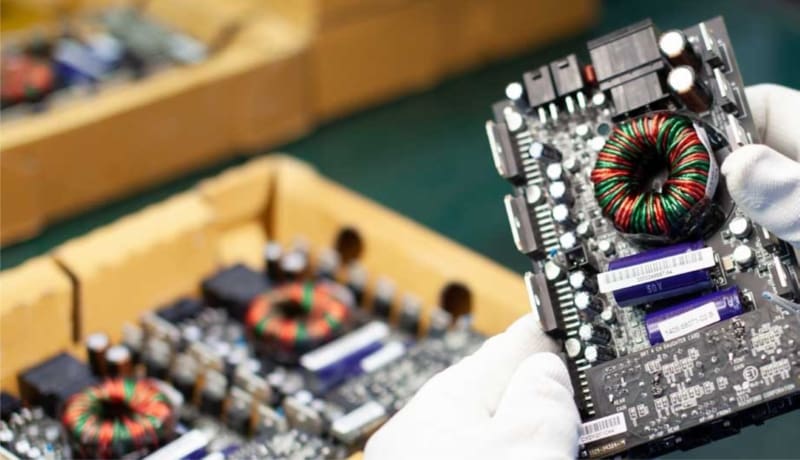 The final test is called the Finished Goods test. This evaluation features full-current testing of the signal and power parameters. Evaluated parameters include common-mode rejection ratio (CMRR), signal-to-noise ratio, crossover functionality, total harmonic distortion, power production, and protection circuitry operation. If every test passes, a birth certificate is created and printed. A printed copy of the certificate is provided to the consumer so they know that their amplifier performs at or, more likely, beyond the factory specifications.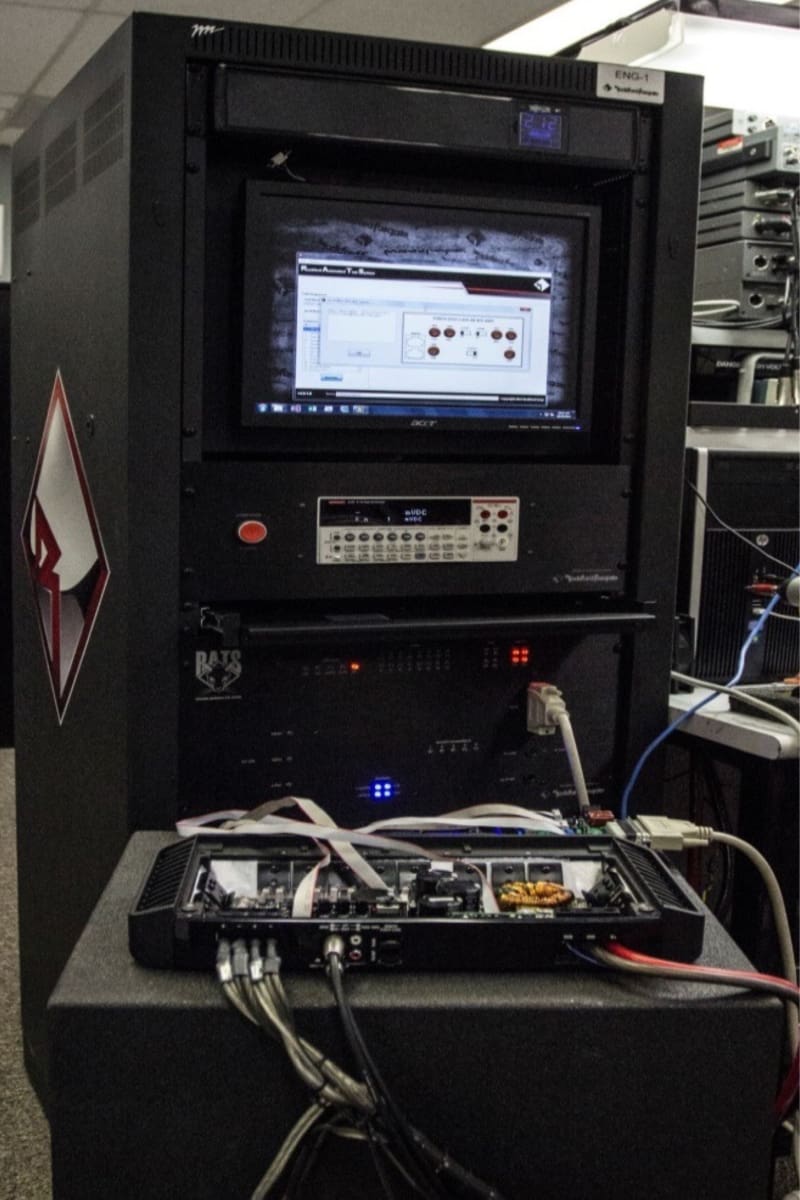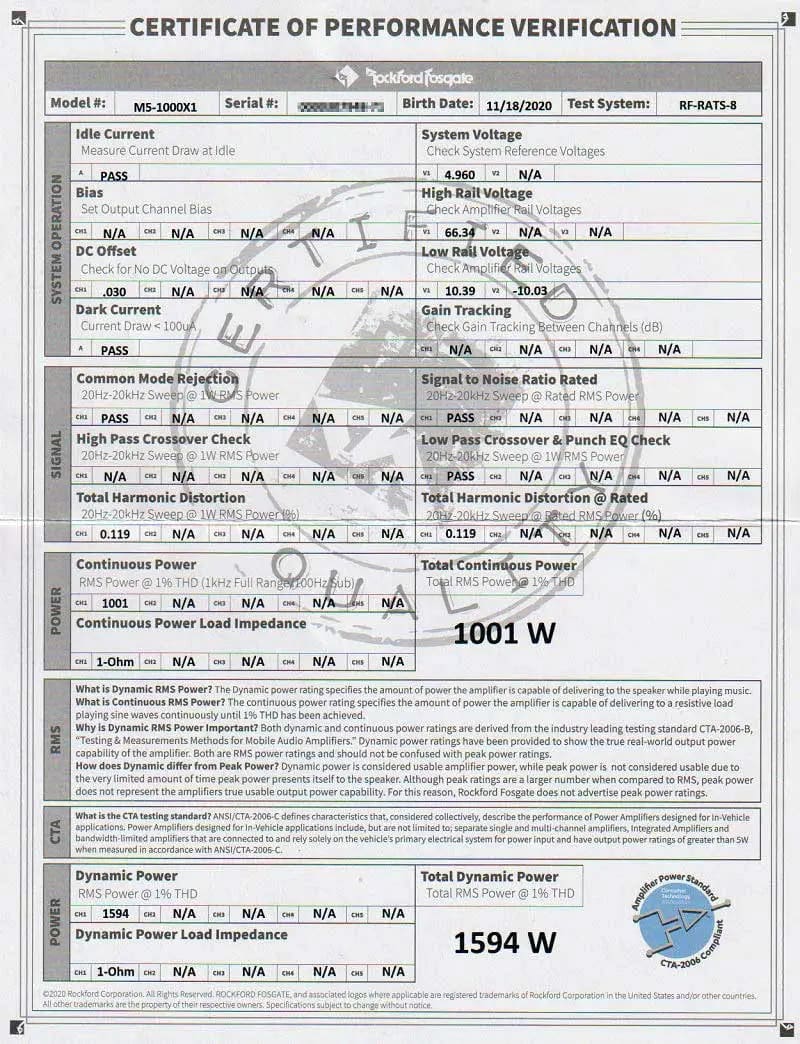 Rockford Fosgate Speaker Quality Control Testing
Confirming that every speaker meets its expected performance level is crucial to ensuring that consumers are happy with their purchase. Even the most minute variations in cone or dust cap mass, adhesive application and component compliance can wreak havoc with the final product. Enclosed speaker systems like wakeboard tower enclosures and vehicle-specific solutions for powersports applications must not buzz or rattle during operation.
Tom Dubeck, a loudspeaker technician at Rockford Fosgate, explained that when a speaker comes off the Rockford Fosgate production line, it's evaluated by a Klippel production analyzer before it's packaged. Measurements include resonant frequency (Fs), DC resistance (Re) and total Q (Qts) confirmation. These tests ensure that the speaker components match the master sample and that all parts are within weight and compliance tolerances.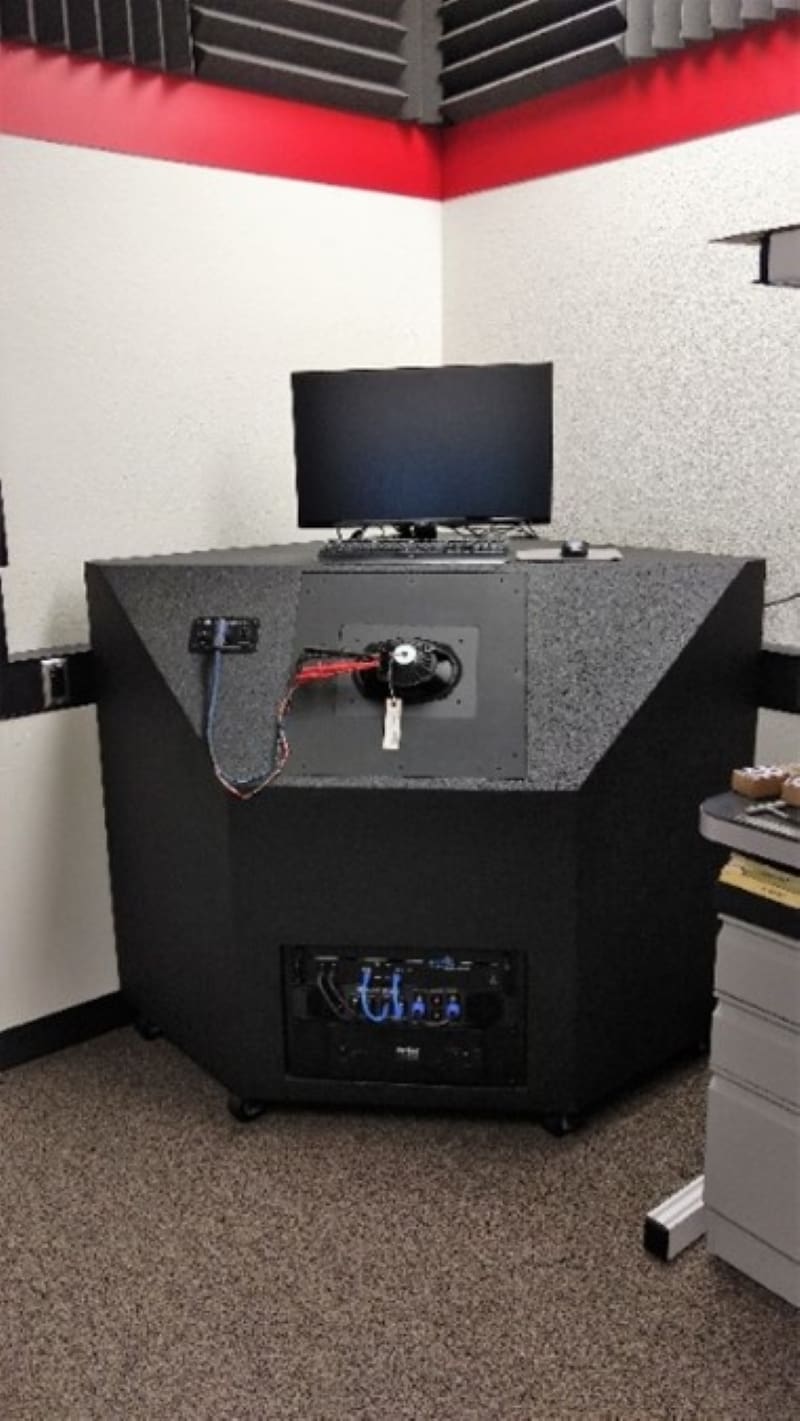 The Klippel system also tests each speaker's frequency response. The frequency response test is further verification of the assembly process. A speaker with too much or not enough adhesive would fail the resonant frequency and frequency response tests. The acoustic evaluations also include Rub and Buzz testing that evaluates harmonic content. This information can show whether the voice coil is misaligned laterally (called voice coil rub) or whether a tinsel lead touches something as the cone moves forward or rearward.
Tom shared the image below (from the Klippel website) of a speaker deliberately doped with a single grain of salt. The eight peaks in the black harmonic content trace exceed the test limit. More specifically, if the black trace across the bottom of the measurement exceeds the limit set by the thin red trace, the driver fails. Likewise, the driver fails if the frequency response measurement in blue exceeds the limits set by the dotted blue lines.

As mentioned, testing enclosed speaker systems is crucial to ensuring that clients are happy. If a wire or grille buzzes during playback, you'll hear it and be annoyed. Rockford Fosgate has a vibration stand that is used for testing speaker enclosures. A complete speaker system is attached to the stand and analyzed for vibration or frequency-specific behavior. The team addresses any issues to ensure that grilles, brackets and wiring don't make any unwanted noise.
If you look back at our Test Drive Review of the P500-12P, you'll notice that the speaker wires in the subwoofer enclosure are wrapped in foam. Information from the shaker table and the accompanying acoustic measurements can verify that the foam is in the correct location and serving its intended purpose. Unwanted noises would show up as frequency response or harmonic content variations in a test similar to that shown above.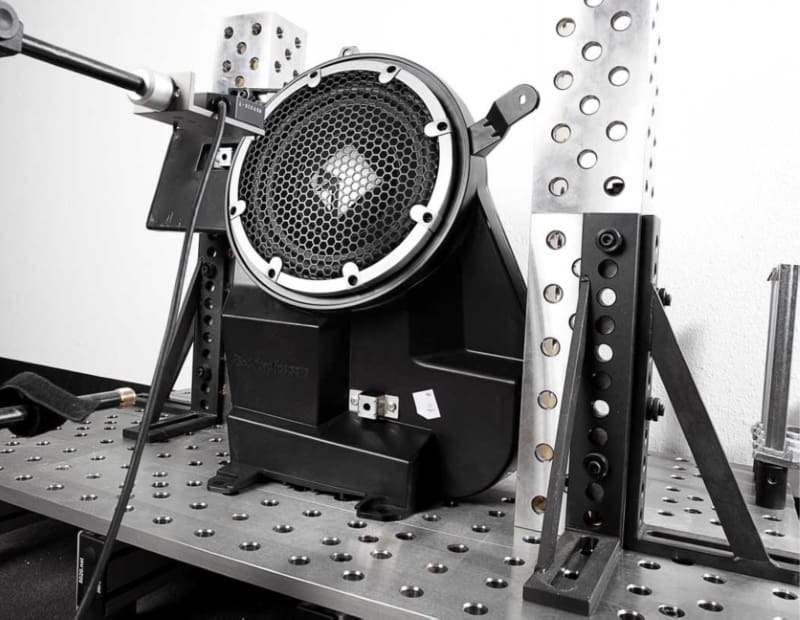 Quality Engineering Produces Quality Products
Not surprisingly, having tested many products from ARC Audio and Rockford Fosgate, we've discovered that both companies share a philosophy of under-rating their amplifiers. As a result, you get more power and performance than you pay for. The same goes for their speakers and subwoofers. Knowing that these brands put significant effort into ensuring that the solutions they build exceed their quality control standards deepens their value.
The answer is simple if you wonder why some products cost more than others. Some companies only do random spot checks during production. Many companies don't do any quality control testing at all. Manufacturing costs increase when someone has to handle a product during production. We love knowing that a car audio product will work as expected when the technician installs it in your vehicle. Drop by a local authorized ARC Audio or Rockford Fosgate retailer today to learn about the solutions they have to upgrade the sound system in your car or truck.