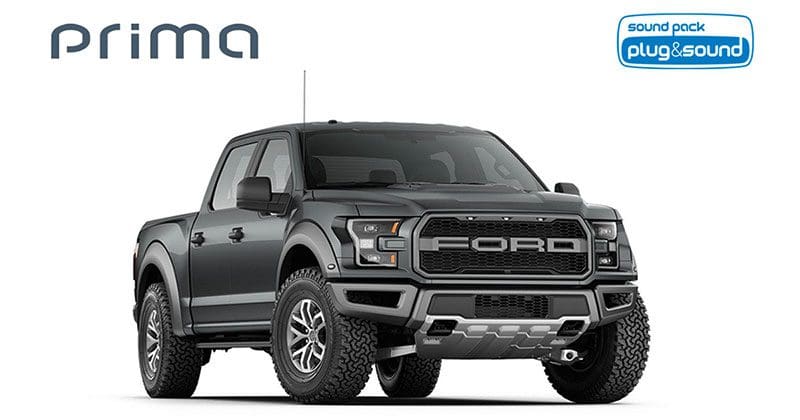 Great news for Ford F-150 truck owners! Audison has been hard at work developing its Sound Pack audio system upgrades for 2011 and newer Ford pickups. Based on the same philosophy as the BMW and Mini systems, 2011 and newer vehicles with XL, XLT, Lariat and Raptor trim levels can be upgraded with new speakers, a subwoofer and a custom-tuned five- or eight-channel amplifier with integrated digital signal processing.
Choose Your Performance Level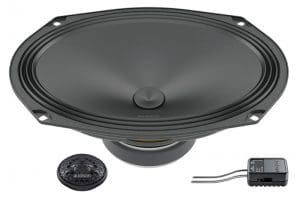 One of the many benefits of these Sound Pack upgrade solutions is the Online Configurator that helps you and the mobile enhancement retailer you've chosen to install the system pick the right components and performance level for your truck's specific model year and trim level. The upgrades use the Prima-Series APK 690 6×9-inch or APK 570 5×7-inch component speaker system for the front doors and the matching APX 6.5 coaxial speaker for the rear doors with dedicated mounting brackets to ensure the installation performs reliably and sounds great.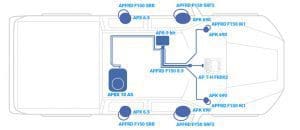 The Level 8 systems use the five-channel AP5.9 bit amplifier to power the front and rear speakers along with a subwoofer. Stepping up to the Level 10 systems swaps in the eight-channel AP8.9 bit amplifier to bi-amp the front component set for a more accurate soundstage. Level 10 systems use the powered APBX 10 AS subwoofer with the processed subwoofer output on the amplifier to deliver solid bass performance and impressive dynamics.
Ford-specific Audio System Tuning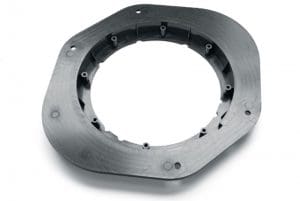 Audison sent one of its top engineers to North America to help design and tune these upgrade packages. After weeks of complex acoustic measurements and detailed listening evaluations, Audison created a set of vehicle-specific digital signal processor (DSP) configurations for each Prima plug-and-play upgrade package.
Each configuration is specific to an upgrade package and the trim level of Ford truck in question. Settings for crossovers, output levels, equalization and signal routing have been completed on your behalf to make the integration process efficient and get you back on the road in a matter of hours with amazing sound.
Integrated System Control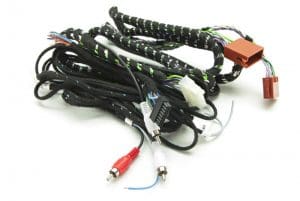 Thanks to a partnership with iDatalink, each of these vehicle-specific solutions includes a Maestro AR amplifier replacement interface and a vehicle-specific wiring harness. Using this interface allows volume control and tone adjustment commands from the factory source unit to be sent directly to the DSP in the amplifier to control the system. Your new Audison amp will function just like the factory amp, but with improved clarity and detail.
Audison has truly thought of everything, even including speaker cable adapters so that your installer doesn't have to cut any wires in the vehicle to complete the installation. Speaker mounting adapters are also included to expedite the installation process.
What Makes Prima Plug-and-Play Systems Amazing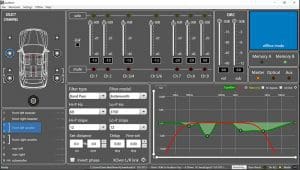 Tuning the speakers in your audio system for the environment they are installed in is what separates a simple stereo component installation from a true audio system upgrade. Without proper equalization, signal delay and level settings, all you get is sound from each speaker. When set up by an expert, your music will come from a virtual soundstage that spans the width of the vehicle and delivers accurate placement of instruments and performers across that stage. One of the key features of the Prima Sound Packs is that the tuning work has been done for you. Your installer can download the DSP configuration and upload it to the bit-series amplifier. You even have your choice of a driver-focused tune or one that sounds good from both seats.
Upgrade Your Ford F-150 with Audison Prima
If you are tired of boring sound from the stereo in your Ford F-150, drop by your local authorized Audison retailer and ask about the new plug-and-play Sound Packs. The difference in detail, accuracy and realism will blow your mind!