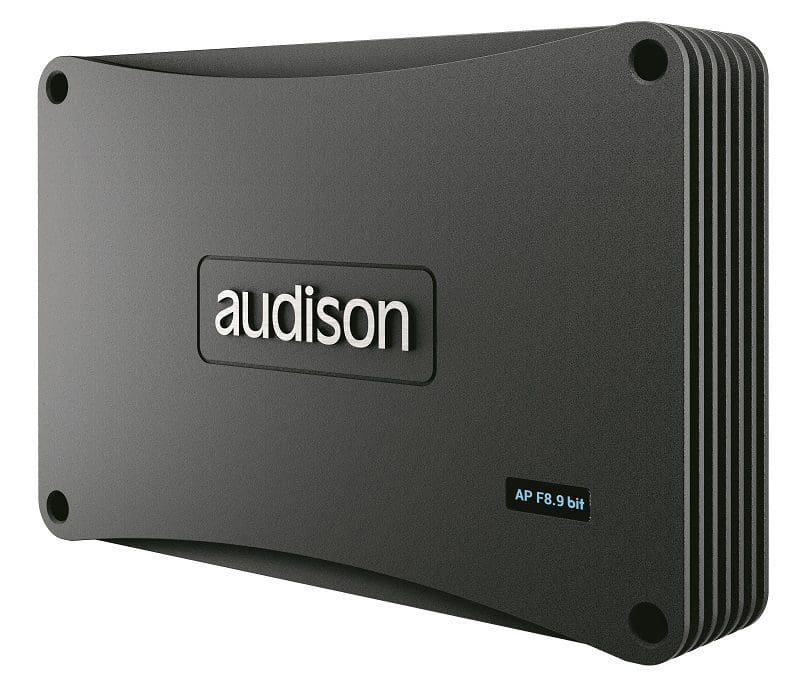 Based on the roaring success of the original Prima-Series AP 8.9 bit eight-channel amplifier, Audison has announced a successor with even more features and performance in the form of the Prima Forza AP F8.9 bit. This new amplifier adds additional power to each of its eight channels, includes an integrated digital signal processor (DSP) and adds support for the iDatalink Maestro AR integration module and enhanced OEM integration features. The result is an easy-to-install upgrade solution that works with almost any vehicle.
High-Power Eight-Channel Amplifier

The AP F8.9 bit measures 9.37 by 6.1 inches and stands only 1.95 inches tall. All connections, including signal inputs, speaker outputs and the eight-gauge power connections, are made along the front edge of the amplifier to ensure a clean and tidy installation in even the most cramped locations.
Each channel of the new AP F8.9 bit is capable of producing up to 85 watts of power to drive your speakers to very realistic listening levels. Loading each channel down to 2 ohms increases power production to a healthy 130 watts, and your installer can bridge any pair of channels to drive a subwoofer like the APBS 10 S4S with as much as 260 watts.
Nine-Channel Digital Signal Processor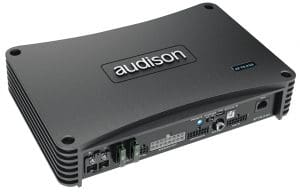 The AP F8.9 bit includes a nine-channel DSP that includes input signal de-equalization along with system configuration and tuning options like a 10-band parametric equalizer, signal delay up to 15 mSec in 1.1-inch steps and flexible electronic crossovers on each channel. This amplifier is compatible with the Audison bit Tune processor that provides authorized retailers an efficient and reliable way to configure your new sound system for optimal imaging and natural frequency response.
A rotary control on the amp provides quick access to eight preconfigured presets to speed up the installation process. Audison also offers vehicle-specific configurations from its online database for use with its BMW, Mini, Volkswagen and Ford F-150 Sound Pack upgrades.
The optional DRC MP remote control is compatible with the AP F8.9 bit to serve as a master volume control, a bass level control and to provide access to the two configuration presets. Your installer can integrate the DRC MP into your dash or center console to make adjusting your sound system safe and easy while you drive.
iDatalink Maestro AR and Factory Stereo Integration Features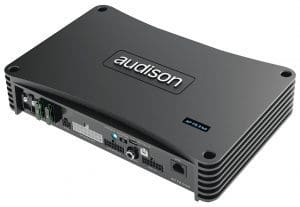 Support for the iDatalink Maestro AR amplifier replacement interfaces as a key part of the vehicle integration flexibility of the AP F8.9 bit. The AR modules allow your installer to replace your factory amplifier with an AP F8.9 bit while retaining all the control, functionality and convenience of your factory source unit. Many AR applications include CAN data network connectivity to relay volume control commands from the factory radio to the Audison amp, and features like warning chimes, Bluetooth audio streaming and navigation voice prompts will all continue to function flawlessly.
This new amplifier includes six RCA preamp inputs and Universal Speaker Simulator (USS) technology on its six speaker-level inputs to ensure that factory-installed amplifiers and source units with "load detection technology" continue to function properly. A second RCA input pigtail harness is included for connection to aftermarket source units.
The built-in Automatic Remote Turn-on (ART) and Automatic Signal Turn-on (AST) circuits monitor the speaker-level inputs to enable the amp automatically as soon as your factory radio turns on. In many new vehicles, the start-up process takes place when you open your car door, so the infotainment system is ready to go as soon as you sit down to drive.
As part of Audison's Full DA digital audio design, the amp also includes an optical TOSLINK input that will accept digital signals up to 24-bits at 192 kHz from products like the Audison bit Play HD, a MOST vehicle integration solution such as the bit DMI, or one of the many vehicle integration solutions from other brands.
Amazing Performance in a Compact Package
If you are interested in improving the sound of your mobile audio system, visit your local authorized Audison retailer and ask for a demonstration. Whether you choose to use this amp with the factory speakers and add a subwoofer, or upgrade everything for dramatically improved performance, the Prima Forza AP F8.9 bit amplifier is a perfect solution.