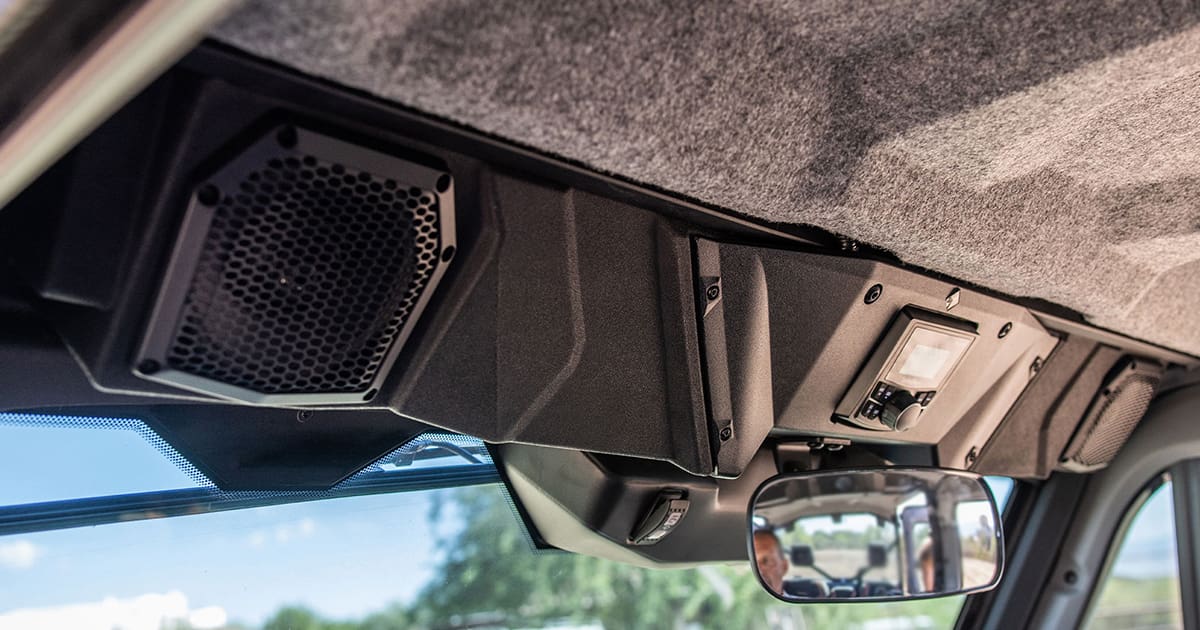 The Can-Am Defender is a work-focused side-by-side, but that doesn't mean you can't have fun while getting things done. Rockford Fosgate, the undisputed leader in powersports audio upgrades, proudly announces their Stage 1 roof audio upgrade for select 2017 and newer Can-Am Defenders. Let's check it out!
What Is the Rockford Fosgate DEFEND17-STG1?
Can-Am seems to have decided that very few Defenders come with an audio system. Rockford Fosgate comes to the rescue with their DEFEND18-STG1. This compact audio system mounts to the roof right by the front windshield and includes a PMX-1 media receiver and a pair of 5.25-inch TMS5 Element Ready speakers in custom enclosures.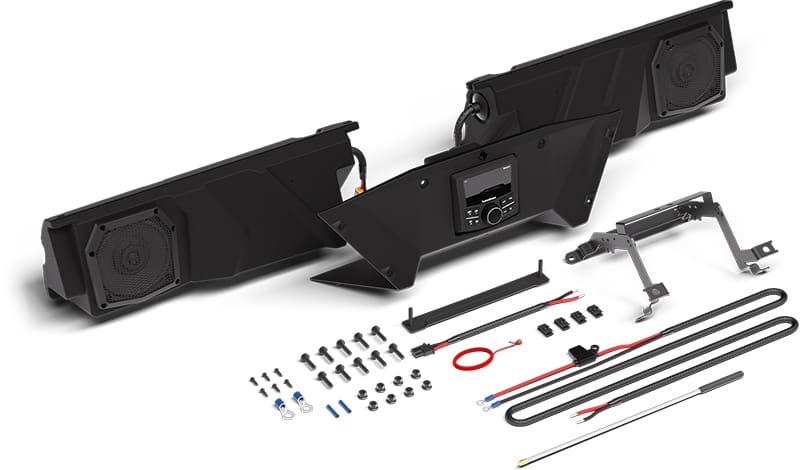 PMX-1 Source Unit Features
The heart of the DEFEND18-STG1 Defender audio system is the PMX-1 media receiver. This compact source unit features a 2.3-inch dot-matrix display protected by a tempered glass screen. Unlike similar units with plastic front panels, you don't have to worry about scratches, fading or yellowing with the PMX-1. A large rotary volume control is in the center, and easily accessed buttons on either side make using the radio while wearing work gloves a non-issue.
The PMX-1 is most commonly connected to a smartphone via Bluetooth. You can stream music stored on your phone or from an online service like Pandora, iHeartRadio or Spotify. The Bluetooth connection supports the AVRCP protocol, so you can change tracks from the radio. The PMX-1 includes an AM/FM tuner with weather band support. It also has a stereo auxiliary input and a USB port, which means you can easily connect a thumb drive to play MP3 or WMA audio files.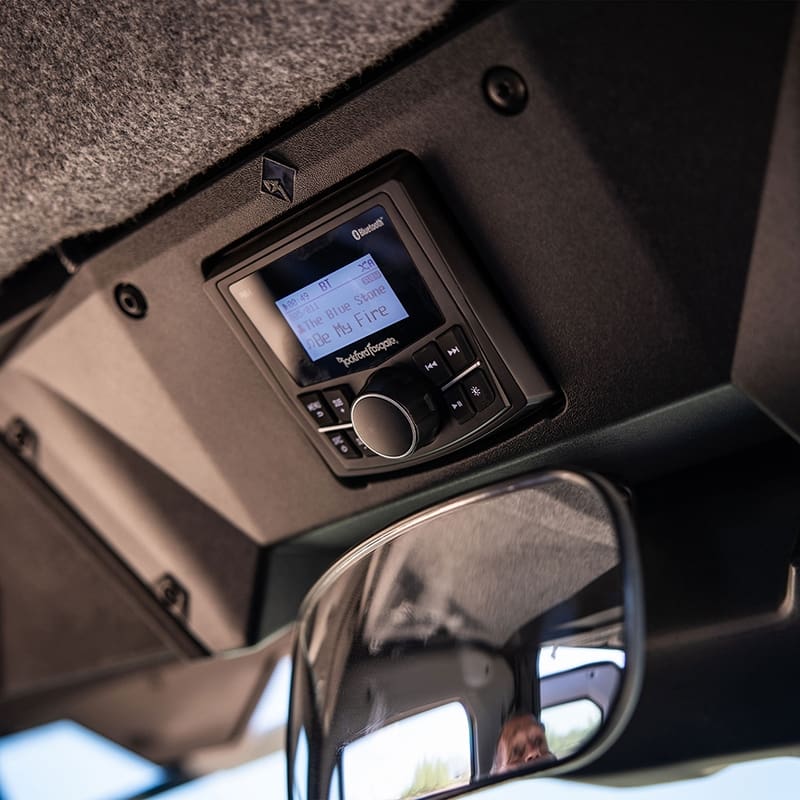 The PMX-1 includes a built-in four-channel amplifier rated to produce 25 watts of power into 4-ohm speakers. That's about 20% more power than most car radios. The radio also has a built-in seven-band equalizer to let your installer fine-tune the performance of your audio system.
You can even control the PMX-1 from your iPhone or Android smartphone using the RF Connect app. Download the app and pair your phone to give you source and volume control while you're having lunch or hanging out by the campfire. Rockford Fosgate's optional PMX-BTUR Bluetooth universal remote is a very worthwhile upgrade. With this remote attached to your steering wheel, you can control the audio system wirelessly.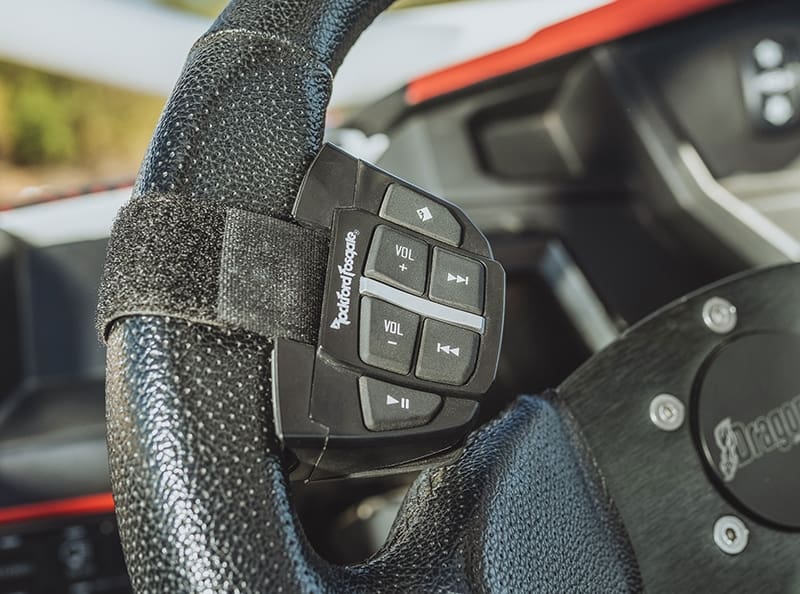 TMS5 Speakers Deliver Big Sound
Initially designed for the Tour-Pak speaker locations on the back of many Harley-Davidson motorcycles, the TMS5 speakers are a perfect fit for the Defender audio system. These 5.25-inch coaxial drivers feature carbon-fiber reinforced polypropylene woofer cones with a Santoprene rubber surround for excellent longevity. An ultra-efficient neodymium ring magnet motor works with the oversized 35-mm voice coil to produce impressive output with minimal power.
A 25-mm proprietary film dome tweeter with a neodymium magnet handles high-frequency reproduction. An integrated phase plug over the tweeter helps deliver even sound distribution through the listening environment. The heart of these speakers is a glass-reinforced polymer frame that can withstand extreme temperatures. Rockford Fosgate rates the TMS5 speakers as being 91 dB efficient (at 1W/1M) and capable of handling 65 watts of power. As is practice with Rockford Fosgate, these specifications comply with the CTA-2031 standard, so you know you can trust them.

Features of the DEFEND17-STG1
No speaker will sound good without an appropriate enclosure. The DEFEND17-STG1 system includes durable, weather-resistant pods that attach to the steel roll bar on your Defender. Once in place, the bracket and mounting panel for the PMX-1 source unit fit in the middle to hold everything securely. Your installer doesn't have to drill holes or cut anything to complete the installation. Rockford Fosgate includes all the wiring and fasteners needed to complete the installation.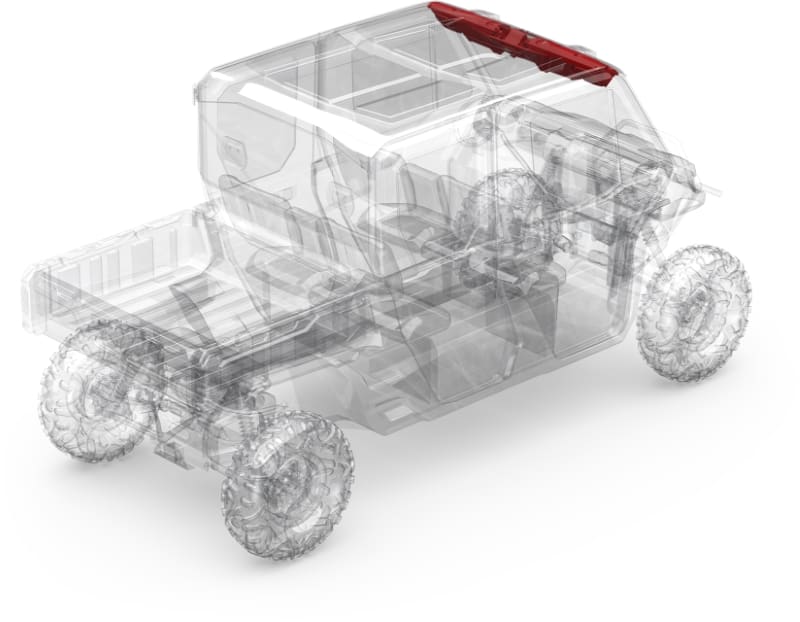 Designed to Sound Great for Years
All Defender audio system components feature Rockford Fosgate's Element Ready design. This means they're constructed from UV-resistant materials, so they won't fade, yellow or crack. They are also weather-resistant, so they'll continue to work if they get wet, dusty or muddy. Where Rockford Fosgate takes things further is their testing to ensure that the products can handle extreme temperatures. Whether blasting through the woods on a hot August afternoon or returning from a mid-winter hunting expedition, you can count on your audio system to keep working. The Defender system is also engineered to cope with the impacts and vibration that are typical for side-by-side and off-road applications. Rockford Fosgate stands behind its powersports audio upgrade solutions with a two-year warranty.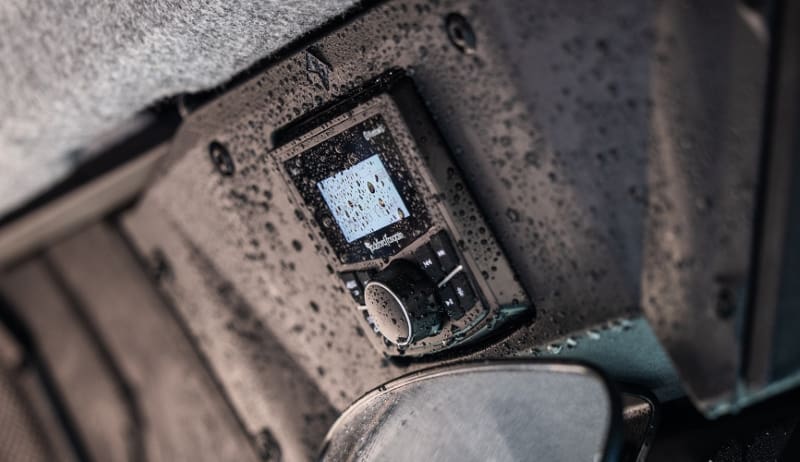 Upgrade Your Can-Am Defender with Rockford Fosgate Audio Today!
If you're looking for a great way to add an audio system to your Can-Am Defender, visit the Rockford Fosgate website and check the compatibility chart to make sure your model year and trim level are compatible. You can find an authorized Rockford Fosgate Dealer near you using their Locator Tool to purchase the system and have it installed. Be sure to check out Rockford Fosgate on YouTube, Facebook and Instagram to see what other amazing car audio, marine, motorcycle and powersports audio products they are introducing.