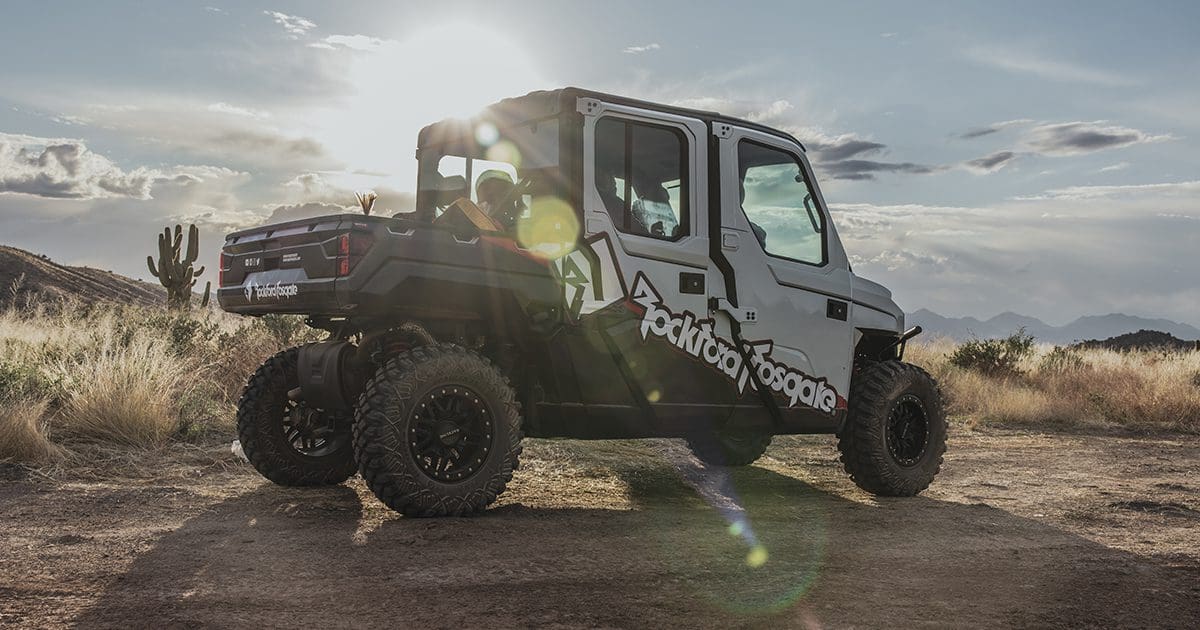 No other company in the mobile enhancement industry has invested as much effort into developing high-performance audio system upgrades for powersports vehicles as Rockford Fosgate. They have vehicle-specific solutions for popular Can-Am, Yamaha and Polaris vehicles. Each system is designed to be installed without significant modifications to deliver outstanding sound quality and reliability. Best of all, you can choose from as many as six performance levels to suit your music enjoyment preferences. We'll look at the Rockford Fosgate RNGR18-STG6 Stage 6, generation two audio system upgrade for 2018 and newer Polaris Ranger side-by-sides.
What Makes the Rockford Fosgate Ranger Upgrade Unique?
The Stage 6 upgrade includes all the wiring your installer will need to complete the installation. The entire system is completely plug-and-play and integrates seamlessly into the electrical system, retaining your Ranger's integrity. Once the system is mounted and connected, the amplifier's PRESET "tune" – engineered by Rockford Fosgate – delivers fantastic output and reliability. You can work with your installer to create a setting that suits your listening preferences if you desire something a little different.
Rockford Fosgate RNGR18-STG6 PMX-3 Source Unit
The RNGR18-STG6 starts with the Rockford Fosgate PMX-3 source unit. This compact digital media receiver features a 2.7-inch color TFT display, Bluetooth audio streaming and a water-resistant IPX6 design. With its wet-bonded construction, the display is designed to remain visible, even in bright sunlight. The radio includes a USB port to play MP3, WMA and even FLAC audio files from a USB memory stick or your smartphone. You can even upgrade the radio with a backup camera to see what's behind your Ranger if you need to connect a trailer. An RNGR18-DK dash kit is included to make installing the radio reliable.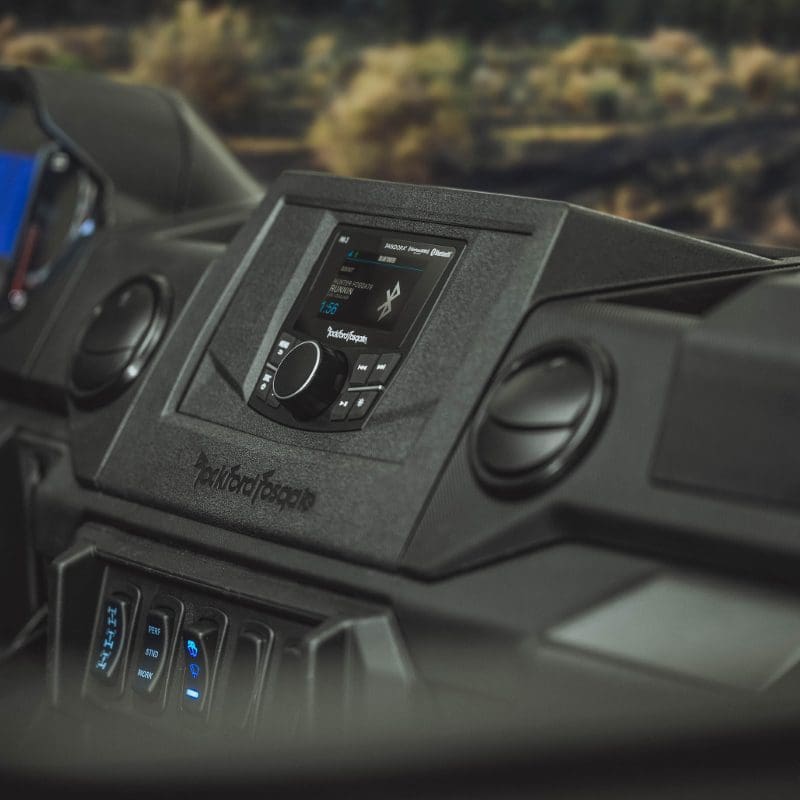 Amazing Weather-Resistant Speakers and Subwoofer Deliver Big Sound
The Stage 6 Ranger audio system includes two sets of the Rockford Fosgate M2-65B 6.5-inch coaxial speakers with Color Optix technology. These premium speakers are fully water-resistant, so they can handle rain, dust and even mud if your adventures extend beyond cruising the basic trails. The two-way design ensures precise midrange performance and crisp, detailed high-frequency reproduction. A set of RNGR18-FSE speaker pods is included for the front of the Ranger, and a set of RNGR18-RSE pods attach to the Polaris Poly Roof for the rear speakers.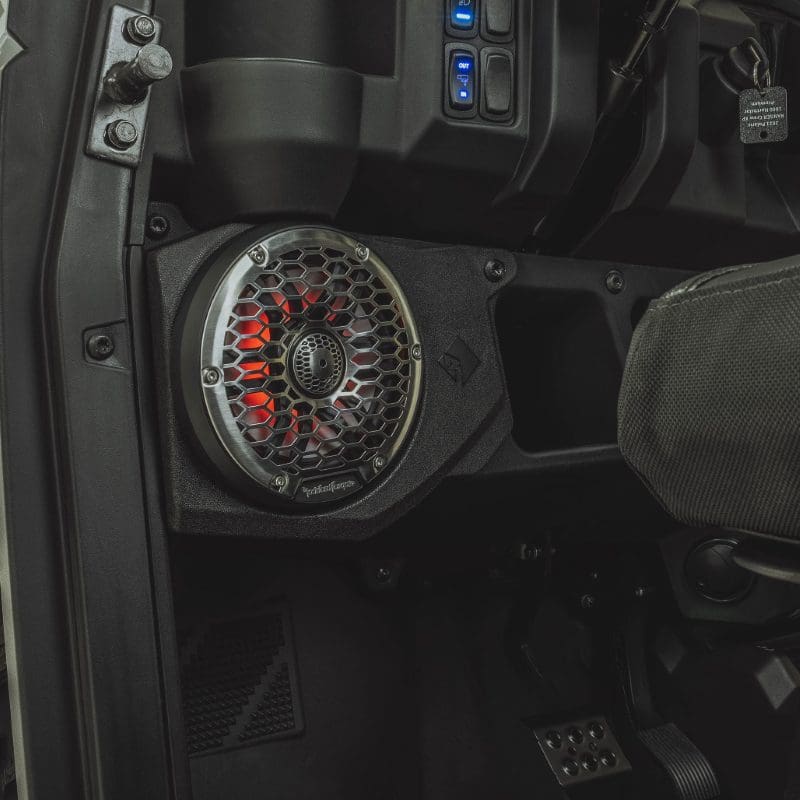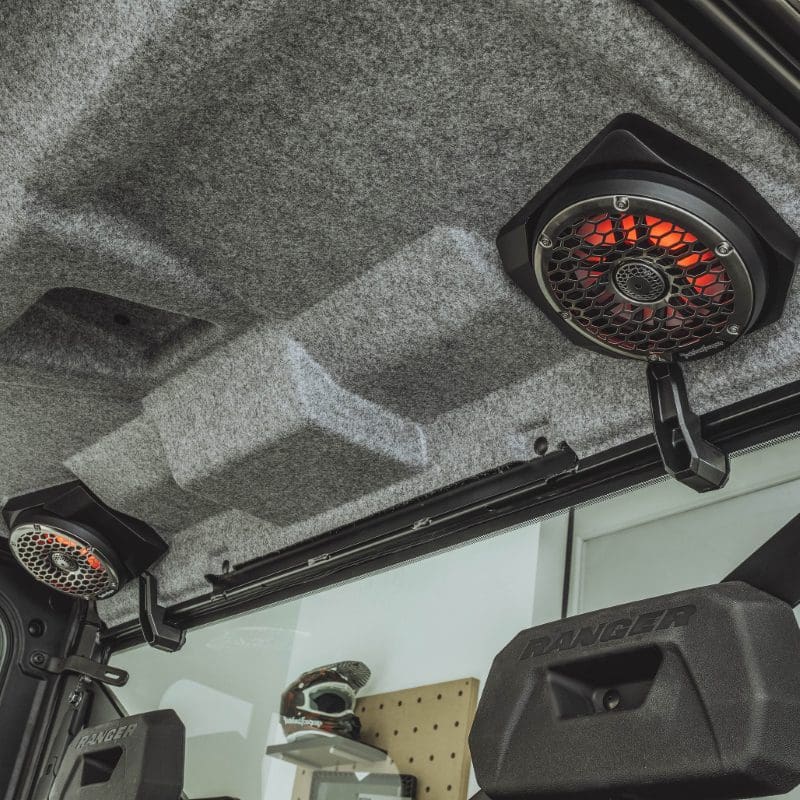 A key component in making this system sound good and play at high volume levels is the inclusion of a high-performance subwoofer. The RNGR18-STG6 includes a 10-inch, dual-voice-coil M2D4-10IB subwoofer rated to handle 400 watts of power continuously. The subwoofer installs in the included RNGR18-FWE Color Optix under-seat subwoofer enclosure. The enclosure is vented, but a cap is included to seal things up if you plan on submerging your Ranger. All of the enclosures in the system are made from a roto-molded composite material that can handle anything Mother Nature throws its way. Each is designed to bolt directly and securely into the vehicle with no drilling.
As all of the speakers and subwoofers in the RNGR18-STG6 kit feature Rockford Fosgate's Color Optix RGB LED lighting, a Bluetooth PMX-RGB lighting controller is included with the system. You can pick an illumination color to match the pattern on your side-by-side or morph through a rainbow of colors to attract attention once the sun sets. All the wiring for the lighting is water- and dust-resistant, so you know it'll be reliable.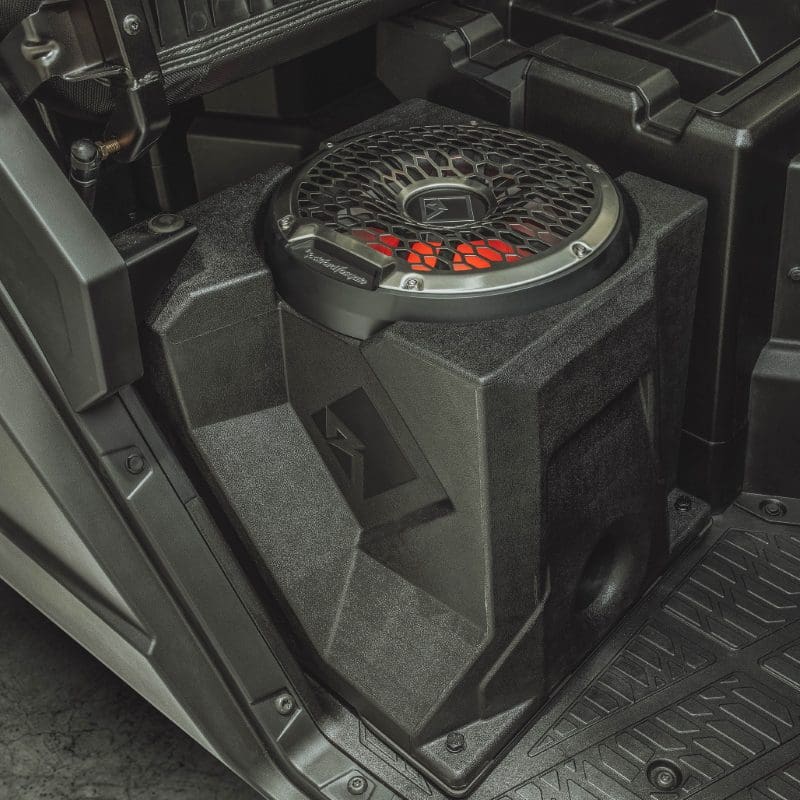 Five-Channel Amplifier Power Ensures Amazing Sound
The key to bringing all this great gear to life is a five-channel, 1,500-watt Rockford Fosgate M5-1500X5 amplifier. This weather-resistant amp mounts up under the hood using a bracket included in the RNGR18-K4 installation and power kit. The amp can produce up to 125 watts of dynamic power to each front and rear channel and an impressive 700 watts to the subwoofer under the seat. The design is weather resistant with sealed power, speaker and signal connections on the chassis. The installation kit includes high-quality 4 AWG copper power to ensure that the amp gets the current it needs from the battery.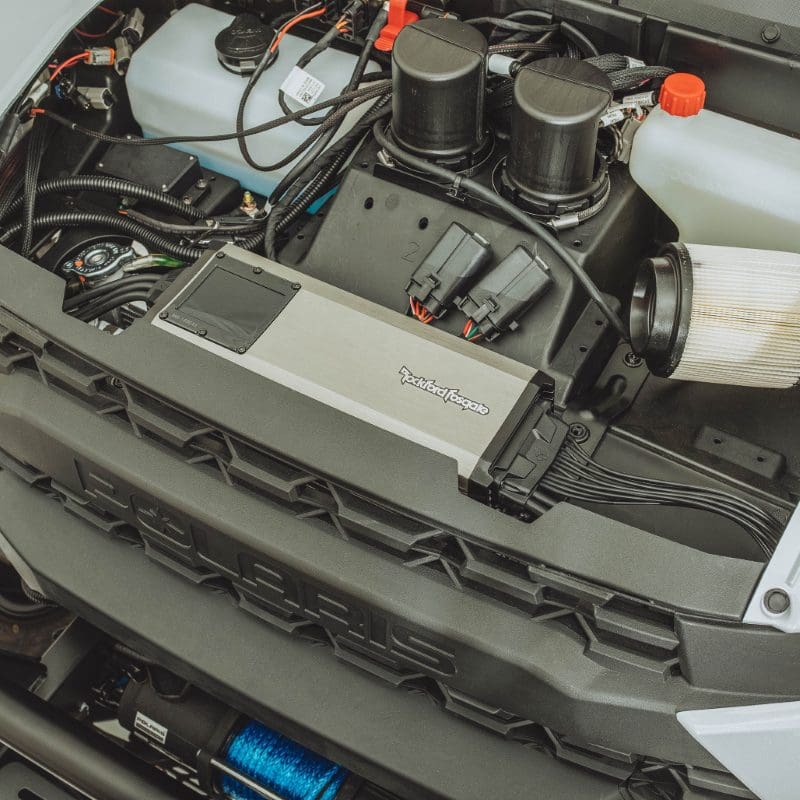 Reliable Audio Upgrades from Rockford Fosgate Deliver Amazing Sound
Polaris has created dozens of Ranger models, so be sure to consult the detailed application chart on the Rockford Fosgate RNGR18-STG6 webpage. If you want to add a great sound system to your 2018 or newer Polaris Ranger side-by-side, drop by your local Rockford Fosgate retailer and ask about the RNGR18-STG6 audio system. You can learn more about Rockford Fosgate motorsport audio solutions by visiting their website, Facebook page, Instagram feed or their fantastic YouTube channel.