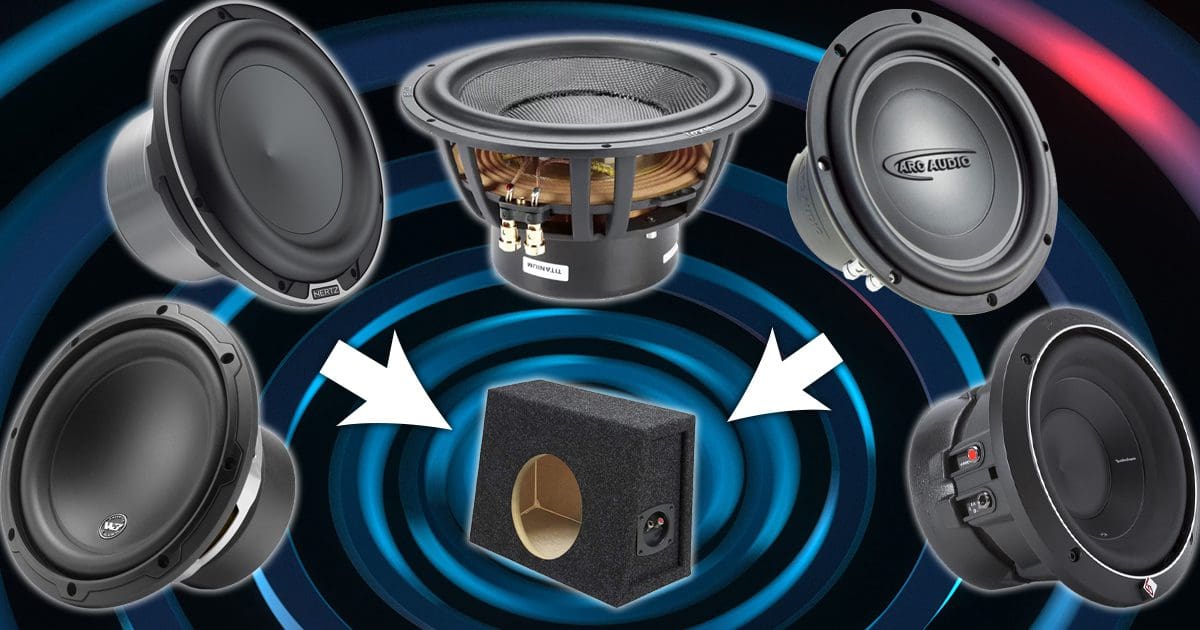 A short while back, we published an article headlined "What Does it Mean When a Subwoofer Claims to Work in a Small Enclosure?" One of our readers, Eric T., asked some great questions on our Facebook page, and we told him we'd be happy to answer them.
The original article explained the physics of what happens when you try to stuff a subwoofer in an enclosure that's too small. Eric asked for a direct comparison of two similarly sized subwoofers – one designed for small enclosures and one for what would be deemed suitable for "regular" applications. He also wanted to know what happens if we switch them up. The answers might surprise you!
Subwoofer Enclosure Simulations
All speaker Thiele/Small parameters interact to determine the low-frequency performance of a subwoofer in an enclosure. With that said, based on a suggestion from my friend Andy, I've chosen two 8-inch subwoofers for this comparison. One will have a low Qts value, and the other will have something closer to 0.5 and be considered the "normal" driver. The first driver has a Qts value of 0.289, and we'll call it our low-Q. The second driver has a Qts of 0.56 and is our normal sub.
We'll start with the low-Q driver first. I loaded the Thiele/Small parameters into BassBox Pro, then asked the software to suggest an enclosure that would provide a Qtc of 0.707. The result was a 0.15-cubic-foot enclosure with an F3 frequency of 67.73 hertz. That sounds like a "small box" to me! In keeping with Eric's inquiry, let's model what happens when we put a high-Q driver in this enclosure. The yellow trace below shows the predicted frequency response of our high-Q driver. The Qtc of that system was 0.88, and the F3 frequency was 61.35 hertz.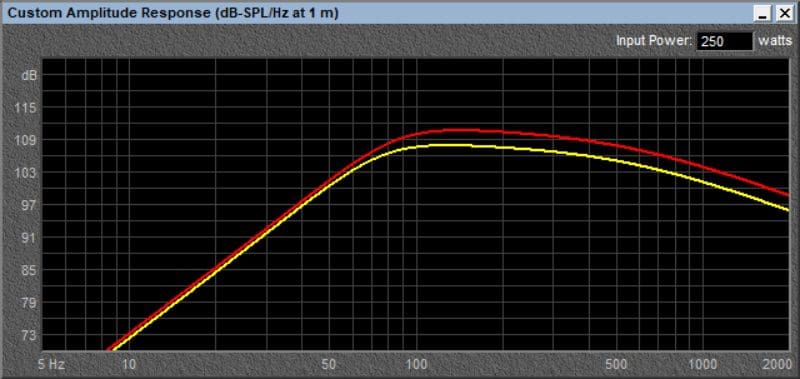 There is some difference here, but it's not massive. The low-Q driver is a tiny bit louder at 40 hertz. The difference is 0.9 dB, to be precise. The high-Q driver isn't as loud above 100 hertz, but that really isn't a factor as we are using these as subwoofers, and they're typically filtered below 80 hertz. The Qtc of the high-Q driver is a little higher at 0.88 compared with 0.707 for the low-Q driver. This would make the high-Q driver sound a little tubbier or boomier, but it's not so high that it wouldn't still be enjoyable. Overall, the difference isn't huge.
Eric wanted to know what happens when we swap things around. I asked BassBox Pro to tell me what size enclosure the high-Q driver wanted for an ideal Qtc of 0.707, and it suggested a net enclosure volume of 0.345 cubic foot. I reran the simulations with both drivers to see what happened.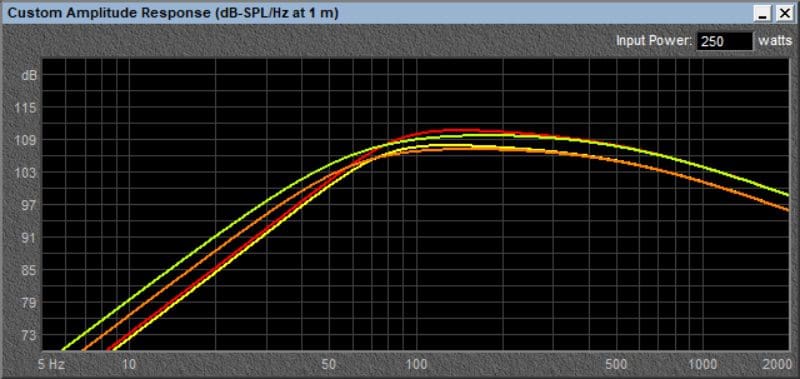 The difference has become more significant with more than twice as much air volume. As expected, both drivers produce more low-frequency output. At 40 hertz, the low-Q driver is now 2.2 dB louder, which would be more noticeable. The Qtc of the low-Q driver in this enclosure is 0.639, so it would also be well-behaved and not continue to resonate much after the audio signal has been removed.
Seeing how close the drivers were in the small enclosure, I did a few more simulations. I simulated five popular 8-inch subwoofers from ARC Audio, Hertz, Rockford Fosgate and JL Audio in the small enclosure. In all cases, the output at low frequencies is very similar. They are close enough that it almost doesn't matter which driver you choose. That said, what you hear from a subwoofer is directly related to the predicted output. This information doesn't tell you what they sound like in terms of linearity or distortion characteristics.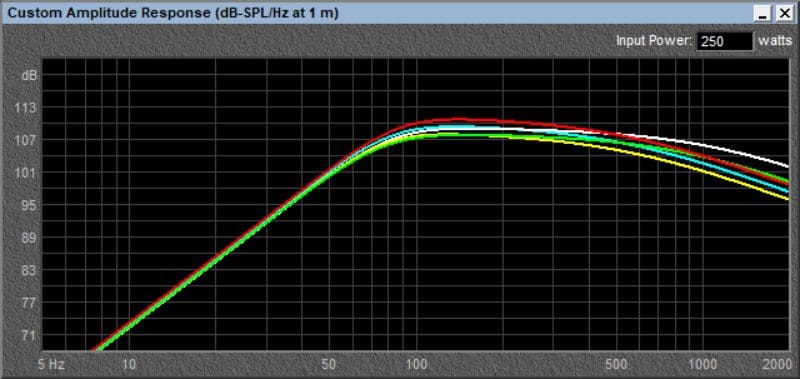 12-Inch Subwoofer Comparison
I was starting to wonder if the ratio of cone area vs. enclosure volume was more important than the suspension compliance and Qts of the driver. I decided to run a similar simulation with a half-dozen 12-inch drivers. I chose drivers from the above brands and added a Morel sub to the mix. The colors of the traces in the graph are random. The chart below shows the predicted response of the six 12-inch subwoofers in a 0.5-cubic-foot enclosure (lower group of traces on the left) and a 2.5-cubic-foot enclosure (the upper set of traces on the left). There's a little more variance between the loudest and the least efficient in the large enclosure at 40 hertz, but in the small enclosure, they are all within a few decibels of each other.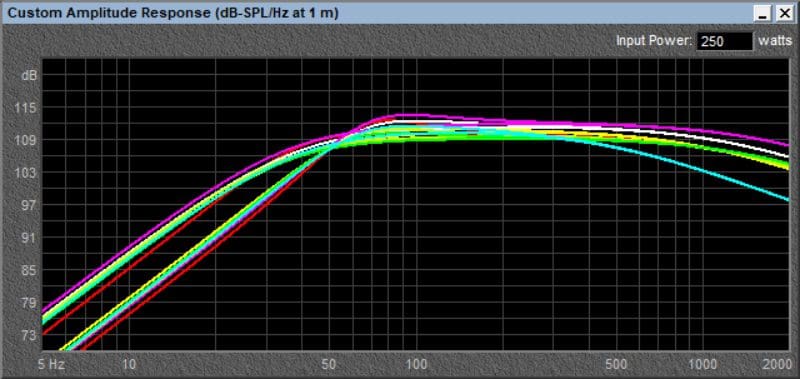 In most cases, the more efficient subwoofers, except for the violet trace, remained more efficient. It wanted more air volume. Interestingly, it was a low-Q, low-Fs, high-Vas driver – I would have expected the opposite, but I'm not going to argue with the science.
Let's do one more simulation. It would seem logical to assume that using a large sub in a small enclosure might not produce as much bass as a small sub in the same enclosure. I loaded the specifications for three subwoofers from the same series into BassBox Pro for comparison. The first is a 9-inch driver, the second is a 10, and the third is a 12. I modeled all three in a 0.5-cubic-foot enclosure.
As you can see from the graphs below, at 30 hertz with 250 watts of power, they all produce the same output. At higher frequencies where the enclosure volume affects output less, the larger drivers are louder – just as expected. If you like a lot of kick, a big sub in a small enclosure will give you lots of output. On the downside, the Qtc of the systems couldn't be more different. The 8 has a Qtc of 0.558, making it almost perfectly damped. The 10 has a Qtc of 0.72, a popular alignment for car audio subwoofer systems. The 12, on the other hand, has a Qtc of 2.97. This is likely the highest-Q enclosure I have ever simulated. It would sound boomy and sloppy, making it less than ideal if you care how good your bass sounds.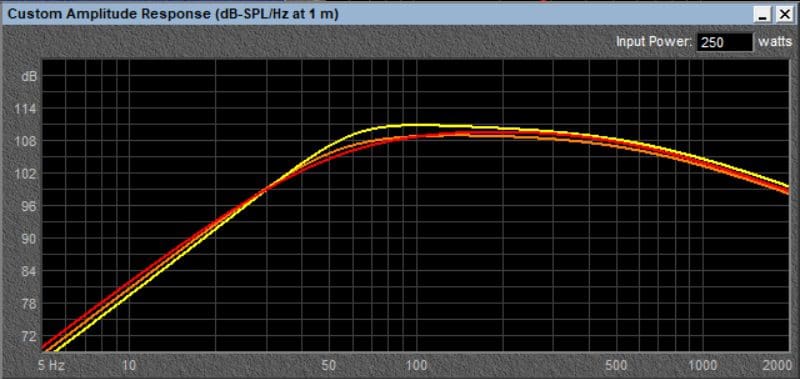 The Bottom Line on Subwoofer Enclosure Volumes
How much deep bass your subwoofer produces depends primarily on the relationship between the driver's surface area and the volume of the enclosure. Nothing of earth-shattering significance will change based on different driver parameters in a sealed system. If you put a large driver in a small enclosure, it won't be as efficient at lower frequencies compared to a large enclosure. I searched a dozen brands and looked at all their specifications to try to find a genuine "small box" subwoofer. I might have found one, but even then, it wasn't significantly louder, nor was it more efficient at lower frequencies than what would be deemed a conventional subwoofer.
When working with your local specialty mobile enhancement retailer to design a subwoofer system, focus on choosing a subwoofer with technologies that improve linearity and reduce distortion. Proper venting under the spider, motor geometries that offer linear magnetic flux over a wide cone excursion range and inductance-management features like shorting rings and copper caps are a few examples. Drivers with these features will sound better, especially at high volumes, as they add less distortion.
More importantly, make sure you choose an enclosure that results in a nice low Qtc value of 0.8 at most to prevent the system from sounding boomy and sloppy. With these criteria in mind, you'll have a subwoofer system that sounds excellent, even if your installation space is limited.