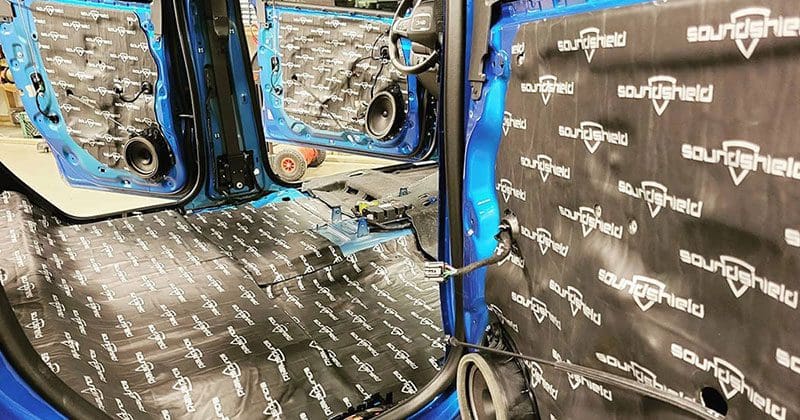 Car audio sound deadening has been a popular upgrade to improve the comfort of your vehicle and enhance audio system performance since the early '90s. The original concept of sound deadening was to make cars and trucks quieter and more comfortable by limiting the ability for noise outside the vehicle to get into the cabin. Car audio enthusiasts realized that having their vehicles deadened would dramatically improve the efficiency and performance of their audio upgrades. Today, dozens of companies offer noise control solutions. With that said, they aren't all created equally. This guide will help you choose the best solution for your vehicle.
How Does Car Audio Sound Deadening Work?
Noise sources such as an exhaust system, the mesh of gears in a transmission or the vibrations of your tires rolling down the road produce sound energy that vibrates the metal panel on the body and chassis of your vehicle. As these panels vibrate back and forth, that sound energy is transferred into the interior of your car or truck. The effect isn't as significant as having a window rolled down, but this unwanted noise and vibration are clearly audible.
One of the key differences between an entry-level vehicle and something more luxurious is the background noise level in the cabin as you drive. Companies such as Rolls Royce may add more than 200 pounds of noise control materials to their most luxurious vehicles. Along with thicker glass, plusher carpets and even wheels and tires with noise-absorbing technologies, reducing noise in vehicles is big business.
Automotive sound deadening or damping products add mass to metal and plastic panels to reduce the amount they vibrate. Energy from the sound source is converted into microscopic amounts of heat rather than being passed through the panel and into the vehicle interior. High-quality sound deadening products have a second function. Most doors, rear parcel shelves and the rear side panels in coupes have large openings. Some of these exist to allow for the installation of power windows and locks. These large openings do nothing to block sound from entering the cabin. As such, sound deadening products can be used to span these spaces and dramatically reduce noise inside the vehicle.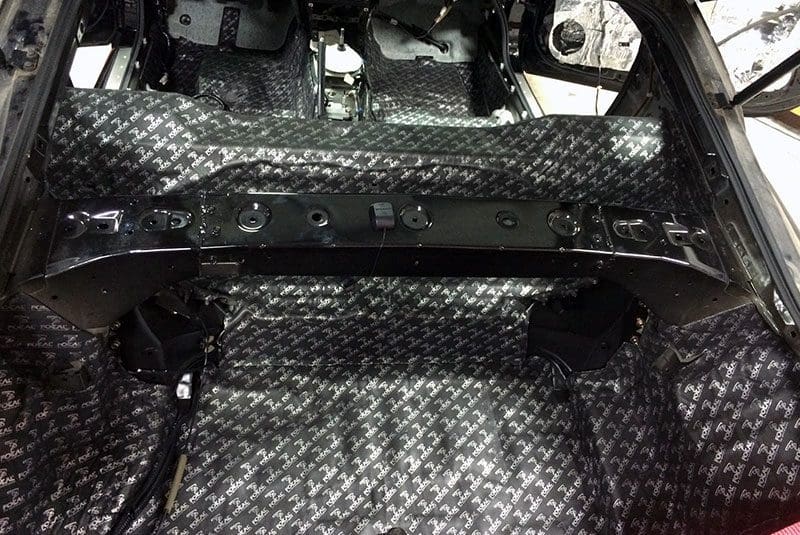 Sound Deadening Materials
When noise control products originally entered the car audio industry, they were partially petroleum-based and carried a unique and distinct odor. While the damping characteristics were good, long-term adhesion was mediocre, and many consumers complained about the smell. Most of the current high-quality deadening solutions use a butyl base layer with varying thicknesses of aluminum to balance absorption and rigidity characteristics. These are called constrained-layer damping (CLD) solutions.
The characteristics of the material have to be balanced in their design to absorb energy (soft and gooey works well here) while having the rigidity to span openings and reduce noise transfer (firm and dense). Many products branded as car audio solutions come from other markets and fall at the extreme ends of this balance. As such, they don't provide the best overall solution compared to those engineered specifically for car audio applications. In short, what might offer the most ideal damping when affixed to a flat metal panel might be the worst for bridging open spans in your doors or the rear deck of your car.
When shopping, ask to see a sample of the product. If you hold a piece of deadening horizontally and it falls limp, it's too soft. Conversely, if it's stiff like cardboard, it might not conform well or stay adhered the to complex shapes and surfaces in the vehicle.
Many CLD solutions add a third layer of closed-cell foam on top of the aluminum to reduce noise from wire harnesses, trim panels and door release and lock actuator rods while the vehicle moves down the road.
You'll want to choose a product that's primarily black where it might be seen through a speaker grille. The last thing you want is a shiny silver or gray finish attracting attention where it's not required.
Another class of aftermarket noise control product is mass-loaded barriers. These products are typically a sandwich of closed-cell foam over a lead-like alloy sheet. The dense layer in the center acts as a second barrier to noise and offers impressive energy absorption properties. These products are ideal for installation on the floor and trunk or cargo area of vehicles, and they serve as an excellent replacement for carpet pads.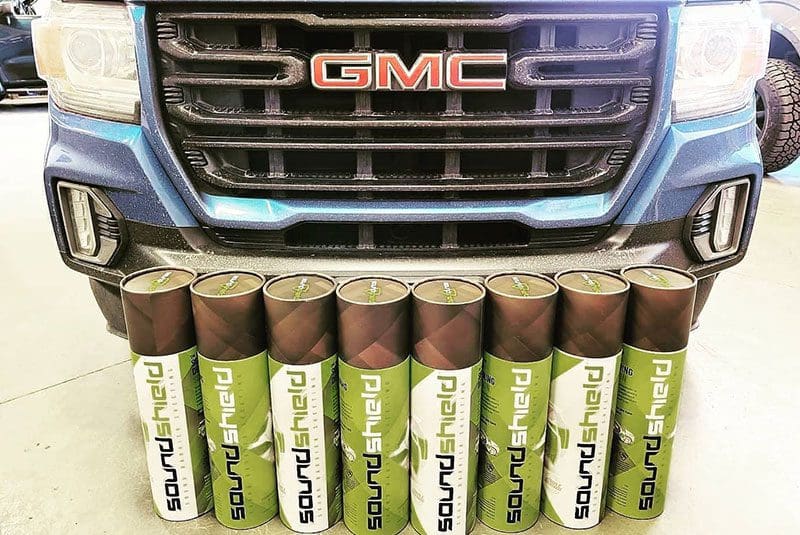 Adhesive Properties of Sound Deadening
Aside from balancing noise control properties, it's important to pick a sound deadening solution with excellent adhesion properties. The last thing you want is for the damping material to release from the inside metal on a car door and get stuck against the window.
The deadening needs to stay in place in extreme cold temperatures below -40° C or F to scorching conditions well above 140° F/60° C. If the material breaks down and falls off of vertical surfaces, the mess can be extremely expensive to clean up, and upholstery or interior components such as carpet, door panels or roof liners may need to be replaced.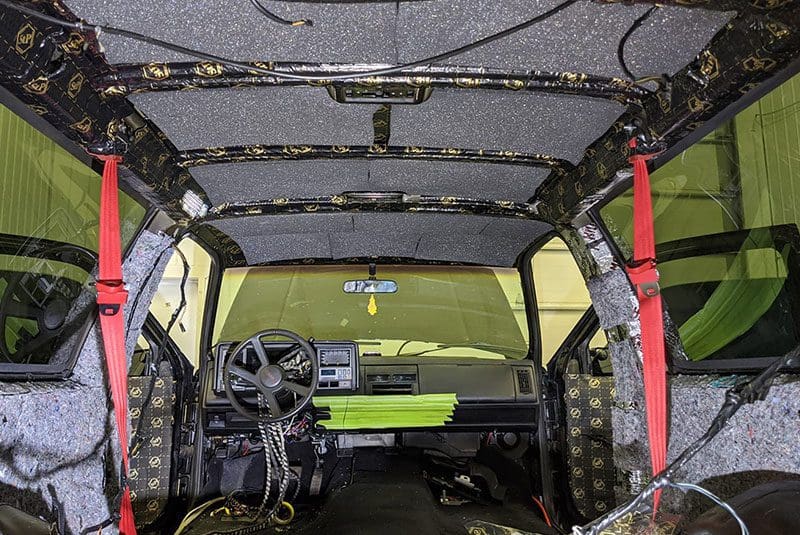 Safety Considerations
Anytime you're adding something to your vehicle, safety should always be a priority. Automotive engineers agonize over what would happen in a worst-case scenario to ensure that the occupants remain safe. In the event of a catastrophic accident or serious malfunction, that last thing you want is for something that's been added to your vehicle to burn quickly. The Federal Motor Vehicle Safety Standard Number 302 is a test designed specifically to evaluate the flammability of automotive materials. Flame propagation from an ignition point must not exceed 102 mm per minute. Ideally, the material will self-extinguish. Likewise, the Underwriters Laboratory UL 94 flammability test for plastics requires that plastics stop burning within three seconds, with an afterglow of less than 30 seconds. The UL 94 standard would apply to foam products in the context of this discussion.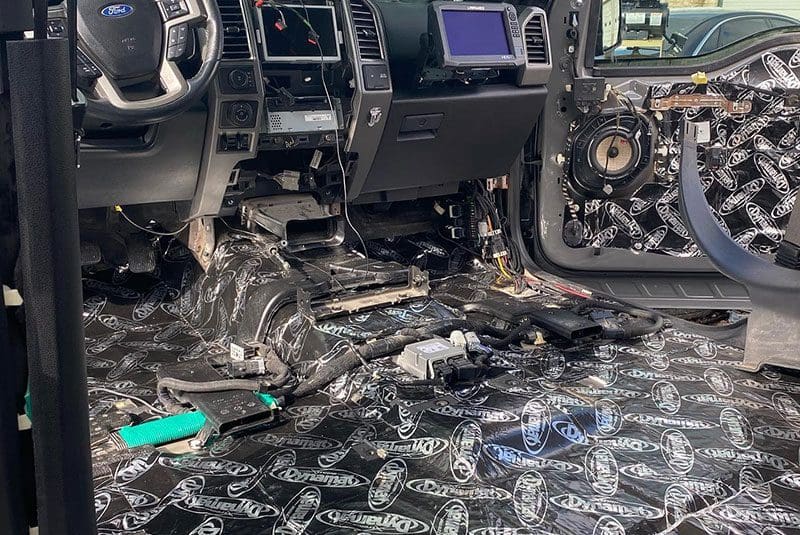 Installation Options for Maximum Noise Reduction
It would be great if sound deadening could be applied to every square inch of a vehicle during the manufacturing process. For hot rod and restoration projects, the installation of more than 100 square feet of sound deadening is commonplace before the wiring and interior are installed. For daily driver applications, many components will need to be removed from your car or truck to achieve the same results. Here are a few suggestions that offer excellent noise control improvement:
Car doors are large, flat surfaces that allow significant amounts of noise into the vehicle. Having the rear of the outer door skin treated can offer significant benefits. Covering the inner door skin not only helps to reduce vehicle, road and wind noise from entering the vehicle, it can dramatically improve the performance of the speakers installed in the vehicle. In fact, if the inner door panel has access holes in it, having it treated with sound deadening will improve audio quality for less money than a speaker upgrade.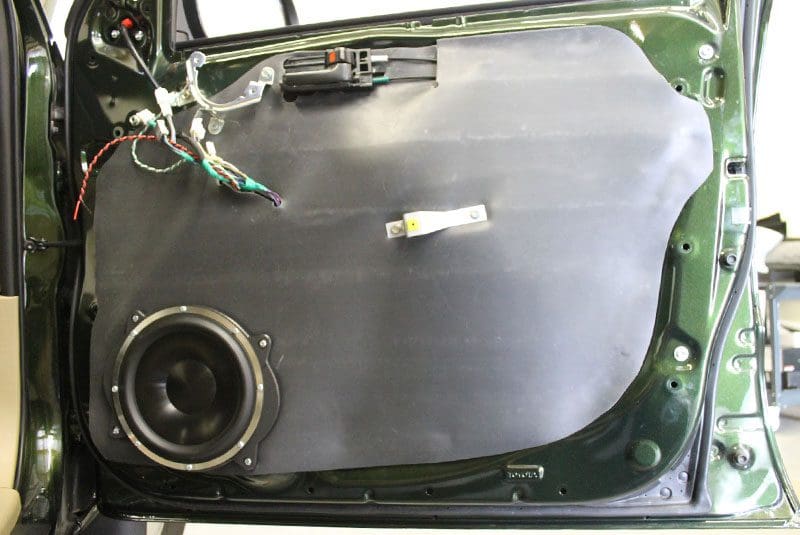 Floors and cargo areas are another source of significant noise transfer. If you're going to have the floors done, be sure the installation extends up the front firewall as far as possible to help reduce the transfer of sound from the engine and transmission. Having the wheel wells treated can dramatically reduce noise, especially when it's raining. The sound of water spraying against a metal wheel well is surprisingly loud.
The roof and trunk lid are even larger than your doors and can transfer a surprising amount of sound into the vehicle interior. If you're going to have these surfaces deadened, make absolutely sure the product you've chosen has excellent adhesion and thermal properties. You don't want any peeling issues here.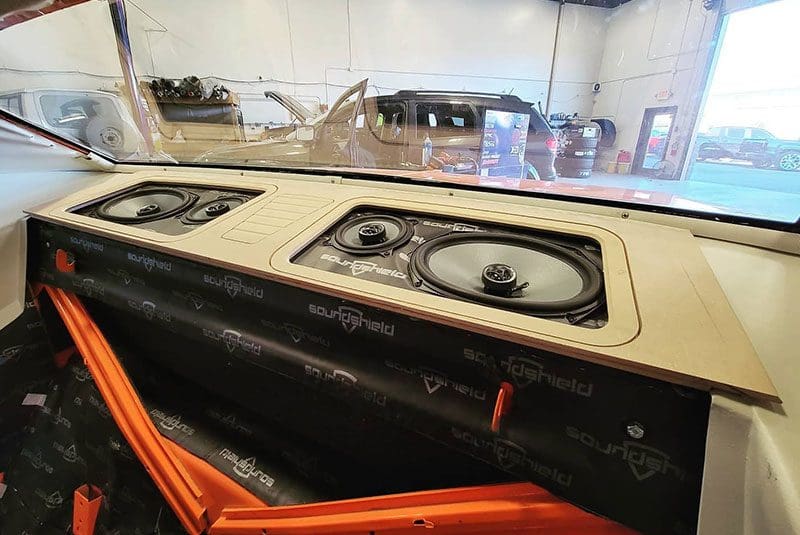 Benefits of Automotive Sound Deadening
Aside from making your vehicle quieter while you drive, the reduced background noise improves outgoing call quality when using a hands-free Bluetooth system. Likewise, voice recognition technologies such as Android Auto and Apple CarPlay work better when the vehicle is quieter.
In terms of audio system performance, sealing openings in a car door can increase the bass and midbass performance of a speaker by more than 10 dB. That's like having an amplifier that's 10 times as powerful! Having the trunk or cargo area of your car treated can help with the performance of a high-power subwoofer system by reducing the energy lost to vibrating panels. Deadening solutions that include foam reduce the buzzing noise of wire harnesses or the sound of interior trim panels rubbing against the metal car components they are attached to.
Upgrading your vehicle with car audio sound deadening is an amazing investment. If you're interested in improving the comfort of your vehicle, drop by your local specialty mobile enhancement retailer and ask them about adding sound deadening to your car, truck or SUV.