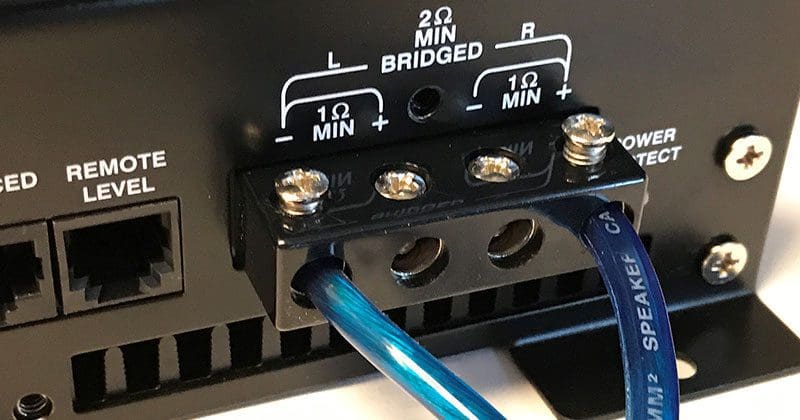 For decades, stereo and multichannel amplifiers have offered the option of bridging to deliver significant power to a single speaker. Whether you refer to it as bridging, a bridge-tied load (BTL) or strapping, the process is the same. Curious how it works? Read on and we'll explain.
How Most Stereo Car Audio Amplifiers Work
If you were to look at the signals on the positive and negative terminals of one channel versus the other, you are likely to find that they aren't the same.
In amplifiers that are bridgeable, a popular configuration is to have the Left Positive and Right Negative speaker connections connected to the ground plane (a virtual ground, not the same as the chassis ground) inside the amp. The other two connections receive audio signals from the output devices.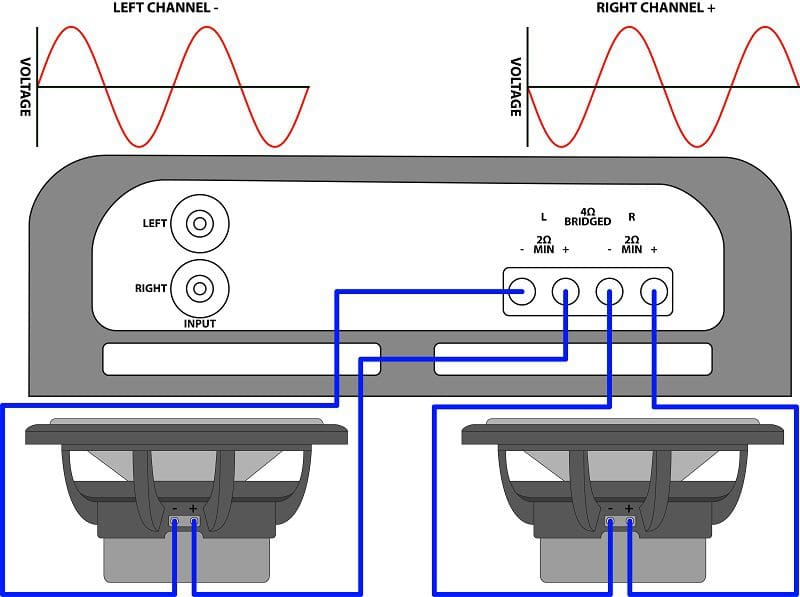 When the signal on the Left Negative speaker terminal on the amp in the image above moves positive, the speaker will cone will move inward. When the signal on the Right + speaker terminal on the amp moves negative, that speaker will also move inward.
Common Amplifier Bridging Configuration
When your installer wires a single speaker to your amplifier in a bridged configuration, he or she only uses the terminals with signal on them. Because the signal on one channel is inverted relative to the other channel, the voltage present across the speaker terminals has the potential of being twice what is available on a single channel.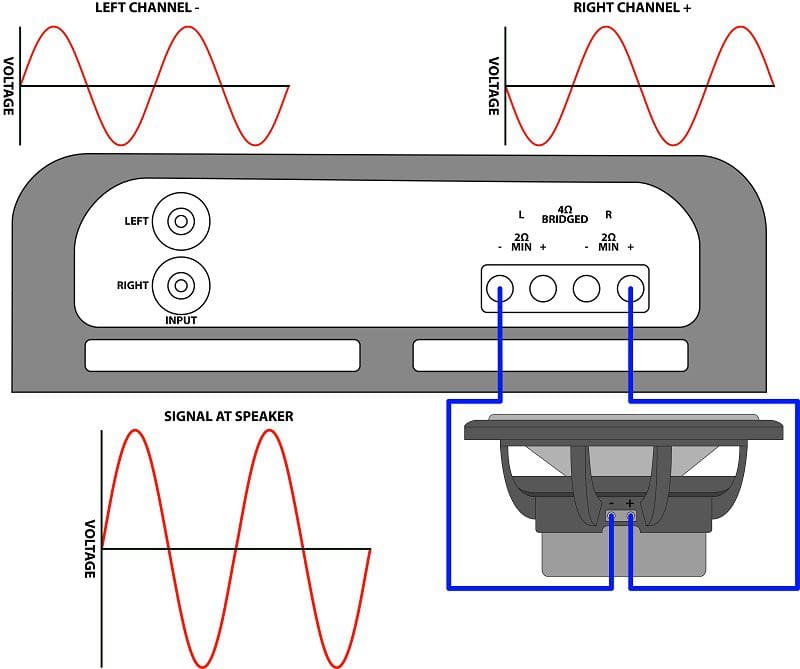 How Much Power Does a Bridged Speaker Receive?
The amount of power an amplifier produces is determined by the voltage the amp can produce and the impedance of the connected speaker. This statement assumes that the power supply in the amp can provide adequate current to the load.
In our example amplifier, let's make the assumption that the positive and negative voltage rails are set at +21 volts and -21 volts. The output voltage on each channel can swing between plus and minus 20 volts relative to ground. The maximum power this amplifier can produce per channel when connected to a 4-ohm speaker is calculated using the maximum output voltage squared, divided by the load impedance. In this example, we have 20 volts squared divided by 4 ohms. This works out to 100 watts.
If you have a 4-ohm speaker wired in a bridged configuration, it can receive a maximum of 40 volts. This is because the signal on the positive speaker terminal goes in the opposite direction as the signal on the negative terminal. If we apply the same math, we get 40 times 40, divided by four, which is 400 watts.
What's With Amplifiers 'Seeing' a Load?
You will find that most people in the audio industry refer to amplifiers "seeing" a load. In our original two-channel stereo wiring configuration, each channel has a single 4-ohm speaker connected to it. As such, each channel sees a 4-ohm load. When we bridge an amplifier, you will note that the minimum impedance for this configuration is double that of each individual channel. Our model amp can drive a 4-ohm load for each channel, but only a single 4-ohm speaker when bridged. Have you ever wondered why?
While amplifiers are designed to increase voltage, the amount of current their power supply can pass to the output devices is often a limiting factor. If we look at a single channel of this amp when connected to a 2-ohm load, the amp needs to provide 10 amps of current to the 2-ohm speaker when the output is at 20 volts. If we were to wire that 2-ohm speaker in a bridged configuration, we now have a maximum of 40 volts across its terminals, and we'd need 20 amps of current from each side of the amp. If the amp isn't capable of delivering 20 amps per channel, it will either distort, overheat, go into protection or become damaged. If we wire a 4-ohm speaker in a bridged configuration, each channel only has to produce 10 amps of current. 

Audio Signals When Bridging an Amp
For a speaker connected in a bridged configuration to function optimally, you will want to make sure that the audio signals going to the left and right channels are identical. Many high-quality amplifiers will have a mode selection switch that will let you select from Stereo, L+R or Mono operation. In the Stereo setting, the signal from the left RCA input goes to the left output channel, and the right RCA input goes to the right output channel. When you select L+R, the signals from both the left and right inputs are mixed together inside the amp and sent to both channels. Finally, in most applications, the Mono option uses only one of the input terminals and feeds that signal to both speaker outputs.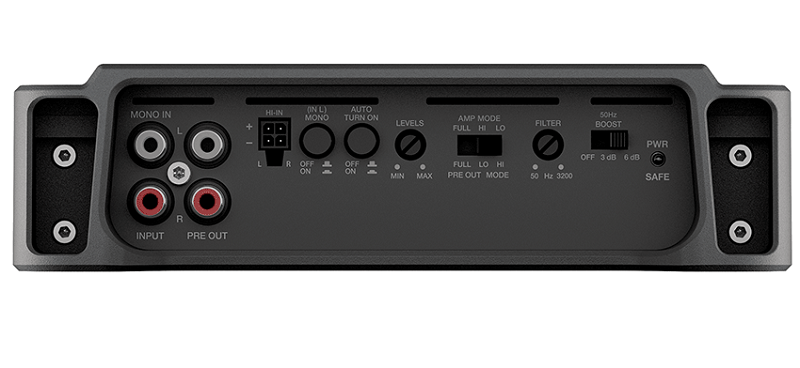 Bonus Amp Information
Back in the '80s and '90s, most car audio amplifiers were quite large. They were designed to produce lots of current because, well, size and heat weren't an issue. When you connected a single 4-ohm speaker in a bridged configuration, most of these amplifiers would produce roughly four times as much power as that speaker would receive if connected to a single channel. 
As amplifiers have become smaller, the size of their power supplies has decreased dramatically. As such, many compact amplifiers can't deliver the current required to quadruple power. You'll see ratings like 65 watts per channel when connected to a 4-ohm speaker, but only 95 watts per channel when driving 2-ohm speakers. In this example, the amp would only produce 190 watts when bridged as opposed to the 260 watts (four times 65 watts) you might have hoped for. This doesn't make the amp necessarily sound worse; it's simply a trade-off based on the desire for smaller chassis sizes and lower prices.
Upgrade Your Car Audio System with a Bridgeable Amplifier
If you're considering upgrading your car audio system with a subwoofer and you have a two-channel amplifier, your installer is likely to choose to wire that sub in a bridged configuration. In most cases, with a high-quality amp, you'll get all the power you need to crank your music up to concert volume levels. If you're shopping for an amp, drop by your local specialty mobile enhancement retailer to get some advice on the solution that is best for your application.