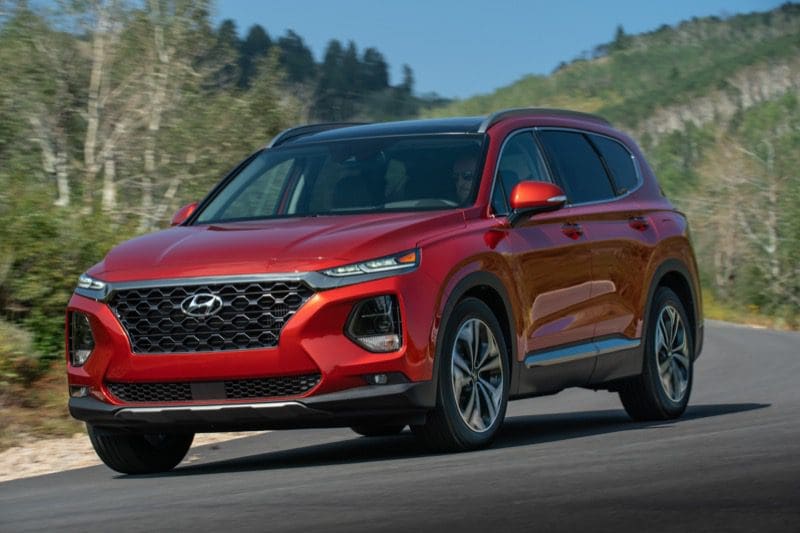 Santa Fe is a small American city, but Hyundai has borrowed the name for its big SUV (sister company Kia has gone a similar route with its large Telluride SUV). For 2019, Hyundai has dropped the Santa Fe Sport (but added the very cool small Kona) and has added the Santa Fe XL. How about people who typically carry items in the cargo hold but not necessarily passengers? Then the middle-of-the-road regular Santa Fe should suit you perfectly. It is one of the first SUVs to do away with the often-challenging manual controls for the second row and replace them with electronically operated buttons in the cargo area. Want to fold the seat down on the passenger side? Just hit the button. Indeed, other vehicles can do gymnastic tricks with second- and third-row seating, but with the SEL Plus coming in at $32,760 (with street prices much lower because of dealer incentives), this medium Santa Fe makes a great case for being a dependable family and cargo hauler at a great price.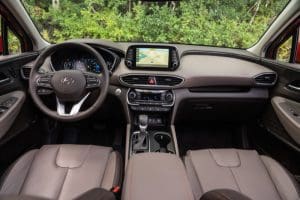 My SEL Plus tester was loaded with advanced safety technology. One thing I really dug was the High Beam Assist that automatically turned on the high beams when appropriate and turned them off quickly when oncoming traffic was headed my way. The system uses clear green icons on the upper portion of the instrument cluster. Another cool tech feature that I was able to test was Safe Exit Assist. If your child in the back seat tries to open the rear door but there is oncoming traffic, ultrasonic sensors detect the movement of the approaching vehicle and keep the door locked until it is safe to open. I tried it with my wife's car and it worked – I could not exit. The technology is also supposed to work with approaching bicycles. In the bicycle-rich and traffic-laden area of NYC where I am, you read about bicycle incidents daily. This tech would be welcome for anyone whose rear door has had an accidental amputation from a taxicab, and even more for cyclists who are constantly in fear of doors swinging open quickly. It would be a welcome addition to the aftermarket!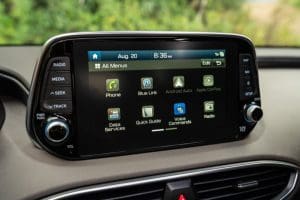 The Hyundai powerplant is a 2.4-liter four-cylinder that gets the job done. A 2.0 turbo mill is optional. Both are linked to an eight-speed automatic transmission designed in-house by Hyundai.  It is quiet and smooth. In the cabin, the infotainment system screen has been tilted for the new model in response to customer complaints about glare. The base model even includes a standard 7-inch user interface with both Android Auto and Apple CarPlay. Of course, if your older Santa Fe or Santa Fe Sport is of a vintage where these two popular technologies were not offered, your local mobile electronics specialist can help you install a solution. Upper-level models feature Hyundai's Blue Link telematics suite that allows you to control the car remotely. If you opt for a less-expensive Santa Fe, your local specialist can help you start your car from your smartphone using an aftermarket solution.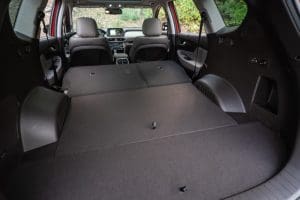 Surprisingly, the audio system in this mid-level Santa Fe was pretty good. The Infinity-branded system features 12 speakers and a 630-watt amplifier. Also included are QuantumLogic Surround Sound and Clari-Fi music restoration technology. Clari-Fi works by rebuilding audio details lost in digitally compressed music. Most listeners will hear a difference, and I think it is for the better, but true audiophiles would be best to turn to the aftermarket for high-resolution audio products that can be integrated into the Hyundai for the ultimate listening experience.  The cargo area just above the spare tire is practically screaming for a subwoofer!
The Santa Fe is larger than the Santa Fe Sport, and now that everything in America seems to be getting bigger, you can even opt for a seven-passenger XL version. In fact, Hyundai is upping the ante and even coming out with an eight-passenger SUV called the Palisade. SUVs sell, and Hyundai's Santa Fe is a worth a serious look – especially when coupled to its 10-year warranty.