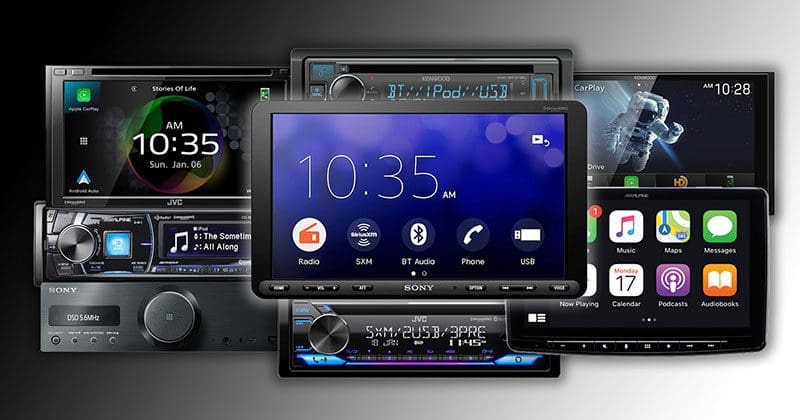 Choosing a replacement or upgrade car radio for your vehicle isn't an easy task. There are hundreds of models available in different sizes, with different features and at wildly different price points. Navigating these options is no simple project; it's easy to get confused and even easier to forget the purpose of the upgrade. The team of veteran car audio experts here at BestCarAudio.com has put together this guide to help explain everything you need to know about car radios to ensure you get the right one. We'll explain all the features and style and size options to make your trip to your local specialty mobile enhancement retailer more efficient. Ready? Let's dig in.
Car Radio Buying Guide: Size Options
Car radios come in two basic sizes: DIN and double-DIN. DIN (or single-DIN) radio sizing is based on a 7-inch-wide by 2-inch-tall standard. Most radios that would be called CD players fall into this class. The second standard is double-DIN. It should be no surprise that these radios are 4 inches tall with the same 7-inch width. Multimedia receivers with touchscreen displays are usually double-DIN size. Some radios have a double-DIN display with a single-DIN chassis. The installation requirements are the same, but these units give your installer more room behind the radio to mount interfaces and make electrical connections.
Though they are less and less popular, single-DIN radios with flip-out displays are still available. These radios have a screen that extends out from the chassis, then flips up to become viewable. If you are interested in a flip-out multimedia receiver, have your installer check to make sure your vehicle has enough room around the radio mounting location for these to fit – the screens don't always extend out far enough.
In 2018, Alpine introduced a multimedia receiver with what's known as a floating-face design. This class of car radio uses a conventional single- or double-DIN chassis with an oversized monitor that mounts in front of the radio. The design allows for larger screen sizes than a conventional unit that fits in the dash.
Alpine is also responsible for the creation of many vehicle-specific radio options. Using its 9- and 10-inch screen multimedia receivers with a custom dash kit and integrated controls, Alpine offered vehicle-specific solutions for Jeep, Toyota, Chevrolet, GMC, Ram, Honda and Ford trucks and SUVs.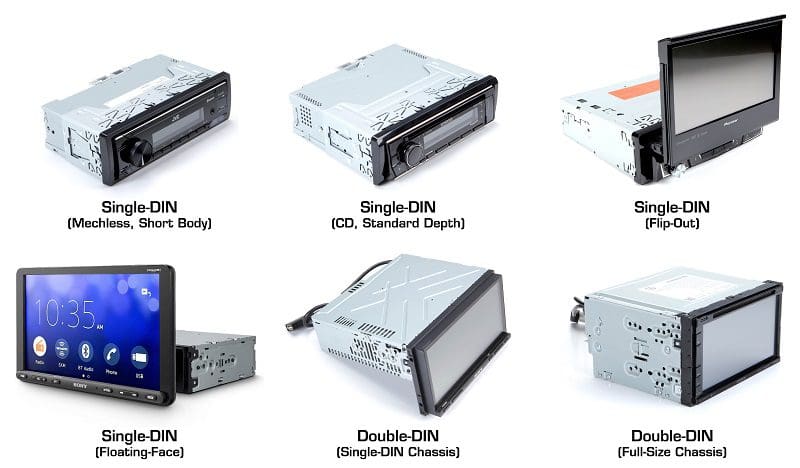 Car Radio Buying Guide: Mechless and Digital Media Options
We've progressed a long way since under-dash 8-track players and pull-out cassette decks. Modern radios are now available in two classes: with and without an optical disc transport. In the case of a single-DIN, you can choose a receiver with a CD player or save a few dollars and forgo the CD portion for a "digital media" or "mechless" solution. The same applies to double-DIN radios as you can opt to forego the DVD mechanism if you play your media from a smartphone or a USB storage device. When the radio has a full-color display and no optical transport, it is sometimes called a digital multimedia receiver.
Car Radio Buying Guide: Screen and Display Options
For single-DIN radios, almost every unit on the market is using a multi-character, multi-segment liquid crystal display. The popularity of single-DIN receivers has shrunk dramatically, and almost none of the top brands includes dot-matrix displays anymore. When you're shopping, you'll want to keep an eye out for units with multiline displays that can show artist and song title information simultaneously.

For double-DIN multimedia receivers, you can choose from medium or large full-color LCD screens. The smaller screens are usually just over 6 inches in size (measured diagonally from opposing corners).  Larger options are around 7 inches in size. Floating-face radios typically measure around 8 inches.
In terms of the interface, the less expensive options will use what's called a resistive touchscreen. These units have a thin plastic film over the display that has a satin anti-glare finish. On higher-end units, manufacturers may opt for a capacitive touch interface. Your smartphone uses a capacitive touch interface. You are directly contacting the glass on the front of the unit. It's worth noting that capacitive touch interfaces don't work with gloves or a non-conductive stylus. The benefit is that the image is much clearer and is often brighter. Capacitive displays can understand multiple contact points at the same time, while resistive units can only understand a single location.
Most multimedia radios have a display resolution called Wide VGA (WVGA). This standard is 800 pixels wide and 480 pixels tall. A few high-end units use a High-Definition display with 1280 by 720 pixels.
Many CD receivers include multicolor display backlighting and control illumination settings. You can set these colors to match the interior of your vehicle or to something that contrasts it to add some style. On multimedia radios, you can sometimes upload new wallpaper backgrounds to personalize the system.

Car Radio Buying Guide: Terrestrial and Satellite Radio
Almost every car radio comes with an AM/FM receiver. Typically there are a minimum of 12 FM and 6 AM presets, so you can store all your favorite local channels for quick access. If you want to see what songs are playing (assuming the station you are listening to broadcasts that information), look for a radio that includes RDBS or RDS. Higher-end radios may include a built-in HD Radio tuner. HD Radio broadcasts include additional digital information such as multilanguage broadcasts and voice-only news channels on a single FM radio station.
SiriusXM satellite radio is a pay-for-use streaming service with more than 150 channels. If you enjoy SiriusXM satellite radio, be sure to choose a source unit (another name for a radio) that can be upgraded with an SXV300v1 tuner module. Radios that say SiriusXM-Ready still need to be upgraded with the tuner module.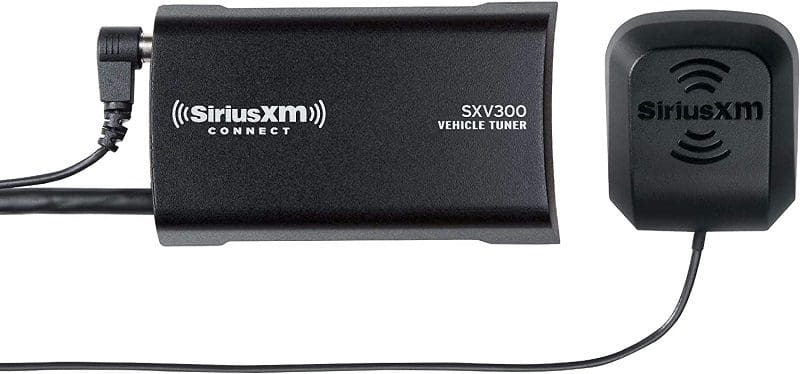 Car Radio Buying Guide: Bluetooth Hands-Free and Music Streaming
Bluetooth has become a standard on all but the least expensive car radios. Bluetooth is a low-power, short-range digital communication protocol. In and of itself, it doesn't define the inclusion of any specific features. If you want to make hands-free phone calls, make sure the radio you choose has the Hands-Free Profile (HFP). If you want to be able to navigate the contact list on your phone, then look for the inclusion of the Phone Book Access Profile (PBAP). The inclusion of an external microphone dramatically improves the sound quality of the outgoing conversation as compared to radios with the mic built into the chassis.
To stream music, the radio needs to include the Advanced Audio Distribution Profile (A2DP). If you want to be able to change tracks on the Bluetooth device from the phone, then the Audio Video Remote Control Profile (AVRCP) is required.
On radios that support multiple Bluetooth connections, one device is typically designated for hands-free calling and the other for audio streaming. Check the functionality on the display unit at the store to be sure it works the way you want.
Car Radio Buying Guide: Smartphone Connectivity
Years ago, the biggest deal in car stereos was the ability to play music from your iPhone. Now, we take that connectivity for granted. If you have an older iPod or iPhone, check the connectivity specifications. Apple often drops support for older devices. "Made for iPod" doesn't mean "all iPods." As always, test connectivity with your media player or phone before you buy it.
Apple CarPlay and Android Auto smartphone connectivity solutions include a hands-free interface that allows you to use commonly accessed features on your phone while keeping your eyes on the road. Making phone calls, sending text messages, getting navigation instructions and choosing the music you want can all be completed using voice commands.
Many premium source units include wireless CarPlay and Android Auto. These radios communicate with your smartphone using a Wi-Fi connection to stream information and data at impressive speeds. Keep in mind, if your phone is in your pocket or purse, it's not being charged. You may want to ask your retailer about installing a wireless charging base to go with your new radio.

Car Radio Buying Guide: Digital Media Support
Most of us buy our music from online sources like iTunes or convert store-bought CDs to digital formats like MP3 or FLAC. If you have a big digital media collection, you'll want to make sure the radio you have in mind will play it. Support for MP3, WMA and AAC files is pretty much standard on low- to mid-level models. The next step up is to add support for WAV and FLAC files. Finally, if there is adequate processing power in the radio, support for DSD files may be included.
Being able to play FLAC files, for example, does not automatically mean that the source unit is capable of playing all files. High-resolution files with sampling rates above 48 kHz are not inherently compatible unless specified. There are also limits to the number of songs that can be stored in a single folder on a device, and limits on the total number of songs that the radio can access. Try the USB stick, SD card, micro SD card, CD or DVD that you use to store music at the store before purchasing to confirm compatibility. File limits often vary by storage device and format.
Video playback standards vary wildly from format to format. Check the owner's manual to understand which containers are supported (AVI, FLV, MPG or MKV) and which audio (MP3, AAC, FLAC or PCM) and video (MPEG1,2, MPEG-4 or H.264) files. Test the video files you want to play. Some may need to be re-encoded with different audio or video formats.

Not all source units have powered USB ports that will charge a smartphone or digital media player. Likewise, newer devices that use USB-C or require more than 1.0 amp of charging current may not charge quickly, or at all. Again, it's best to test your device with your cable before you purchase the radio.
Some source units include dual USB ports. Functionality and features may vary greatly between the ports. Don't make any assumptions about them being able to do the same thing.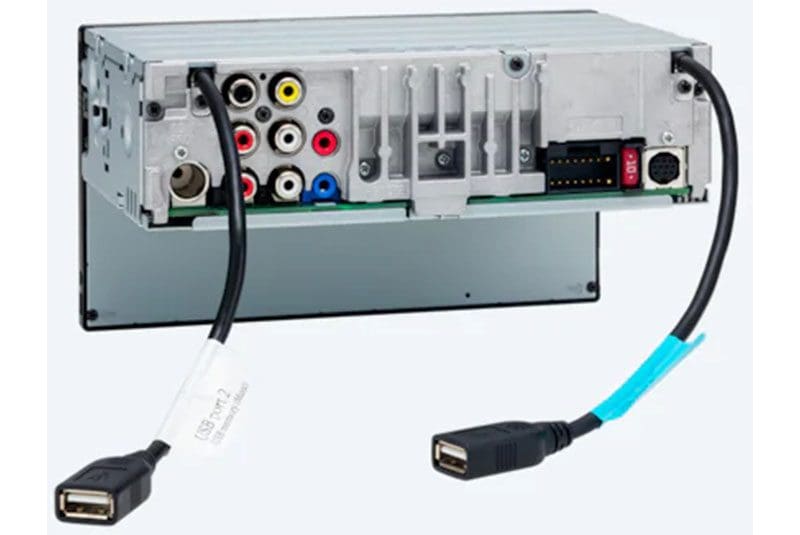 Car Radio Buying Guide: Backup and Safety Camera Options
Most multimedia receivers have an input on the back of the radio for a backup camera. In some vehicles, the signal from a factory-installed camera will work with the radio. If you don't have a camera, your retailer can install one for you. Some premium radios have multiple camera inputs or have optional multicamera input and switching modules available. You will want to confirm with your retailer that the camera you have will work and that the image will display automatically. If you are interested in integrating blind-spot, cargo and forward-facing cameras, extra hardware may be required.
Kenwood offers several dashcam systems that integrate with their multimedia receivers. The cameras can display warning messages on the screen of their radios to make driving safer.
Many multimedia receivers take a while to boot. They are, after all, small computers (they typically run versions of Windows CE, Linux, and Android). If you have an application that includes a backup camera, make sure the camera image will be available when you need it. Sony sets the bar currently with a fully-functional wake-up within five seconds. Most high-quality multimedia units can display a camera image within a second or two of being turned on and are fully functional in six or seven seconds. Much longer, and you might find using these source units frustrating.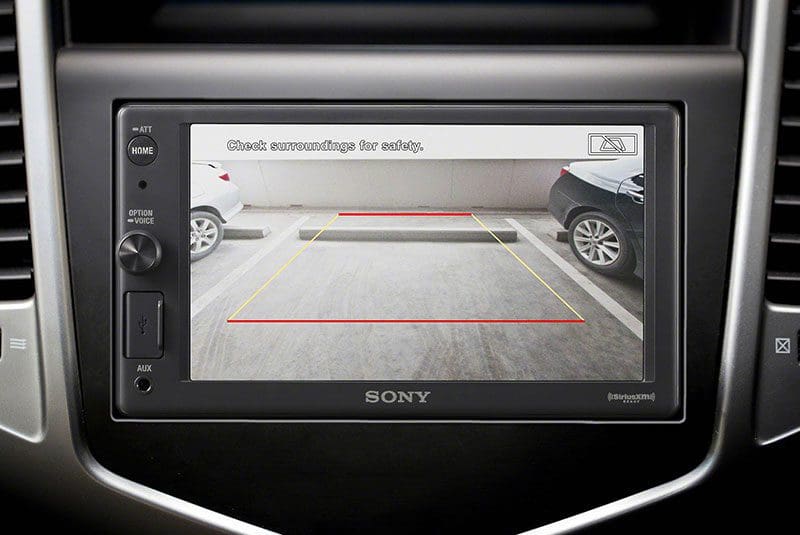 Car Radio Buying Guide: iDatalink Maestro
iDatalink offers a vehicle integration solution called Maestro. Maestro allows your new multimedia car radio to communicate with the OBD-II data network in your vehicle and, in some applications, factory-installed infotainment systems like Ford Sync. OEM backup cameras and USB connections are also commonly included in the interface solution. In most cases, the audio system control buttons on the steering wheel can be mapped to control a new source unit.
Some radio manufacturers have taken advantage of Maestro to integrate with radar detector systems from companies like Escort and K40.

Car Radio Buying Guide: Steering Wheel Control and Vehicle Interfaces
Connecting a new car radio into a modern vehicle isn't always a matter of making wire-to-wire connections. Some cars and trucks use the CAN data network to send commands to the factory radio. These signals can include telling the radio to turn on, when to activate a backup camera and when to dim the display and buttons when the headlights are turned on. Interfaces from companies like iDatalink, Metra, PAC and Scosche may be required to make your radio turn on and function properly.
If your vehicle includes an amplifier, you will likely need an interface that converts the signal coming from your new source unit to something that the amplifier will understand. These interfaces are common with vehicles equipped with Bose audio systems. For many luxury and European vehicles, interfaces for Media Oriented Systems Transport (MOST) are required. NAV-TV in Florida makes MOST interfaces for many Porsche, Mercedes and Bentley vehicles.
Your installer will also likely need a wire harness adapter to connect the plug that comes with your new radio to the plug that used to connect to the factory-installed unit. An antenna adapter is also a common requirement. Finally, depending on the shape of your dash, a dash kit will likely be needed so that there is a way to secure your new radio to the vehicle and have it look as though it belongs.

Car Radio Buying Guide: Preamp and Power Specifications
Almost all radios include some sort of amplifier IC built into them to drive your speakers. Given that the radio is limited to 12V, most radios produce between 15 and 22 watts of power per channel. Check the manual to confirm the CTA-2006 specification for the model you have in mind. More power means the radio will play louder without distorting.
Sony radios equipped with its High Power amplifier include a switching power supply that drives the output devices. These radios can produce 45 watts of power per channel and let you really crank up the volume.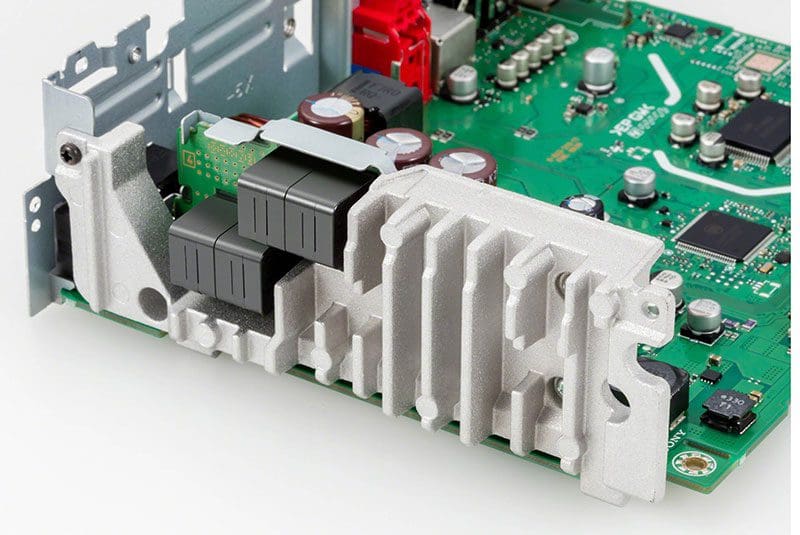 If you are planning on upgrading your audio system with external amplifiers, you will need a radio that has preamp outputs. To ensure that your audio system sounds as good as it can, look for preamps with a 4- or 5-volt rating. This extra voltage (as compared to 1.8- or 2-volt units) lets your installer turn the sensitivity controls on your amplifiers down while maintaining the same output level. The result is less hiss and background noise. Speaking of noise, you will want a radio with a good signal-to-noise ratio specification. Numbers around 80 dB are good for the built-in power amp; look for better than 90 dB on preamp outputs.
Car Radio Buying Guide: Signal Processing Features
These days, most radios include tone controls that vary from simple bass and treble adjustments to multiband graphic equalizers with presets. Since adjusting the output of your speakers to work with the acoustics of your vehicle is crucial to getting great sound, more adjustability is better. Your installer can use a real-time analyzer (RTA) to adjust the system to deliver smooth response.
If you plan on adding a subwoofer, then you'll want a radio that includes electronic high- and low-pass crossovers. These filters remove the bass from the signal going to the small speakers in the vehicle and prevent high-frequency information from going to the subwoofer amplifier. Fancier radios have more crossover points and adjustable slopes to let your technician fine-tune the performance of the system.
Signal delay (often incorrectly called time delay) is a great way to further improve the realism of an audio system. When configured properly, the signal going to the speakers closest to the listener is delayed, so their output arrives at the same time as the speakers on the other side of the car. This alignment of signals helps to create impressive and detailed focus on what's called a soundstage. Listening to music in a system that is configured with signal delay, proper level-setting and appropriate equalization is like sitting in the front row at a concert with all the performers in front of you.
Many radios include bass and treble restoration systems. This processing is intended to be used with radio broadcasts or high-compression digital audio sources to add information that has been lost. You can experiment with the settings to choose a solution that sounds great to you.

Car Radio Buying Guide: User Interface
The last topic we'll touch on is the user interface. Whether you have chosen an inexpensive single-DIN radio or a state-of-the-art multimedia receiver with CarPlay and navigation, make sure the interface is intuitive and easy to use. While looking at the product on display at the store, try changing sources, adjusting the tone controls and making a phone call. If you can figure these functions out without needing the owner's manual, chances are you'll enjoy using the radio.
When it comes to multimedia radios, many units with a 6.2-inch display include a rotary volume control. Many people find this way of adjusting the volume much easier and more intuitive. Keep this in mind while shopping.

Car Radio Buying Guide: Warranty and Support
Ask your retailer about the warranty on your new radio. Most units are covered by a one- to three-year warranty against manufacturing defects. In some cases, this warranty is reduced to 90 days if the product isn't installed by an authorized dealer. These warranties don't cover future functionality. If a new phone is released that uses a different technology, the manufacturer isn't responsible for making the system compatible. Likewise, if you damage the unit through improper care (scratches on the screen or damage from improper cleaning), that might not be covered.
If the radio you are purchasing includes GPS navigation, ask about how to obtain map updates and how much they'll cost.
Shopping for a New Car Radio
As you can see, there are a lot of options and considerations to take into account when shopping for a new radio. Before you head out to a local specialty mobile enhancement retailer, we've made a checklist of items to think about and to take with you to the store. Don't skimp on the testing. There are lots of radios that look like they are a deal – but end up being frustrating to use in the real world.
New Radio Shopping and Testing Checklist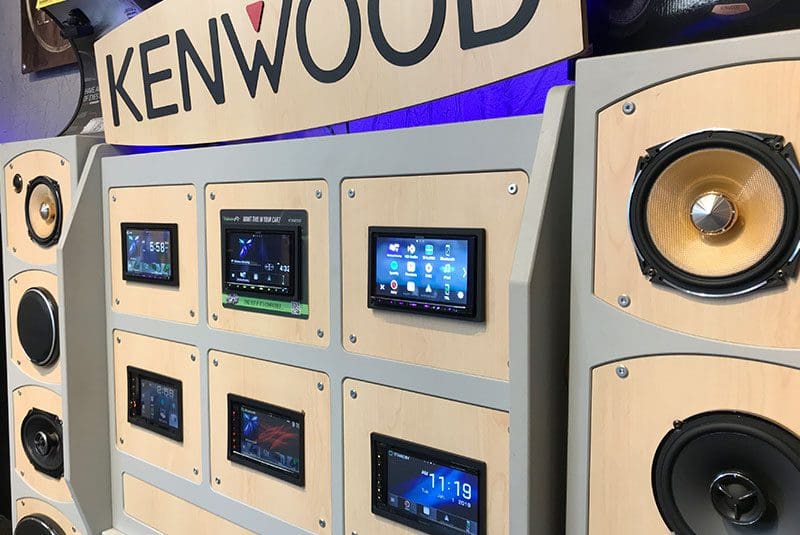 The team at BestCarAudio.com always recommends having a professional technician perform the radio installation so that your vehicle won't be damaged as the dash is disassembled and electrical connections are completed. In many cases, only a professional has access to the hardware required to complete the installation. Buying from a local authorized retailer also gives you access to their team for technical support should you need it.
Upgrading the radio in your car or truck is a great way to add modern functionality to an older vehicle. Drop by a local specialty car stereo shop today and see what's available.